Research article

Open Access
Evolution of pigment synthesis pathways by gene and genome duplication in fish
BMC Evolutionary Biology
2007
7:74
Received: 20 December 2006
Accepted: 11 May 2007
Published: 11 May 2007
Abstract
Background
Coloration and color patterning belong to the most diverse phenotypic traits in animals. Particularly, teleost fishes possess more pigment cell types than any other group of vertebrates. As the result of an ancient fish-specific genome duplication (FSGD), teleost genomes might contain more copies of genes involved in pigment cell development than tetrapods. No systematic genomic inventory allowing to test this hypothesis has been drawn up so far for pigmentation genes in fish, and almost nothing is known about the evolution of these genes in different fish lineages.
Results
Using a comparative genomic approach including phylogenetic reconstructions and synteny analyses, we have studied two major pigment synthesis pathways in teleost fish, the melanin and the pteridine pathways, with respect to different types of gene duplication. Genes encoding three of the four enzymes involved in the synthesis of melanin from tyrosine have been retained as duplicates after the FSGD. In the pteridine pathway, two cases of duplicated genes originating from the FSGD as well as several lineage-specific gene duplications were observed. In both pathways, genes encoding the rate-limiting enzymes, tyrosinase and GTP-cyclohydrolase I (GchI), have additional paralogs in teleosts compared to tetrapods, which have been generated by different modes of duplication. We have also observed a previously unrecognized diversity of gchI genes in vertebrates. In addition, we have found evidence for divergent resolution of duplicated pigmentation genes, i.e., differential gene loss in divergent teleost lineages, particularly in the tyrosinase gene family.
Conclusion
Mainly due to the FSGD, teleost fishes apparently have a greater repertoire of pigment synthesis genes than any other vertebrate group. Our results support an important role of the FSGD and other types of duplication in the evolution of pigmentation in fish.
Keywords
Genome DuplicationFathead MinnowMelanin SynthesisPteridineVertebrate Lineage
Background
Coloration and color patterning of skin, scales, feathers, and hair belong to the most diverse phenotypic traits in vertebrates and have a plethora of functions such as camouflage, warning or threatening of predators, and species recognition [1, 2]. Coloration is the result of diverse pigments synthesized by pigment cells or chromatophores, which are derived from the neural crest. There are noticeable differences in the number of chromatophore types among vertebrate groups. Mammals and birds possess only the brown to black melanocytes, while amphibians and reptiles additionally have the yellow to red xantho-/erythrophores and the reflecting iridophores. In teleost fish, up to five different pigment cell types have been identified, with white leucophores and blue cyanophores in addition to the aforementioned cell types (reviewed in [2]). Some pigment cell types in teleosts are even further partitioned into distinct sublineages that are under different genetic control [3, 4].
The genetic basis of pigment cell development and differentiation is largely conserved between mammals and teleosts. Many genes such as Sox10, Mitf, Kit and Ednrb, some of them first identified through the cloning of coat color mutations in mice, have subsequently been found to be involved in pigmentation in teleost fish as well [5–8]. Other genes with functions in pigmentation like slc24a5 were identified first in teleosts and later on in mammals [9]. However, an important difference between teleost fish and tetrapods has recently emerged from several studies on particular fish species. For some single copy pigmentation genes of tetrapods, two paralogous genes are present in teleost genomes, possibly as the result of a fish-specific whole-genome duplication (FSGD) that occurred ~250 to 350 million years ago (mya) in a common ancestor of teleosts (reviewed in [10–13]). Examples of such duplicated genes include sox10a and sox10b [14], mitfa and mitfb [15, 16], kita and kitb [17], csf1ra and csf1rb [18] and pomca and pomcb [19], for which at least one of the duplicates has been shown to participate in pigment cell development in fish. These genes encode transcription factors (sox10, mitf), signaling molecules (pomc) or cell-surface receptors (kit, csf1r) and are involved in neural crest specification (sox10) or commitment of pigment cell precursors to a particular chromatophore fate (mitf, kit: melanophores; csf1r: xanthophores).
A major step in chromatophore differentiation is the biosynthesis of the pigment displayed by the respective type of pigment cells. Although there are sporadic reports of duplicated genes for pigment synthesis enzymes in specific teleost lineages [20–22], no systematic genomic analysis has been performed so far to determine the complete set of duplicated pigmentation genes in fish and to better understand how pigment synthesis pathways as a whole have been affected by the FSGD.
In the present studies, we have analyzed genes involved in the biosynthesis of the dark pigment melanin, which is produced by melanophores [23, 24], and of the pteridine pigments synthesized in xanthophores (reviewed in [25]). We find that the FSGD had a deep impact on the melanin synthesis pathway, with three out of four enzyme-encoding genes being duplicates in teleosts. The pteridine synthesis pathway has been affected to a lesser degree by the FSGD, with two of nine enzymes represented by two teleost-specific paralogs. Several cases of lineage-specific duplication were also observed in the pteridine pathway. In both pathways, genes encoding the rate-limiting enzymes are duplicated in teleosts compared to tetrapods, with different modes of duplication being involved.
Results
Phylogenetic analyses and synteny studies were applied to the reconstruction of the evolution of genes involved in pigmentation pathways in ray-finned fish. The combination of these complementary approaches is particularly helpful to deduce the evolutionary history of gene families following gene and genome duplication events (reviewed in [
26
]). Most genes duplicated during large-scale and in particular whole genome duplications are part of so-called paralogons,
i.e
., chromosomal blocks of two or more duplicated (paralogous) genes ([
18
] and references therein). The detection of such paralogons helps to draw conclusions on the origin of duplicated genes when phylogenetic signals are not informative. In the present study, sequence information from the genome assemblies of five teleost species – two pufferfish species (
Tetraodon nigroviridis, Takifugu rubripes
), medaka (
Oryzias latipes
), three-spined stickleback (
Gasterosteus aculeatus
) and zebrafish (
Danio rerio
) – and from diverse teleost expressed sequence tag (EST) resources have been compared to data from tetrapods (human, mouse, chicken, frog) and different invertebrate outgroups (urochordates, sea urchin, fruitfly, nematodes). The results of these surveys are summarized in Table
1
; accession numbers are given in the Additional files [see Additional files
1
,
2
].
Table 1
Pigment synthesis genes in human and teleost fish
| gene | human | zebrafish | medaka | stickleback | Takifugu | Tetraodon | other teleosts |
| --- | --- | --- | --- | --- | --- | --- | --- |
| tyr # | chr 11 | LG 15 (sdy) | LG 13 (i-b/-1/-4/-6) | chr I | scaf 172 | scaf 12050 | Omy, Oni and other cichlids |
| | | - | chr 14 | chr VII | scaf 176 | chr 7 | Eha, Gpe, Ipu, Omy, Oni |
| tyrp1 # | chr 9 | LG 7* | LG 18 | chr VII | scaf 2235 | scaf 14681 | Cau, Omy, Oni, Ppr, Ssa |
| | | LG 1 | chr 1 | chr IX | - | scaf 13631ψ | Man, Ppr |
| dct | chr 13 | LG 9 | chr 21 | chr XVI | scaf 103 | chr 2 | Cau, Ipu, Omy, Ssa |
| silv # | chr 12 | LG 11 (fdv) | chr 5 | scaf 27 | scaf 47 | chr 11 | Hsp, Omy, Ppr |
| | | chr 23 | chr 7 | chr XII | scaf 304 | chr 9 | Abu, Omy, Ssa |
| oca2 | chr 15 | chr 6 | LG 4 (i-3) | chr VIII | scaf 13 | chr 1 | Ame |
| aim1 | chr 5 | LG 21 | LG 12 (b) | chr XIV | scaf 44 | chr 4 | Omy, several cichlids |
| slc24a5 | chr 15 | LG 18 (gol) | chr 3 | chr II | scaf 1 | chr 5 | Ppr |
| gchIa | chr 14 | LG 17* | scaf445 | chr II | scaf 1 | scaf 15099 | Hhi, Omy, Ppr |
| gchIb | - | LG 12* | chr 19 | chr V | scaf 952 | scaf 7971 | Fhe |
| gchIc | - | - | - | chr VIII | scaf 208 | chr 1 | Sau |
| gchfr | chr 15 | chr 17 | chr 22 | chr XV | scaf 23 | chr 10 | Fhe, Omy, Ssa |
| pts | chr 11 | chr 12 | chr 19 | chr V | scaf 3 | scaf 14338 | Omy, Pfl, Ppr, Pre, Ssa |
| spr # | chr 2 | chr 5 | chr 10 | chr XIV | scaf 106 | scaf 21575 | Ipu, Omy, Pfl, Pol, Ppr, Ssa |
| | | chr 8 | - | chr XIII | scaf 11 | - | - |
| xdh | chr 2 | LG 22 | chr 2 | chr I | scaf 57 | chr 3 | Fhe, Sch, Ssa |
| clot (txnl5) | chr 17 | chr 15 | chr 13 | chr I | scaf 271 | chr 16 | Cca, Ipu, Omy, Ppr, Ssa |
| pcbd1 | chr 10 | chr 13 | chr 14 | chr VI | scaf 53, scaf 178ψ | chr 17 | Fhe, Hhi, Ipu, Omy, Pfl |
| pcbd2 | chr 5 | chr 21 | chr 15 | scaf 324 | scaf 71 | chr 7 | Man, Omy, Ppr, Ssa |
| dhpr # | chr 4 | chr 14 | chr 10 | chr IV | scaf 70 | chr 20 | Cca, Omy, Ppr, Psa, Ssa, Hsp |
| | | chr1 | - | - | - | - | Omy, Ppr, Ssa |
| pam | chr 13 | LG 9 (esr) | chr 21 | chr XVI | scaf 31 | chr 2 | Abu, Hhi, Omy, Ppr |
Gene duplications in the melanin synthesis pathway
Melanin, the dark pigment of melanophores, is synthesized from tyrosine within a specialized organelle, the melanosome [
23
,
24
]. In mammals and birds, two types of melanin are produced, the black to brown eumelanin and the lighter pheomelanin, but in teleost fishes only eumelanin has been observed [
1
]. The eumelanin synthesis pathway is presented in Figure
1
. Disruption of melanogenesis leads to reduced pigmentation intensity culminating in complete albinism [
27
].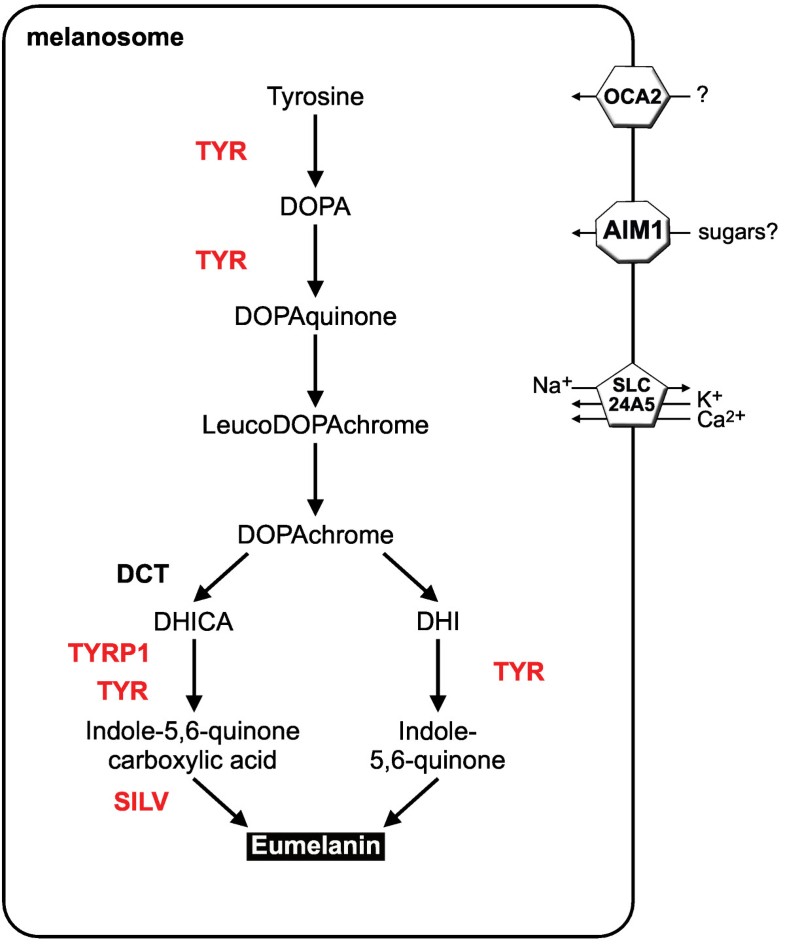 Tyrosinase gene family
Vertebrate melanin synthesis involves the members of the tyrosinase gene family: tyrosinase (tyr), tyrosinase-related protein 1 (tyrp1) and dopachrome tautomerase (dct; also known as tyrosinase-related protein 2) [23, 24]. Tyrosinase (EC 1.14.18.1) promotes the first two rate-limiting steps of melanin synthesis from tyrosine to DOPA and DOPAquinone as well as two later steps. Dct (EC 5.3.3.12) converts DOPAchrome to DHICA, and Tyrp1 is involved in the formation of indole-5,6-quinone carboxylic acid from DHICA (Figure 1). During the early evolution of the chordate lineage, an ancestral tyrosinase gene was duplicated before the divergence of urochordates and vertebrates leading to tyrosinase and a tyrosinase-related gene. The latter one was subsequently duplicated in the vertebrate lineage giving rise to tyrp1 and dct [28, 29].
The phylogeny of the tyrosinase gene family in vertebrates is presented in Figure
2a
. For
tyr
and
tyrp1
, duplications were observed in teleosts, while
dct
is present as a single copy in teleosts just like in tetrapods. As shown previously,
tyr
was duplicated in teleosts during the course of the FSGD after divergence from the more basal actinopterygian lineages of sturgeon (
Acipenser baerii
) and gar (
Lepisosteus platyrhynchus
) leading to two
tyr
copies in Takifugu and cichlids [
20
]. Consistently, two
tyr
paralogs were found in pufferfishes, stickleback, medaka and rainbow trout. In the zebrafish, however, only the
tyra
paralog was detected, suggesting that
tyrb
has been lost. The two
tyr
paralogs previously reported for the tetraploid rainbow trout (
Oncorhynchus mykiss
) [
22
] are – according to the present phylogeny – the result of the FSGD rather than of another round of genome duplication in the ancestor of salmonid fishes [
30
,
31
]. Furthermore, synteny data also provide strong evidence for the duplication of
tyr
during the course of the FSGD. In human,
TYR
is found on chromosome 11q14-q21 and the (co-)orthologs of nearby genes are also found in close proximity to the
tyr
paralogs in pufferfishes, stickleback, medaka and zebrafish (Figure
2b
). Most of these genes are present on one of the two paralogous chromosomal blocks (paralogons) in teleost genomes, but two genes,
grm5
and
rab38
, are also present in duplicate. The presence of these paralogons in diverse teleost genomes is consistent with the duplication of
tyr
during the course of the FSGD. This is also in agreement with previous studies showing that the
tyr
gene-containing chromosomes 13 and 14 from medaka as well as chromosomes 15 and 10 from zebrafish (Figure
2b
) are derived from the same protochromosome [
32
–
34
].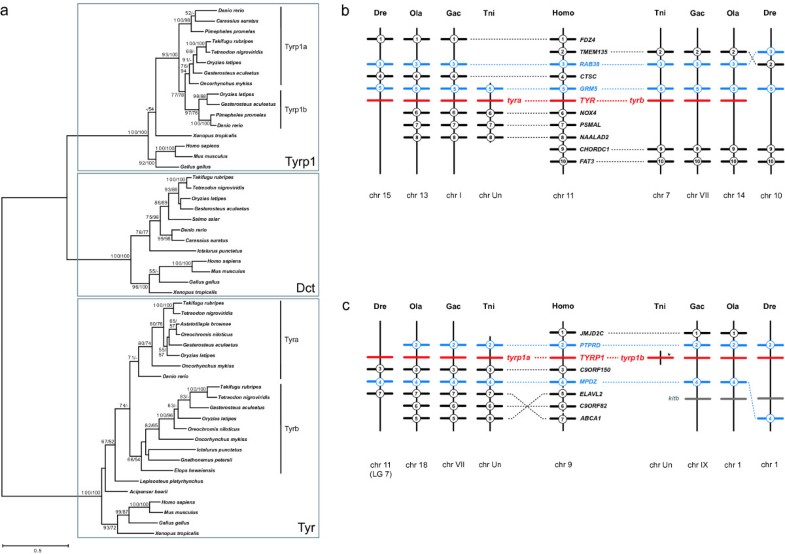 Furthermore, our analysis demonstrated that tyr is not the only gene found from the melanin pathway to be duplicated in fish. Two paralogs of tyrp1 were identified in medaka, zebrafish, stickleback and fathead minnow (Pimephales promelas), while only one complete tyrp1 paralog (tyrp1a) was detected in pufferfishes. In Tetraodon, additionally a region in scaffold 13631 with partial but significant sequence similarity to tyrp1b was found. However, some splice sites of this sequence are degenerated and the putative coding sequence contains a stop codon. We confirmed the presence of this stop codon by sequencing of genomic DNA [GenBank: EF183530], thus excluding the possibility of a sequencing error. Hence, this sequence represents most likely a tyrp1b pseudogene.
In the phylogeny of the entire tyrosinase gene family based on protein sequences (Figure 2a), the tree topology is not consistent with a duplication of tyrp1 during the FSGD. In contrast, a separate maximum likelihood phylogeny of vertebrate tyrp1 genes based on nucleotide sequences suggests the duplication of tyrp1b during the course of the FSGD [see Additional file 3]. This was also confirmed by synteny data (Figure 2c), which are generally considered as more reliable than molecular phylogenies to reconstruct large-scale duplication history [26]: the region of human chromosome 9p23 containing TYRP1 is syntenic to two tyrp1-containing paralogons in medaka, stickleback and zebrafish. Accordingly, the respective medaka chromosomes 1 and 18 have been shown to contain large duplicated segments having been formed from a same protochromosome by the FSGD [32].
In zebrafish, the previously described paralog tyrp1b is found on chromosome 1 in the present genome assembly (Zv6) and was mapped to the corresponding linkage group (LG) 1 [33]. The newly found tyrp1a paralog is found in Zv6 on chromosome 11, but was not genetically mapped so far. As a paralogous relationship between zebrafish chromosomes 1 and 11 has not been reported so far and since there are frequent discrepancies between mapping data of zebrafish genes and their chromosomal assignment in current genome assemblies ([35] and own observations), we mapped tyrp1a using the radiation hybrid panel LN54 [36]. The tyrp1a gene was assigned not to LG 11 (as expected from Zv6 genome assembly analysis) but to LG 7 at a distance of 0.00 cR from marker Z21714 with a LOD score of 27.4. However, a paralogous LG1–LG7 relationship has also not been reported for zebrafish so far. These data suggest the presence of a newly identified paralogon in the zebrafish genome. Kitb, another pigmentation gene duplicate that has its origin in the FSGD [17], is found 3' of tyrp1b (Figure 2c). However, this gene is not part of the tyrp1 paralogon, as kita is found on LG 20 and not on LG 7 in zebrafish and the human KIT is found on chromosome 4 and not on chromosome 9.
Silver
A later step in melanin synthesis from indole-5,6-quinone carboxylic acid to eumelanin is presumably catalyzed by the Silver protein (also known as Pmel17) [
37
,
38
] (Figure
1
). A recent study identified two paralogs of
silver
(
silv
) in the zebrafish [
21
]. We reconstructed the evolution of the
silv
gene in the vertebrate lineage and additionally found two paralogs of
silv
in both pufferfishes as well as in medaka and stickleback, with a tree topology consistent with a duplication in the course of the FSGD (Figure
3a
). This conclusion is once again strongly supported by synteny data (Figure
3b
): human
SILV
is found on chromosome 12q13-q14, a region that is highly syntenic to
Tetraodon
chromosomes 9 and 11, medaka chromosomes 5 and 7 and zebrafish chromosomes 11 and 23, which contain the
silv
paralogons. As all these chromosomes evolved from a same protochromosome through duplication during the FSGD [
32
–
34
,
39
], it is most likely that the
silv
duplicates in teleosts stem from this event.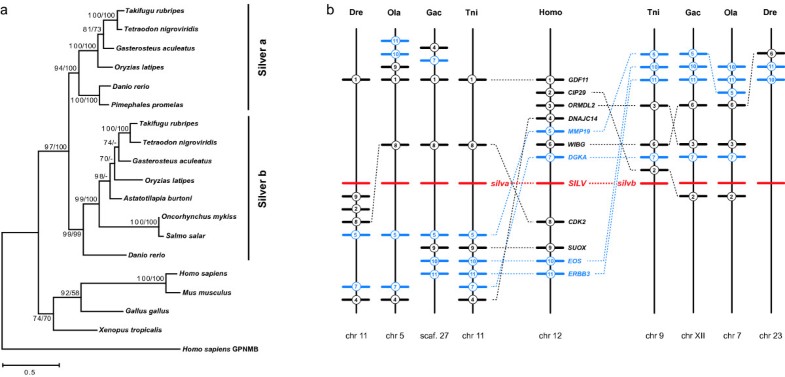 Melanosomal transporters
Three non-related genes, oca2, aim1 and slc24a5, encode for transporter proteins residing in the melanosomal membrane and being essential for melanin synthesis (Figure 1). Loss-of-functions mutations in these genes lead to reduced melanin pigmentation in teleosts and mammals [9, 40–42]. In contrast to tyr, tyrp1 and silv, all three transporters are encoded by a single gene in the teleost species analyzed [see Additional file 4].
Gene duplications in the pteridine synthesis pathway
The yellow to reddish pteridine pigments of xanthophores are synthesized from GTP through the pteridine synthesis pathway (Figure
4
) (reviewed in [
25
]). The pteridine pathway is composed of three component pathways. The first one leads to the
de novo
synthesis of tetrahydrobiopterin (H
4
biopterin) from GTP. H
4
biopterin is a cofactor for neurotransmitter synthesis and tyrosinase activity in melanophores [
25
]. The second component is the regeneration pathway of oxidized H
4
biopterin after it has acted as cofactor [
25
]. The third pathway shares several steps with the first one and leads to the formation of the yellow pigments, sepiapterin and its derivatives, as well as probably to the reddish drosopterin, which is also found in teleost fishes, especially in poecilids [
43
].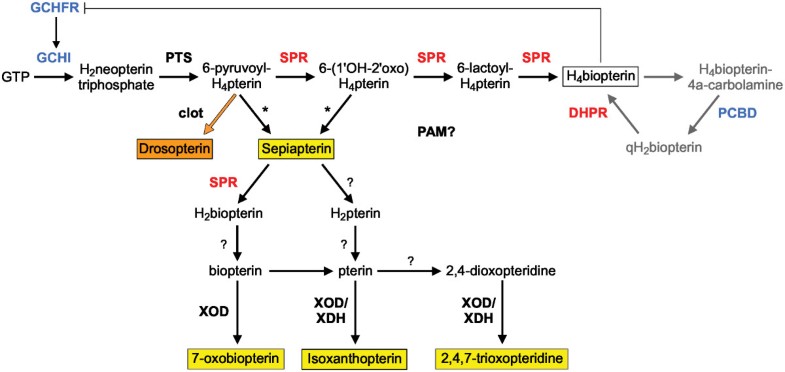 Conclusion
The present study shows that teleost fishes have a greater repertoire of pigment synthesis genes than any other vertebrate group mainly due to the fish-specific genome duplication but also as result of other types of gene duplications. Thus, pigmentation genes from teleosts offer an excellent opportunity to study the effects of gene and genome duplication on gene regulatory, protein-protein interaction and metabolic networks (e.g., specification of chromatophore fates, receptor-ligand interactions and pigment synthesis, respectively) and their connections. Future studies on functional divergence of duplicated pigmentation genes will reveal important insights into the significance of gene and genome duplication for the evolution of vertebrate phenotypes.
Methods
Sequence database surveys
Nucleotide sequences of pigmentation genes from ray-finned fishes were identified using BLAST searches against GenBank (nr and EST databases), the current genome assemblies and Trace Archives at Ensembl [77] of zebrafish (Zv 6), medaka (version 1), Tetraodon (version 7), Fugu (version 4.0), stickleback (BROAD S1) as well as TIGR gene indices [78] of cichlids (Astatotilapia burtoni, Haplochromis chilotes and Haplochromis sp. 'red tail sheller'), catfish (Ictalurus punctatus), killifish (Fundulus heteroclitus), rainbow trout and salmon. Usually the human gene was used as query sequence. If necessary, coding sequences were annotated manually from genome assemblies based on sequence homology to other species. In some cases species-specific EST clusters were assembled. Similarly, sequences from human, mouse, chicken, frog, ascidian (Ciona intestinalis), sea urchin (Strongylocentrotus purpuratus), fruitfly (Drosophila melanogaster) and nematode (Caenorhabditis elegans) were obtained from GenBank or Ensembl under inclusion of information given in ref. 29.
Sequence alignments and phylogenetic reconstructions
All nucleotide sequences obtained from BLAST searches were loaded into BioEdit [79], translated into proteins, and aligned using ClustalW [80] as implemented in BioEdit. Alignments were carefully checked and ambiguously aligned regions were removed prior to phylogeny analyses. Identical sequences were removed.
Larger draft neighbour-joining trees were obtained with MEGA3 [81]. Based on these trees, outgroups for final phylogenies were chosen. These were either the closest human paralog to the gene under investigation (in case of larger vertebrate gene families) or invertebrate orthologs.
Final protein maximum likelihood phylogenies were computed with PHYML [82, 83] with 100 bootstrap replicates. Models of protein evolution and parameter values were determined with ProtTest [84]. PAUP [85] was used to obtain neighbor-joining bootstrap values of 10,000 replicates.
Synteny analyses
Syntenic relationships between human and teleosts genomes within the chromosomal regions containing the gene of interest were inferred using the Reciprocal Blast Hit method [26].
Sequences of 15–20 genes surrounding the human ortholog were used as initial queries for BLAST searches against the five teleost genome assemblies at Ensembl [77], followed by reciprocal BLAST searches of the best hits against human and other teleost genomes.
Radiation hybrid panel mapping
The zebrafish radiation hybrid panel LN54 [36] was used according to the supplier's instructions (Marc Ekker, University of Ottawa) to map tyrp1a, gchIa and gchIb. The following primer sets were used: Dre-tyrp1a-ex1F: 5'-ATGTTTGGACTTTATGGA GC-3', Dre-tyrp1a-ex1R: 5'-GTCAAACCCGCTGTAGTTC-3' (annealing temperature TA: 56°C); Dre-gchIA-ex1F: 5'-AAGAAACTGACGGAGCGATC-3', Dre-gchIA-ex1R: 5'-TCTCCTGGTATCCCTTGGTG-3' TA: 56°C); Dre-gchIB-ex1F: 5'-CAATGGCAAAATCGTCACAG-3', Dre-gchIB-ex1R: 5'-TGGTCTCGTGGTATC CCTTAG-3' (TA: 52°C). The obtained RHVECTORs were submitted to the LN54 radiation hybrid map website [86] to get chromosomal positions.
Sequencing of Tetraodon tyrp1b pseudogene and zebrafish dhprb genes
The Tetraodon tyrpb1 pseudogene was amplified from genomic DNA and sequenced using primers Tni-ps-trp1b-F1 (5'- AACCTGGACACAAAGCCTCAC-3') and Tni-ps-trp1b-R1 (5'-ATGGTAGGAGAGAGCACGCAC-3') (TA: 62°C).
Zebrafish (strain WüAB) total RNA was extracted from various adult tissues using the TRIzol Reagent (Invitrogen, Karlsruhe, Germany). cDNA was synthesized with the RevertAid TM First Strand cDNA Synthesis Kit (Fermentas Life Science, St. Leon-Rot, Germany) and pooled. Dhprb sequences were amplified from the cDNA pool using paralog specific primer sets: Dre-dhprba-ex1F: 5'-CTCGTGAAGACAGAATGGCAG-3', Dre-dhprba-ex7R: 5' TGCTTTCTCCAGTCGTCCAC-3' (TA: 60°C); Dre-dhprbb-ex1F: 5'-AGCGAAGTAAAGAAAGTGATTG-3', Dre-dhprbb-ex7R: 5'-TAGGGGTAG CCACTGTTCTG-3' (TA: 58°C). PCR products were cloned using the TA Cloning Kit (Invitrogen, Karlsruhe, Germany) and subsequently sequenced. Sequencing was performed with a CEQ 2000XL system (Beckman Coulter, Krefeld, Germany).
Declarations
Acknowledgements
We would like to thank all members of the BioFuture Group and Agnès Dettaï, Kathrin Lampert, Christopher Untucht and Michael Fackelmann for helpful support and discussions, as well as Dirk Steinke and Simone Hoegg for sharing results prior to publication. The zebrafish radiation hybrid panel LN54 was kindly provided by Marc Ekker. Our work is funded by grants from the German Federal Ministry of Education and Research (BMBF, Biofuture program, to JNV), the German Research Society (DFG, to MS and JNV), the Association pour la Recherche sur le Cancer (ARC, to JNV), and the Centre National de la Recherche Scientifique (CNRS, to JNV).
Authors' Affiliations
(1)
University of Würzburg, Physiological Chemistry I, Biozentrum, Am Hubland, Würzburg, Germany
(2)
Institut de Génomique Fonctionnelle, Université de Lyon, France, INRA; CNRS, Ecole Normale Supérieure, France
Copyright
© Braasch et al; licensee BioMed Central Ltd. 2007
This article is published under license to BioMed Central Ltd. This is an Open Access article distributed under the terms of the Creative Commons Attribution License (http://creativecommons.org/licenses/by/2.0), which permits unrestricted use, distribution, and reproduction in any medium, provided the original work is properly cited.