Research article

Open Access
Integration, heterochrony, and adaptation in pedal digits of syndactylous marsupials
BMC Evolutionary Biology
2008
8:160
Received: 21 February 2008
Accepted: 25 May 2008
Published: 25 May 2008
Abstract
Background
Marsupial syndactyly is a curious morphology of the foot found in all species of diprotodontian and peramelemorph marsupials. It is traditionally defined as a condition in which digits II and III of the foot are bound by skin and are reduced. Past treatments of marsupial syndactyly have not considered the implications of this unique morphology for broader issues of digit development and evolution, and the ongoing debate regarding its phylogenetic meaning lacks a broad empirical basis. This study undertakes the first interdisciplinary characterisation of syndactyly, using variance/covariance matrix comparisons of morphometric measurements, locomotor indices, ossification sequences, and re-assessment of the largely anecdotal data on the phylogenetic distribution of tarsal/metatarsal articulations and "incipient syndactyly".
Results
Syndactylous digits have virtually identical variance/covariance matrices and display heterochronic ossification timing with respect to digits IV/V. However, this does not impact on overall locomotor adaptation patterns in the syndactylous foot as determined by analysis of locomotor predictor ratios. Reports of incipient syndactyly in some marsupial clades could not be confirmed; contrary to previous claims, syndactyly does not appear to impact on tarsal bone arrangement.
Conclusion
The results suggest that marsupial syndactyly originates from a constraint that is rooted in early digit ontogeny and results in evolution of the syndactylous digits as a highly integrated unit. Although convergent evolution appears likely, syndactyly in Diprotodontia and Peramelemorpha may occur through homologous developmental processes. We argue that the term "syndactyly" is a misnomer because the marsupial condition only superficially resembles its name-giving human soft-tissue syndactyly.
Keywords
Slenderness RatioSyndactylyLocomotor AdaptationDidelphis VirginianaDigit Element
Background
The occurrence of homoplasy is problematic in phylogenetic reconstruction and the tracing of morphological evolution [
1
,
2
]. This is particularly the case when the evolution of a homoplastic trait is perceived as relatively complex and therefore deemed unlikely to have evolved more than once. A classic example that has sustained nearly two centuries of controversial and often heated debate is the character of marsupial syndactyly. This is commonly defined as a peculiar phenotype in which digits II and III of the marsupial foot are tightly connected by a common sheath of skin at least to the base of the intermediate phalanx [
3
,
4
]. The trait occurs in all species of two Australasian marsupial orders (Fig.
1
), Peramelemorpha (bilbies and bandicoots; 21 species) and Diprotodontia (koalas, wombats, possums, kangaroos, and allies; approx. 141 species). Together, these two clades represent nearly 50% of marsupial species [
5
], Diprotodontia being the most ecologically and locomotorily diverse extant marsupial clade [
6
,
7
].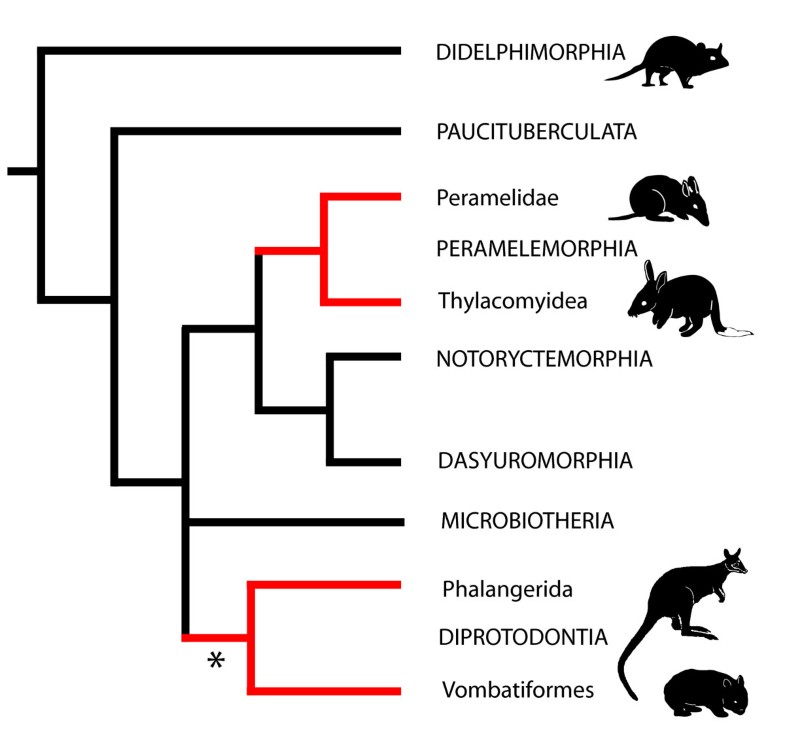 Marsupial syndactyly was one of the first characters used for marsupial classification, [8–12]. It has been reasoned that a character as complex as syndactyly could have only evolved once within marsupials [8, 12–16], and peramelemorphs and diprotodontians were commonly grouped in the clade of Syndactyla [11, 16, 17]. Famously, this was at odds with the division of marsupials based on dentition into "diprotodont" (including Diprotodontia, and sometimes Paucituberculata, which possess two large procumbent incisors) and "polyprotodont" clades [peramelemorphs and all other marsupial clades [6, 10, 18]]. However, with the advent of molecular systematics, it became widely accepted [with some exceptions; [16, 19]] that Diprotodontia and Peramelemorpha are not sister groups [20–23]. As Figure 1 shows, this arrangement favours homoplastic origins of syndactyly in Peramelemorpha and Diprotodontia [18, 21, 23–25]. However, there have also been suggestions that syndactyly may be plesiomorphic for larger marsupial clades, and has subsequently been lost in some clades [23, 26, 27].
As a matter of course, it has been assumed that marsupial syndactyly arose under selective pressure, but what the functional relevance of syndactyly is has never been convincingly argued. A number of researchers suggested that the comparatively small size ("reduction") of syndactylous digits in most species is related to arboreal locomotion in putatively arboreal ancestors of the syndactylous clades [
13
,
28
,
29
]. This scenario has been contested because arboreal Diprotodontia have particularly strongly developed syndactylous digits [
3
,
30
]. A second hypothesis suggests that the function of syndactylous digits as "grooming digits" confers a selective advantage [
3
,
11
,
18
,
31
]. However, grooming organs are common among placental mammals without comparable extensive transformations in pedal morphology [
3
,
13
]. As such, the adaptive implications of marsupial syndactyly remain elusive. However, it has never been considered that it is a unique phenomenon with implications transcending its local importance. No extant tetrapod clade displays a trait which, without a clear-cut locomotor function, impacts as heavily and consistently on autopodial morphology of an ecologically diverse order. Such exceptions have the potential to inform our understanding of evolutionary and developmental patterns of tetrapod autopodial evolution [
32
], but little empirical information exists on syndactyly, which stems mainly from a few older dissection-based studies [
3
,
33
–
35
]. As such, syndactyly displays some intriguing but largely unexplored characteristics. For example, syndactyly is not an exclusively soft-tissue related condition but majorly affects the digits (Fig.
2
). The characteristic morphology of digits II and III suggests that they evolve as a distinct unit within the syndactylous foot [
4
], but this has never been tested. The result of the unusual anatomy of syndactylous digits is that digit III never forms the main axis of the foot in syndactylous marsupials [
36
], which is rare among tetrapods [
37
,
38
]. Instead, the marginal digits IV and V are extensively developed, while digits II and III are considered "reduced" [
13
,
31
]. Nevertheless, locomotion in syndactylous marsupials (particularly Diprotodontia) is more diverse than in all other marsupials and many placental orders, catering for plantigrade terrestrial walking and bounding, grasping arboreal locomotion, and the unique hopping gait of kangaroos; this is also reflected in pedal diversity (Fig.
2
). However, patterns of functional adaptation in the syndactylous foot and particularly of digits II and III remain to be explored. Marsupial syndactyly is also apparent very early in pedal development, which has lead to the as yet untested suggestion of heterochronic change of foot development in syndactylous species [
13
]. This is an interesting suggestion because heterochronic change in early ontogeny can help to explain evolutionary transformations of morphological traits [
39
–
41
]. Lastly, contextualisation of syndactyly in an evolutionary framework is to date impossible because the evidence regarding its distribution has not been comprehensively assessed; two lines of evidence have been deemed important in this respect. A range of didelphid species have been termed "incipiently syndactylous" (Table
1
). This has been considered evidence that syndactyly may be more plesiomorphic within marsupials than has been generally recognized [
23
,
26
,
42
], although the existence of incipient syndactyly has been contested [
30
,
42
,
43
]. Contrary to this hypothesis, it was suggested that tarsal/metatarsal articulation patterns in peramelemorphs, which differ from the plesiomorphic mammalian condition, are a consequence of convergent acquisition of syndactyly [
8
,
15
].
Table 1
List of species considered incipiently syndactylous
| Species | Author |
| --- | --- |
| Caluromys derbianus | Kirsch 1977, Bensley 1903 |
| Genus Marmosa | Bensley 1903, Tate 1933, Kirsch 1977 |
| Monodelphis orinoci | Kirsch 1977 |
| Thylamys pusilla | Bensley 1903 |
| Gracilianus microtarsus | Bensley 1903 |
| Philander opossum | Bensley 1901 |
| Chironectes minimus | Hall 1987 |
| Notoryctes typhlops | Gadow 1892, Dollo 1899, Bensley 1903, Szalay 1982, 1993, 1994 |
| Genus Micoureus | Bensley 1901 |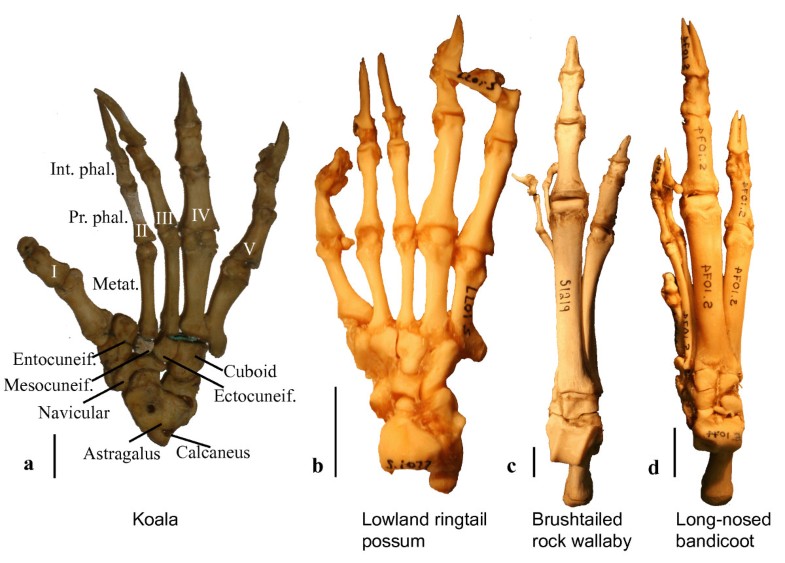 Characterizing Syndactyly
This study approaches marsupial syndactyly from several angles. First, we test the notion that digits II and III evolve as a distinct unit within the syndactylous foot. This is done through assessment of inter-digit integration patterns of morphometric measurements across the diversity of syndactylous marsupials, using a comparison of variance/covariance and correlation matrices. A morphometric approach is also taken to explore the impact of marsupial syndactyly on pedal diversity and functional adaptation. In addition, comparative analysis of ossification sequence in the digits [44–46] is employed to assess the proposition that syndactyly arises through heterochronic change in pedal digit development [13]. Lastly, a review and acquisition of new broad-scale comparative data on external didelphimorph pedal digit morphology, as well as marsupial tarsal articulations, are employed for empirical qualification of previous hypotheses regarding incipient syndactyly and the influence of syndactyly on tarsal morphology.
Using this combination of morphometric, external morphological, and ontogenetic approaches, we address issues regarding the nature, origins, and evolutionary implications of marsupial syndactyly: What are the evolutionary characteristics of digit relationships in syndactylous marsupials? Are these patterns related to heterochronic changes in pedal digit development? Does syndactyly impact on pedal diversity and functional adaptation? Does a reassessment of traditionally used indicators of syndactyly result in a better understanding of its evolution? The results are synthesized into an integrated view of marsupial syndactyly as a unique phenomenon in tetrapod autopodial evolution.
Discussion
The origins and evolution of marsupial syndactyly have been debated for more than 150 years, although little observational information has been collected. It may be that the distinctive overall anatomy of syndactyly resulted in the perception that it is distinctive enough not to require further research. However, the results of this study indicate that marsupial syndactyly has a unique evolutionary and developmental background which has previously been largely ignored. A synthesis of results from this study takes the implications of this unique phenomenon beyond its traditional role as a purely phylogenetic problem.
Conclusion
The diverse methods employed in this study have provided novel insights on the phenomenon of marsupial syndactyly. The results demonstrate that the syndactylous digits of marsupials evolve as a unit which is subject to functional adaptation like the remaining digits of the foot. The strong integration between the two digits may be due to a change in early developmental patterning, as the ossification heterochrony between syndactylous compared to non-syndactylous species suggests. No evidence was found for incipient syndactyly in other marsupials, but the ossification similarity of pedal digits in Diprotodontia and Peramelemorpha suggest an underlying developmental parallelism. We argue that locomotor adaptation is not likely to be the cause for syndactyly; based on our results, we suggest a scenario in which syndactyly arose as a single change in digit ontogeny that amounted to the loss of a single digit, rather than incapacitation of both digits through skin webbing. We also show that syndactyly is restricted to Peramelemorpha and Diprotodontia, and has no influence on tarsal bone arrangement in either clade. Together, the results change the relevance of marsupial syndactyly from being an enigmatic phylogenetic character within marsupials to a rare transformation of digit morphology whose molecular background has the potential to provide important insights into the patterns of digit evolution.
Declarations
Acknowledgements
We wish to thank M. Sánchez-Villagra for generous help and advice with this manuscript, and for hosting MNs research visit at the NHM. Thanks also to S. Ingleby (Australian museum), C. Kemper and D. Stemmer (South Australia Museum) for making pouch young specimens available, and Allan Jones for technical advice on CT scanning. We thank R. Voss (American Museum of Natural History), D. Hills and R. Sabin (Natural History Museum, London) for access to Museum collections. C. Leigh from the Anatomical Institute, Adelaide University, and the Marsupial Immunology Group, Macquarie University, generously provided specimens for clearing and staining. For discussion and advice we thank K. Sears, M. Archer, R. Beck, O. Bininda-Emonds, A. Goswami, S. Hand, A. Janke, J. Louys, K. Monro and T. Säll. Two anonymous reviewers provided valuable comments that improved the manuscript. We thank the Solander Program for funding a collaborative visit of VW to Lund. MN acknowledges financial support of the European Commission's Research Infrastructure Action through the SYNTHESYS Project (GB-TAF-1339) to visit the Natural History Museum, London. VWs work was funded by a University Internal Postgraduate Award (UIPA) of the University of New South Wales, and use of the CT scanner was funded through a transport and access grant of the Australian Nanostructural Analysis Network Organisation.
Authors' Affiliations
(1)
School of Biological, Earth and Environmental Sciences, University of New South Wales, UNSW, Sydney, Australia
(2)
Department of Cell and Organism Biology, Genetics, Division of Evolutionary Molecular Systematics, Lund University, Sölvegatan 29, Sweden
Copyright
© Weisbecker and Nilsson; licensee BioMed Central Ltd. 2008
This article is published under license to BioMed Central Ltd. This is an Open Access article distributed under the terms of the Creative Commons Attribution License (http://creativecommons.org/licenses/by/2.0), which permits unrestricted use, distribution, and reproduction in any medium, provided the original work is properly cited.