Research article

Open Access
The molecular basis of color vision in colorful fish: Four Long Wave-Sensitive (LWS) opsins in guppies (Poecilia reticulata) are defined by amino acid substitutions at key functional sites
BMC Evolutionary Biology
2008
8:210
Received: 18 January 2008
Accepted: 18 July 2008
Published: 18 July 2008
Abstract
Background
Comparisons of functionally important changes at the molecular level in model systems have identified key adaptations driving isolation and speciation. In cichlids, for example, long wavelength-sensitive (LWS) opsins appear to play a role in mate choice and male color variation within and among species. To test the hypothesis that the evolution of elaborate coloration in male guppies (Poecilia reticulata) is also associated with opsin gene diversity, we sequenced long wavelength-sensitive (LWS) opsin genes in six species of the family Poeciliidae.
Results
Sequences of four LWS opsin genes were amplified from the guppy genome and from mRNA isolated from adult guppy eyes. Variation in expression was quantified using qPCR. Three of the four genes encode opsins predicted to be most sensitive to different wavelengths of light because they vary at key amino acid positions. This family of LWS opsin genes was produced by a diversity of duplication events. One, an intronless gene, was produced prior to the divergence of families Fundulidae and Poeciliidae. Between-gene PCR and DNA sequencing show that two of the guppy LWS opsins are linked in an inverted orientation. This inverted tandem duplication event occurred near the base of the poeciliid tree in the common ancestor of Poecilia and Xiphophorus. The fourth sequence has been uncovered only in the genus Poecilia. In the guppies surveyed here, this sequence is a hybrid, with the 5' end most similar to one of the tandem duplicates and the 3' end identical to the other.
Conclusion
Enhanced wavelength discrimination, a possible consequence of opsin gene duplication and divergence, might have been an evolutionary prerequisite for color-based sexual selection and have led to the extraordinary coloration now observed in male guppies and in many other poeciliids.
Keywords
Maximum Parsimony Tree
Opsin Gene
Poecilia Reticulata
Hybrid Sequence
Male Guppy
Background
Understanding the molecular basis of characters shaped by selection is a major goal of evolutionary genetics. Of particular interest are genes that encode conspicuous secondary sexual traits in males and the genes that influence female preference for such traits [1]. Among fish; sticklebacks (genus Gasterosteus), cichlids, and poeciliids, including the guppy (Poecilia reticulata) and swordtails (genus Xiphophorus), are the most important models for the study of sexual selection driven by female choice. In each of these taxa, female mate choice is influenced by male coloration and in each group, male coloration and female preference have a genetic basis [2–6].
Mapping studies designed to uncover genes responsible for species- and population-level color variation in cichlids and sticklebacks are underway [7] but to date none have been identified. While it is also the case that no female preference loci have been uncovered in fish, many cichlid species and some populations possess unique opsin genes that provide strong candidates. Indeed, the only DNA sequences that have been found to differ among the 200 to 500 endemic Lake Victoria haplochromine species are long wave-sensitive (LWS) opsins [8, 9]. In the cichlid genus Pundamilia, LWS opsin sequence and expression appears to be tuned to specific male color morphs [10]. Thus, it appears that variation in LWS opsin genes influences female mate choice and speciation in this family [11].
Opsin genes encode membrane-bound receptors that are expressed primarily in rod and cone cells of the retina. Each opsin protein is associated with a chromophore and when exposed to light, this complex changes shape leading to rod or cone cell hyperpolarization [12]. The detection of light at the receptor level requires input from just one type of opsin-chromophore receptor. However, discriminating among colors (wavelengths) involves the interpretation of signals from multiple adjacent retinal cone cells expressing different opsins. These different opsins often have names that reflect the wavelength of light to which they are most sensitive. For instance, short wave-sensitive (SWS), middle wave-sensitive (MWS), and long wave-sensitive opsins (LWS) are most sensitive to blue, green and red light, respectively. Gene duplication and divergence has generated this opsin diversity. For example, the human MWS opsin is a duplicate (or paralog) of the LWS opsin locus and now differs at three of the five amino acid positions known to influence wavelength sensitivity [13–16]. Zebrafish also have a pair of LWS opsin genes with different five key-site haplotypes [17].
The purpose of this study was to characterize LWS opsin gene sequence variation in guppies and in closely related species. We focused on this gene because microspectrophotometry (MSP) data indicated that guppies express more than one type of LWS opsin [18, 19] and because orange is an important component of female mate choice for these fish [4, 20–22]. While two recent studies have reported LWS opsin gene variation in guppies [23, 24], one focused only on short amplicons from a single fish and both presented incomplete data on the key-site amino acids known to influence spectral sensitivity. Genomic sequences, transcript expression levels, and data from other poeciliids have also not been reported to date.
We show that guppies (Poecilia reticulata) and three species in the guppy sister group (Micropoecilia) have four LWS genes. Sequence variation at the five key sites indicates that three of these LWS opsins are most sensitive to different wavelengths of light providing Poecilia with a larger repertoire of LWS pigments than any other fish taxon. One of the guppy LWS opsins appears to be a single-exon gene, likely arising from a retrotransposition event. This gene was sequenced in all poeciliids surveyed except Tomeurus gracilis and has also been reported in the killifish, Lucania goodei (family Fundulidae). Two LWS opsins are linked, oriented in a tail-to-tail fashion, and separated by approximately 3.3 Kbp. The fourth is found only in the genus Poecilia. This is a hybrid or mosaic sequence in the guppies surveyed here from Cumaná Venezuela. All four LWS opsins in the guppy were amplified from RNA isolated from adult eyes, but qPCR experiments show much variation among these duplicates in the level of expression.
Results
Hybrid or mosaic sequences
A large number of LWS opsin-like sequences (up to 17 per guppy) were uncovered after cloning and sequencing the products of PCR reactions utilizing primers Fw1a and Rev5. These sequences included suspected recombinants, that is, sequences that could have been generated by the ordered concatenation of fragments of other sequences produced in the same PCR reaction. Template switching during PCR and/or mismatch repair of cloned heteroduplex molecules has been shown to generate such artefacts [39–42]. To test the hypothesis that PCR and cloning could generate LWS opsin sequences not found in the guppy genome, we used primers Fw1a and Rev5 to re-amplify DNA from a two-sequence template (i.e., two insert-bearing plasmids). Five different sequences were uncovered from the two-template PCR reaction; one copy of each of the two templates and three recombinant sequences. These two-template experiments confirmed speculation by Hoffmann et al. [23] and Weadick and Chang [24] that LWS opsin genes in poeciliids are susceptible to PCR and/or cloning artefacts that generate artificial hybrid sequences.
To determine the minimum number of genuine LWS opsin sequences in our dataset we first considered variation at polymorphic positions. Two sequences (e.g., from two different loci or from two alleles at one locus) could serve as a PCR template for the generation of an enormous diversity of hybrid sequences via template switching or mismatch repair. However, among such a set of hybrid sequences there would be only two variants (substitutions or indels) at a given polymorphic site. LWS opsin sequences derived from individual fish using primers Fw1a and Rev5 included three different intron II haplotypes and a position in exon III that was polymorphic for three different nucleotides. Remarkably, this exon III variation translated into amino acid variation at position 180; the first of the five sites known to influence spectral sensitivity (see below). Gene duplication is the only explanation for the occurrence of three haplotypes in a single individual. We set out to strengthen this evidence for LWS opsin gene duplication by amplifying DNA between the genes (see next section).
Between-gene PCR and sequencing
PCR using primers designed to amplify between-gene DNA (Fw1a Comp and Rev8 Comp) produced a ~4 Kbp product in the guppy and in the three species of the guppy sister group Micropoecilia (P. picta, P. parae, and P. bifurca). These amplicons were cloned in three of these four species (cloning of this amplicon was unsuccessful in P. bifurca) and approximately 1500 bp were sequenced from each end of the clone insert. Each end of the insert contained the last intron and exon of an LWS opsin gene and approximately 790 bp beyond the stop codon. The explanation for this sequence pattern, confirmed by subsequent PCR experiments using only Rev8 Comp, was that this fragment was amplified with Rev8 Comp acting as a forward and a reverse primer and that it contained the ends of two LWS loci oriented in an inverted (tail-to-tail) fashion. The between-gene fragment did not amplify from X. pygmaeus or T. gracilis. In the guppy, additional primers were designed and the entire intergenic sequence was characterized. It was 3329 bp long, 66% A/T, and contained a short compound microsatellite; (TGGA)10(TA)9.
LWS opsins in the family Poeciliidae
Given the evidence for the artificial generation of opsin sequence variation during PCR or cloning, and the observation that artefacts produced by template switching and/or mismatch repair do not appear to be reproducible [41, 43], only haplotypes recovered from multiple independent PCR and cloning experiments were assumed to represent genuine opsin sequences. Additional primers were designed from these reliable sequences and from the sequences obtained by the between-gene PCR experiments described above (see Additional file 3).
Initially, three different LWS opsin sequences were identified in guppy (P. reticulata). These three genes were delimited by variation at codon 180: TCT (serine), GCT (alanine), and CCT (proline), and by unique intron II and intron V mutations. Codon 180 is one of the five key positions that influence wavelength sensitivity [16] and the variation uncovered here is reflected in the names we have given to each of the loci; LWS S180 (S for serine), LWS A180 (A for alanine), and LWS P180 (P for proline).
Seven
LWS S180
sequences were obtained from six different Cumaná guppies with five of these including the start codon, all exons and introns, and part of the 3' UTR (see Additional file
3
). Thirteen
LWS A180
sequences were obtained from seven guppies. Only one was full-length but six included sequence from exon II to the 3' UTR. The
LWS A180
sequence appears to be a naturally occurring hybrid in the Cumaná guppy; the first five exons and four introns are most similar to
LWS S180
, whereas the last intron and exon are identical to the
LWS P180
locus. As the two regions of this hybrid
LWS A180
sequence will give conflicting phylogenetic signals, the
LWS A180
sequences were truncated in the phylogenetic analyses reported below (i.e. only the first five exons were utilized). Seven
LWS P180
sequences were obtained from seven guppies (see Additional file
2
). The ForBeg primer, which includes the start codon, combined with any of the reverse primers, did not amplify the
LWS P180
locus. Therefore,
LWS P180
sequences spanned exon II to the 3' UTR. In addition to the proline residue at site 180, the
LWS P180
locus has amino acids substitutions at two other key sites. In guppies,
LWS P180
also possessed a variable-length tetranucleotide microsatellite in intron III. PCR experiments using Fw100 and a primer complementary only to Weadick and Chang's [
24
] variant 6 (RevA) uncovered a fourth LWS opsin gene. While we did not amplify or sequence the first exon or intron, we show that the rest of this gene is intronless, suggesting that variant 6 is a single-exon gene, arising from a retrotransposition. It has a serine at position 180 (codon: TCG) and is renamed
LWS S180r
(S for the serine at position 180 and r for retrotransposition). Finally, our southern blot shows four bands (Fig.
1
), consistent with the PCR-based hypothesis that the Cumaná guppy has four LWS loci. These four LWS opsins encode the following five key-site haplotypes: SHYTA (
LWS S180
and
LWS S180r
), AHYTA (
LWS A180
), and PHFAA (
LWS P180
) and are thus expected to be most sensitive to three different wavelengths of light [
16
] (Table
1
).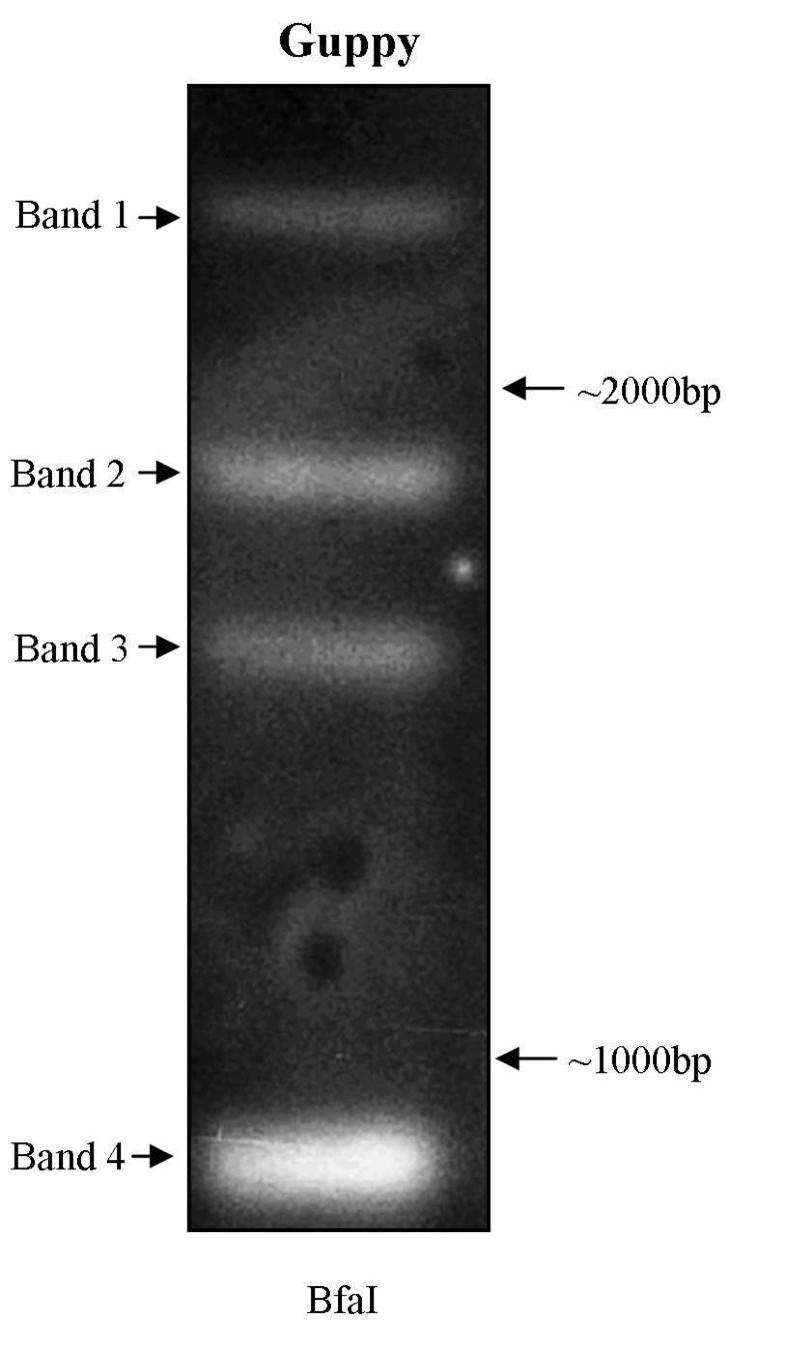 Long portions of the four LWS genes found in the guppy were also amplified and sequenced from P. picta and P. bifurca. Three of these opsins, LWS S180, LWS S180r, and LWS P180, were sequenced from P. parae. We did not obtain the 3' end of LWS A180 from any of these three species. Therefore the mutation producing the hybrid sequence consistently recovered from Cumaná guppy cannot yet be mapped onto the poeciliid phylogeny. Xiphophorus pygmaeus had three LWS opsin genes: LWS S180, LWS S180r, and LWS P180. Only one LWS opsin sequence (LWS S180) was recovered from Tomeurus gracilis. All sequences have been deposited in GenBank under accession numbers EU329428 – EU329486 (see Additional file 2).
Phylogenetic analysis of LWS opsin gene duplication in Poeciliidae
The guppy LWS opsin sequences obtained here and those reported by Hoffman et al. [23] were added to the 390 bp alignment reported by Weadick and Chang [24]. Phylogenetic analyses sorted these guppy LWS opsins into three well-supported clades; LWS S180r, LWS P180 and LWS S180 plus LWS A180. Weadick and Chang's [24] variant 6 clustered with the single exon gene LWS S180r, and variant 5 clustered with the LWS P180 gene. This last result was anticipated before phylogenetic reconstruction because both sequences encode a phenylalanine at position 277 and an alanine at position 285. The remaining guppy LWS opsin genes; variants 1–4 from Weadick and Chang [24], the three LWS opsins from Hoffman et al. [23] (LWS_OR6-4_D09, LWS_OR6-3_E08, LWS_QUEm5_L06) and our LWS S180 and LWS A180 genes, formed the third clade. Over this 390 bp alignment, these genes are almost identical (mean percent identity = 98.6%). We suspect that the Weadick and Chang [24] variants 1–4 and the three Hoffman et al. [23] LWS genes include alleles at the LWS A180 and LWS S180 loci. This guppy-only LWS opsin sequence comparison also revealed that Weadick and Chang's [24] variant 5 is a recombinant or mosaic sequence; the first 221 bp are identical to variant 4, and the last 170 bp are identical to our LWS P180 sequence. In our phylogenic analysis, this gene occurred in the LWS P180 clade because the region where it is identical to variant 4 has few phylogenetically informative characters.
Maximum parsimony analysis of the longer multiple sequence alignment (see Additional file
4
) with the new poeciliid sequences and LWS opsins from a diversity of ray-finned fish produced a single tree (Fig.
2
). The NJ tree included all of the nodes from the MP tree that had bootstrap support >65% and many of the nodes with lower support. Unlike the MP tree in Fig.
2
, the NJ analysis placed the
Tomeurus
LWS opsin as the sister sequence to a clade with the
Xiphophorus
and
Poecilia LWS P180
,
LWS S180
and
LWS A180
genes. This reconstruction makes more sense than the MP tree with respect to poeciliid taxonomy; morphological and molecular data indicate that
Poecilia
and
Xiphophorus
are more closely related to one another than either is to
Tomeurus
. However, we present the MP tree because the neighbor-joining tree also placed the bluefin killifish LWSA gene at the base of the
LWS S180r
clade and the
Xiphophorus LWS S180
gene at the base of the
LWS P180
clade. The number of gene duplication events and gene losses required to reconcile such a topology with the well-supported taxonomic relationships among these species makes these components of the NJ topology very unlikely.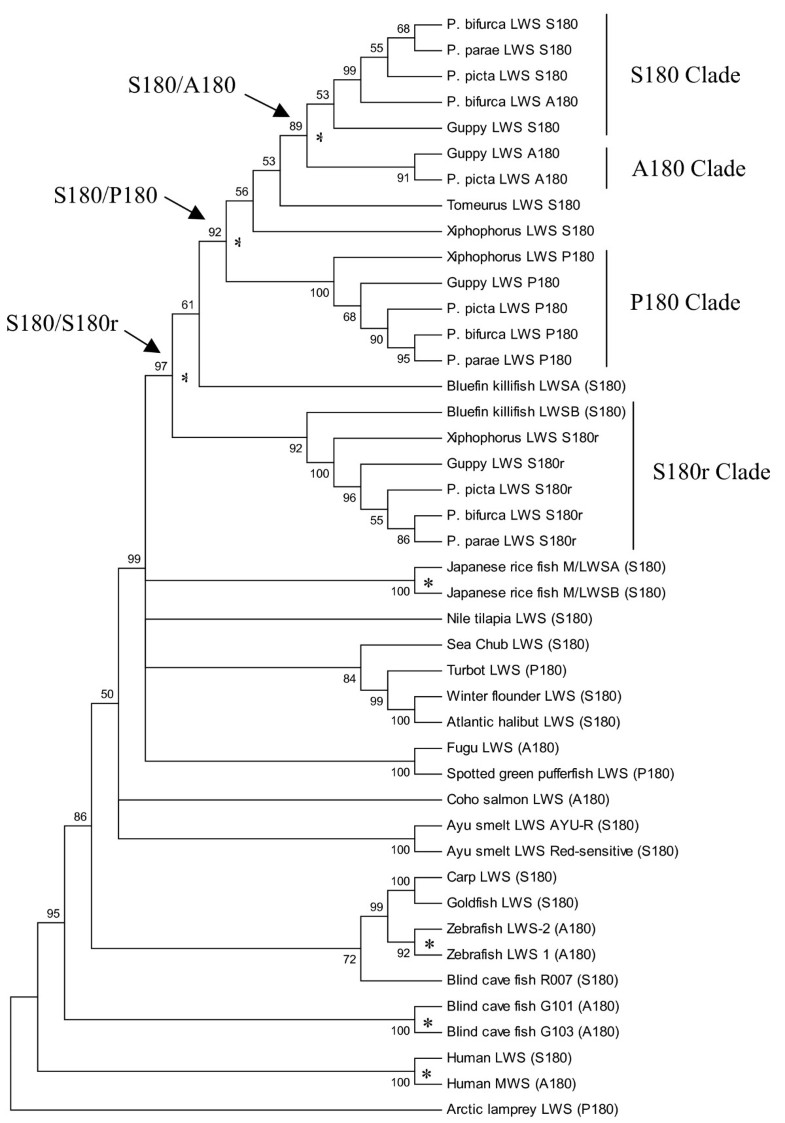 The MP tree indicates that the guppy LWS opsin repertoire is a consequence of gene duplication events that occurred i) prior to the divergence of families Fundulidae and Poeciliidae, ii) in the common ancestor of Xiphophorus and Poecilia, and iii) within the genus Poecilia. Mechanisms of LWS opsin gene duplication include retrotransposition (producing LWS S180r) and inverted tandem duplication (producing the gene pair, LWS S180 and LWS P180). Formation of the hybrid LWS A180 locus may have involved quasipalindrome correction [44]. These three duplication events have provided species in this genus with a larger repertoire of LWS opsin pigments than any other fish taxon.
LWS gene evolution in teleosts
Relationships among higher taxonomic groups were well resolved in the tree reconstructed from LWS opsin sequences. There is high (>75%) bootstrap support for monophyly of Cyprinidontiformes (the bluefin killifish and all poeciliids), Pleuronectiformes (sea chub, turbot and flounder), Percomorpha, and the family Cyprinidae (goldfish, carp and zebrafish). One of the blind cavefish (Astyanax mexicanus) LWS genes (R007) is the sister sequence to those from goldfish, carp and zebrafish, which is not surprising as all species are in the taxon Ostariophysi. However, there were also two cavefish LWS genes at the base of the actinopterygian clade (G101 and G103). These genes might be derived from a gene produced during the fish-specific whole genome duplication event [45]. Long Branch Attraction (LBA) occurs when rapidly evolving sequences are attracted to the base of a tree [46] and is an alternative explanation for the position of the cavefish duplicates in our analysis. However, LBA is an artefact that is usually correlated with poor taxonomic sampling, which is not the case here.
Among LWS sequences available for all ray-finned fishes, there is much variation at the five sites that influence spectral sensitivity most (see Additional file 4). Three different amino acids were observed at position 180 (A, S, or P), two at position 277 (Y or F), and two at position 285 (T or A). SHYTA is believed to be the ancestral five-site haplotype for vertebrates [16]. Serine to alanine substitutions at position 180 are common, but only guppies, turbot, and the spotted green pufferfish have a proline in this position. Lamprey, though not a ray-finned fish, also has a proline at position 180. Amino acid variation at positions 197 and 308 are also known to influence spectral sensitivity, however, all ray-finned fish surveyed to date possess only H197 and A308. LWS opsins have been duplicated at least six times in ray-finned fishes; twice within Poeciliidae, once prior to the divergence of Fundulidae and Poeciliidae, once in medaka (Oryzias latipes), once in zebrafish (Danio rerio), and again in the blind cave fish (Astyanax mexicanus). Only in poeciliids and zebrafish (and humans), has the duplication been followed by a substitution at one or more of the key sites (Table 1).
LWS opsin gene expression
RT-PCR experiments (see Additional file
2
) show that all four transcripts were expressed at the same time in the eyes of adult guppies. We then used qPCR to compare transcript copy numbers. In three adult guppies,
LWS A180
was expressed at a much higher level than
LWS S180
and
LWS S180r
(approximately 26 and 127 times greater, respectively).
LWS P180
was expressed at very low levels, with approximately 5338 times less transcript abundance than
LWS A180
(Fig.
3
). The amount of cDNA in the three samples was estimated by comparing critical threshold (Ct (dR)) values between samples and standard curves prepared from plasmids containing each transcript (Tables
2
and
3
). Standard curve log fit values are shown in Table
3
.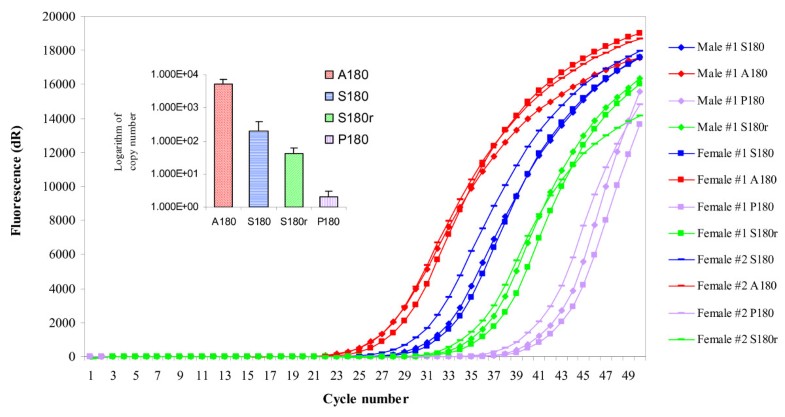 Table 2
Quantitative PCR data.
| Individual | Transcript | Ct (dR) | Original Copy Number |
| --- | --- | --- | --- |
| Male | A180 | 24.35 | 6758 |
| Male | S180 | 29.54 | 121 |
| Male | S180r | 33.12 | 39 |
| Male | P180 | 39.01 | 1+ |
| Female #1 | A180 | 25.46 | 3126 |
| Female #1 | S180 | 30.10 | 78 |
| Female #1 | S180r | 33.90 | 24 |
| Female #1 | P180 | 39.58 | 1+ |
| Female #2 | A180 | 24.49 | 6131 |
| Female #2 | S180 | 27.93 | 416 |
| Female #2 | S180r | 32.36 | 63 |
| Female #2 | P180 | 37.51 | 1+ |
Table 3
Standard curve log fit values for quantitative PCR.
| (Plasmid) Standard Curve | Linear Equation | Efficiency (%) | RSq |
| --- | --- | --- | --- |
| A180 | Y = -3.315(logX) + 37.05 | 100.3 | 0.999 |
| S180 | Y = -2.992(logX) + 35.77 | 115.9 | 0.996 |
| S180r | Y = -3.670(logX) + 38.96 | 87.3 | 0.985 |
| P180 | Y = -3.319(logX) + 36.68 | 100.1 | 0.999 |
Conclusion
Gene duplication and divergence has provided Poecilia and its close relatives with four distinct LWS opsins; a larger repertoire than any other fish. Phylogenetic analyses suggest that three of these LWS opsins (LWS S180r, LWS P180 and LWS S180) were present very early in poeciliid evolution and are predicted to occur in all of the approximately 239 species of the subfamily Poeciliinae. Adult guppies express all four LWS paralogs simultaneously, albeit at varying levels. As a consequence of these gene duplications, the potential for a broad region of high sensitivity and/or enhanced wavelength discrimination in the long-wave portion of the visible spectrum, may have facilitated a red-orange color bias for sexual selection within the guppy.
Declarations
Acknowledgements
The authors thank Roderick Haesevoets for help with DNA sequencing, Shelby Temple and two anonymous referees for comments on the manuscript and Gustavo Ybazeta for help with the phylogenetic analysis. The Environmental Protection Agency of Guyana, Ministry of Agriculture of Guyana, and Animal Husbandry and Fisheries of Suriname provided research and collecting permits. Fish were collected in Venezuela in collaboration with D. Taphorn of UNELLEZ (permit no. 0497). This work was funded by grants from the Canadian Foundation for Innovation and the British Columbia Knowledge Development Fund (JST), Natural Sciences and Engineering Research Council of Canada (JST and FB) and the National Geographic Society (FB).
Authors' Affiliations
(1)
Department of Biology, University of Victoria, Victoria, Canada
(2)
Department of Biological Sciences, Simon Fraser University, Burnaby, Canada
Copyright
© Ward et al; licensee BioMed Central Ltd. 2008
This article is published under license to BioMed Central Ltd. This is an Open Access article distributed under the terms of the Creative Commons Attribution License (http://creativecommons.org/licenses/by/2.0), which permits unrestricted use, distribution, and reproduction in any medium, provided the original work is properly cited.