Research article
Open Access
The impact of horizontal gene transfer in shaping operons and protein interaction networks – direct evidence of preferential attachment
BMC Evolutionary Biology
2008
8:23
Received: 19 August 2007
Accepted: 24 January 2008
Published: 24 January 2008
Abstract
Background
Despite the prevalence of horizontal gene transfer (HGT) in bacteria, to this date there were few studies on HGT in the context of gene expression, operons and protein-protein interactions. Using the recently available data set on the E. coli protein-protein interaction network, we sought to explore the impact of HGT on genome structure and protein networks.
Results
We classified the E. coli genes into three categories based on their evolutionary conservation: a set of 2158 Core genes that are shared by all E. coli strains, a set of 1044 Non-core genes that are strain-specific, and a set of 1053 genes that were putatively acquired by horizontal transfer. We observed a clear correlation between gene expressivity (measured by Codon Adaptation Index), evolutionary rates, and node connectivity between these categories of genes. Specifically, we found the Core genes are the most highly expressed and the most slowly evolving, while the HGT genes are expressed at the lowest level and evolve at the highest rate. Core genes are the most likely and HGT genes are the least likely to be member of the operons. In addition, we found the Core genes on average are more highly connected than Non-core and HGT genes in the protein interaction network, however the HGT genes displayed a significantly higher mean node degree than the Core and Non-core genes in the defence COG functional category. Interestingly, HGT genes are more likely to be connected to Core genes than expected by chance, which suggest a model of differential attachment in the expansion of cellular networks.
Conclusion
Results from our analysis shed light on the mode and mechanism of the integration of horizontally transferred genes into operons and protein interaction networks.
Keywords
Horizontal Gene TransferCore GeneBetweenness CentralityProtein Interaction NetworkPreferential Attachment
Background
It is generally accepted that horizontal gene transfer (HGT) is an important process in bacterial genome evolution, which provides both novel metabolic capabilities, and catalyzing the diversification of bacterial lineages [1, 2]. Although, the extent of the evolutionary impact of HGT is still under debate [3], it is generally accepted that roughly 10–40% of the protein-coding genes are likely to have been introduced by HGT into the E. coli K12 genome [4] since the species divergence from the Salmonella lineage approximately 100 million years ago [5].
Currently, no plausible mechanisms have been proposed for the incorporation of HGT genes into their recipient genomes. We envisage that successful incorporation of a horizontally transferred gene needs not only its successful transcription and translation, but also its integration into the existing functional cellular network. We foresee a number of barriers that potentially exist against the incorporation and expression of horizontally transferred genes in a new recipient genome.
The first step of integration for horizontally transferred genes is its incorporation into the host transcription machinery. Bacterial genes are often organized into groups called operons, which enable a simple and unified mechanism of gene regulation in bacteria. Integrating into operons may be regarded as beneficial for the foreign invading genes, since they gain the opportunity not only to be co-regulated and but also co-expressed with resident genes. Secondly, HGT genes may need to optimize their codon usage to be compatible to the host in order to be efficiently transcribed and translated. Thirdly, the protein product has to be integrated into the functional cellular network in order to gain interaction partners and contribute fitness benefits to the organism. Failure to achieve any of the above steps may result in eventual degradation and pseudogenization.
Considering the prevalence of horizontal gene transfer during bacterial genome evolution, the importance of studies exploring their mode of evolution, expression and impact on genomic organization and protein-interactions would thus further our understanding of horizontal gene transfer. With the emergence of high-throughput functional genomics and proteomics data, we are offered a unique opportunity of answering these questions. Thus our specific aims in this paper were to address the following questions:
(i). Evolutionary Rates and Gene Expression characteristics of Core, Non-core and HGT genes
Bacterial genomes are known to be dynamic, consisting of genes with different evolutionary histories. Some genes are evolutionarily conserved while others can be gained and lost in a lineage-specific fashion, and by horizontal gene transfer events. Prior studies on yeast and vertebrates have suggested that genes that are the most evolutionary conserved and most highly expressed evolve at the slowest rate [6, 7]. Therefore to investigate the effect of selection on these various gene categories, we classified E. coli genes according to their evolutionary conservation into Core, Non-core and HGT genes (see Methods). In this regard, we hypothesize that the cumulative effect of selection acting on these different gene categories would leave footprints in their sequence and gene expression characteristics.
(ii). The contribution of HGT to operon formation
It is known that horizontally transferred genes can be inserted into existing operons and thus contribute to the dynamic nature of the gene order and membership of these operons [8–15]. Although a few studies have investigated the evolutionary stability and the conservation of gene order of operons [16, 17], the relative contribution of HGT on the evolutionary composition of operons remains unclear. In this regard, we aimed to explore the prevalence of HGT genes in operons by cataloguing the presence of operons consisting of Core, Non-core and HGT genes.
(iii). The impact of HGT on protein-protein interactions and networks
Another area that has been missing in the study of HGT events is the aspect of protein-protein interactions and cellular networks. A few studies have concentrated on the impact of horizontal gene transfer on metabolic networks [18, 19]. Unfortunately very little is known about the effect of horizontal gene transfer on the global protein interaction networks in this aspect, mostly due to the lack of cellular interaction data in bacteria until recently.
It has been suggested that the scale-free properties of biological networks may in part be due to a model of preferential attachment by means of gene duplication, whereby new nodes preferentially attach to existing highly connected nodes. In networks that have evolved via preferential attachment, older nodes should have a higher average connectivity than younger nodes [20]. In this regard, horizontal gene transfer can be considered as an additional biological mechanism to the existing model of preferential attachment. Although distinctly different, a model of network growth and expansion that involves gene duplication results in a duplicate protein copy with exact same or similar function, whereas a mechanism involving HGT may represent novel functions. In this regard, proteins encoded by HGT genes can be seen as competing with resident genes in establishing and gaining protein interactions.
We investigated both operons and protein interactions as a means of detecting successful incorporation of putative horizontally transferred genes in the E. coli genome. We explored the possibility that successful HGT genes would require integration at the level of operons to be expressed and integration at the network level to establish fitness benefits to the organism. We found horizontally transferred genes exhibit lower gene expressivity and evolve at faster evolutionary rates than evolutionarily conserved core genes. In addition, although proteins encoded by horizontally transferred genes have lower network connectivity, they preferentially attach to resident Core proteins rather than Non-core proteins within the protein interaction network. We conclude that a small proportion of the low connectivity proteins may have arisen from HGT events.
Conclusion
To our knowledge, our analysis represent the first time that the HGT events are investigated in the context of protein-protein interaction and cellular networks. This is important because horizontal gene transfer in known to be prevalent in bacterial genome evolution in shaping the genome content, and they had an impact on the stability and evolution of the protein interactions and network.
From our analyses, the distinguishing characteristics which sets the HGT gene category apart from the Non-core and Core gene categories are (i) higher evolutionary substitution rates (Ka/Ks), (ii) protein interaction network statistical properties such as protein degree connectivity, average clustering coefficients and betweeness centrality, (iii) preferential attachment with regards to the number of interactions formed by HGT genes, which indicate that HGT proteins preferentially neither self-associate nor do HGT proteins associate with Non-core proteins within the E. coli protein interaction network.
Results from our study revealed a clear relationship between gene expressivity, evolutionary rate and protein connectivity for the three evolutionary classes of genes (Figure
8
). The conserved
Core
set of genes generally display higher gene expressivity and protein connectivity than strain-specific
Non-core
and
HGT
genes. However, both gene expressivity and protein connectivity are inversely related to evolutionary rates, with the most highly conserved genes evolving the slowest. In contrast, horizontally transferred genes evolve at considerably higher evolutionary rates, and have lower gene expressivity and protein connectivity. In addition, proteins encoded by horizontally transferred genes attach preferentially to
Core
proteins within the
E. coli
protein interaction network. Consistent with this finding is the general idea that
Core
genes are the oldest resident genes and form the backbone of the protein interaction network to which new proteins are attached. These results may also suggest that a proportion of the lowest connectivity proteins in bacterial protein interaction networks are those genes which are more likely to have recently been transferred and incorporated into the
E. coli
genome.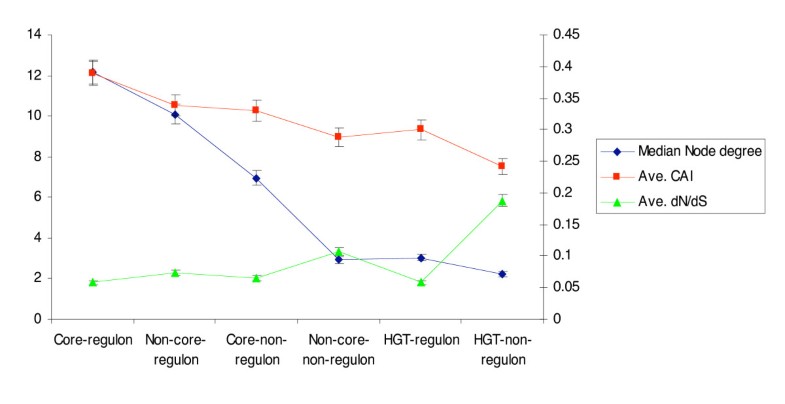 This is reminiscent of the so-called "Complexity Hypothesis", which was proposed to explain why the successful horizontal transfer of a gene is less probable if the connectivity of the protein it encodes is large [52], and its later modification called the 'Extended Complexity hypothesis' [53] which aims to explain why adaptive evolution is the least likely for proteins with high complexity. Although the Complexity Hypothesis and its modified version aim to describe which types of genes are more or less likely to be subjected to horizontal gene transfer, it fails to provide a mode and mechanism for subsequent integration of the horizontally transferred gene into it new recipient genome. The results from our analysis support these hypotheses with genomics and evolutionary data.
Considering the prevalence of HGT in bacteria, the relative contribution of HGT as an additional mechanism to gene duplication may become more important on network evolution. Thus, with the availability of proteomics data for more bacteria, we will most likely gain more insight on the impact of HGT on the evolution of networks.
List of abbreviation used
HGT:

Horizontal Gene Transfer
PIN:

Protein Interaction Network
CAI:

Codon Adaption Index
BLAST:

Basic Local Alignment and Search Tool
KEGG:

Kyoto Encyclopedia of Genes and Genomes http://www.genome.jp/kegg
COG:

clusters of orthologous groups http://www.ncbi.nih.gov/COG
Declarations
Acknowledgements
We kindly acknowledge Morgan Price for providing the data pertaining to horizontally transferred genes; we are also grateful to the help suggestions provided by anonymous reviewers. The authors acknowledge funding support from Genome Canada through Ontario Genomic Institute.
Authors' Affiliations
(1)
Banting & Best Department of Medical Research (BBDMR), Donnelly Centre for Cellular & Biomolecular Research (CCBR), University of Toronto, Toronto, Canada
(2)
Department of Molecular Genetics, University of Toronto, Toronto, Canada
Copyright
© Davids and Zhang; licensee BioMed Central Ltd. 2008
This article is published under license to BioMed Central Ltd. This is an Open Access article distributed under the terms of the Creative Commons Attribution License (http://creativecommons.org/licenses/by/2.0), which permits unrestricted use, distribution, and reproduction in any medium, provided the original work is properly cited.