Research article

Open Access
The Bet v 1 fold: an ancient, versatile scaffold for binding of large, hydrophobic ligands
BMC Evolutionary Biology
2008
8:286
Received: 05 June 2008
Accepted: 15 October 2008
Published: 15 October 2008
Abstract
Background
The major birch pollen allergen, Bet v 1, is a member of the ubiquitous PR-10 family of plant pathogenesis-related proteins. In recent years, a number of diverse plant proteins with low sequence similarity to Bet v 1 was identified. In addition, determination of the Bet v 1 structure revealed the existence of a large superfamily of structurally related proteins. In this study, we aimed to identify and classify all Bet v 1-related structures from the Protein Data Bank and all Bet v 1-related sequences from the Uniprot database.
Results
Structural comparisons of representative members of already known protein families structurally related to Bet v 1 with all entries of the Protein Data Bank yielded 47 structures with non-identical sequences. They were classified into eleven families, five of which were newly identified and not included in the Structural Classification of Proteins database release 1.71. The taxonomic distribution of these families extracted from the Pfam protein family database showed that members of the polyketide cyclase family and the activator of Hsp90 ATPase homologue 1 family were distributed among all three superkingdoms, while members of some bacterial families were confined to a small number of species. Comparison of ligand binding activities of Bet v 1-like superfamily members revealed that their functions were related to binding and metabolism of large, hydrophobic compounds such as lipids, hormones, and antibiotics. Phylogenetic relationships within the Bet v 1 family, defined as the group of proteins with significant sequence similarity to Bet v 1, were determined by aligning 264 Bet v 1-related sequences. A distance-based phylogenetic tree yielded a classification into 11 subfamilies, nine exclusively containing plant sequences and two subfamilies of bacterial proteins. Plant sequences included the pathogenesis-related proteins 10, the major latex proteins/ripening-related proteins subfamily, and polyketide cyclase-like sequences.
Conclusion
The ubiquitous distribution of Bet v 1-related proteins among all superkingdoms suggests that a Bet v 1-like protein was already present in the last universal common ancestor. During evolution, this protein diversified into numerous families with low sequence similarity but with a common fold that succeeded as a versatile scaffold for binding of bulky ligands.
Keywords
Protein Data BankPfam DatabasePfam FamilyStart DomainBenzylisoquinoline Alkaloid
Background
Plants are continuously challenged by pathogens, herbivores and adverse environmental conditions. Although they lack an adaptive immune system, they have evolved numerous other mechanisms of stress response and defence. These include developmental plasticity, mechanical barriers, low molecular weight anti-microbial compounds named phytoalexins, pathogen-specific resistance genes and inducible pathogenesis-related (PR) proteins. PR-proteins were first discovered as proteins present in tobacco plants infected with tobacco mosaic virus [1]. They were defined as proteins absent in the non-infected plant and induced after pathogen infection or other adverse conditions. PR-proteins are today classified into 17 families based on sequence similarity and biochemical function [2].
An unusual PR family was designated PR-10 or intracellular PR-proteins as they are, in contrast to most PR families, expressed in the cytoplasm. They are acidic proteins of 15–18 kDa and were first discovered in parsley and peas in the late 1980s [3, 4]. Since then, PR-10 family members have been found in many species of higher plants ranging from conifers to monocotyledonous and dicotyledonous angiosperms [5]. In 1989, this protein family became a target of research in a completely different area when the major pollen allergen of white birch (Betula verrucosa), Bet v 1, was cloned and its sequence revealed to be similar to PR-10 proteins (55% identity and 70% similarity to a pea disease resistance protein) [6]. In subsequent years, homologous allergens from pollen of related trees such as alder and hazel as well as food allergens from fruits and vegetables such as apple and celery were identified. Immunoglobulin E cross-reactivity among these allergens is responsible for the frequent occurrence of plant food allergy among birch pollen allergic individuals, an association termed the birch-fruit syndrome [7].
In 1998, the finding that a group of proteins abundantly expressed in the latex of opium poppy was homologous to PR-10 proteins despite sequence identities below 25% revealed that the PR-10 family was part of a much larger family of plant proteins [8]. Since then, several other proteins distantly related to PR-10 proteins were described. (S)-Norcoclaurine synthases (NCS), enzymes involved in benzylisoquinoline alkaloid biosynthesis, from poppy [9] and meadow rue (Thalictrum flavum) [10] showed sequence identities to PR-10 proteins between 28% and 38% [10]. The sequence of a cytokinin-specific binding protein (CSBP) from mung bean displayed 31% identity and 45% similarity to Bet v 1 [11].
The most striking feature of the three-dimensional structure of Bet v 1 is the presence of a large hydrophobic cavity, which is open to the exterior and probably functions as a ligand binding site [12]. The surprising similarity of the structure of the Bet v 1-related major cherry allergen, Pru av 1, to that of the lipid binding domain of the human cholesterol-binding metastatic lymph node protein 64 (MLN64) revealed the existence of a large superfamily of mostly lipid-binding proteins with a common fold [13]. This superfamily was classified as Bet v 1-like clan in the Pfam protein family database [PfamC:CL0209] and as Bet v 1-like superfamily in the Structural Classification of Proteins (SCOP) database [SCOP:d.129.3].
In this study, we aimed, on the one hand, to classify all available sequences with significant similarity to Bet v 1 into subfamilies and, on the other hand, to determine all structural Bet v 1 homologues in the Protein Data Bank (PDB) using a sensitive structural alignment tool. These structures were classified into eleven families adding five families to the six families included in SCOP release 1.71. The ubiquitous taxonomic distribution of Bet v 1-like superfamily members and their ligand binding activities suggest that the Bet v 1 fold can be traced back to the last universal common ancestor and that the primordial Bet v 1-like protein probably functioned as a lipid carrier.
Conclusion
A comparison of the structures, functions and taxonomic distributions of members of the Bet v 1-like superfamily leads to the suggestion of the following evolutionary scenario (Fig.
5
). A protein possessing the Bet v 1 fold most likely already existed in the last universal common ancestor. The biological function of this protein was probably related to lipid binding, such as trafficking of membrane components. This primordial gene subsequently diverged into the multitude of Bet v 1-related protein families present today, some of which retained the original fold, while others gained novel function by insertion of additional structural elements (Fig.
5
, bottom half). The ubiquitous distribution of the polyketide cyclase family and the fact that the structures of its members comprise the minimal Bet v 1 fold without insertion of additional structural elements (Fig.
5
) suggest that these proteins are most closely related to the primordial Bet v 1-like protein. Functional diversity within the Bet v 1-like superfamily was also accomplished by fusion to other domains such as DNA binding modules of transcription regulators found as members of several Bet v 1-related families.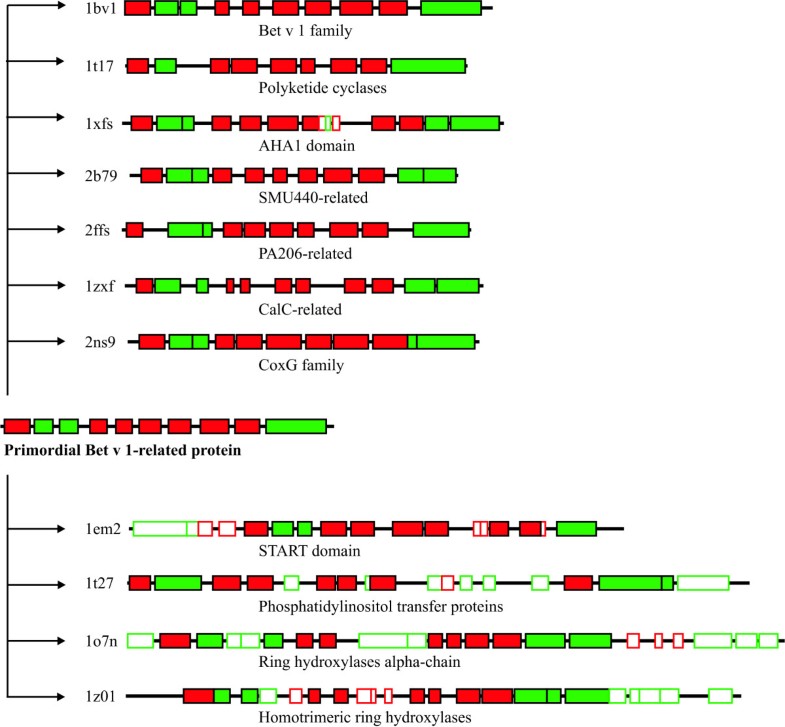 During evolution, sequence similarity between members of different families decreased to values that make the prediction of homology unreliable. However, it is unlikely that this fold with the distinctive topology of the β-sheet has evolved more than once. Nevertheless, an architecture characterised by an anti-parallel β-sheet wrapped around a long α-helix forming a large cavity was invented at least twice during evolution of lipid binding proteins. Our structural similarity search showed that a family of oxysterol binding proteins adopts a fold similar to Bet v 1 at first sight, but with a different topology.
An intriguing aspect of the evolution of the Bet v 1-like superfamily is the evolution of allergenicity. Bet v 1 from birch pollen and possibly its close homologues from other Fagales tree pollen are the only proteins within this ubiquitously distributed superfamily known to be capable of initiating an allergic immune response in humans [50]. This rare occurrence of allergenicity is in sharp contrast to the distribution of allergens within the most important superfamily of allergens, the prolamins, in which numerous families of allergens were identified, such as the 2S albumins, prolamin storage proteins, non-specific lipid transfer proteins, bifunctional inhibitors, indolines, and α-globulins [50, 51]. Among the still unknown factors that render a protein allergenic, structural features are frequently discussed. Hence, the comparison of Bet v 1 with its non-allergenic structural homologues offers the possibility to shed light on such features, thus paving the way for a deeper understanding of the allergic sensitisation process and the development of novel concepts for prevention and treatment of allergy.
Abbreviations
AHA1:

activator of Hsp90 ATPase homolog 1
CSBP:

cytokinin-specific binding protein
HMM:

hidden Markov model
MLN64:

metastatic lymph node protein 64
MLP:

major latex protein
NCS:

(S)-norcoclaurine synthase
PDB:

Protein Data Bank
PITP:

phosphatidylinositol transfer protein
PR:

pathogenesis-related
RMSD:

root mean square distance
RRP:

ripening-related protein
SCOP:

Structural Classification of Proteins
STAR:

steroidogenic acute regulatory protein
START:

STAR lipid transfer domain.
Declarations
Acknowledgements
This study was supported by the Austrian Science Fund (FWF) grant SFB-F01802 (to HB).
Authors' Affiliations
(1)
Department of Pathophysiology, Medical University of Vienna, Vienna, Austria
(2)
Department of Molecular Biology, University of Salzburg, Salzburg, Austria
Copyright
© Radauer et al; licensee BioMed Central Ltd. 2008
This article is published under license to BioMed Central Ltd. This is an Open Access article distributed under the terms of the Creative Commons Attribution License (http://creativecommons.org/licenses/by/2.0), which permits unrestricted use, distribution, and reproduction in any medium, provided the original work is properly cited.