Research article
Open Access
Post-Messinian evolutionary relationships across the Sicilian channel: Mitochondrial and nuclear markers link a new green toad from Sicily to African relatives
BMC Evolutionary Biology
2008
8:56
Received: 14 August 2007
Accepted: 23 February 2008
Published: 23 February 2008
Abstract
Background
Little attention has been paid to the consequences of the last landbridge between Africa and Sicily on Mediterranean biogeography. Previous paleontological and scarce molecular data suggest possible faunal exchange later than the well-documented landbridge in the Messinian (5.3 My); however, a possible African origin of recent terrestrial Sicilian fauna has not been thoroughly tested with molecular methods. To gain insight into the phylogeography of the region, we examine two mitochondrial and two nuclear markers (one is a newly adapted intron marker) in green toads (Bufo viridis subgroup) across that sea barrier, the Strait of Sicily.
Results
Extensive sampling throughout the western Mediterranean and North Africa revealed a deep sister relationship between Sicilian (Bufo siculus n.sp.) and African green toads (B. boulengeri) on the mitochondrial and nuclear level. Divergence times estimated under a Bayesian-coalescence framework (mtDNA control region and 16S rRNA) range from the Middle Pliocene (3.6 My) to Pleistocene (0.16 My) with an average (1.83 to 2.0 My) around the Pliocene/Pleistocene boundary, suggesting possible land connections younger than the Messinian (5.3 My). We describe green toads from Sicily and some surrounding islands as a new endemic species (Bufo siculus). Bufo balearicus occurs on some western Mediterranean islands (Corsica, Sardinia, Mallorca, and Menorca) and the Apennine Peninsula, and is well differentiated on the mitochondrial and nuclear level from B. siculus as well as from B. viridis (Laurenti), whose haplotype group reaches northeastern Italy, north of the Po River. Detection of Calabrian B. balearicus haplotypes in northeastern Sicily suggests recent invasion. Our data agree with paleogeographic and fossil data, which suggest long Plio-Pleistocene isolation of Sicily and episodic Pleistocene faunal exchange across the Strait of Messina. It remains unknown whether both species (B. balearicus, B. siculus) occur in sympatry in northern Sicily.
Conclusion
Our findings on green toads give the first combined mitochondrial and nuclear sequence evidence for a phylogeographic connection across the Strait of Sicily in terrestrial vertebrates. These relationships may have implications for comparative phylogeographic research on other terrestrial animals co-occurring in North Africa and Sicily.
Keywords
Control RegionSubstitution RateMismatch DistributionBalearic IslandDivergence Time Estimate
Background
On the phylogeographic patterns of terrestrial Sicilian fauna
Since Busack [
1
,
2
], the faunal relationships between North Africa and Iberia have been the focus of numerous molecular phylogeographic studies, yet little attention has been drawn to the consequences that the last landbridge between Africa and Sicily may have had on Mediterranean biogeography. As was the Strait of Gibraltar, the Strait of Sicily (no universally accepted name in English; other names include Sicilian Strait, Sicilian Channel, Channel of Sicily, Pantelleria Channel) is purported to have formed at the end of the Messinian salinity crisis (5.3 Mya), at the Miocene/Pliocene boundary [e.g. [
3
–
6
], F. Rögl pers. comm.]. The Messinian [
4
] was a geological period from 5.59 to 5.33 Mya during which the Mediterranean Sea was isolated from the Atlantic Ocean, resulting in a large decrease in the Mediterranean Sea level and the formation of landbridges between Africa, Europe and most Mediterranean islands. This included a well-documented landbridge between Africa and a landmass that later became part of Sicily, which may be the last terrestrial connection between the African mainland and the island. However, while it is known that Sicily and Tunisia are at present approximately 140 km apart, low Pleistocene sea levels of about -120 m [
7
–
9
] would have repeatedly drawn the north African paleo-coast and the Sicilian landmass closer than ~50 km (Figure
1
). In addition, current shoals [
10
,
11
] may be remnants of Pleistocene "stepping stone islands" that may have facilitated terrestrial animals, including humans [
12
], in overcoming the sea barrier. Therefore, the phylogenetic depths of sister relationships between Sicily and Africa may vary as they do for trans-Gibraltarian relationships [
2
,
13
]. Observations of this pattern in widespread taxa might be explained by multiple invasions across the Strait of Sicily and/or additional potential invasions from the region that now forms the Italian (Apennine) Peninsula.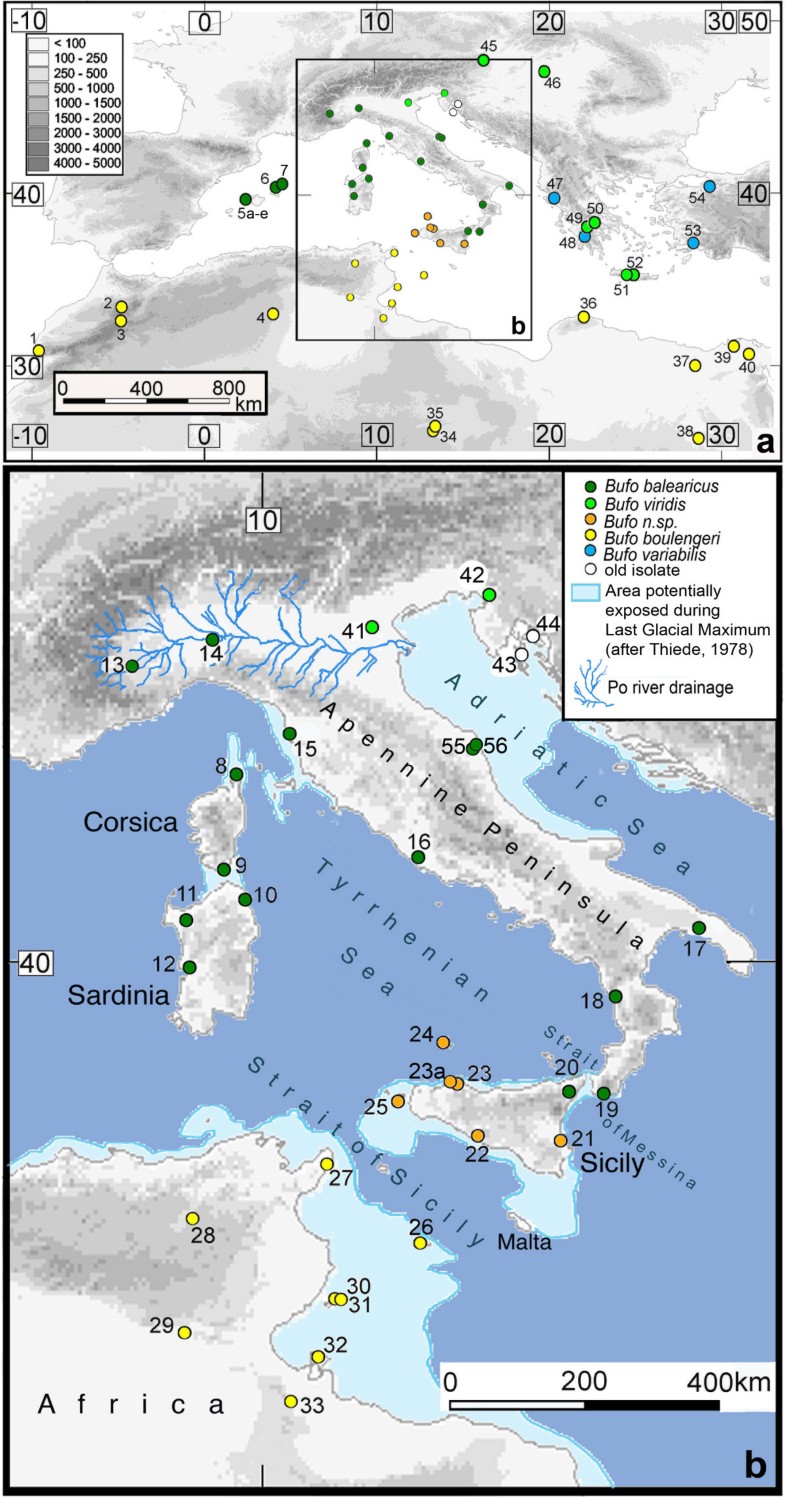 As expected for an island with a long Pliocene isolation [14], endemic (island specific) forms in several animal groups on Sicily have been revealed by molecular analyses (e.g.: hedgehogs, Erinaceus [15]; shrews, Crocidura [16]; mice, Apodemus [17]; beetles, Pachydemidae [18]; terrapins, Emys [19]; skinks, Chalcides [20]). Using these methods, some of these species have been shown to be sister taxa to populations from the Apennine Peninsula (e.g. Apodemus, Erinaceus) or to be of very recent Apennine peninsular (or Calabrian) origin (reviewed in [21]). This pattern may be explained by "an intermittent filter barrier in the area of the Strait of Messina [which] probably controlled the processes and timing of the Late Middle Pleistocene-Late Glacial vertebrate faunal dispersal in Sicily" [Bonfiglio in: [22]]. Many Pleistocene fossil megafaunal elements entered Sicily from peninsular Italy [Bonfiglio in: [22]]. However, Bonfiglio [14] also hypothesized a Lower Pleistocene African origin of fossil elephants (Elephas falconeri) as a debatable alternative to derivation from European/Italian E. antiquus [Bonfiglio in: [22]]. Other paleontologists have also discussed whether Sicily had early Pleistocene connections to Africa, as in an, in this respect, unresolved investigation of a Pleistocene amphisbaenid lizard from Sicily [23]. All these authors [22–24], however, refer to the lack of conclusive evidence for a Pleistocene landbridge. Recent molecular data have suggested phylogeographic links across the Strait of Sicily, either based on very little data, or, with some speculation on the dating of these divergences [[20, 25]; see Discussion].
On green toads in the western Mediterranean region and North Africa
Green toads are widespread in the Palearctic region where they have differentiated into several lineages [26]. The occurrence of three bisexually reproducing ploidy levels [27] makes them a uniquely interesting vertebrate group. A recent survey of mtDNA variation characterized a deeply branched assemblage of at least twelve major haplotype groups [28]. Other data on green toad variation from North Africa have been relatively scarce [29, 30]. Research has been mainly restricted to faunistics [31–33] or analyses of single populations (Egypt [34]) without taxonomic or phylogeographic focus. Green toad biology and ecology are relatively well known from the Balearic Islands [35, 36], Corsica [[37] incl. refs.], Sardinia and mainland Italy [38]. In addition, morphometric analyses of green toads in Italy have been restricted to peninsular and Sardinian (plus Corsican) populations [38, 39] until morphometric data for a population from northwestern Sicily became available [40]. Otherwise, regional research has been restricted to classical biogeography and faunistics including ecological and taxonomic remarks [41–43] and studies on phenology [40, 44].
To gain insight into the phylogeography of the region, we test a wide range of possible substitution rates in order to better date the African-Sicilian divergence of green toads: Based on only two haplotypes from Sicily, Stöck et al. [28] roughly calibrated their tree by "assuming that the last landbridge between North Africa and Sicily broke about 5.3 Mya." Alternatively, this divergence could be younger. Here, we examine genetic data from many individuals and many more localities in Tunisia, Italy and Sicily, to scrutinize the North Africa-Sicily divergence employing a Bayesian coalescent demographic reconstruction method (BEAST 1.4.6). Using two mitochondrial and two nuclear sequence markers and additional morphological, phenological, bioacoustic and biogeographic data, we characterize green toads from Sicily as a separate evolutionary lineage that is a sister taxon to African green toads, but substantially different from other western Mediterranean green toad forms. These phylogeographic relationships substantiate scarce knowledge on western Mediterranean terrestrial biogeography and may have implications for comparative research on the phylogeography of other terrestrial animals in the region.
Discussion
A phylogeographic relationship between Africa and Sicily
We have demonstrated a sister relationship on the mitochondrial and nuclear levels between green toads from Sicily (B. siculus, see below) and those from the entire North African range (B. boulengeri). The phylogenetic depth of this divergence, which may range between 0.63 My and 3.5 My (mean 1.83 My) for the control region and from 0.164 to 3.603 My (mean 2.051) for the 16S rRNA, probably excludes human introduction and reveals an infrequently-studied phylogeographic relationship in terrestrial vertebrates. This evolutionary connection may be significant for the phylogeography of the Mediterranean and have implications for research on other terrestrial animals. While some biogeographic studies have suggested common ranges for terrestrial vertebrates (for example the "Siculo-Maltese-Maghrebin" range type of Turrisi and Vaccarro [42]), and paleontologists discuss a possible early Pleistocene faunal exchange with North Africa (see introduction), so far, very few molecular studies have suggested any genetic relationships within terrestrial vertebrates across the Strait of Sicily. Two examples come from species (e.g. Discoglossus [25]; Chalcides [47, 20]), for which human introduction elsewhere at circum-Mediterranean sites has been demonstrated and for which African-Sicilian relationships have never been demonstrated using any nuclear sequence data. Despite some recent speculation (e.g. Crocidura sicula, potential Messinian origin from North Africa [16]), a possible African origin of terrestrial Sicilian fauna has rarely been thoroughly tested with molecular methods, and never using any nuclear sequence, and thus supported by both mitochondrial and nuclear sequence data. To our knowledge, a genetic African-Sicilian link has only been inferred in two other terrestrial species, but even these have ambiguous information on timing and direction: (i) Phylogenetic inference based on allozymes regarding relationships among Chalcides lizards from Sicily, Africa, the Apennine Peninsula and Sardinia [47] showed Sicilian skinks most closely related to Italian mainland skinks (Calabria in the south to Liguria in the north), while lizards from Tunisia appeared genetically almost identical to Sardinian Chalcides, interpreted as a human introduction from Tunisia into Sardinia. Very recently, however, Giovannotti et al. [20] found two Sicilian Chalcides mtDNA haplotypes to have a sister relationship with Tunisian and Sardinian haplotypes (the latter data not shown in the Chalcides phylogeny) and interpreted this as a possible Lower Pleistocene (1.8 My) colonization event of Sicily (and Italy) from North Africa. (ii) Using allozymes and cytochrome b, Zangari et al. [25] assessed lineage relationships among discoglossid frogs from multiple locations in the western Mediterranean (including Sicily, Sardinia, Tunisia). These authors showed a deep divergence of some mtDNA haplotypes across the Strait of Sicily, but also some nearly identical haplotypes across Sicily, Tunisia and Algeria. While the authors commented imprecisely (i.e., they did not specify if the following referred to Gibraltar or Sicily or both) that the "spread of Discoglossus between Europe and Africa should have occurred at the end of the Messinian salinity crisis", they interpreted closely-related haplotypes across the Strait of Sicily as "little genetic differentiation detected among Algerian and Tunisian D. auritus with respect to Maltese and Sicilian D. pictus suggest [ing] a very recent isolation", without further interpreting or dating their results. The significance of land connections for faunal exchanges between Africa and Sicily is mildly challenged by the well-known salt tolerance of green toads. Gordon [48] experimentally demonstrated survival of B. viridis in seawater for several hours or days. Breeding and swimming in brackish (beach or desert) pools and waters [49] as well as estuaries has been observed [38]. Therefore, green toads may have the potential for transmarine dispersal. The distance from Africa to Sicily (~140 km), however, can be considered a very strong barrier, even during low sea levels (>45 km). In addition, external fertilization (and absence of brood care) requires that several adults or larvae disperse in order to found new populations. This and the early divergence time (0.63 My < 1.83 My < 3.5 My) of African and Sicilian lineages make it more plausible that toads with a terrestrial life style dispersed via land connections than by rafting. This hypothesis was supported in the recent study of terrestrial Chalcides lizards (see above), which estimated a similar divergence between Tunisian and Sicilian clades (1.8 My [20]) to the one we propose for green toads. However, several papers have suggested the ability of anurans to overcome large sea barriers [50, 51], especially in the tropics, where swimming islands may facilitate rafting. Therefore, comparative phylogeographic data from other terrestrial species in Sicily and North Africa would be necessary to test the feasibility of competing hypotheses.
Divergence time estimates based on molecular data normally rely on external calibration points from the fossil record or from well-known paleogeographic events. Because neither fossil nor paleogeographic calibration points were available, we calculated divergence times using an uncorrelated relaxed molecular clock and a range of substitution rates for the two mitochondrial fragments. We acknowledge a potential limitation, that is, the use of only mtDNA to determine divergence times, which may lead to overestimation of the splitting dates. This overestimation may occur because the most recent common ancestor (MRCA) of the haplotypes (their coalescent) does not necessarily correspond to the real temporal split of the populations but may precede the actual divergence of the populations [52]. We consider substitution rates between 1% and 3% per lineage per My to be reasonable values for amphibian mtDNA (for references see Materials and Methods) although they have not been empirically assessed in green toads. When regions with highly repetitive motifs are absent, as in green toads, the control region tends to show higher rates of substitution than the rest of the mitochondrial molecule [53, 54]. Thus, the substitution rates selected here are conservative, higher than the rate for the rest of the mitochondrial molecule, but lower than the fastest observed rates for the control region in other taxa. Higher rates would imply younger dates for the splitting of the African and Sicilian lineages. This point is illustrated by our temporal estimates from the mitochondrial 16S gene which we obtained applying a slower substitution rate, which ranged from 0.03–1% per lineage per My (see refs. in the Discussion). The two markers, with different substitution rates, yield similar 95% HPD time intervals.
Although the values reported should be regarded with the caveats mentioned, it is highly improbable that the vicariant event that separated the African and Sicilian green toads took place during the Messinian (5.3 Mya), that is, earlier than the range of dates estimated by this method. Instead, it is very likely that the Africa-Sicily divergence is post-Messinian. In order to validate the hypothesis proposed here and to test competing paleobiogeographic scenarios, a formal comparative phylogeographic study including more genetic markers and other terrestrial species in Sicily and North Africa would be necessary. Several new comparative phylogeographic approaches have been proposed [55–57], each requiring the inclusion of more data for a more reliable statistical inference to be obtained.
Historical biogeography of Bufo balearicus
The second major result of our study is that green toads from most of the Apennine Peninsula, Corsica, Sardinia and the Balearic Islands represent a separate taxon, which is different from other Eurasian green toads on the mitochondrial and nuclear levels. Three B. balearicus subclades emerged from our mtDNA control region data; the subclade on Corsica and Sardinia exhibited basal haplotypes and the most substantial structure. These observations suggest speciation of B. balearicus on these islands around 0.9 Mya to 1.8 Mya (Table 3). The earliest green toad fossils in Italy are known from the Late Miocene from the northeast (Ravenna Province) and from the Pliocene in the southeast (Gargano region) of the Apennine Peninsula [58]. They have also been identified from the Pleistocene of Corsica and Sardinia [59]. Corsica and Sardinia had landbridges to (or were separated only by narrow marine straits from) the Apennine Peninsula during several geological periods (~18 Mya; 9 Mya; 5.3 Mya [60]). Although a narrow strait may have mostly separated Corsica/Sardinia from Tuscany [61], paleontological [62, 63] and phylogeographic data (Discoglossus [25], isopods [64]) suggest limited early Pleistocene faunal (perhaps oversea) exchange between these islands and the mainland.
This same signature is suggested by our data. The balearicus clade widespread on the Apennine Peninsula displayed a mismatch distribution visually, but not statistically fitting that expected for a population that underwent a sudden expansion (Figure 3). Similarly, the coalescent simulation program Fluctuate estimated a growth parameter ten times higher for the peninsular group than for the island balearicus clade (Table 2), suggesting recent expansion, perhaps after its arrival on the mainland; however, a no growth scenario could not be rejected statistically. Tajima's D did not support a demographic expansion in either of the balearicus groups separately, or combined. The northeastern range limit of B. balearicus appears to be the Po River drainage, which may also be the southwestern boundary for B. viridis. Recent mapping of green toad distributions in Italy [38], however, shows an apparently continuous range from the northeast (probable haplotype group of B. v. viridis) to the southwest (haplotype group of B. balearicus) across the Po drainage. It is likely that the groups are in contact in that area; discerning contacts and possible hybridization dynamics represent challenging future research topics. Indeed, the Po drainage seems to be a biogeographic border and/or contact zone between variously related taxa of amphibians and reptiles (for overview [65]: Rana latastii/R. italica; Hyla arborea/H. intermedia [66]; Bombina variegata/B. pachypus [67]; Rana lessonae/R. bergeri[68]) or, it is considered a "source of genetic variability" [69].
Fossils demonstrate the presence of green toads on the Balearic Islands from the Upper Pleistocene of Mallorca [70], but early human introduction from Corsica was proposed as the source of green toads on these islands [35]. Our data show toads from Mallorca and Menorca to be nested within the mitochondrial clades from the Apennine Peninsula and Corsica/Sardinia, and thus corroborate serum albumin data on toads from Mallorca and Corsica that prove them more closely related to each other than to green toads from Palestine, Africa, and Greece [35]. We cannot locate the exact geographic origin of Balearic green toads with our current data; faster evolving nuclear markers and denser sampling in regions of possible origin are required. Our data also corroborate provisional allozyme data (Lattes, A. 1997, Abstr. 3rd World Congr. Herpetol., Prague: p. 123) that associated toads from Corsica, Sardinia and NW-Italy (all from the B. balearicus range) with a ~0.25 Nei's distance from toads from Vienna based on a UPGMA dendrogram (B. viridis; [71] quoting Lattes' abstr.).
Although Calabria consisted of islands until the Pleistocene [72], episodic Upper Pleistocene faunal exchange across the Strait of Messina is well documented by the fossil record [72]. While few amphibians crossed the Strait of Messina [67], B. balearicus haplotypes have been detected in northeastern Sicily (loc. 20).
Biogeography of Bufo siculus n. sp
Our phylogeographic findings agree with paleogeographic and fossil data [72], which suggest a long Plio-Pleistocene isolation of Sicily. After their "out of Africa" origin, green toads apparently spread across most of Sicily, where they are well known from the Pleistocene fossil record [22]. So far, no phylogeographic signature of the Pliocene subdivision of Sicily into two islands was detected. The effective population size of mtDNA in Bufo siculus n.sp., as inferred from θ (Fluctuate) is small (Table 2).
The distribution analysis indicated an observed distribution in the B. siculus clade that was unimodal and visually congruent with the distribution of expected values for a sudden population expansion, although not quite statistically significant (Figure 3f, p = 0.077). The distribution for this clade is extremely compressed to the left, indicating very low numbers of mismatches and low variance. This profile may indicate an even more recent expansion in this group than in the mainland B. balearicus group. The Fluctuate analysis also did not statistically permit rejection of a no-growth scenario for this clade, and Tajima's D did not fit the expectation for an expanded population.
However, the high similarity among mtDNA haplotypes across the entire island is consistent with the known high mobility of green toads, exemplified by fast post-Pleistocene re-colonization of northern Europe by two haplotype groups [28]. The current range of B. siculus appears to follow a pattern known in another Sicilian endemic, the lizard Podarcis wagleriana, that is widespread across Sicily but absent in the very northeast [42, 73].
Our data reveal taxonomic identity (B. siculus) of toads on Favignana Island (loc. 25) and Ustica Island (loc. 24); green toads on the Aeolian Islands may be members of the geographically proximate B. balearicus (see Additional file 3 for further comments on Circum-Sicilian islands). Detection of Calabrian B. balearicus haplotypes in northeastern Sicily (loc. 20) suggests their relatively recent invasion; either during Pleistocene sea level lows [72], by rafting across the narrow Strait of Messina, or possibly by human introduction. It remains unknown whether both taxa (B. balearicus and B. siculus) occur in sympatry in northern Sicily as range maps suggest [42], and whether they would hybridize, given the considerable mtDNA and breeding-phenology differences. Bioacoustic data in the potential contact zone will also help to illuminate this question.
Description of a new species
Mitochondrial and nuclear, morphometric and other preliminary biological data show that green toads from most of Sicily represent a separate lineage. Sicilian green toads have been physically separated by the Strait of Sicily from their closest African relatives for long evolutionary periods. In order to acknowledge these facts, and to raise the potential conservation status of this form, which represents an island endemic, we hereby describe it as a new species.
Conclusion
Our findings on green toads give the first combined mitochondrial and nuclear sequence evidence for a phylogeographic connection in terrestrial vertebrates across the Strait of Sicily. Given the available literature on substitution rates of the anuran d-loop and 16S rRNA, which range conservatively from 1% to 3% to higher rates [53, 77] and from 0.3% to 1% [78, 79], respectively, we argue that the African-Sicilian divergence of green toads may be younger (but not older) than estimated by the present analyses. This points towards a post-Messinian (< 5.3 My) faunal exchange between Africa and Sicily. This relationship may have implications for comparative phylogeographic research on other terrestrial animals that co-occur in North Africa and Sicily. We highlight the necessity for similar phylogeographic studies that use more molecular markers to provide accurate estimates of the potential vicariant events and barriers, as well as the precise dating of the splits between the lineages involved.
Abbreviations
HPD = high probability density interval:

mtDNA = mitochondrial DNA
MRCA = most recent common ancestor:

My = Million years, Mya = million years ago
MVZ = Museum of Vertebrate Zoology:

University of California, Berkeley, USA
ZFMK = Zoologisches Forschungsinstitut und Museum Alexander Koenig:

Bonn, Germany
MZPA = Zoological Museum of Palermo University:

Italy
NME = Naturkundemuseum Erfurt:

Germany
ZMB – Naturkundemuseum of the Humboldt University:

Berlin, Germany.
Declarations
Acknowledgements
This work was supported by a research fellowship (Sto 493/1-2) from the Deutsche Forschungsgemeinschaft (DFG) to M. Stöck and by the University of California, Berkeley (Craig Moritz and David Wake), partly by the University of Palermo through founds of M. Arculeo, and partly by the MURST grant to M. Lo Valvo. A.S. and M.St. are grateful to many colleagues who helped in the field and/or provided samples (Additional file 1): Lara Bassu, Franco Bernini, Nicola Bressi, Agostino D'Amico, Michel Delaugerre, Tiziano Fattizzo, David Fiacchini, Gabriele Giacalone, Gaia Fior, Carlo Fonda, Daniel Frynta, Francesco Lillo, Federico Marrone, Mario Marconi, Jordi Muntaner, Giusi Nicolini, Andreas Nöllert, Nazzareno Pollini, Joan Pretus, Antonio Romano, Roberto Sindaco, Giuseppe Sotgiu, and Ulrich Scheidt. We thank Uwe Fritz for helping to find collaborators when the first author looked for colleagues from Sicily. We are grateful to Allison Bidlack, who transferred live toads from Italy to California. Italian and San Francisco International Airport authorities provided permits (Additional file 5) for transfer of protected European green toads. Evgeny Roitberg assisted with multivariate analyses. Wolfgang Böhme gave kindly access to B. boulengeri and nomenclatural advice. M.St. thanks Ron Bonett for providing test samples of RAG-1 primers, Nicolas Perrin for support, Claus Wedekind for advice to submit the manuscript to this journal, Alan Juilland for access to bioacoustics software, Maria Rita Palombo, Frank Glaw, Fred Rögl, Charles Savona Ventura and David B. Wake for information and/or references and two anonymous reviewers for their partly helpful comments.
Authors' Affiliations
(1)
Museum of Vertebrate Zoology, University of California, Berkeley, Berkeley, USA
(2)
Dipartimento di Biologia Animale, University of Palermo, Palermo, Italy
(3)
Dept. Ecology and Evolution, University of Lausanne, Biophore, Lausanne, Switzerland
Copyright
© Stöck et al; licensee BioMed Central Ltd. 2008
This article is published under license to BioMed Central Ltd. This is an Open Access article distributed under the terms of the Creative Commons Attribution License (http://creativecommons.org/licenses/by/2.0), which permits unrestricted use, distribution, and reproduction in any medium, provided the original work is properly cited.