Research article
Open Access
Muller's Ratchet and compensatory mutation in Caenorhabditis briggsae mitochondrial genome evolution
BMC Evolutionary Biology
2008
8:62
Received: 13 November 2007
Accepted: 26 February 2008
Published: 26 February 2008
Abstract
Background
The theory of Muller' Ratchet predicts that small asexual populations are doomed to accumulate ever-increasing deleterious mutation loads as a consequence of the magnified power of genetic drift and mutation that accompanies small population size. Evidence for Muller's Ratchet and knowledge on its underlying molecular mechanisms, however, are lacking for natural populations.
Results
We characterized mitochondrial genome evolutionary processes in Caenorhabditis briggsae natural isolates to show that numerous lineages experience a high incidence of nonsynonymous substitutions in protein-coding genes and accumulate unusual deleterious noncoding DNA stretches with associated heteroplasmic function-disrupting genome deletions. Isolate-specific deletion proportions correlated negatively with nematode fecundity, suggesting that these deletions might negatively affect C. briggsae fitness. However, putative compensatory mutations were also observed that are predicted to reduce heteroplasmy levels of deleterious deletions. Paradoxically, compensatory mutations were observed in one major intraspecific C. briggsae clade where population sizes are estimated to be very small (and selection is predicted to be relatively weak), but not in a second major clade where population size estimates are much larger and selection is expected to be more efficient.
Conclusion
This study provides evidence that the mitochondrial genomes of animals evolving in nature are susceptible to Muller's Ratchet, suggests that context-dependent compensatory mutations can accumulate in small populations, and predicts that Muller's Ratchet can affect fundamental evolutionary forces such as the rate of mutation.
Keywords
Mitochondrial GenomeCompensatory MutationNatural IsolateTemperate IsolateCaenorhabditis Briggsae
Background
Evolutionary theory predicts that mutational decay is inevitable for small asexual populations, provided deleterious mutation rates are high enough. Such populations are expected to experience the effects of Muller's Ratchet [1, 2] where the most-fit class of individuals is lost at some rate due to chance alone, leaving the second-best class to ultimately suffer the same fate, and so on, leading to a gradual decline in mean fitness. The mutational meltdown theory [3, 4] built upon Muller's Ratchet to predict a synergism between mutation and genetic drift in promoting the extinction of small asexual populations that are at the end of a long genomic decay process. Regardless of reproductive mode, mitochondrial genomes from most animal species are expected to be particularly sensitive to Muller's Ratchet due to their uniparental inheritance, high mutation rates and lack of effective recombination [3, 5, 6]. The genomic decay effects of Muller's Ratchet have been observed in laboratory evolution experiments with abiotic RNA molecules [7], biotic RNA viruses [8], bacteria [9] and yeast [10]. Indirect evidence for the effects of Muller's Ratchet in nature has resulted from studies on the long-term effects of reduced population sizes on genetic diversity and fitness in amphibians [11], greater prairie chickens [12, 13] and New Zealand avifauna [14]. Molecular evidence for Muller's Ratchet has resulted from analyses of deleterious tRNA gene structures encoded by mitochondrial genomes [15] and analyses of Drosophila sex chromosome evolution [16]. However, direct knowledge on the susceptibilities of natural populations to Muller's Ratchet and the molecular mechanisms underlying this process remain enigmatic.
Caenorhabditis briggsae, like Caenorhabditis elegans, is a self-reproducing hermaphroditic nematode species that also produces males capable of outcrossing with hermaphrodites. Analyses of linkage disequilibrium patterns in C. briggsae natural isolates suggest a very low outcrossing rate of ~3.9 × 10-5 [17]. The same study reported population subdivision between C. briggsae strains collected in temperate localities versus those from tropical regions and nuclear silent-site nucleotide diversity (πS) for the tropical isolates was estimated at 2.7 × 10-3 – a number highly similar to global estimates for C. elegans [18]. The C. briggsae isolates from temperate localities, however, showed a remarkably lower mean πS value of 4.0 × 10-5. A direct estimate of the neutral base substitution mutation rate (9.0 × 10-9 per site per generation) is available from C. elegans mutation-accumulation lines [19] that can be used along with πS data to estimate the effective population size (N e ) [20]. Assuming a common mutation rate between C. elegans and C. briggsae, N e is estimated to be ~63,000 for C. briggsae tropical isolates. For the C. briggsae temperate isolates, a much smaller N e of ~1,000 is estimated. Based on these and other observations, it is hypothesized that C. briggsae only recently (in the last few hundred years) colonized temperate latitudes from small founding populations [17]. Furthermore, there is evidence for a ~2-fold elevated mutation rate in C. briggsae as compared to C. elegans [21] that leads to correspondingly lower N e estimates for C. briggsae: ~31,500 for tropical populations and ~500 for temperate populations. The combination of very low outcrossing rates, small N e and high mutation rates are expected to render C. briggsae natural mitochondrial lineages susceptible to the effects of Muller's Ratchet-associated deleterious mutation accumulation.
To probe for the effects of Muller's Ratchet in C. briggsae natural populations, we sequenced nearly complete mitochondrial genomes from multiple geographically diverse C. briggsae natural isolates and characterized molecular evolutionary processes by comparing nucleotide diversity patterns in mitochondrial DNA (mtDNA) protein-coding genes between the temperate- and tropical-clade C. briggsae isolates, characterizing heteroplasmic genome deletions using quantitative real-time PCR (qPCR) approaches and evaluating correlations of various natural mitochondrial genome haplotypes with nematode fecundity and fitness.
Conclusion
The findings presented here show that in nature C. briggsae mitochondrial genomes are susceptible to the accumulation of unusual deleterious mutations that include the insertion of large noncoding DNA stretches (Figures 1 and 2), function-disrupting heteroplasmic genome deletions (Figure 3) and nonsynonymous substitutions in protein-coding genes (Figure 5). This pattern of molecular evolution is consistent with strong roles for mutation and random genetic drift in shaping mitochondrial genome evolution in natural populations of this species. These observations, coupled with the strong potential negative impact of heteroplasmic ND5 deletions on organismal fitness, also suggest that C. briggsae mitochondrial genomes evolving in nature are vulnerable to the effects of Muller's Ratchet. Although we did observe higher πN/πS ratios for protein-coding genes in the temperate (small N e estimate) versus tropical (larger N e estimate) isolates, we were unable to detect a role for Muller's Ratchet in promoting higher deleterious ND5 deletion levels in the temperate clade. However, we also observed the accumulation of putative compensatory mutations (DRSeq2) in temperate-clade C. briggsae lineages (Figure 4) that likely reduce ND5 deletion levels. The DRSeq2 mutations can only be considered beneficial, however, in the context of the preexisting deleterious ψND5-2 insertion mutation – in fact, virtually any mutation in ψND5-2 that reduces its homology to ND5 is likely to be beneficial to some extent.
Comparative nematode mutation-accumulation studies show a significantly elevated deleterious genomic mutation rate in bottlenecked lines derived from
C. briggsae
versus
C. elegans
progenitors [
18
]. Furthermore, an elevated deleterious mutation rate was estimated for
C. briggsae
HK104-derived lines (encode DRSeq1) as compared to MA lines derived from the PB800 isolate that encodes DRSeq2, the candidate compensatory mutation that likely reduced
ND5
deletion product levels [
21
]. The protein product encoded by the
ND5
gene, predicted to be highly impaired in
ND5
deletion-bearing genome products, is a central core subunit of Complex I of the mitochondrial electron transport chain [
35
]. Complex I-compromised organisms in well-studied animal systems- mammals,
D. melanogaster
, and
C. elegans
[
36
–
38
] – all produce elevated levels of mutagenic reactive oxygen species. Thus, we predict that
C. briggsae ND5
deletion products are mutagenic, and that expression of truncated
ND5
protein products results in elevated reactive oxygen species levels. One intriguing hypothesis for the mutational disparities observed between
C. elegans
and
C. briggsae
, and between HK104 and PB800 (note the close evolutionary relationships between these isolates in Figure
2
), is that the elevated rates are due to increased mutagenic reactive oxygen species levels resulting from
ND5
deletion products (Figure
6
). This hypothesis also predicts that Muller's Ratchet can affect fundamental evolutionary parameters such as the mutation rate.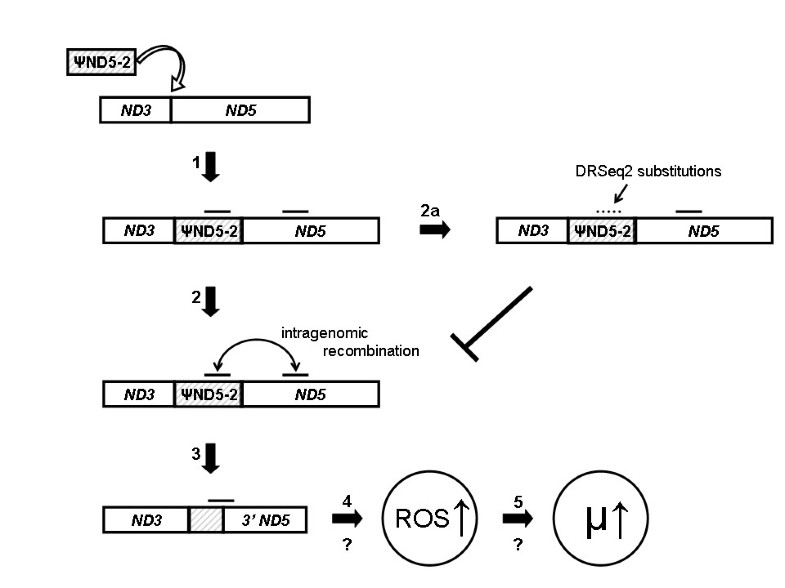 Abbreviations
mtDNA:

mitochondrial DNA
N e :

effective population size
numt:

nuclear sequence of mitochondrial origin
qPCR:

quantitative real-time PCR
πN:

nonsynonymous-site nucleotide diversity
πS:

synonymous-site nucleotide diversity
Declarations
Acknowledgements
We thank P. E. Chappell and C. P. Goodall for assistance with qPCR experiments, M. Dasenko and the OSU Center for Genome Research and Biocomputing for assistance with DNA sequencing, M. Ailion, A. Burnell, E. Dolgin, M.-A. Felix and the Caenorhabditis Genetics Center for providing C. briggsae natural isolate strains, W. K. Thomas for providing the C. remanei mitochondrial genome sequence, and C. F. Baer, E. Bakker, A. Cutter, L. A. Dyal, and three anonymous reviewers for comments and advice. We are grateful to the National Institutes of Health and OSU Computational and Genome Biology Initiative for funding support.
Authors' Affiliations
(1)
Department of Zoology and Center for Genome Research and Biocomputing, Oregon State University, Corvallis, USA
Copyright
© Howe and Denver; licensee BioMed Central Ltd. 2008
This article is published under license to BioMed Central Ltd. This is an Open Access article distributed under the terms of the Creative Commons Attribution License (http://creativecommons.org/licenses/by/2.0), which permits unrestricted use, distribution, and reproduction in any medium, provided the original work is properly cited.