Research article

Open Access
Conservation of the glucan phosphatase laforin is linked to rates of molecular evolution and the glucan metabolism of the organism
BMC Evolutionary Biology
2009
9:138
Received: 20 February 2009
Accepted: 22 June 2009
Published: 22 June 2009
Abstract
Background
Lafora disease (LD) is a fatal autosomal recessive neurodegenerative disease. A hallmark of LD is cytoplasmic accumulation of insoluble glucans, called Lafora bodies (LBs). Mutations in the gene encoding the phosphatase laforin account for ~50% of LD cases, and this gene is conserved in all vertebrates. We recently demonstrated that laforin is the founding member of a unique class of phosphatases that dephosphorylate glucans.
Results
Herein, we identify laforin orthologs in a protist and two invertebrate genomes, and report that laforin is absent in the vast majority of protozoan genomes and it is lacking in all other invertebrate genomes sequenced to date. We biochemically characterized recombinant proteins from the sea anemone Nematostella vectensis and the amphioxus Branchiostoma floridae to demonstrate that they are laforin orthologs. We demonstrate that the laforin gene has a unique evolutionary lineage; it is conserved in all vertebrates, a subclass of protists that metabolize insoluble glucans resembling LBs, and two invertebrates. We analyzed the intron-exon boundaries of the laforin genes in each organism and determine, based on recently published reports describing rates of molecular evolution in Branchiostoma and Nematostella, that the conservation of laforin is linked to the molecular rate of evolution and the glucan metabolism of an organism.
Conclusion
Our results alter the existing view of glucan phosphorylation/dephosphorylation and strongly suggest that glucan phosphorylation is a multi-Kingdom regulatory mechanism, encompassing at least some invertebrates. These results establish boundaries concerning which organisms contain laforin. Laforin is conserved in all vertebrates, it has been lost in the vast majority of lower organisms, and yet it is an ancient gene that is conserved in a subset of protists and invertebrates that have undergone slower rates of molecular evolution and/or metabolize a carbohydrate similar to LBs. Thus, the laforin gene holds a unique place in evolutionary biology and has yielded insights into glucan metabolism and the molecular etiology of Lafora disease.
Keywords
Glucan
Carbohydrate Binding Module
Intron Loss
Dual Specificity Phosphatase
Lafora Disease
Background
Lafora disease (LD; OMIM 254780) is an autosomal recessive neurodegenerative disorder. It is one of five major progressive myoclonus epilepsies (PMEs) [1]. LD commonly presents as a single seizure in the second decade of the patient's life, followed by progressive central nervous system degeneration, intellectual decline, and death within ten years of the first seizure [2–4]. LD is unique among the PMEs because of the patient's rapid neurological deterioration and the accumulation of insoluble glucans/carbohydrates called Lafora bodies (LB) [5, 6].
While animals normally store glucans as soluble glycogen, LBs are accumulations of poorly branched, hyperphosphorylated, insoluble glucans and are not glycogen. Forty years ago, Sakai and co-workers biochemically characterized LBs and found that they more closely resemble plant starch than glycogen [6–8]. Although LBs are found in the cytoplasm of most cells, cell death only occurs in neurons [3]. LD patients exhibit increased neuronal cell death, number of seizures, and LB accumulation as they age; thus, it is hypothesized that LBs trigger these symptoms and ultimately the death of the patient [6].
EPM2A
(epilepsy of progressive myoclonus type 2) is mutated in ~50% LD cases [
9
,
10
].
EPM2A
encodes a protein named laforin that contains a carbohydrate binding module (CBM) followed by the canonical dual specificity phosphatase (DSP) active site motif, HCXXGXXRS/T (Cx
5
R) [
9
,
11
] (Fig.
1A
). Accordingly, recombinant laforin binds glucans,
in vitro
and
in vivo
, and it possesses phosphatase activity
in vitro
[
12
,
13
]. Out of ~130 human phosphatases laforin is the only phosphatase with a CBM. While data placed laforin in the context of being intimately, if not directly, involved in glycogen metabolism, the molecular etiology of LD was unknown for almost 100 years.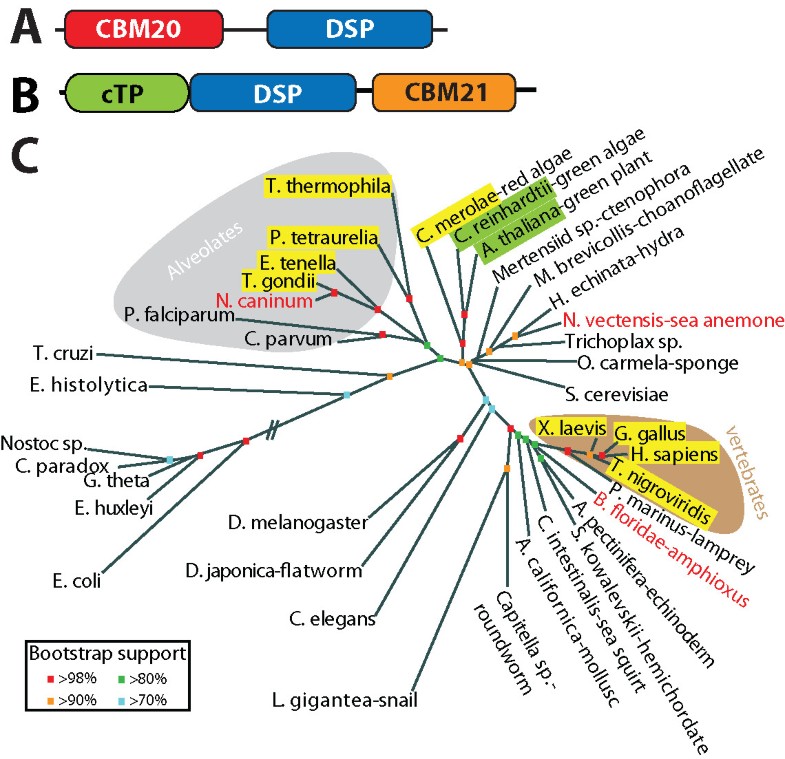 We recently demonstrated that laforin is not restricted to vertebrate genomes, as originally thought [14], but that laforin orthologs are present in five protists (i.e. single-cell eukaryotes) [15]. Each of these five protists undergoes hibernation during their life cycle and when they hibernate they generate an insoluble glucan as an energy source [16–18]. We recognized that the glucan produced by these protists are biochemically similar to Lafora bodies and proposed that laforin functions to convert insoluble glucans into energy, and in vertebrates it functions to inhibit insoluble glucan accumulation (i.e. LBs) [15].
To test this hypothesis, we utilized a recently characterized gene in Arabidopsis called s tarch ex cess 4 (SEX4) [19, 20]. SEX4 encodes a protein with similar domains as laforin but in the opposite orientation (Fig. 1B). Disruption of SEX4 leads to increased accumulation of insoluble glucans (i.e. starch), a cellular phenotype reminiscent of LD patients [19]. We found that when laforin was targeted to the chloroplast of sex4-deficient plants that it rescued the sex4 mutant phenotype. Demonstrating that laforin and SEX4 are functional equivalents and that a laforin-like activity is required to regulate the metabolism of insoluble glucans in multiple Kingdoms [15].
We also demonstrated the nature of this activity; we showed that laforin and SEX4 dephosphorylate the glucan itself [15, 21, 22]. Thus, we proposed that when laforin is absent, phosphates accumulate in glycogen precursors, branching is inhibited, and Lafora bodies form. This prediction was supported by work published 40 years ago showing LBs from human patients are poorly branched and contain 4–5 fold more phosphate than glycogen, and further corroborated by data from the Roach lab confirming these results in a LD mouse model [23, 24]. Therefore, laforin regulates an overlooked aspect of glycogen metabolism in vertebrates by removing phosphate from glycans during glycogen synthesis.
Herein, we establish definitive boundaries concerning the evolutionary conservation of laforin by probing more than 210 eukaryotic genomes. We utilized criteria that we previously defined to correctly predict a laforin ortholog in the genome of the protozoan Neospora caninum. In addition, we extend our previous results by uncovering putative laforin orthologs in two invertebrates, Nematostella vectensis and Branchiostoma floridae. We cloned the respective genes and biochemically verified that they are laforin orthologs. Furthermore, we present evidence and hypothesize why laforin is conserved in these two invertebrates and is absent in all others sequenced to date. Cumulatively, these results demonstrate that the glucan phosphatase laforin is conserved in a subset of eukaryotic organisms from an array of evolutionary niches, vertebrates, invertebrates, and protists, and highlights the fundamental importance of glucan phosphorylation/dephosphorylation.
Results and discussion
Carbohydrate binding modules (CBMs) are domains typically found in glucosylhydrolases and glucotransferases in bacterial, fungal, or plant genomes [25–27]. The vast majority of enzymes containing CBMs utilize the domain to bind a specific glucan and enzymatically act on the sugar, as in the case of α-amylase [25]. Accordingly, we recently demonstrated, and others confirmed, that laforin and SEX4 bind and dephosphorylate glucans, glycogen and starch, respectively [15, 21, 23, 24]. While laforin and SEX4 bind similar types of glucans, they utilize evolutionarily distinct CBMs [25]. CBMs are classified into fifty-three evolutionarily distinct families, based on primary sequence, secondary and tertiary predictions, and crystal structures [25]. Laforin contains an amino-terminal CBM20 and SEX4 a carboxy-terminal CBM21 type CBM (Fig. 1A &1B). Although laforin and SEX4 have evolutionarily distinct CBMs, multiple groups have proposed that CBM20 and CBM21 may share a common evolutionary origin and suggest keeping distinct families grouped into a common CBM clan [28–31].
Conclusion
Regardless of what has driven the evolutionary lineage of laforin, these results define the boundaries of glucan phosphatase conservation. These findings coupled with our previous work establish the conservation of laforin and SEX4 in evolutionary niches from protozoans to plants to algae to vertebrates and now invertebrates. Notably, laforin and SEX4 are absent in bacteria and archaea. While these groups do contain each domain that is found in glucan phosphatases (i.e. a phosphatase domain and carbohydrate binding domain), no protein in their genomes contains both. Given the completeness of bacterial genomes, it is unlikely that a glucan phosphatase exists in bacteria. Therefore, we suspect that we have identified the complete evolutionary lineage of the glucan phosphatases laforin and SEX4. The conservation of laforin across evolutionary niches, coupled with what appears to be complete conservation of SEX4 throughout all Archaeplastida/Kingdom Plantae demonstrate that phosphorylation/dephosphorylation of glucans is pervasive throughout nature.
Declarations
Acknowledgements
We thank Drs. Doug Andres, Seema Mattoo, and Carolyn Worby for insightful discussions; Dr. Yutaka Satou and the Branchiostoma floridea Gene Collection for B. floridea cDNA; and Drs. Mark Q. Martindale and John R. Finnerty for N. vectensis DNA. This work was supported by National Institutes of Health grants 5R00NS061803 and 5P20RR0202171 (to M.S.G.) and University of Kentucky College of Medicine start-up funds.
Authors' Affiliations
(1)
Department of Molecular and Cellular Biochemistry, University of Kentucky College of Medicine, Lexington, Kentucky, USA
Copyright
© Gentry and Pace; licensee BioMed Central Ltd. 2009
This article is published under license to BioMed Central Ltd. This is an Open Access article distributed under the terms of the Creative Commons Attribution License (http://creativecommons.org/licenses/by/2.0), which permits unrestricted use, distribution, and reproduction in any medium, provided the original work is properly cited.