Research article

Open Access
Molecular phylogenetics and evolutionary history of ariid catfishes revisited: a comprehensive sampling
BMC Evolutionary Biology
2009
9:175
Received: 14 April 2009
Accepted: 23 July 2009
Published: 23 July 2009
Abstract
Background
Ariids or sea catfishes are one of the two otophysan fish families (out of about 67 families in four orders) that inhabit mainly marine and brackish waters (although some species occur strictly in fresh waters). The group includes over 150 species placed in ~29 genera and two subfamilies (Galeichthyinae and Ariinae). Despite their global distribution, ariids are largely restricted to the continental shelves due in part to their specialized reproductive behavior (i.e., oral incubation). Thus, among marine fishes, ariids offer an excellent opportunity for inferring historical biogeographic scenarios. Phylogenetic hypotheses available for ariids have focused on restricted geographic areas and comprehensive phylogenies are still missing. This study inferred phylogenetic hypotheses for 123 ariid species in 28 genera from different biogeographic provinces using both mitochondrial and nuclear sequences (up to ~4 kb).
Results
While the topologies obtained support the monophyly of basal groups, up to ten genera validated in previous morphological studies were incongruent with the molecular topologies. New World ariines were recovered as paraphyletic and Old World ariines were grouped into a well-supported clade that was further divided into subclades mainly restricted to major Gondwanan landmasses. A general area cladogram derived from the area cladograms of ariines and three other fish groups was largely congruent with the geological area cladogram of Gondwana. Nonetheless, molecular clock estimations provided variable results on the timing of ariine diversification (~105-41 mya).
Conclusion
This study provides the most comprehensive phylogeny of sea catfishes to date and highlights the need for re-assessment of their classification. While from a topological standpoint the evolutionary history of ariines is mostly congruent with vicariance associated with the sequence of events during Gondwanan fragmentation, ambiguous divergence time estimations hinders assessing the vicariant hypothesis on a temporal framework. Further examination of ariid fossils might provide the basis for more accurate inferences on the timing of ariine diversification.
Keywords
Markov Chain Monte Carlo
Maximum Parsimony
Biogeographic Province
Morphological Phylogeny
Mitochondrial Dataset
Background
The catfish order Siluriformes is a very diverse natural group that occurs primarily in freshwater. Catfishes are widespread and their distribution encompasses all continents, even Antarctica, as evidenced by Eocene-Oligocene fossils [1]. The order includes 36 extant families and over 3000 valid species plus an estimated ~1500 undescribed species [2, 3]. Several morphological and molecular studies have addressed the relationships among catfish families [e.g., [4–6]] and recent evidence indicates that large basal clades are restricted to particular continental masses, suggesting a long history of intercontinental isolation [6]. Thus, catfishes offer an exceptional opportunity for studying evolutionary and biogeographic trends. The fossil record of Siluriformes is relatively well represented and includes material from every continent [7]. Although the earliest fossils date back to the Late Campanian-Early Maastrichtian (ca. 68-73 mya), molecular clocks predict a much older origin for Siluriformes (i.e., 175-130 mya [8–10]).
While most catfishes inhabit freshwater, only two families are well represented in marine environments: the Plotosidae from the Indo-West Pacific and the Ariidae. The Ariidae, or sea catfishes, is the only siluriform group with a global distribution that includes over 150 species occurring in warm-temperate to tropical regions. Although most members of the family live in brackish and marine waters, several species occur in freshwater as well. Sea catfish distributions include the continental margins of the Eastern Pacific and the Western Atlantic (New World), the Eastern Atlantic (Western Africa), and the Indo-West Pacific (Eastern Africa, Madagascar, India-SE Asia, and Australia-New Guinea; Figure
1
). Ariids play an important role in tropical fisheries, with many species having high economic value due to their large size, local abundance, and flesh quality. Some species have been recently listed as vulnerable on the IUCN red list [
11
].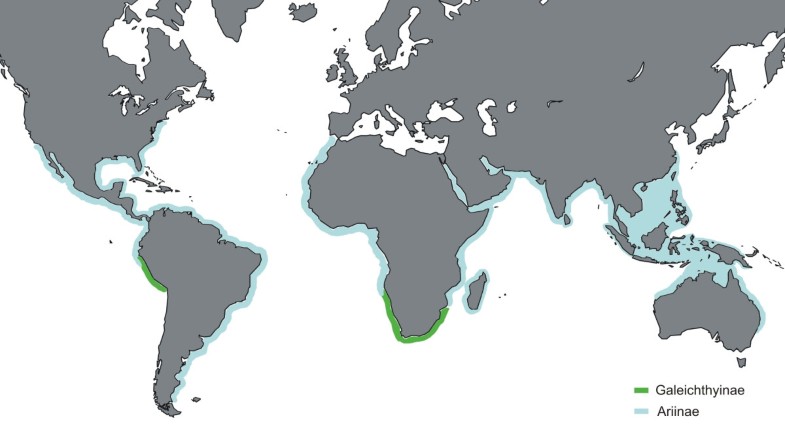 Members of the Ariidae exhibit a specialized reproductive mode: male mouthbrooding of eggs and embryos. This condition is absent in nearly all other catfishes, the sole exception being the biparental mouthbrooding claroteid Phyllonemus typus [12]. Oral incubation means ariids have limited dispersal capabilities and subsequent high level of species endemism, which has ultimately resulted in continentally restricted distributions. In fact, ariids are absent from the Pacific plate [13], the nonmarginal portion of the Antilles, and other oceanic islands of recent volcanic origin [14]. Restriction of most species to the continental shelves make ariids an exceptional marine fish group to infer historical biogeography scenarios (although see [14] for evidence of recent transoceanic dispersal in Galeichthys). Such studies require a conceptual framework derived from robust phylogenetic hypotheses.
Recent interfamilial phylogenies based on morphological [15, 16] and molecular [6] data have placed the Malagasy family Anchariidae as sister to the Ariidae and both families are ascribed in the superfamily Arioidea within the suborder Siluroidei [6]. The monophyly of the Ariidae has not been seriously questioned and is strongly supported on both molecular and morphological grounds [6, 15, 17]. The group is divided into two subfamilies, the monogeneric Galeichthyinae (four species) and the Ariinae (remaining taxa) [17]. Although the basal arioid clades are well defined, much controversy has arisen regarding the phylogeny and classification of ariid taxa, particularly within the diverse Ariinae.
Recent studies that have attempted to elucidate relationships among ariids have mostly focused on taxa from restricted geographic areas and comprehensive phylogenies are still missing. Using anatomical data, Kailola [
15
] inferred relationships for 45 Old World and eight New World species (Figure
2A
) and provided a revised classification accepting 23 genera. Based on combined evidence from mitochondrial and nuclear sequence data in addition to morphological characters [modified from [
18
]], Betancur-R. et al. [
19
] hypothesized relationships for 46 New World and three Old World species (Figure
2B
) and provided a revised classification for New World taxa only, validating eight genera. Although the studies by Kailola and Betancur-R. et al. dealt with different taxon-sampling schemes, their resulting topologies are highly incongruent regarding the position of
Galeichthys
and the Indo-Pacific
Ketengus typus
and
Cryptarius truncatus
(Figure
2
). In his unpublished doctoral dissertation, A. P. Marceniuk inferred phylogenetic relationships for 80 ariid species from different biogeographic provinces using morphological characters [
20
]. Following the results derived from this work, Marceniuk and Menezes [
21
] presented the most inclusive taxonomy for the Ariidae to date, recognizing 26 genera. More recently, Betancur-R. and Armbruster [
14
] inferred molecular phylogenies for the four species of galeichthyines showing that the Eastern Pacific species (
G. peruvianus
) is nested within a clade comprising the remaining three African species, and that the timing of intercontinental divergence occurred from Mid to Late Miocene, likely implying transoceanic dispersal. As will be discussed below, not only the molecular and the anatomical hypotheses differ markedly, but also the two morphological classifications show considerable disagreement.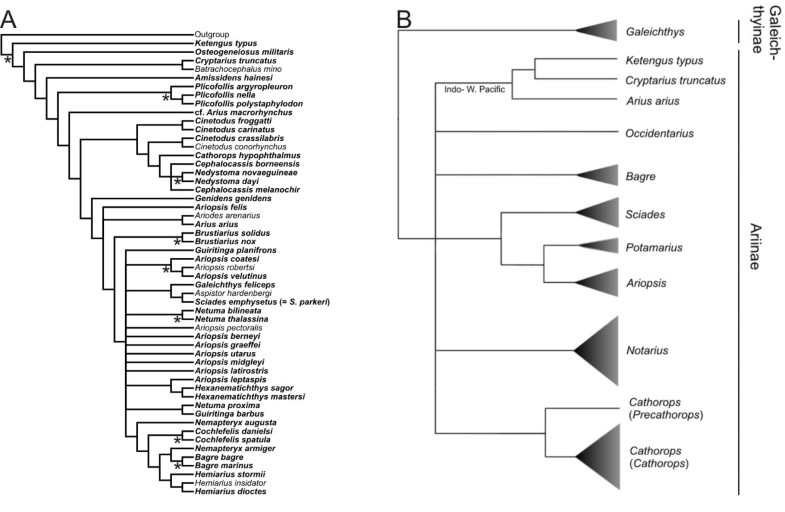 This study expands previous molecular phylogenies on New World ariids and galeichthyines using mitochondrial sequences (cytochrome b, ATP synthase 8/6, 12S, and 16S; ~3 kb) and a nuclear marker (rag2, ~1 kb) to cover a wide spectrum of taxa from different biogeographic provinces. In addition to the 63 ariid species examined previously [14, 19], new molecular data was obtained for 60 other species. These data were utilized for three main purposes: (1) hypothesize ariid relationships via maximum parsimony (MP), maximum likelihood (ML), and Bayesian inference (BI) reconstruction criteria; (2) discuss morphological phylogenies and current classifications in the light of molecular phylogenies; and (3) infer historical biogeography scenarios for the Ariinae using cladistic and chronological methods. This study provides the most inclusive phylogeny of ariid taxa to date and a resource for future classifications and other comparative studies in the family.
Conclusion
This study utilized mitochondrial, nuclear, and combined (up to ~4 kb) sequence data to infer phylogenies for arioids based on the most comprehensive taxon sampling to date (124 species/entities). While the reconstructions support the monophyly of basal groups (Arioidea, Ariidae, Galeichthyinae, and Ariinae), up to ten ariine genera (out of 25–30) validated by previous morphological studies are incongruent with the molecular phylogenies. These results stress the need for re-assessment of ariid classification.
The topologies recovered New World ariines as paraphyletic and Old World species were grouped into a well-supported clade. In further disagreement with morphological hypotheses that follow no biogeographic patterns, the molecular phylogenies group inshore ariine species into well-defined clades restricted to particular Gondwanan provinces (New World [three to five basal clades], Africa, Madagascar, India-SE Asia, and Australia-New Guinea). The general area cladogram derived from the area cladograms of cichlids, aplocheiloid killifishes, rainbowfishes, and ariines is largely congruent with the temporal sequence of events during the fragmentation of Gondwana. Nonetheless, the results obtained using BRC and UCLN methods are too variable, which hinders drawing definitive conclusions on the timing of ariine diversification in the context of Gondwanan vicariance. Further examination of additional ariid fossils might provide better calibration points for more accurate molecular clock estimates.
Declarations
Acknowledgements
This research was funded by the All Catfish Species Inventory (National Science Foundation DEB-0315963) and DeepFin Student Exchange Program. I am indebted to many colleagues that collaborated in several ways. Tissue samples and curatorial assistance were provided by H.H. Ng, M.H. Sabaj, R.G. Reina, M. Hardman, G. Allen, D. Werneke, H. Larson, C. Oliveira, M. McGrouther, T. Berra, S. Fisch-Muller, J. Lundberg, J. Sullivan, R. Rodiles, A. Acero, G. Navas, A. Connell, P. Heemstra, M. Mwale, S. Fennessy, D.R. Robertson, R. Cooke, V. Mogollón, P. Béarez, J. Maldonado, A. Manimekalan, D. Nelson, O. Sanjur, W. Lechner, L.A. Wills, J. Sparks, and M. Retzer. I am grateful to L. Hill, A. Ko'ou, P. Unmack, A. Marceniuk, R. Hadiaty, S. Ferdous, N. Lujan, and M. Sierra for providing assistance during field collections. Lab space and assistance was provided by J.W. Armbruster, K.M. Halanych, and C. Oliveira; S.R. Santos, M. Melo, M. Chiachio, K. Abe, N. Lujan, D. Werneke, L. De Souza, S. Ferdous, K. Ray, R. Belcher, E. Borda, A. Janosik, M. Zhong, A. Mahon, D. Thornhill, K. Kocot, J. Cannon, and L. Zhang gave additional lab assistance. I thank A. Acero, G. Orti, P. Unmack, E. Borda, J. Lundberg, and D. Taphorn for valuable comments and suggestions. I am indebted to J.W. Armbruster, K.M. Halanych, M.H. Sabaj, S.R. Santos, and S.A. Bullard for critically reviewing the manuscript.
Authors' Affiliations
(1)
Department of Biological Sciences, Auburn University, Auburn, USA
(2)
Universidad Nacional de Colombia sede Caribe, CECIMAR/INVEMAR, Santa Marta, Colombia
Copyright
© Betancur-R; licensee BioMed Central Ltd. 2009
This article is published under license to BioMed Central Ltd. This is an Open Access article distributed under the terms of the Creative Commons Attribution License (http://creativecommons.org/licenses/by/2.0), which permits unrestricted use, distribution, and reproduction in any medium, provided the original work is properly cited.