Research article
Open Access
Comparative genomics of chondrichthyan Hoxa clusters
BMC Evolutionary Biology
2009
9:218
Received: 28 April 2009
Accepted: 2 September 2009
Published: 2 September 2009
Abstract
Background
The chondrichthyan or cartilaginous fish (chimeras, sharks, skates and rays) occupy an important phylogenetic position as the sister group to all other jawed vertebrates and as an early lineage to diverge from the vertebrate lineage following two whole genome duplication events in vertebrate evolution. There have been few comparative genomic analyses incorporating data from chondrichthyan fish and none comparing genomic information from within the group. We have sequenced the complete Hoxa cluster of the Little Skate (Leucoraja erinacea) and compared to the published Hoxa cluster of the Horn Shark (Heterodontus francisci) and to available data from the Elephant Shark (Callorhinchus milii) genome project.
Results
A BAC clone containing the full Little Skate Hoxa cluster was fully sequenced and assembled. Analyses of coding sequences and conserved non-coding elements reveal a strikingly high level of conservation across the cartilaginous fish, with twenty ultraconserved elements (100%,100 bp) found between Skate and Horn Shark, compared to three between human and marsupials. We have also identified novel potential non-coding RNAs in the Skate BAC clone, some of which are conserved to other species.
Conclusion
We find that the Little Skate Hoxa cluster is remarkably similar to the previously published Horn Shark Hoxa cluster with respect to sequence identity, gene size and intergenic distance despite over 180 million years of separation between the two lineages. We suggest that the genomes of cartilaginous fish are more highly conserved than those of tetrapods or teleost fish and so are more likely to have retained ancestral non-coding elements. While useful for isolating homologous DNA, this complicates bioinformatic approaches to identify chondrichthyan-specific non-coding DNA elements
Keywords
Hoxa ClusterCartilaginous FishIntergenic DistanceFrasnian StageElephant Shark
Background
The Chondrichthyes (cartilaginous fish) are one of the three extant major clades of jawed vertebrates and comprise two sister-groups; the elasmobranchs (sharks, skates and rays) and the holocephalans (chimeras and ratfish - Figure
1
). Although relatively species-poor by comparison to their osteichthyan (bony vertebrate) relatives (~970 species of chondrichthyan, ~55,600 species of bony vertebrates [
1
]), they occupy an important phylogenetic position as the sister-group to all other jawed vertebrates and as one of the first lineages to diverge after the two rounds of whole genome duplications that occurred early in vertebrate evolution [
2
]. Despite this, there have been relatively few studies dealing with chondricthyan genomics. Those that have been carried out have usually used cartilaginous fish as the outgroup to studies of bony vertebrates [
3
,
4
]. One problem is the large size of many chondricthyan genomes, which range from 1.5 to 16.7 Gb with a median value of 7.1 Gb or roughly twice the size of the human genome [
5
]. Venkatesh
et al
. [
6
] completed a 1.4× coverage draft survey of the Elephant Shark (
Callorhinchus milii
) genome (a member of the holocephalans, the sister group of the true sharks and rays), having chosen this species because of its smaller genome. Additionally, a Little Skate (
Leucoraja erinacea
) genome project has been approved by the National Human Genome Research Institute. However, there is currently little information available on patterns of genome evolution within the cartilaginous fish. To start to rectify this omission, we undertook the sequencing and analysis of a complete Hox cluster from the Little Skate.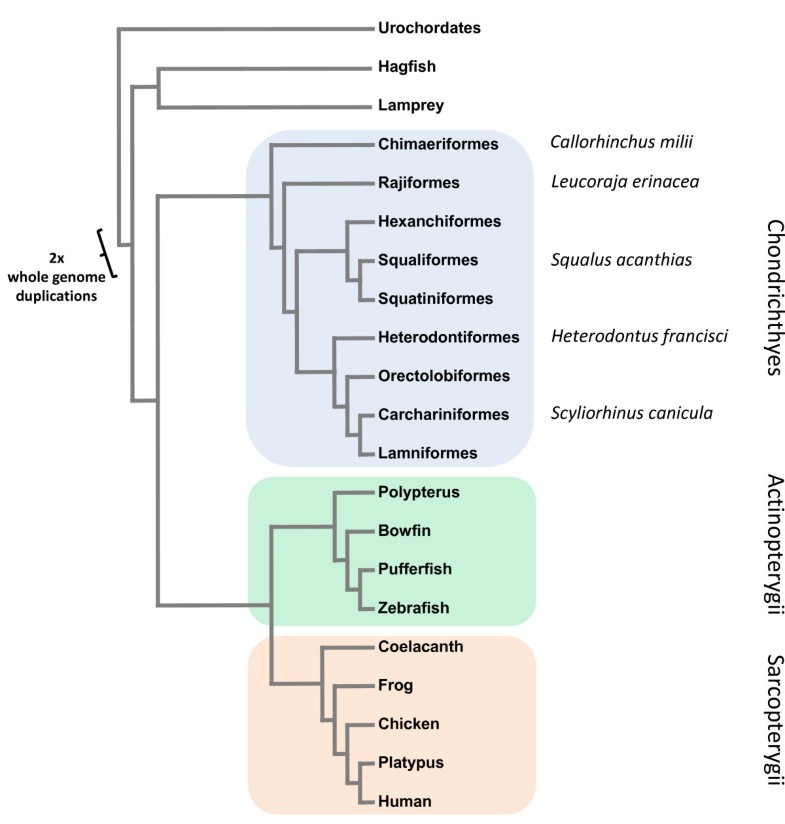 The Hox genes play important roles in determination of anterior-posterior patterning during embryonic development [7]. Their clustered organisation in the genome is a consequence of their origin from tandem gene duplications and is intimately associated with their expression during development. To date, all invertebrate lineages have been found to have only a single set of Hox genes, generally arranged in a single Hox cluster. In contrast, vertebrates have multiple more compact clusters, with four being present in tetrapods (Hoxa, Hoxb, Hoxc and Hoxd [8]) as a result of two rounds of whole genome duplication at the base of the vertebrates. Teleost fish have up to eight clusters and, within teleosts, the salmonids have at least thirteen as the result of additional genome duplications [9–11]. Furthermore, teleost Hox clusters are known to evolve at a faster rate than those of tetrapods, making it difficult to identify ancient conserved non-coding sequences [12]. Two Hox gene clusters (Hoxa and Hoxd) have been fully sequenced from a chondrichthyan (the Horn Shark Heterodontus francisci [3, 4]). Because of this, and the availability of the complete sequence of the Hoxa cluster of the Senegal bichir (Polypterus senegalus [13]) - a member of the earliest diverging lineage of ray-finned fish and therefore unaffected by the whole genome duplications which increased Hox cluster number in teleosts - we chose to analyse the Hoxa cluster of Little Skate (Leucoraja erinacea), a member of the oldest extant lineage of Elasmobranchs [14]. Together with the data from the more recently diverging Horn Shark and outgroup Holocephalan sequences we can for the first time carry out a comparative genomic analysis within the cartilaginous fish.
Conclusion
The Little Skate Hoxa cluster is strikingly similar to that of the Horn Shark in terms of both sequence conservation and intergenic distances despite the two lineages having been separated by at least 180 million years. The available data from the ongoing Elephant Shark (Callorhinchus milii) genome project suggests that the Hoxa cluster of this species is also highly conserved with respect to the Skate and Horn Shark despite having been separated from them for around 375 million years. Comparisons of the human Hoxa cluster to those of marsupials and amphibians reveal a much lower level of sequence conservation over similar periods of time, indicating either a faster rate of molecular evolution in the tetrapod and mammalian lineages or a slower rate of evolution in the cartilaginous fish. This finding echoes the suggestion of Wang et al. [21] that UCEs and protein-coding genes are evolving more slowly in Elephant Shark compared to other vertebrates. If the level of conservation seen in the chondrichthyan Hoxa clusters in reflected across the entire genome then this will complicate attempts to identify functional conserved non-coding elements within the cartilaginous fish using phylogenetic footprinting. This is an important consideration given the two cartilaginous fish genomes currently in the pipeline and the likely increase in this number due to recent advances in genome sequencing technologies.
Methods
The Little Skate BAC clone 0081H20 was isolated in a low stringency pooled homeobox screen of a set of 4.1× coverage BAC library (BAC Library RE__Ba (Little Skate)) filters from the Clemson University Genomics Institute (CUGI). The BAC was shotgun sequenced to 9.3× coverage by contract to the Genome Center at Washington University, resulting in 14 major contigs in 4 scaffolds. Remaining gaps were filled using a combination of direct sequencing on BAC DNA or by cloning and sequencing of PCR products from primers designed to cross gaps in the scaffolds. Genes were annotated by comparison to published Horn Shark genes (from BAC sequences described by [3] and [4] deposited under accession numbers AF224262 and AF479755). Chondrichthyan non-coding elements were identified using the LAGAN alignment program [30] implemented in mVISTA [31]. Putative ncRNAs were identified using Infernal (version 1.0rc3) [32] and covariance models [33] of miRNA families from Rfam (version 9.1) [34]. Candidate precursors of microRNAs were selected with sequence length greater than 60 nt and minimum free energy of stem-loop structure less than -20 kcal/mol. RNA structures were drawn using the RNAfold (Vienna RNA Package 1.8.2) webserver http://rna.tbi.univie.ac.at.
Declarations
Acknowledgements
This research was supported by a grant from the Wellcome Trust.
Authors' Affiliations
(1)
Department of Zoology, University of Oxford, Oxford, UK
(2)
Center for Bioinformatics, National Laboratory of Protein Engineering and Plant Genetic Engineering, College of Life Sciences, Peking University, Beijing, PR China
Copyright
© Mulley et al; licensee BioMed Central Ltd. 2009
This article is published under license to BioMed Central Ltd. This is an Open Access article distributed under the terms of the Creative Commons Attribution License (http://creativecommons.org/licenses/by/2.0), which permits unrestricted use, distribution, and reproduction in any medium, provided the original work is properly cited.