Research article
Open Access
Polyploid evolution in Oryza officinalis complex of the genus Oryza
BMC Evolutionary Biology
2009
9:250
Received: 9 June 2009
Accepted: 14 October 2009
Published: 14 October 2009
Abstract
Background
Polyploidization is a prominent process in plant evolution, whereas the mechanism and tempo-spatial process remained poorly understood. Oryza officinalis complex, a polyploid complex in the genus Oryza, could exemplify the issues not only for it covering a variety of ploidy levels, but also for the pantropical geographic pattern of its polyploids in Asia, Africa, Australia and Americas, in which a pivotal genome, the C-genome, witnessed all the polyploidization process.
Results
Tracing the C-genome evolutionary history in Oryza officinalis complex, this study revealed the genomic relationships, polyploid forming and diverging times, and diploidization process, based on phylogeny, molecular-clock analyses and fluorescent in situ hybridization using genome-specific probes. Results showed that C-genome split with B-genome at ca. 4.8 Mya, followed by a series of speciation of C-genome diploids (ca. 1.8-0.9 Mya), which then partook in successive polyploidization events, forming CCDD tetraploids in ca. 0.9 Mya, and stepwise forming BBCC tetraploids between ca. 0.3-0.6 Mya. Inter-genomic translocations between B- and C-genomes were identified in BBCC tetraploid, O. punctata. Distinct FISH (fluorescent in situ hybridization) patterns among three CCDD species were visualized by C-genome-specific probes. B-genome was modified before forming the BBCC tetraploid, O. malampuzhaensis.
Conclusion
C-genome, shared by all polyploid species in the complex, had experienced different evolutionary history particularly after polyploidization, e.g., inter-genomic exchange in BBCC and genomic invasion in CCDD tetraploids. It diverged from B-genome at 4.8 Mya, then participated in the tetraploid formation spanning from 0.9 to 0.3 Mya, and spread into tropics of the disjunct continents by transcontinentally long-distance dispersal, instead of vicariance, as proposed by this study, given that the continental splitting was much earlier than the C-genome species radiation. We also find reliable evidence indicated that an extinct BB diploid species in Asia was presumptively the direct genomic donor of their sympatric tetraploids.
Keywords
Genomic RelationshipPartition Homogeneity TestPolyploid FormationPolyploid EvolutionOs125 Sequence
Background
Polyploidization is a prominent process in the evolution of high plants. Between 50% and 70% of angiosperm species were identified as polyploids by intensive screening, while recent studies estimated that up to 100% of angiosperms underwent genome duplication at least once in their evolutionary history [1, 2]. The commonity of polyploidy suggests a potential advantage of polyploids to survive better in harsh environments than diploids [3, 4]. Thronged facts related to polyploidy were discovered, e.g., genomic divergence in allopolyploids by diploidization, rapid genomic changes, and inter-genomic invasion [5–9]. However, more evidence is needed to reveal the mechanism and tempo-spatial process of polyploidization. Polyploid complex, a group of species with a variety of ploidy levels, could be an ideal model to address the problems. Oryza officinalis complex is an excellent example, not only because it contains diploids and heterochronically formed polyploids, but also it has a "pivotal genome" [10], the C-genome, which participated in all the polyploid formation, potentially as an inner criterion to trace polyploid evolution. Moreover, geographic patterns of the polyploids distributed pantropically to isolated continents within a rather recent period, have remained mysterious [11–15].
With agricultural importance, the genus Oryza comprises 23 species including cultivated rice, combined into four species complexes [16–19]. In the last decades, molecular methods have been used to reconstruct species phylogeny and to trace evolution process in Oryza [14, 15, 20–26]. Ten distinctive genomes were identified on the basis of DNA sequences [14], or genomic in situ hybridization (GISH) [27–29]. Particularly in O. officinalis complex, the largest in Oryza, genomic relationships were found extraordinarily complicated, e.g., the BBCC tetraploid species formed independently with different parenthood by three polyploidization events, in which O. eichingeri was the maternal parent of tetraploid O. punctata while diploid O. punctata was that of tetraploids O. malampuzhaensis and O. minuta [14, 22, 30, 31]. Furthermore, three tetraploid species with CCDD genomes were assumed to be formed by one polyploidization event, where the CC genome progenitor served as the maternal parent [14, 21, 22, 32, 33]. Additionally, it seems much intriguing that the C-genome diploids and tetraploids are distributed across Asian, African and American tropics. And the CCDD tetraploids are entirely endemic to Central and South Americas where no extant diploid with C- or D-genome was found [11, 12]. Therefore, the questions arose: (a) How was the C-genome, as the pivotal genome in all the tetraploids, differentiated after polyploidizating? (b) When were the tetraploids formed and how did they spread transcontinentally? (c) Whether inter-genomic interaction, e.g., exchange or invasion, happened in the allopolyploids?
Focused on the questions, we reconstructed the phylogenetic relationship, dated the divergence time among the genomes in O. officinalis complex, and detected genomic changes thereafter polyploidization by FISH methods with genome-specific probes. The goal of this study is to reveal the evolution history of the O. officinalis complex, particularly the polyploidization and its genomic impact, by tracing C-genome differentiating and dispersing process.
Discussion
The key to trace the complicated evolution process of polyploid complex lies on a universal criterion. C-genome in O. officinalis complex could play such a role. As the pivotal genome, C-genome participated each of the polyploid formation in the complex, and its evolution process in genomic differentiation and geographical patterning can therefore reflect the temporal and spatial history of polyploid evolution.
Genomic relationships in O. officinaliscomplex
In O. officinalis complex, four extant genomes, B, C, D or E, were identified [14, 21, 27]. The present study showed that each genome in the complex occurred only once when rooted by the outgroup, O. granulata, where E-genome sited at the basal position of the complex. The clade of O. officinalis complex was first divided into two clades, E-genome clade and the other clade involving B-and C-genomes. In E-genome clade, D-genome was located as E's sister group. These results were consistent with previous reports [14, 21–23]. In the other clade, C-genomes in different diploid species had differentiated apparently thereafter they partook in different polyploid formation (Figures 1, 2, 3), in agreement with other authors [58–61].
Although there is only one extant diploid with B-genome, O. punctata, the B-genomes in tetraploids were differentiated, as revealed by AFLP [21], RFLP [62], SSR [60] and GISH [29]. In this study, multicolor FISH (Figure 5g) revealed that the B-genome of O. punctata (BB) was clearly diverged from that of O. malampuzhaensis. Further evidence of molecular phylogeny and dating showed that the divergence happened even before polyploidization, which formed O. malampuzhaensis and O. minuta (Figures 1, 2, 3, 4). Therefore, a diploid B-genome species extinct nowadays in Asia was assumed to be the direct genomic donor of Asian distributed BBCC tetraploids.
Since no diploid DD species has ever been found, the D donor for the CCDD tetraploids has long been controversial [14, 27, 28, 32]. The Australian diploid, O. australiensis, as the unique E-genome holder, was assumed to be D-genome donor by several authors [14, 32]. Nevertheless, genomic comparison by GISH and retrotransposon analysis found obvious differences between D- and E-genomes, and thus suspected E as the direct donor [28, 63]. Based on a universal criterion of C-genome differentiation, our study in phylogeny and molecular dating (Figures 1, 2, 3, 4) showed that D- and E-genome were tied together as sister group, but they diverged much earlier than CCDD tetraploid formation. Multicolor FISH using E-genome probes for the CCDD tetraploids also revealed obvious differentiation between D- and E-genome, and this was even remarkable in D-genome itself, as showed in Figure 5, where the D-genomes of O. alta and O. grandiglumis exhibited sharply different from that of O. latifolia.
C-genome variation and polyploid evolution in O. officinaliscomplex
To date six tetraploid species, three BBCC and three CCDD, have been recorded in O. officinalis complex, and all are C-genome carriers [16, 64]. The relationship and origin of the tetraploids have long been in debate [14, 21, 22, 32]. In this study, C-genome of diploid O. eichingeri was localized at the basal of C-genomes, and it subsequently diverged, resulting two C-genome diploids, O. rhizomatis and O. officinalis. Later on, the three C diploids participated separately in hybridization and polyploidization, finally forming six tetraploids. For O. eichingeri, it merely joined formation of O. punctata (BBCC), while O. officinalis (CC) partook in formation of O. malampuzhaensis and O. minuta. On the other hand, a species closely related to present O. officinalis (or O. rhizomatis) offered its C-genome to the three CCDD tetraploids, O. alta, O. grandiglumis and O. latifolia (Figures 1, 2, 3).
C-genomes in different BBCC tetraploids confronted variable fates, such as changes by inter-genomic translocation. Multicolor FISH probing different genomes in an allopolyploid can be a powerful indicator for identifying such changes. As showed in multicolor FISH (Figure 5e-g), inter-genomic translocations between C-and B-genomes were visualized for the first time in two tetraploids of the complex, which was speculated as the result of diploidization impact [5, 8, 65, 66]. In O. punctata two fragments of C-chromosomes were translocated to different B-chromosomes, while in O. malampuzhaensis no obvious inter-genomic translocation was found. Although C-genomes experienced different history in various polyploid formations, few fragments of C-genome-specific were detectably lost after hybridization and polyploidization, as found in multicolor FISH with genome-specific probes (Figures 5e-g, n-s).
The fate of C-genomes in CCDD tetraploids was different even more. In O. alta and O. grandiglumis C-genome-specific probes apparently dominated the nuclei, most probably by inter-genomic invasion [5, 8, 67, 68], as showed in multicolor FISH images, while in O. latifolia C-genome kept almost unchanged (Figures 5 5h-m, t-v). Considering that O. alta and O. grandiglumis diverged from O. latifolia (Figure 4), the inter-genomic invasion would have happened during their speciation.
Temporal and spatial evolution of O. officinaliscomplex
Geographical pattern of intercontinental pantropics in O. officinalis complex, framed by its relatively recent history, makes its evolution process paradoxical for long time. Based on molecular clock of matK and GAP1 sequences, the origin of the complex was dated at late Miocene (ca.9 Mya) [69], and speciation of O. australiensis was set in ca. 8.5 Mya through Adh2 gene [63]. However, re-dating the origin and divergence times became necessary, because (a) previous dating dealt mainly with diploids while the polyploids evolution history remained unclear; (b) new molecular timescales based on non-parametric rate smoothing, penalized likelihood, and Bayesian-relaxed clock methods have been recently developed for the grasses [70].
In this study, the estimated divergence time between O. officinalis complex and its outgroup, O. granulata, was 13.6 ± 3.6 Mya, earlier than the previous suggestion, and the time of the first species divergence in the complex, was 7.9 ± 1.6 Mya (Figure 4). C-genome was separated with B-genome at about 4.8 Mya, and then C-genome itself was split into two clades in approximately 1.8-0.9 Mya, one including O. eichingeri and the other including the rest two CC diploid species. These times were earlier than previously suggested [58], but closed to recent research [24, 25]. The time of polyploidization to synthesize tetraploids was estimated to be ca. 0.3-0.9 Mya in Pleistocene, in which the CCDD species (ca. 0.7-0.9 Mya) were formed obviously earlier than BBCC species, also closed to that recently reported [24].
If all C-genome species separated no earlier than two Mya, the distribution of these species can be feasibly explained by long-distance dispersal rather than vicariance, given that the continental splitting was much earlier than the species radiation. As suggest by Vaughan et al [
11
,
12
], animal migration may play a role for this complex in seed dispersal between Asia and Africa. Bird could be another carrier, which could account for the disjunctive distribution of some
Oryza
species, such as
O. eichingeri
[
11
,
58
]. For the CCDD tetraploids, this and previous studies [
32
] both revealed that their putative parents were
O. officinalis
and
O. australiensis
. The problem was that the putative parents were confined to south Asia-Australia but the CCDD tetraploids were nowadays endemic to the tropics of Americas. Therefore, a new pathway to bridge these two continents for long-distance dispersal was put forward (Figure
6
). The strong floristic affinities between the South America and the antipodes were also confirmed by biogeographical studies of other Poaceae species [
70
,
71
]. However, how the species in the complex could transcontinentally spread across the oceans, remains mysterious.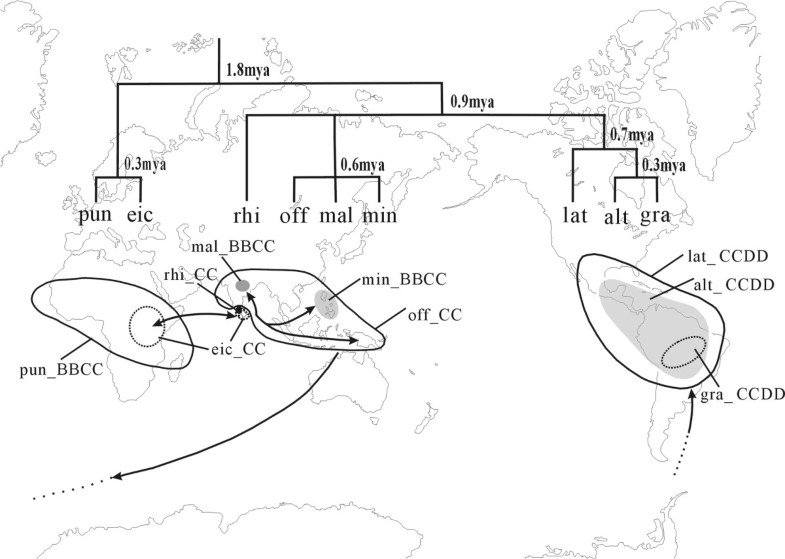 Conclusion
The genomic relationships, polyploid formations and divergence times in Oryza officinalis complex of the genus Oryza, were revealed based on DNA sequences and FISH evidence. Focused on C-genome, the "pivotal genome" of the polyploids, we found that the polyploids were formed by stepwise polyploidizations in ca. 0.3-0.9 Mya, followed by a series of inter-genomic translocations and invasions. The pantropical distribution of the complex was suggested to be formed by long-distance dispersal transcontinentally, instead of vicariance. This study offers a typical example in tracing tempo-spatial process of polyploidization, and for the first time it gives new stands for the complex in dating the detailed times of polyploid formation, visualizing inter-genomic changes, and viewing the spatial evolution history of the polyploids.
Declarations
Acknowledgements
We thank Drs. Yuzhu Dong, Junxia Yuan and Zhukuan Cheng for their technical assistance and helpful suggestions on the manuscript. We are also grateful to the International Rice Research Institute (Los Banos, Philippines) for providing seed samples. This work was supported by the National Natural Science Foundation of China (30430030) and Program for Key International S & T Cooperation project of P. R. China (2009CB119102).
Authors' Affiliations
(1)
State Key Laboratory of Systematic and Evolutionary Botany, Institute of Botany, the Chinese Academy of Sciences, Beijing, PR China
(2)
Graduate University of the Chinese Academy of Sciences, Beijing, PR China
Copyright
© Wang et al; licensee BioMed Central Ltd. 2009
This article is published under license to BioMed Central Ltd. This is an Open Access article distributed under the terms of the Creative Commons Attribution License (http://creativecommons.org/licenses/by/2.0), which permits unrestricted use, distribution, and reproduction in any medium, provided the original work is properly cited.