Research article

Open Access
Rapid speciation in a newly opened postglacial marine environment, the Baltic Sea
BMC Evolutionary Biology
2009
9:70
Received: 21 November 2008
Accepted: 31 March 2009
Published: 31 March 2009
Abstract
Background
Theory predicts that speciation can be quite rapid. Previous examples comprise a wide range of organisms such as sockeye salmon, polyploid hybrid plants, fruit flies and cichlid fishes. However, few studies have shown natural examples of rapid evolution giving rise to new species in marine environments.
Results
Using microsatellite markers, we show the evolution of a new species of brown macroalga (Fucus radicans) in the Baltic Sea in the last 400 years, well after the formation of this brackish water body ~8–10 thousand years ago. Sympatric individuals of F. radicans and F. vesiculosus (bladder wrack) show significant reproductive isolation. Fucus radicans, which is endemic to the Baltic, is most closely related to Baltic Sea F. vesiculosus among north Atlantic populations, supporting the hypothesis of a recent divergence. Fucus radicans exhibits considerable clonal reproduction, probably induced by the extreme conditions of the Baltic. This reproductive mode is likely to have facilitated the rapid foundation of the new taxon.
Conclusion
This study represents an unparalleled example of rapid speciation in a species-poor open marine ecosystem and highlights the importance of increasing our understanding on the role of these habitats in species formation. This observation also challenges presumptions that rapid speciation takes place only in hybrid plants or in relatively confined geographical places such as postglacial or crater lakes, oceanic islands or rivers.
Keywords
Gene FlowReproductive IsolationCrater LakeSockeye SalmonRapid Speciation
Background
Speciation is one of the most fundamental processes in evolutionary biology. It is a process in which the within population variation transforms into distinguishable groups of individuals through the evolution of intrinsic reproductive barriers [1]. The speed at which this process happens is still intriguing and controversial [2] but estimates of speciation rates generally show that 105–107 years (yrs) are needed for new species to evolve [3]. However, theory predicts that speciation can happen more quickly -often called "contemporary" or "rapid evolution"-, particularly in new or extreme environmental conditions where selection for adaptation is strong [2, 4, 5]. Despite these theoretical expectations, the evidence of rapid speciation is primarily limited to classical evolutionary models such as cichlid fishes in discrete geographical spaces as a Nicaraguan crater lake [6] where competition is expected to be high and reproductive isolation is likely to occur within, or Hawaiian fauna [7] where the high number of species are more likely to drive speciation [8]. Evidence is also provided from fruit flies under laboratory conditions [9], from homoploid and polyploid hybrid plants [10, 11] and from anadromous sockeye salmon in which some degree of reproductive isolation evolved after 13 generations [12]. For marine species, support for rapid speciation derives from the "white" sticklebacks and although the evidence is consistent with a rapid species origin, the estimates of divergence time do not correspond with the glacial history of these systems [13]. Hence, the rapid foundation of new species in the marine environment remains to be proven.
In the marine realm, genetic divergence between populations is expected to evolve relatively slowly as recruits and propagules are readily transported by ocean currents [14]. Hitherto, time estimates for marine speciation events that agree with geological events confirm the expectations of slow speciation; for example, the reproductive isolation between sister lineages of marine shrimps was completed >3.5 million years ago (Mya) [15], after the rise of the Isthmus of Panama.
The Baltic Sea, today a large postglacial brackish-water basin of the NE Atlantic, hosts a low number of marine species. These species (together with a number of other now extinct ones), invaded the Baltic from the Atlantic during an earlier period of more marine conditions (4–8 thousand years ago, kya) and survived the shift 4 kya to the present day, where the low-saline environment (<10 practical salinity units, psu) creates an unusual marine ecosystem. One of these species, the bladder wrack
Fucus vesiculosus
, is widely distributed in the sub-Arctic and temperate regions of northern Atlantic, and is currently the most dominant and ecologically important perennial large brown alga in the Baltic [
16
]. In the Gulf of Bothnia (northern Baltic Sea),
F. vesiculosus
coexists with a smaller and morphologically distinct taxon,
Fucus radicans
[
17
].
Fucus radicans
is smaller and has a bushy appearance in comparison to
F. vesiculosus
, and the thalli of
F. radicans
are always less wide than those of
F. vesiculosus
(Fig.
1
). In contrast to the pan-Atlantic distribution of
F. vesiculosus
,
F. radicans
is endemic to the Baltic Sea. Previous analyses suggested that both taxa are reproductively isolated, but this conclusion was based on a single sympatric locality from the south part of the Gulf of Bothnia [
17
,
18
]. Subsequent studies could not, however, resolve the evolutionary relationships between
F. radicans
and
F. vesiculosus
using chloroplast (RuBisCO gene) [
17
] or mitochondrial (intergenic spacer) [
19
] DNA sequence markers. Therefore, the question is whether these two species correspond to previously diverged lineages that remained different after the Last Glacial Maximum 8 kya or if
F. radicans
evolved following the last ice age, presumably inside the Baltic Sea. Here, we supplemented previous studies with four additional sympatric sites inside the Baltic and with two sites outside this region as outgroups. We also increased the set of microsatellite loci to nine. Altogether, these provided us with tools to:
a)
assess the reproductive isolation between
F. radicans
and
F. vesiculosus
in the supplementary populations and with the additional loci;
b)
determine the phylogeographic affinities of
F. radicans
;
c)
estimate the time of divergence of
F. radicans
from
F. vesiculosus
to determine whether
F. radicans
originated recently, after the formation of the Baltic Sea and;
d)
to discern the mechanisms responsible for the reproductive isolation between
F. radicans
and
F. vesiculosus
.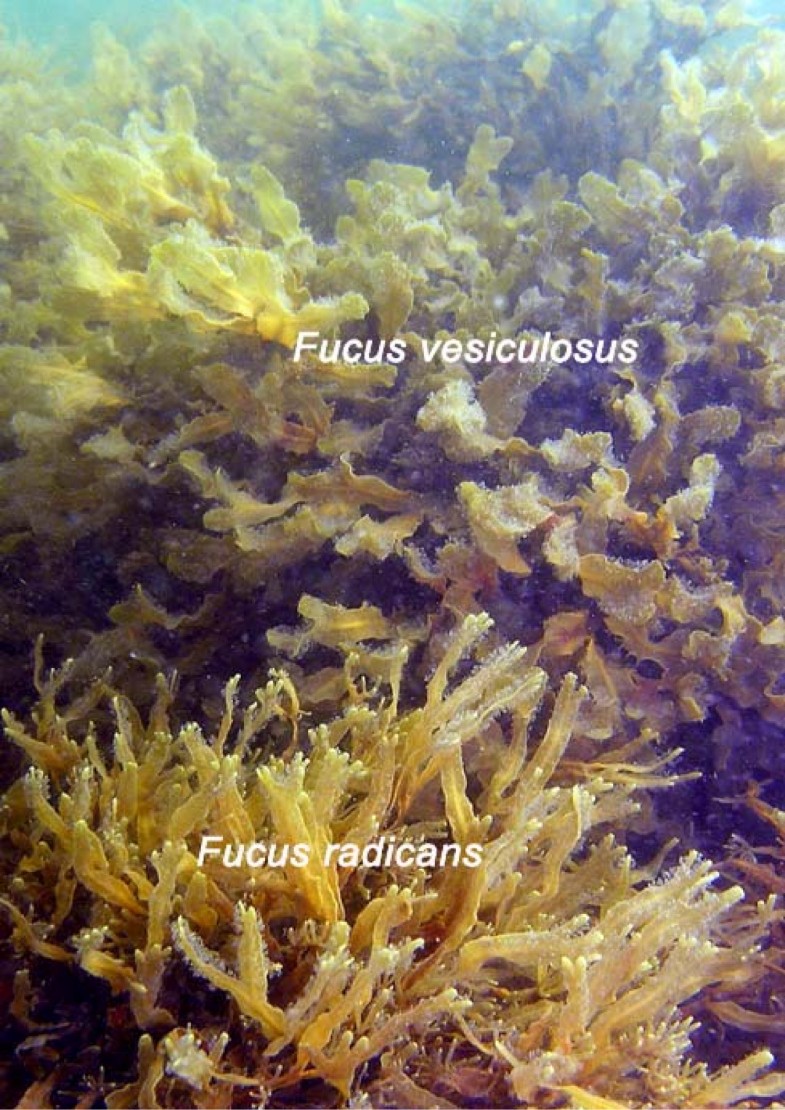 Conclusion
Fucus radicans is endemic to the Baltic Sea that formed only 8–10 kya. This species diverged from F. vesiculosus and divergence time estimates suggest that they split about 400 yrs ago. These dates are consistent with the transition of the Baltic from marine to brackish water, less than 4 kya and provide an unparalleled example of rapid speciation in marine ecosystems. These closely related species also offer further opportunities to increase our understanding of the role of species-poor systems -where competition is low and gene flow is expected to be high-, of peripheral extreme environments and of mixed reproductive modes in species formation.
Declarations
Acknowledgements
We thank A. Tatarenkov for advice during early stages of work and for comments on the manuscript, to B. Jönsson for assistance in the laboratory and to J. Havenhand, C. André, R. K. Butlin and B. Emerson for valuable comments. This work was financially supported by the Swedish Research Councils (VR and Formas) partly through the BaltGene research program and the Linnaeus initiative 'Adaptation to changing marine environments (ACME)'.
Authors' Affiliations
(1)
Department of Marine Ecology -Tjärnö, University of Gothenburg, Strömstad, Sweden
(2)
Department of Botany, Stockholm University, Stockholm, Sweden
(3)
Institute of Coastal Research, Swedish Board of Fisheries, Öregrund, Sweden
Copyright
© Pereyra et al; licensee BioMed Central Ltd. 2009
This article is published under license to BioMed Central Ltd. This is an Open Access article distributed under the terms of the Creative Commons Attribution License (http://creativecommons.org/licenses/by/2.0), which permits unrestricted use, distribution, and reproduction in any medium, provided the original work is properly cited.