Research article
Open Access
Positive selection and ancient duplications in the evolution of class B floral homeotic genes of orchids and grasses
BMC Evolutionary Biology
2009
9:81
Received: 30 November 2008
Accepted: 21 April 2009
Published: 21 April 2009
Abstract
Background
Positive selection is recognized as the prevalence of nonsynonymous over synonymous substitutions in a gene. Models of the functional evolution of duplicated genes consider neofunctionalization as key to the retention of paralogues. For instance, duplicate transcription factors are specifically retained in plant and animal genomes and both positive selection and transcriptional divergence appear to have played a role in their diversification. However, the relative impact of these two factors has not been systematically evaluated. Class B MADS-box genes, comprising DEF-like and GLO-like genes, encode developmental transcription factors essential for establishment of perianth and male organ identity in the flowers of angiosperms. Here, we contrast the role of positive selection and the known divergence in expression patterns of genes encoding class B-like MADS-box transcription factors from monocots, with emphasis on the family Orchidaceae and the order Poales. Although in the monocots these two groups are highly diverse and have a strongly canalized floral morphology, there is no information on the role of positive selection in the evolution of their distinctive flower morphologies. Published research shows that in Poales, class B-like genes are expressed in stamens and in lodicules, the perianth organs whose identity might also be specified by class B-like genes, like the identity of the inner tepals of their lily-like relatives. In orchids, however, the number and pattern of expression of class B-like genes have greatly diverged.
Results
The DEF-like genes from Orchidaceae form four well-supported, ancient clades of orthologues. In contrast, orchid GLO-like genes form a single clade of ancient orthologues and recent paralogues. DEF-like genes from orchid clade 2 (OMADS3-like genes) are under less stringent purifying selection than the other orchid DEF-like and GLO-like genes. In comparison with orchids, purifying selection was less stringent in DEF-like and GLO-like genes from Poales. Most importantly, positive selection took place before the major organ reduction and losses in the floral axis that eventually yielded the zygomorphic grass floret.
Conclusion
In DEF-like genes of Poales, positive selection on the region mediating interactions with other proteins or DNA could have triggered the evolution of the regulatory mechanisms behind the development of grass-specific reproductive structures. Orchidaceae show a different trend, where gene duplication and transcriptional divergence appear to have played a major role in the canalization and modularization of perianth development.
Keywords
Organ IdentityNonsynonymous SubstitutionCodon SiteRelative Rate TestFloral Homeotic Gene
Background
One important goal of contemporary biology is to understand how changes in developmental processes generate evolutionary novelties at the morphological level. The growing field of evolutionary developmental biology ('evo-devo'), approaches this question by determining how changes in the number, sequence and expression of developmental regulatory genes bring about formation of new structures. In plants and animals, these developmental regulatory factors have expanded during evolution (e.g. by gene and genome duplication) to form large and diverse gene families linked by complex genetic and physical interactions [1–3].
Mutations in transcriptional regulators of development often do not significantly affect the complete organism because their function is generally confined to a single category of organs or modules [4]. Thus, it has been hypothesized that developmental transcription factors are more likely to evolve new functions and so coordinate the development of viable morphological novelty [4]. The importance of duplication and diversification of genes encoding transcription factors (e.g. Hox genes) is substantiated by genomic analyses showing that these kinds of genes are specifically retained in plant [5] and animal genomes [6, 7]. Additionally, these genes show diverging patterns of expression, unequal rates of substitution and positive selection [6–11].
Positive selection is also involved in the diversification of several groups of plant developmental transcription factors [12–17]. Recent research has focused on those encoded by members of the MIKC-type MADS-box gene family because of their key role in the development and evolutionary diversification of the angiosperm flower [18–22]. Thus, characterizing their patterns of molecular evolution is essential to understanding their function and the mechanisms of morphological evolution. Because different functional classes of MADS-box genes form distinct clades [23–25], their phylogeny is an important aid to identify and test hypotheses explaining the different selective regimes that are generally considered to drive their evolution.
The plant-specific proteins encoded by MIKC-type MADS-box genes have an unique and highly-conserved domain structure that includes MADS- (M-), intervening (I-), keratin-like (K-) and C-terminal (C-) domains [26]. The MADS-domain is mostly involved in DNA-binding and, together with the I-domain, mediates the formation of dimers. The K-domain plays an important role in protein – protein interaction during both dimerization and the formation of multimeric complexes. The C-terminal domain is the most variable region. In some cases it is involved in transcription activation, but it may also be involved in multimeric complex formation (reviewed in [26]).
The ABCDE model of flower development (reviewed in [26]), describes the genetic interactions of the five major classes of floral homeotic selector genes termed class A, B, C, D and E genes, almost all of which are MIKC-type genes. Each of these gene classes determines the identity of different floral organs: Class A and E genes specify sepals; class A, B and E genes determine petals; the combination of class B, C and E genes specifies stamens (male reproductive organs); class C and E genes determine carpels (female reproductive organs); and class D genes determine ovules.
Of special interest to our study are class B MADS-box genes encoding transcription factors, key to the specification of petal and stamen identity [27–32]. A gene duplication event that preceded the origin of extant angiosperms gave rise to DEF- and GLO-like genes, the two major lineages of class B genes in angiosperms [33–35]. The regulatory role of class B genes in some model plants such as Arabidopsis thaliana and Antirrhinum majus involves obligatory heterodimerization of proteins from the DEF and GLO lineages [27, 29, 36]. Moreover, these heterodimers form higher order complexes with other classes of MADS-domain proteins [37–39].
Recent analyses of the molecular evolution of class B-like MADS-box genes in angiosperms detected positive selection after two key duplication events that generated first DEF- and GLO-like genes and later euAP3-type and TM6-type genes, which are the major sublineages of DEF-like genes [22]. The analysis of Hernández-Hernández et al. showed that during evolution, positive selection probably modified the central property of protein complex formation because most of the selected sites belong to the K-domain mediating protein – protein interactions in the complexes of MADS-domain transcription factors [22]. Thus, the evolutionary emergence and divergence of DEF- and GLO-like genes after duplication enabled the formation of obligate heterodimeric complexes involved in the determination of floral organ identity, while the evolution of the class B gene lineages of euAP3-type and TM6-type genes may be associated with the morphological canalization of the core eudicot flower [22, 40].
Flowers of many monocots are actinomorphic, with two trimerous whorls of highly similar petaloid organs called tepals. In contrast, at least three kinds of organ identity exist in the zygomorphic orchid perianth: in the first floral whorl there are three outer tepals (T1–T3; often also termed 'sepals'). In the second whorl there are two lateral inner tepals (t1, t2; 'petals') and a median inner tepal (t3) called lip or labellum [41, 42]. The orchid family is divided into five monophyletic subfamilies that successively diverged from each other: Apostasioideae, Vanilloideae, Cypripedioideae, Orchidoideae and Epidendroideae [43, 44]. In each subfamily the three types of perianth organs have specific features, though the lip typically adopts the widest range of morphologies. In Apostasia, one of two genera of the Apostasioideae, the lip resembles the other tepals [45], while in flowers of Cypripedioideae the lip is "deeply pouched and inflated" [46].
In contrast, the reproductive organs of the typical grass floret are surrounded (from inner to outer) by two lodicules, palea and lemma following a zygomorphic organization. One or more florets are surrounded by two glumes, thus constituting a spikelet, the characteristic reproductive unit of grass inflorescences [47, 48]. Class B gene expression and corresponding homeotic transformations in mutant plants suggest that the lodicules are probably homologous with eudicot petals, even though lodicules are small, often glandular-looking organs that appear very different from typical petals [49, 50]. The homologies of palea, lemma and glumes to organs of other angiosperms, such as sepals or prophylls remain controversial [51].
Many monocot species have several copies of DEF- and GLO-like genes which are expressed differently from their orthologues first characterized in Antirrhinum majus and Arabidopsis thaliana [35, 52]. For example, the development of petaloid tepals in the outer whorl of Tulipa gesneriana and other petaloid monocots is probably determined by the heterotopic expression of DEF- and GLO-like genes [53–56]. Although this research suggests there are alternative ways in which class B proteins regulate the genes encoding them and are associated with novel morphologies, it is still far from clear how MADS-box gene duplication and transcriptional divergence is associated with developmental flexibility and the evolutionary diversification of floral morphology. An opportunity to address this question comes from recent studies in putative class B genes from Orchidaceae (orchids; order Asparagales), which indicate that the high degree of perianth diversity of this family might be associated to duplication of MADS-box genes [57–61]. Specifically, studies on the orchid species Habenaria radiata, Dendrobium crumenatum, Phalaenopsis equestris and the hybrid Oncidium "Gower Ramsey", have indicated that the petaloid character of the outer tepals of orchid flowers is due to heterotopic expression of class B genes HrDEF, DcOAP3A, PeMADS2 and PeMADS5, and OMADS3, respectively [57, 58, 60, 61]. In particular, the analyses of Phalaenopsis equestris and Dendrobium crumenatum indicated that the specific combination of duplicate gene expression in each whorl is associated with development of three distinct groups of organs: the outer and inner lateral tepals and the exceptionally diverse orchid lip [58, 60].
Recently, we linked these distinct patterns of expression and organ identity determination with preliminary data on the molecular phylogeny of orchid DEF-like genes [42, 62]. We argued, that the orchid perianth evolved from a lily-like ancestor as a result of duplication of DEF-like genes and subsequent regulatory changes that brought about differential expression of the paralogues. Our model predicts that the extant diversity of the orchid perianth results from changes in expression of some of these four DEF-like genes, or from changes in the downstream targets of the proteins that they encode [42]. These two scenarios are not mutually exclusive and the pattern of selection on these genes could help to distinguish between them. We hypothesize that the occurrence of distinct patterns of molecular evolution in each clade of orchid DEF-like genes may substantiate the hypothesis that each of them is associated to distinct protein- or DNA-binding capabilities.
The DEF- and GLO-like genes from the order Poales provide a useful point of comparison for testing this hypothesis because they are essential for specification of stamens and the grass-specific lodicules [49, 50] and are expressed in homologous whorls of the grasses and their closest relatives. This indicates that the morphological differentiation of grasses from tepaloid monocots is possibly the result of changes in the downstream targets of class B transcription factors [63].
With nearly 25,000 and 20,000 species each, Orchidaceae and Poales, respectively constitute two thirds of all monocot species and include some of the most frequently studied groups of plants [
47
,
64
]. Molecular phylogenetic analysis have consistently shown that the Orchidaceae is the sister group to all other Asparagales [
65
–
67
]. Likewise, Asparagales is the sister group of the Commelinids, a well-supported large clade comprising Arecales (palms), Commelinales (spiderworts), Zingiberales (gingers) and Poales (grasses, sedges and bromeliads). Together, Asparagales and Commelinids occupy a somewhat derived place in the phylogeny of the monocots (Inset, Figure
1
). These two groups plus Liliales (lilies), are sister to a clade formed by Pandanales (screwpines) and Dioscoreales (yams). The most basally divergent groups of the monocots are Acorales, Alismatales and Petrosaviaceae, which successively diverged from each other from the group comprised by Asparagales, Commelinids, Liliales, Pandanales and Dioscoreales [
65
,
66
].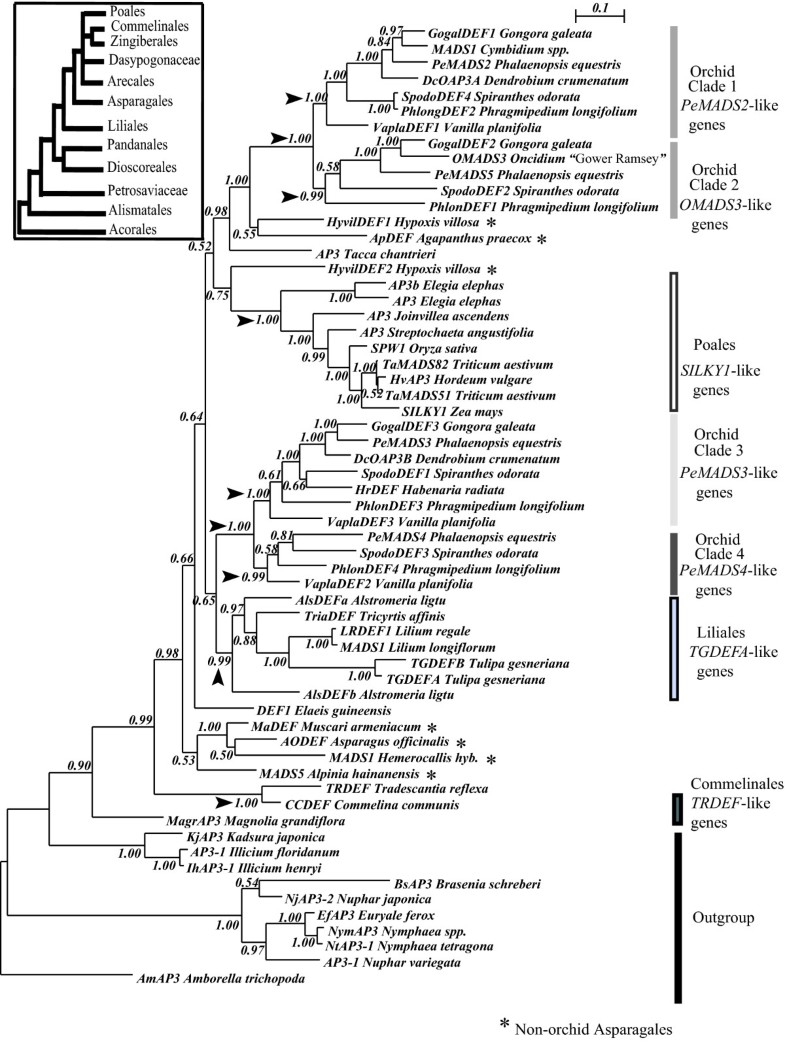 Here, we present an in-depth phylogenetic analysis of putative class B DEF- and GLO-like genes from the monocots. In this study, we substantially widen the sample of DEF- and GLO-like genes, incorporating new sequences from four out of five orchid subfamilies: Vanilloideae, Cypripedioideae, Orchidoideae and Epidendroideae, as well as Hypoxis, a member of the Asparagales frequently employed as outgroup in phylogenetic analyses of the Orchidaceae. The molecular phylogenies that we generate are essential for testing hypothesis on the selective regimes that affected class B-like MADS-box genes during the evolution of the orchid perianth. We compare the molecular evolution and expansion of DEF- and GLO-like genes in the Orchidaceae and order Poales to understand the processes of duplication and natural selection behind the genes associated with the development of the perianths and stamens of the two largest groups of the monocots.
Discussion
The phylogeny of MADS-box genes indicates that functional classes A, B, C+D and E of floral homeotic genes are grouped in distinct clades [23–25], suggesting that duplication and functional diversification of MADS-box genes contributed significantly to the evolution of the flower structure [23, 33, 72, 73]. Thus, studying the phylogeny of MADS-box genes is a powerful tool to better understand the evolution of plant morphology [23, 33, 73–75]. Here we investigate the molecular evolution of putative class B genes from monocots, with special emphasis on DEF- and GLO-like genes from orchids and Poales. We have chosen these genes because they most likely specify the identity of both perianth organs and stamens throughout the angiosperms, and they are thus essential for understanding important aspects of the morphological divergence of the orchids and grasses from the rest of the monocots [41, 42, 63, 76, 77]. Specifically, we determined whether shifts in the rates and patterns of nucleotide substitution of duplicated class B genes are correlated with their subsequent functional divergence and thus with the evolution of novel perianth structures in orchids and grasses.
Ancient duplication of DEF-like genes possibly facilitated the diversification of the orchid flower morphology
The phylogenetic analyses presented here strongly support the existence of four ancient, orchid-specific clades of DEF-like genes. These four clades and their internal branches are generally supported with PP values > 0.99. Our data strongly suggest that the sequences within each clade are orthologues, because they reproduce the systematic relationships reported for the four most derived subfamilies of the Orchidaceae: (Vanilloideae(Cypripedioideae(Orchidoideae, Epidendroideae))) [44, 78]. This indicates that the clades are the result of ancient gene duplication events that at least precede the origin of the subfamily Vanilloideae, which according to recent estimates, emerged between 71 to 62 MYA [79]. The ancient origin, conservation and unique expression (see below) of these distinct groups of orchid-specific genes suggest that they have key roles in determining the organ identities behind the characteristic orchid floral morphology [42, 62]. Our data show that clades 1 and 2, as well as clades 3 and 4, are sister to each other. Although clades 1 and 2 seem most closely related to some other DEF-like genes in the Asparagales (Figure 1), the data available do not allow unequivocal reconstruction of the deeper phylogenetic relationships between orchid paralogous groups and the rest of the monocot sequences.
Exceptionally, we found that members of subfamily Orchidaceae have two lineages of GLO-like genes (Figure 2). We argue that these two lineages may be the result of a subfamily-specific duplication because exhaustive RACE on several cDNA pools from species in subfamilies Vanilloideae (Vanilla planifolia), Cypripedioideae (Phragmipedium longifolium) and Epidendroideae (Gongora galeata) yielded only a single GLO-like gene. The fact that GLO-like genes from Cypripedioideae and Epidendroideae seem to associate with different lineages of Orchidoideae (Figure 2), may be the result of differential gain and loss of duplicate genes during the evolution of these subfamilies.
The phylogeny of DEF-like genes provides the evolutionary context needed to interpret functional information on these sequences and suggests a particular model of perianth organ determination and evolution [42, 62]. Mapping the known expression patterns onto the phylogenies of orchid DEF-like sequences shows that genes belonging to the same clade have the same or very similar expression domains [42]. These clade-specific expression patterns suggest that the duplication events that gave rise to the ancestors of these clades were followed by transcriptional and functional differentiation of each paralogue.
Specifically, in addition to expression in the gynostemium, genes from both clades 1 and 2 are expressed in the outer and inner tepals, whereas the expression of genes in clades 3 and 4 is limited to the inner tepals or to the lip, respectively [42]. Considering both the expression patterns of each clade and the events of gene duplication that generated them, it seems likely that after the first gene duplication, the ancestor of genes in clades 3 and 4 produced the differences between inner (expression "on") and outer tepals (expression "off"). The resulting morphology might still exist in the basal genus Apostasia (subfamily Apostasioideae) whose flowers do not yet possess elaborate lips [45]. Similarly, the distinction between lateral inner tepals and the lip emerged after a second gene duplication affecting the ancestor of clades 3 and 4, followed by changes in the cis-regulatory regions of the duplicated genes that resulted in differential expression and determination of lip identity by clade 4 genes [42]. Validating this scenario involves further characterization of the patterns of expression of DEF- and GLO-like genes in the basal and relatively species-poor families Apostasioideae, Vanilloideae and Cypripedioideae.
Although genes in clade 1 and 2 are expressed in all the perianth organs, it is unlikely that they have a completely redundant role in the determination of perianth organ identity. According to our phylogenetic reconstruction, these clades were already present in the Vanilloideae, an orchid subfamily that emerged at least 62 million years ago [79]. Retention of duplicate genes for such a long time is alone a strong argument for functional diversification. Furthermore, our analyses show that the members in these clades have substantial differences in their C-terminal domains, distinct rates of nonsynonymous substitution and significant differences in their respective patterns of purifying selection (Figures 1, 3, Tables 2, 3, Additional file 2). Specifically, in the sequences of clade 2 DEF-like genes, a relatively high proportion of non-synonymous substitutions followed the duplication that generated this clade and eventually caused the truncations in the open reading frames that characterize the sequences analyzed here. Despite the high level of divergence of clade 2 orchid DEF-like genes, our detailed characterization of ω along the phylogeny of all orchid class B genes did not indicate specific branches or sites where positive selection took place. Our estimation of ω along sites, branches and specific clades documents a scenario of prevalent purifying selection (Figures 3, 4, Tables 2 to 4) that agrees with previous analyses of class B genes and other floral organ identity genes [13, 14, 22, 80]. However, we cannot completely rule out the occurrence of positive selection, since its effects on few sites during a brief evolutionary period can be masked by ensuing and continuous purifying selection [81, 82].
The uniform expression of GLO-like genes in the perianth organs of orchids [59–61], indicates that although these genes are probably essential for proper flower development, they may not play a role in determining the different organ identities in the orchid perianth [42]. However, further work is needed to determine whether the subfamily Orchidoideae-specific gene duplication (Figure 2) is associated with differential patterns of expression and function and thus with the specific morphology of this subfamily.
Similarly to DEF-like sequences, all clades of GLO-like genes were under strong purifying selection, but this is especially pronounced in the case of the single clade of genes from orchids (Figure 4). We think the differences in the ω ratio reflect the distinct selective constraints affecting duplicated class B genes. Specifically, the ratios corresponding to the generally monogenic clades of the Orchidaceae (ω = 0.043) and Liliales (ω = 0.0907) are lower than those of the rest of the Asparagales and the Poales, where there are two GLO-like loci (ω = 0.1206 and ω = 0.157, respectively). We reasoned that in orchids, and to a lesser extent in GLO-like sequences from Liliales, the lower rate of substitution reflects the stable co-evolutionary interaction between the product of a single GLO-like gene with several DEF-like interaction partners. Also, duplicated loci in clades A1 and A2 from the rest of the Asparagales, as well as P1 and P2 from the Poales, may be completely or partially redundant and thus under less stringent purifying selection than their single-copy homologues in other species (Figure 4).
The fact that each of the clades of DEF- and GLO-like sequences replicates the systematic relationships of the four most advanced subfamilies of the Orchidaceae [44, 78] suggests that these sequences may be useful for reconstructing the phylogeny of the Orchidaceae, provided the analysis exclusively involves orthologous sequences.
Positive selection in DEF-like genes from Poales preceded the evolution of the grass floret
The order Poales contains 18 families, of which three are represented in our analyses of DEF-like genes: Restionaceae (Elegia elephas), Joinvilleaceae (Joinvillea ascendens) and Poaceae with the rest of the species (Streptochaeta angustifolia, Oryza sativa, Triticum aestivum, Hordeum vulgare, Zea mays). Recent phylogenetic analyses showed that the early-diverging lineage of the Restionaceae is the sister group of a clade containing Joinvilleaceae and the more derived Poaceae; the latter comprising most of the species of Poales [47, 65]. Previous studies [63] sampled species representing the morphological transition from the typical monocot flower to the grass floret. Specifically, the flowers of the basal Elegia elephas and Joinvillea ascendens are actinomorphic, possessing two trimerous whorls of tepals and three or six stamens, respectively [63]. In contrast, the floret of the early-diverging grass Streptochaeta angustifolia has 12 bracts. The trimerous arrangement of the six bracts VII to XII have been interpreted as the first and second perianth whorls [63]. Most importantly, the expression of class B gene SaAP3 in the last three bracts and in the six stamens suggests that these bracts are second whorl organs, possibly a transitional form preceding the evolution of actual lodicules [63, 83]. Moreover, the study of Whipple et al (2007) suggests that class B genes control the identity of second whorl organs in a broader sense than only petal identity. The morphologies outlined above contrast with the grass floret found in the rest of the Poaceae species analyzed here. Specifically, the floret is formed by one lemma and one palea subtending a flower formed by two or three lodicules, and the male and female reproductive organs. The grass floret is also a zygomorphic structure like the orchid flower, mostly due to frequent differential suppression of stamens from different whorls [84, 85] and suppression of the adaxial lodicule in most derived grasses (e.g. Hordeum, Oryza) [48, 84].
In this context, the evidence for positive selection in the branch that represents the divergence of Poales DEF-like genes from the rest of the monocot genes (Figure 3, Table 5) suggests that during the morphological divergence of grasses a series of nonsynonymous substitutions took place before the emergence of the characteristic grass floret. Positive selection probably continued along the branches following the divergence from Elegia elephas and Streptochaeta angustifolia (Table 5), but the corresponding signal eventually became masked by positions under purifying selection that probably encode amino acids essential for a grass-specific network of class B gene targets. The facts that class B transcription factors SILKY1 (DEF-like) and ZMM16 (GLO-like) from maize share conserved heterodimerization specificity with Arabidopsis thaliana class B proteins APETALA3 and PISTILLATA in vitro and rescue the corresponding null mutants makes it conceivable that the residues mediating the interaction between these two sets of class B proteins already existed in the most recent common ancestor of monocots and eudicots [76]. This not only suggests that the mechanisms of organ identity determination for second whorl organs were established early during the evolution of the angiosperms, but also that the subsequent morphological divergence in the grasses is probably associated with the lineage-specific substitutions in the K-domain that we detected. Substitutions in this domain may have the potential for changing higher order complex formation of class B proteins and thus their binding specificity to downstream target genes, eventually enabling them to coordinate the development of novel perianth structures.
Methods for detecting positive natural selection, like the ones we employed here, are powerful tools to generate and experimentally verify interesting hypothesis on the evolution of new gene functions and phenotypes. Recently, molecular adaptation of polygalacturonase inhibitor protein, TRIM5α, feruloyl esterase A and salicylic acid methyltransferase has been tested on proteins encoded by genes where nucleotides under positive selection were modified via site-directed mutagenesis or by domain-swapping experiments generating genes encoding chimeric proteins [86–89]. In the future, similar approaches could be employed to assess the functional consequences of positive selection in DEF-like transcription factors from Poales. For example, hypothesis on the transcriptional activity of these proteins could be evaluated by substituting sites under positive selection with the ones found in present-day orchids or the ones inferred to have existed in their common ancestor. The interactions of chimeric or mutagenized DEF-like proteins from Poales with other MADS-domain transcription factors and DNA could be assayed in vitro via yeast-two-hybrid and electrophoretic mobility shift assays [90], respectively, or in planta employing Fluorescence Resonance Energy Transfer (FRET) [91].
Functional consequences of C-terminal deletions in clade 2 DEF-like proteins of orchids
Previous phylogenetic analyses of the DEF- and GLO-like proteins identified specific motifs characteristic for certain plant lineages [33, 35]. Similarly to what we observed in the different lineages of orchid DEF-like genes, most of these characteristic motifs evolved in the C-terminal domain of the encoded proteins. This domain is highly variable and in class B proteins it might be involved in the formation of multimeric transcription factor complexes [39, 92]. The evolutionary importance of these differences in the C-terminal domain is supported by their long evolutionary conservation (Additional file 2). In particular, the family specific C-terminal deletions observed in orchid DEF-like proteins from clade 2 are exceptional if one considers that in all published DEF-like proteins, C-terminal deletions are only species specific (M. Mondragón-Palomino, unpublished results). The importance of these orchid-specific deletions is highlighted by recent findings on the occurrence of frameshift mutations in the regions encoding C-terminal motifs of the members of the clades of DEF- and GLO-like genes [93, 94]. For example, the study by Kramer et al[94] indicates that the C-terminal motif 'euAP3' resulted from a translational frameshift caused by a single nucleotide deletion in the ancestral motif 'paleoAP3'. Because the paleoAP3 motif is found in DEF-like proteins throughout the angiosperms (e.g. in TM6-like proteins of eudicots), whereas the euAP3 motif is found only in DEF-like proteins of higher eudicots, Lamb and Irish [95], suggested that there is a causal relationship between duplication of DEF-like genes, mutations in the C-domain, functional differentiation of DEF-like genes and the emergence of specific floral morphologies. Although the previous evidence argues for the functional importance of the C-terminal deletions in the orchid clade 2 proteins, there is surprisingly little experimental evidence for a function of the C-terminal domain, not only in orchids but also in other species. Specifically, recent independent studies with truncated DEF-like proteins from Arabidopsis thaliana and Chloranthus spicatus suggest that the C-terminal domain is not essential for floral identity [96, 97]. Interestingly, yeast-two hybrid experiments involving OMADS3 from orchid Oncidium "Gower Ramsey", a clade 2 protein lacking the conserved C-terminal motifs PI-derived and paleoAP3 (Additional file 2), showed that this protein forms homodimers [57], opening up the possibility of novel regulatory functions for the proteins of clade 2. However, results derived from experiments using DEF-like proteins with truncated C-terminal domains of other monocots do not lend support to a particular role of this domain in dimerization [68, 90].
Conclusion
Our results strongly support the existence of four distinct paralogous clades of orchid
DEF
-like genes that originated at least 62 MYA via three gene duplications. It appears likely that the gene duplication that gave rise to the ancestors of clades 1 and 2 on the one hand and clades 3 and 4 on the other hand occurred simultaneously, due to a whole genome duplication (WGD) (Figure
6
). In contrast, all orchid
GLO
-like genes form a single, highly conserved clade where subfamily-specific gene duplicates may only have been retained in Orchidoideae. Our analyses show that the four clades of orchid
DEF
-like genes are significantly distinct in their level of sequence divergence, strength of purifying selection and clade-specific sequence motifs. These differences, together with the clade-specific patterns of gene expression [
42
,
57
,
58
,
60
–
62
], suggest that after duplication, changes in the promoter and coding region resulted in sub- and neofunctionalization of the paralogous
DEF
-like genes. We argue that the orchid
DEF
-like genes acquired new functions in the specification of at least three different orchid-specific perianth organ identities by changes in expression patterns and target gene recognition. According to the 'orchid code' [
42
,
62
], in addition to the expression of a
GLO
-like gene and possibly also
AP1
- and/or
SEP
-like genes, the combined expression of clade 1 and clade 2 genes in the first floral whorl determines the formation of outer tepals. In the second whorl, the identity of lateral inner tepals is determined by the combined action of clade 1, clade 2 and clade 3 genes. The identity of the lip is determined by the organ-specific expression of a clade 4 gene in addition to the expression of all the other
DEF
-like genes [
42
]. The neofunctionalization of the four orchid
DEF
-like genes, implicit in the 'orchid code' may have been a crucial event in the morphological diversification of the orchid flower (Figure
6
). It could have 'modularized' the orchid perianth, by enabling an individual response of every type of organ to natural selection and thus independent evolution [
62
]. Contrary to the case in lilies and tulips, where perianth development is very likely under control of one set of floral homeotic genes, including
DEF
-like and
GLO
-like genes [
54
], the different perianth organs of the orchids are controlled by different sets of genes, therefore mutational changes can easily be restricted to one or two types of organ by mutations in the genes that specify their identity during development. For example, mutational changes can be easily restricted to the inner tepals and lip by mutations in a clade 3 gene, or to the lip by mutations in a clade 4 gene. This may provide a proximate explanation for why the lip is the most diverse organ. A similar scenario is not likely in petaloid monocots with identical tepals, because changes in the mechanisms determining organ identity of one tepal are very likely accompanied by the same (pleiotropic) changes in the rest of the perianth due to their common genetic control of development [
62
].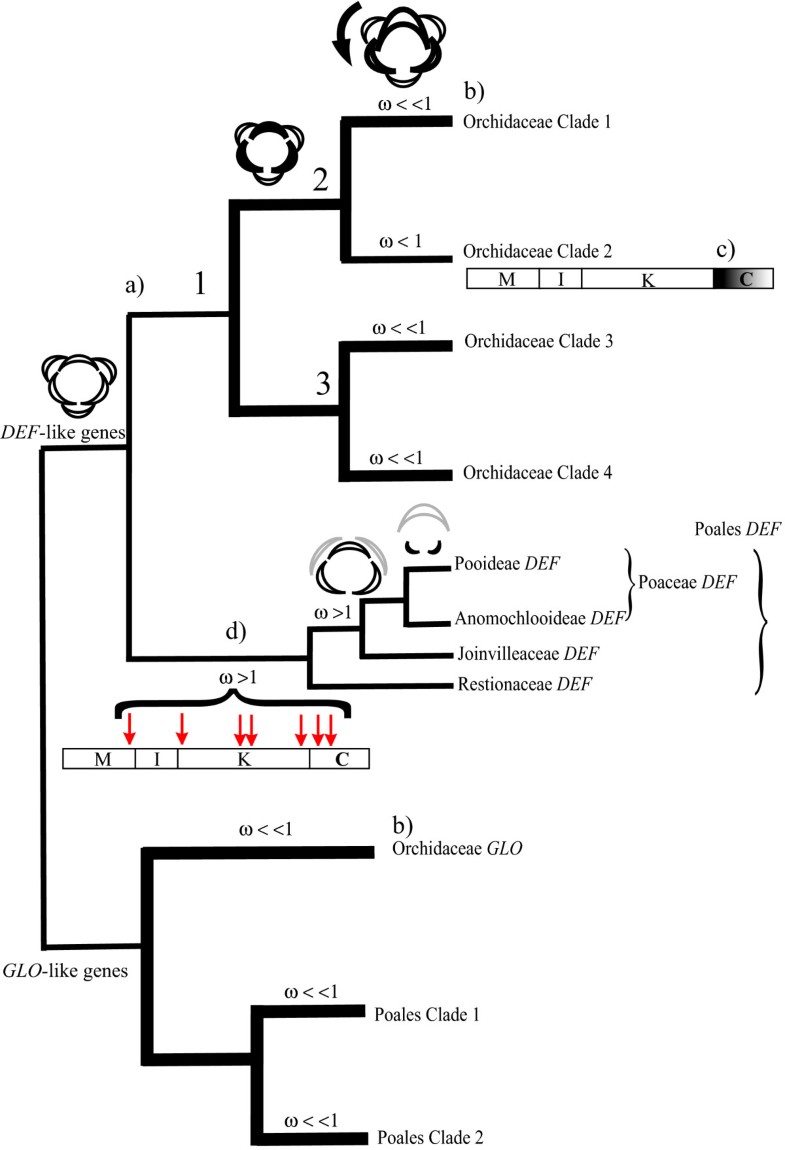 The 'orchid code' suggests that the diversification of the orchid perianth started with changes in the regulatory regions of the duplicated class B genes, which were soon followed by changes that led to the recognition of different target genes [42]. The conserved clade-specific motifs that characterize each clade may be the result of diversifying selection taking place early and transiently during the divergence of the ancestral paralogues, but possibly after some changes that affected the domains of expression had already occurred. Subsequently, purifying selection may have been stabilizing the network of protein – protein and protein – DNA interactions involving four DEF-like proteins.
Our analyses suggest that diversification of the K-domain in DEF-like genes of Poales may have triggered the initial changes in transcription factor interactions that coordinate the development of the lodicules (Figure 6). Our comparative analysis of class B genes in the Orchidaceae and Poales, as well as published information on their pattern of expression, suggests that in these species-rich groups positive selection and transcriptional divergence have had different influences on the evolution of morphological diversification. In a wider context, the presented results suggest the preservation and functional diversification of paralogous genes involves case-specific differential divergence of coding and regulatory sequences (Figure 6).
Declarations
Acknowledgements
We thank the Botanical Gardens of Halle an der Saale, Stuttgart, Heidelberg (HEID) and Jena for permission to obtain plant material from their living collections. Many thanks to Domenica Schnabelrauch and Bettina Kästner for technical assistance and to Paula Rudall, Richard Bateman, Maria Anisimova, Rainer Melzer, Lydia Gramzow and three anonymous reviewer for insightful comments and suggestions on different versions of this manuscript.
This work was funded by the Deutsche Akademische Austausch Dienst (A/04/21600) to MMP and the Volkswagen Stiftung (I/81 901) to MMP and GT.
Authors' Affiliations
(1)
Department of Genetics, Friedrich Schiller University Jena, Jena, Germany
(2)
Institute for Plant Science, Ruprecht Karls University, Heidelberg, Germany
Copyright
© Mondragón-Palomino et al; licensee BioMed Central Ltd. 2009
This article is published under license to BioMed Central Ltd. This is an Open Access article distributed under the terms of the Creative Commons Attribution License (http://creativecommons.org/licenses/by/2.0), which permits unrestricted use, distribution, and reproduction in any medium, provided the original work is properly cited.