Research article
Open Access
DIRS1-like retrotransposons are widely distributed among Decapoda and are particularly present in hydrothermal vent organisms
BMC Evolutionary Biology
2009
9:86
Received: 27 November 2008
Accepted: 28 April 2009
Published: 28 April 2009
Abstract
Background
Transposable elements are major constituents of eukaryote genomes and have a great impact on genome structure and stability. Considering their mutational abilities, TEs can contribute to the genetic diversity and evolution of organisms. Knowledge of their distribution among several genomes is an essential condition to study their dynamics and to better understand their role in species evolution. DIRS1-like retrotransposons are a particular group of retrotransposons according to their mode of transposition that implies a tyrosine recombinase. To date, they have been described in a restricted number of species in comparison with the LTR retrotransposons. In this paper, we determine the distribution of DIRS1-like elements among 25 decapod species, 10 of them living in hydrothermal vents that correspond to particularly unstable environments.
Results
Using PCR approaches, we have identified 15 new DIRS1-like families in 15 diverse decapod species (shrimps, lobsters, crabs and galatheid crabs). Hydrothermal organisms show a particularly great diversity of DIRS1-like elements with 5 families characterized among Alvinocarididae shrimps and 3 in the galatheid crab Munidopsis recta. Phylogenic analyses show that these elements are divergent toward the DIRS1-like families previously described in other crustaceans and arthropods and form a new clade called AlDIRS1. At larger scale, the distribution of DIRS1-like retrotransposons appears more or less patchy depending on the taxa considered. Indeed, a scattered distribution can be observed in the infraorder Brachyura whereas all the species tested in infraorders Caridea and Astacidea harbor some DIRS1-like elements.
Conclusion
Our results lead to nearly double both the number of DIRS1-like elements described to date, and the number of species known to harbor these ones. In this study, we provide the first degenerate primers designed to look specifically for DIRS1-like retrotransposons. They allowed for revealing for the first time a widespread distribution of these elements among a large phylum, here the order Decapoda. They also suggest some peculiar features of these retrotransposons in hydrothermal organisms where a great diversity of elements is already observed. Finally, this paper constitutes the first essential step which allows for considering further studies based on the dynamics of the DIRS1-like retrotransposons among several genomes.
Keywords
Hermit CrabReverse Transcriptase DomainBrachyuran CrabPhylogenic RelationshipCaridean Shrimp
Background
Deep-sea vents are chemosynthetic environments which are considered as extreme as compared to usual life standards due to their physico-chemical characteristics. For instance, they show high levels of temperature, pressure, heavy metals and sulfide [1]. They are also highly variable, with physico-chemical shifts occurring over very short spatial and temporal scales [2]. Although other marine environments (e.g., the intertidal zone) are also variable, hydrothermal environments are particularly unstable due to (i) the intensity of variations observed in deep-sea vents, e.g., variation of temperature from 400 to 2°C over few centimeters [3], (ii) local random mix of vent fluids with surrounding waters [4] and (iii) the relatively short lifetime of vents [5]. Because such unstable environment may be difficult to live in, deep-sea vents are often considered as harsh and stressful. For example, the vent shrimps Rimicaris exoculata, which usually live between 15°C and 30°C, endure sudden changes of thermal conditions due to the convection of fluids and can survive to exposure to very high temperature vent emissions [6, 7].
In terms of biome characteristics, hydrothermal ecosystems are also peculiar, as they show a much higher density of individuals compared with surrounding abyssal plains. For example, populations of R. exoculata can reach up to 2500 individuals per square meter [8]. On the other hand, in comparison with coastal environments, hydrothermal vents are associated to a small number of species [9, 10] (less than 600 species described to date in [11]). These features, along with the variable nature of the hydrothermal environment, suggest that deep-sea vent organisms may present particular genetic characteristics in relation to their peculiar adaptive abilities. Studying transposable elements (TEs) constitute an interesting way to investigate the genomic bases of such adaptive capacities. Several studies have shown that environmental variations can promote genome plasticity through transcriptional activation and mobilization of TEs (especially retrotransposons), often in response to specific stimuli such as biotic stress (e.g., pathogens) and abiotic environmental changes (e.g., temperature) [12–15]. For these reasons, TEs have a large impact on genome structure and stability, contribute in particular to variations in genome size [16–19], and are therefore considered as one of the major sources of genetic variability in eukaryotes [20–24]. The order Decapoda is a great model to investigate the genomic nature of the adaptation of hydrothermal organisms and its possible relationship with TEs. First, decapod crustaceans (shrimps, lobsters, crabs, ...) are found in various environments, with about 50 species described in hydrothermal vents [11]. Second, they exhibit great variation in genome size, from 1.07 pg (1050 Mb) in the crab Carcinus maenas to 40.89 pg (40000 Mb) in the shrimp Sclerocrangon ferox [25, 26], with several species (e.g., shrimps) showing particularly large genomes that are thus liable to harbor high TE contents. Given their abundance and diversity, decapods have been greatly underrepresented in studies of TEs with only few elements described to date [27–35] including a LTR retrotransposon, GalEa1, that we have recently characterized in the hydrothermal galatheid squat lobster Munidopsis recta [36].
LTR retrotransposons (
Ty1/copia
-like,
Ty3/gypsy
-like and
Pao/Bel
-like elements) and tyrosine recombinase encoding elements (
DIRS
-like,
Ngaro
,
Viper
) constitute two major groups of retrotransposons [
37
–
39
], a class of TEs specific to eukaryotes [
40
]. Several phylogenetic analyses have shown that the
pol
region of
DIRS
-like elements harbor reverse transcriptase (RT) and RNase H (RH) domains closely related to those of
Ty3/gypsy
-like LTR retrotransposons [
41
,
42
]. However, these elements differ fundamentally in structure from LTR retrotransposons as they are devoid of LTR, do not encode either Proteinase and Integrase and harbor a Methyltransferase domain (Fig.
1
) [
39
,
41
]. Moreover,
DIRS
-like retrotransposons replicate through a particular mechanism that involves a tyrosine recombinase [
43
]. Within the
DIRS
-like superfamily [
38
], two distinct groups have been described:
DIRS1
-like and
PAT
-like elements. These two groups differ by the nature of their termini (inverted terminal and split direct repeats, respectively [
44
]) and by phylogenic relationships [
45
].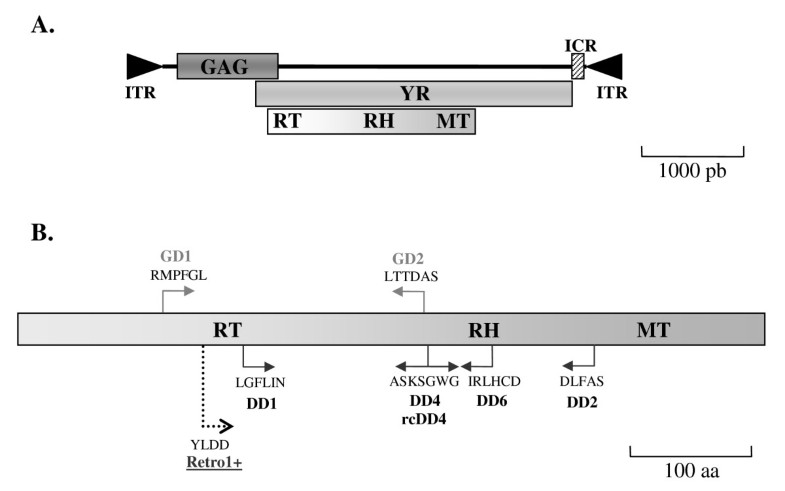 In contrast to LTR retrotransposons that have been found in a wide continuous range of species [
39
,
46
,
47
],
DIRS1
-like elements have a more patchy distribution being yet reported only in a restricted number of phylogenically diverse eukaryote organisms (Table
1
) [
41
,
43
,
46
,
48
–
56
]. Although most of the
DIRS1
-like retrotransposon identifications were based on
in silico
approaches [
41
,
43
], they have not been yet described in several well-studied phylum (e.g., mammals or plants), and are absent from model organisms such as
Saccharomyces cerevisae
and
Drosophila melanogaster
. Moreover, only few different
DIRS1
-like families have been found per species [
41
] in contrast to the large variety of LTR retrotransposon families [
38
,
57
–
59
]. In the slime mold
Dictyostelium discoideum, DIRS1
-like retrotransposons have been shown to harbor an active heat-shock promoter in their inverted terminal repeats [
60
,
61
]. Considering the high level of thermal instability in vents, the presence of such promoters could favor TE activation in hydrothermal species.
Table 1
DIRS1-like retrotransposons previously reported even in partial sequences.
| Species | Phylum | Name | Sequences1 | Reference |
| --- | --- | --- | --- | --- |
| Apis mellifera | Insecta | AmDIRS1 | [GenBank:AADG02016821] | [48] |
| Arbacia punctulata | Echinoidea | ApDIRS1 | [GenBank:BK004821] | [48] |
| Cotesia congregata Bracovirus | Viruses | CcBv31.6-31.7 | [GenBank:AJ632329] | [51] |
| Daphnia pulex | Branchiopoda | DpDIRS1-2 | [GenBank:ACB38665, ACB38666] | Unpublished |
| Danio rerio | Teleostei | DrDIRS1-3 | [GenBank:AL590134, BK001258, BK001259] | |
| Dictyostelium discoideum | Amoebozoa | DIRS1 | [GenBank:M11339] | [52] |
| Gopherus agassizii | Sauropsida | GaDIRS1 | [GenBank:AC147866] | [41] |
| Lytechinus variegates | Echinoidea | LvDIRS1 | [GenBank:AC131505] | [49] |
| Nasonia vitripennis | Insecta | NviDIRS1 | [GenBank:NW_001820604] | Unpublished |
| Nematostella vectensis | Cnidaria | NvDIRS1 | [GenBank:XP_001627585]; Repbase | [53] |
| Oikopleura dioica | Urochordata | OdDIRS1 | [GenBank:AY634219] | [54] |
| Oncorhynchus mykiss | Teleostei | OmDIRS1 | [GenBank:DQ156151] | Unpublished |
| Phycomyces blakesleeanus | Zygomycota | Prt1 | [GenBank:Z54337] | [55] |
| Rhizopus oryzae | Zygomycota | RoDIRS1 | Retrobase | [49] |
| Salmo salar | Teleostei | SsDIRS1 | [GenBank:DQ156149, DQ156150] | Unpublished |
| Strongylocentrotus purpuratus | Echinoidea | SpDIRS1-4 | [GenBank:BK005158]; Retrobase | [43] |
| Takifugu rubripes | Teleostei | FrDIRS1 | Repbase | [56] |
| Tetraodon nigroviridis | Teleostei | TnDIRS1 | [GenBank:AF442732] | [43] |
| Tribolium castaneum | Insecta | TcDIRS1 | [GenBank:AY531876] | [48] |
| Xenopus laevis | Amphibia | XlDIRS1 | [GenBank:BG555156] | [43] |
| Xenopus tropicalis | Amphibia | XtDIRS1-2 | [GenBank:AC144974, AC145807] | [43] |
Hence, studying DIRS1-like elements in Decapoda could allow both to better understand the role of TEs in the adaptation of species in hydrothermal ecosystems and to investigate the dynamics of these peculiar elements. We focused on ten hydrothermal decapods that represent the three major infraorders observed (6 caridean shrimps, 3 brachyuran crabs and 1 anomuran galatheid crab). We have detected DIRS1-like retrotransposons in all vent shrimps and in M. recta as well as in 8 other non-vent decapods. To our knowledge, this paper constitutes the first study based on DIRS1-like element distribution both in a continuous range of species within a single taxon and in species living in various ecosystems. Fifteen new DIRS1-like families are at all described among 15 out of the 25 species tested. These unusual elements are thus surprisingly more widely distributed among decapods than expected.
Conclusion
Because of the small number of DIRS1-like elements described to date, little is known about the distribution and the evolutionary dynamics of these retrotransposons, which differ to other TEs by their peculiar tyrosine recombinase -based replication model [41]. This paper presents the first study using PCR approaches to specifically search for DIRS1-like retrotransposons in several related species. Fifteen new DIRS1-like families were identified in 15 decapod species which nearly doubles both the number of DIRS1-like elements described to date, and the number of species known to harbor such elements. Our study reveals a larger diversity of DIRS1-like retrotransposons as we distinguish a third clade (AlDIRS1-clade) in addition to the TcDIRS1 and DrDIRS1 clades previously described. Our results provide a new vision of the distribution of the DIRS1-like superfamily, and reveals that these elements are not as scattered as previously thought. It is the first study showing that these retrotransposons could have a widespread distribution within a large order (Decapoda) as well as a great diversity within a family (Alvinocarididae). These observations open the way to further studies on the evolutionary dynamics of these elements.
Abbreviations
bp:

base pair
DNA:

DesoxyriboNucleic Acid
EST:

Expressed Sequence Tag
ICR:

Internal Complementary Region
indel:

insertion/deletion
ITR:

Inversed Terminal Repeat
LINE:

Long Interspersed Element
LTR:

Long Terminal Repeat
Mb:

Megabase
MT:

MethylTransferase
ORF:

Open Reading Frame
PCR:

Polymerase Chain Reaction
RH:

RnaseH
RT:

Reverse Transcriptase
SINE:

Short Interspersed Element
TE:

Transposable Element
YR:

Tyrosine Recombinase.
Declarations
Acknowledgements
We are grateful to Stephane Hourdez and Marie-Catherine Boisselier for generously providing samples. We kindly acknowledge Dominique Higuet, Laure Teysset and Clémentine Vitte for critical reading of the manuscript and English revisions. The authors wish also to thank chief scientists, captains and crews of vessels, and submersible teams involved in the different cruises.
Authors' Affiliations
(1)
UMR 7138 Systématique Adaptation Evolution, Equipe Génétique et Evolution, Université Pierre et Marie Curie Paris 6, Paris Cedex 05, France
Copyright
© Piednoël and Bonnivard; licensee BioMed Central Ltd. 2009
This article is published under license to BioMed Central Ltd. This is an Open Access article distributed under the terms of the Creative Commons Attribution License (http://creativecommons.org/licenses/by/2.0), which permits unrestricted use, distribution, and reproduction in any medium, provided the original work is properly cited.