Research article

Open Access
Calcareous sponge genomes reveal complex evolution of α-carbonic anhydrases and two key biomineralization enzymes
BMC Evolutionary Biology
2014
14:230
Received: 11 July 2014
Accepted: 28 October 2014
Published: 25 November 2014
Abstract
Background
Calcium carbonate biominerals form often complex and beautiful skeletal elements, including coral exoskeletons and mollusc shells. Although the ability to generate these carbonate structures was apparently gained independently during animal evolution, it sometimes involves the same gene families. One of the best-studied of these gene families comprises the α- carbonic anhydrases (CAs), which catalyse the reversible transformation of CO2 to HCO3− and fulfill many physiological functions. Among Porifera –the oldest animal phylum with the ability to produce skeletal elements– only the class of calcareous sponges can build calcitic spicules, which are the extracellular products of specialized cells, the sclerocytes. Little is known about the molecular mechanisms of their synthesis, but inhibition studies suggest an essential role of CAs. In order to gain insight into the evolution and function of CAs in biomineralization of a basal metazoan species, we determined the diversity and expression of CAs in the calcareous sponges Sycon ciliatum and Leucosolenia complicata by means of genomic screening, RNA-Seq and RNA in situ hybridization expression analysis. Active biomineralization was located with calcein-staining.
Results
We found that the CA repertoires of two calcareous sponge species are strikingly more complex than those of other sponges. By characterizing their expression patterns, we could link two CAs (one intracellular and one extracellular) to the process of calcite spicule formation in both studied species. The extracellular biomineralizing CAs seem to be of paralogous origin, a finding that advises caution against assuming functional conservation of biomineralizing genes based upon orthology assessment alone. Additionally, calcareous sponges possess acatalytic CAs related to human CAs X and XI, suggesting an ancient origin of these proteins. Phylogenetic analyses including CAs from genomes of all non-bilaterian phyla suggest multiple gene losses and duplications and presence of several CAs in the last common ancestor of metazoans.
Conclusions
We identified two key biomineralization enzymes from the CA-family in calcareous sponges and propose their possible interaction in spicule formation. The complex evolutionary history of the CA family is driven by frequent gene diversification and losses. These evolutionary patterns likely facilitated the numerous events of independent recruitment of CAs into biomineralization within Metazoa.
Keywords
Alpha carbonic anhydrase
Calcareous sponges
Biomineralization
Evolution
Background
Carbonate skeletons are formed in many animal phyla. The ability to form calcium carbonate skeletal elements apparently evolved several times independently, but, nonetheless, a core set of certain genes seems to be involved in carbonate biomineralization in different animal groups [1],[2]. Components of this 'biomineralization toolkit' could already have been present in the last common ancestor of Metazoa, or gained their biomineralizing function several times independently from suitable precursor proteins [2]. One of the best-studied components of the 'biomineralization toolkit' [3]-[6] is probably the gene family of α-carbonic anhydrases (CAs). CAs are metalloenzymes requiring zinc, which is usually bound by three distinct histidine residues; the proteins catalyse the reversible reaction of CO2 and water to HCO3- and H+ [7]. With this function CAs also are involved in a number of other metabolic processes, such as CO2- transport or pH- and ion-regulation [8],[9], and different CAs with specific functions are usually present in a species' genome. In mammals, for example, there are up to 16 CAs (including three acatalytic forms referred to as CA-related proteins or CARPs), which are secreted, membrane-bound, cytosolic or mitochondrial proteins [10]-[12]. Specialized forms of CAs have been shown to be key elements in the formation of carbonate skeletons in many different invertebrate animal phyla, including sponges [3],[13]-[16]. Jackson and co-workers [3] reported the involvement of CA in the formation of the basal carbonate skeleton of the demosponge Astrosclera willeyana. While several other sponges can form such basal carbonate skeletons in addition to or in place of their siliceous spicules, only sponges from one of the four currently recognized sponge classes, the calcareous sponges (Class Calcarea), are capable of producing calcite spicules, which is a synapomorphy of this class [17]. The calcite spicules of Calcarea constitute a substantial part of their body weight and, by supporting the soft tissue, enable the growth of larger sponge bodies. Therefore, calcite spicule formation has to be considered a key innovation of this sponge group, which triggered the radiation of calcarean diversity we observe today.
Depending on the number of rays, the calcitic spicules can be categorized into diactines, triactines and tetractines [
17
], which are formed respectively by two, six or seven specialized cells, the sclerocytes [
18
]-[
20
]. Each spicule grows in an organic sheath of unknown composition, within an extracellular space initially sealed by septate junctions between the involved sclerocytes [
21
]. The secretory activity of these cells and their movement controls spicule growth (Figure
1
a [
20
]). Among sclerocytes, the so-called "founder cell" promotes growth of the actine tip, while deposits from the "thickener cell" thicken the spicule [
18
]-[
20
]. Little is known about the molecular mechanisms of spicule formation by sclerocytes. However, as in other invertebrates, CA seems to play an important role in this process in calcareous sponges: Spicule formation is ceased or reduced by the application of specific CA-inhibitors to living calcareous sponges [
22
], but the CAs were not characterized. Attempts to extract or characterize CA-proteins from the calcareous sponge
S. ciliatum
have not been successful [
22
]. Only recently, a CA of another calcareous sponge has been described and a role in spicule formation and dissolution proposed [
23
],[
24
]. However, various CAs can usually be found in metazoan genomes, and often more than one CA can be linked to biomineralization in corals (e.g. [
11
],[
25
]), molluscs (e.g. [
6
],[
26
]) and urchins (e.g. [
4
],[
13
]).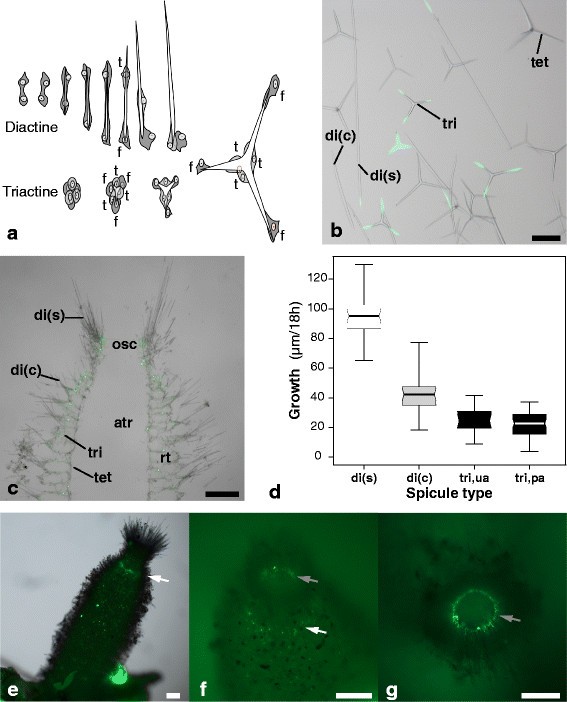 In this study, we aimed to describe the CA-repertoire of calcareous sponges and identify the CAs involved in spicule formation in order to gain further insight into the evolution of carbonate biomineralization in non-bilaterian animals. We investigated the CAs present in the genome and transcriptome of the emerging model system Sycon ciliatum (Class Calcarea, Subclass Calcaronea, Order Leucosolenida, Family Sycettidae) and a second species, Leucosolenia complicata (Class Calcarea, Subclass Calcaronea, Order Leucosolenida, Family Leucosoleniidae) [27]-[29]. Active biomineralization was detected by calcein staining methods and correlated with expression data from RNA in-situ hybridization and RNA-seq analyses. Phylogenetic analyses with CAs from genomes of all non-bilaterian phyla let us draw conclusions about the evolution of CA proteins in calcareous sponges and in Metazoa in general.
Conclusion
We identified one intracellular (scl-CA1) and one extracellular (scl-CA2) sclerocyte-specific CA as key components in biomineralization process of calcareous sponges. These enzymes are part of a complex repertoire of CAs in this sponge class. They differ fundamentally from the hitherto known sponge CAs from the class Demospongiae, for example by including acatalytic forms related to human CARPs CA X and CA XI. We demonstrate that the evolution of this enzyme family is very complex, both in terms of protein sequence and regulation of expression. Gene duplications apparently involved functional diversification with consequent differentiation in expression patterns. We propose that involvement in biomineralization was the original function of an ancestral enzyme of clade CAL II CAs that by gene duplication and functional diversification gave rise to the majority of the secreted/membrane-bound calcarean CAs with differing functions. Detailed expression studies, rather than sequence comparison alone, have proven most valuable in inferring the involvement of a specific CA in spicule formation, and the two identified genes can now serve as markers of active sclerocytes. Like corals and other calcifying marine invertebrates, calcareous sponges are potentially highly impacted by ocean acidification due to raising atmospheric CO2 levels [53]. Understanding the molecular processes in calcareous sponge biomineralization can help to estimate if or how Calcarea might respond to the changing environment.
Methods
Sequence identification and analysis
Genomic and transcriptomic sequences and RNA-Seq data were obtained as described previously [27]-[29]. CAs were identified using BLAST [54]. Sequences with >99% similarity were considered as allelic variants or splicing variants (Table 1).
The server versions of SignalP 4.0 [31], TargetP 1.1 [33] (both available at: [55]) were used to detect potential signal peptides and predicted subcellular location of CAs. Transmembrane domains were predicted with TMHMM-2.0 [32].
Amino acid sequences of CAs from additional taxa were obtained from GenBank [56] or identified by BLAST searches against data from sequenced invertebrate genomes [42],[57]-[63] and transcriptomes [64] from data of publicly available sources: Compagen [65],[66] and Metazome v3.0 [67] (Additional file 5). In Hydra, we excluded some proteins, which had additional domains and only partial CA-domains. Sequences were aligned with MAFFT version 7 [68] and sites for phylogeny were chosen manually by selecting regions of likely homology between conserved sites identified with Gblocks [69] (Additional file 8). ProtTest 3 [38] proposed the use of the LG + G model for maximum likelihood analysis (ML) under the AIC criterion. ML phylogenetic analysis was performed with PHYML [50], including 200 bootstrap replicates and SH-like aLRT to obtain support values. Bayesian inference was performed with MrBayes [39], using the mixed amino-acid model (because LG is not available), with a gamma parameter to account for rate heterogeneity. Two MCMCMC runs, with 4 chains each, were run for 10 million generations; every 1000th tree was sampled. We omitted the first 40% of the sampled trees for the calculation of the consensus tree shown in Additional file 6. Tree reconciliation was performed in Jane 4 [43], using a simplified version of our ML phylogeny as "parasite" and different hypotheses [41],[42] about phylum relationships as "host" tree. Sponge class and family relationships correspond to these and previous results [70]. In Jane 4 we used a population size of 2.000 for 200 generations with the 'host switch' parameter turned off.
Sampling and calcein disodium staining
Specimens of S. ciliatum and L. complicata were collected and fixed for ISH as described previously [27]. For calcein staining, living specimens were transferred to a petri dish containing 30 ml of calcein disodium solution (12.5 or 125 mg/ml, Fluka) in seawater, and incubated at 14°C for 3–24 h. After cleaning by rinsing the treated sponges two times with fresh seawater, sponges were observed under fluorescence microscope (Nikon AZ100, using EGFP filter 41017) or fixed in 70% ethanol for later use. Carbonate deposited on the spicules during the incubation showed fluorescence due to the incorporated calcein. Spicules of sponges treated 18 h in calcein were isolated using bleach solution (containing 4% sodium hypochlorite), washed five times with deionized water and mounted on a microscopic slide. Two sponges were embedded in resin and sectioned with a Leica 1600 saw microtome as described previously [49]. Spicule growth was measured on spicule preparations (Figure 1b) for curved diactines and triactines. Growth of the more fragile slender diactines was measured in longitudinal sections (Figure 1c) because the spicules were easier to detect and remained undamaged. Spicule growth was measured in sponges incubated for 18 h at 14°C, which was preferred over a shorter 3 h incubation because the fluorescent spicules were very sparse in spicule preparations. To exclude spicules that began their formation long after the incubation had started, small completely fluorescent spicules were ignored. Incubations of 24 h were avoided so as to exclude measurement of spicules that stopped growing during the incubation. However, the possibility that some spicule elongation ceased before the end of the 18 h incubation cannot be excluded. Due to these considerations, the values presented in Figure 1d may underestimate the actual spicule growth rate.
RNA in situhybridization (ISH)
DIG-labeled specific antisense RNA probes were generated from 700–830 bp of the coding regions of all identified CAs of S. ciliatum CAs and of L. complicata from pooled cDNA from different developmental stages. PCR primers sequences are provided in Additional file 9. PCR products were cloned into the PCR4-vector (Invitrogen) and sequenced to determine the insert orientation. An additional PCR with the corresponding reverse vector primer and a probe-specific forward primer provided the template for the synthesis of DIG-labeled RNA probes (Dig-labeling kit, Roche). The probes were used in ISH of fixed tissue as described previously [27]-[29]. Fixed tissues included freshly fixed small S. ciliatum specimens and previously fixed larger sponges, some containing different developmental stages (oocytes, cleavage stages, pre- and post-inversion embryos and pre- release larvae). For ISH with L. complicata, only adult tissue was used and was treated in the same manner. During the ISH protocol, the carbonate spicules dissolved completely in most specimens. Double ISH was performed to compare expression of two selected genes in the same tissue by combining digoxigenin (DIG) and fluorescein labeled antisense probes of target genes. Gene expression was visualized by application of antibodies (FAB-anti-DIG and FAB-anti-fluorescein, Roche) and colorimetric detection (DIG: NBT/BCIP, fluorescein: Fast Red or INT/BCIP, both Roche). For documentation, ISH tissues were observed and stored in 75% glycerol. Selected ISH samples (complete small sponges or parts of tissue) were embedded in an epoxy-based resin and sectioned (5 μm thickness) using a Leica Ultracut microtome. The slide-mounted sections were documented using a Nikon DS-U3 microscope. Focused images of image stacks were generated with the Helicon Focus software (Helicon Soft).
Ethics statement
No ethical approval was required for any of the experimental research described here.
Availability of supporting data
The data sets supporting the results of this article are available in the Compagen repository [65], (genome assembly: SCIL_WGA_130802; coding sequences: SCIL_T-CDS_130802, LCOM_T-CDS_130802; proteins: SCIL_P-CDS_130802, LCOM_P-CDS_130802, http://compagen.org/datasets.html), in the European Nucleotide Archive [71], (CA- sequences: LN609531- LN609545, http://www.ebi.ac.uk/ena/data/view/LN609531-LN609545), and in the Open Data LMU repository [72], (phylogenetic dataset and phylogenetic trees: doi:10.5282/ubm/data.63, http://data.ub.uni-muenchen.de/63).
The genomic and transcriptomic datasets of calcareous sponges used here are described by Fortunato et al. [29].
Authors' contributions
Conceived and designed the study: OV and MajA. Generated sequence assemblies and databases: MarA. Specimen sampling: MarA, MajA. Laboratory experiments: OV, KS, MajA. Data analysis: OV, MarA. Drafted manuscript: OV. Edited manuscript: MajA, OV with input from co-authors. All authors read and approved the final manuscript.
Abbreviations
aLRT:

Approximate likelihood ratio test
BS:

Bootstrap
CA:

α-carbonic anhydrase
DIG:

Digoxigenin
ISH:

RNA in situ hybridization
PP:

Posterior probability
scl-CA:

Sclerocyte specific carbonic anhydrase
Declarations
Acknowledgments
The authors thank Mary Laplante for copy-editing of the final manuscript. We thank Ana Riesgo, Sally Leys and Gonzalo Giribet for providing sequence data ahead of publication, as well as Scott Nichols and Dan Richter for providing unpublished Ephydatia muelleri data via the Compagen portal. Furthermore, we would like to thank Gert Wörheide for providing the computational hardware for the phylogenetic analyses and use of laboratory equipment; Michael Eigler for assistance in spicule measurements, and Dirk Erpenbeck for constructive comments on an earlier version of the manuscript.
OV wishes to thank Sofia Fortunato, Sven Leininger and Corina Guder for help in the lab and tips about in situ hybridization protocols and EMBO for providing a short-term fellowship (ASTF331 -2012) to Bergen. KS thanks Sars International Centre for Marine Molecular Biology for funding of Masters student research training in Bergen. OV and KS thank the Sars Centre as host institution for carrying out the experiments.
We acknowledge research funding from the Sars Centre to the Adamska lab and from the LMU München to OV.
Authors' Affiliations
(1)
Department of Earth and Environmental Sciences, Ludwig-Maximilians-Universität München, München, Germany
(2)
Sars International Centre for Marine Molecular Biology, University of Bergen, Bergen, Norway
Copyright
© Voigt et al.; licensee BioMed Central Ltd. 2014
This article is published under license to BioMed Central Ltd. This is an Open Access article distributed under the terms of the Creative Commons Attribution License (http://creativecommons.org/licenses/by/4.0), which permits unrestricted use, distribution, and reproduction in any medium, provided the original work is properly credited. The Creative Commons Public Domain Dedication waiver (http://creativecommons.org/publicdomain/zero/1.0/) applies to the data made available in this article, unless otherwise stated.