Research article
Open Access
Impacts of genetic correlation on the independent evolution of body mass and skeletal size in mammals
BMC Evolutionary Biology
2014
14:258
Received: 12 September 2014
Accepted: 2 December 2014
Published: 14 December 2014
Abstract
Background
Mammals show a predictable scaling relationship between limb bone size and body mass. This relationship has a genetic basis which likely evolved via natural selection, but it is unclear how much the genetic correlation between these traits in turn impacts their capacity to evolve independently. We selectively bred laboratory mice for increases in tibia length independent of body mass, to test the hypothesis that a genetic correlation with body mass constrains evolutionary change in tibia length.
Results
Over 14 generations, we produced mean tibia length increases of 9-13%, while mean body mass was unchanged, in selectively bred mice and random-bred controls. Using evolutionary scenarios with different selection and quantitative genetic parameters, we also found that this genetic correlation impedes the rate of evolutionary change in both traits, slowing increases in tibia length while preventing decreases in body mass, despite the latter's negative effect on fitness.
Conclusions
Overall, results from this ongoing selection experiment suggest that parallel evolution of relatively longer hind limbs among rodents, for example in the context of strong competition for resources and niche partitioning in heterogeneous environments, may have occurred very rapidly on geological timescales, in spite of a moderately strong genetic correlation between tibia length and body mass.
Keywords
EvolvabilityGenetic lines of least resistanceLimb lengthBody massAllometryArtificial selectionRodent locomotion
Background
Limb bone size and shape among terrestrial mammals scale allometrically with body mass, both within populations [
1
], and also across species with a wide range of body masses [
2
]-[
6
] (Figure
1
). For example, limb bone lengths and diameters tend to be proportional to the cube root of body mass among terrestrial quadrupeds [
3
]. The scaling of limb bone dimensions with body mass ensures proper musculoskeletal function at different body sizes. Appropriate scaling of limb bone, length, diameter and cross-sectional dimensions with increasing body mass prevents bones from failing under increased gravitational and locomotor loads [
7
]-[
9
]. Moreover, the near-geometric scaling of limb bone length among geometrically similar terrestrial mammals may also maintain the mass-specific metabolic cost of locomotion within similar ranges at different body size [
10
]. These scaling relationships suggest that significant mismatches between body mass and limb bone dimensions, within populations, can have negative impacts on evolutionary fitness, and should be selected against. In other words, the positive phenotypic correlation of skeletal dimensions to body mass in terrestrial mammals - which has a genetic basis [
11
],[
12
] - likely evolved by means of natural selection.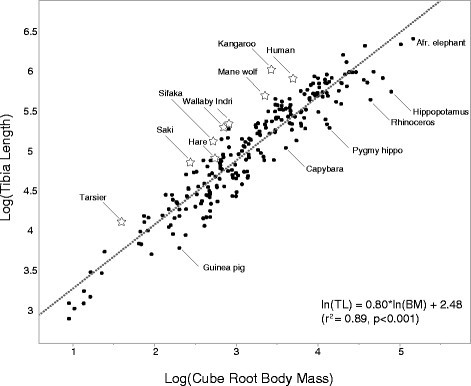 The links between limb bone dimensions and body mass indicates that they are functionally, developmentally and genetically integrated [17], to the extent that selection on body mass causes correlated changes in the size and shape of individual bones, and vice versa. However, limb size in some terrestrial mammals also deviates from the predicted relationship between limb bone morphology and body mass (Figure 1). Importantly, these macroevolutionary changes have occurred primarily in the context of functional specializations related to locomotion. One striking example of this can be seen in the relative length of the hind limb bones in species which have evolved specialized modes of locomotion such as hopping (e.g., kangaroos, jerboas), leaping (e.g., tarsiers, lemurs), bounding (e.g., macropods) and bipedal walking/running (humans). These species rely primarily on their hind limbs for propulsion during locomotion, and it is thought that their relatively longer hind limb bones improve whole organism performance during locomotion by reducing the metabolic cost of transport [18]-[20].
The fact that increased relative hind limb bone length has evolved repeatedly, and convergently, in these functionally specialized terrestrial mammals clearly shows that skeletal length can evolve adaptively independently of body mass, despite the existence of a strong phenotypic and genetic correlation between these complex traits. What is less clear, however, is how much phenotypic and genetic correlations with body mass impose constraints on the evolution of novel limb bone size and shape in mammals. For example, how much does the genetic correlation between body mass and hind limb bone length affect the magnitude and/or rate of evolutionary change in the latter?
Genetic correlations and evolutionary constraints
Genetic constraints on the adaptive evolution of complex traits have been the subject of many theoretical and empirical studies (reviewed in [21],[22]). These studies are based on the premise that the structure of phenotypic and genetic variance/covariance among multiple traits in a population can slow evolution towards optimally adapted phenotypes, depending on where this new optimum is located in multivariate space, and on the magnitude and direction of selection. For example, for two traits, adaptive evolution is thought to be most rapid along the direction of maximum genetic variance, which typically coincides with the direction of the phenotypic correlation between the traits. This direction, known as g max , represents a "line of least evolutionary resistance" (LLR) along which phenotypic change is "easiest" and the multivariate phenotype is most evolvable [23]. In contrast, the direction of least genetic variance, which is perpendicular to g max , is the line of greatest resistance to evolutionary change, i.e., where constraints imposed by genetic correlations among traits have their greatest impacts on adaptive evolution.
The potential constraining effects of genetic correlations among traits on their ability to respond to selection (their evolvability) is embodied in the G-matrix, the matrix of additive genetic variances and covariances between the traits [24]. The G-matrix not only describes how much additive genetic variance is present in a given trait, but also how much of this variance is tied up as covariance with other trait(s). The magnitude of additive genetic variance of the traits determines if and how they can evolve in response to directional selection. More importantly, the magnitude of the genetic covariance determines whether these traits can evolve independently in response to selection. When all the additive genetic variance of a trait is "locked up" as genetic covariance with another trait (i.e., the traits have a genetic correlation of 1), the traits are in theory not capable of independent evolution in response to directional selection [21],[25],[26]. A strong genetic correlation also means that, even if one of the traits is not under selection, it may co-evolve with another under selection [27].
Quantitatively, the impact of additive genetic variances and covariances on the response of multiple traits to selection is described by the following equation:
Where is a vector describing the change in the population means of the traits after an episode of selection, G is the additive genetic variance/covariance matrix, and β is a vector of selection gradients, the partial regression coefficients of the phenotypes on relative fitness [25],[28]. Equation 1 summarizes and predicts the generational responses to selection in multiple traits as a function of the amount of genetic variance in each trait and the strength of the genetic covariance between them.
Empirically, the impact of genetic correlations embodied in the G-matrix on the evolvability of phenotypes has been studied using two complementary approaches. In the first approach, the constraining effect of the correlation between traits is assessed using artificial selection, by imposing selection regimes that would "push" the phenotype in multivariate space at right or near-right angles to g max , i.e., along the hypothetical line of greatest evolutionary resistance (reviewed in [21]). Owing in large part to the labor-intensive nature of selection experiments, such studies have been done almost exclusively on organisms that are short-lived, breed easily, and produce relatively large numbers of offspring, such as plants (e.g., Arabidopsis, [29], wild radishes, [21],[30]) and insects (e.g., butterflies, [31]-[34], beetles [35], Drosophila, [36]). Although most studies show that evolution at right angles from g max is possible, despite strong genetic correlations, a few have shown the existence of seemingly unbreakable, developmentally based constraints on the short-term evolution of traits perpendicular to g max (e.g., color variation between eyespots in the wings of the butterfly Bicyclus anynana [34],[37],[38].
In the second approach, macroevolutionary patterns of covariance among traits are recorded across taxa, as illustrated in Figure 1 between body mass and tibia length. Following this, an estimate of the G matrix, typically based on its phenotypic counterpart (P), is used to determine how often taxa within specific radiations have diverged from the inferred LLR (e.g., [23],[39]-[41]). These macroevolutionary studies have the advantage that they can be done with any group of organisms in which morphology and its underlying phenotypic or genetic covariance structure can be measured (e.g., vertebrates), and can even include fossils as a window into past morphological diversification, something which is not usually possible with plants and most invertebrates. More often than not, these studies show that diversification across related taxa occurs along LLRs, and departures from them are rarer [39],[41]. For example, Renaud et al. (2006) [41] use major variation axes of the P matrix as substitutes for G, and major evolutionary transitions documented in the rodent fossil record as substitutes for to show that Stephanomys, a genus which evolved a highly specialized tooth morphology, departs from the expected alignment with the LLR describing (co)variance in tooth shape across taxa. The authors suggest that this unique tooth morphology evolved via climate-related selection as an adaptation for eating grass, in the context of the evolution of grasslands in southwestern Europe in the Miocene.
Due in part to the practical reasons outlined above, artificial selection experiments specifically investigating the evolvability of genetically correlated pairs of traits have not previously been done in vertebrates. Such artificial selection experiment could offer insights into the mechanisms of adaptive morphological evolution in mammals at macroevolutionary scales, for example with respect to the magnitude and direction of natural selection necessary to overcome any internal genetic constraints and produce adaptive changes in limb bone length associated with specialized modes of locomotion such as hopping or bipedalism. In this study, we report on the first 14 generations of a selective breeding experiment in which we bred laboratory mice for increases in tibia length independent of body mass. The establishment of this unique line of mice, hereafter the Longshanks mouse, is the foundation of a long-term experiment examining the microevolution of complex skeletal traits in vertebrates. Here, we test the general hypothesis that the genetic correlation between body mass and limb bone dimensions constrains the rate of evolutionary change in the latter. First, we report on the actual gains in relative tibia length achieved after 14 generations of selective breeding. Second, we determine to what degree the genetic covariance between tibia length and body mass has potentially and actually constrained the evolution of both traits within the experiment.
Conclusion
We have demonstrated, in vivo, and in real time, the impact of genetic correlations on the independent evolution of body mass and skeletal size in a mammalian model organism. This artificial selection experiment shows that independent changes in these complex traits are possible, and can be quite rapid. Our results suggest that the frequent and convergent evolution of relatively longer hind limbs among rodents [63], for example in the context of adaptive radiations and niche partitioning in heterogeneous environments [64],[65], may also have occurred very rapidly on a geological timescale. Our simulated evolution under different selection and quantitative genetic scenarios also indicate, however, that this independent evolution is to some extent constrained by a genetic correlation. Specifically, our data show that the rate of independent evolution of tibia length is impeded by its correlation with body mass (and vice-versa), and that selection along the line of greatest genetic variance would allow for the most rapid, but commensurate, changes in body mass and tibia length.
Availability of supporting data
The data set supporting the results of this article is available in the Dryad repository, http://datadryad.org/review?doi=doi:10.5061/dryad.g9q79 [72].
Declarations
Acknowledgments
Thanks to the staff of the Mouse Single-Barrier Unit in the University of Calgary's Animal Resource Center, especially Donna Locke and Vanessa de Freitas, for the care and maintenance of the mouse colonies. Thank you also to Zarin Machanda and Kevin Middleton for data used in Figure 1. Jeffrey Conner provided feedback on an earlier version of the manuscript, and we thank him for his valuable input. Thank you also to the editor and anonymous reviewers, and to Mihaela Pavlicev, for their constructive comments on the manuscript. This work was supported by a University of Calgary Killam Postdoctoral Fellowship to CR, Natural Sciences and Engineering Research Council Discovery Grant 4181932 to CR, Natural Sciences and Engineering Research Council Discovery Grant 238992 to BH, and the Faculty of Veterinary Medicine at the University of Calgary (www.vet.ucalgary.ca).
Authors' Affiliations
(1)
Department of Comparative Biology and Experimental Medicine, Faculty of Veterinary Medicine, University of Calgary, Calgary, Canada
(2)
Department of Anatomy and Cell Biology, Faculty of Medicine, University of Calgary, Calgary, Canada
Copyright
© Marchini et al.; licensee BioMed Central Ltd. 2014
This article is published under license to BioMed Central Ltd. This is an Open Access article distributed under the terms of the Creative Commons Attribution License (http://creativecommons.org/licenses/by/4.0), which permits unrestricted use, distribution, and reproduction in any medium, provided the original work is properly credited. The Creative Commons Public Domain Dedication waiver (http://creativecommons.org/publicdomain/zero/1.0/) applies to the data made available in this article, unless otherwise stated.