Research article

Open Access
A comprehensive analysis of teleost MHC class I sequences
BMC Evolutionary Biology
2015
15:32
Received: 9 October 2014
Accepted: 16 February 2015
Published: 6 March 2015
Abstract
Background
MHC class I (MHCI) molecules are the key presenters of peptides generated through the intracellular pathway to CD8-positive T-cells. In fish, MHCI genes were first identified in the early 1990′s, but we still know little about their functional relevance. The expansion and presumed sub-functionalization of cod MHCI and access to many published fish genome sequences provide us with the incentive to undertake a comprehensive study of deduced teleost fish MHCI molecules.
Results
We expand the known MHCI lineages in teleosts to five with identification of a new lineage defined as P. The two lineages U and Z, which both include presumed peptide binding classical/typical molecules besides more derived molecules, are present in all teleosts analyzed. The U lineage displays two modes of evolution, most pronouncedly observed in classical-type alpha 1 domains; cod and stickleback have expanded on one of at least eight ancient alpha 1 domain lineages as opposed to many other teleosts that preserved a number of these ancient lineages. The Z lineage comes in a typical format present in all analyzed ray-finned fish species as well as lungfish. The typical Z format displays an unprecedented conservation of almost all 37 residues predicted to make up the peptide binding groove. However, also co-existing atypical Z sub-lineage molecules, which lost the presumed peptide binding motif, are found in some fish like carps and cavefish. The remaining three lineages, L, S and P, are not predicted to bind peptides and are lost in some species.
Conclusions
Much like tetrapods, teleosts have polymorphic classical peptide binding MHCI molecules, a number of classical-similar non-classical MHCI molecules, and some members of more diverged MHCI lineages. Different from tetrapods, however, is that in some teleosts the classical MHCI polymorphism incorporates multiple ancient MHCI domain lineages. Also different from tetrapods is that teleosts have typical Z molecules, in which the residues that presumably form the peptide binding groove have been almost completely conserved for over 400 million years. The reasons for the uniquely teleost evolution modes of peptide binding MHCI molecules remain an enigma.
Keywords
Teleosts
MHC class I
Evolution
Phylogeny
Background
The classical major histocompatibility complex class I (MHCI) molecules are key players in initiating an immune response against intracellular pathogens such as viruses. The mature classical MHCI molecule is divided into three alpha domains where the two most distal domains are involved in peptide binding and the membrane proximal domain provides stability and interacts with beta2-microglobulin. A major characteristic of these classical MHCI molecules is the immense polymorphism (differences between alleles) predominantly mapping to the two distal domains i.e. the alpha 1 and alpha 2 domains.
In classical MHCI molecules, these alpha 1 and alpha 2 domains provide a groove for binding of peptides where eight residue positions anchoring N- and C-terminal peptide ends are highly conserved throughout evolution, i.e.Y7, Y59, Y/R84, T143, K146, W147, Y159, and Y171 [1-3]. The residue Y84, found in mammalian and some reptilian classical-type class I molecules, replaced residue R84 which is common in birds, amphibians, sharks and bony fish. In contrast, many of the residues defining the pockets that accommodate the various peptide side-chains are highly variable thus enabling different MHCI alleles to present different sub-populations of peptides.
In humans, there are also a considerable number of non-polymorphic MHCI molecules that have various non-classical functions where most have retained the molecular characteristics of a membrane anchored molecule with three extracellular domains. Some of those also retained the ability to bind beta2-microglobulin and/or peptide ligands. Examples of non-classical human MHCI molecules are the HLA-E molecule that binds peptides derived from leader sequences of other MHCI molecules, CD1 molecules known to bind lipids, and MR1 that can present microbial vitamin B metabolites [4,5].
For teleost fish MHCI genes, our knowledge has grown rapidly since their first identification in the early 1990′s [6-8] and much is similar to what is found in mammals. The U lineage defined through phylogenetic analysis, consists of both classical highly polymorphic genes showing conservation of presumed peptide-termini anchoring residues, as well as non-classical genes with fewer classical-type anchoring residues and/or low variability. Classical type molecules have been shown associated with peptide and beta2-microglobulin [9], and were linked to allograft rejection [10] as well as resistance to pathogens [11]. There have also been a few intriguing discoveries. One of the surprises was the lack of linkage between classical MHCI and II gene loci in all teleosts studied so far, resulting in some authors using an "MH" nomenclature to emphasize the lack of structural continuity [12]. A second surprise was the finding that in some teleosts classical MHCI variability was considerably enhanced through retention of multiple ancient alpha 1 domain lineages, which are represented in distantly related species [13-16]. Although the exact mechanisms are still unclear, both allelic recombination as well as interlocus recombination events are likely contributors to classical teleost diversity [13].
A third surprise was the lack of MHC class II in Atlantic cod [17], although preliminary analyses had suggested the concept for quite some time [18]. The loss of the entire class II system in cod appears to be one extreme within a broad teleost MHC class II plasticity [19]. Malmstrøm et al. [20] suggested that cod MHCI molecules have sub-functionalized into two clades where one clade including some sequences with an endosomal sorting motif could have replaced the MHC class II function of exogenous antigen presentation. Although this model may be true, a reminiscent functional divide among MHCI molecules has also been described or suggested for other species. Typical endosomal sorting motifs are found in a number of classical as well as nonclassical MHCI molecules of mammals and teleost fish, and at least in mammals have been functionally associated with a number of differential intracellular transport and loading routes [21-25]. Even without obvious endosomal sorting motifs some MHCI molecules can be transported to endosomal compartments with help of the invariant chain [22], a molecule better known for transporting MHC class II. Thus, even from the distribution of typical endosomal targeting motifs, differences in MHCI transport routes between species can't be predicted with certainty.
Previous studies have described four different MHCI lineages in teleosts i.e. Z, U, S and L, where sequences are classified into each of the four lineages based on phylogenetic analyses and lineage characteristic motifs. Only the U lineage includes genes with classical type polymorphism [6,8,26-28]. The U lineage also harbors non-classical MHCI genes with varying degree of conserved peptide-binding residues, low polymorphism and/ or transcription in restricted number of tissues [23,29]. In salmonids, medaka and zebrafish there is one major MHCI region with one or a few classical genes. Atlantic salmon and rainbow trout have one classical gene defined as UBA while medaka has two classical genes in this region defined as UAA and UBA. For zebrafish, haplotypes differ in gene copy number (one to three) and allelic polymorphism is harder to assign [25]. The classical U lineage genes in cyprinids, salmonids and medaka display profound polymorphism which in part has been generated through point mutations. However, ancient alpha 1 domain lineages shared between divergent species are shuffled between alleles through recombination and thus also add to the variation [13,14,16]. The alpha 3 domain tends to be more homogenized in a species-specific manner, possibly due to co-evolution with CD8 and beta2-microglobulin sequences, although some variation can be found in particular in the peptide connecting the alpha 3 and transmembrane domains [15].
While salmon, rainbow trout and medaka have around ten U lineage genes defined through phylogenetic clustering, other species show considerably more expansions of this lineage. Atlantic cod was reported to have 83 different expressed U lineage sequences in one individual, which translates to a minimum of 42 different genes assuming they are all polymorphic [30]. One wonders if this expansion could compensate for the complete loss of MHC class II genes. Similarly, although not as extreme, expansions have also been published in other species such as tilapia with 28 U lineage genes or gene fragments [31]. As tilapia has not lost its MHC class II function, we cannot explain the biological benefit from such an expansion [19].
For the other three lineages, information on phylogeny and genomic location is rather limited. The first MHCI sequence to be identified in teleosts, a genomic fragment from goldfish (Carassius auratus, GenBank accession AAA72345.1), belonged to the Z lineage [6], which was later substantiated as an expressed MHCI lineage [32]. Kruiswijk et al. [33] expanded on this in identifying a related, but distinct, new lineage in cyprinids which they defined as ZE. ZE-type have since been found in several teleosts [29,34,35], while the sequences described by Okamura et al. [32] are considered unique to carps. Since the publication by Lukacs et al. [29], nomenclature incorporates both types of sequences in the "Z lineage", and newly identified ZE-type loci have been given a "Z" identifier (and not ZE) in their name (eg. [34]). Although most known Z lineage genes encode the typical peptide anchoring residues, these genes are considered non-classical due to low levels of polymorphism and more restricted tissue expression patterns [29,34]. Compared to the peptide anchoring residues of classical MHCI, the Z lineage molecules have an Y171F substitution, which in modified human classical molecules was found to reduce peptide affinity but still to allow peptide binding [36]. As noted by Nonaka et al. [13] and others the Z genes evolve differently from U lineage genes with higher sequence diversity in the alpha 3 domain and considerably better conserved alpha1 and alpha 2 domains. Remarkably, the teleost Z sequences were described to cluster with lungfish MHCI upon phylogenetic analysis [26,37].
The third MHCI lineage, defined as S, was initially identified in salmonids where the single locus was denoted UAA [27], but later renamed to SAA due to low sequence identity to U lineage genes [29]. S lineage fragments have also been found in catfish [26,29].
Salmonids in addition to some cyprinids [26] and some cichlids [38] also have genes belonging to the fourth MHCI lineage defined as L. Dijkstra et al. [26] found five L lineage genes in trout and one gene in Atlantic salmon, where most trout genes have a rather unusual gene organization lacking introns between the alpha 1, 2 and 3 domains. Both the S and the L lineages do not have the typical peptide N- and C-terminal anchoring residues which suggest that they bind non-peptide or no ligands [29].
Using available genome sequence databases, we here set out to take a closer look at the various MHCI lineages in teleosts. It became evident that we have still only scratched the surface of teleost MHCI. We found genes belonging to two of the lineages, Z and U, in all investigated species suggesting they cover essential core functions. The remaining lineages, L, S, and a new fifth lineage P, are absent in many teleost species which questions whether they provide essential functions.
Results and discussion
To perform a comprehensive analysis of MHCI in teleosts, we first identified all MHCI genes in sequenced teleost genomes available in the Ensembl database. We found a total of 253 genes or gene fragments in the species cavefish (
Astyanax mexicanus,
AstMex102), zebrafish (
Danio rerio
ZV9), medaka (
Oryzias latipes,
Medaka1), platyfish (
Xiphophorus maculatus,
Xipmac4.4.2
),
tilapia (
Oreochromis niloticus,
Orenil 1.0), stickleback (
Gasterosteus aculatus,
BROAD S1), fugu (
Takifugu rubripes,
Fugu4.0) and tetraodon (
Tetraodon nigroviridis,
Tetraodon8.0) [Additional file
1
: Figure S1, Additional file
2
: Table S1]. For our model species Atlantic salmon and rainbow trout that we have analyzed intensively from various angles, we use the accepted MHC nomenclature e.g. Sasa-UBA for
Salmo salar
U lineage locus B [
39
] for the identified sequences. For the two other well-studied species, i.e. medaka and zebrafish, existing nomenclature is shown alongside our temporary nomenclature relating to species and consecutive location in the unique Ensembl genome (e.g. OL1 for
Oryzias latipes
and gene number 1). We have refrained from assigning definite MHCI gene names for those species that we do not experimentally investigate ourselves, as a correct nomenclature requires a thorough analysis of the quality of data, allelic relationships, expression levels, etc. The phylogenetic relationship between included species is shown in Figure
1
. Predicting leader sequences as well as transmembrane and cytoplasmic domains is often difficult, leaving many of the 5′ and 3′ gene predictions incomplete. In addition, some genomes are more fragmented than others as seen in for instance tetraodon where 18 of 25 MHCI gene sequences are partials. Many of the gene fragments may still represent complete and functional genes, but they need further studies. We also investigated our model species Atlantic salmon (
Salmo salar,
AGKD00000000.3), where the final genome sequence was recently made available at NCBI. Here we add nine bona fide MHCI genes and five pseudogenes or gene fragments to the twelve genes previously reported in salmon (Additional file
3
: Text S2) [
29
]. For Atlantic cod (
Gadus morhua
, NCBI GadMor_May2010) we only tried to identify non-U lineage genes, and for U lineage genes relied on previous reports, as genomic assembly of U lineage genes has been hampered by high sequence identity between loci [
17
].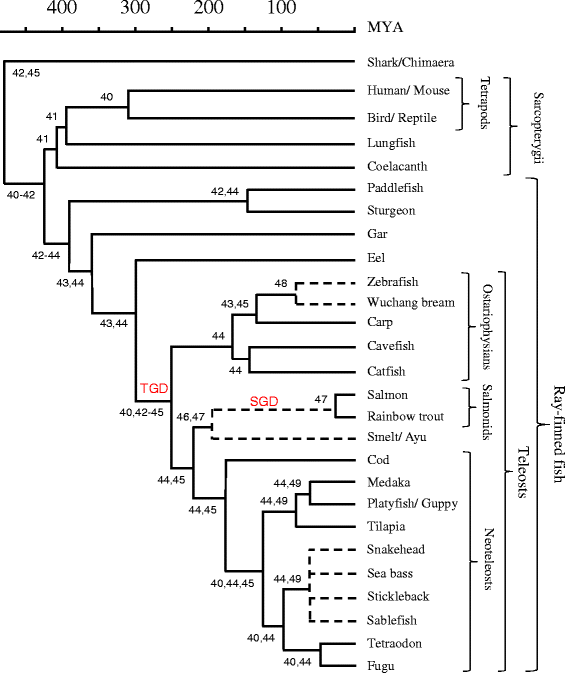 To trace the evolution of teleost MHCI sequences we also investigated the genome of spotted gar (Lepisosteus oculatus, Ensembl LepOcu1), a species that branched off from the lineage leading to teleosts around 360 MYA [44] (Figure 1). We found 13 gar MHCI sequences residing on eight different scaffolds, of which five are complete sequences and eight are partial genes or gene fragments (Additional file 4: Text S1, Additional file 2: Table S1, and Additional file 1: Figure S1). Using available SRA (NCBI; Sequence Read Archive) reads we supplemented the 13 sequences with an assumed Z lineage gene consisting of alpha 1 and alpha 2 exons from unknown, possibly separated, genomic locations. Further definition of the functional status of these partial genes awaits additional cDNA sequencing. When relevant, we also investigated database resources for teleosts and other fishes without published whole genome sequence databases.
Conclusion
Our study of the teleost MHCI revealed five highly distinct MHCI lineages where only the lineages U and Z include molecules with predicted peptide binding residues and are present in all studied species. The remaining lineages S, L and P are found in some, but not in other species promoting questions as to their functional relevance. In most teleost fish species the U lineage appears represented by both classical as well as non-classical genes, but two very different modes of evolution can be observed. U lineage sequences in teleost species like for example medaka, zebrafish and salmon are characterized by multiple highly divergent alpha 1 sequences representing ancient domain lineages, and these can be shuffled onto variable alpha 2 plus downstream sequences to increase U allelic variation; in these fishes only one or few highly expressed classical type genes are found. On the other hand, in Atlantic cod and stickleback, all of the many detected U lineage genes were derived from a multitude of relatively recent duplications of genes having alpha1-I lineage sequences and older diversifications appear to have been lost; at least cod has a rather large number of expressed classical type sequences, and we suggest to describe this model of classical MHCI as "polygenic". Whereas most tetrapod and fish species have classical MHCI and related nonclassical MHCI (in teleost fish classical and nonclassical U lineage members), all teleost fish seem to have typical Z and only a few teleost fish species groups seem to have atypical Z. Thus, in regard to the ligand binding characteristics, the Z lineage is hardly used for generation of derived nonclassical/ atypical molecules as opposed to the U lineage. Typical Z molecules appear to have the most ancient peptide binding groove conserved until today, because, from before ray-finned fishes and lungfish separated, they almost completely preserved their 37 residues that match the peptide binding residues of human HLA-A2. In summary, instead of understanding MHCI evolution within teleosts as "classical MHCI plus varying distribution of nonclassical MHCI" as known for tetrapods, we should understand teleost MHCI evolution as "classical U, plus typical Z, plus varying distribution of nonclassical/ atypical MHCI". Besides clarification of the MHCI situations at the single species level, future research will have to elucidate the reason for this fundamental difference between the animal classes.
Methods
Data mining and bioinformatics
A mixture of annotated and un-annotated MHCI sequences were identified using Ensembl's Biomart and the GO/IPR term for class I (GO: 0042613/ IPR001039) supplemented with various blastN and TblastN searches of Ensembl and NCBI databases using evolutionary diverged as well as species-specific sequences. It should be noted that the analysed genomic databases from cavefish (Astyanax mexicanus, AstMex102), zebrafish (Danio rerio ZV9), medaka (Oryzias latipes, Medaka1), platyfish (Xiphophorus maculatus, Xipmac4.4.2), tilapia (Oreochromis niloticus, Orenil 1.0), stickleback (Gasterosteus aculatus, BROAD S1), fugu (Takifugu rubripes, Fugu4.0) and tetraodon (Tetraodon nigroviridis, Tetraodon8.0), Atlantic salmon (Salmo salar, AGKD00000000.3), Atlantic cod (Gadus morhua, NCBI GadMor_May2010) and spotted gar (Lepisosteus oculatus, Ensembl LepOcu1) each represent one or a limited number of animals so more genes or other alleles may exist in other haplotypes/ animals. Potential genomic assembly errors would also influence our analyses. For Atlantic salmon, we supplemented the 12 known Atlantic salmon MHCI genes [29] with blastN and TblastN searches using preliminary salmon genome sequences available at either cGRASP [85] or NCBI [86]. Open reading frames were predicted using GenScan [87], Fgenesh [88] and Augustus [89] and/or by aligning with expressed sequences using Spidey [90]. Some smaller pseudogene remnants that did not contribute to evolutionary understanding were neglected. Expressed match was either identified through TblastN search against EST resources using MHCI alpha 3 domains or when this approach was negative expressed match was sought using the entire coding sequence in GenBank nucleotide (cDNA) and subsequently available TSA/SRA resources. The transcriptome (TSA/SRA) accession numbers used are as follows: tetraodon (Brain: SRX191169), fugu (Testis: SRX363280, gills: SRX363279, liver: SRX362038, various organs: SRX189142, SRX188889 and SRX188888), Atlantic cod (eggs: SRX148753, brain: SRX148752, head kidney: SRX148751, liver: SRX148750, hind gut: SRX148749, gonad: SRX148748, spleen: SRX148740), stickleback (brain: SRX146601), cavefish (surface fish: SRX212200, Pachon cavefish: SRX212201) and African lungfish SRX152529. The Z lineage sequence identified in spotted gar (Lepisosteus oculatus) derive from individual brain transcriptome reads (SRX543528) assembled using the CAP3 [91] program. The sturgeon Z lineage alpha 1 domain sequence is assembled from near identical genomic reads primarily from the sturgeon species Acipenser persicus (SRA dataset ERX145719; ERR169830.1125422.1) with a 14 bp gap filled using a Acipenser baerii sequence (SRA dataset ERX145721; ERR169832.3958173.2). The sturgeon alpha 2 domain sequence is assembled from the near identical sequences primarily from Acipenser persicus (SRA dataset ERX145719; ERR169830.5438448.1, ERR169830.5438448.2, and ERR169830.5083693.2), with a 10 bp gap filled using a Acipenser gueldenstaedtii sequence (SRA dataset ERX145720 sequence ERR169831.3185933.1). Three dimensional structures were aligned against the HLA-A2 structure using the Swiss PDB-viewer [92,93].
Phylogenetic analysis
All alignments of MHCI amino acid sequences were performed using ClustalX for initial analyses [94] and later manually curated based on structural aspects and alignment with tetrapod sequences. The phylogenetic trees were inferred using the Neighbor-Joining method [95] with bootstrap testing according to Felsenstein [96]. The evolutionary distances were computed using the p-distance method [97]. Evolutionary analyses were conducted in MEGA5 [98].
Abbreviations
MHC:

Major histocompatibility complex
MYA:

Million years ago
TGD:

Teleost-specific whole genome duplication
SGD:

Salmonid-specific whole genome duplication
Declarations
Acknowledgements
This work was supported by JSPS KAKENHI Grant Number 22580213 (JMD) and NSERC (Natural Sciences and Engineering Council) (BK and JL).
Authors' Affiliations
(1)
Soeren Jaabaeksgate 10B, Oslo, Norway
(2)
Institute for Comprehensive Medical Science, Fujita Health University, Toyoake, Japan
(3)
Fisheries Technology Division, National Research Institute of Fisheries Engineering, Kamisu-shi, Japan
(4)
Centre for Biomedical Research, Department of Biology, University of Victoria, Victoria, Canada
Copyright
© Grimholt et al.; licensee BioMed Central. 2015
This is an Open Access article distributed under the terms of the Creative Commons Attribution License (http://creativecommons.org/licenses/by/4.0), which permits unrestricted use, distribution, and reproduction in any medium, provided the original work is properly credited. The Creative Commons Public Domain Dedication waiver (http://creativecommons.org/publicdomain/zero/1.0/) applies to the data made available in this article, unless otherwise stated.