Research article
Open Access
Phylogeography and evolutionary history of the Crocidura olivieri complex (Mammalia, Soricomorpha): from a forest origin to broad ecological expansion across Africa
BMC Evolutionary Biology
2015
15:71
Received: 11 November 2014
Accepted: 30 March 2015
Published: 23 April 2015
Abstract
Background
This study aims to reconstruct the evolutionary history of African shrews referred to the Crocidura olivieri complex. We tested the respective role of forest retraction/expansion during the Pleistocene, rivers (allopatric models), ecological gradients (parapatric model) and anthropogenic factors in explaining the distribution and diversification within this species complex. We sequenced three mitochondrial and four nuclear markers from 565 specimens encompassing the known distribution of the complex, i.e. from Morocco to Egypt and south to Mozambique. We used Bayesian phylogenetic inference, genetic structure analyses and divergence time estimates to assess the phylogenetic relationships and evolutionary history of these animals.
Results
The C. olivieri complex (currently composed of C. olivieri, C. fulvastra, C. viaria and C. goliath) can be segregated into eight principal geographical clades, most exhibiting parapatric distributions. A decrease in genetic diversity was observed between central and western African clades and a marked signal of population expansion was detected for a broadly distributed clade occurring across central and eastern Africa and portions of Egypt (clade IV). The main cladogenesis events occurred within the complex between 1.37 and 0.48 Ma. Crocidura olivieri sensu stricto appears polyphyletic and C. viaria and C. fulvastra were not found to be monophyletic.
Conclusions
Climatic oscillations over the Pleistocene probably played a major role in shaping the genetic diversity within this species complex. Different factors can explain their diversification, including Pleistocene forest refuges, riverine barriers and differentiation along environmental gradients. The earliest postulated members of the complex originated in central/eastern Africa and the first radiations took place in rain forests of the Congo Basin. A dramatic shift in the ecological requirements in early members of the complex, in association with changing environments, took place sometime after 1.13 Ma. Some lineages then colonized a substantial portion of the African continent, including a variety of savannah and forest habitats. The low genetic divergence of certain populations, some in isolated localities, can be explained by their synanthropic habits. This study underlines the need to revise the taxonomy of the C. olivieri complex.
Keywords
Crocidura olivieri DiversificationForest refugeMolecular datingPhylogeographyPleistocene climate changesRiverine barrierSoricidaeSystematics
Background
Climatic oscillations during the Pleistocene are known to have had a dramatic role in shaping the diversity and distribution of many African plant and animal species [1,2]. Several large-scale studies that tested this hypothesis have been carried out on large African mammals [3-5]. However, these animals are vagile and often broadly disperse or have large home ranges. Therefore, small mammals are excellent models for testing patterns of pan-African biogeography. There have been a few studies on sub-Saharan rodents [6-8], but shrews (Soricidae), a group known to have been used elsewhere to test Pleistocene climate oscillation models [9], have not been examined across broad ecological areas on the continent. These animals have short life spans, rapid reproduction cycles, low dispersal abilities and respond quickly to environmental changes [10], and are therefore a good model to investigate climate-driven models of diversification. All available genetic studies of African shrews focussed on taxa with relatively small geographical distributions (e.g. [9]). Members of the Crocidura olivieri (Lesson, 1827) complex [11], which have notably large body size for shrews and can weigh up to 65 g [12], are a rare example of a widespread Afrotropical soricid taxon. Members of the C. olivieri complex occur in a variety of habitats, including tropical rain forests, marshes, savannah and montane areas [12]. Therefore, this group is a potentially excellent model to test how climatic oscillations and associated changes in vegetation during the Pleistocene influenced their distribution and diversification.
Models employed to understand diversification events within vertebrates faunas are too numerous to review in detail here. By and large, hypotheses concerning factors that promote speciation in tropical faunas have been preoccupied with the geographical context of speciation and fall into two categories: allopatric and parapatric models. With allopatric models, extrinsic barriers to gene flow lead to the separation of sub-populations, which evolve differently associated with genetic drift and natural selection. For example, the "Pleistocene forest refuge" hypothesis, originally formulated for tropical South America and then applied to the Afrotropics, postulates that during the last 2.5 Myr, climatic oscillations caused phases of contraction and expansion of different vegetation types [1]. Severe and long-lasting dry and cold periods reduced forests to isolated remnants or 'refuges' allowing diversification and allopatric speciation [1]. The "riverine barrier" hypothesis argues that rivers acted as physical barriers associated with the distribution of certain taxa, promoting diversification [13]. Allopatric models have been invoked to explain the current distribution and diversity of African small mammal species [10,14-16]. The gradient model of diversification (parapatric or ecotonal model) has been proposed as an alternative to allopatric models [17]. It suggests that strong environmental gradients result in adaptive divergence and speciation for taxa tolerant of a broad range of habitats. A recent study has emphasized the role of habitat gradients in lineage diversification in the African rodent Cricetomys [7].
The taxonomy of the C. olivieri complex has been discussed for almost a century but uncertainties remain. Species currently considered valid within the C. olivieri complex are distributed across different habitats: C. goliath Thomas, 1906 is endemic to rain forests of the Congo Basin, C. viaria (I. Geoffroy, 1834) and C. fulvastra (Sundevall, 1843) are encountered in the Sudanian savannah from Morocco to Kenya and from Mali to Ethiopia, respectively, and C. olivieri is widespread across portions of the African continent [12].
The specific aims of this study are: 1) to provide a greater understanding of the systematics of African giant shrews of the
C. olivieri
complex, specifically specimens identified based on morphology as
C. olivieri
,
C. viaria
,
C. fulvastra
or
C. goliath
; 2) to test for the respective roles of forest retraction/expansion, rivers (allopatric models), ecological gradients (parapatric model) and anthropogenic factors in explaining the diversification and current distribution of the different lineages. In order to infer biogeographical scenarios at the scale of the African continent and to answer questions concerning possible factors promoting diversification within the complex, we used data from three mitochondrial and four nuclear markers and conducted phylogenetic and population genetics analyses on animals originating from most of its geographical range (Figure
1
).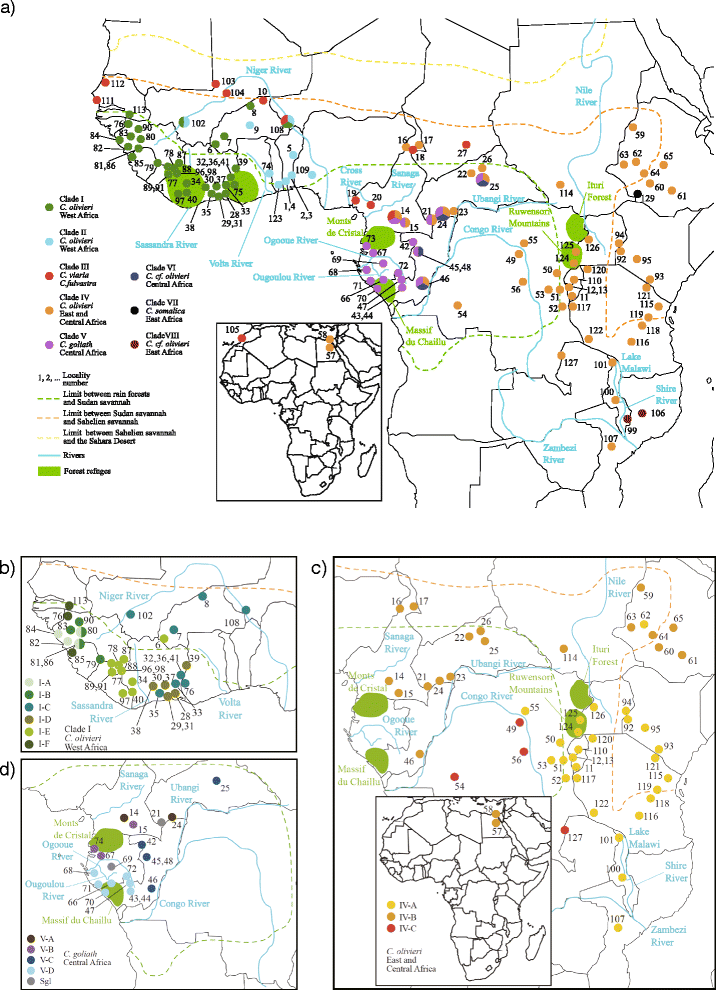 Discussion
Alternative models to explain speciation and diversification events within the Crocidura olivieri complex
Forest refuge theory
All divergence events within the C. olivieri complex occurred after 1.37 (1.00-1.75) Ma, i.e. when the periodicity of glacial cycles switched from 41,000 to 100,000 years and induced prolonged periods of aridity on Africa [2]. Divergence between clades I-to-V, VI, VII and VIII occurred around 0.83-1.37 (0.54-1.75) Ma. These dates should be interpreted with caution given the wide divergence time intervals. On the African continent, the period around 1 Ma was characterized by notable aridity coinciding with a reduction of lowland forests and an expansion of savannah biomes [20]. This period coincides with divergence events for other African forest mammals [9,15,21]. Given that clades V, VI and VIII include forest-dwelling animals (lowland forests for clades V and VI and montane forests for clade VIII) and that these clades have allopatric or parapatric distributions, most of the early divergence events within the complex are congruent with the "Pleistocene forest refuge" hypothesis [1]: several populations of the complex may have been isolated for long periods in distinct forest refuges, favouring allopatric diversification.
Several central Africa refuges have been identified and provide insight into the current distribution of clades V, VI and VIII. Two refuges were described in the western part of the Congo Basin, the first near the Massif du Chaillu in southern Gabon and southern Congo and the second near Monts de Cristal in northern Gabon, Equatorial Guinea and southern Cameroon [20,22]. Within C. goliath, the distributions of clades V-B (not supported) and V-D are coincident with the Monts de Cristal and Massif du Chaillu refuges, respectively. Clade VIII is composed of members from two montane inselbergs, one in southern Malawi (Mt Mulanje) and the second in northern Mozambique (Mt Namuli), in the Malawi Rift. This rift forms a southern extension of the Albertine Rift. Their ancient age of divergence is consistent with this section of the Rift Valley being an early isolate from the main section of the Albertine Rift Valley to the north (and west). Two refuges occur on the Albertine Rift near the border of DRC and Uganda: the Ruwenzori Mountains and Ituri Forest [20,22].
Clade I is essentially encountered in Guinean forests. The phylogenetic relationships remain unresolved for the six clades I-A to I-F, which exhibit largely disjunct, but in some cases overlapping geographical ranges. This pattern is congruent with an ancestral population having experienced rapid habitat fragmentation, such as forest retraction during arid climatic phases, resulting in lineage sorting and then divergence between allopatric populations [15]. The genetic structure and distribution of clade I show similar patterns to that of the rodent Praomys rostratus [15], in which the observed distribution of two sister clades I-D and I-E fits the hypothesized areas of two Pleistocene forest refuges, one in southwestern Ghana and the other in Côte d'Ivoire, Liberia and southeastern Guinea [9,20,22]. However, this hypothesis has to be considered with caution owing to the weak support of the monophyly of clade I-D + I-E.
Gradient model of diversification
The split between clade V and clades I-to-IV is dated after 1.13 Ma (0.85-1.44), which corresponds to a new geological period of aridity and forest retraction [2]. Diminishing forested habitats and the progression of savannah might have facilitated a niche displacement at the forest-savannah ecotone. As populations belonging to clade V are typically forest-dwelling, whereas those of clades I-to-IV are frequently trapped in savannah and secondarily in forests, an ecological gradient model of diversification [17] may be invoked to understand these divergence events. As the ancestral population of clades I to V probably inhabited central African forests (according to the topology of the different phylogenetic trees), dispersal is postulated to have occurred from forest habitat to a mosaic of habitats composed of forest-savannah, and then to savannah. This resulted in parapatric differentiation along an ecological gradient via natural selection.
The most recent successive splits of clades IV, III, II and I complex occurred after 0.78 (0.57-1.00), 0.63 (0.47-0.84) and 0.48 Ma (0.33-0.66). Each of these diversification events includes taxa currently showing parapatric distributions, with cases of syntopy at some localities. The distributions of these clades can be superimposed on the major African floristic zones (Figure 1) [23]: clade IV is recorded mainly from central African forests and croplands surrounded by a mosaic of forest and Sudanian savannah and woodlands of eastern Africa; clade III from drier Sudanian and Sahelian savannah; clade II from western African Sudanian savannah; and clade I mainly from Guinean forests. These geographical distributions occur along a geographical and ecological gradient and sister clades occupy adjacent and distinct habitats with some overlap; patterns typical of predictions from the gradient model of diversification [17]. It is hypothesized that the associated cladogenesis events occurred close to the current contact zones between these clades. These events may be related to the southward progression of the Sahara and Sahelian savannah during glacial cycles, as shown for Taterillus gerbils over the past 1 Myr [24]. Although estimates of divergence times need to be interpreted with caution, we can assume that climatic oscillations during the Pleistocene probably played an important role in the diversification of the C. olivieri complex, as already proposed for several African rodents [15,24].
Riverine barriers
Rivers can promote allopatric diversification by separating a population into two vicariant subpopulations that form sister clades [13]. Such patterns can be observed within the C. olivieri complex and have been described in other African mammals: clades I and II and the genus Praomys along the Volta River [16]; clades IV-A + IV-B vs IV-C and other mammal taxa along the Congo-Ubangi River [7,14]. This hypothesis should be considered with caution owing to the weak support of the monophyly of clade IV-A + IV-B.
Rivers can also restrict gene flow between populations that have diverged through other means. When rivers are the proximal, but not the causal mechanism of diversification, distinct genetic clades can be observed on opposite banks but are not necessarily sister clades. In agreement with the river barrier hypothesis, we found clades V and VI to be geographically restricted to the right bank of the Congo-Ubangi River and clade IV-C restricted to the left bank. The specimen from Makandé forms a singleton group and its distribution appears restricted to the area between the Ogooué and Ougoulou Rivers. The Ogooué River is known to constrain the distribution of the primate Mandrillus sphinx [21]. Clade V is only found south of the Sanaga River, which is the distribution limit for numerous mammal species [5,21]. Within clade I, the Sassandra River seems to limit gene flow between clades situated on each side (clades I-C and I-D on the left side and clade I-E on the right side), as already observed in other small mammal [9,15]. It seems likely that large modern watercourses have remained stable over the past 1 Ma with regards to their trajectory, but with variable water levels. Only few data are available concerning rivers' histories, which are often traced using phylogeographical patterns [25].
From a forest origin to a wide ecological success throughout Africa
Insight into the systematics of the C. olivieri complex
Recent molecular data have shown paraphyly within C. olivieri and close phylogenetic relationships with C. viaria and C. fulvastra; all three taxa are also genetically close to C. goliath [11,33]. Our study sheds new light on the taxonomy of the complex. Based on a combination of mitochondrial and nuclear data, C. goliath from the Congo Basin appears to be monophyletic (clade V). Crocidura olivieri is polyphyletic and divided into five geographical clades showing allopatric or parapatric distributions. Molecular data from specimens collected close to the type locality of the nominate form (Sakkara, Egypt) were obtained (FMNH 68262 and 89608 from Kom Oshim and Abu Rawash, respectively) and their assignment to clade IV-B suggests that clade IV represents C. olivieri sensu stricto. Specimens of C. viaria and C. fulvastra are included in the well-supported clade III with parapatric distributions vis-à-vis other clades. Owing to the weakness of the phylogenetic signal, reciprocal monophyly of the two species could not be assessed. Dubey et al. already mentioned the paraphyly of C. olivieri with respect to C. viaria and C. fulvastra [11].
However, owing to aspects of sample size, number of base pairs employed and distribution of collection sites, Dubey et al. [11] did not recover the clades VI, VII and VIII and several nodes in their phylogeny were not well-supported. Genetic distances between clades I to IV range from 1.34% to 2.70% based on cytb data. These values fall within the range of intraspecific variation described for the genus Crocidura (0.4-8.9% [34]; 0-3.4% [35]) and well below interspecific variation (14.3-20.6% [34]; 5.5-23.5% [35]). Based on the COI marker, genetic distances between clades I to IV range from 2.15% to 3.28%. The range of intraspecific variation described for the genus Crocidura is 0-2.9% and that of interspecific variation 4.4-24.7% [35]. Our results therefore question the taxonomic status of C. viaria and C. fulvastra. On the other hand, the clades VI, VII and VIII may represent separate species, with the level of genetic divergence comparable to C. goliath. Crocidura somalica (clade VII), described from Middle Webi Shebeli near Geledi, Ethiopia, is part of the C. olivieri complex. On the basis of morphology, animals falling within clade VIII match the description of C. occidentalis hera Dollman, 1915 named from Shire Highlands, Malawi. This locality and localities 101 and 107 (clade VIII) are in close proximity and are isolated from adjacent landscapes by the Shire River to the west, the Zambezi River to the south and dry lowland savannah to the east. These results indicate that the C. oliveri complex is in need of a taxonomic revision, best accomplished with combined data on genetics, morphology and ecology.
Conclusions
Our study sheds new light on the evolutionary history and genetic diversity of the C. oliveri complex. Using sampling encompassing the known geographical range of the complex, a combination of mitochondrial and nuclear data and several analyses (phylogenetic inference, genetic structure analyses and divergence time estimates), we propose an evolutionary scenario for this complex. We postulate an origin in central/eastern Africa followed by a colonization and radiation in rain forests of the Congo Basin. An emigration from this biotope took place approximately 1.13 Ma. Members of the complex then colonized eastern and western Africa across a considerable range of savannah and forest habitats. Cladogenesis events and changes in habitat and ecology were probably influenced by climatic oscillations during the last 1 Myr. We tested several models providing insights into underlying mechanisms associated with the diversification of the complex and found that a variety of factors can explain their current phylogeographic structure and distribution: Pleistocene forest refuges, riverine barriers, differentiation along environmental gradients and probable human related introductions.
This study reveals the need of taxonomic revision of the C. olivieri complex. We confirm the validity of C. goliath from the Congo Basin but, however, C. olivieri appears polyphyletic and divided into five geographical clades showing allopatric or parapatric distributions. We did not recover monophyly of C. viaria and C. fulvastra owing to their close genetic relationships. Values of genetic distances between clades I to IV (composed of specimens morphologically identified as C. olivieri, C. viaria and C. fulvastra) fall well below interspecific variation described among shrews, suggesting their merger into a single and widespread species. Clades VI, VII (C. somalica) and VIII may represent separate species, pending on a revision of available taxon names.
Availability of supporting data
The sequence data supporting the results of this article are available in the GenBank repository [http://www.ncbi.nlm.nih.gov/genbank]. Accession numbers are provided in Additional file 6.
Declarations
Acknowledgements
Field campaigns were funded by EU-DGVIII BIOFAC and ECOFAC programs, WHO-Ebola Research Project in Côte d'Ivoire, WWF Gabon, PGRR-GFA Terra Systems Project in Guinea, PAMF Bénin, INCO-DEV Treat Control in Guinea and Côte d'Ivoire, ANR Biodiversité IFORA Cameroon, Czech Science Foundation project n° P506-10-0983, Barbara Brown Fund, Ellen Thorne Smith Fund, Marshall Field III Fund, John D. and Catherine T. MacArthur Foundation and World Wide Fund for Nature and Wildlife Conservation Society. We thank the Ministère des Eaux et Forêts in Côte d'Ivoire; the Ministère de la Recherche Scientifique et de l'Innovation in Cameroon; the Direction de la Faune et de la Chasse in Gabon; the Ministère de l'Environnement, des Eaux et Forêts et du Développement Durable in Guinea, the Wildlife Conservation Authority in Ethiopia, the Forest Service and the Kenyan Wildlife Service in Kenya, the Wildlife Authority in Zambia, the Institut National pour l'Environnement et la Conservation de la Nature in Burundi, the Department of Game and Wildlife Authority in Uganda, the Institut Congolais pour la Conservation de la Nature and the Centre de Recherche des Sciences Naturelles in DRC, the Wildlife Conservation Society and Development Board in Rwanda, and the Gorongosa Restoration Project and the Museu de História Natural in Mozambique for permission to work in the respective countries. We thank the Service de Systématique Moléculaire (UMS2700) of the MNHN where most laboratory work was performed. This work is part of the project @ SPEED-ID, the French Barcode of Life Initiative and the Belgian Science Policy (BELSPO) project 31.64. We are grateful to curators for making museum specimens available: FMNH, Chicago; PFIAO, Cape Town; MCZ, Cambridge; IVB ASCR, Brno; University of South Bohemia, České Budějovice; CBGP, Montferrier-sur-Lez; Université de Cocody-Abidjan, Abidjan; ZFMK, Bonn; University of Vermont, Burlington; Guelph University, Guelph; ITM and University of Antwerp, Antwerp; Kogi State University, Anyigba; SMNS, Stuttgart; and IZEA, Lausanne. We gratefully acknowledge F. Catzeflis and collaborators, H. Leirs, W. Verheyen, B Kadjo, J. Decher, L. Durnez, G. Dobigny, C. Tatard, L. Granjon and A. Olayemi who kindly provided tissue samples; A. Konečný, R. Šumbera, V. Mazoch, J. Mbau and Y. Meheretu for help in the collection of specimens; and S. Quérouil, P. Barrière and T. Dillen for participation in sequencing work. We are grateful to R. Debruyne who helped to obtain ancient DNA sequences. We are also grateful to the two anonymous reviewers for constructive feedback and insightful suggestions, which greatly improved this article.
Authors' Affiliations
(1)
Institut de Systématique, Évolution, Biodiversité, ISYEB UMR 7205 - CNRS, MNHN, UPMC, EPHE, Muséum National d'Histoire Naturelle, Sorbonne Universités, Paris, France
(2)
Royal Belgian Institute of Natural Sciences, Operational Direction Taxonomy and Phylogeny, Molecular Laboratory, Brussels, Belgium
(3)
Biology Department, University of Antwerpen, Evolutionary Ecology Group, Antwerpen, Belgium
(4)
Institute of Vertebrate Biology ASCR, Academy of Sciences of the Czech Republic, Brno, Czech Republic
(5)
Department of Botany and Zoology, Faculty of Science, Masaryk University, Brno, Czech Republic
(6)
Zoologisches Forschungmuseum Alexander Koenig, Bonn, Germany
(7)
College of Professional Studies, Roosevelt University, Chicago, USA
(8)
Field Museum of Natural History, Chicago, USA
(9)
Association Vahatra, Antananarivo, Madagascar
(10)
Génoscope, Centre National de Séquençage, Evry Cedex, France
(11)
Université de Rennes 1, CNRS, UMR 6553 Ecobio, Paimpont, France
Copyright
© Jacquet et al.; licensee BioMed Central. 2015
This is an Open Access article distributed under the terms of the Creative Commons Attribution License (http://creativecommons.org/licenses/by/4.0), which permits unrestricted use, distribution, and reproduction in any medium, provided the original work is properly credited. The Creative Commons Public Domain Dedication waiver (http://creativecommons.org/publicdomain/zero/1.0/) applies to the data made available in this article, unless otherwise stated.