Research article
Open Access
Origin and diversification of living cycads: a cautionary tale on the impact of the branching process prior in Bayesian molecular dating
BMC Evolutionary Biology
2015
15:65
Received: 12 January 2015
Accepted: 2 April 2015
Published: 17 April 2015
Abstract
Background
Bayesian relaxed-clock dating has significantly influenced our understanding of the timeline of biotic evolution. This approach requires the use of priors on the branching process, yet little is known about their impact on divergence time estimates. We investigated the effect of branching priors using the iconic cycads. We conducted phylogenetic estimations for 237 cycad species using three genes and two calibration strategies incorporating up to six fossil constraints to (i) test the impact of two different branching process priors on age estimates, (ii) assess which branching prior better fits the data, (iii) investigate branching prior impacts on diversification analyses, and (iv) provide insights into the diversification history of cycads.
Results
Using Bayes factors, we compared divergence time estimates and the inferred dynamics of diversification when using Yule versus birth-death priors. Bayes factors were calculated with marginal likelihood estimated with stepping-stone sampling. We found striking differences in age estimates and diversification dynamics depending on prior choice. Dating with the Yule prior suggested that extant cycad genera diversified in the Paleogene and with two diversification rate shifts. In contrast, dating with the birth-death prior yielded Neogene diversifications, and four rate shifts, one for each of the four richest genera. Nonetheless, dating with the two priors provided similar age estimates for the divergence of cycads from Ginkgo (Carboniferous) and their crown age (Permian). Of these, Bayes factors clearly supported the birth-death prior.
Conclusions
These results suggest the choice of the branching process prior can have a drastic influence on our understanding of evolutionary radiations. Therefore, all dating analyses must involve a model selection process using Bayes factors to select between a Yule or birth-death prior, in particular on ancient clades with a potential pattern of high extinction. We also provide new insights into the history of cycad diversification because we found (i) periods of extinction along the long branches of the genera consistent with fossil data, and (ii) high diversification rates within the Miocene genus radiations.
Keywords
Bayesian relaxed-clockBirth-death processBranching process priorCycadalesCycadopsidaSpeciation tree priorYule model
"Cycads are to the vegetable kingdom what Dinosaurs are to the animal, each representing the culmination in Mesozoic times of the ruling Dynasties in the life of their age."
Lester Ward, 1900
Background
Our understanding of biotic evolution relies heavily on phylogenetic and dating reconstructions that provide insight into the periods of major diversification [1]. In the last decade, the advent of molecular dating approaches has fostered an explosion of studies constructing time-calibrated trees for diverse plant clades like bryophytes [2], ferns [3,4], gymnosperms [5-8] and angiosperms [9-11]. These dated trees have permitted the study of character evolution via the reconstruction of ancestral traits [11], inference of biogeographical history [7], as well as estimates of diversification rates [2,8,10]. Dated trees are thus pivotal to our understanding of the evolution of plants, and of the groups that interact with them, such as herbivores and pollinators [12].
Despite the importance of reliable estimates of divergence times, our understanding of the temporal patterns of diversification remain in flux for many groups, in part because the methods for estimating evolutionary timescales from DNA sequences are being refined [1,13,14]. Since the introduction of relaxed-clock methods, which allow substitution rates to vary across the tree, a range of molecular dating methods has been developed. Bayesian inference has received the most attention because of the flexibility with which different parameters and prior assumptions can be incorporated, and the fact that priors are updated as part of the analysis [15,16]. The use of explicit prior distributions is central to the Bayesian perspective; however, the critical role of prior selection in Bayesian analysis is not always fully appreciated [17].
In Bayesian relaxed-clock (BRC) approaches, there are various types of priors, including priors on calibration points, branch-lengths, clock models, and branching processes. Priors on calibration points have been well studied [18] and, not surprisingly, the choice of these priors can affect estimates of node ages [19]. The effects of branch-length priors on posterior probabilities have been studied; priors assuming long internal branches cause high posterior probabilities [20]. In comparison, the impact of different branching process priors has been relatively under-explored [15,21].
The branching process prior (BPP), also called the 'tree shape' or 'speciation tree' prior, is a prior model on how trees are generated. Phylogenetic trees are the result of speciation and extinction events, and their relative roles can be varied and represented as different models of diversification [22]. These models effectively place a prior on how phylogenetic trees grow. Probability distributions over models of diversification were employed in some of the earliest attempts to use likelihood techniques to reconstruct genealogies [23]. The two most commonly used BPPs are the Yule (also called 'pure-birth') process, which models tree formation with a constant rate of speciation and no extinction, and the birth-death process, which includes speciation as well as a constant rate of lineage extinction. Birth-death priors have been used in Bayesian phylogenetics [24]; however, most published analyses use the Yule prior, perhaps because it was initially the only prior for the diversification process implemented in the widely used Bayesian software package BEAST [16]. Although the birth-death prior has recently been integrated into this software [25,26], many phylogenetic analyses still use the Yule prior (probably because the BEAST manual recommend the use of the Yule prior, see p. 10 of the BEAST manual, version 1.4). Few studies have used both priors in Bayesian dating, and even fewer have compared the impact of prior choice, even though recent studies have started to do so (e.g. [27]). One of the first to use both priors is the study of Couvreur et al. [28], who estimated the evolutionary history of the Brassicaceae using a BRC approach with both priors. Their age estimates did not differ under the Yule or birth–death diversification models, and both models fit the data equally well. While these results could be interpreted to mean that the BPP has little influence on BRC reconstruction in general, the Brassicaceae are a relative young group that originated in the Eocene (credibility interval 24.2-49.4 million years ago, Ma) and likely did not experience major extinction events. However, choice of diversification prior might make a substantial difference for groups that have undergone significant extinction, and for which using a pure-birth Yule prior could give in spurious results.
The cycads (Cycadopsida: Cycadales) are a plant group particularly well suited for testing the influence of BPPs on molecular dating. Today's species (331 species in the tropics and subtropics, [29]) are thought to represent the last remnants of their formidable past, and their evolutionary history extends back to the mid-Permian (~270 Ma) [30-33]. Cycads have witnessed many drastic environmental changes [34-37] and likely suffered major periods of extinction [6,38]. Due to their richness and diversity in Mesozoic fossil records, their current diversity has long been assumed to be of relictual origin dating back to the Late Cretaceous [30,39-42]. This idea has been challenged by molecular time-calibrated phylogenies showing that long branches subtend late Cenozoic (in the Miocene ~15 Ma) and near-simultaneous initiations of diversification of the living genera [6,43].
Despite these recent studies, there remain dating uncertainties in the evolutionary history of cycads. At the generic level, some fossils suggest that the various radiations might be much older than the late Miocene (i.e. Eocene). Indeed, numerous pre-Miocene cycad fossils have been documented (e.g. [44-49]) that are likely early representatives of living genera. For example, recently described fossils from the early Cenozoic of China have been assigned to the crown-group of Cycas [50], but that assignment is doubtful given the extensive homoplasy in the characters used to link the fossils to the extant taxon [51]. Even if there is a possibility that fossils instead should be assigned to stem, they cast doubts on the dating. At the level of the whole group, different studies using similar fossil calibrations (but different taxon and molecular sampling) have produced different age estimates, notably for the origin of the cycad crown: ≈200 Ma for Nagalingum et al. [6], and ≈ 230 Ma for Salas-Leiva et al. [43]. Therefore further dating analyses are needed to estimate the cycad age and validate the recent generic radiations.
In reconstructing the phylogeny of cycads, Nagalingum et al. [6] sampled about two-thirds of all known species and used a molecular dataset composed of two chloroplast genes and one nuclear gene (although most of the taxa had the nuclear gene only). In addition to Penalized Likelihood and a strict molecular clock, they inferred the age and divergence times using the BRC approach implemented in BEAST, calibrated with four fossil constraints and a birth-death process as the BPP. The birth-death process used in the Bayesian analyses yielded a high ratio of extinction to speciation (relative death rate, 0.97) [6], suggesting a dominant role of extinction in shaping the phylogeny of cycads. Given our prior knowledge of cycad evolution gleaned from the fossil record, using a prior that includes extinction is realistic. However, Nagalingum et al. [6] did not assess the support of the birth-death prior versus other priors.
This study has four objectives: (i) investigating the impact of the BPP on the dating of ancient clades using the cycads as an example, (ii) assessing whether the birth-death prior is statistically supported, (iii) studying the difference between the Yule and birth-death prior on our understanding of cycad diversification, and (iv) providing a cycad timetree reconciling fossil and phylogenetic data. We also discuss potential explanations for the differences obtained when using different priors and the consequences of prior choice for Bayesian molecular dating.
Results
Phylogeny of cycads
Tracer plots indicated that MrBayes runs reached convergence before 10 million generations (results not shown). Convergence of the analyses was also supported by the average standard deviation of split frequencies (<0.01), all PSRF values close to 1.0 (range between 0.999 and 1.019), and ESS values above 200 (with many >1000) for the post burn-in trees. The resulting Bayesian trees were well resolved: all nodes of the backbone tree and genus crown nodes were recovered with maximal posterior probabilities (PP = 1, Figure 1 and Additional file 2: Figure S1). Only nodes within genus radiations were recovered with lower PP, which was expected because the genetic divergence among cycad species within genera is low (Cycas: [95,96]; Ceratozamia: [52]; Dioon: [56]; Encephalartos: [97]; Macrozamia: [98]; Zamia: [99]). Our MrBayes analyses are congruent with the results of Nagalingum et al. [6], but differ from other studies [43,54,55,100]. Notably the genus Bowenia is found as sister to the clade ((Ceratozamia, Stangeria), (Microcycas, Zamia)) as in Nagalingum et al. [6], but an alternative position is that Bowenia is sister to all genera, except Cycas and Dioon [43].
Divergence time estimates and model selection for the branching process prior
Convergence of the dating analyses was ensured by ESS values above 200 for all parameters (with many >1000) for the post burn-in trees (Table
1
) and Tracer plots indicated that BEAST runs reached convergence before the burn-in threshold. The choice of branching process prior had a striking effect on age estimates (Figures
2
and
3
; Table
1
). Analyses with the Yule prior inferred much older ages for cycad genera (Figure
4
). Genus-level crown ages were on average three times older with a Yule than with a birth-death prior (3.2-fold difference with the 'traditional fossil dataset' and 2.9-fold with the 'new fossil dataset'). This difference was quite striking, with non-overlapping credibility intervals (95% highest posterior density) for the genus crown ages (Figure
4
). Generic stem ages and some ages of deeper nodes were also inferred to be older with the Yule than with the birth-death prior, although the difference was not as marked as in the case of the genus crown ages (Figure
5
). However, the birth-death and Yule priors usually inferred similar ages for the cycad stem and crown ages (Figure
5
). Analyses with the birth-death process inferred a very high estimate of the relative extinction rate (ratio of extinction to speciation, or turnover) with a median = 0.966 for the dating with four FC (95% HPD 0.9255-0.9972), and a median = 0.962 for the dating with six FC (95% HPD 0.9153-0.9947).
Table 1
Age estimates for the six nodes subtending a fossil calibration (FC)
Fossil calibration strategy

Prior

HME

MLE (SS)

ESS (logL)

BF

Cycad stem (FC1)

Dioon stem (FC2)

Bowenia stem (FC3)

Lepidozamia stem (FC4)

Cycad crown (FC5)

Encephalarteae stem (FC6)

min. age 265.1 Ma

min. age 56 Ma

min. age 33.9 Ma

min. age 33.9 Ma

min. age 235 Ma

min. age 72.1 Ma

Traditional fossil dataset

Birth-death

−26343.61

−26828.83

2451

26.7

316.6 [269.5-363.3]

140 [90-192.9]

116.3 [76.7-160.8]

38.1 [33.9-50.9]

257.2 [184.3-337.5]

129.2 [84.3-180.2]

Yule

−26330.62

−26855.49

3835

295.7 [265.1-350.1]

206.4 [161.2-258.2]

170.3 [130.8-216.3]

68 [41.7-100.4]

277.2 [231-344.9]

190.4 [146.9-240.2]

New fossil dataset

Birth-death

−26343.36

−26825.04

2076

36.3

323.2 [273.9-364.6]

156.1 [107-207.9]

129.7 [88.7-174.3]

39.1 [33.9-55]

274.5 [235-332.4]

144.5 [97.7-192.5]

Yule

−26331.16

−26861.34

1361

296.9 [265.1-351.7]

203.5 [158.6-253.6]

169.5 [129.4-214.2]

67.8 [40.6-102]

280.1 [235.6-334.8]

188 [143.6-235.6]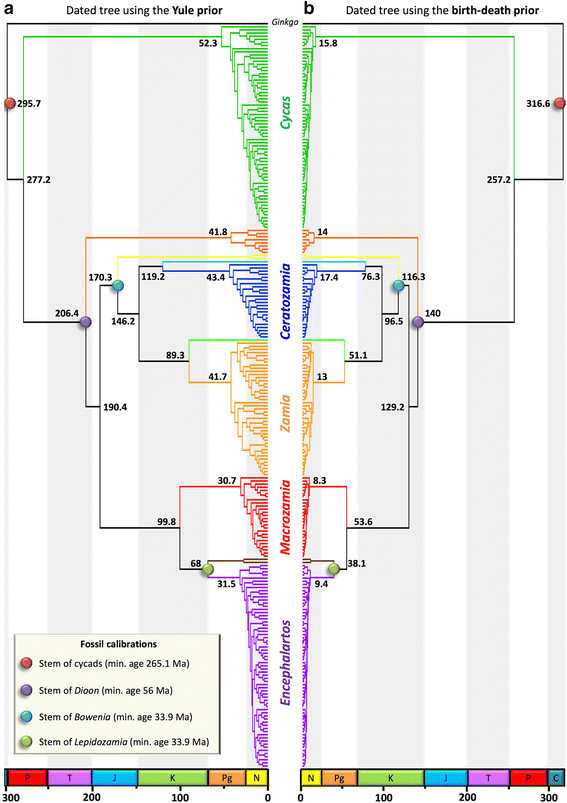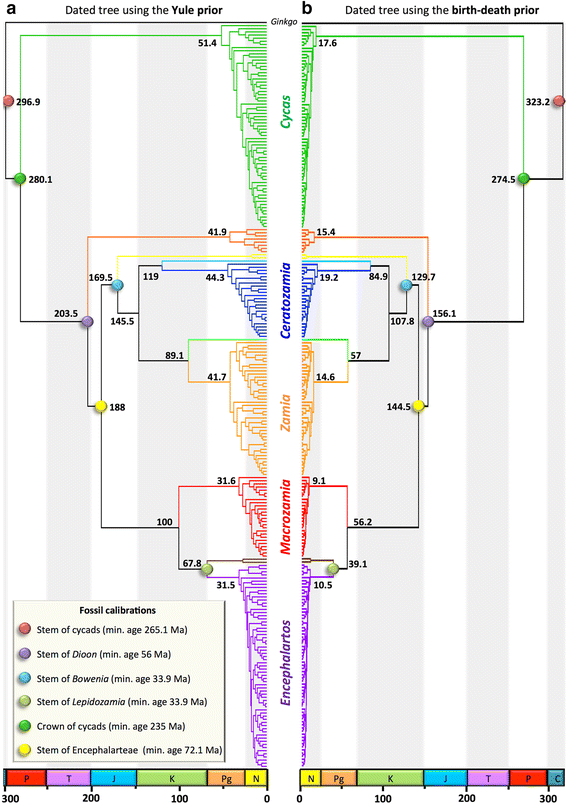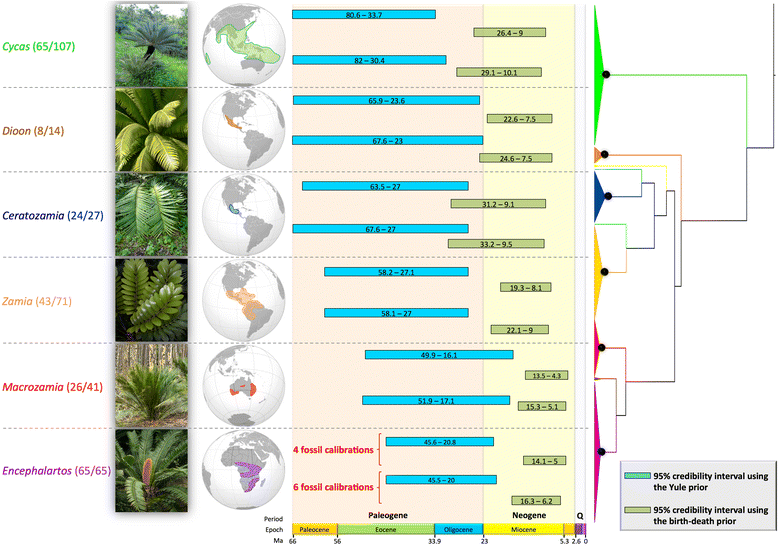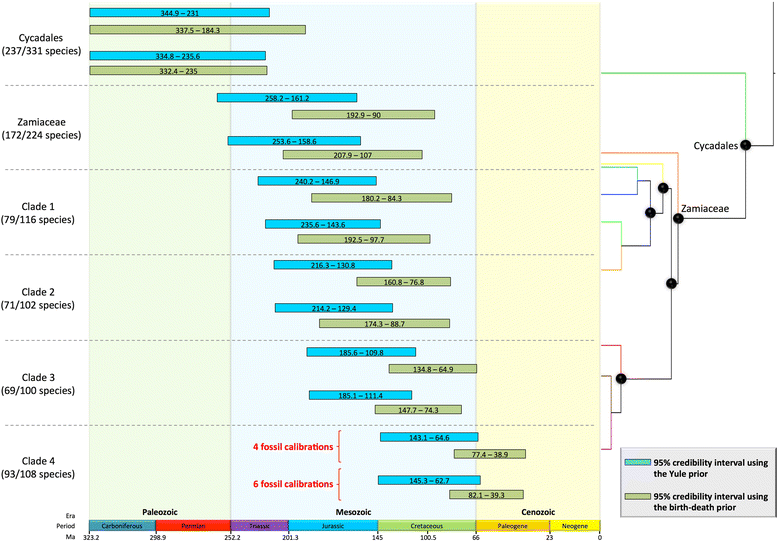 Bayes factor values, calculated with the marginal likelihood estimates of the stepping-stone analyses, support the birth-death process as the best tree prior (Table 1). Of the two pairs of BEAST analyses (four FC and six FC), BF values are above the standard threshold: BF4FC = 26.66 between the Yule and birth-death prior, and BF6FC = 36.3 between the Yule and birth-death prior. On the contrary, the HME found the opposite, that is the Yule model is the best prior for both datasets for all analyses (Table 1). The results for the cycads thus support previous results showing that the HME estimator is not reliable [76].
Macroevolutionary rates through time
The BAMM analyses converged for both trees (ESS
Yule
 = 719.6, Additional file
3
: Figure S2; ESS
birth-death
 = 750.6, Additional file
4
: Figure S3). The choice of the BPP had a major influence on the number of different evolutionary regimes detected in the history of the cycads, as well as on the estimation of speciation and extinction rates across the tree (Figure
6
). Analyses with the Yule prior supported a model with three evolutionary regimes (i.e. two rate shifts, Additional file
5
: Figure S4) located at the crown of the genera
Cycas
and
Encephalartos
(according to BF values > 10, and BF = 154.5 over the null model). On the other hand, analyses with the birth-death prior supported a model with five evolutionary regimes (i.e. four rate shifts, Additional file
6
: Figure S5) located at (or near) the crown of the four most species-rich genera (according to BF values > 10, and BF = 29.3 over the null model). Moreover, both speciation and extinction rates estimated with the birth-death prior are twice as high as those estimated with the Yule prior (see scales on Figure
6
). The credible set of shift configurations with the highest posterior probabilities is provided in Additional file
7
: Figure S6 for each tree. The best configuration shift is provided in Additional file
8
: Figure S7 for each tree. The macroevolutionary cohort analyses showed distinct evolutionary trajectories for the four richest cycad genera with the birth-death prior (Additional file
9
: Figure S8), but not with the Yule prior (Additional file
10
: Figure S9).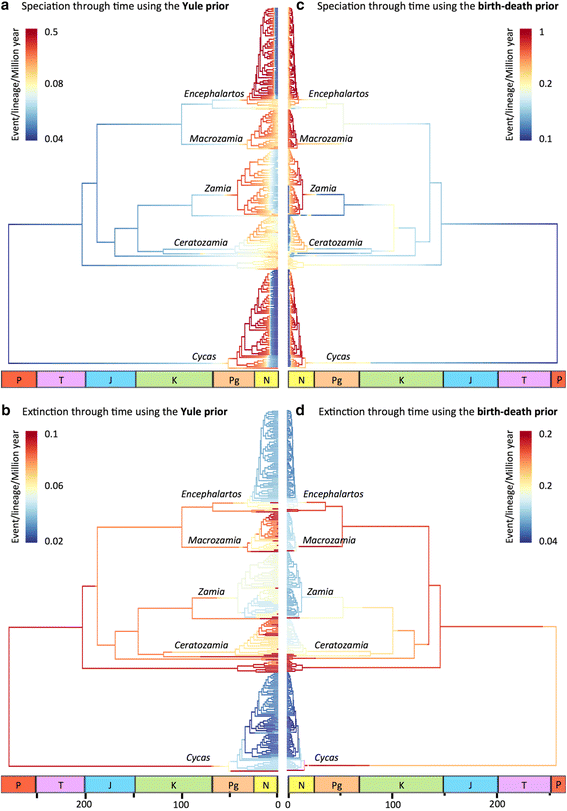 Conclusions
Our study highlights that the branching process prior (or tree prior) in Bayesian molecular dating has an important effect on age estimates for cycads. The birth-death process had a better fit than the traditionally used Yule process as determined by marginal likelihood estimates and Bayes factors. It is likely that cycads are not an isolated case and we advocate for a closer investigation of the branching process prior, BPP, in all future molecular phylogenetic dating studies. At minimum we suggest conducting a similar model selection as we did for cycads to select the best-fitting prior and thus the best timetree. However, the birth-death process will not necessarily always better fit the data just because it seems more biologically realistic than a simpler Yule model, especially for shallower divergence times (i.e. recent clades). For instance, two recent studies on Australian diving beetles [106] and St. John's wort [122] did not show any age differences using different BPPs, and none of the BPP was supported with Bayes factors; both clades originated in the Oligocene (ca. 34-28 Ma). On the contrary for deeper divergence times, age differences might be revealed when comparing a birth-death and a Yule process as exemplified in a dating study of darkling beetles that originated in the Jurassic (≈180 Ma) [27], but those differences were not as marked as in cycads. Based on these studies and our results, we expect that age differences deriving from different BPPs increase when clade age is very old (e.g. Triassic and backward).
As we gain greater understanding of the priors and parameters associated with molecular dating, there have been accordingly advances in our methodology. We note that other avenues for molecular dating are being developed because the standard dating procedure results in overlaying two prior distributions for a calibration node: one from the tree prior and one from the calibration prior [19,21,102]. In the last years, there are new methods that allow the inclusion of fossils in divergence time estimation as non-contemporaneous terminal tips rather than as node calibration points, also known as tip dating [123]. Recently, Heath et al. [103] introduced the fossilized birth–death process, a model for calibrating divergence time estimates in a Bayesian framework, explicitly acknowledging that extant species and fossils are part of the same macroevolutionary process. They argued that a single model that acts as a prior on the speciation times for both calibrated and uncalibrated nodes is a better representation of the lineage diversification process. The approach seems promising and will increasingly be used in future studies, like the application on the royal ferns (family Osmundaceae) [124]. The fossilized birth–death process best fitted the Osmundaceae fossil record and also provided speciation and extinction rates associated with the dated phylogeny.
Availability of supporting data
Abbreviations
BPP:

Branching process prior
BF:

Bayes factor
BRC:

Bayesian relaxed-clock
ESS:

Effective sample size
FC:

Fossil calibration
HME:

Harmonic mean estimate
HPD:

Height posterior density
Ma:

Million years ago
MCMC:

Markov chain Monte Carlo
MLE:

Marginal likelihood estimate
PP:

Posterior probability
PSRF:

Potential scale reduction factor
SS:

Stepping-stone
UCLD:

Uncorrelated lognormal distribution clock model
Declarations
Acknowledgements
We thank the Associate Editor Rafael Zardoya, and the two referees Susanne Renner and Diego San Mauro who provided insightful comments on the study. We also thank Frédéric Delsuc and Gael Kergoat for discussions, and Simon Ho and Guy Baele for technical comments on the Bayesian analyses. We also thank Daniel Rabosky for the workshop on the BAMM approach, and Mario Coiro for discussions and feedbacks on the fossil record of cycads. Funding was provided by grant ANR CHEX ECOEVOBIO awarded to HM.
Authors' Affiliations
(1)
CNRS, UMR 7641 Centre de Mathématiques Appliquées (École Polytechnique), Palaiseau, France
(2)
Department of Biological and Environmental Sciences, University of Gothenburg, Göteborg, Sweden
(3)
National Herbarium of New South Wales, Royal Botanic Gardens & Domain Trust, Sydney, Australia
(4)
Department of Integrative Biology and Museum of Paleontology, University of California, Berkeley, USA
(5)
CNRS, UMR 8197 Institut de Biologie de l′École Normale Supérieure, Paris, France
Copyright
© Condamine et al.; licensee BioMed Central. 2015
This is an Open Access article distributed under the terms of the Creative Commons Attribution License (http://creativecommons.org/licenses/by/4.0), which permits unrestricted use, distribution, and reproduction in any medium, provided the original work is properly credited. The Creative Commons Public Domain Dedication waiver (http://creativecommons.org/publicdomain/zero/1.0/) applies to the data made available in this article, unless otherwise stated.