Research Article

Open Access
Patterns of genetic variation in the endangered European mink (Mustela lutreola L., 1761)
BMC Evolutionary Biology
2015
15:141
Received: 14 April 2015
Accepted: 2 July 2015
Published: 17 July 2015
Abstract
Background
The European mink (Mustela lutreola, L. 1761) is a critically endangered mustelid, which inhabits several main river drainages in Europe. Here, we assess the genetic variation of existing populations of this species, including new sampling sites and additional molecular markers (newly developed microsatellite loci specific to European mink) as compared to previous studies. Probabilistic analyses were used to examine genetic structure within and between existing populations, and to infer phylogeographic processes and past demography.
Results
According to both mitochondrial and nuclear microsatellite markers, Northeastern (Russia, Estonia and Belarus) and Southeastern (Romania) European populations showed the highest intraspecific diversity. In contrast, Western European (France and Spain) populations were the least polymorphic, featuring a unique mitochondrial DNA haplotype. The high differentiation values detected between Eastern and Western European populations could be the result of genetic drift in the latter due to population isolation and reduction. Genetic differences among populations were further supported by Bayesian clustering and two main groups were confirmed (Eastern vs. Western Europe) along with two contained subgroups at a more local scale (Northeastern vs. Southeastern Europe; France vs. Spain).
Conclusions
Genetic data and performed analyses support a historical scenario of stable European mink populations, not affected by Quaternary climate oscillations in the Late Pleistocene, and posterior expansion events following river connections in both North- and Southeastern European populations. This suggests an eastern refuge during glacial maxima (as already proposed for boreal and continental species). In contrast, Western Europe was colonised more recently following either natural expansions or putative human introductions. Low levels of genetic diversity observed within each studied population suggest recent bottleneck events and stress the urgent need for conservation measures to counteract the demographic decline experienced by the European mink.
Keywords
Markov Chain Monte CarloApproximate Bayesian ComputationAmerican MinkFactorial Correspondence AnalysisEuropean Mink
Background
The European mink (Mustela lutreola, L. 1761) is a riparian mustelid that used to occupy most of the main river drainages in Europe. The rapid decline of this species throughout its distribution range [1, 2] is the result of its dependence on natural river courses that limits its dispersal capacity [3, 4], and factors such as habitat fragmentation, over-hunting, pollution, anthropogenic barriers, as well as the presence of the invasive American mink (Neovison vison), a direct ecological competitor potentially spreading diseases to which M. lutreola is vulnerable [5–8]. Consequently, the European mink is listed as one of the most endangered mammals in Europe (IUCN Red List of Threatened Species, http://www.iucnredlist.org) [9]. In an effort to promote its long-term conservation, several measures are under consideration (i.e., captive breeding, restoration and/or reintroduction programs). These measures seek to maintain the genetic diversity of wild populations of this endangered species.
At present, the European mink consists of scattered isolated populations restricted to three areas: Northeastern Europe (NE; Belarus and Russia), Southeastern Europe (SE; Danube and Dniester deltas in Romania and Ukraine), and Western Europe (W; Southwest France and Northern Spain) [6, 9]. To date, genetic studies on the European mink [10, 11] have examined mitochondrial (mt) DNA control region, and six microsatellite loci originally isolated from other mustelid species. These studies pointed to NE Europe as the most likely glacial refuge since the population in this region showed the highest haplotype diversity. In addition, the extremely low genetic diversity of the W population was interpreted as evidence for a recent colonization of this region by few animals, possibly after human introduction [10]. However, the specimens examined in these studies [10, 11] were mostly from France and results require further confirmation based on a more complete and even sampling effort across the current distribution range of the species.
In the present study, we combined molecular data (both mtDNA and nuclear microsatellites) from Michaux et al. [10] with new molecular data obtained from additional specimens from Russia, Belarus, Romania, and Spain. We also used five new species-specific microsatellite loci isolated from European mink [12] on all samples. With these new data and recently developed Bayesian analysis methods, our goals were to gain further insight into: i) the current genetic structure of the European mink; ii) the phylogeographic processes associated with the glacial refuge and post-glacial colonization of the species, and the origin of the W population; iii) the role of river drainages in shaping the current species distribution; and iv) the existence of population genetic bottlenecks caused by the effects of human impact. By improving our understanding of the evolutionary processes leading to the current population structure of the European mink, the results of this study are useful to shape future management strategies for the conservation of this endangered species.
Results
Mitochondrial DNA analyses
Genetic variability-Standard population genetic analyses
A fragment of the mtDNA control region was amplified and sequenced in 157 specimens (Fig.
1
). The trimmed alignment (after removing indels) was 476-bp long and yielded 17 distinct haplotypes defined by 17 variable sites. Sequence variability of mtDNA was characterised by nucleotide and haplotype diversities of π = 0.005 ± 0.003 and
h
 = 0.857 ± 0.014, respectively (Table
1
). The mtDNA dataset I revealed highest levels of genetic diversity (π = 0.004 and
h
 = 0.862) and a high percentage (92.31 %) of private haplotypes for NE populations (mostly Russia). In contrast, SE populations were characterised by four haplotypes (of which, only Mlh16 was shared with Russia) and low mtDNA variation (π = 0.0019 and
h
 = 0.352). Lowest haplotype diversity was detected for W populations, where all individuals shared the same haplotype, which was not found in Eastern European (NE and SE) populations. Analyses based on the mtDNA dataset II identified rivers North Dvina, West Dvina and Volga (NE populations) as significantly contributing to mean genetic diversity levels (Table
1
).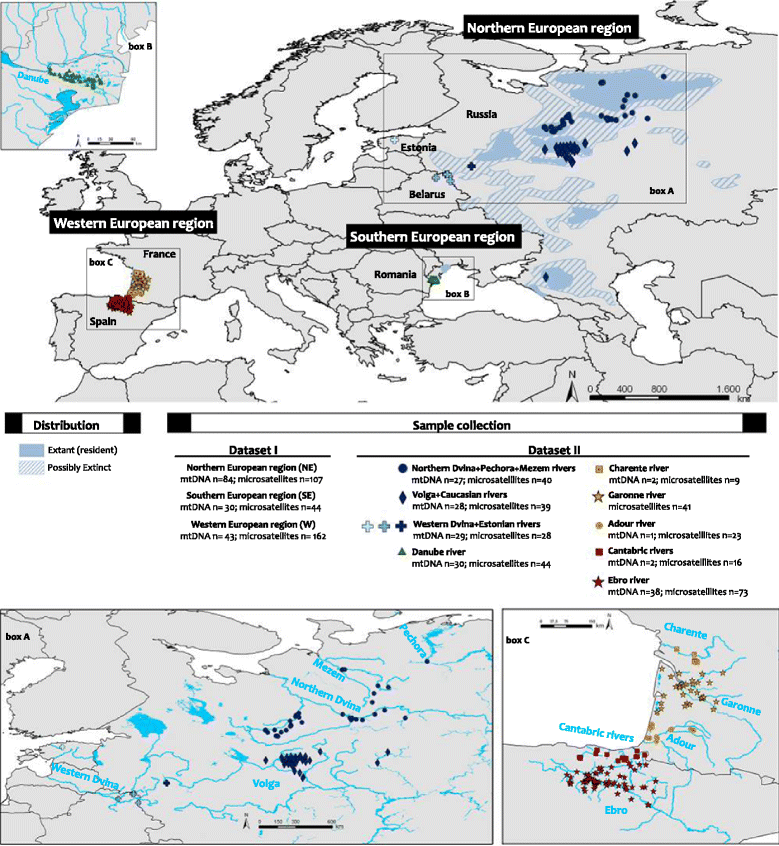 Table 1
MtDNA diversity estimates and neutrality test results for European mink dataset Ia and dataset IIb. The variables provided are: number of sampled individuals (n), number of observed haplotypes (N h ) with private haplotypes (P h ) in brackets, and haplotype (h) and nucleotide (π) diversities with standard deviations (SD) in brackets. None of the neutrality tests performed were significant (P > 0.05)
Diversity indices

Neutrality test

Sampling sites

n

N h (P h )

h (SD)

π (SD)

Tajima's D

Fu's Fs

R2

All individuals tested

157

17

0.857 (0.014)

0.005 (0.003)

−0.399

−3.316

0.075

mtDNA dataset I

East (Russia, Belarus, Estonia, Romania)

114

16(16)

0.869 (0.014)

0.005 (0.003)

−0.550

−3.380

0.075

Northeast (Russia, Belarus, Estonia)

84

13 (12)

0.862 (0.016)

0.004 (0.003)

−1.008

−3.501

0.067

Southeast (Romania)

30

4 (3)

0.352 (0.103)

0.0019 (0.0015)

−0.890

0.012

0.087

mtDNA dataset II

North Dvina

27

6

0.775 (0.047)

0.004 (0.002)

0.817

−0.287

0.165

Volga

28

4

0.717 (0.050)

0.003 (0.002)

0.515

0.865

0.154

West Dvina

29

10

0.810 (0.064)

0.005 (0.003)

−1.117

−2.177

0.086
Phylogenetic analyses and population genetic structure
The reconstructed phylogeny showed a general lack of resolution. The only strongly supported clade included haplotypes from the SE populations (Fig.
2a
). The haplotype network (Fig.
2b
) revealed that most NE haplotypes are connected to each other (generally differing by only one mutational step) in a star-like fashion with a central haplotype (Mlh16), which is also found in SE populations. SE and W populations showed private haplotypes, which are connected to the network through missing intermediate haplotypes. Reconstruction of the haplotype network using statistical parsimony rendered similar results (data not shown).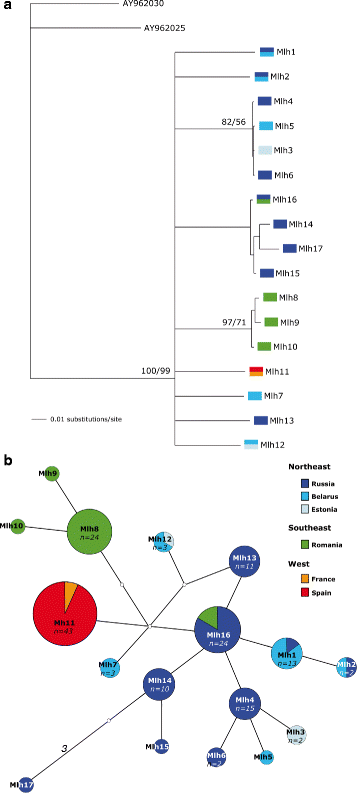 High levels of haplotype frequency differentiation (ΦST values ranged from 0.586 to 0.879) were found among NE, SE, and W populations (mtDNA dataset I), with all comparisons being statistically significant (Additional file 1). A more detailed analysis comparing the different sampling localities also showed significant ΦST values, ranging from 0.143 (Russia vs. Belarus + Estonia) to 0.742 (Belarus + Estonia vs. W) (data not shown). Similarly, significant genetic differentiation was also detected among the tested river basins (mtDNA dataset II; Additional file 1).
The hierarchical analysis of molecular variance (AMOVA) strongly supported genetic differentiation of the European mink, but failed to detect geographic structuring of East (NE + SE) vs. W populations or NE vs. SE populations (Additional file 2). The genetic variability was mainly explained by variation among populations within each region. Similarly, no evidence of genetic structuring was observed among regions when pooling individuals according to the different drainage basins (Additional file 2).
Historical demography
Tajima's D, Fu's Fs and R2 statistic tests failed to reject the null hypotheses (Ho) of non-expanding (stable) populations, as was shown by the general pattern of non-significant (P > 0.10) low negative Fs and Tajima's D values (Table 1). However, most D and Fs values were negative indicating an excess of rare variants and suggesting that the overall population size may have fluctuated in the past.
Coalescent-based reconstructions of the demographic history of the NE and SE populations inferred from BSP analyses revealed histories of long-term stability in effective population size until approximately 5 Kyr for the NE populations, and a recent demographic expansion period in the SE populations during the Last Glacial Maximum, corresponding to a population increase of more than 30 % (Fig.
3
).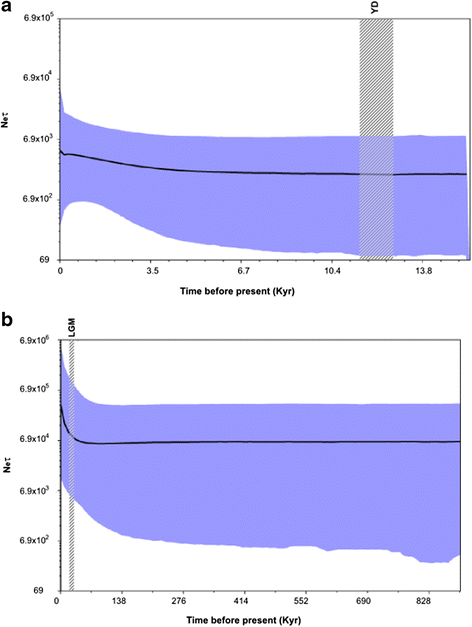 Microsatellite results
Genetic variability-Standard population genetic analyses
Microsatellite alleles were obtained from a total of 313 specimens (Fig. 1). Estimates of null allele frequencies were moderate to low (<0.2), and FST values obtained from the null-allele corrected and original data sets were very similar (data not shown). Thus all loci were used in further analyses.
No evidence of linkage disequilibrium was found as none of the corresponding exact tests remained significant after Bonferroni correction (P = 0.000182; n = 275 comparisons). Thus, microsatellite loci were considered statistically independent.
Microsatellites were polymorphic in all tested populations with the exception of locus MLUT04, which presented a single allele within the Spanish samples. A total of 64 alleles (ranging from two to 10 alleles per population) were obtained. Private alleles were found in both Eastern (NE + SE) and W populations but at different percentages, 52.46 % and 9.38 %, respectively (Table
2
). Low levels of microsatellite genetic variability (A: 5.818; H
O
 = 0.430; H
E
 = 0.578) were detected. After Bonferroni correction, only the Spanish population showed significant departures (
P
 < 0.001,
n
 = 55 comparisons) from HWE for the following loci: MVIS22 (F
IS
 = 0.265), MVIS72 (F
IS
 = 0.274), and MER41 (F
IS
 = 0.422), due to a heterozygote deficit.
Table 2
Genetic variability estimates for eleven microsatellite loci tested in the European mink datasets Ia and IIb. The variable provided are: number of individuals tested (n), number of total alleles (NA), the total private allele (PA) with the corresponding percentage in brackets, allelic diversity (A), observed and expected heterozygosities, HO and HE respectively, and mean FIS (Wright's statistic)
| Sampling sites | n | NA | PA (%) | A | HO | HE | FIS |
| --- | --- | --- | --- | --- | --- | --- | --- |
| All individuals tested | 313 | 64 | — | 5.818 | 0.430 ± 0.113 | 0.578 ± 0.148 | 0.255 |
| Microsatellite dataset I | | | | | | | |
|  East (North and South) | 151 | 61 | 32 (52.46 %) | 5.546 | 0.532 ± 0.150 | 0.618 ± 0.156 | 0.141 |
|   Northeast | 107 | 59 | 20 (33.90 %) | 5.364 | 0.559 ± 0.153 | 0.613 ± 0.164 | 0.089 |
|    Russia | 88 | 57 | 13 (22.81 %) | 5.182 | 0.569 ± 0.151 | 0.619 ± 0.159 | 0.082 |
|    Belarus + Estonia | 19 | 42 | 2 (4.76 %) | 3.818 | 0.503 ± 0.230 | 0.54 ± 0.207 | 0.095 |
|   Southeast(Romania) | 44 | 35 | 2 (5.71 %) | 3.182 | 0.464 ± 0.170 | 0.496 ± 0.139 | 0.065 |
|  West | 162 | 32 | 3 (9.38 %) | 2.909 | 0.336 ± 0.161 | 0.439 ± 0.201 | 0.236 |
|    France | 73 | 29 | 1 (3.45 %) | 2.636 | 0.389 ± 0.182 | 0.430 ± 0.206 | 0.095 |
|    Spain | 89 | 29 | 1 (3.45 %) | 2.636 | 0.291 ± 0.184 | 0.353 ± 0.215 | 0.178 |
| Microsatellite dataset II | | | | | | | |
|  North Dvina | 40 | 54 | 3 (5.56 %) | 4.909 | 0.563 ± 0.188 | 0.618 ± 0.181 | 0.090 |
|  West Dvina | 28 | 47 | 2 (4.26 %) | 4.273 | 0.546 ± 0.187 | 0.582 ± 0.185 | 0.064 |
|  Volga | 39 | 51 | 2 (3.92 %) | 4.636 | 0.560 ± 0.147 | 0.598 ± 0.146 | 0.065 |
|  Charentes | 9 | 25 | — | 2.273 | 0.364 ± 0.223 | 0.409 ± 0.213 | 0.117 |
|  Garonne | 44 | 33 | 1 (3.03 %) | 3 | 0.373 ± 0.186 | 0.426 ± 0.205 | 0.128 |
|  Adour | 23 | 26 | — | 2.364 | 0.451 ± 0.233 | 0.432 ± 0.198 | −0.045 |
|  Cantabrian rivers | 16 | 25 | — | 2.273 | 0.317 ± 0.193 | 0.382 ± 0.252 | 0.176 |
|  Ebro | 73 | 29 | — | 2.636 | 0.285 ± 0.185 | 0.337 ± 0.210 | 0.155 |
Consistent with mtDNA results, W and NE populations (mostly Russian) had the lowest and highest levels of genetic variability, respectively, whereas SE populations showed intermediate values (Table 2). Individuals pooled according to their drainage distribution (microsatellite dataset II) showed the highest genetic variability in the Volga, North and West Dvina rivers. The individuals from the Danube showed intermediate genetic variability and within the French and Spanish rivers, the Adour and the Ebro showed the highest and lowest genetic variability values, respectively.
Patterns of population genetic structure
The Bayesian clustering procedure [
13
] obtained the highest likelihoods for
k
 = 4 (Fig.
4a
). Individuals from the NE (Russia, Belarus + Estonia) populations clustered as only one inferred group with an assignment probability (Q) higher than 0.93 (Fig.
4b
). Most individuals from Romania, France, and Spain were significantly assigned to three different inferred clusters (Q > 0.90). In contrast, the uppermost hierarchical level of structure was shown at
k
 = 2 when the modal value of ∆k was estimated [
14
] (data not shown). In this case, the inferred clusters clearly corresponded to the two main regions (NE + SE versus W) analyzed, each of which showed a very high average proportion of membership (Q > 0.95) (not shown). The same results were obtained when a Dirichlet prior process was assumed [
15
]. The SAMOVA analysis showed the highest F
CT
value (F
CT
 = 0.904,
P
 = 0.015) for an arrangement of populations in
k
 = 4 clusters, corresponding to the lineages identified by STRUCTURE.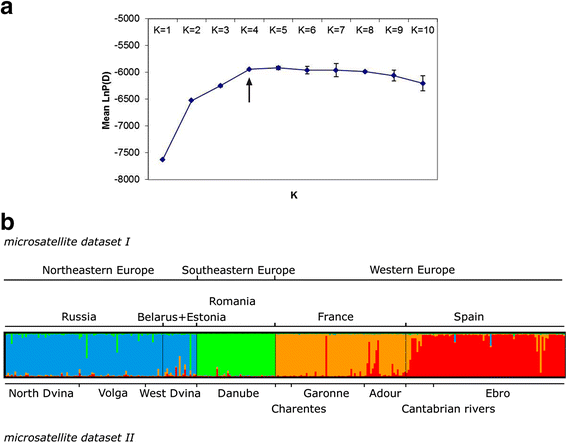 Consistent with the mtDNA analysis, all but one pairwise FST comparisons based on microsatellite data showed significant values both at the region (microsatellite dataset I) and drainage (microsatellite dataset II) levels. The only exception was the comparison between Garonne and Charentes rivers in France (FST = 0.001; P < 0.0014), whose populations are geographically close (Additional file 3). Similar patterns were obtained with the RST estimates (Additional file 3). In this case, all comparisons were significant except those involving Garonne and Charentes (RST = 0.005; P > 0.0014), and the North Dvina and Volga (RST = 0.004; P > 0.0014) rivers in France and NE, respectively (Additional file 3).
The hierarchical AMOVA identified significant geographic structuring (FST = 0.224, P < 0.001). However, no genetic structuring was supported when STRUCTURE results (two or four geographical groups) were considered. The genetic variation in the data set was significantly explained by variation among and within populations (Additional file 4). Interestingly, genetic structuring was significant when samples were grouped according to drainage basins (Additional file 4). In agreement with other genetic analyses, FCA assigned the European mink samples to three well-defined groups, W, NE, and SE, respectively (Additional file 5).
Reconstruction of colonization pathways for western populations
The analysis performed under the ABC framework summarized by the polychotomous logistic regression method (Additional file
6
) revealed that scenario number 2 had a significantly higher posterior probability (PP) value (0.40) as compared to other scenarios (Fig.
5
).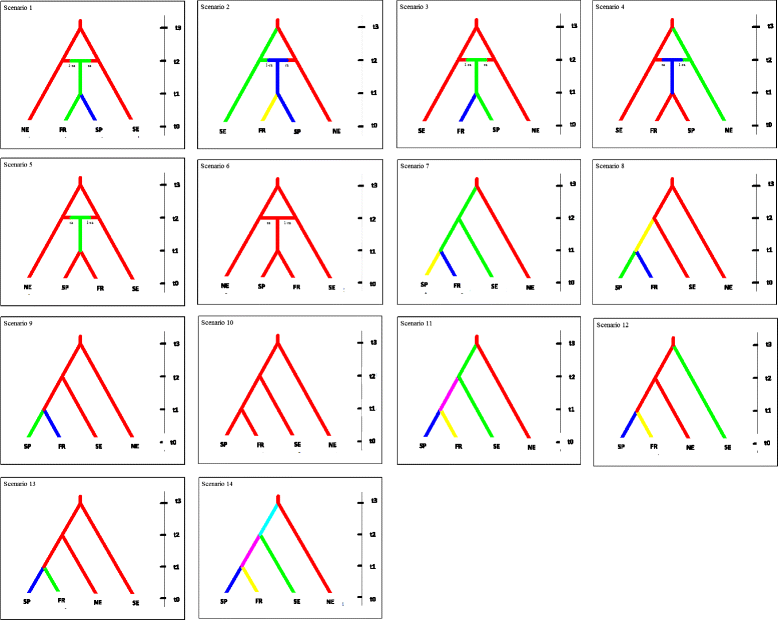 Scenario 2 suggests a recent origin for W populations after admixture between already genetically differentiated NE and SE populations. This foundation event of the W population would have been followed by a posterior separation between French (FR) and Spanish (SP) populations in relatively recent times. The analyses gave estimations of divergence times among these populations (Additional file 7). However, these values are likely highly overestimated due to the large differences in allelic frequencies detected between the W populations associated with recent bottleneck and founder events. Therefore, we preferred to be very careful considering these estimations and not considered them as strict values in our discussion.
Discussion
The European mink (Mustela lutreola, L. 1761) is one of the most endangered mammals on the continent showing only a few scattered populations restricted to three separated regions. Human pressure (e.g., habitat fragmentation and hunting) is likely the main underlying cause of the current critical situation of European mink populations. Other factors affecting population viability such as past demographic events and the ecological dependence of the species on riparian habitats might also be responsible for local declines. The present study investigates the population genetics of the European mink based on a better survey of the distribution range of Mustela lutreola and a more representative number of specimens per locality with respect to prior studies [10, 11]. The different analyses performed on both mt and nuclear genetic data confirmed that the overall genetic variability was relatively high, as previously reported by Michaux et al. [10, 11], and comparable to the levels reported for other threatened and non-threatened mustelid species [16–23]. However, our results based on both geographic (Dataset I) and river drainage (Dataset II) sampling, indicate that this genetic variation is not homogeneously distributed throughout the species' range. Thus, Eastern European localities (NE + SE) and corresponding drainage basins (North and West Dvina, Volga and Danube rivers) revealed higher levels of genetic diversity than W localities and corresponding rivers.
Relative contribution of historical and contemporary events to the genetic structure of the European mink
At a large geographical scale, Bayesian clustering, FST pairwise comparisons and AMOVA analyses all rejected the null hypothesis of panmixia, supporting the existence of different groups of genetic diversity among W, NE, and SE European regions. Our Bayesian clustering analysis suggests the existence of at least two main genetic units of European mink defined by the eastern (NE + SE) and W European populations, respectively. At a more local scale, Eastern Europe was differentiated into NE and SE populations, and Western Europe into French and Spanish populations. The FCA plotting analysis also supported this pattern. Isolation due to large habitat fragmentation produces strong genetic drift among regions, and this may ultimately result in the significant genetic differences (NE vs. SE vs. France vs. Spain) detected in this study.
However, our Bayesian (ABC) results also indicate that the existence of these genetic units is relatively recent, and that they were historically connected after the last glaciation. In the network reconstructions, Eastern European (NE + SE) populations retained the most abundant missing intermediate haplotypes and showed the highest levels of genetic diversity, supporting the hypothesis that the European mink survived glacial periods across an extensive geographic area covering Eastern Europe around the central Russian Upland [10, 11] in additional refugia [24] to those postulated for temperate species in the Mediterranean region [25]. Several authors suggested the Eastern Palearctic around Siberia and Southern Ural Mountains as well as possible areas of central Europe as glacial refuges for the survival of different species during cold stages of the Late Pleistocene [24, 26, 27]. The species ascribed to these refuges (e.g., Picea abies [28], Rana arvalis [29] or Ips typographus [30]) have in common their continental or boreal distribution. Subfossil remains of European mink dated as Upper Würmian and Holocene have been cited for the Moscow region, Estonia, Latvia Poland, Ukraine and Romania [1, 31], supporting past wide presence of the species in eastern regions. Moreover, open landscapes of tundra and steppe forests of the Late Valdai (Würm) Glaciation in the Central Russian Upland region are also in favor of such refuge hypotheses, as these habitats are particularly adequate for the survival of European mink [32, 33]. The possibility that M. lutreola was able to survive glacial maxima in Eastern Europe is further supported by the non-significant results of performed neutrality tests. Bayesian skyline plot analysis also indicated a scenario of stable populations, suggesting that the demographic course of European mink was not seriously affected by Quaternary climate oscillations in the Late Pleistocene.
The AMOVA results showing no significant geographic structuring among regions strengthen the hypothesis of a rapid post-glacial expansion. According to the refuge theory [25, 34], rapid population expansion from refugia during interglacial periods would have entailed serial bottlenecking with progressive loss of allelic diversity, resulting in less population genetic diversity among the most recently colonised places. The star-like pattern for the European mink NE population inferred here is consistent with this theory. However, the patterns displayed by SE and W populations depart from expectations and additional events are needed to explain these patterns (see below).
The current distribution of European mink is closely linked to river courses, which could be the main force driving the historical and current genetic structuring of the species. We tested such hypothesis, and significant differentiation was detected associated to river drainages. However, this result could be an artifact since inclusion of populations with low numbers of individuals such as the Danube River population may have lead to overestimation in the detection of genetic structure of the species. In fact, AMOVA results on samples clustered according to different rivers were non significant. This suggests that European mink may be capable of dispersal across river drainages over long periods of time, provided that natural conditions are favorable, which still seems to be the case in some parts of the NE region, and likely was throughout Europe during the rapid postglacial expansion of European mink. In particular, field studies corroborate important movement capacity of the European mink during the reproductive period in populations with low densities, when animals are looking for potential mates, moving up to 40–50 km during these periods [35].
At present, however, natural conditions in riverine habitats are not that favorable for survival in much of the distribution of the species, and the significant levels of heterozygosity excess detected together with the results of genetic bottleneck analyses suggest that European mink has suffered recent (human-mediated) genetic bottleneck processes, which might result in local extinctions. This would be consistent with the reported overall demographic decline of the species during the past century [2]. Only individuals from rivers Garonne and Ebro, as well as Belarus locality, seemed to be exceptions to the general trend of genetic depletion detected for the species. Habitat fragmentation affecting dispersal across river drainages seems to be the major force behind interrupted gene flow among populations.
The origin of the W population of European mink has been the subject of a hot debate [36–38]. Our ABC analysis favored a scenario in which Eastern populations had successive cycles of genetic differentiation (e.g., due to isolation by distance) and posterior genetic admixture (e.g., through spread across river connections). The W population would have diverged from an ancestral eastern population encompassing both NE and SE genetic pools during a period of population admixture. The alternative scenario of no genetic differentiation/ admixture cycles within the Eastern region and thus a stable and continuous distribution range of European mink over time in this region was less preferred. Afterwards, the FR and SP would have separated at both sides of the Pyrenees leading to the currently observed genetic differentiation within the W population.
The ultimate causes of the observed genetic uniformity of the W population could be explained by several working hypotheses. If European mink was not present in the Western region until recently, low genetic diversity could be attributed either to natural migration of European mink into Western Europe from Central Europe or to a putative human-mediated introduction of individuals from Central and/ or Eastern Europe. If the presence of the species in Western Europe is old enough, a rapid decline of the population in France for unknown reasons causing a severe genetic bottleneck followed by restoration of the population could also explain the observed genetic pattern. Alternatively, other more general but less obvious causes influencing also other species than the European mink could be underlying the evolutionary process. Unfortunately, the poor fossil record of European mink in the Western region and the uncertainty associated to estimated divergence times based on genetic data do not allow dating when exactly the species started inhabiting the region. Moreover, the rapid extinction process of European mink from Central Europe precludes any valid conclusions with regard to the feasibility of competing hypotheses. Future studies that may be capable of obtaining genetic data from museum specimens originated in Central Europe, as well as other focused in the population genetic structure of other related species (e.g. polecat, otter, stoat) could help discerning among the above-mentioned hypotheses.
Conservation strategies
Since two-four isolated units of European mink exist, conservation criteria could be targeted at maintaining current genetic differences in these regions by managing them separately. However, our results indicate that throughout most of their evolutionary history, European mink populations were connected, and indeed likely formed a panmictic unit. Thus, the isolation of the units is viewed here as a recent human-induced event. The vast genetic differences detected among the distinct geographic areas are likely the result of the drastic population decline occurring during the past two centuries, although a founder effect cannot be precluded as an alternative source of the marked genetic divergence signature observed in W populations [10].
Hence, our results suggest that to return to the historical optimum of the species, European mink populations should actually be managed as a single management unit, and that strategies should be taken to promote gene flow among scattered existing populations. Actions to improve genetic connectivity are considered key to counteract inbreeding depression, as well as to preserve evolutionary potential and ensure long-term survival of endangered species [39–41]. Without such actions, the levels of genetic variability are currently so weak in some populations, that the risk of a rapid extinction is extremely high. To optimize conservation strategies, connectivity restoration programs need to minimize genetic threats arising from reduced outbreeding or loss of local adaptation [39, 42]. In addition, further in-situ actions (e.g., preserving an optimal ecological riverine niche, preventing infectious diseases, controlling American mink population) would minimize other factors increasing the extinction risk associated with the European mink [43–45].
Conclusions
Based on both mt and nuclear (microsatellite) data, we found that the European mink populations of the Eastern European region (NE and SE) hold the highest genetic diversity. In contrast, the low values of genetic polymorphism and the structure detected in the W populations could be the result of founder events, possibly followed by genetic depauperation. Our results suggest that European mink populations were stable during Late Pleistocene climate oscillations, expanded through river connections after the last glaciation period, and later suffered relative high levels of extinction (e.g., in central Europe). Moreover, European mink likely experienced recent bottleneck events throughout Europe, consistent with the reported overall demographic decline of the species during the past centuries. According to the genetic patterns observed in this study, management strategies aimed to halter the ongoing decline of the endangered European mink should promote gene flow among scattered populations in order to improve genetic connectivity.
Declarations
Acknowledgments
The authors thank Gorka Belamendia, Joseba Carreras, Juan Carlos Ceña, Angus Davison, Mirenka Ferrer (TRAGSA), Asunción Gómez, Jorge González, Vladimir Katchanovsky, Luis Lobo, Javier López de Luzuriaga, Sisco Mañas, Tiit Maran, Javier Pinedo, Madis Pödra, Javier Zabala, Iñigo Zuberogoitia and the Wildlife Recovery Centres of Mártioda-Álava and Burgos (Castilla León) for providing the different mustelid samples. This work was partially funded by three LIFE projects ("Conservación del visón europeo (Mustela lutreola) en "Castilla León" LIFE 00/NAT/E7229, La Rioja" LIFE 00/NAT/E7331 and "Álava" LIFE 00/NAT/E7335), and grants from the Diputación Foral de Álava and the University of the Basque Country (GIU 06/09) awarded to BJGM. The Basque Government (BG) also financed this study (project numbers IT317-10; IT575-13). MTC had a fellowship from the BG.
Authors' Affiliations
(1)
Departamento de Zoología y B.C.A., Facultad de Farmacia, Universidad del País Vasco UPV/EHU, Vitoria-Gasteiz, Spains
(2)
Laboratoire de Biologie Évolutive, Institut de Botanique (Bat.22), Université de Liège (Sart Tilman), Liège, Belgium
(3)
Departamento de Biodiversidad y Biología Evolutiva, Museo Nacional de Ciencias Naturales, CSIC, Madrid, Spain
(4)
Centre de Biologie et de Gestion des Populations, CBGP, Campus international de Baillarguet, Montferrier-sur-Lez, France
(5)
Russian Research Institute of Game Management and Fur Farming, Kirov, Russia
(6)
Institute of Wildlife Biology and Game Management, BOKU University of Natural Resources and Life Sciences, Vienna, Austria
(7)
Groupe de Recherche et d'Etudes pour la Gestion de l'Environnement (GREGE), Villandraut, France
(8)
Departament de Biologia Animal, Facultat de Biologia, Universitat de Barcelona, Barcelona, Spain
Copyright
© Cabria et al. 2015
This is an Open Access article distributed under the terms of the Creative Commons Attribution License (http://creativecommons.org/licenses/by/4.0), which permits unrestricted use, distribution, and reproduction in any medium, provided the original work is properly credited. The Creative Commons Public Domain Dedication waiver (http://creativecommons.org/publicdomain/zero/1.0/) applies to the data made available in this article, unless otherwise stated.