Research article

Open Access
Rapid growth accelerates telomere attrition in a transgenic fish
BMC Evolutionary Biology
2015
15:159
Received: 4 May 2015
Accepted: 29 July 2015
Published: 14 August 2015
Abstract
Background
Individuals rarely grow as fast as their physiologies permit despite the fitness advantages of being large. One reason may be that rapid growth is costly, resulting for example in somatic damage. The chromosomal ends, the telomeres, are particularly vulnerable to such damage, and telomere attrition thus influences the rate of ageing. Here, we used a transgenic salmon model with an artificially increased growth rate to test the hypothesis that rapid growth is traded off against the ability to maintain somatic health, assessed as telomere attrition.
Results
We found substantial telomere attrition in transgenic fish, while maternal half-sibs growing at a lower, wild-type rate seemed better able to maintain the length of their telomeres during the same time period.
Conclusions
Our results are consistent with a trade-off between rapid growth and somatic (telomere) maintenance in growth-manipulated fish. Since telomere erosion reflects cellular ageing, our findings also support theories of ageing postulating that unrepaired somatic damage is associated with senescence.
Keywords
Telomere Length
Brown Trout
Coho Salmon
Telomere Repeat
Transgenic Fish
Background
Growing to a large body size often provides selective advantages, both in terms of an individual's own survival as well as its fecundity. Therefore, one would expect individuals to grow as fast as they can. Such maximum growth rates are rarely observed, however, suggesting that rapid growth is costly [1, 2]. Generally, trade-offs in nature arise from energy and time constraints, and an individual is expected to allocate a finite amount of resources to various processes in such a way as to maximise its fitness. Indeed, several studies have documented a link between growth rate and lifespan (e.g. [3]; reviewed in [4]). In addition, the phenotypic effects of growth hormone (GH) transgenesis in fish and mice include shorter lifespans compared to wild-type controls, further supporting a trade-off between investments in growth and longevity assurance measures (e.g. [5–7]). However, the mechanistic links behind this trade-off are far from understood.
Phenotypic growth, the increase in body size due to cell proliferation, requires activation of DNA and protein synthesis. The by-products of aerobic metabolism are free radicals, such as reactive oxygen species (hereafter ROS), which have important functions as cell signalling molecules [8, 9]. However, when produced in excess, e.g. during rapid growth, they result in oxidative stress and damage macromolecules including DNA, proteins and lipids [8–10]. The free radical theory of ageing [11] postulates that ageing processes are governed by the accumulation of unrepaired somatic damage incurred by free radicals. An elevated growth rate may therefore result in accelerated ageing and a shortened lifespan (e.g. [12]).
To enable a longer intrinsic lifespan, an organism relies on an extensive suite of maintenance mechanisms including DNA and protein repair, defences against ROS, apoptosis, immune response, and wound healing [13]. In particular, telomeres and their maintenance have emerged as an important factor influencing the rate of cellular and organismal senescence (e.g. [14–16]). These dynamic nucleoprotein structures at the end of eukaryotic chromosomes have a multitude of vital functions. For example, a telomere and its associated shelterin complex promote genome stability [17], and play an important role in modifying the expression of subtelomeric genes [18]. Because conventional DNA polymerases are unable to complete the replication of the lagging strand, telomeres shorten at a slow pace with each replicative cell cycle (the so called end-replication problem; [19]). Numerous empirical studies have thus documented a negative relationship between age and telomere length of cells or individuals (e.g. [14, 20]). In addition, the sequence of telomeric DNA is particularly prone to attack from ROS [21, 22]. Consistently, oxidative stress was shown to cause an increased number of single-strand breaks leading to the loss of distal telomere fragments and accelerated telomere attrition [23]. This mechanism of telomere shortening may therefore be more important for the rate of ageing than incomplete replication [23]. Since only sufficiently long telomeres are able to exert their functions, cells may express the enzyme telomerase to counteract various telomere-shortening factors [24, 25]. This ribonucleoprotein enzyme uses an integrated RNA template to specifically elongate telomeric DNA at chromosome termini [15].
In birds and mammals, telomere attrition is slower in long-lived species than in short-lived ones (e.g. [20, 26, 27]). Moreover, individuals with relatively long telomeres for their age have higher fitness, including greater longevity (e.g. [20, 28, 29]). Fishes have evolved a large variety of life-history strategies, and most fish species continue to grow throughout life [30]. In contrast to humans, somatic cells in fish express significant levels of telomerase (reviewed in [31]), suggesting improved telomere length maintenance as a possible mechanism behind indeterminate growth. Indeed, also the remarkable ability of fish to regenerate rayed fins and other organs may be achieved through upregulation of telomerase expression [32, 33], or through activation of local stem cells (reviewed in [34]) that have retained an individual's initial telomere length [25].
With a fast increasing human population while wild fish stocks are dwindling, transgenic technologies have been explored in the hope to improve aquaculture food production efficiency and yield of commercially important fish species. For example, substantially faster growth rates in GH-transgenic salmons are achieved by stable incorporation of a constitutively expressed GH gene construct into the fish's genome [35–37]. The effects of enhanced growth in the semelparous coho salmon (Oncorhynchus kisutch) are apparent throughout life and include significantly earlier hatching of larger and heavier fry, earlier onset of smoltification and sexual maturation, and a shortened lifespan [6]. This "live life in the fast lane" phenotype therefore follows predictions from the free radical theory of ageing, making growth-enhanced transgenic fish a suitable model to study mechanisms behind the ageing process as well as costs of rapid growth.
Using a paired design (i.e. analysing repeat samples of the same individual), we tested the hypothesis that growth rate affects telomere maintenance, potentially influencing the rate of cellular ageing. We thus examined whether GH-transgenic fish with a markedly increased growth rate compared to wild-type maternal half-sibs were (1) unable to maintain the length of their telomeres, and (2) consequently had shorter telomeres in non-regenerated fins compared to equivalent regenerated fins (since the telomeres of the latter should have been restored, as argued above).
Results
After 10 months growth, GH transgenesis had resulted in on average 54-fold heavier and 7-fold longer fish compared to wild-type maternal half-sibs. Thus, mean length and weight gain for wild-type fish were 3.8 ± 0.7 cm (
n
 = 14) and 13.5 ± 1.4 g (
n
 = 15), while the corresponding values for transgenic fish were 25.5 ± 1.1 cm and 731.1 ± 58.6 g (
n
 = 23; Fig.
2
).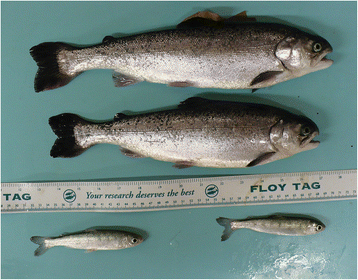 TL in wild-type fish ranged between 0.532 and 1.0564 (n = 15), and between 0.614–1.585 in transgenics (n = 23) [50]. On average, wild-type fish had shorter telomeres than transgenics on both sampling occasions (two-sample t-test, initial sampling: p < 0.001, final sampling: p = 0.005).
In the fast-growing transgenic fish, telomeres shortened substantially, on average 24.1 %, while only a relatively small change was observed in the wild-type fish, 1.9 %. Repeated measures of fin TL thus revealed a substantial loss of telomeres in transgenic fish (paired t-test,
t
 = –5.51,
p
 < 0.0001), whereas no significant change was found in fish growing at a wild-type rate (
t
 = –0.41,
p
 = 0.69; Fig.
3
). The effect of the genotype on telomere loss rate is further illustrated in Fig.
4
.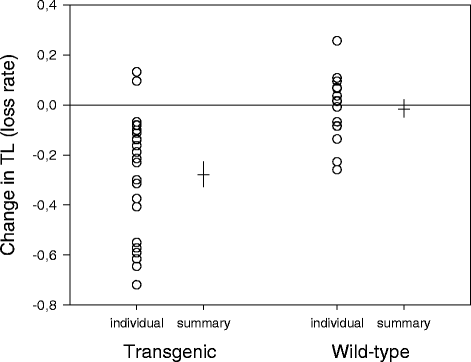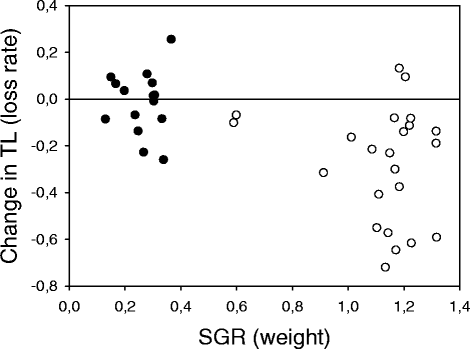 Fin regeneration appeared to have a positive effect on TL in transgenic fish. Comparing TL in both pelvic fins clipped on the same sampling occasion, we found that telomeres in the regenerated fin were longer than in the equivalent fin that had not previously been clipped (paired t-test,
t
 = 2.50,
p
 = 0.021). In contrast, there was no significant difference in TL between regenerated and unscathed fins of wild-type coho (
t
 = 0.43,
p
 = 0.67; Fig.
5
).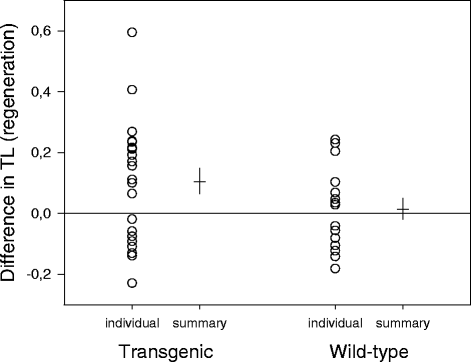 Discussion
By analysing individuals repeatedly, we found a 12 times faster rate of telomere shortening in our sample of GH-transgenic coho salmons compared to their wild-type maternal half-sibs. Given the technical challenges and regulatory requirements when working with transgenic fish or other GMOs ([37] and references therein), we were not able to assess whether the difference in telomere loss rate between the two genotypes and their associated growth trajectories was influenced by other factors such as family or tank effects. As argued above, however, it seems likely that any such effects would be relatively small given the huge difference in growth between the genotypes (Fig. 2).
We did not detect any significant loss of telomeres in the wild-type fish (nor did we find a significant difference in TL between their regenerated and unscathed fins). Due to relatively small sample and effect sizes, however, we had low statistical power in these tests (<20 %) and can therefore not rule out that a larger sample might reveal a minor shortening of telomeres in these fish. Even so, our results demonstrate a striking difference in telomere erosion rate between the two genotypes (Figs. 3 and 4).
At both sampling occasions, transgenic fish had longer telomeres than wild-type fish. Our current data do not allow an investigation of possible reasons for this pattern. It might be explained by founder effects as TL is largely heritable across a taxonomically wide range of investigated species (e.g. [51–53]). Further work is required to determine the reasons for the difference in TL, as well as the generality of our results on telomere loss rate. Nevertheless, the striking difference in telomere attrition between transgenic and wild-type fish seems consistent with a trade-off between fast growth and somatic maintenance. Interestingly, Näslund et al. [41] recently presented results supporting that rapid growth induces costs in terms of reduced telomere maintenance in a related species, the brown trout. Below, we address the causes and consequences of telomere attrition in our model system.
Conclusions
We show that enhanced growth is associated with accelerated telomere loss in a growth-manipulated fish model, while the wild-type maternal half-sibs, growing at natural rates, appeared able to maintain their telomeres. Our findings are consistent with the hypothesized evolutionary trade-off between rapid growth and somatic maintenance, and support long-standing theories of ageing.
Availability of supporting data
The data set supporting the results of this article is available in the Dryad Digital Repository [50].
Declarations
Acknowledgements
We thank Johanna Borlid for assistance with molecular work, Benjamin Goh, Krista Woodward, and Geordia Rigter for keeping fish stocks and sampling, Britt Wassmur for sharing beta-actin primer sequences, and the Editor and two anonymous reviewers for constructive comments. The study was supported by Formas (21.5/2002-1037 and 215-2009-463, DB; 2008-383, JIJ), funding from Oscar och Lili Lamms Minne (FO2009-0007 and FO2012-0039, AP), Carl Tryggers Stiftelse (CTS 09:294, AP), as well as by the Canadian Regulatory System for Biotechnology (RHD).
Open Access This article is distributed under the terms of the Creative Commons Attribution 4.0 International License (http://creativecommons.org/licenses/by/4.0/), which permits unrestricted use, distribution, and reproduction in any medium, provided you give appropriate credit to the original author(s) and the source, provide a link to the Creative Commons license, and indicate if changes were made. The Creative Commons Public Domain Dedication waiver (http://creativecommons.org/publicdomain/zero/1.0/) applies to the data made available in this article, unless otherwise stated.
Authors' Affiliations
(1)
Department of Biological and Environmental Sciences, University of Gothenburg, Gothenburg, Sweden
(2)
Marine Ecosystems and Aquaculture Division, Fisheries and Oceans Canada, West Vancouver, Canada