Research article
Open Access
Multiple independent origins of auto-pollination in tropical orchids (Bulbophyllum) in light of the hypothesis of selfing as an evolutionary dead end
Alexander Gamisch

1

Email author

,

Gunter Alexander Fischer

2 and

Hans Peter Comes

1
BMC Evolutionary Biology
2015
15:192
Received: 6 July 2015
Accepted: 28 August 2015
Published: 16 September 2015
Abstract
Background
The transition from outcrossing to selfing has long been portrayed as an 'evolutionary dead end' because, first, reversals are unlikely and, second, selfing lineages suffer from higher rates of extinction owing to a reduced potential for adaptation and the accumulation of deleterious mutations. We tested these two predictions in a clade of Madagascan Bulbophyllum orchids (30 spp.), including eight species where auto-pollinating morphs (i.e., selfers, without a 'rostellum') co-exist with their pollinator-dependent conspecifics (i.e., outcrossers, possessing a rostellum). Specifically, we addressed this issue on the basis of a time-calibrated phylogeny by means of ancestral character reconstructions and within the state-dependent evolution framework of BiSSE (Binary State Speciation and Extinction), which allowed jointly estimating rates of transition, speciation, and extinction between outcrossing and selfing.
Results
The eight species capable of selfing occurred in scattered positions across the phylogeny, with two likely originating in the Pliocene (ca. 4.4–3.1 Ma), one in the Early Pleistocene (ca. 2.4 Ma), and five since the mid-Pleistocene (ca. ≤ 1.3 Ma). We infer that this scattered phylogenetic distribution of selfing is best described by models including up to eight independent outcrossing-to-selfing transitions and very low rates of speciation (and either moderate or zero rates of extinction) associated with selfing.
Conclusions
The frequent and irreversible outcrossing-to-selfing transitions in Madagascan Bulbophyllum are clearly congruent with the first prediction of the dead end hypothesis. The inability of our study to conclusively reject or support the likewise predicted higher extinction rate in selfing lineages might be explained by a combination of methodological limitations (low statistical power of our BiSSE approach to reliably estimate extinction in small-sized trees) and evolutionary processes (insufficient time elapsed for selfers to go extinct). We suggest that, in these tropical orchids, a simple genetic basis of selfing (via loss of the 'rostellum') is needed to explain the strikingly recurrent transitions to selfing, perhaps reflecting rapid response to parallel and novel selective environments over Late Quaternary (≤ 1.3 Ma) time scales.
Keywords
Internal Transcribe SpacerMarkov Chain Monte CarloMating TypeExtinction RateBayesian Inference Analysis
Background
Flowering plants (angiosperms) display a bewildering diversity and, in many cases, complexity of mating systems compared to most animal groups [1, 2]. The overwhelming majority of angiosperms are characterized by cross-pollination of their flowers, whereby mechanisms preventing self-fertilization range from the separation of sex functions within flowers (herkogamy, dichogamy) and plants (monoecy), to separate sexes (dioecy), and self-incompatibility (SI) systems [2, 3]. Still, about 20–25 % of all flowering plant species are predominantly selfing [4], which is commonly thought to reflect two main advantages, which are not necessarily mutually exclusive. First, selfing genes should enjoy a two-fold transmission advantage over genes for outcrossing [5–7] and, second, the loss or paucity of pollinators or mates should selectively favour selfing individuals/populations because it provides reproductive assurance [8–10]. On the other hand, inbreeding depression has long been recognized to counteract the evolution of selfing and explaining the maintenance of outcrossing [11–13]. In fact, selfing lineages or taxa are typically assumed to be an evolutionary 'blind alley', or 'dead end' ([14–17]; selfing as an evolutionary dead end or SEDE hypothesis), presumably because of their limited capacity to adapt to changing environment, or their susceptibility to the accumulation of deleterious mutations [2, 7, 14]. Taking a macroevolutionary perspective, however, our body of knowledge is still limited regarding the historical evolutionary dynamics of mating system transitions among closely related taxa differing in outcrossing vs. selfing strategies and over extended time scales.
Several underlying assumptions of the SEDE hypothesis, as originally proposed by Stebbins [15, 16], have turned out to be more complex than initially thought. Nonetheless, there is wide consensus about two major predictions: (1) evolutionary change is unidirectional and irreversible from outcrossing to selfing; and (2) selfing lineages suffer from an increased risk of extinction owing to a reduced potential for adaptation [7, 14, 17]. Consistent with both connotations, several molecular phylogenies have inferred outcrossing systems to be ancestral, with selfing species commonly located at terminal branches [18–23]. However, the historical dynamics of outcrossing-to-selfing transitions are often difficult to reconstruct and a few studies have even pointed out the possibility of reversals [21, 24–29]. Moreover, potential departures from theory are generally suspected to result from methodological difficulties associated with, for example, phylogenetic estimation per se, incomplete or missing taxonomic accounts, ambiguous character state coding, and/or subjectively chosen character transformation weights [17, 24, 25, 30, 31]. Other challenges are posed by the presence of intraspecific mating type polymorphisms (e.g., [25]), and possible confounding effects of diversification and character state evolution [28, 32, 33]. Perhaps most strikingly, the second claim of the SEDE hypothesis, concerning the assumed higher extinction [viz. negative net diversification (speciation minus extinction) rate] associated with selfing, has largely been ignored in the literature [14], possibly because of the difficulties of obtaining accurate and unbiased estimates of extinction rates from molecular phylogenies [33–35].
However, recent developments of model-based methods of phylogenetic inference, molecular dating, and ancestral character state reconstructions [36, 37] should overcome at least some of the past methodological obstacles encountered in phylogenetic studies of mating type evolution. More reliable tests of the SEDE hypothesis are also expected from a recently developed, yet sparingly employed tree-based model of character evolution (Binary State Speciation and Extinction [BiSSE]; [33, 38]) that allows the joint estimation of rates of binary character change as well as state-dependent rates of extinction and speciation [39–41]. By capitalizing on these recent advances, the present study investigates mating type shifts (outcrossed vs. self-fertilized) during the diversification of a well-defined clade of epidendroid orchids of the genus Bulbophyllum Thouars from Madagascar and adjacent islands. No study to date has subjected members of Orchidaceae to such kind of macroevolutionary analysis, and there are several reasons detailed below why this group of tropical orchids provides a particular interesting system for the study of selfing evolution.
Most species of
Bulbophyllum
(ca. 2400 spp.; [
42
]) are tropical epiphytes, self-compatible, and adapted to cross-pollination by flies or more rarely bees [
43
,
44
], with flowers typically possessing an erect, non-receptive 'rostellum'. This is a shelf-like projection of the column (i.e., the united androecium/gynoecium of orchids), which separates the single anther from the stigmatic cavity below, thereby preventing self-fertilization without the aid of a vector (i.e., auto-pollination;
sensu
[
45
]) and aiding in gluing the pollinia to the pollinator [
43
,
46
]. However, recent micro-morphological and experimental studies in
Bulbophyllum
from Madagascar and adjacent islands [
47
,
48
] have identified eight species that vary intra-specifically for rostellum and thus mating type. In detail, auto-pollinating individuals (or 'morphs') differ from their outcrossing conspecifics (Type I) in the lack of the rostellum (Type II; see Fig.
1
) or, in case of a single species, in displaying a sub-erect rostellum with stigmatic function (Type III; [
47
,
48
]). These dimorphic species belong to a taxonomically and phylogenetically well-circumscribed clade (henceforth, 'clade C') comprising sects.
Calamaria
,
Humblotiorchis
, and
Bifalcula
[
49
,
50
]; Fischer et al., unpubl. data). All remaining species of this lineage, as well as, representatives of related sections studied so far, are monomorphic for the outcrossing rostellum type [
48
]. Although the precise genetic control and heritability of Types I–III remain obscure, each morph is presumed to be genetically encoded and unresponsive to environmental influences, as within-individual variation in mating type was not observed under controlled conditions [
47
,
48
].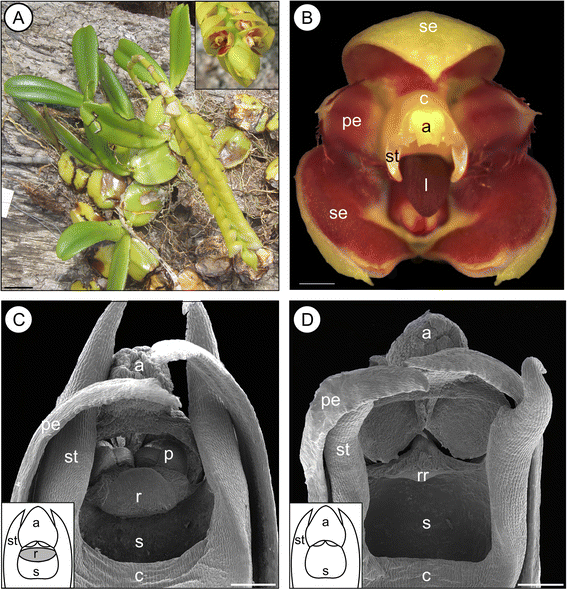 Observing a relatively high incidence of auto-pollination in Bulbophyllum is rather unexpected because this genus has long been considered to be highly pollinator-dependent (see above). Even though estimates of auto-pollination in Orchidaceae as a whole (ca. 25,000 spp.) are relatively high with about 31 % of species [51, 52], auto-pollination is generally considered to be rare in species from the tropics [45, 53], excepting small islands (e.g., La Réunion; [54]). When compared to other earlier phylogenetic studies of selfing evolution [7, 20, 21, 26–28, 55, 56], our study system is notable in at least two respects: (1) selfing is not achieved through the breakdown of a floral multi-organ (e.g., heterostyly) or genetic (e.g., SI) mechanism associated with outcrossing but rather due to a structural, discrete-state character transition affecting floral micro-morphology (i.e., rostellum presence/absence); and (2) selfing morphs ('selfers') apparently only coexist with their pollinator-dependent conspecifics ('outcrossers'), i.e., selfing is never fixed within species. Because conspecific individuals differing in morph-type are virtually identical in overall (floral, vegetative) phenotype [47, 48], selfing may have evolved only recently and multiple times within clade C. This hypothesis, however, has yet to be tested since phylogenetic relationships within clade C still remain obscure due to incomplete taxon and gene sampling in an earlier phylogenetic analysis [50].
The overall aim of this study was to examine the polarity, frequencies, time scales, and consequences of mating type transitions during the diversification of clade C in order to test major predictions raised by the SEDE hypothesis, i.e., irreversibility of transitions to selfing and high extinction rate of selfing species. Our first aim was to infer a robust, fossil-calibrated phylogeny of clade C using DNA sequence data (five plastid and three nuclear loci) to explore the timing and tempo of species diversification. Second, we reconstructed ancestral character states onto the phylogenetic tree to evaluate when and how often transitions occurred between outcrossing and 'selfing' (viz. dimorphic) mating types, and whether uni- or bi-directionally. Finally, we used the state-dependent BiSSE model of character evolution to recover the processes proposed by the SEDE hypothesis, and to test in particular whether the evolution of selfing in these tropical orchids was associated with higher levels of extinction. Overall, this study is the first to demonstrate within a macroevolutionary framework that, contrary to prevailing views, selfing not always needs to be an endpoint of mating type evolution in flowering plants, suggesting instead more frequent origins of this character than previously thought.
Discussion
According to recent reformulations [7, 14], Stebbins' SEDE hypothesis conflates two distinct claims: (1) transition rates from selfing to outcrossing are zero; and (2) the net diversification rate (speciation rate minus extinction rate) is negative for selfing taxa, implying a higher risk of extinction (i.e., shorter evolutionary lifespan) for selfing relative to outcrossing taxa [2, 17, 20, 25]. Our results for Madagascan Bulbophyllum clade C support the first claim of the SEDE hypothesis (irreversibility of transitions to selfing) and we find some, albeit no definite evidence for the second (higher extinction rates for selfers). In principle, therefore, our data are largely congruent with predictions raised by the SEDE hypothesis [14], but some of the patterns observed suggest that selfing represents a starting-point rather than a terminus of mating-system evolution in these tropical orchids. Below we discuss the evidence and possible causes for the strikingly recurrent and probably very recent transitions to selfing in our study system.
Conclusions
In this study, we examined the evolution of selfing (auto-pollination) in Madagascan Bulbophylum orchids (clade C) in the light of two predictions raised by the classical SEDE hypothesis: (1) irreversible transitions from outcrossing to selfing; and (2) elevated extinction rates associated with the selfing state. Although we find convincing support for the first prediction, results remain inconclusive on whether or not extinction contributes to the twiggy phylogenetic distribution of selfing in clade C. Despite this latter limitation, we suspect that selfing has evolved too recently in this group to detect elevated extinction and/or speciation rates associated with this state. We further hypothesize that a simple genetic basis of rostellum loss may explain the strikingly recurrent transitions to selfing in our study system (i.e., exclusively within species), perhaps reflecting rapid response to parallel and novel selective environments over Late Quaternary (≤ 1.3 Ma) time scales. Future demographic and genomic studies of these and other tropical orchids with an apparent lability towards rostellum abortion have thus the potential to unravel novel perspectives on the ability of some natural systems to rapidly evolve selfing as a means of avoiding extinction in the face of ever changing environments.
Availability of supporting data
The data sets supporting the results of this article are included within the article (and its Additional files 1, 2, 3, 4, 5, 6, 7, 8, 9, 10, 11, 12 and 13). Nucleotide sequence data supporting the results of this article are available in GenBank [see Additional file 1]. The phylogenetic data sets supporting the results of this article are available in the Dryad Digital Repository [doi:10.5061/dryad.35935].
Declarations
Acknowledgements
We thank members of the Botanical Garden of Vienna University (M. Kiehn, A. Sieder), the Parc Botanique et Zoologique de Tsimbazaza (S. Rapanarivo, J. Andriantiana), and the Université de la Réunion (T. Pailler) for general support and help with fieldwork in Madagascar and La Réunion, the Département des Eaux et Fôrets (Madagascar) and the Parc National de La Réunion for issuing collecting permits, the curators of REU, SZU, TAN, and WU for the loan of Bulbophyllum specimens, the Jodrell Laboratories (Kew) for providing DNA samples, and G. Hochschartner for making available unpublished sequences. We also thank G. Brunauer and M. Affenzeller for lab support and E. Egger and her team for Bulbophyllum cultivation at Salzburg Botanical Garden. We extend special thanks to R.J. Abbott (University of St. Andrews), H.P. Linder (University of Zürich.) and H. Schäfer (Technical University Munich) for stimulating discussions on this research topic, and to J. de Vos (Brown University) and three anonymous reviewers for very insightful comments on an earlier version of this manuscript. This study was funded by the FWF (Austrian Science Fund) grants P20726-B03 and P17124-B0 to H.P.C. and G.A.F., respectively. All authors disclose any potential sources of conflict of interest.
Open AccessThis article is distributed under the terms of the Creative Commons Attribution 4.0 International License (http://creativecommons.org/licenses/by/4.0/), which permits unrestricted use, distribution, and reproduction in any medium, provided you give appropriate credit to the original author(s) and the source, provide a link to the Creative Commons license, and indicate if changes were made. The Creative Commons Public Domain Dedication waiver (http://creativecommons.org/publicdomain/zero/1.0/) applies to the data made available in this article, unless otherwise stated.
Authors' Affiliations
(1)
Department of Ecology and Evolution, University of Salzburg, Salzburg, Austria
(2)
Kadoorie Farm and Botanic Garden Corporation, Tai Po, Hong Kong