Research article
Open Access
Evolutionary history exposes radical diversification among classes of interaction partners of the MLLE domain of plant poly(A)-binding proteins
BMC Evolutionary Biology
2015
15:195
Received: 29 June 2015
Accepted: 3 September 2015
Published: 16 September 2015
Abstract
Background
Poly(A)-binding proteins (PABPs) are evolutionarily conserved proteins that have important functions in the regulation of translation and the control of mRNA stability in eukaryotes. Most PABPs encode a C-terminal domain known as the MLLE domain (previously PABC or CTC), which can mediate protein interactions. In earlier work we identified and predicted that four classes of MLLE-interacting proteins were present in Arabidopsis thaliana, which we named CID A, B, C, and D. These proteins encode transcription-activating domains (CID A), the Lsm and LsmAD domains of ataxin-2 (CID B), the CUE and small MutS-related domains (CID C), and two RNA recognition domains (CID D). We recently found that a novel class that lacks the LsmAD domain is present in CID B proteins.
Results
We extended our analysis to other classes of CIDs present in the viridiplantae. We found that novel variants also evolved in classes CID A and CID C. A specific transcription factor domain is present in a distinct lineage in class A, and a variant that lacks at least two distinct domains was also identified in a divergent lineage in class C. We did not detect any variants in Class D CIDs. This class often consists of four to six highly conserved RNA-binding proteins, which suggests that major redundancy is present in this class.
Conclusions
CIDs are likely to operate as components of posttranscriptional regulatory assemblies. The evident diversification of CIDs may be neutral or may be important for plant adaptation to the environment and for acquisition of specific traits during evolution. The fact that CIDs subclasses are maintained in early lineages suggest that a presumed interference between duplicates was resolved, and a defined function for each subclass was achieved.
Keywords
eRF3Sequence LOGOsBasal SpeciesBrassicaceae SpeciesPanicum Virgatum
Background
Poly(A) binding protein (PABP) binds to the 3′ poly(A) tail of messenger RNA (mRNA) [1]. This protein is evolutionarily conserved across eukaryotes and has expanded in plants as a multigene family [2, 3]. PABPs are involved in most aspects of mRNA biology (translation, stability, export, deadenylation, and biogenesis). PABP domain structure consists of an amino-terminal domain that includes four distinct RNA recognition motifs (RRM1-4), followed by a linker region and a carboxy-terminal domain known as MLLE (formerly CTC or PABC). The MLLE domain binds proteins that contain a poly(A)-binding protein interacting motif 2 (PAM2) [4–6].
PABP is viewed as a translation initiation factor that stimulates translation promoting mRNA circularization [1]. It bridges between the poly(A) and the 5′ cap structure, mediated by the interaction with the eukaryotic translation initiation factor 4G and 4E (eIF4G and eIF4E) complex [7–9]. PABP function can also be modulated within assemblies by the interaction with other factors. Two human proteins, PABP-interacting protein 1 (Paip1) and PABP-interacting protein 2 (Paip2), enhance or suppress translation, respectively, by binding to PABP. Both Paip proteins bind to PABP using two separate motifs; one motif protein corresponds to an acidic segment that binds to the RRM and the other to PAM2, which binds to MLLE [10]. The MLLE domains of the PABPs also mediate the interactions with several other proteins. Some of these proteins are involved with RNA metabolism, such as ataxin-2, eIF4b, eRF3, GW182, HEZL, and LARP4. Other proteins, which may have a role in translation regulation, are MKRN1 and TOB1/2, which encode an E3 ubiquitin-ligase and an anti-proliferative protein that suppresses cell growth, respectively [11, 12]. The MLLE and PAM2 domains are conserved in the plant kingdom, so PABP-interacting proteins have also been described in plants. Proteins that interact with MLLEs have been identified and designated as CIDs (CTC-interacting domains) [13]. Thirteen Arabidopsis thaliana CIDs containing distinct domains have been grouped into four classes (A–D). This diversity and abundance of PABP interactors suggests that CIDs may affect translational control in plants [13].
Little is known about the modulation of PABP assemblies in plants. We previously performed a genome-wide survey of group B CIDs (ataxin-2 orthologs) across eukaryotic organisms to further understand the evolution and divergence of CIDs. Class B includes four
A. thaliana
genes (
CID3
,
CID4
,
CID16,
and
CID17
), which are orthologs of the mammalian ataxin-2 and yeast Pbp1 genes [
13
]. They encode evolutionarily conserved proteins across eukaryotes. These proteins have been implicated in spinocerebellar ataxia type 2 (SCA2) and amyotrophic lateral sclerosis (ALS) in humans, two progressive neurodegenerative diseases. They contain a Like RNA splicing domain Sm1 and Sm2 (Lsm), which potentially binds RNA, and a Like-Sm-associated domain (LsmAD) that includes a clathrin-mediated trans-Golgi signal (Fig.
1
). LsmAD also mediates the interaction with the DEAD/H-Box RNA helicase DDX6. CID16 and CID17 are derivatives that lack LsmAD, which suggests that new subcellular distributions and functional properties have developed on these variants. Notably, in both CID3 and CID4 PAM2 is composed of two tandem reiterations that may provide them with alternative functional features (Fig.
1
).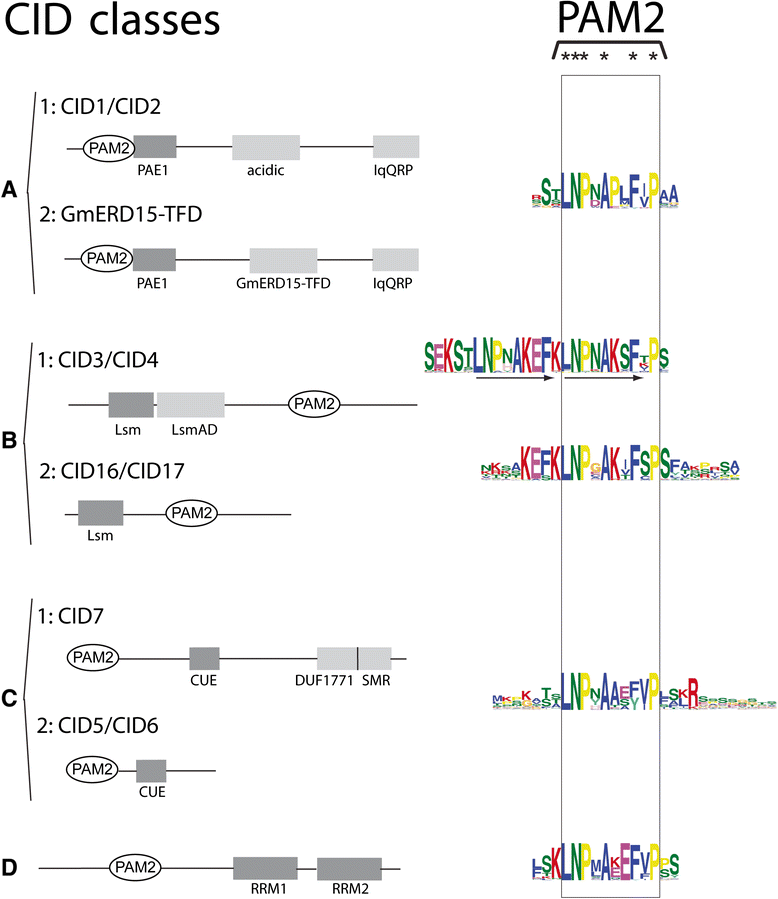 The objective of the current study was to continue the analysis by surveying the other three groups of CIDs across plant species. We found that similar to group B, newly evolved functions might have diverged in two additional groups after loosing defined domains. This diversification may be neutral or might represent novel responses to a variety of environmental changes. The presence of these novel gene functions suggests that some CIDs might participate to increase complexity within the PABPs assemblies providing new and refined ways to modulate translation in plants.
Methods
CID identification and retrieval
The sequences used in this work were retrieved from 39 Viridiplantae genomes deposited in the Phytozome 10.2 database (http://phytozome.jgi.doe.gov/pz/portal.html#) and from the previous version, Phytozome 9.1. The genomes included 2 basal plant species (a Bryophyte and a Lycophyte), 1 basal angiosperm, 7 monocots, and 28 eudicot plants (species and genes are listed in Additional file 1). Seven truncated sequences were readily assembled into CID-like genes using visual inspection (i.e., Arabidopsis lyrata 883045, Thellungiella halophila Thhalv10012369m, Mimulus guttatus v1.1 mgv1a014050m, Setaria italica Si014490m, Panicum virgatum v0.0 Pavirv00050533m, Selaginella moellendorffii 56081, and Selaginella moellendorffii 66365. We performed BLAST searches using the complete polypeptide sequences of the Arabidopsis thaliana orthologs CID1, CID5, CID7, and CID8.
Sequence alignments and phylogenetic analysis
Peptide sequence alignments were performed using ClustalX software version 2.0.12 20 [14]. Maximum-likelihood (ML), neighbor-joining (NJ), and maximum-parsimony (MP) phylogenetic trees were generated using MEGA 6 software [15]; 1000 bootstrap replicates were obtained in the NJ and MP analysis. The Jones-Taylor-Thornton model was used with 20 gamma categories and the posterior probabilities support values for each node were computed by resampling 1000 times during the ML estimation. Statistical significance in percentages >50 % for the NJ and maximum-parsimony (MP), and posterior probabilities <0.5 for the maximum-likelihood (ML) are indicated on the nodes. Phylogenetic trees were based on complete protein sequences or on distinct domains that were generally included in a sequence LOGO. For example, the 29 amino acid segment comprising PAE1 (LOGO #A1), the 41 amino acid segment comprising the CUE domain (LOGO #C1), and the 174 amino acid segment comprising both RRM domains were used to generate the trees in classes A, C, and D, respectively. The trees were displayed and edited by iTOL (Interactive Tree Of Life, http://itol.embl.de/) software [16].
Generation of sequence LOGOs
As previously detected in class B, the apparent occurrence of gene variants within classes of CIDs is a readily noticeable characteristic. We used MEME software (University of Queensland, St. Lucia, Australia) to search for CID classes A, C, and D and discover motifs that might support CID classification and have functional significance. Conserved motifs for each protein class were obtained using Multiple EM for Motif Elicitation (MEME) version 4.9.1 (http://meme.nbcr.net/meme/cgi-bin/meme) [17]. The parameter values of 0 or 1 per sequence, and 6 and 75 amino acids as minimum and maximum sizes of motifs, respectively, were used. The E-value cutoff was < e-10. The sequences that had the characteristics for CID class definition or that contained known domains (PAM2, CUE, SMR, RRM, DUF1771) are presented in Additional file 2.
Discussion
Diversification in regulatory programs is an indication of the ability of an organism to respond to multiple developmental and environmental cues. The evolution of specialized regulatory mechanisms endows organisms with an exceptional assortment of regulatory programs that fine-tune gene regulation at several levels [30–32]. As sessile organisms, plants have evolved elaborate and redundant regulatory mechanisms that fine-tune growth and development in response to the environment [33, 34]. The posttranscriptional level of gene expression is an important step in regulation. Precise interaction among regulators within assemblies can control the outcomes of specific transcripts (e.g., half-life stability and the ability to be translated). PABP is a conserved eukaryotic protein that interacts with the poly(A) tail of messenger RNAs having roles in mRNA stability and translation control [35]. One to a few PABPs genes are found in fungi and animals, but a significant expansion in the gene number is evident throughout plant evolutionary history [3]. In this work, we performed a phylogenetic analysis of three classes of CIDs, the interaction partners of the MLLE domain of PABPs [13]. We found that variants that arose during evolution occurred frequently among CID classes. Based on the fact that CIDs may participate in PABPs assemblies, CID subclasses may result in paralog interference [31]. Although this interference is predictably unfavorable, it is often bypassed or resolved during evolution. The fact that CIDs subclasses are maintained since early lineages suggests their association within PABP assemblies. These results reinforce the idea that assorted control mechanisms evolved in plants to allow them to adjust to a changing environment. Yet, at this point, with the absence of proper experimental evidence we ought also to consider these variants to be selectively neutral, exerting independent functions. One exception, Class D, consists of highly conserved RNA-binding proteins. In our analysis of this class, we did not detect any sequence variations that might suggest divergence. More than one copy of CID D proteins was present in the analyzed plants. This result suggested that they are redundant proteins that may have very similar roles.
Our previous findings for class B CIDs suggested that functional specialization is present in ataxin-2 orthologs. A subclass was found that might have novel subcellular localization and functional properties; it lacks the LsmAD domain that includes a clathrin-mediated trans-Golgi signal and participates in the recruitment of the helicase DDX6 [18]. Similarly, CID class A and C variants were also identified. Functional diversity has been predicted for CID A. CID1/ERD15 functions in diverse stress pathways. The G. max ortholog, GmERD15, is a transcription factor that binds to the NRP-B promoter and functions as an early component that links endoplasmic reticulum stress to an osmotic stress-induced cell death signal [23]. The results of a a transactivation experiment in yeast revealed that CID1/ERD15 and GmERD15 work in different ways. GmERD15 displays transactivation activity, but CID1/ERD15 does not; CID1/ERD15 also does not bind to the NRP-B promoter in yeast [22, 23]. These results suggest that functional divergence of these two orthologs has occurred. Whether CID1/ERD15 is a transcription factor needs to be evaluated. The results of our a previous assay suggested that CID1/ERD15 encodes an activation domain that is functional in yeast [13]. It is possible that CID A proteins are transcription factors consisting of paralogs that diverged during evolution.
The results of the domain architecture and the phylogenetic distribution analyses supported the hypothesis that functional divergence occurred among class CID A genes. A specific LOGO generated on putative GmERD15 orthologs (LOGO #A6, Fig. 4) of all species except the basal species, P. patens and S. moellendorffii, and the six Brassicaceae that were analyzed. The result that sequence LOGOs did not generate in the two basal species indicates that specific domains were acquired throughout evolution. Moreover, orthologs containing LOGO #A6 clustered in both phylogenetic trees based on complete sequences or in the PAE1 LOGO. These clusters did not include any of the Brassicaceae species analyzed (Fig. 5). Since P. patens and S. moellendorffii sequences are basal to the GmERD15 orthologs and the Brassicaceae species are not the same lineage, it is possible that this specific ortholog was lost early in the Brassicaceae lineage.
Variants of class C CIDs were readily identified. Class C1 variants are present in both monocot and eudicot species. Class B variants are present only in eudicots. Class C1 encodes larger proteins than class C2 and contains domains that are not present in C2 (Fig. 6). Class C2 likely underwent rearrangements, which included deletions, early during the split between monocots and eudicots. At least two regions are common to both classes, CUE and LOGO #C8. CUE is an evolutionarily conserved domain that binds directly to monoubiquitin and participates in ubiquitination [26]. CID5/IPD1 (class 2) is involved in a light-dependent endoreduplication pathway, controlling the endocycle during hypocotyl elongation. CID5/IPD1 is described as a protein containing a CUE domain variant because a highly conserved amino acid residue within the CUE domain involved in ubiquitin binding is missing; a proline residue has been replaced by a serine. The CUE domain is likely diverging into distinct lineages [24]. Our results suggested that this divergence specifically occurred in the class C2 proteins, from the six Brassicaceae examined (Fig. 7). Each of these Brassicaceae members have at least two copies of class C2 genes. One of the copies still encodes the highly conserved proline residue only in A. thaliana and T. halophila. Similarly, major sequence variation is present in four monocot sequences from class C1, which is consistent with their grouping in a separate branch in the phylogenetic tree (Fig. 7 and Fig. 8). Because this proline residue is essential for monoubiquitin binding, whether the CUE domain in these proteins remains as a component of the ubiquitination machinery remains to be determined. The function of the SMR domain encoded in class C1 that is a widespread in eukaryotes continues to be an enigma [25].
Conclusions
Functional analysis of CID proteins is in its infancy in plants. Because there is obvious diversification among various classes of CIDs, the functional analysis will be helpful to determine whether diversification is neutral or whether it is important for plant adaptation to the environment, or for the acquisition of specific traits during evolution. Association of CIDs within PABPs assemblies could be envisioned based on the presence of the PAM2 domain and on the fact that PABPs interact with many other proteins involved in the regulation of protein synthesis or mRNA metabolism. PABPs assemblies are basic to every facet of the biology of a plant, so CIDs are likely to have important roles in the regulation of growth, development, and environmental responses. Since the loss of domains often results in competitive interference between duplicates [31, 32, 36], functional analysis will also be imperative to establish the hook up of CID subclasses to the assemblies.
Declarations
Acknowledgements
We thank Phytozome (University of California, Berkeley, CA, USA) for providing the genome sequences and gene annotations from several sources. We are grateful to Laura Aguilar-Henonin for technical assistance. We also want to thank two anonymous reviewers for comments on the manuscript. DJL is a student of the Universidad Autónoma Indígena de México (UAIM) at El Fuerte, Sinaloa. The project was supported by Grant No. 177528 from the Consejo Nacional de Ciencia y Tecnología, México (http://www.conacyt.mx).
Open AccessThis article is distributed under the terms of the Creative Commons Attribution 4.0 International License (http://creativecommons.org/licenses/by/4.0/), which permits unrestricted use, distribution, and reproduction in any medium, provided you give appropriate credit to the original author(s) and the source, provide a link to the Creative Commons license, and indicate if changes were made. The Creative Commons Public Domain Dedication waiver (http://creativecommons.org/publicdomain/zero/1.0/) applies to the data made available in this article, unless otherwise stated.
Authors' Affiliations
(1)
Departamento de Ingeniería Genética, Centro de Investigación y de Estudios Avanzados, Unidad Irapuato, Irapuato, Mexico
(2)
Present address: Department of Microbiology and Immunology, University of Texas Medical Branch, Galveston, USA
Copyright
© Jiménez-López et al. 2015