Research article
Open Access
Multilocus species trees and species delimitation in a temporal context: application to the water shrews of the genus Neomys
BMC Evolutionary Biology
2015
15:209
Received: 30 March 2015
Accepted: 14 September 2015
Published: 29 September 2015
Abstract
Background
Multilocus data are becoming increasingly important in determining the phylogeny of closely related species and delimiting species. In species complexes where unequivocal fossil calibrations are not available, rigorous dating of the coalescence-based species trees requires accurate mutation rates of the loci under study but, generally, these rates are unknown. Here, we obtained lineage-specific mutation rates of these loci from a higher-level phylogeny with a reliable fossil record and investigated how different choices of mutation rates and species tree models affected the split time estimates. We implemented this strategy with a genus of water shrews, Neomys, whose taxonomy has been contentious over the last century.
Results
We sequenced 13 introns and cytochrome b from specimens of the three species currently recognized in this genus including two subspecies of N. anomalus that were originally described as species. A Bayesian multilocus species delimitation method and estimation of gene flow supported that these subspecies are distinct evolutionary lineages that should be treated as distinct species: N. anomalus (sensu stricto), limited to part of the Iberian Peninsula, and N. milleri, with a larger Eurasian range. We then estimated mutation rates from a Bayesian relaxed clock analysis of the mammalian orthologues with several fossil calibrations. Next, using the estimated Neomys-specific rates for each locus in an isolation-with-migration model, the split time for these sister taxa was dated at 0.40 Myr ago (with a 95 % confidence interval of 0.26 – 0.86 Myr), likely coinciding with one of the major glaciations of the Middle Pleistocene. We also showed that the extrapolation of non-specific rates or the use of simpler models would lead to very different split time estimates.
Conclusions
We showed that the estimation of rigorous lineage-specific mutation rates for each locus allows the inference of robust split times in a species tree framework. These times, in turn, afford a better understanding of the timeframe required to achieve isolation and, eventually, speciation in sister lineages. The application of species delimitation methods and an accurate dating strategy to the genus Neomys helped to clarify its controversial taxonomy.
Keywords
Gene flowIntronsMutation ratesRelaxed clockSpeciation
Background
Species tree approaches, which take coalescence into account, together with the use of multiple genes, have led to highly supported phylogenetic relationships of closely related species [1]. In addition, the use of multiple loci in species delimitation has increased rapidly over the last few years and are currently being applied to a large number of taxonomic problems [2–6]. Species delimitation has been particularly problematic in the past due to the use of different diagnostic criteria to identify the existence of distinct species. Under a general lineage or unified species concept, the only criterion used is that lineages have to evolve separately from other lineages to be considered species [7]. Recently developed methods can help determine which lineages have been evolving in isolation and, eventually, would correspond to species. For example, the IMa2 program, which uses an isolation-with-migration model, can estimate the amount of gene flow or migration rate between two lineages [5]. This rate can then be compared with a threshold value for the migration rate below which populations are evolutionarily independent, as suggested by population genetic theory [8]. On the other hand, the formal species delimitation test implemented in the BPP program allows posterior probabilities to be determined for one-species and two-species models successively applied to sister lineages within a phylogeny [2, 9]. These methods to identify distinct evolutionary lineages rely on the use of multiple loci and do not employ any kind of time calibration for the species delimitation tests. Even if the split time of two lineages or populations is not used in species delimitation methodology, it would be important to place speciation events within an accurate temporal framework. Thus, different speciation scenarios could be evaluated and the factors that promoted speciation could be disentangled.
Establishing an appropriate molecular clock for estimating split times implies a number of decisions that can greatly affect calibration. Although molecular dating has been extensively studied in the past in the context of gene trees, some of the issues that arise in species trees of closely related species have been less frequently addressed [10]. One possibility for dating a species tree could be to use internal calibration points (e.g., fossil data that can be assigned to specific branches). However, many groups of organisms may not have reliable calibrations. When internal calibrations are not available, two frequently followed strategies may lead to unreliable estimates. First, extrapolating mutation rates from other organisms, perhaps the most common approach, may be questionable since mutation rates have been found to be highly variable among different genomic regions and between lineages [11, 12]. The error in split time estimations can be more severe if only the rate of one locus, for example a mitochondrial gene, is used. Second, the use of secondary calibrations obtained from higher-order phylogenies may also be problematic if these calibration points are very recent and estimated from a gene tree due to the effect of gene coalescence, that is, to the fact that the coalescence of genes occurs prior to the divergence of populations. This phenomenon is particularly noticeable at shallow splits, where the difference between gene divergence and population divergence may be a large proportion of the branch lengths estimated from a gene tree [13, 14]. Given the problems associated with these approaches, an alternative strategy to date species trees when internal calibrations are not available in shallow species trees could be to estimate lineage-specific mutation rates for each locus under study. Specifically, substitution rates can be estimated from a higher-order phylogeny, where it is generally easier to find reliable calibration points, using a Bayesian relaxed clock analysis [15, 16]. For neutral markers, substitution rates estimated this way can be used as proxy of mutation rates [17, 18]. Therefore, mutation rates would be estimated in a first step and, subsequently, the dated species trees would be reconstructed using these rates. Nevertheless, the additional difficulty of estimating specific mutation rates from a higher-order phylogeny means that in many species tree studies this strategy is not used and only the topology and relative timings of the cladogenetic events (but not absolute times) are estimated [19–21].
Multilocus species delimitation methods and dated species trees can be particularly useful for groups with contentious taxonomies. The water shrews of the genus
Neomys
are a case in point. This mammalian genus currently contains three recognized species [
22
]:
N. fodiens
, which has a Palaearctic distribution extending to Lake Baikal, with additional populations in eastern Russia and China;
N. teres
, which is present in the Caucasus and adjacent parts of Turkey and Iran; and
N. anomalus
, which has a patchy distribution over part of continental Europe and the Middle East. Two subspecies of
N. anomalus
(
N. a. anomalus
and
N. a. milleri
) were originally described in 1907 as separate species, by Cabrera [
23
] and Mottaz [
24
] respectively. Previously described morphological differences originally referred to the overall shape of the skull, rounded in
N. milleri
and more angular in
N. anomalus
[
23
,
24
]. Further analyses revealed size differences in several measurements, particularly the length of the tail and hind foot, with
N. anomalus
being larger in both measurements [
25
–
27
]. However, these two taxa were cited as members of the same species in 1944 [
28
] and subsequent works followed the recognition of a single species [
22
,
29
], without giving any clear argument for the regrouping. The known distribution of
N. a. anomalus
is centered in the Iberian Peninsula and
N. a. milleri
occupies the rest of the species' Eurasian range (Fig.
1
). All the species in this genus live in semi-aquatic habitats and usually feed underwater. Adaptations to aquatic life include stiff hairs on the tail and feet that aid in swimming and diving. These adaptations have been shown to be more prominent in
N. fodiens
[
30
] but, when these species live in sympatry, various instances of character displacement and convergence have been demonstrated [
31
,
32
]. The phylogeny of this genus was studied using mitochondrial data, and
N. fodiens
was shown to be a sister group to the other species in the genus [
33
,
34
].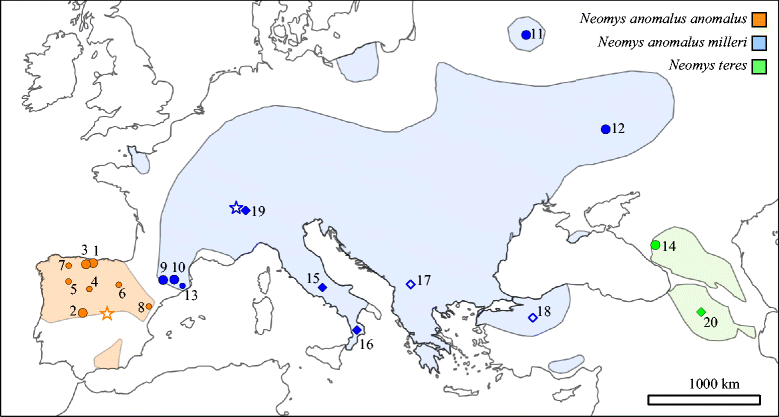 Previous analyses with mitochondrial sequences of various European Neomys anomalus samples revealed a deep split between N. a. anomalus and N. a. milleri specimens [34]. We aimed to use multilocus data to test whether these two subspecies were sufficiently isolated to warrant species status, as originally described [23, 24]. For this purpose, we optimized 13 introns of nuclear encoded genes chosen from a set of highly variable sequence markers developed for mammals [35]. Using these sequences together with the mitochondrial cytochrome b gene, we applied different species tree reconstruction, gene flow estimation and species delimitation methodologies. The use of a high number of introns limited the number of samples to be used and therefore precluded any conclusion about the geographic variation of the genetic diversity. However, multiple loci allowed us, not only to apply modern multilocus species delimitation methods, but also to put the Neomys species tree in a temporal context. That is, we analyzed whether the main speciation events, and particularly those between sister taxa in the tree, took place during the Pleistocene or pre-Pleistocene epochs [36, 37] and whether more specific periods could be discriminated. To address these questions, we first estimated, from a mammalian tree, mutation rates specific for every intron in the Neomys lineage. We then calibrated the Neomys species tree with these rates. We also investigated how different choices of genes, species tree models (with and without gene flow) and mutation rates can affect the split time estimates.
Conclusions
Multilocus species trees combined with the estimation of accurate split times may help in advancing our knowledge of speciation. We showed here that the estimation of specific mutation rates for each locus and for the lineage of interest is a crucial aspect of a robust dating strategy since the extrapolation of mutation rates from other mammalian groups and loci may lead to very different split time estimates. In addition, the use of models that do not take coalescence and gene flow into account may also lead to biased results. We evaluated this strategy with several species and subspecies of the genus Neomys at the same time that we tried to resolve some controversial aspects of the taxonomy of this group. A Bayesian species delimitation method and estimation of gene flow supported that two subspecies deserve species status, as originally described: N. anomalus and N. milleri. In addition, the application of the dating methodology proposed here allowed the estimation of the split time between these two species in the Middle Pleistocene, which was compatible with a long period of isolation likely encompassing several glacial cycles. Therefore, obtaining accurate split times and associated confidence intervals in the species tree allows distinguishing between different Pleistocene ages and can provide important information for studies on recent speciation. Even if these times are not directly used in species delimitation, they allow testing explicit hypotheses about the geological and climatic context in which speciation occurred, thus helping to reconstruct more reliable scenarios on the initial stages of population divergence.
Declarations
Acknowledgements
We thank Pablo García, Alexander P. Kashtalian, Borja Palacios and Ana Rodríguez-Prieto for samples, and Angel Fernández for help during sampling campaigns.
Funding
This work was financially supported by research project CGL2011-22640/BOS of the "Plan Nacional I + D + I del Ministerio de Ciencia e Innovación" (Spain) to J.C. with contribution of project 014/2008 of the "Convocatoria de ayudas a proyectos de investigación en la Red de Parques Nacionales" (Spain) to J.G. The research of A.A.B. was supported by the Russian Foundation for Basic Research, project 14-04-00034. We acknowledge support of the publication fee by the CSIC Open Access Publication Support Initiative through its Unit of Information Resources for Research (URICI).
Open AccessThis article is distributed under the terms of the Creative Commons Attribution 4.0 International License (http://creativecommons.org/licenses/by/4.0/), which permits unrestricted use, distribution, and reproduction in any medium, provided you give appropriate credit to the original author(s) and the source, provide a link to the Creative Commons license, and indicate if changes were made. The Creative Commons Public Domain Dedication waiver (http://creativecommons.org/publicdomain/zero/1.0/) applies to the data made available in this article, unless otherwise stated.
Authors' Affiliations
(1)
Institut de Biologia Evolutiva (CSIC-Universitat Pompeu Fabra), Barcelona, Spain
(2)
Department of Plant Sciences, University of Cambridge, Cambridge, UK
(3)
Departament de Biologia Animal, Universitat de Barcelona, Barcelona, Spain
(4)
Department of Vertebrate Zoology, Lomonosov Moscow State University, Moscow, Russia