Research article
Open Access
Elusive ditrysian phylogeny: an account of combining systematized morphology with molecular data (Lepidoptera)
BMC Evolutionary Biology
2015
15:260
Received: 3 June 2015
Accepted: 26 October 2015
Published: 21 November 2015
Abstract
Background
Ditrysia comprise close to 99 % of all butterflies and moths. The evolutionary relationships among the ditrysian superfamilies have received considerable attention in phylogenetic studies based on DNA and transcriptomic data, but the deepest divergences remain for large parts unresolved or contradictory. To obtain complementary insight into the evolutionary history of the clade, and to test previous hypotheses on the subdivision of Ditrysia based on morphology, we examine the morphology of larvae, pupae and adult males and females of 318 taxa representing nearly all ditrysian superfamilies and families. We present the most comprehensive morphological dataset on Ditrysia to date, consisting of over 500 morphological characters. The data are analyzed alone and combined with sequence data (one mitochondrial and seven nuclear protein-coding gene regions, sequenced from 422 taxa). The full dataset consists of 473 exemplar species. Analyses are performed using maximum likelihood methods, and parsimony methods for the morphological dataset. We explore whether combining morphological data and DNA-data can stabilize taxa that are unstable in phylogenetic studies based on genetic data only.
Results
Morphological characters are found phylogenetically informative in resolving apical nodes (superfamilies and families), but characters serving as evidence of relatedness of larger assemblages are few. Results include the recovery of a monophyletic Tineoidea, Sesioidea and Cossoidea, and a stable position for some unstable taxa (e.g. Epipyropidae, Cyclotornidae, Urodoidea + Schreckensteinioidea). Several such taxa, however, remain unstable even though morphological characters indicate a position in the tree (e.g. Immidae). Evidence supporting affinities between clades are suggested, e.g. a novel larval synapomorphy for Tineidae. We also propose the synonymy of Tineodidae with Alucitidae, syn. nov.
Conclusions
The large morphological dataset provides information on the diversity and distribution of morphological traits in Ditrysia, and can be used in future research on the evolution of these traits, in identification keys and in identification of fossil Lepidoptera. The "backbone" of the phylogeny for Ditrysia remains largely unresolved. As previously proposed as an explanation for the scarcity of molecular signal in resolving the deeper nodes, this may be due to the rapid radiation of Ditrysia in the Cretaceous.
Keywords
DitrysiaMorphologyLepidopteraPhylogenyUnstable taxaTotal evidenceDeep divergences
Background
Five years ago, the backbone branching pattern of the evolutionary tree for one of the largest groups of insects, moths and butterflies (Lepidoptera), was still for the most part unresolved. Our state of knowledge of phylogenetic affinities within this insect order, with over 150 000 described species [1], was well depicted by the comb-like summary tree composed by Kristensen and Skalski [2]. Well-supported hypotheses existed only for the relationships among the most ancient superfamilies. Only very cautious and speculative hypotheses had been proposed for the relationships among the superfamilies of the enormous clade of more advanced lepidopterans, known as the Ditrysia [3, 4]. This ditrysian clade encompasses nearly 99 % of all butterflies and moths [2].
Ditrysia are currently divided into 30 superfamilies (classification of van Nieukerken et al. [
1
], modified by Karsholt and Nielsen [
5
] who placed Douglasiidae into its own superfamily) (Fig.
1
). The size of the superfamilies varies considerably in the number of described species, from several small monotypic superfamilies based on a single genus with only a single or a few species to Noctuoidea with over 40 000 species. Some of these monotypic superfamilies are characterized by features that do not correspond to those diagnosing any of the other superfamilies. The current circumscriptions of the ditrysian superfamilies are based on morphological features and have been generally accepted. Recent studies based on genetic data have corroborated the monophyly of most of the superfamilies [
6
–
12
]. However, the interrelationships among most of these superfamilies lack any convincing supporting evidence. This lack of knowledge of evolutionary affinities has hindered further research on this enormous suborder [
13
].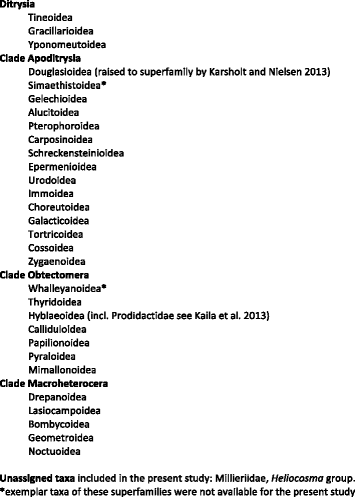 The initial challenges to inferring evolutionary relationships among the ditrysian superfamilies have been attributed to their morphological homogeneity, and thus to the difficulty of finding distinct, unique morphological characters uniting superfamilies and supporting descent from a common ancestor [2, 13]. Untold numbers of detailed studies on the morphology of Lepidoptera, especially of genital structures and wing venation, have furthered our understanding of the relatedness of species, genera and families, but the relationships among larger assemblages have remained obscure on morphological grounds. The most important studies in comparative morphology aimed at resolving the relationships among ditrysian Lepidoptera were by Brock [14] and Minet [3, 4]. The works by Minet have been influential and the basis for the division of Ditrysia into three nested clades, Apoditrysia, Obtectomera and Macrolepidoptera. These hypotheses are, however, based on a limited number of characters; two for Apoditrysia, two for Obtectomera, and one for Macrolepidoptera. Furthermore, they have not been verified across all ditrysian superfamilies, families or subfamilies.
In recent years, several studies based on molecular methods have brought new information to bear on the evolutionary history among and within the ditrysian superfamilies. These studies range from wide-taxon sampling multigene studies to studies with fewer taxa but with large-scale gene sampling or genomic data [6–12]. The impact of these studies on our knowledge of the relatedness of the lepidopteran superfamilies is beyond question. They have supported some of the previous hypotheses of relationships of ditrysian Lepidoptera, but have challenged or refuted others, e.g. the monophyly of Tineoidea or the position of Papilionoidea. The main division of Ditrysia into the nested clades Apoditrysia, Obtectomera and Macrolepidoptera has been backed to some extent, but with changes. For example, genetic evidence has supported the morphology-based suspicion of Rammert [15] and Kaila [16] that Gelechioidea are a superfamily in Obtectomera to which they were not thought to belong (e.g. [3, 4]). Also, there is mounting evidence that butterflies, skippers and hedylids (together forming Papilionoidea) are more closely related to 'microlepidopteran' groups of obtectomeran moths than to the core Macrolepidoptera. The traditional concept of the superfamily Papilionoidea has also changed. The monophyly of Tineoidea has repeatedly been found to be unfounded, and the monophyly of Zygaenoidea has also been challenged as Cyclotornidae and Epipyropidae have not been unambiguously included.
Despite these advances, the evolutionary history of the ditrysian Lepidoptera is still full of questions. The low support values obtained in many studies, especially along the apoditrysian "backbone", have made the suggested relationships uncertain. A proposed reason for the difficulties in inferring evolutionary relationships among the ditrysian superfamilies is their postulated explosive diversification in the mid- to late Cretaceous into the early Tertiary, contemporaneous with the radiation of flowering plants [17]. When diversification is rapid, little molecular or morphological change has time to accumulate as evidence of common ancestry. This weak signal may also be obscured by subsequent changes in the DNA and morphology. With a limited spectrum of genes it may not be possible to extract this weak signal [18]. To overcome this, phylogeneticists, in lepidopterology as elsewhere, have turned to comparative genomics. By comparing large portions of or entire genomes, clarification of the deeper evolutionary relationships is hoped to be achieved. Recent phylogenomic studies have indeed shown much stronger support values for relationships among the superfamilies than the first studies based on individual gene sequences. However, low taxon sampling still is an issue in these studies. With low taxon sampling, distantly related terminal taxa may group together with strong support values in the absence of more closely related taxa. A wider taxon sampling and more refined models of molecular evolution are needed to overcome this problem [19]. Conflicting hypotheses with strong support values (e.g. the alternative placements of Pterophoridae in Bazinet et al. [6] and in Kawahara and Breinholt [8]) are hard to evaluate if alternative evidence is not available.
Such evidence is traditionally sought in the morphology of the organisms. Synapomorphies, i.e. shared derived characters, are evidence of descent from a most recent common ancestor and inform us of a common evolutionary history. However, as morphology has never been systematically studied across all ditrysian groups, and the data subjected to a rigorous phylogenetic analysis, we lack morphological information of their affinities. The alleged morphological homogeneity of Ditrysia, the laboriousness of comparative morphology, and also the immense number of species of the Order have without doubt held back their classification. Several earlier hypotheses based on morphological features that claim to diagnose certain groups also remain untested across larger groups.
A frequent problem in phylogenetic analyses is taxa that for some reason (rapid rate evolution, lack of data, chimeric terminal taxa - i.e. composed of data from different species) do not find a stable phylogenetic position and may even have a nearly random placement. Such taxa are often called rogue taxa [20]. The presence of such taxa may effectively remove resolution of phylogenetic trees (e.g. [21]). They have also been shown to affect the topology of the entire tree, thus distorting the phylogenetic relationships among other clades [22]. Rogue taxa exert a great influence on the statistical support values of the nodes in phylogenetic trees, obscuring the meaning of these values. Increasing genetic data may not necessarily solve the problem, as fast-evolving taxa may display deviating patterns across large parts of their genomes. Exclusion of rogues is indeed a common practice to try to salvage reliable-looking topologies for the remaining 'well-behaved' taxa [23, 24]. Moreover, it is likely that a lot of such pruning goes unreported as it is done during analysis, long before manuscript preparation. Exclusion of rogues, however, means discarding data, and is therefore not an optimal way to treat these taxa, which may be crucial for the study in question. Taxa may behave as rogues in molecular or morphological analyses, or both. However, there is evidence that by combining morphological and molecular data, the negative effect of rogues is reduced and these taxa may find a stable position [25].
Thorough examination of the morphology across all ditrysian groups is also needed to obtain information on character evolution. In a phylogenetic context, morphological structures may show an order of evolution – a polarity. Some characters may also explain the success of certain groups of Lepidoptera. Such characters are also called key innovations as they enable, for example, the exploitation of resources, help avoid predators or survive adverse conditions [26]. The time of emergence of such characters can also be investigated to assess whether certain factors in the geologic history of the Earth have favored Lepidoptera with particular attributes.
Fossil Lepidoptera are extremely hard to identify and assign to particular taxa, because in adults the scale covering hides diagnostic characters, and fossils of soft-bodied larvae are rare [27]. However, a better understanding of the morphological diversity of Lepidoptera and of characteristic features of different groups could prove useful for reliable identification of fossil Lepidoptera. The time of appearance of a certain character is also of interest. Dated and securely identified fossils are used as calibration points in dating phylogenies to obtain estimates of times of divergence [28].
To address these needs, we examine the morphology of ditrysian Lepidoptera across 30 of the 32 currently recognized superfamilies with the aim of providing phylogenetic information on the relationships among them. We examine 530 morphological characters from larvae, pupae and adult males and females of over 300 exemplar taxa. We aimed to obtain samples as comprehensively as possible across lepidopteran subfamilies, and added a number of taxa with unknown or unsupported placement. Special emphasis was placed in the comprehensive inclusion of non-Macrolepidoptera groups and character sampling of all life stages. We have aimed to examine real samples of as many exemplars as possible ourselves. These data have been supplemented and cross-checked using literature sources.
We analyze the morphological data alone and combined with the molecular data set published by Mutanen et al. [9], supplemented with additional taxa and sequences for some taxa. We report the results of the phylogenetic analyses and compare these to the results of other phylogenetic studies on Ditrysia. We re-examine previous hypotheses based on morphology and present new morphological evidence supporting affinities among clades. We also discuss the effects of homoplasy and methodological issues on the results.
Results
We report the results of the maximum likelihood (ML) and parsimony (MP) analyses of the morphological dataset alone, and compare these results to those of the ML analysis of combined morphological and molecular data. We consider the total evidence ML analysis (morphology + eight gene regions, with third codon positions retained) (Figs.
2
,
3
and
4
) our main result. This decision as to the priority of results is based on the principle of inclusion of the maximum amount of data, even though we recognize that this may also bias the results, as may, for example, the inclusion of unstable taxa. Moreover, as Källersjö et al. [
44
] have shown, third codon positions, even if possibly often saturated, also contain phylogenetic signal that may be informative when combined with other data. We also compare the results with those obtained with third codon positions excluded (Additional file
7
) and the "noisiest" molecular character partitions i.e. those with the fastest evolving characters (partitions 7 and 6) removed (Additional file
9
). The fastest evolving sites were identified with the programs TIGER, which identifies rapidly-evolving characters (columns in alignment) and RatePartitions, which partitions data according to their rate of evolution (see Analyses). With the fastest evolving molecular character partitions removed, the results were nearly identical to those obtained with all data retained but produced some spurious groupings, which contradict results of other recent studies (see e.g. Additional file
9
, Lasiocampoidea nested in Bombycoidea as opposed to them being sister clades, and the presence of the macrolepidopteran clade vs. the macroheteroceran clade as defined in van Nieukerken et al. [
1
] the latter case of each example obtained in several recent studies based on independent sequence data). In the results of analyses based on data with the noisiest partitions removed, bootstrap support values for the clades were in general lower or more or less equal to those obtained for the same clades in the analyses based on data with noisy characters retained. The results of the analyses based on DNA data alone (Additional file
8
) are not discussed separately as they are very similar to those in Mutanen et al. [
9
], discussed therein.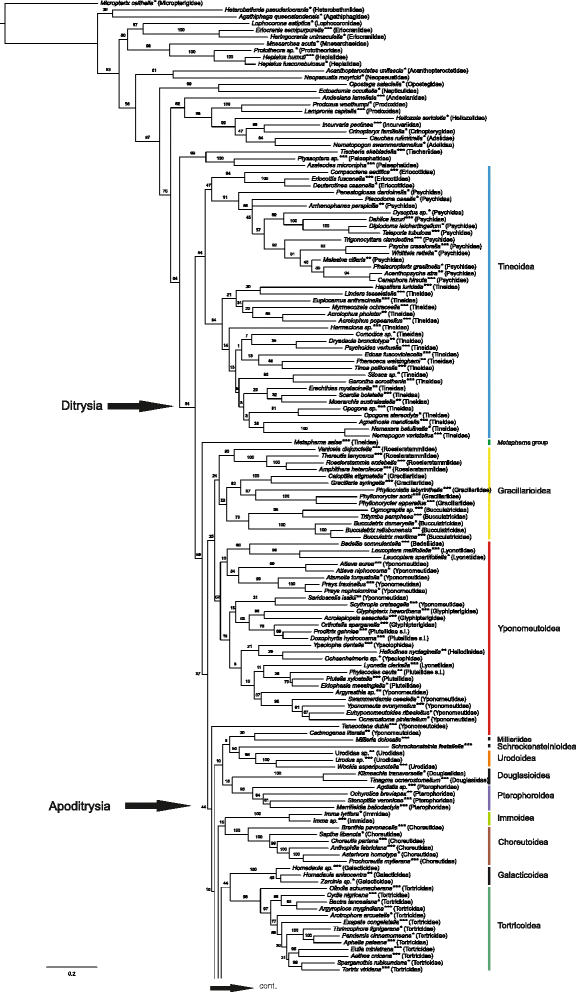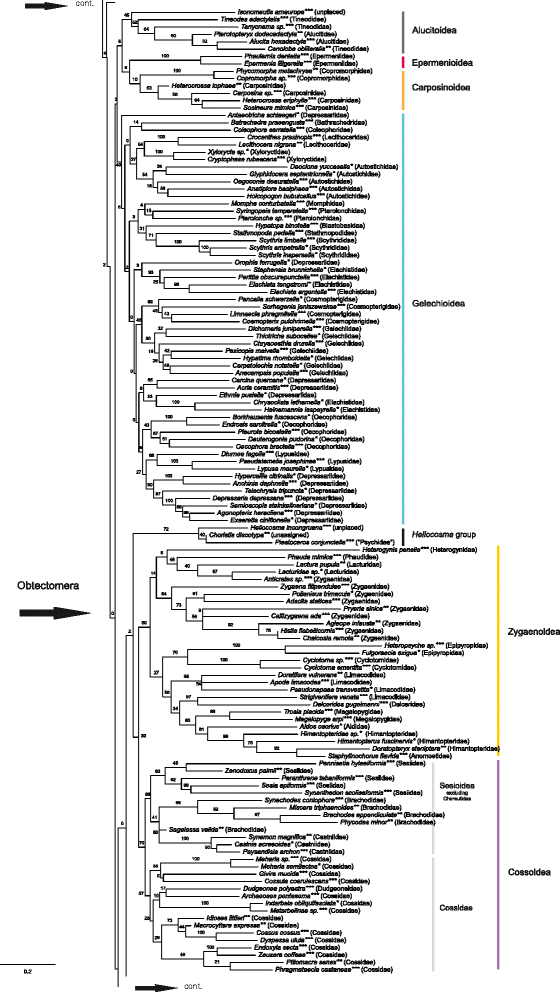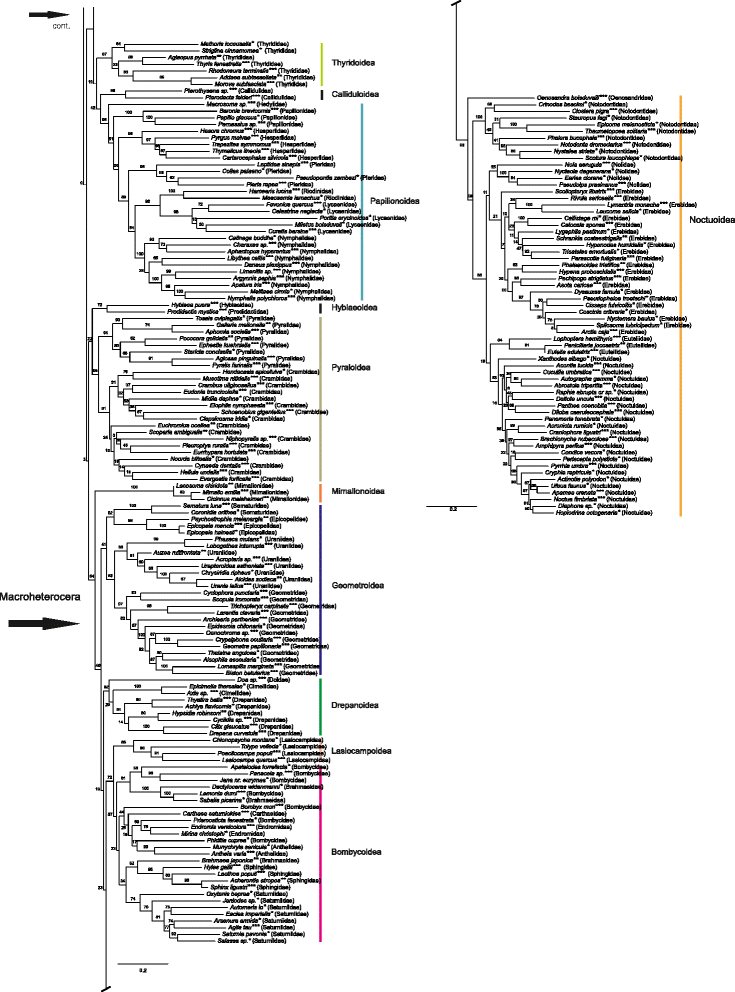 Analyses based on morphological data only
The parsimony analysis yielded 19 equally most parsimonious trees (length = 5305 steps, CI = 0.12, RI = 0.62). The resolution of the resulting trees was generally uniform, but interrelationships of certain superfamilies varied among the trees. The strict consensus tree is very poorly resolved due to the adverse effect of some taxa assuming two alternative positions (Metapherna, Ochsenheimeria, Euplocamus, Heliocosma group, position of Thyrididae with respect to Mimallonidae and Hyblaea, and the alternative positions of Sematuridae, either as sister of Epicopeiidae, or as the sister of Papilionoidea, all these three groups nevertheless in the same monophyletic clade), as well as the paraphyly of Gelechioidea observed in some of the MP trees.
An example of one of the most parsimonious trees is shown in Additional file 10. Most superfamilies are recovered as monophyletic. However, some results appear spurious, such as the consistent grouping of the non-ditrysian Hepialus in Tineoidea. Bombycoidea, and in some MP trees also Drepanoidea and Geometroidea, were nested within Noctuoidea. The unstable position of Ochsenheimeria is likely due to the internal feeding mode of its larva having caused morphological modifications that remove it from the otherwise constantly recovered association with Ypsolopha (Yponomeutoidea), the larvae of which feed externally on leaves of various trees and shrubs. Other differences in the topology were minor rearrangements of apical genera.
The tree resulting from the maximum likelihood analysis of the morphological data set is shown in Additional file 11. There is no support for the deeper nodes, but most superfamilies are recovered as monophyletic except for those in Macroheterocera, which are intermixed.
Separate analyses on data sets of larval, pupal and adult morphology were also run, but are not discussed, because the resulting trees were nearly unresolved due to the small number of characters in comparison to the number of taxa included in these analyses.
Combined analyses
Phylogenetic relationships
The results are in many respects similar to those obtained in the study by Mutanen et al. [9] as the molecular data are largely the same, especially when third codon positions were excluded. Considering that the morphological data in the present study consisted of only 8 % of the total amount of data (10 % when the third codon positions were removed from all genes except EF-1a and 9 % when the fastest evolving molecular character partitions 7 and 6 were removed), the phylogenetic signal from these characters appears disproportionately strong, and their inclusion significantly affects the topology of several clades, while supporting the molecular results elsewhere. As will be discussed in more detail below, morphological attributes stabilized some taxa that had been unstable in DNA-only analyses and thus propose a hypothesis about their phylogenetic affinities. Likewise, molecular data anchored taxa that were unstable in our analyses of morphological data alone. Clades supported by both morphological and DNA-data in general obtained higher support values in the combined analyses than when either type of data was analyzed alone. However, we also obtained some intriguing patterns in the topology that strongly conflicted with the results of several recent studies based solely on genetic data. These patterns show the strength of morphological data over the eight gene regions and the usefulness of different types of data in evaluating different phylogenetic hypotheses. The overall topology of the phylogenetic trees based on the three different data sets (268, 422 and 473 taxa, see Analyses) is very similar and the weakly supported backbone nodes are weak in all trees (Figs. 2, 3, 4 and Additional files 12 and 13). Although the support values are the highest for the smallest data set including 268 taxa (with both DNA and morphological data available for all taxa), and weakest in the trees including all 473 taxa (with either or both types of data), we choose to present the latter (Figs. 2, 3 and 4). The topology of the trees is essentially the same and the tree based on the larger taxon sampling also includes interesting information on the placement and performance of taxa with only either morphological or molecular data. We report support values obtained from all three analyses (268 taxa; 422 taxa; 473 taxa).
Phylogeny of main ditrysian clades
Discussion
Our objective was to rigorously explore the morphology of ditrysian Lepidoptera and to analyze the extensively coded data to infer a hypothesis for the phylogenetic relationships within Ditrysia. The aim was to obtain supplementary insight from morphology to that derived from DNA-based data, and compare this information to the recently published DNA-based phylogenetic hypotheses [6–12]. We consider this a way to supplement, evaluate and weigh these partially conflicting hypotheses. A feature in common to all these DNA-based studies is the weak or non-existing support for groups among the most basal and the most "derived" taxa, i.e. for the so-called 'backbone' of the lepidopteran phylogeny. For this reason, we put special emphasis on acquiring as comprehensive data as possible on the groups that supposedly belong to this area of lepidopteran phylogeny. Somewhat lesser attention was paid to inter-family relationships within superfamilies that have recently received specific attention [25, 31, 55, 59, 60, 87, 93, 94]. We combined morphological data obtained from larvae, pupae and adult specimens, coded from nearly the same sampling of exemplar taxa as in the study by Mutanen et al. [9]. The sampling covers nearly all recognized ditrysian families with a comprehensive representation of their subfamilies, and is supplemented with a number of taxa with unclear affinities.
As has been the result in DNA-based studies, even comprehensive morphological data were not able to bring forth strong support for any particular hypothesis on the interrelationships of the backbone Ditrysia. Possible reasons for this are the amount of homoplasy, general lack of informative characters except for apical nodes, conflicts between morphological and molecular data, and our decision to include and retain unstable taxa in the analyses. These matters are discussed below.
Conclusions
Our results support previous assertions of the paucity of clear morphological characters diagnosing larger assemblages of ditrysian superfamilies. Previously proposed characters are tenable to some extent but alone do not allow the unequivocal phylogenetic placement of taxa. The degree of homoplasy is high and likely hid phylogenetic signal in the analyses. Nevertheless, most currently recognized superfamilies were recovered, and were found to have at least one previously recorded diagnostic character. In some cases, the suggested apomorphies appeared to be supported only weakly, or remained entirely unsupported (e.g. Thyridoidea).
Examination of the distribution of over 500 morphological traits across Ditrysia revealed characters bearing evidence on the evolutionary relatedness among smaller groups, such as families (Alucitidae nested within Tineodidae) and in some cases superfamilies (e.g. Schreckensteinioidea + Urodoidea, Yponomeutoidea + Gracillarioidea). These characters also have potential use in identification keys and in identification of fossil samples. The inclusion of morphological data also allowed to "pin down" several taxa that for some reason appear unstable in analyses of molecular data.
In the near future, we will begin to see the results of the first large-scale studies based on genome-wide data aimed at solving the deep divergences in the evolutionary tree of Ditrysia. The morphological data collected in the course of this study will certainly prove useful in evaluating and validating the results. Likewise, the results of future phylogenomic studies will help explain the distribution of some of the morphological characters and identify possible misinterpretations.
Comparing structures across the ditrysian subfamilies will also gain us insight into the evolution and diversity of morphological characters. The distribution of these characters and their reversals across the different clades can be used in future studies on the evolution of these traits.
Availability of supporting data
The data sets supporting the results of this article are available as Additional files 1, 2, 3, 4, 5, 6, 7, 8, 9, 10, 11, 12 and 13. Sequence data are available in GenBank (Accession numbers in Additional file 4). Morphological character data are available in Morphobank, Project 2183, http://www.morphobank.org/.
Declarations
Acknowledgments
We would like to express our deepest gratitude to the following people and collections for loan of material: Leif Aarvik, John W. Brown & M. Alma Solis (USNM), Marc Epstein, Nico Elfferich, Marianne Horak & Ted Edwards (ANIC), Ole Karsholt (ZMUC), Jari Kaitila, Joël Minet, Kari Nupponen, Teemu Klemetti, LepTree project and people, Texas A&M University and many other members of the international community of lepidopterists. Laura Törmälä is thanked for laboratory work. We are also thankful to Jurate De Prins, Joaquin Baixeras, and Toomas Tammaru for their comments on an earlier version of this manuscript. Library Secretary of the Zoological unit (MZH) Marjatta Mikkonen was of great help in the search for literature. Marianna Teräväinen corrected the language. We would also like to thank Charles Mitter and an anonymous reviewer for comments that greatly improved the manuscript. This research was funded by the Finnish Cultural Foundation, Oskar Öflund foundation, Ella and Georg Ehrnrooth Foundation, and the University of Helsinki (M.H.); Academy of Finland, grant #1110906 (L.K.).
Open AccessThis article is distributed under the terms of the Creative Commons Attribution 4.0 International License (http://creativecommons.org/licenses/by/4.0/), which permits unrestricted use, distribution, and reproduction in any medium, provided you give appropriate credit to the original author(s) and the source, provide a link to the Creative Commons license, and indicate if changes were made. The Creative Commons Public Domain Dedication waiver (http://creativecommons.org/publicdomain/zero/1.0/) applies to the data made available in this article, unless otherwise stated.
Authors' Affiliations
(1)
Finnish Museum of Natural History, Zoology Unit, University of Helsinki, Helsinki, Finland
(2)
Department of Genetics and Physiology, University of Oulu, Oulu, Finland
(3)
Laboratory of Genetics, Department of Biology, University of Turku, Turku, Finland
(4)
Department of Biology, Lund University, Lund, Sweden
(5)
University of Helsinki, Research Affairs, Helsinki, Finland