Research article
Open Access
Body size, swimming speed, or thermal sensitivity? Predator-imposed selection on amphibian larvae
BMC Evolutionary Biology
2015
15:238
Received: 5 August 2015
Accepted: 28 October 2015
Published: 2 November 2015
Abstract
Background
Many animals rely on their escape performance during predator encounters. Because of its dependence on body size and temperature, escape velocity is fully characterized by three measures, absolute value, size-corrected value, and its response to temperature (thermal sensitivity). The primary target of the selection imposed by predators is poorly understood. We examined predator (dragonfly larva)-imposed selection on prey (newt larvae) body size and characteristics of escape velocity using replicated and controlled predation experiments under seminatural conditions. Specifically, because these species experience a wide range of temperatures throughout their larval phases, we predict that larvae achieving high swimming velocities across temperatures will have a selective advantage over more thermally sensitive individuals.
Results
Nonzero selection differentials indicated that predators selected for prey body size and both absolute and size-corrected maximum swimming velocity. Comparison of selection differentials with control confirmed selection only on body size, i.e., dragonfly larvae preferably preyed on small newt larvae. Maximum swimming velocity and its thermal sensitivity showed low group repeatability, which contributed to non-detectable selection on both characteristics of escape performance.
Conclusions
In the newt-dragonfly larvae interaction, body size plays a more important role than maximum values and thermal sensitivity of swimming velocity during predator escape. This corroborates the general importance of body size in predator–prey interactions. The absence of an appropriate control in predation experiments may lead to potentially misleading conclusions about the primary target of predator-imposed selection. Insights from predation experiments contribute to our understanding of the link between performance and fitness, and further improve mechanistic models of predator–prey interactions and food web dynamics.
Keywords
Antipredator strategies Ichthyosaura NewtsPerformance-fitnessPredator–prey interactionPredator–prey size ratioSelection differentialSelection experimentViability selection
Background
Most animals must avoid predation to survive and reproduce. Accordingly, prey has evolved diverse strategies to increase its chances of surviving a predator's attack [1, 2]. Sufficiently mobile prey avoids predation primarily by fleeing, which should impose strong selection on escape performance. However, empirical evidence for predator-imposed selection on a key component of escape performance, maximum velocity, still remains relatively scarce (reviewed by [3, 4]), although the phenotype-performance-fitness paradigm [5] has dominated the field of ecological and evolutionary physiology for decades.
Finding the link between locomotor performance and fitness is complicated by, among other things, the highly integrative and plastic character of locomotion. In ectotherms, the maximum escape velocity is affected mainly by body size and temperature [6–8]. The role of body size in escape performance has been relatively well studied. Within a prey population, escape velocity scales positively with body size [9–11]. Despite its higher velocity, bigger prey is sometimes easier to catch by a predator than smaller individuals because of its size [12]. In addition, the ratio to predator size often determines the outcome of predator–prey interactions [13, 14].
In contrast to body size, a prey's thermal sensitivity, i.e., the rate of change with the temperature of escape performance during predator encounters has received less attention. A recent theory offers a likely mechanism for predator-imposed selection on prey thermal sensitivity [15]. The thermal dependence of predator and prey performance traits is characterized by thermal performance curves that are typically left-skewed and unimodal [16]. Thermal performance curves may differ between both actors in their magnitude and rate, which determine their interaction dynamics [15, 17]. Accordingly, selection should favor a prey's thermal rate (sensitivity) of escape performance that minimizes its predation under a range of environmental conditions. However, whether predators select for thermal sensitivity of maximum velocity remains virtually unknown.
Although field studies provide invaluable information about phenotypic selection in natural populations [18, 19], short-term selection experiments under laboratory or seminatural conditions allow better identification of a selective agent for a particular trait [20]. This is especially advantageous for performance traits, because prolonged viability selection experiments may be biased by plastic and life-history responses [21]. Among various predator–prey systems, short-term selection experiments on prey swimming capacity have been frequently realized using dragonfly and amphibian larvae. Although some studies corroborated the importance of maximum swimming velocity during predation episodes [22–25], other findings are equivocal. In some species, tadpole's survival depends on its ability to attract a predator's attention to the tail, a relatively expendable body part, rather than maximum swimming velocity [26–28]. In addition, while tadpoles are often exposed to thermally varying conditions in the field, most studies have been performed under constant temperature or unknown conditions, which may hide the primary target of predator-mediated selection.
Here, we examined the influence of predation on a prey's body size, absolute and relative maximum velocity, and its thermal sensitivity, using replicated short-term selection experiments under seminatural conditions. Unlike previous studies on tadpoles, we chose newt larvae as prey, because they are more sedentary than tadpoles of Central European taxa and respond to predator (dragonfly larva) encounters by burst swimming. Swimming speed is size-dependent in amphibian larvae, and thus we predicted that bigger and faster larvae will survive a predator's attack more often than smaller and slower individuals [25]. In addition, because newt larval swimming velocity is influenced by acute thermal conditions more than a dragonfly larvae's prey capturing mechanism [29, 30], we predicted that larvae achieving high swimming velocities across ecologically relevant temperatures will have a selective advantage over more thermally sensitive individuals.
Results
We performed 30 pairs of predation and control trials using 600 newt larvae. Water temperatures experienced by larvae during a predation episode varied among trials (mean = 18.9 ± 4.0 °C; range = 8.8 ± 3.8 °C). After 24 h, larval mortality ranged between 0 and 0.5 (mode = 0.2). Three trials with zero mortality (i.e. no selection) and their corresponding controls were discarded from further analyses. All newt larvae from the control treatment experienced zero mortality.
Non-zero linear selection differentials were found in
U
max
,
U
rel
, and TL (Fig.
1
). However, only
S
TL
was higher relative to its control (
Z
 = 2.92,
P
 = 0.002;
S
Umax
:
Z
 = 0.246,
P
 = 0.81;
S
Urel
:
Z
 = 0.218,
P
 = 0.83). In
Q
10
, selection differentials in the control group were higher than in the predation group (
Z
 = 2.271,
P
 = 0.02).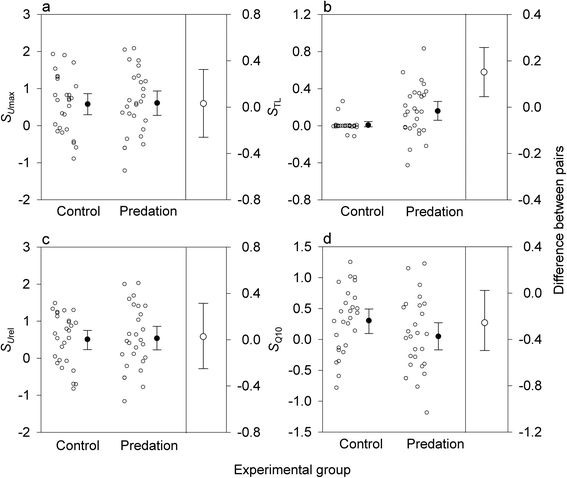 Except for TL (
Z
 = 2.67,
P =
 0.006), nonlinear univariate selection differentials were similar between predation and control groups in all traits (
C
Umax
:
Z
 = 0.14,
P
 = 0.89; C
Urel
:
Z
 = 0.97,
P
 = 0.33;
C
Q10
:
Z
 = 1.93,
P
 = 0.05; Fig.
2
). Bivariate nonlinear selection differentials provided no support for correlated selection on
U
max
and
TL
(
Z
 = 0.17,
P
 = 0.86; Fig.
3
) or
U
max
and
Q
10
(
Z
 = 0.64,
P
 = 0.53). Predator size and temperature explained very little variation in the selection differentials of all traits (Table
1
).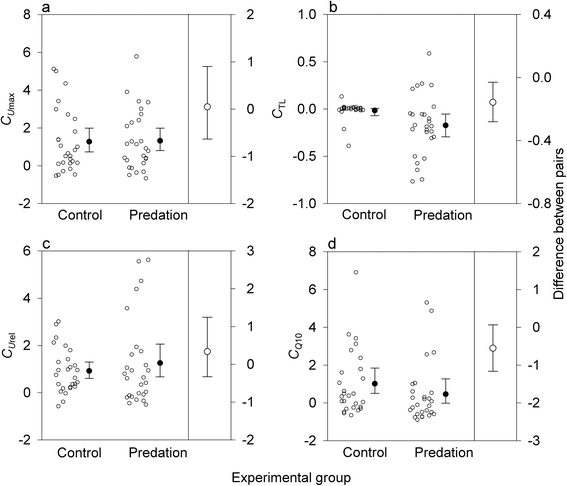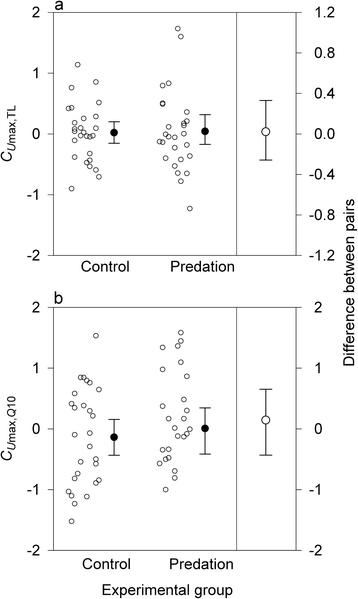 Table 1
Influence of predator size and water temperature variation on selection differentials of prey traits
Selection differential

Effect of predator size

Effect of temperature variation

Pseudo-F 2,25

P

Pseudo-F 2,25

P

S Umax

1.11

0.30

0.75

0.33

S TL

0.35

0.56

3.49

0.08

S Urel

0.94

0.35

0.43

0.51

S Q10

0.08

0.77

0.20

0.66

C Umax

0.53

0.48

0.02

0.88

CTL

0.92

0.35

0.16

0.70

C Urel

<0.01

0.96

0.15

0.70

C Q10

<0.01

0.98

0.20

0.90

C Umax,TL

0.35

0.56

1.47

0.24

C Umax,Q10

2.96

0.09

0.04

0.85
In control aquaria, mean
U
max
, TL, and
U
rel
were positively associated before and after trials (
U
max
:
r
 = 0.84,
P
 < 0.001; TL:
r
 = 0.99,
P
 < 0.001;
U
rel
:
r
 = 0.77,
P
 < 0.001; Fig.
4
). Correlation of
Q
10
means was statistically non-significant (
r
 = 0.14,
P
 = 0.51) suggesting low repeatability of this trait. Except for well-reproducible TL means (
Z
 = 0.23,
P
 = 0.75), larvae swam faster and were more thermally sensitive after than before the control trial (
U
max
:
Z
 = 3.79,
P
 < 0.001;
U
rel
:
Z
 = 3.77,
P
 < 0.001;
Q
10
:
Z
 = 3.17,
P
 < 0.001; Fig.
4
).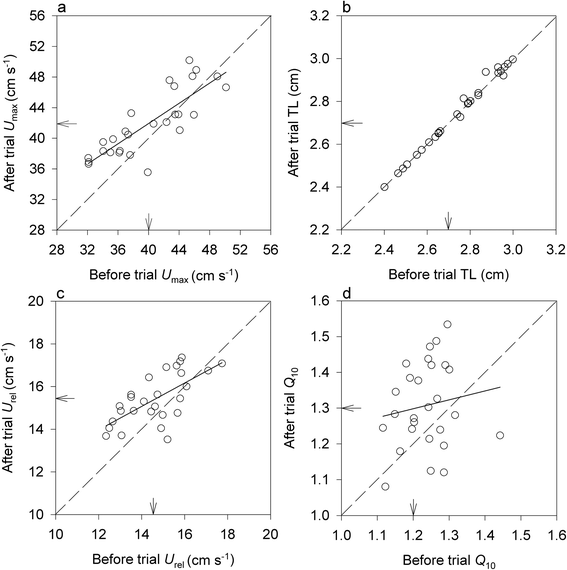 Discussion
A key assumption of locomotor performance studies is selective advantage of maximum velocity. In addition, the recent theory of thermally sensitive predator–prey interactions [15] implies selection not only on the magnitude of prey escape velocity but also on its rate of response to temperature. Our results provide no support for these notions. While non-zero selection differentials might suggest predator-imposed selection on prey U max, U rel, and TL, their comparison with the control revealed selection only on TL. Repeated measurements of U max and Q 10 in control trials revealed their low group repeatability, which contributed to the non-detectable selection on both traits.
The thermal sensitivity of prey swimming velocity was unaffected by predation. In fact, S Q10 estimates suggest that selection for Q 10 was even higher in the control (zero mortality) than in the predation group. The likely explanation for this apparent artifact is the poor group repeatability of Q 10, which resulted from low Q 10 values between 10–20 °C (1.3 ± 0.1) and a relatively high variation in velocity measures. Interestingly, the low Q 10 values across the 10–20 °C range are partially caused by a plastic response to fluctuating thermal conditions [30]. Although Q 10 appears negligible for larval escape success, it cannot be ruled out that the plastic response towards low thermal sensitivity was shaped by selection that occurred in the past. Low repeatability and selection on thermal sensitivity rather than on absolute performance values [43] should be considered among potential factors slowing the evolution of thermal performance curves for maximum velocity.
Positive linear selection differentials of TL suggest that dragonfly larvae preferably preyed on small newt larvae. Accordingly, predation reduced the variance of TL, which resulted in negative nonlinear selection differentials of this trait. Size-selective predation has been widely documented in amphibian larvae [44–46]. Why dragonfly larvae largely preyed on small newt larvae is unknown. Theory predicts that predator attack rate depends on the predator–prey size ratio ([47], but see [48]). Although the size (TL) ratio approached unity (1.3 ± 0.2), the maximum TL of newt larvae provides no mechanic limitation for dragonfly larvae to capture and subdue their prey ([49]; R. Smolinský, personal observations; but see [50]). In addition, predator size had a negligible influence on S TL suggesting that results were little affected by the predator–prey size ratio or predator size correlates, such as encounter rate and handling time.
Alternatively, predator-imposed selection on prey body size was mediated by its correlation with other traits. Contrary to this notion, bivariate selection differentials indicate that predator-imposed selection acted independently on TL and U max in newt larvae. The same result has been reported in tadpoles [25] suggesting independent selection on these traits in both systems. Given the common occurrence of correlational selection [51], this result is a little bit surprising. Among other possible correlates of body size, motor activity (foraging activity or time spent swimming) appears the major determinant of predator-mediated mortality in amphibian larvae [52–54], including the species studied [55]. However, theory predicts that more active individuals grow faster because of higher food uptake, and thus they are bigger than more sedentary counterparts [56]. If the mortality-growth trade-off [57] holds in newt larvae, odonate predators would preferably prey on bigger individuals in experimental arenas, which contradicts our findings. In addition, hungry dragonfly larvae may prey on tadpoles irrespective of their activity level ([58], but see [26, 59]). Hence, identifying determinants of larval escape success requires further research.
Newt larvae swam faster after than before a predation trial, which produced positive S Umax values. However, their comparison with controls revealed zero difference, which implies that the shift in U max is caused by other factors than predation. The motivation to perform at maximum speed varies between field and laboratory conditions [60] or between natural and artificial stimuli [61, 62]. In addition, previous experience and training may contribute to the shift in swimming velocity. In contrast to the shifted means, the paired velocity measures were highly-correlated at a group level suggesting good repeatability of this trait (see also [61]). It follows that the ability to obtain the same group mean is more important than the strength of association between repeated values [63, 64] in predator-imposed selection studies.
Conclusions
Although swimming velocity remains a popular measure of whole-animal performance, this trait played a less important role in newt larvae than has been previously thought. While earlier studies demonstrated the relationship between tail morphology and swimming performance [65], and between tail morphology and survival [31], our study failed to provide the missing link between swimming velocity and survival. This suggests that predator-induced plasticity in the tail area serves another purpose than to improve the escape performance, perhaps to lure predator's attack to the dispensable body part as in tadpoles [66]. Given the mixed empirical support across taxa (see Background), the locomotor performance-fitness assumption always requires experimental verification in a focal species. From an ecological view, the key role of body size in escaping predation appears important in both tadpoles (see Background) and newt larvae (this study; see also [46]) despite their disparate foraging strategies, grazing and ambush predation, and accordingly motor activity levels. A potentially important but largely overlooked consequence of size-selective predation is its contribution to the thinning effect of predation [67, 68], i.e. the body size increase of survived prey may result not only from reduced competition but also from preferential predation on small prey. Finally, our study showed the necessity of well-replicated and controlled predation experiments to properly parameterize mechanistic models of predator–prey interactions and food web dynamics.
Abbreviations
C i :

Univariate nonlinear selection differential
C i,j :

Bivariate nonlinear selection differential
Q 10 :

Thermal sensitivity of U max
S i :

Linear selection differential
TL:

Total length (snout tip to tail tip)
U 10 :

Maximum swimming velocity at 10 °C
U 20 :

Maximum swimming velocity at 20 °C
U max :

Mean maximum swimming velocity across 10–20 °C range
U rel :

Size-corrected U max
Declarations
Acknowledgements
We thank J. Van Buskirk for a detailed presubmission review and anonymous reviewers for their comments on the previous version of this paper. This study was funded by a grant from the Czech Science Foundation (P506/10/2170 and 15-07140S) and institutional support (RVO: 68081766) to LG.
Open AccessThis article is distributed under the terms of the Creative Commons Attribution 4.0 International License (http://creativecommons.org/licenses/by/4.0/), which permits unrestricted use, distribution, and reproduction in any medium, provided you give appropriate credit to the original author(s) and the source, provide a link to the Creative Commons license, and indicate if changes were made. The Creative Commons Public Domain Dedication waiver (http://creativecommons.org/publicdomain/zero/1.0/) applies to the data made available in this article, unless otherwise stated.
Authors' Affiliations
(1)
Institute of Vertebrate Biology AS CR, Brno, Czech Republic
Copyright
© Gvoždík and Smolinský. 2015