Research article
Open Access
Distinct functions of two olfactory marker protein genes derived from teleost-specific whole genome duplication
BMC Evolutionary Biology
2015
15:245
Received: 13 January 2015
Accepted: 4 November 2015
Published: 10 November 2015
Abstract
Background
Whole genome duplications (WGDs) have been proposed to have made a significant impact on vertebrate evolution. Two rounds of WGD (1R and 2R) occurred in the common ancestor of Gnathostomata and Cyclostomata, followed by the third-round WGD (3R) in a common ancestor of all modern teleosts. The 3R-derived paralogs are good models for understanding the evolution of genes after WGD, which have the potential to facilitate phenotypic diversification. However, the recent studies of 3R-derived paralogs tend to be based on in silico analyses. Here we analyzed the paralogs encoding teleost olfactory marker protein (OMP), which was shown to be specifically expressed in mature olfactory sensory neurons and is expected to be involved in olfactory transduction.
Results
Our genome database search identified two OMPs (OMP1 and OMP2) in teleosts, whereas only one was present in other vertebrates. Phylogenetic and synteny analyses suggested that OMP1 and 2 were derived from 3R. Both OMPs showed distinct expression patterns in zebrafish; OMP1 was expressed in the deep layer of the olfactory epithelium (OE), which is consistent with previous studies of mice and zebrafish, whereas OMP2 was sporadically expressed in the superficial layer. Interestingly, OMP2 was expressed in a very restricted region of the retina as well as in the OE. In addition, the analysis of transcriptome data of spotted gar, a non-teleost fish, revealed that single OMP gene was expressed in the eyes.
Conclusion
We found distinct expression patterns of zebrafish OMP1 and 2 at the tissue and cellular level. These differences in expression patterns may be explained by subfunctionalization as the model of molecular evolution. Namely, single OMP gene was speculated to be originally expressed in the OE and the eyes in the common ancestor of all Osteichthyes (bony fish including tetrapods). Then, two OMP gene paralogs derived from 3R-WGD reduced and specialized the expression patterns. This study provides a good example for analyzing a functional subdivision of the teleost OE and eyes as revealed by 3R-derived paralogs of OMPs.
Keywords
Olfactory marker proteinWhole genome duplicationSubfunctionalization
Background
Gene duplication is one of the major driving forces of evolution [
1
–
3
]. In particular, whole genome duplication (WGD) has been thought to be an important factor in the evolution of vertebrates [
1
]. It has been proposed that at least two rounds of WGDs occurred during the evolution of vertebrates [
1
,
4
,
5
] (Fig.
1
). Recent genome studies of amphioxus [
6
] and lamprey [
7
], support this hypothesis. The first-and second-round WGD (1R and 2R, respectively) are suggested to have occurred in the common ancestor of Gnathostomata and Cyclostomata [
7
,
8
]. Thus, almost all modern vertebrates are believed to have undergone WGDs at least twice [
1
]. The third-round WGD (3R), in contrast, occurred in the common ancestor of teleosts (ray-finned fish excluding basal groups belong to polypteriforms, acipenseriforms, lepisosteids, and Amia) [
8
–
12
]. This is represented by the copy number of genes, two in teleosts, one in mammals [
12
,
13
]. The
Hox
cluster is the most well-known example in this regard [
9
–
11
]. There are seven
Hox
clusters in teleost genomes, whereas four clusters are present in mammalian, coelacanth, and shark genomes [
11
]. In addition, slightly differentiated expression patterns are observed for teleost
Hox
paralogs derived from 3R [
14
–
17
]. Thus, teleost-specific duplicated genes seem to be on a path to functional differentiation, namely, 3R occurred neither too recently nor too early to differentiate the function of paralogs. 3R-derived paralogs could be good examples for evaluating the critical timing of functional differentiation.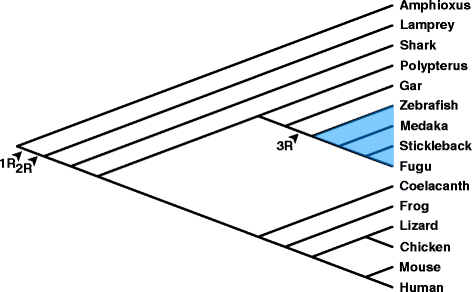 In the case of gene duplication, it is traditionally expected that one of the duplicated genes becomes free from selective pressure and accumulates mutations in the protein coding and/or cis regulatory regions that led to the loss of its functions (pseudogenization) or gain of new functions (neofunctionalization) [2, 3]. Alternatively, subfunctionalization is observed especially as a result of WGD. In subfunctionalization, both paralogs are functional, but each paralog undergoes a complementary reduction and specialization in its expression pattern because of the mutation of its cis regulatory regions [3, 18, 19]. The subfunctionalized paralogs are also expected to gain new function over evolutionary time [20]. Most of the different expression patterns between teleost-specific paralogs that have been shown by previous studies [14–17, 21] could be explained by subfunctionalization. However, in these studies, the different expression patterns were usually discussed based only on in silico studies. In cases where analyses were carried out in vivo, many were performed only at the whole-mount tissue level. Very few comparative expression analyses have been carried out at the cellular level, which is indispensable for the investigation of subfunctionalization.
Olfactory marker protein (OMP) was first isolated from mouse olfactory bulb in the 1970s [22]. OMP is a small protein (~20 kDa) that consists of ~160 amino acids and is specifically expressed in olfactory sensory neurons (OSNs), which are distributed in the main olfactory epithelium in various vertebrates [22–24]. Although OMP is used as a specific marker of mature OSNs in vertebrates [25–28], its function has not yet been fully elucidated. OMP-knockout (KO) mice have reduced physiological activity and behavioral responses with respect to sensing odorants as compared with wild-type mice [29, 30]. In addition, axons of OSNs from OMP-KO mice project abnormally [31]. Recent studies have suggested that OMP is a critical factor for the functional maturation of OSNs [32] and is likely to be involved in Ca2+ clearance in OSNs [33]. Namely, the phenotypes observed in OMP-KO mice mentioned above might be caused by a decline in the clearance of Ca2+ in these OSNs.
OMP had been believed to be a highly conserved single-copy intronless gene among all vertebrates [24, 27, 34, 35]. More recently, it was shown that African clawed frog (Xenopus laevis) and some teleosts have two OMPs [36–38]. In African clawed frog, the expression patterns of the two OMPs are notably, albeit not completely, distinct in the lateral diverticulum and medial diverticulum, in the nasal cavity [36]. These expression patterns are suggestive of subfunctionalization. Although the expression of each of the two OMPs was analyzed in medaka (Oryzias latipes) [37] and salmon (Oncorhynchus nerka) [38], detailed expression patterns were not assessed. In this study, we found with a bioinformatic analysis that teleosts generally possess two OMPs in their genomes. Our phylogenetic analyses revealed that two OMPs are derived from 3R. Until now, expression pattern of OMP has been investigated in many vertebrates. Accordingly, we expected that detail verification of the expression patterns of OMPs could be a good example to understand the fate of 3R-derived paralogs. We here shows the detailed expression patterns of two OMPs at the tissue and the cellular level in zebrafish (Danio rerio).
Conclusions
We suggested that OMP paralogs, which were derived from 3R, have been retained in visual and olfactory system by subfunctionalization (Fig. 8). The expression pattern of OMP in gar or polypterus (ray-finned fish without 3R) should be investigated to confirm this scenarios in the future study. In addition, we propose that OMP2 could be used as a novel molecular marker of OSNs because OMP1 and 2 were separately expressed in the OE. Thus, the 3R-derived duplicated genes might become promising markers for the classification of various types of cells in the same organ, such as neural tissues.
Methods
Ethic statement
The animal protocols and procedures used in this study were approved by the Institutional Animal Care and Use Committee of Tokyo Institute of Technology [62].
Data mining
Human (Homo sapiens), mouse (Mus musculus), Western clawed frog, African clawed frog, zebrafish, and salmon OMP nucleotides sequences were acquired from DNA Data Bank of Japan (DDBJ) with the ARSA keyword search [63]. Accession numbers are as follows: human, BC069365; mouse, U02557; Western clawed frog, BC061304; African clawed frog, AJ010978, AJ010979; zebrafish, AF457189; salmon, AB490250, AB490251. These sequences were used as queries for a BLASTN search to acquire zebrafish, stickleback, and tilapia OMP cDNA sequences from the DDBJ EST database [64]. Accession numbers from the EST database are listed in Table 1. Other OMP sequences were acquired from Ensembl genome browser [65] with a TBLASTN search. For all analyses, a BLAST cutoff E-value was set at 1. Then, complete coding sequences were estimated by GeneWise [66]. The same method was used to acquire CAPN5 sequences. Accession numbers are as follows: human, BC018123; mouse, BC014767; Western clawed frog, BC075496; African clawed frog, BC048218. Information about OMP loci for syntenic analysis was also acquired from Ensembl with a BLASTN search.
Phylogenetic analysis
Deduced amino acid sequences of OMPs were aligned by ClustalW2 [67] with default parameters. Because of its low similarity, exon1 of OMP2 and the homologous regions of the other OMPs were removed from the alignment, and then the maximum likelihood phylogeny was constructed with MEGA6 [68] based on the multiple sequence alignment, using the amino acids WAG + F model with 10,000 bootstrap repetitions and other default parameters.
RT-PCR
The zebrafish were euthanized under anesthesia using ethyl 4-aminobenzoate. Total RNA was extracted from each organ of two adult zebrafish (strain Tü, 12–24 months old) with TRIzol (Invitrogen). After RNase-free DNase I (TaKaRa) digestion, each RNA sample was diluted to 10 ng/μl. cDNA was synthesized from 100 ng total RNA with SuperScript III Reverse Transcriptase (Invitrogen) using oligo-dT
18
as a primer for 1 h at 50 °C. Genomic DNA for control was extracted from fins of adult zebrafish with DNeasy Blood & Tissue Kit (QIAGEN). PCR amplification was carried out for 30 s at 94 °C, 30 s at 55 °C, and 40 s at 72 °C for 35 cycles. Sequences of primers are listed in Table
2
. To eliminate contamination of the PCR products derived from the genomic DNA, we designed intron-spanning primers for
OMP2
and
GAPDH
.
Table 2
PCR primer sequences
| Gene | Forward | Reverse |
| --- | --- | --- |
| OMP1 | 5'-CAGTCTCTACAACAACGAGGA-3' | 5'-TTCATAGGTCTTTAGGAACCC-3' |
| OMP2 | 5'-ATGGGTTCAGAAATGGAGC-3' | 5'-CTAAACAAAGACTACGCATCTGA-3' |
| GAPDH | 5'-GGAGTCTTCCTCAGCATTGA-3' | 5'-ACAGACTCCTTGATGTTGGC-3' |
| TRPC2 | 5'-GCGSGAGATYGTGAACA-3' | 5'-GACARRTAMGCACGGCTG-3' |
| NCAM | 5'-GAGATCAGCGTYGGRGAGTC-3' | 5'-ATGTCKGCAGTGGCRTT-3' |
| Gαolf | 5'-AAGAAGATMGAGAAACAGTT-3' | 5'-TTAAARCACTGAATCCATTT-3' |
| Gαo | 5'-ARAGCCATCGAGAARAACC-3' | 5'-AGCAYYTGGTCGTATCC-3' |
| Gαi | 5'-CAGTCCATMATBGCCATC-3' | 5'-GTSTCBGTRAACCACTTGTT-3' |
| Gαq | 5'-GGCTCAGGCTATTCAGAAGA-3' | 5'-TCTGAAACCAGGGGTATGTT-3' |
| Ora1 | 5'-GTGTCCCGCAGACTATGACT-3' | 5'-ATCCAGATCACGTTATCGATG-3' |
| Ora2 | 5'-TCCACAATGTGTTTGACGAC-3' | 5'-CAGTGAGGTGAAGAAGAGCC-3' |
| Ora3 | 5'-MAACCTGATGGTGTCGTTG-3' | 5'-AAGAGGATGTTGAGMGCCAG-3' |
| Ora4 | 5'-ACCTGTGTCTGGCTAACCTG-3' | 5'-AGCCATGATGACGTGACC-3' |
| Ora5 | 5'-GTTTTCATCAGACCTCTCGG-3' | 5'-TACGGGACAAAACAGGTGTAT-3' |
| Ora6 | 5'-ATGGTGGATGTGTATGATGTTC-3' | 5'-TGATGAAGAACTCCACCTCC-3' |
Transcriptome data analysis
Transcriptome data from the eyes are acquired from DDBJ sequence read archive [69]. Accession numbers are as follows: spotted gar, SRR1288001 and SRR1288144; zebrafish, SRR1562528. Fragments per kilobase of exon per million mapped fragments (FPKM), which reflect relative expression level, were calculated by bowtie-2.2.5 [70] and rsem-1.2.21 [71].
Riboprobe synthesis
Each zebrafish RT-PCR product was ligated into pBluescript II SK(−) vector. Sequences of primers used for RT-PCR are listed in Table 2. Degenerate primers were designed to amplify several paralogs. After cloning and sequencing, the plasmids were extracted with the QIAfilter Plasmid Midi Kit (QIAGEN) and then linearized with the appropriate restriction enzyme. Digoxigenin (DIG)-labeled or fluorescein-labeled riboprobes were synthesized with T7 or T3 RNA polymerase (Roche) from the linearized plasmids with DIG or fluorescein RNA labeling mix (Roche), respectively. The riboprobes were treated with recombinant DNase I (TaKaRa) to exclude template plasmids.
Tissue preparation
Olfactory rosettes and eyes of adult zebrafish were dissected out, and fixed in 4 % paraformaldehyde (PFA) in phosphate-buffered saline (PBS) overnight at 4 °C. After fixation, tissues were cryoprotected in 20 % sucrose in PBS, embedded in O.C.T. compound (Sakura Finetek), and sectioned at a thickness of 10 μm on a cryostat (Leica). Sections were stored at −80 °C until use.
Fluorescence in situ hybridization
Sections were pretreated with 4 % PFA in PBS for 5 min, followed by treatment with 0.3 % H2O2 in PBS for 15 min and then with 5 μg/ml proteinase K in PBS for 10 min at 37 °C. After fixation with 4 % PFA in PBS for 10 min, sections were treated with 0.2 % glycine in PBS for 5 min, and with 0.2 N HCl for 20 min, followed by 0.25 % acetic anhydride/0.03 N HCl/0.1 M triethanolamine for 3 min. Sections were prehybridized with hybridization solution, which consisted of 50 % formamide; 10 mM Tris–HCl buffer, pH 7.5; 0.6 M NaCl; 1 mM EDTA; 0.25 % SDS; 1× Denhardt's solution; 5 % dextran sulfate; and 0.2 mg/ml Yeast tRNA, for 40 minutes and were then hybridized with the hybridization solution containing 5 ng/μl DIG-labeled riboprobe at 60 °C overnight. After hybridization, sections were washed sequentially at 50 °C in 5× saline-sodium citrate (SSC), 50 % formamide in 5× SSC (twice), and then in 10 mM Tris–HCl, pH 7.5, containing 150 mM NaCl and 1 mM EDTA (TNE). After RNase treatment with 2 μg/ml RNase A in TNE for 30 min at 37 °C, sections were washed at 50 °C in 2× SSC (twice) and 0.2× SSC (twice). After treatment of the sections with streptavidin/biotin blocking kit (Vector Laboratories) and 1 % blocking reagent (PerkinElmer) in TBS, bound riboprobe was detected with peroxidase-conjugated anti-DIG antibody (1:100; Roche), and visualized with the TSA Plus biotin kit (PerkinElmer) and Alexa 594-conjugated streptavidin (1:500; Molecular Probes). Sections were coverslipped with VECTASHIELD mounting medium with 4',6-diamidino-2-phenylindole (DAPI) (Vector Laboratories), and images were digitally captured on a fluorescence microscope (Carl Zeiss). In the case of two-color detection, fluorescein-labeled riboprobe was mixed with DIG-labeled riboprobe, and used for hybridization. Fluorescein-labeled riboprobe was detected with peroxidase-conjugated anti-fluorescein antibody (1:500; PerkinElmer), and was visualized with the TSA Plus 2,4-dinitrophenyl (DNP) system (PerkinElmer) and Alexa 488-conjugated anti-DNP antibody (1:500; Molecular Probes). After the detection of the fluorescein-labeled riboprobe, sections were treated with 15 % H2O2 in PBS for 30 min to inactivate peroxidase. Then, the DIG-labeled riboprobe was detected as described above.
Availability of data and materials
The data sets supporting the results of this article are available as Additional file.
Abbreviations
WGD:

Whole genome duplication
OE:

Olfactory epithelium
OMP:

Olfactory marker protein
OSN:

Olfactory sensory neuron
KO:

Knockout
OR:

Odorant receptor
TAAR:

Trace amine-associated receptor
V1R:

Vomeronasal type 1 receptor
V2R:

Vomeronasal type 2 receptor
Declarations
Acknowledgments
We thank Nobuko Yamada for maintaining the fish. We also thank Yoshihiro Yoshihara for meaningful discussions about this work. This work was supported by grants from the Ministry of Education, Culture, Sports, Science, and Technology of Japan 21227002 (NO), and JSPS Asia-Africa Science Platform Program (NO).
Open AccessThis article is distributed under the terms of the Creative Commons Attribution 4.0 International License (http://creativecommons.org/licenses/by/4.0/), which permits unrestricted use, distribution, and reproduction in any medium, provided you give appropriate credit to the original author(s) and the source, provide a link to the Creative Commons license, and indicate if changes were made. The Creative Commons Public Domain Dedication waiver (http://creativecommons.org/publicdomain/zero/1.0/) applies to the data made available in this article, unless otherwise stated.
Authors' Affiliations
(1)
Department of Biological Sciences, Graduate School of Bioscience and Biotechnology, Tokyo Institute of Technology, Yokohama, Japan
(2)
Department of Dementia and Higher Brain Function, Integrated Neuroscience Research Project, Tokyo Metropolitan Institute of Medical Science, Tokyo, Japan
(3)
Foundation for Advancement of International Science, Tsukuba, Japan
(4)
Department of Life Sciences, National Cheng Kung University, Tainan, Taiwan