Research article
Open Access
Karyotype differentiation in 19 species of river loach fishes (Nemacheilidae, Teleostei): extensive variability associated with rDNA and heterochromatin distribution and its phylogenetic and ecological interpretation
BMC Evolutionary Biology
2015
15:251
Received: 9 June 2015
Accepted: 4 November 2015
Published: 14 November 2015
Abstract
Background
Loaches of the family Nemacheilidae are one of the most speciose elements of Palearctic freshwater ichthyofauna and have undergone rapid ecological adaptations and colonizations. Their cytotaxonomy is largely unexplored; with the impact of cytogenetical changes on this evolutionary diversification still unknown. An extensive cytogenetical survey was performed in 19 nemacheilid species using both conventional (Giemsa staining, C- banding, Ag- and Chromomycin A3/DAPI stainings) and molecular (fluorescence in situ hybridization with 5S rDNA, 45S rDNA, and telomeric (TTAGGG)n probes) methods. A phylogenetic tree of the analysed specimens was constructed based on one mitochondrial (cytochrome b) and two nuclear (RAG1, IRBP) genes.
Results
Seventeen species showed karyotypes composed of 2n = 50 chromosomes but differentiated by fundamental chromosome number (NF = 68–90). Nemachilichthys ruppelli (2n = 38) and Schistura notostigma (2n = 44–48) displayed reduced 2n with an elevated number of large metacentric chromosomes. Only Schistura fasciolata showed morphologically differentiated sex chromosomes with a multiple system of the XY1Y2 type. Chromomycin A3 (CMA3)- fluorescence revealed interspecific heterogeneity in the distribution of GC-rich heterochromatin including its otherwise very rare association with 5S rDNA sites. The 45S rDNA sites were mostly located on a single chromosome pair contrasting markedly with a pattern of two (Barbatula barbatula, Nemacheilus binotatus, N. ruppelli) to 20 sites (Physoschistura sp.) of 5S rDNA. The cytogenetic changes did not follow the phylogenetic relationships between the samples. A high number of 5S rDNA sites was present in species with small effective population sizes.
Conclusion
Despite a prevailing conservatism of 2n, Nemacheilidae exhibited a remarkable cytogenetic variability on microstructural level. We suggest an important role for pericentric inversions, tandem and centric fusions in nemacheilid karyotype differentiation. Short repetitive sequences, genetic drift, founder effect, as well as the involvement of transposable elements in the dispersion of ribosomal DNA sites, might also have played a role in evolutionary processes such as reproductive isolation. These remarkable dynamics of their genomes qualify river loaches as a model for the study of the cytogenetic background of major evolutionary processes such as radiation, endemism and colonization of a wide range of habitats.
Keywords
Fish cytotaxonomyKaryotype variability vs. 2n uniformityFISH45S - 5S ribosomal genesChromosome bandingPericentric inversionRobertsonian translocationEffective population size
Background
Cypriniformes, the largest order of freshwater fishes globally, is composed of two highly diverse Palearctic superfamilies – Cyprinoidea and Cobitoidea [1, 2]. Cobitoidea, or "loaches", are a group of small benthic fishes which are one of the most common elements of Eurasian freshwater ichthyofauna. To date, Cobitoidea includes about 1100 species, currently recognized in ten families [3], and yet only representatives of Cobitidae, Botiidae, Catostomidae and Vaillantellidae have so far been studied cytogenetically. Several cases of highly diverse karyotypes and polyploidy have been discovered in the first three families, although not in Vaillantellidae [4]. The Botiidae family consists of two subfamilies differing in ploidy levels (one diploid and one tetraploid) [5]. In Cobitidae, several independent polyploidization events occurred [6, 7], in some cases after hybridization, leading to an asexual mode of reproduction [8–10]. From these limited data we can see that cytogenetic changes might have played an important role in the evolution of loaches and it remains an open question as to whether this is also true for the remaining cobitoid lineages.
With nearly 600 recognized species in 46 genera [3], Nemacheilidae, or "river loach", represents the most diverse family of loach fishes, as well as being the most widespread with a distribution area ranging continuously from Portugal to Japan, and from most Siberian rivers to Java [11]. Importantly, river loaches are also very abundant within this enormous distribution area, occurring in virtually all rivers in Europe and Asia. On the other hand, their distribution pattern varies considerably; while some species are geographically very restricted, others are widely distributed, a feature often found even within the same genus, e.g., Schistura [3]. Additionally, Nemacheilidae have colonized an unusual variety of habitats including standing swamps, torrential rapids, major rivers, small forest streams, caves and lakes. Their ecological diversity is further illustrated by them being both the highest (above sea level) and the lowest (below ground level) freshwater fish in the world [3]. All these characteristics make Nemacheilidae a vital model for evolutionary study and our candidate group with which to evaluate the impact of cytogenetic changes on their diversity.
Despite the vast biodiversity within Nemacheilidae, the cytogenetics and cytotaxonomy of this group remain poorly explored. Giemsa-stained chromosomes have been studied in only 24 species [7, 12–14] and banding techniques were performed solely in the single species Barbatula barbatula [15] while no molecular cytogenetics had previously been applied. From this limited data, karyotypes of most analysed species display the stable diploid chromosome number 2n = 50, while interspecific karyotype variability in the number of chromosomal arms (Nombre Fundamental, NF) is apparent (see, e.g., [15–17]). In some species, intraspecific variability in 2n and karyotype composition has also been documented [17–20]. Polyploidy has been recorded only in one species B. 'barbatula' (2n = 3x = 75) [21]. The scarce available data does indicate the extensive but unexplored cytogenetic diversity of nemacheilid loaches.
The aim of this study is to assess cytogenetic variability within the Nemacheilidae family using conventional and molecular chromosome markers and to evaluate these data with regards to the evolutionary processes behind morphological and ecological diversification. A representative sampling of 19 species from eleven genera were used to investigate karyotypes, heterochromatin distribution and chromosomal characteristics of both rDNA classes and (in some cases) the telomeric sequence motif (TTAGGG)n. All cytogenetic characteristics were mapped onto a phylogenetic tree based on molecular analyses of one mitochondrial and two nuclear genes.
Methods
Animals
Fifty-two individuals belonging to 19 different nemacheilid species were analysed (Table
1
). Their distribution areas are specified in Fig.
1
and references for taxonomic identification are given in Additional file
1
: Supplementary Methods 1. All analysed specimens were obtained from ornamental fish trade, from a commercial fish farm or from private aquarium fish breeders. All experimental procedures involving fishes were approved by the Institutional Animal Care and Use Committee of the IAPG AS CR, according with directives from the State Veterinary Administration of the Czech Republic, permit number 217/2010, and by permit number CZ 02386 from the Ministry of Agriculture of the Czech Republic. Voucher specimens are deposited to the fish collection of the Laboratory of Fish Genetics, IAPG, CAS, Liběchov.
Table 1
Species under study, their sex, origin and geographical distribution
| Species | Individuals | Source (country, province, river basin) | Distribution |
| --- | --- | --- | --- |
| Barbatula barbatula (Linnaeus, 1758) | 3 | Czech Republic, Středočeský kraj, Elbe | widespread (Europe, Asia) |
| Lefua costata (Kessler, 1876) | 2♀ | Republic of Korea, Gangwon, Geojin | widespread (Korea, China) |
| Mesonoemacheilus guentheri (Day, 1867) | 1♂, 1♀ | Ornamental fish trade | moderately widespread (southern India) |
| Nemacheilus binotatus (Smith, 1933) | 1♂, 1♀ | Ornamental fish trade | moderately widespread (Thailand) |
| Nemachilichthys ruppelli (Sykes, 1839) | 1♂, 1♀ | Ornamental fish trade | moderately widespread (southern India) |
| Paracanthocobitis pictilis (Kottelat, 2012) | 2♀ | Ornamental fish trade | endemic to Ataran river (Myanmar) |
| Paracanthocobitis zonalternans (Blyth, 1860) | 1 ♂1♀ | Myanmar, no details known | widespread (Bangladesh to Malaysia) |
| Petruichthys brevis (Boulenger, 1893) | 1♂, 1♀ + 1 | Ornamental fish trade | endemic to Inle Lake (Myanmar) |
| Physoschistura elongata (Sen & Nalbant, in Singh, Sen, Bănărescu & Nalbant, 1982) | 2 | Ornamental fish trade | endemic to Shilling county (northeast India) |
| Physoschistura sp. | 2 | Myanmar, Shan, Salween | endemic to surrounding of Inle Lake (Myanmar) |
| Pteronemacheilus lucidorsum (Bohlen & Šlechtová, 2011) | 1♂, 1♀ | Myanmar, Shan, Irrawaddy | endemic to upper Myitnge river basin (Myanmar) |
| Schistura bolavenensis (Kottelat, 2000) | 3 | Laos: Champasak, Mekong | moderately spread (Bolaven plateau, Laos) |
| Schistura corica (Hamilton, 1822) | 1♂, 3♀ | Ornamental fish trade | widespread (northern India, Bangladesh) |
| Schistura fasciolata (Nichols and Pope, 1927) | 2♂, 1♀ | Ornamental fish trade | widespread (southern China and northern Vietnam) |
| Schistura hypsiura (Bohlen, Šlechtová & Udomritthiruj, 2014) | 1♂, 1♀ +3 | Ornamental fish trade | endemic to southern Rakhine state (Myanmar) |
| Schistura notostigma (Bleeker, 1863) | 6 | Ornamental fish trade | endemic (Sri Lanka) |
| Schistura pridii (Vidthayanon, 2003) | 2 | Ornamental fish trade | local endemic (northern Thailand) |
| Schistura savona (Hamilton, 1822) | 3 | Ornamental fish trade | widespread (northern India, Bangladesh) |
| Seminemacheilus lendlii (Hankó, 1924) | 1♂, 1♀ | Turkey, Anatolia, no details known | endemic to southeast Anatolia (Turkey) |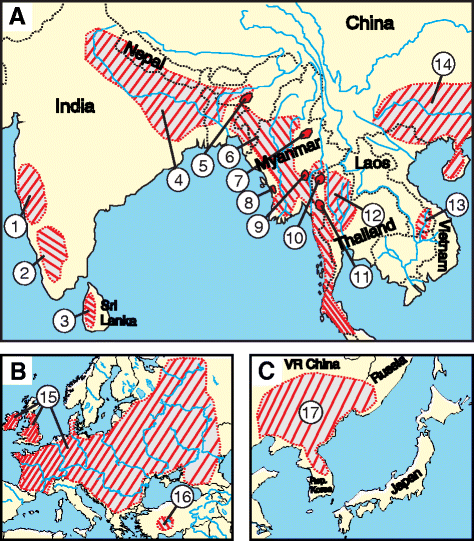 Chromosome preparation and analysis of constitutive heterochromatin
Mitotic chromosomes were obtained from regenerating fin tissue by the technique described by Völker et al. [22] and Völker and Ráb [23], with slight modifications (see Additional file 1: Supplementary Methods 2). For conventional cytogenetic analysis, chromosomes were stained with 5 % Giemsa solution (pH 6.8) (Merck, Darmstadt, Germany). Selected slides were destained in methanol:acetic acid fixation (see above) and re-used for the other techniques. For fluorescence in situ hybridization (FISH), slides were dehydrated in an ethanol series (70, 80 and 96 %, 3 min each) and stored in a freezer (−20 °C). Visualization of the constitutive heterochromatin was done by C-banding according to Haaf and Schmid [24] using 4′,6-diamidino-2-phenolindole (DAPI) (Sigma, St. Louis, MO, USA) counterstaining. Fluorescence staining was performed sequentially or in separate experiments by GC-specific fluorochrome Chromomycin A3 (CMA3) (Sigma-Aldrich) [25] and AT-specific fluorochrome DAPI (Sigma-Aldrich) [26], following Mayr et al. [27] and Sola et al. [28]. In P. elongata, a silver staining technique was employed according to Howell and Black [29]. At least ten metaphases per specimen were analysed, in some cases sequentially. In a few cases, metaphases with incomplete 2n were selected (see Figs. 6i and 7a; Additional file 2: Figure S1K), but were sufficient enough to present the required features. Chromosome morphology was classified according to Levan et al. [30], but modified as m – metacentric, sm – submetacentric, st – subtelocentric, a – acrocentric, where st and a chromosomes were scored as uniarmed, together in one category.
DNA isolation and probe preparation
Whole genomic DNA was extracted from fin tissue using the conventional phenol-chloroform-izoamylalcohol method [31] using PhaseLock Eppendorf tubes (5PRIME, Gaithersburg, USA) to prevent protein contamination, or the Qiagen DNAeasy Blood & Tissue Kit (Qiagen, Hilden, Germany). rDNA fragments were obtained by polymerase chain reaction (PCR) using previously described primers (see Additional file 3: Table S1; for PCR conditions see Additional file 1: Supplementary Methods 3). The resulting PCR products were purified using QIAquick PCR purification Kit (Qiagen), with multiple bands being electrophoresed in 0.8 % agarose gels and purified using QIAquick Gel Extraction Kit (Qiagen). DNA fragments were cloned to pDrive Cloning Vector (Qiagen) and transformed into QIAGEN EZ Competent Cells (Qiagen). Selected recombinant plasmids were isolated by QIAprep Spin Miniprep Kit (Qiagen) and sequenced in both strands by Macrogen (South Korea, Netherlands). Chromatograms of obtained sequences were verified and assembled using SeqMan Pro 10.1.2 (LaserGene, DNASTAR, Madison, Wl.). The resulting consensus sequences were confirmed using NCBI BLAST/N analysis [32] and selected clones used to construct FISH probes.
Probes were labelled by PCR with biotin-16-dUTP (Roche, Mannheim, Germany) or digoxigenin-11-dUTP (Roche). For each slide 200 ng of 5S rDNA, 200 ng of 45S rDNA and 25 μg of sonicated salmon sperm DNA (Sigma-Aldrich) were added and the resulting probe precipitated in 96 % ethanol, washed in 70 % ethanol, air-dried and re-dissolved in hybridization buffer (50 % formamide, 10 % dextran sulphate, 2× SSC, 0.04 M NaPO4 buffer, 0.1 % SDS, Denhardt reagens, see [33]) to give a final concentration of 25 ng/μl for each rDNA probe.
For telomeric FISH, non-templated PCR with primers (TTAGGG)5 and (CCCTAA)5 was carried out according to Ijdo et al. [34]. The amplified product was labelled using Nick Translation Mix (Abbot Molecular, Illinois, USA) with biotin-16-dUTP, taking 3–4 h to reach optimal probe size (100–500 bp).
FISH analysis
FISH was carried out according to Cremer et al. [35] with several modifications. Briefly, dehydration in an ethanol series (70, 80 and 96 %, 3 min each) was followed by thermal aging for 1–2 h at 37 °C and 30 min at 60 °C. Prior to hybridization, the chromosomes were treated with RNase A (200 μg/ml in 2× SSC) (Sigma-Aldrich) for 90 min at 37 °C in a humid chamber and digested with pepsin (50 μg/ml in 10 mM HCl, 3 min, 37 °C). Slides were subsequently denatured in 75 % formamide (pH 7.0) (Sigma-Aldrich) in 2× SSC at 74 °C for 3 min, and then immediately cooled and dehydrated in 70 % (cold), 80 % and 96 % (RT) ethanol. The hybridization mixture was denatured at 86 °C for 6 min and immediately chilled on ice for 10 min. 10–20 μl of probe mixture was applied to a denatured slide and hybridization was performed overnight at 37 °C in a dark humid chamber. Post-hybridization washes were done twice in 50 % formamide in 2× SSC (pH 7.0) at 42 °C for 5 min and three times in 1× SSC at 42 °C (7 min each) before equilibration washing in 2× SSC at RT for 20 s. Prior to probe detection 500 μl of 3 % BSA (Vector Labs, Burlington, Canada) in 4× SSC in 0,01 % Tween 20 was dropped onto the slide (at 37 °C for 20 min) as a blocking treatment. Probes were detected by Anti-Digoxigenin-Rhodamine (Roche) and Streptavidin-FITC (Invitrogen Life Technologies, San Diego, CA, USA) along with Anti-Digoxigenin-Fluorescein (Roche) and Streptavidin-Cy3 (Invitrogen Life Technologies) to exclude any artificial results (influenced e.g., by the type of applied antibody). Experiments with altered labelling (biotin for 45S and digoxigenin for 5S rDNA) were included to verify the observed patterns. All rDNA FISH pictures presented here are pseudocoloured in red for the 45S rDNA probe and in green for the 5S rDNA.
The slides were incubated with antibodies at 37 °C for 60 min in a dark humid chamber, washed four times (7 min each) in 4× SSC in 0.01 % Tween (pH 7.0) at 42 °C and the chromosomes then counterstained with DAPI in mounting medium (Cambio, Cambridge, United Kingdom), covered and sealed with a coverslip.
To enhance telomeric FISH signals, tyramid signal amplification (TSA) was performed using a kit with tyramide conjugated with Alexa 488 fluorochrome (Invitrogen Life Technologies).
After image processing FISH slides selected for fluorescence banding and/or C-banding were washed in 4× SSC in 0.01 % Tween (pH 7.0) and dehydrated in an ethanol series.
Microscopy and image analysis
Giemsa-stained chromosomes and FISH images were inspected using a Provis AX70 Olympus microscope with a standard fluorescence filter set. FISH images were captured under immersion objective 100× with a black and white CCD camera (DP30W Olympus) for each fluorescent dye using Olympus Acquisition Software. The digital images were then pseudocoloured (blue for DAPI, red for Rhodamine or Cy3, green for FITC or Alexa488) and superimposed with MicroImage software (Olympus, version 4.0). FISH karyotype images were optimized and arranged using Adobe Photoshop, version CS6. Karyotypes from Giemsa-stained and C-banded images were arranged in IKAROS (Metasystems) software.
Phylogenetic analyses
Phylogenetic hypothesis was based on the analyses of three molecular markers: mitochondrial cytochrome b (cyt b), recombination-activating gene 1 (RAG1) and interphotoreceptor retinoid-binding protein (IRBP). The primers and PCR reaction protocols for cyt b and RAG1 followed Šlechtová et al. [5, 36], and Chen et al. [37] for the IRBP amplification (for details, see Additional file 1: Supplementary Methods 4). The same sets of PCR primers were used for sequencing (summarized for all genes in Additional file 3: Table S1). All three genes were sequenced for each of the 39 analysed specimens of Nemacheilidae.
Chromatograms were edited and assembled using SeqMan Pro 10.1.2 (LaserGene, DNASTAR). The sequences were aligned in BioEdit 7.0.5.3 [38] and evaluated based on their amino acid translation.
Prior to the phylogenetic analyses, the congruence among the three gene partitions was assessed using the incongruence length difference (ILD) test [39] with 1000 replication as implemented in PAUP 4.0b10 [40]. Since the test did not reveal any significant conflict (see the Results), all three datasets could be concatenated into a single matrix.
Alignments of all three genes were concatenated into a single 2998 bp dataset (1124 bp of cyt b, 974 bp of RAG1 and 900 bp of IRBP) and 40 individuals (39 Nemacheilidae plus 1 outgroup). All sequences but one (cyt b sequence of Botia lohachata) are original data and were deposited in GenBank [41] under the accession numbers [KP738491 - KP738609] (see Additional file 4: Table S2).
Phylogenetic analysis of the concatenated dataset was performed using the partitioned Bayesian inference in MrBayes 3.2.2 [42]. The dataset was partitioned by genes and codon positions, involving in total nine partitions. The analysis was set to six Metropolis Coupled Markov Chains Monte Carlo (MCMCMC) with default heating conditions, searching the tree space for 5 milion generations under the GTR + G + I settings for each partition, in two runs, starting with random trees and a sampling frequency of each 100 generations. The log-likelihood score distribution was examined to determine the burn-in values. The first 1000 trees were discarded as burn-in and the remaining ones were used to build a 50 % majority rule consensus tree and statistical support of clades was assessed by posterior probabilities.
Conclusions
Our data provides important information regarding the karyotype differentiation trends in Nemacheilidae. The majority of surveyed species showed the karyotype characteristics common for teleost fishes – e.g., 2n = 50 chromosomes with a slightly changing centromere position, a single pair of NOR and its association with GC-rich blocks of heterochromatin. However, a number of deviations were also apparent – e.g., reduced 2n in two species, atypical locations of GC-rich heterochromatin (e.g., in 5S rDNA sites), cases of multiple rDNA sites and the presence of putative sex chromosomes. While conventional staining showed prevailing uniformity of the nemacheilid karyotypical macrostructure, analysis at the molecular-cytogenetic level revealed much more variability and greater diversity than previously expected. An increased number of 5S rDNA sites were observed, especially in species with a small effective population size. The mechanisms responsible for such intense dynamics can possibly be attributed to the presence of repetitive sequences and could contribute to enormous success of Nemacheilidae in their colonization and exploitation of new niches, as well as with their adaptation processes. Our study presents river loaches as a new attractive model fish group for investigating the dynamics of cytogenetic markers in association with evolutionary and ecological questions. Importantly, we have also introduced a new non-invasive technique for obtaining chromosome spreads for molecular-cytogenetics protocols.
Availability of supporting data
All the supporting data are included as additional files.
Abbreviations
AT:

Adenine-thymine
CMA3 :

Chromomycin A3
BSA:

Bovine serum albumin
cyt b :

Cytochrome b
DAPI:

4′, 6-diamidino-2-phenylindole
DAPI/CMA3 +/− :

DAPI/CMA3 positive/negative signals
FISH:

Fluorescence in situ hybridization
FITC:

Fluorescein isothiocyanate
GC:

Guanine-cytosine
GIRI:

Genetic information research institute
het-ITSs:

Heterochromatic interstitial telomeric sequences
IAPG:

Institute of Animal Physiology and Genetics
IGS:

Intergenic spacer
IRBP :

Interphotoreceptor retinoid-binding protein
ITSs:

Interstitial telomeric sequences
LTR:

long terminal repeat
NF:

Nombre fundamental
NOR:

Nucleolar organizer region
NTS:

Non-transcribed spacer
PCR:

Polymerase chain reaction
RAG1 :

Recombination-activating gene 1
rDNA:

Ribosomal DNA
RTEs:

Retrotransposable elements
SSC:

Standard saline buffer
TEs:

Transposable elements
TSA:

Tyramid signal amplification
2n:

Diploid chromosome number
Declarations
Acknowledgements
We would like to thank J. Freyhof, R. Hoyer, G. Ott, I. Seidel and K. Udomritthiruji for their help obtaining specimens. We are also grateful to K. Ocalewicz and M.B. Cioffi for useful discussions and inspiring comments and further to A.-M. Dion-Côté and C. S. A. Pereira for technical suggestions. We are thankful also to J. Čechová, P. Šejnohová and Š. Pelikánová for laboratory assistance and to C. Johnson for reading the manuscript and language corrections. The study was carried out with the financial support from the Czech Science Foundation (grant no. 206/08/0637) and with the institutional support RVO: 67985904.
Open AccessThis article is distributed under the terms of the Creative Commons Attribution 4.0 International License (http://creativecommons.org/licenses/by/4.0/), which permits unrestricted use, distribution, and reproduction in any medium, provided you give appropriate credit to the original author(s) and the source, provide a link to the Creative Commons license, and indicate if changes were made. The Creative Commons Public Domain Dedication waiver (http://creativecommons.org/publicdomain/zero/1.0/) applies to the data made available in this article, unless otherwise stated.
Authors' Affiliations
(1)
Laboratory of Fish Genetics, Institute of Animal Physiology and Genetics, Czech Academy of Sciences, Liběchov, Czech Republic
(2)
Department of Genetics and Microbiology, Faculty of Science, Charles University in Prague, Prague 2, Czech Republic
(3)
Department of Ecology, Faculty of Science, Charles University in Prague, Prague 2, Czech Republic
(4)
Research Institute for Limnology, University of Innsbruck, Mondsee, Austria