Research article
Open Access
Being cosmopolitan: evolutionary history and phylogeography of a specialized raptor, the Osprey Pandion haliaetus
BMC Evolutionary Biology
2015
15:255
Received: 27 July 2015
Accepted: 9 November 2015
Published: 17 November 2015
Abstract
Background
The Osprey (Pandion haliaetus) is one of only six bird species with an almost world-wide distribution. We aimed at clarifying its phylogeographic structure and elucidating its taxonomic status (as it is currently separated into four subspecies). We tested six biogeographical scenarios to explain how the species' distribution and differentiation took place in the past and how such a specialized raptor was able to colonize most of the globe.
Results
Using two mitochondrial genes (cyt b and ND2), the Osprey appeared structured into four genetic groups representing quasi non-overlapping geographical regions. The group Indo-Australasia corresponds to the cristatus ssp, as well as the group Europe-Africa to the haliaetus ssp. In the Americas, we found a single lineage for both carolinensis and ridgwayi ssp, whereas in north-east Asia (Siberia and Japan), we discovered a fourth new lineage. The four lineages are well differentiated, contrasting with the low genetic variability observed within each clade. Historical demographic reconstructions suggested that three of the four lineages experienced stable trends or slight demographic increases. Molecular dating estimates the initial split between lineages at about 1.16 Ma ago, in the Early Pleistocene.
Conclusions
Our biogeographical inference suggests a pattern of colonization from the American continent towards the Old World. Populations of the Palearctic would represent the last outcomes of this colonization. At a global scale the Osprey complex may be composed of four different Evolutionary Significant Units, which should be treated as specific management units. Our study brought essential genetic clarifications, which have implications for conservation strategies in identifying distinct lineages across which birds should not be artificially moved through exchange/reintroduction schemes.
Keywords
AccipitriformesAvesCytochrome b Evolutionary Significant UnitMitochondrial markersMolecular datingND2Subspecies
Background
The modern distribution of living organisms has been shaped by multiple processes that had profound effects on the dispersal, genetic structure and evolutionary histories of plant and animal populations. Movements of land-masses and successive multiple glacial events that occurred during the Pleistocene caused severe habitat changes which confined many species to warmer refugia and led other taxa to experience demographic reductions or complete extinction [1]. Favourable periods during climatic fluctuations allowed successive population expansions, together with the recolonization of portions of the ancient ranges [2].
Despite the high potential dispersive power of flying birds, it is striking that only a few taxa did colonize most of the world. Excluding seabirds, for which the distribution pattern depends more on ocean basins than on the major land-masses [3], only six landbird species (out of ca. 10,000 species) are known to be cosmopolitan, breeding in each biogeographical region of the world, except Antarctica. This group includes the Great Egret Ardea alba, the Cattle Egret Bubulcus ibis, the Glossy Ibis Plegadis falcinellus, the Barn Owl Tyto alba, the Peregrine Falcon Falco peregrinus and the Osprey Pandion haliaetus.
The Osprey is a medium-sized raptor with flexible breeding habitat requirements across its range. Despite its specialization as a piscivore, it is an opportunistic forager that can feed in both freshwater and marine environments [4]. Northern populations are known to migrate long distances [4, 5], whereas individuals from lower latitudes (e.g. Caribbean, Atlantic islands and Mediterranean basin) are mostly sedentary, or perform small-scale interbreeding movements [4, 6]. One could therefore predict that such broad habitat tolerances and high mobility should homogenize genomes, limiting genetic differentiation across populations at a continental level, as described in other widespread raptors (e.g. Haliaeetus albicilla: [7]; Falco peregrinus: [8]). However, adult ospreys tend to return to their natal area to breed [9] and such strong philopatry may have played in favour of genetic structuring among populations across the extensive range. Similarly, genetic differences may be expected between long-distance migratory and partially migratory/resident populations.
On the basis of comparative non-molecular characters such as osteology, pelvic musculature and the distribution of feather tracts, the Osprey is considered sufficiently distinct from other raptor species (family Accipitridae; [
10
]) to merit a monotypic family (Pandionidae) [
11
,
12
]. The most widely accepted taxonomic arrangement recognises four subspecies of Osprey:
P. h. haliaetus
(Linnaeus, 1758) in the Palearctic from Europe, northwest Africa, and Asia north of the Himalayas,
P. h. carolinensis
(Gmelin, 1788) in North America,
P. h. ridgwayi
(Maynard, 1887) in Caribbean Islands, and
P. h. cristatus
(Vieillot, 1816) in the Indo-Pacific and Oceania (Fig.
1
). The four subspecies were traditionally split on the basis of morphometry and plumage characteristics, but the differences are not straightforward [
4
,
13
]. Therefore, referring only to morphology for describing diversity and interrelationships between subspecies has led to controversies in taxonomy.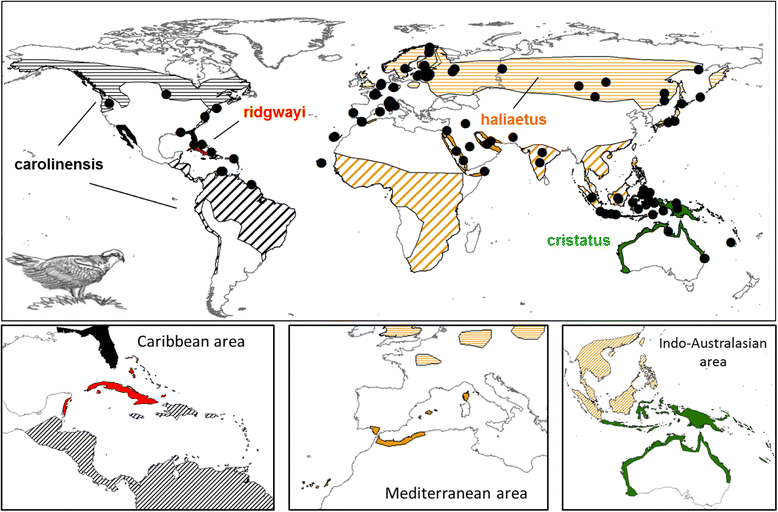 In this context, using molecular markers is a powerful method for inferring the evolutionary history of the Osprey. Only two genetic studies have been carried out on this species [14, 15], but they did not investigate all subspecies, in the entire distributional range. Here, we carried out an extensive phylogeographic study based on mitochondrial DNA sequences (cytochrome b and ND2 genes) from samples covering the worldwide distribution of the Osprey. This exhaustive dataset allowed addressing specific questions. a) Does the Osprey show any phylogeographic structure in mitochondrial DNA at the continental level? b) How was such a specialized raptor able to colonize the entire world? We propose a hypothetical evolutionary scenario explaining how the species' distribution and differentiation took place in the past. In the light of these new genetic clarifications, we discuss the potential implications for revisions of the taxonomy and for conservation (e.g. defining Evolutionary Significant Units (ESUs; [16]) to design relevant conservation strategies at the appropriate spatial scale.
Results
Phylogenetic relationships
For the mitochondrial cyt b dataset (213 individuals = 209 ospreys + 4 outgroups), the best-fit scheme was a partitioning according to codon position with the models HKY + I for position 1 (367 nucleotides), TrN for position 2 (368) and K80 + G for position 3 (368). As the TrN substitution model was not available in MrBayes, the parameter Nst was set to 6. The partitioned ML analysis was performed with 1000 bootstrap replicates using a GTR + G substitution model for each codon position in RaxMl software. The average Bayesian posterior probabilities (pp) and bootstrap values (BP) for supported clades are shown on the tree in Fig. 2. The phylogenetic tree including the totality of individuals (n = 209) is reported in supplementary information (Additional file 4).
Comparisons on cyt
b
sequences of ospreys (
n
 = 146 individuals on 661 bp; see methods) returned 19 mtDNA haplotypes that were used to represent phylogenetic relationships (Fig.
2a
). This tree revealed the existence of four groups which represent quasi non-overlapping geographical lineages. A first clade (AMER; pp = 0.36, BP = 55) includes 5 haplotypes from 17 ospreys from the New World: 2 samples from the Pacific coast of USA (Oregon), 8 from the Atlantic coast of USA (Massachusetts and Virginia), 5 from the Caribbean and 2 of unknown origins (one collected in Suriname, South America and the other one from USA without specification). No genetic structure was evidenced and it can be noticed that Caribbean samples (supposed to form a separate group:
ridgwayi
ssp) belong to two haplotypes which are scattered with other
carolinensis
samples (Fig.
3
).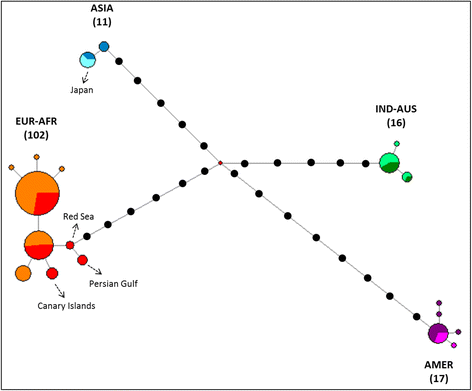 The second cluster (IND-AUS; pp = 1.00, BP = 100) is composed of 3 haplotypes including 16 individuals retrieved from the Indo-Australasian area: 6 from various islands of Indonesia and 10 from Australia.
A third group was composed of 2 haplotypes and 11 ospreys from Asia (ASIA; pp = 1.00, BP = 71): 6 from the Pacific coast of Siberia (e.g. regions of Magadan, Khabarovsky, Primorskii and the Kurile islands) and five from Japan (Fig. 3). In addition, two samples that belonged to this haplogroup were collected in other geographic areas: one from continental Asia (Mongolia) and another one from the Indo-Australasian region (New Guinea).
Finally, the largest clade (EUR-AFR; pp = 1, BP = 96) was formed by 102 individuals representing 9 haplotypes, mainly belonging to the Western Palearctic area, with a few exceptions. 93 of these samples were collected in Europe along a latitudinal gradient scattered from northern Europe (Fenno-Scandia and western Russia), central Europe (Germany, France), to southern localities in the Mediterranean area (Corsica, Balearics, Italy, Portugal). Samples from North African coasts (e.g. Morocco) and Atlantic islands (e.g. Canary and Cape Verde) were included in this haplogroup, together with ospreys from the Red Sea and Persian Gulf areas. Three single haplotypes identified particular geographical regions (Fig. 3): Canary Islands (4 individuals), Persian Gulf (2 ind.) and Red Sea (3 ind.). The remaining samples of the EUR-AFR group (93 ind.) mostly belonged to two frequent haplotypes. Interestingly, three geographical exceptions were recorded in this group: two individuals from central Siberia (Tuva and Baikal regions) and one from India.
In total, three potential mixing areas were detected between phylogenetic lineages in the Old world (see Fig. 7): a) one in central Siberia between EUR-AFR and ASIA; b) one in Indonesia between ASIA and IND-AUS and c) a third one between west Indonesia and India between EUR-AFR and IND-AUS.
Despite the different sample sizes, mean genetic
p
-distances within groups (Table
1
) were low and showed comparable values (
p
 = 0.001 - 0.002), indicating limited genetic variability internal to each lineage. On the other hand, the greatest genetic differences between groups (Table
1
) were recorded between AMER and EUR-AFR (
p
 = 0.026), whereas lowest values were obtained between IND-AUS and ASIA (
p
 = 0.015) and between IND-AUS and EUR-AFR (
p
 = 0.017). At the same time, distance between AMER and IND-AUS was smaller (
p
 = 0.020) than those between AMER and ASIA (
p
 = 0.025).
Table 1
Uncorrected pairwise (p)-distance expressed as percentage (%) for cyt b within (in bold) and between clades in Pandion haliaetus. The number of individuals analzed for each group is given into parentheses
| | IND-AUS | EUR-AFR | AMER | ASIA |
| --- | --- | --- | --- | --- |
| IND-AUS (37) | 0.1 | | | |
| EUR-AFR (131) | 1.7 | 0.1 | | |
| AMER (26) | 2.0 | 2.6 | 0.1 | |
| ASIA (15) | 1.5 | 2.1 | 2.5 | 0.2 |
Relationships between the four haplogroups did not appear well resolved. The structure of the cyt b phylogenetic tree (Fig. 2a) revealed that the three Old World lineages (EUR-AFR, ASIA and IND-AUS) formed a rather well supported grouping (pp = 0.99, BP = 66) leaving the AMER group as the basal clade. On the other hand, the sister group relationships between EUR-AFR and ASIA is poorly supported (pp = 0.33, BP = 35). In order to improve resolution between groups we sequenced the ND2 gene for a subsample of 39 individuals (Additional file 4b). The concatenation of the two mitochondrial fragments represented 2037-bp and provided fourteen haplotypes from thirty-eight sequences (Additional file 1). Four partitions were obtained for the best-fit scheme: one for the position 1 of cyt b (with the model K80 + G), one for the cyt b-position 2 and ND2-position 3 (model HKY + I), one for the cyt b-position 3 and the ND2-position1 (model TrN) and one for the ND2-position 2 (model K81uf + G). As previously stated, the TrN model was approximated with Nst = 6 in MrBayes. The analysis carried out on the two genes (Fig. 2b for the 14 haplotypes and Additional file 4c for the 38 individuals) reinforced the support for the four main lineages, although it should be noted that the ASIA group was now represented only by five samples from Japan. Even though the number of nucleotides has been doubled, the only noticeable gain is a slight increased support for the node EUR-AFR/ASIA (pp = 0.66, BP = 47) whereas other relationships, including the position of the root, remained unresolved.
Network, genetic variability and demography
The cyt b network (Fig. 3) confirmed that four major groups which were included in 19 unique mtDNA haplotypes. The EUR-AFR clade (n = 102) resulted in nine haplotypes differing by only one nucleotide change. Two out of the nine haplotypes were most frequent, and shared by the majority of the individuals (58 and 25 individuals, respectively). Despite remarkable differences in breeding and movement ecology, Osprey populations of lower latitudes within the EUR-AFR did not show notable haplotypic differences when compared to the northern and central European birds. The four samples from the Canary Islands shared a single haplotype (Fig. 3). Within the IND-AUS group (n = 16) only three haplotypes were found, differing by only one nucleotide position. Five haplotypes were observed within the AMER group and 13 samples out of 17 showed the same haplotype, which was shared by ospreys from both western and eastern USA and from the Caribbean. Finally, within the ASIA group (n = 11) two haplotypes were recorded. The five samples from Japan were characterized by a single haplotype, which was shared with 2 samples from East Siberia.
Despite slight variation within each group (haplotypes were mainly distant by only one or two positions), a larger number of nucleotide differences were recorded between clades. The AMER group recorded the greatest genetic distance with EUR-AFR (a minimum of 15 nucleotides changed), whereas the minimum number of changes is 11 positions between IND-AUS and ASIA (Fig. 3).
In the subset of 146 ospreys, 34 polymorphic segregating sites were discovered within the 661 bp cyt
b
fragment. The haplotype diversity (H), nucleotide diversity (π) and other statistics were computed for the four recognized haplogroups and the whole dataset combined (Table
2
). Haplotype diversity was higher in the largest group of EUR-AFR (H = 0.615) and lower for the three other groups (range: 0.425-0.436). The nucleotide diversity showed similar patterns between groups, being very weak in each lineage (range: 0.00066-0.00138). Overall, H was 0.795 and π was 0.0106 for all
Pandion
samples. Demographic history of the four phylogroups, as inferred on the basis of Fu's F
S
and R2 statistics (Table
2
), indicate that only the AMER group yielded very significant values for both indices, whereas the EUR-AFR lineage showed a significant value for the Fu's FS only. Thus, population expansion can be assumed for the American and possibly for the Western Palearctic groups. By comparison, Bayesian skyline plots (Fig.
4
) indicated that the two haplogroups AMER and IND-AUS remained demographically stable whereas the EUR-AFR haplogroup showed a trend of demographic expansion starting >10,000 years ago. Conversely, the ASIA haplogroup was the only one showing a pattern of demographic decline although demographic stability cannot likely be ruled out (Fig.
4
).
Table 2
Estimates of across and within-population variability of cyt b sequences of Osprey mtDNA
| Phylogroups | n | n H | H (s.d.) | π (s.d.) | k | Fs | R2 |
| --- | --- | --- | --- | --- | --- | --- | --- |
| Overall | 146 | 19 | 0.795 (0.026) | 0.01064 (0.00087) | 6.872 | 1.413 | 0.100 |
| AMER | 17 | 5 | 0.426 (0.147) | 0.00087 (0.00035) | 0.574 | −2.826*** | 0.099*** |
| EUR-AFR | 102 | 9 | 0.615 (0.043) | 0.00138 (0.00015) | 0.901 | −3.44* | 0.056 |
| ASIA | 11 | 2 | 0.436 (0.133) | 0.00066 (0.00020) | 0.436 | 0.779 | 0.218 |
| IND-AUS | 16 | 3 | 0.425 (0.133) | 0.00068 (0.00023) | 0.450 | −0.571 | 0.145 |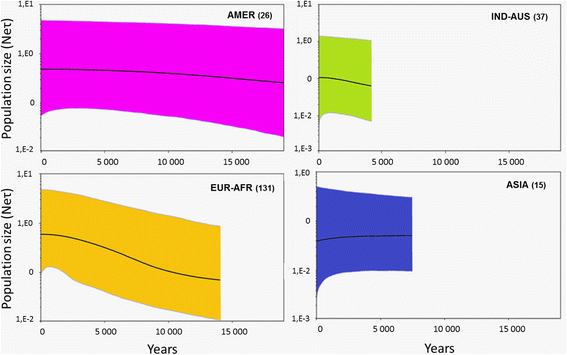 Molecular dating and biogeographical inference
Diversification for each of the four groups was dated between 0.14 and 0.27 Ma, that is during the Upper Pleistocene. Among the four lineages, the initial split that individualized the AMER group occurred about 1.16 Ma in the Early Pleistocene (Fig.
5
). Subsequent events concerned firstly the divergence of the IND-AUS group at 0.73 Ma whereas the last divergence event that generated the ASIA and EUR-AFR clades occurred at about 0.64 Ma. These two last events can be considered as nearly concomitant considering the large overlapping of the divergence dates (see 95 % HPD on Fig.
5
).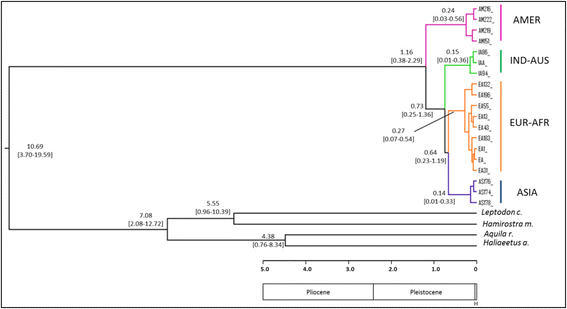 Among the six models tested in biogeographic inference, the ancestral area reconstruction method using the likelihood dispersal-vicariance analysis with the founder parameter (DIVAj) had a higher probability of being the best model for each of the three scenarios tested (Table
3
). With this model, the proposed scenario "S1" returned the best likelihood values. The "j" parameter for founder-event significantly increased the likelihood of the model (DIVA lnL = − 10.3, DIVA + j lnL = − 7.3,
P
 = 0.013) because "j" was estimated to be greater than zero (j = 0.108) whereas the estimated rate of both dispersal and extinction was essentially zero (d = 0; e = 0; Fig.
6
; Table
4
). The ancestral reconstruction (Fig.
6
) thus favoured the scenario in which the radiation of
Pandion
started from America and expanded towards the Old World with subsequent founder events (j); the ancestor (AI) first diversified in the Indo-Australasian area by vicariance and then underwent a range expansion to occupy the Eastern Asia (J) and Western Palearctic (E).
Table 3
Comparison of the six biogeographical reconstruction models for three different scenarios ("S0", "S1", "S2"; see text for definition)
Scenario S0

Scenario S1

Scenario S2

Model

lnL

AIC

ῳi

lnL

AIC

ῳi

lnL

AIC

ῳi

DEC

−13.984414

31.97

0.042

−13.072694

30.15

0.018

−14.54651

33.09

0.55

DEC + J

−9.861326

25.72

0.96

−8.059002

22.12

0.98

−13.75296

33.51

0.45

DIVALIKE

−11.852773

27.71

0.11

−10.371666

24.74

0.11

−13.23454

30.47

0.66

DIVALIKE + J

−8.73571

23.47

0.89

−7.315617

20.63

0.89

−12.90696

31.81

0.34

BAYAREALIKE

−17.770147

39.54

0.0047

−18.357268

40.71

0.0002

−19.58099

43.16

0.025

BAYAREALIKE + J

−11.405964

28.81

1

−8.920927

23.84

1

−14.90445

35.81

0.98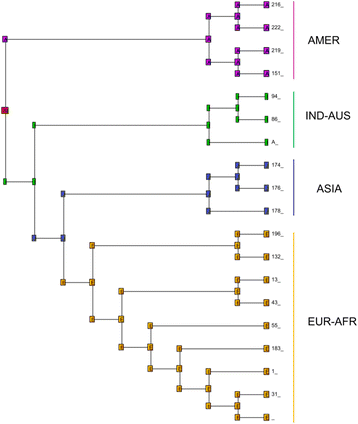 Table 4
Details of parameter estimations (dispersal (d), extinction (e), and founder-event speciation (j)) from the analyses of biogeographic inference of scenario S1 in BioGeoBEARS.The model with lowest AIC value is marked in bold font
| Model | lnL | Number of Parameters | AIC | d | e | j |
| --- | --- | --- | --- | --- | --- | --- |
| DEC | −13.072694 | 2 | 30.145388 | 4.67e-02 | 1.59e-02 | 0.000000 |
| DEC + J | −8.059002 | 3 | 22.118004 | 1.00e-12 | 1.00e-12 | 0.126265 |
| DIVA | −10.371666 | 2 | 24.743332 | 4.30e-02 | 1.00e-12 | 0.000000 |
| DIVA + J | −7.315617 | 3 | 20.631234 | 1.00e-12 | 1.00e-12 | 0.1079407 |
| BayArea | −18.357268 | 2 | 40.714536 | 5.90e-02 | 7.31e-02 | 0.000000 |
| BayArea + J | −8.920927 | 3 | 23.841854 | 1.00e-07 | 1.00e-07 | 0.1458791 |
Conclusions
Our study revealed that, at the global scale, the particular evolutionary history of the Osprey has partitioned the species into 4 distinct clades with clear genetic differentiation. In addition, our findings indicate that broad habitat requirements and high mobility of Osprey were more important factors than philopatry in shaping genetic diversity at the intra-clade level. Further genetic study using microsatellite markers are ongoing (Monti et al., in prep.) in order to reveal more recent differences and to quantify gene flow among populations that show differences in migratory or reproductive behaviours (e.g. North and Central European populations vs Mediterranean, Canary Islands, Cape Verde and Red Sea).
Even though the Osprey is currently globally listed as "Least Concern" according to IUCN criterions [52], it is considered a priority species for conservation across its distributional range. Indeed, the Osprey is taxonomically unique and conserving its phylogenetic diversity should be a priority [53–55]. The species experienced a severe decline during the 19th and 20th century that led to significant demographic declines and local extinctions [56–58]. Consequently, the Osprey has emerged as an important flagship species and during recent decades has been involved in 25 reintroduction projects in the USA [9, 58] and in Europe [57, 59]. Our results suggest that future reintroduction projects should be conducted using source populations from the same lineage (e.g. within Europe birds chosen for translocation should originate from the Western Palearctic, avoiding individuals belonging to the other lineages). However, before concluding that no restriction needs to be adopted for translocations between populations within the Western Palearctic, other ecological, demographical or behavioural variables should be considered.
Ethics statement
A specific ethical committee was not required for this study. Bird handling was performed under animal experimentation permits 34–369 (David Grémillet) delivered by the French 'Direction Départementale de la Protection des Populations' and under the licence of Olivier Duriez from the Centre for Bird Population Studies (CRBPO) of the Natural History Museum (MNHN, Paris): according to the French law of 22 September 2008, the CRBPO has the delegation by the Ministry of Ecology, Energy, Sustainable Development and Land Settlement for allowing the owners of a general bird ringing licence to capture and handle birds from protected species, and collect samples or mark them (with rings or any other device like GPS units).
Availability of supporting data
The data set supporting the results of this article is included within the article and its additional files "Additional files 1, 2, 3 and 4.docx". Nucleotide sequences have been submitted to GenBank and accession numbers are provided in Additional file 1. Alignments used for each analysis (please refer to the table in Additional file 2 for matching) have been included as Additional file 5.
Declarations
Acknowledgements
We thank all the colleagues who kindly provided Osprey samples: Pertti Saurola, Harri Koskinen and Juhani Koivu (Finland), Urmas Sellis (Estonia), Aigars Kalvāns (Latvia), Miroslav V. Babushkin and Vladimir V. Ivanovsky (Russia), Martin Haase and Daniel Schmidt (Germany), Rolf Wahl, Franҫois Gossmann and Eric Pasquet (France), Luis Palma and Ursula Hofle Hansen (Portugal), Manuel Siverio (Canary islands), Pedro López-Suárez (Cape Verde), Houssine Nibani (Morocco), Rafel Triay Bagur (Balearic islands). Special thanks to Yula Kapetanakos and Alan Poole (Cornell lab of Ornithology, Ithaca, USA) for collecting and performing free analyses of 10 samples from the USA. Many thanks are also addressed to the following museums and birds' collection curators who allowed us to gather samples from their collection: Mark Adams (Natural History Museum of London; UK), Steven van der Mije and Bechy Desjardins (Netherlands Centre for Biodiversity Naturalis of Leiden), Isao Nishiumi (National Museum of Nature and Science of Amakubo; Japan), Mikhail Kalyakin, Pavel Tomkovitch, Yaroslav Red'kin (Zoological Museum of Moscow; Russia), Guillermo Delgado (Museo de la Naturaleza y el Hombre of Tenerife Island; Spain) and Enrico Borgo (Museo Civico di Storia Naturale Giacomo Doria di Genova; Italy). We also thank the Portuguese Navy and in particular the contra-almirante José Luís Branco Seabra de Melo (Head of Cabinet of the Navy Chief of Staff) and the capitão-de-mar-e-guerra José Jaime Gonçalves Ribeiro (Director of the Vasco da Gama Aquarium) for providing historical samples of Portuguese ospreys. All extractions from museum specimens were performed using the facilities of the platform "ADN dégradé" (Labex CeMEB, Montpellier, France) coordinated by Christelle Tougard. Sequencing was supported by the project SEQMED attributed to CM by the "Bibliothèque du Vivant" sequencing project (CNRS-INRA-MNHN). Alan Poole provided valuable comments and improved the English of earlier drafts. This study was funded thanks to a grant from the Foundation Prince Albert II de Monaco and the Associazone italiana delle Fondation Prince Albert II de Monaco ONLUS. It also benefits from the support of the Parc Naturel Régional de Corse, Maremma Regional Park and Conservatoire du Littoral (through the Mediterranean Small Islands Initiative PIM). F. Monti is supported by a grant of the Maremma Regional Park (Italy) and by a mobility grant of the Università Italo Francese/Université Franco Italienne (UIF/UFI).
Open AccessThis article is distributed under the terms of the Creative Commons Attribution 4.0 International License (http://creativecommons.org/licenses/by/4.0/), which permits unrestricted use, distribution, and reproduction in any medium, provided you give appropriate credit to the original author(s) and the source, provide a link to the Creative Commons license, and indicate if changes were made. The Creative Commons Public Domain Dedication waiver (http://creativecommons.org/publicdomain/zero/1.0/) applies to the data made available in this article, unless otherwise stated.
Authors' Affiliations
(1)
CEFE UMR 5175, CNRS - Université de Montpellier - Université Paul-Valéry Montpellier - EPHE, Montpellier cedex 5, France
(2)
Department of Life Sciences and Biotechnology, University of Ferrara, Ferrara, Italy
(3)
Réserve Naturelle Scandola, Parc Naturel Règional de Corse, Galeria, France
(4)
Maremma Natural History Museum, Grosseto, Italy
(5)
Department of Cognitive Biology, University of Vienna, & Konrad Lorenz Institute for Ethology, University of Veterinary Medicine, Vienna, Austria
(6)
Percy FitzPatrick Institute, DST-NRF Centre of Excellence, University of Cape Town, Rondebosch, South Africa
(7)
Department of Zoology, University of Johannesburg, Auckland Park, South Africa