Research article
Open Access
Evolutionary comparison of prenylation pathway in kinetoplastid Leishmania and its sister Leptomonas
BMC Evolutionary Biology
2015
15:261
Received: 29 June 2015
Accepted: 10 November 2015
Published: 21 November 2015
Abstract
Background
Leptomonas is monogenetic kinetoplastid parasite of insects and is primitive in comparison to Leishmania. Comparative studies of these two kinetoplastid may share light on the evolutionary transition to dixenous parasitism in Leishmania. In order to adapt and survive within two hosts, Leishmania species must have acquired virulence factors in addition to mechanisms that mediate susceptibility/resistance to infection in the pathology associated with disease. Rab proteins are key mediators of vesicle transport and contribute greatly to the evolution of complexity of membrane transport system. In this study we used our whole genome sequence data of these two divergent kinetoplastids to analyze the orthologues/paralogues of Rab proteins.
Results
During change of lifestyle from monogenetic (Leptomonas) to digenetic (Leishmania), we found that the prenyl machinery remained unchanged. Geranylgeranyl transferase-I (GGTase-I) was absent in both Leishmania and its sister Leptomonas. Farnesyltransferase (FTase) and geranylgeranyl transferase-II (GGTase-II) were identified for protein prenylation. We predict that activity of the missing alpha-subunit (α-subunit) of GGTase-II in Leptomonas was probably contributed by the α-subunit of FTase, while beta-subunit (β-subunit) of GGTase-II was conserved and indicated functional conservation in the evolution of these two kinetoplastids. Therefore the β-subunit emerges as an excellent target for compounds inhibiting parasite activity in clinical cases of co-infections. We also confirmed that during the evolution to digenetic life style in Leishmania, the parasite acquired capabilities to evade drug action and maintain parasite virulence in the host with the incorporation of short-chain dehydrogenase/reductase (SDR/MDR) superfamily in Rab genes.
Conclusion
Our study based on whole genome sequences is the first to build comparative evolutionary analysis and identification of prenylation proteins in Leishmania and its sister Leptomonas. The information presented in our present work has importance for drug design targeted to kill L. donovani in humans but not affect the human form of the prenylation enzymes.
Keywords
Leishmania donovaniLeptomonasPrenylation pathway
Background
Visceral leishmaniasis (VL) is endemic in 98 countries with 350 million people at risk around the world and 300,000 are infected/year (http://www.dndi.org/diseases/leishmaniasis.php). More than 90 % of visceral leishmaniasis (VL) occurs in seven countries: India, Bangladesh, Nepal, Sudan, Ethiopia, Kenya and Brazil (http://www.dndi.org/diseases/leishmaniasis.php). Leishmaniasis is caused by protozoan parasites of Leishmania genus. VL also known as kala-azar in India, is the most severe form of leishmaniasis (http://www.dndi.org/diseases-projects/diseases/vl.html) and anthroponotic transmission (human to vector to human) occurs. Whole genome sequencing of clinical isolates of Leishmania donovani and Leptomonas has previously been completed in our lab [1]. An important insight gained through this effort was the confirmation of co-infection of Leptomonas with the visceralizing Leishmania species. This disturbing trend has been reported so far only in India [1–3] hinting towards zoonotic spread of the disease and indicates that Leptomonas may be a new pathogen. In such a situation the question remains that a changed paradigm in chemotherapy should be adopted targeting the co-infections.
Leptomonas
is monogenetic kinetoplastid parasite of insects and primitive in comparison to
Leishmania
[
1
] and these two parasites arose from a common ancestor as shown in Fig.
1
[
4
,
5
]. At some time during the evolution,
Leishmania
appears to have lost the ability to be transmitted in nature from invertebrate host to another and adapted to a life cycle alternating between invertebrate and vertebrate host [
6
,
7
]
.
With the availability of complete genome sequence with us of these two kinetoplastids [
1
] representing important evolutionary branch points viz
Leishmania
and
Leptomonas
, in this study we have analyzed the enzymes prenyltransferases (farnesyltransferase and geranylgeranyltransferase) of these kinetoplastids. Cellular organization and signaling in both unicellular and multicellular organisms is heavily influenced by the Ras superfamily of small GTP-binding proteins. These proteins have a structurally and mechanistically preserved GTP-binding core despite considerable divergence in sequence and function [
8
]. Protein trafficking pathways are frequently exploited by human pathogens to gain entry and survive within host cells [
9
]. Studying the evolution of protein trafficking is essential to understand the origins of eukaryotes. Among trafficking-associated proteins, the Rab family expanded most in evolution, suggesting that it provided the primary diversification element in the evolution of trafficking [
10
]. The prenylation pathway remains largely unexplored in Kinetoplastida. Therefore, it was of interest for us to carry out the phylogenetic profiling of Rab geranylgeranyltransferase (RabGGTase) and Rab proteins in both
Leishmania
and its sister
Leptomonas
. In this study we used a classification and phylogeny based approach to define subfamilies of RabGGTase and Rab proteins, we built evolutionary trees using maximum likelihood and distance based methods. We provide a comprehensive view of RabGGTase and Rab evolution for sister
Leptomonas
and with various
Leishmania
species. Since, drugs that inhibit enzymes involved in protein prenylation could be interesting antiparasitic agents; we used one specific known inhibitor of RabGGTase to predict the structure activity relationship with the parasite enzyme.

Conclusions
By data mining of the prenylation pathway from the genomes of
L. donovani
and
Leptomonas
, we have tried to analyse the evolutionary and functional similarities between both these kinetoplastids (Fig.
11
). When compared to Rab proteins defined and elucidated in
Homo sapiens
, the presence of Rabs in
Leishmania
suggests that
Leishmania
had a sophisticated endo membrane system, which provides its ability to survive in various intracellular and extracellular stages. This detailed analysis of Rab proteins has provided information of degree of complexity of exo and endocytic trafficking in this organism. The presence of SDR motif known to be associated with drug resistance in several Rab genes of
Leishmania
indicates that as the parasite evolved from monogenetic to digenetic lifestyle it acquired capabilities to evade drug action for its survival in host. The disruption of prenylation pathway of the parasite using highly specific inhibitors will disable the parasite to reside and survive intracellularly within host phagosome microenvironment and prevent it from modulating host defense pathways for its survival.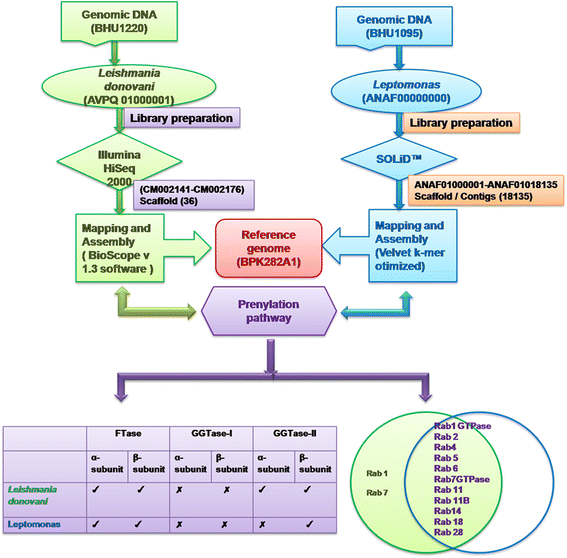 Methods
Kinetoplastid genome phylogeny
Following genomes sequences were retrieved from TritrypDB database.
Database extraction of geranylgeranyltransferase from whole genome sequence
Rab geranylgeranyltransferase is a heterodimer, consisting of α and β subunits. When we searched for GGTase-I and FTase –I or its homologous sequences in the genomes of L. major, L. infantum, L. donovani and Leptomonas, we found no GGTase-I sequences (EC. 2.5.1.59) in any of the Leishmania species but putative farnesyltransferase sequences (EC. 2.5.1.58) of Leishmania major was found on chromosome 31 (Lmj F31.2940) with accession no. XP_001685284, and in Leishmania infantum also it is located on chromosome 31 (LinJ_31_3050) with accession no. XP_00146718.
When we searched for GGTase-II and its homologous sequences in Leishmania, we found GGTasae-II equences but it was putative and only β-subunit was annotated. In Leishmania major it was located on chromosome 34 (Lmj F34.4030) with accession no. XP_001686510, in Leishmania infantum it was located on chromosome 34 (LinJ_34_3860) with accession no. XP_001468743 and in Leishmania donovani it was also located on chromosome 34 (LdBPK_343860) with accession no. XP_003864545. In Leishmania donovani there is only one protein of 330 amino acids (Accession no. XP_003864545), annotated as putative Rab-GGTase.
For annotation of α-subunit of GGTase-II of L. donovani, it was located on chromosome 33 with accession no XM_001468149.
When we searched for GGTase-II and its homologous sequences in Leptomonas genome we found no α-subunit of GGTase-II but β-subunit of GGTase-II was obtained. To annotate the β-subunit of GGTase-II in Leptomonas, the DNA sequence was retrieved from the contig (genes_5507) of its genome and was put in the translate tools of Expasy. Open reading frame of the β-subunit of GGTase-II from Leptomonas was thus obtained. Blastp analysis of β-subunit of GGTase-II ORF was then done by NCBI and we obtained the sequences producing significant alignment with L. panamensis (XP_010698581), L. braziliensis (XP_001564646) and L. major (XP_001686510).
Multiple sequence alignments of farnesyltransferase and geranylgeranyltransferase were performed with ClustalW. The evolutionary history was inferred using the Neighbor-Joining method [47]. Phylogenetic reconstruction was done using 1000 bootstraps and evolutionary distances were computed using the JTT matrix-based method [48, 49], are in the units of the number of amino acid substitutions per site. The analysis involved 8 amino acid sequences. All positions containing gaps and missing data were eliminated. Evolutionary analysis were conducted in MEGA5 [50]. Trees were drawn using in FigTree v. 1.0.
Rab sequence mining in L. major and L. infantum
Initially in first set we extracted all the annotated H. sapiens Rab sequences reported previously from NCBI [17]. Based upon their annotation they were grouped in families, subfamilies and isoforms. Then each Rab protein sequence was used as query to blastp against the NCBI protein database of L. major and L. infantum, a cutoff for inclusion of protein in dataset was set to be having > 30 % similarity with the query sequence. For generation of second dataset all the sequences retrieved in first dataset being already well annotated as a Rab protein of a family were grouped and Clustal was done to find the conserved domains in these Rab families [51].
Further analysis was done by NCBI conserved domain search (http://www.ncbi.nlm.nih.gov/Structure/cdd/wrpsb.cgi) and motif scan (http://hits.isb-sib.ch/cgi-bin/PFSCAN) server to check the conserved domains in these proteins. Based on these results a consensus profile sequence for each family of the Rab was generated which included conserved domains, these consensus sequences were used as query sequence in PSI-BLAST against L. major and L. infantum database at NCBI to retrieve Rab family sequences. Similarly a cutoff of >30 % similarity was set for including sequence in the dataset. Sequences in all the datasets were having similarity more than cut off value were retrieved in fasta format, they were checked for redundancy and duplication or incorrect annotation with rejection of sequence from dataset if it showed 100 % redundancy with any other sequence. The protein datasets were treated separately using the jalview software [52]. Then all the Rab groups in the datasets were compared with each other for redundancy at sequence level. The sequences thus obtained were then fed to the PrePS server (http://mendel.imp.ac.at/PrePS/index.html) [53] to check that proteins can be predicted to be of Rab family and gets prenylated by GGTase-II enzyme.
Sequence similarity between Rab proteins of L. major and L. infantum was calculated by MatGAT (Matrix Global Alignment Tool. 2.02) software. It is a simple, easy to use computer application that generates similarity/identity matrices for protein sequences without needing pre-alignment of the data [54].
Rab sequence mining in L. donovani and Leptomonas
The Rabs in L. donovani were retrieved from its genome based on homology search for the corresponding protein sequences from the reference genome of L. infantum. 17 Rabs were identified from its genome as Rabs and Rabs like sequences; whereas 13 out of 17 Rabs were fully annotated (Additional file 2: Table S2).
The Rabs in Leptomonas were retrieved from the contigs of its genome and were based on homology search for the corresponding protein sequences from the reference genome of L. infantum. To annotate the Rabs in these contigs, the DNA sequence of these contigs was put in the translate tools of Expasy. Open reading frames of the Rab proteins of Leptomonas were thus obtained. Blastp analysis of these Rab ORFs was then done by NCBI and we obtained the Rab sequences producing significant alignment with L. infantum. We were able to retrieve fully annotated 11 Rabs out of 53 contigs (Additional file 2: Table S3).
Multiple sequence alignment and phylogenetic reconstruction
The protein sequences were aligned by using ClustalW algorithm in MEGALIGN, DNASTAR package (DNASTAR, Inc. Madison WI, USA). Phylogenetic trees were generated with MEGALIGN which implements a Maximum Likelihood probabilistic model, using standard parameters (gap penalty of 15 and gap length penalty of 6.66) and 1000 bootstraps. The graphically enhanced alignment was obtained using ESPript 2.2 server. The branch lengths are drawn proportional to the evolutionary distances. The numbers at the nodes show the bootstrap support for that node.
Molecular modeling studies of GGTase-II with specific drug target molecule
Since Rab proteins play critical roles in all aspects of intracellular membrane trafficking, this makes them particularly attractive therapeutic targets in diseases. Proper function of Rab proteins depends upon correct membrane localization which is achieved through geranylgeranylation. The quest to determine agents which disrupt Rab geranylgeranylation therefore represents an intriguing therapeutic strategy by which to induce cellular stress and apoptosis. Two lines of attack may achieve diminished cellular levels of Rab geranylgeranylation. One approach would be to deplete cells of the isoprenoid substrate geranylgeranyl diphosphate. This might be achieved by inhibition of any of the individual steps in the isoprenoid biosynthetic pathway that lead to geranylgeranyldiphosphate (GGDP), from inhibition of HMGCoA reductase by a statin, to inhibition of GGPP synthase. This suggests that a long, lipophilic tail can enhance the potency of potential GGTase-II inhibitors, presumably through interaction with the enzyme site that holds the tail of the natural substrate geranylgeranyl diphosphate. The second direct strategy involves inhibition of GGTase-II itself. While inhibitors of GGTase-II are rare, a few have been reported [55]. In silico analysis we used NE10790 for its ability to inhibit Leishmania GGTase-II using GGPP, Rab6 substrate and REP. Our results show that NE10790 is an active compound which bears a geranylgeranyl chain.
Our search for Leishmania GGTase-II crystal structure in databases showed that there are no crystal structures of Leishmania GGTase-II for structural studies, so we carried out the exercise of molecular modeling of Leishmania donovani GGTase-II. Three-dimensional (3D) homology model of Leishmania donovani geranylgeranyltransferase-II (LdGGTase-II) was generated by comparative modeling using MODELLER 9v8 [56] with crystal structure of Rab escort protein-1 in complex with Rab geranylgeranyltransferase and isoprenoid from Rattus norvegicus (PDB ID-1LTX) was selected as a template for structure modeling. ClustalW server was used to align the query sequence with the template sequence [57]. The graphically enhanced alignment was generated with the help of ESPript 2.2 server [58]. All models were assessed stereo-chemically by PROCHECK [46]. All the graphical visualization and image production were performed using Chimera [59]. The docking studies were performed using Autodock4.2 software [60]. The structure of the inhibitor NE10790 was drawn using sketch module of Sybyl7.1 and geometry was optimized by performing energy minimization using MMFF94 force field with 1000 iterations (Sybyl, version 7.1; Tripos, Inc.: St. Louis, MO, 2005).
Abbreviations
WGS:

Whole genome sequencing
GGTase:

Geranylgeranyltransferase
FTase:

Farnesyltransferase
REP:

Rab escort protein
PDB:

Protein Data Bank
LECA:

Last eukaryotic common ancestor
AIP:

Actin interacting protein
SDR:

Short-chain dehydrogenase/ reductase
MDR:

Multi-drug resistance
ORF:

Open reading frame
Declarations
Acknowledgements
We are grateful to Mr. Arun Kumar for bioinformatic analysis. This work was supported by Council of Scientific and Industrial Research (CSIR) funded network project "Host Interactome analysis: Understanding the Role of Host molecules in Parasitic Infection (HOPE)". This is CDRI manuscript number −159/2015/NS.
Open AccessThis article is distributed under the terms of the Creative Commons Attribution 4.0 International License (http://creativecommons.org/licenses/by/4.0/), which permits unrestricted use, distribution, and reproduction in any medium, provided you give appropriate credit to the original author(s) and the source, provide a link to the Creative Commons license, and indicate if changes were made. The Creative Commons Public Domain Dedication waiver (http://creativecommons.org/publicdomain/zero/1.0/) applies to the data made available in this article, unless otherwise stated.
Authors' Affiliations
(1)
Biochemistry Division, CSIR Central Drug Research Institute, Lucknow, India
(2)
Department of Biochemistry, Shri Ram Murti Smarak Institute of Medical Sciences, Bareilly, India
(3)
Molecular and Structural Biology Division, CSIR Central Drug Research Institute, Lucknow, India
(4)
Xcelris Genomics, Ahmedabad, India
(5)
Department of Chemistry, Dayanand Anglo Vedic (P.G.) College, Dehradun, India