Research article

Open Access
Genomic signatures of domestication on neurogenetic genes in Drosophila melanogaster
BMC Evolutionary Biology
2016
16:6
Received: 28 October 2015
Accepted: 22 December 2015
Published: 5 January 2016
Abstract
Background
Domesticated animals quickly evolve docile and submissive behaviors after isolation from their wild conspecifics. Model organisms reared for prolonged periods in the laboratory also exhibit similar shifts towards these domesticated behaviors. Yet whether this divergence is due to inadvertent selection in the lab or the fixation of deleterious mutations remains unknown.
Results
Here, we compare the genomes of lab-reared and wild-caught Drosophila melanogaster to understand the genetic basis of these recently endowed behaviors common to laboratory models. From reassembled genomes of common lab strains, we identify unique, derived variants not present in global populations (lab-specific SNPs). Decreased selective constraints across low frequency SNPs (unique to one or two lab strains) are different from patterns found in the wild and more similar to neutral expectations, suggesting an overall accumulation of deleterious mutations. However, high-frequency lab SNPs found in most or all lab strains reveal an enrichment of X-linked loci and neuro-sensory genes across large extended haplotypes. Among shared polymorphisms, we also find highly differentiated SNPs, in which the derived allele is higher in frequency in the wild (Fst*wild>lab), enriched for similar neurogenetic ontologies, indicative of relaxed selection on more active wild alleles in the lab.
Conclusions
Among random mutations that continuously accumulate in the laboratory, we detect common adaptive signatures in domesticated lab strains of fruit flies. Our results demonstrate that lab animals can quickly evolve domesticated behaviors via unconscious selection by humans early on a broad pool of disproportionately large neurogenetic targets followed by the fixation of accumulated deleterious mutations on functionally similar targets.
Keywords
BehaviorAdaptationPurifying selectionPositive selectionExtended haplotypesDomestication genomicsModel organismsDomestication syndrome
Background
Our recent history of domesticating plants and animals [1] offers a diversity of genetic systems to study evolution in action [2]. Crop and livestock breeders often provoke relatively large phenotypic changes across successive generations conditioned on available standing genetic variation found in wild progenitor populations. Such changes demonstrate the formidable power of directional selection over relatively short periods of time. In fact, Charles Darwin devoted the opening chapter of "On the origins of species" to artificial selection in order to introduce natural selection as the principal driver of evolutionary change [3]. In his two-volume follow-up devoted specifically to domestication, Darwin noted that "selection may be followed either methodically and intentionally, or unconsciously and unintentionally" [4]. These histories can also be modeled as a co-evolutionary framework between humans and the crops and livestock they cultivate [5], whether the selective pressures were intentional or not.
While domesticates usually have reduced effective population sizes relative to their ancestral populations, there still remains ample variation for selection to act upon. Numerous loci involved in animal and crop domestication are found to harbor positive selection coefficients [6] and selectively swept regions [7]. In domestic chickens, genomic sequences from multiple lines reveal the presence of selective sweeps leading to the discovery of causative agents in growth differences between domestic lines [8]. In household pets, selection for certain behavioral and sensory traits [9] have produced signatures of positive selection in vision and hearing genes in domesticated cats [10] and neural development genes in dogs [11]. The growing literature on crop, livestock, and pet domestication reveals that long-term selection by humans can generate strong signals of selection at the genomic level and provides a new lens into the strength and target of selection during our recent domesticated past.
Animals bred in the laboratory as model organisms may also be adapted to human conditions, and over a much shorter time period. Studies comparing laboratory strains of mice and nematodes have identified genetic differences in genes involved in behavior [
12
] and metabolism [
13
,
14
] suggesting adaptation to novel conditions in the laboratory (e.g., [
15
]). Over a century ago,
Drosophila melanogaster
was brought into the laboratory initially as a teaching tool [
16
], and its fast generation time and relative ease of maintenance quickly made the fruit fly an important genetics research tool [
17
] in such varied fields such as development, physiology, and evolution. Canton-S(pecial), the oldest known wildtype fly stock, was captured by Calvin Bridges over a century ago from a natural population in Canton, Ohio, and first debuted in his seminal 1916 paper on "Non-disjunction as proof of the chromosome theory of heredity" [
18
]. Approximately a decade later, Donald Lancefield, another product of Thomas Morgan's prolific lab at Columbia University, extracted Oregon-R from a population in Roseburg, Oregon [
19
]. Many commonly used fly stocks eventually coalesce ancestrally to these old North American laboratory stalwarts, Canton-S and Oregon-R (Fig.
1
), which were independently extracted from populations in North America and themselves possessing relatively recent African origins ([
20
]; Fig.
1
).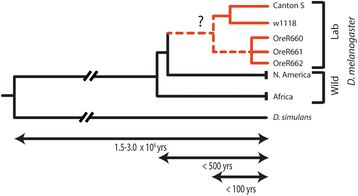 With at least a dozen generations per year, D. melanogaster lab stocks have been isolated from their wild ancestors for over a thousand generations, providing ample time to sufficiently diverge. It is known among fruit fly researchers that behavioral traits of laboratory vs. wild D. melanogaster are distinct, with lab-reared flies far tamer and more manageable than those found in the wild. Although lab-reared flies are generally maintained under relatively standard conditions of temperature, light, and diet, selective pressures in the lab are very different than those found in the wild providing the potential for strong selection for human-accommodating phenotypes and/or the relaxation of selection on traits adapted in nature [21, 22]. On the other hand, domesticates are generally less reproductively fit than their wild relatives [23] and may exhibit similar less optimal behavioral phenotypes. Lab stocks typically experience drastic decreases in population size and higher levels of inbreeding ultimately decreasing the efficacy of selection to rid lines of continually re-occurring deleterious alleles [24]. Whether these phenotypic differences in lab strains are driven by conscious selection, inadvertent selection, a relaxation in selection, or are simply the fixation of deleterious mutations, is not known.
Its relatively recent and well-documented history, access to multiple isolated lines reared in similar environmental settings, well-characterized functional annotations, and the availability of hundreds of genomes from extensively sampled extant populations including a closely related species, make D. melanogaster an ideal model system to study the evolutionary processes that underlie rapid phenotypic change. Here, we investigate genetic differences between common laboratory stains of D. melanogaster to those recently caught from nature to examine whether this important, centuries-old genetic model has evolved convergent domesticated behaviors by adapting to a bottled existence or being inundated by low-fitness alleles. We first document behavioral differences between lab-reared and wild-caught flies with respect to their general activity and locomotory abilities. We then identify SNPs that are differentiated between the genomes of laboratory and wild strains to evaluate the roles of selection vs. drift in flies isolated in bottles. Among uniquely derived alleles found only in lab strains we find patterns of drift and selection across, respectively, low and high frequency classes, when comparing evolutionary parameters such as Grantham distance, missense to silent mutations, positional distribution within codons, and levels of codon bias. We further characterize putative regions under sustained selection among lab strains and find longer than expected haplotypes near high-frequency derived SNPs, also enriched in neuro-sensory genes. Finally, we suggest that this neurogenetic class, residing on a disproportionately large fraction of the genome relative to other functional classes, provides a large mutational target for genetic variation to accumulate and selection to act upon. Thus, the genomics of fly domestication reveal an interplay of evolutionary forces with mutation and selection on a large neurogenetic class of genes playing a pivotal role in D. melanogaster's brief, but distinguished, history in the laboratory.
Discussion
Phenotypic and genetic differences in laboratory stocks
The captive genetic model, Drosophila melanogaster, reveals hallmark features consistent with domestication. Laboratory strains show significant differences in behavior from their relatively recently isolated wild progenitors (Additional file 1: Figure S1). Previous studies comparing lab and wild-caught lines of D. melanogaster also report differences in egg and larval survival [31] and life history traits such as pre-adult development, early fecundity, and remating frequency [32, 33]. These traits comprise a suite of behavioral, physiological, and reproductive characters [34] that have converged across multiple strains evolving independently under similar laboratory conditions. Furthermore, it previously has been demonstrated that these traits can quickly evolve significant differences in as little as 8–10 generations [35].
It is paradoxical that domesticates, typically derived from small founder populations and maintained at very low effective population sizes, can effectively adapt to human conditions. From a population genetics perspective, we may expect the opposite: that small captive populations and lower Ne propagate the segregation and eventual fixation of deleterious mutations, thus, imposing a potentially large mutational burden on laboratory strains [36, 37]. Our evolutionary parameter analysis reveals such drift-like signatures at the low end of the site frequency spectrum. Estimates of Grantham distances, R/S ratios, codon positional fraction, and codon bias support a general genome-wide reduction in selection on low-frequency derived alleles in the lab (Fig. 3) where mildly deleterious alleles may persist for longer periods of time [38]. With a decrease in effective population size across each strain, inbreeding and drift dominate, which in turn, can quickly fix allelic and associated phenotypic changes across successive generations of captivity. Short-term isolation studies in Drosophila have shown similar rapid changes across a variety of phenotypes [35, 39] with reductions in performance levels [40]). Thus, the accumulation and fixation of mildly deleterious alleles, particularly on larger neurogenetic genes (see below), and subsequent inbreeding depression [41, 42] may promote both the rapid nature of domestication and its associated convergence of common behavioral traits. These docile and non-aggressive traits may alternatively be described as "lethargic" (at least relative to their wild-caught conspecifics), a term commonly applied to inbred, and often sickly, Drosophila stocks.
When did these changes occur? Our results suggest that these changes towards a domesticated phenotype likely began very early on based on available standing genetic variation of the progenitor population. While heterozygosity in each contemporary isofemale lab strain is virtually zero (data not shown), as a whole, these five lab strains collectively only harbor a two-fold genome-wide decrease in nucleotide diversity, Θlab, relative to a large contemporary population from Raleigh NC (Additional file 7: Figure S4). This diversity estimate primarily reflects the amount of genetic variation captured in each of the five lines from an ancestral population(s). The five lab strains share ~800,000 derived SNPs with extant global populations (a total of ~10 million non-singleton D. melanogaster SNPs pass our data filters) indicating that laboratory stocks collectively extracted a significant fraction D. melanogaster genetic variation at their time of capture.
The importance of ancestral standing genetic variation can also be seen in the 17,250 lab-specific SNPs. In theory, these SNPs represent any of the following: i) de novo mutations that arose in the lab, ii) genetic variation that previously existed in an extinct North American population, or iii) a subset of genetic variation that has been completely lost in extant global populations. We estimate that only a small fraction of these SNPs can be generated de novo (3.5 × 10−9 mutations/bp/generation x 120 × 106 bp x 20 generations/yr x ~75 years x 5 strains ≈ 3,150 lab-specific SNPs [43]). The remainder of the lab-specific SNPs was probably lost in extant wild populations during the last century. Strong evidence supports a recent global sweep in D. melanogaster that dramatically reduced species-wide genetic variation after these particular lab strains were collected [44]. Thus, from the large pool of available genetic variation from their North American progenitor populations, Canton-S and Oregon-R likely experienced similar selection pressures on common genetic variants (see below) during the earliest generations of lab domestication [45]. A phylogenetic analysis of shared lab/wild SNPs also supports a distinct origin of all lab strains (Additional file 6: Figure S3). However, whether the lab strain monophyly is the result of an extinct progenitor population or the loss of global variation is unknown. The inclusion of more sequenced lab strains may differentiate between these two hypotheses.
Adaptation in the lab
Caenorhabditis elegans, like D. melanogaster, has been lab-cultured for over 50 years, and harbors pronounced differences in longevity and fertility when compared to wild isolates [46]. Genome sequencing in the nematode identified SNPs differentiated between wild and long-term laboratory strains enriched for cell cycle and metabolic/growth genes [13]. Their results suggest the presence of strong selection early in nematode domestication for optimal growth under rich nutrient conditions similar to the significant GO term, "behavioral response to nutrients", found among lab-specific SNPs in fruit flies (Table 1). Laboratory mice have similarly been shown to converge certain phenotypes including melatonin deficiency [15], and a lack of aggression and tameness [47, 48]. The results from our evolutionary parameter analysis, when limited to lab-specific SNPs in the mid- to high frequency range, support that common phenotypic signals of domestication observed in the captive fruit fly have been strongly shaped by selection. These derived SNPs, found in the majority of lab strains, show similar evolutionary patterns to high frequency SNPs from the wild and not to neutral expectations, unlike low-frequency SNPs (Fig. 3). The laboratory setting presents an immediate change in the fitness landscape, permitting rapid and significant changes in phenotype that would be detrimental to their fitness in the wild, across relatively few generations [35, 36].
Inadvertent human habituation and unintentional conditioning may be the primary selective agent for such known differences among lab strains as faster development and reproductive time [13, 14]. For instance, flies that rarely escape the bottle or benchtop may be selected due to human carelessness while fly stocks are transferred to new vials/bottles, or "flipped". Our behavioral results support such a convergent shift towards less active and responsive flies (Additional file 1: Figure S1). From our genomic analysis, we find that neurogenetic genes, involved in such biological processes as neurogenesis and axon development, are enriched in extended haplotype blocks common to differentiated SNPs (both lab-specific and highly differentiated Fst*) found at high allele frequencies (≥0.8), with an overrepresentation of fixations on the X-chromosome. These genes affect locomotion and visual cues suggesting lab selection on genes involved in behavioral responses.
While an excess of long extended haplotypes on high frequency lab-specific SNPs support an adaptive shift towards domesticated phenotypes, a relaxation of selection on certain loci involved in behavior may have co-occurred in the lab. Conditions in the laboratory are often optimized for growth and reproduction, reducing the natural ability of flies to escape predators or compete for food and mates. Thus, a relaxation of selection on activity levels, aggressiveness, and responsiveness, critical in the wild, may also drive the behavioral differences that converged across lab strains. Characters involved in mating, driven by the sparsity of mates in the vicinity, is a key difference between domestic and wild species [49]. Our behavioral results, showing a reduction in interactive activity in lab flies, is consistent with this hypothesis. In addition, our GO analysis of shared Fst*wild>lab SNPs, in which the derived allele is more frequent in the Raleigh NC population than lab strains, finds a significant enrichment of the neurogenetic functional class, even when corrected for gene size. These SNPs are found in different genes than the SNPs harbored in long extended haplotype blocks, suggesting an extensive cache of genes involved in behavioral differences between flies reared in the lab and those found in the wild. A similar decrease in behavioral activity was observed in lab strains of mice [50], with backcrossing to wild mice isolates allowing them to regain these previously lost behavioral functions [47].
The use of inbred laboratory strains of D. melanogaster presented unique analytical challenges that differ from other domesticated studies. Due to initial and recurrent inbreeding and the lack of an interbreeding population, laboratory strains violate most population genetic models used to infer selection. In this study, the site frequency spectrum is only applied across isolated lab strains as a framework to bin our observed data and could not be used to infer population genetic parameters. Despite these difficulties, our results reveal an interplay of drift and selection at work in the lab. First, we find genome-wide levels of selective constraints in the lab that are significantly lower than a sampled North American population. This pattern is likely caused by low effective population sizes in bottles that promote the accumulation of mildly deleterious mutations under drift-like conditions, which we also observe in low frequency alleles. Second, we observe derived SNPs that are highly differentiated between the lab and a North American population to be significantly enriched in neurogenetic genes, suggesting a differential fitness landscape in behavior. This functional enrichment takes into account the number of genes in each functional class as well as their size. Third, we find signatures of positive selection on extended haplotypes in both lab-specific and highly differentiated SNPs. These, too, are significantly enriched in neurogenetic genes. Fourth, there's an enrichment of these changes on the X-chromosome (Fig. 2; Fig. 5; Additional file 2: Table S1). The preferential role of the X-chromosome is seen in marked differences in the site frequency spectrum between the X-chromosome and autosomes (Fig. 2b) and in the enrichment of long haplotype blocks on the X-chromosome (Fig. 4). Since many of these long X-linked haplotype blocks are fixed in all five lab strains, the fixation of hemizygous loci likely occurred early in fly domestication.
Preferential role for neurogenetic genes
Our results suggest a central role for neurogenetic genes in domestication. Lab-specific SNPs found in the majority of lab strains are strongly enriched for this functional class, as are highly differentiated SNPs found in high frequency in the wild (Fst*wild>lab SNPs; Additional file 4: Table S3). Large outlier haplotype blocks also contain an overrepresentation of neurogenetic genes (Fig. 5; Additional file 8: Table S4). In most fly labs, inadvertent selection is inevitable: more active, reactive, and sensory-prone flies (and their alleles) have a higher probability of escaping during routine stock transfers. Hence, fly researchers may have unconsciously selected for lethargic flies over thousands of generations in the lab. Selected genes, enriched for sensory functions in eye photoreceptors and peripheral nervous system, can explain these behavioral shifts seen in lab strains. The significance of neurogenetic genes in changing activity and response behaviors across a relatively short evolutionary time period may also relate to how behaviors involved in premating isolation [51–53] can swiftly and easily develop in a population by drift and selection.
Recently, Wilkins et al. [54] proposed a general hypothesis to explain the convergence of various phenotypic traits that differentiate mammalian domesticates from their wild progenitors. These traits are collectively known as the "domestication syndrome" [55, 56] and, in mammals, include such morphological modifications as depigmentation, facial skeletal, and floppy ears as well as behavioral shifts towards docility and tameness [57]. Wilkins et al. [54] argue that a developmental deficit in neural crest genes can generate each of these differences, thus, explaining the commonality of these traits across domesticated mammals. Our results extend the behavioral component of the domestication syndrome to non-vertebrates but through a more general genomic mechanism based on the predominance of mutations on neurogenetic genes affecting overall locomotion and activity. In Drosophila, genes from this ontological category are among the largest in gene number and gene size, providing a large mutational target for rapid behavioral change (Additional file 9: Figure S5). Currently, 1,708 out of 17,716 genes are characterized as "neurogenetic" (according to FlyBase R6.05), and 24 % of known fly genes are expressed in the brain and nervous system [58]. We propose that a large mutational target [85] of neurogenetic genes can explain the rapid evolution of behavior in animal taxa., These neurogenomic loci collectively provide a large genomic substrate for variation to accumulate, and then selection and drift to act, to quickly transform behavior within a relatively short time frame.
Conclusions
Tameness and docility are hallmark features of domestication and the product of artificial selection by breeders. Our results challenge the traditional notion that relatively submissive laboratory animals are solely the product of cumulating deleterious mutations and demonstrate how unconscious selection for human-favored traits plays an important role in driving rapid phenotypic change in the lab. Selection on a large pool of available genetic variation during the early stages of fly domestication, followed by strong and recurrent inbreeding, allow for the successive roles of adaptation and drift in shaping the genetic architecture of domesticated phenotypic traits in a bottle. Our study finds that the genes and phenotypes in fruit fly domestication are enriched in, respectively, neurogenetic and behavioral function, providing a starting point to decode the genomic basis of domestication and promoting its study in genetic model systems such as Drosophila. A detailed mapping of these genes and their SNPs to specific behaviors will not only be informative about the selective pressures that we have inadvertently applied to our immediate biotic environment, but may also provide new general insight on the divergence and isolation of populations.
Abbreviations
bp:

base pairs
CDS:

coding sequence
Fst*:

highly differentiated Fst
Fst*lab>wild :

high Fst with larger allele frequency in lab
Fst*wild>lab :

high Fst with larger allele frequency in wild
GO:

Gene Ontology
CNS:

Central Nervous System
R/S:

ratio of replacement to synonymous substitutions
C1/C2+C3:

ratio of the first position codon to 2nd and 3rd position codons
Θ:

nucleotide diversity
SNP:

single nucleotide polymorphism
Zhap :

Z-score haplotype
SD:

standard deviation
NC:

North Carolina
NCBI:

National Center for Biotechnology Information
UTR:

untranslated region
P2N (P2P:

N2P, N2N), preferred to non-preferred codons
DGRP:

Drosophila Genome Reference Panel
Declarations
Acknowledgements
Special thanks to Jody Hey, Alexander Platt, Yujin Chung, Ravi Patel, and members of Temple University's Center for Computational Genetics and Genomics (CCGG) and the Institute for Genomics and Evolutionary Medicine (iGEM) for valuable suggestions to improve our manuscript. We would also like to thank Emily Berhman for wild-caught flies, Danny Miller for wild-type stocks and access to WGS reads, John Williams for assistance with the fly behavioral assays, Justin Lack for assistance with genome assembly, and Matt Hansen for his work on aligning D. melanogaster and D. simulans. This work is partly funded by NSF grant 1407006.
Open AccessThis article is distributed under the terms of the Creative Commons Attribution 4.0 International License (http://creativecommons.org/licenses/by/4.0/), which permits unrestricted use, distribution, and reproduction in any medium, provided you give appropriate credit to the original author(s) and the source, provide a link to the Creative Commons license, and indicate if changes were made. The Creative Commons Public Domain Dedication waiver (http://creativecommons.org/publicdomain/zero/1.0/) applies to the data made available in this article, unless otherwise stated.
Authors' Affiliations
(1)
Department of Biology, Temple University, Philadelphia, USA
Copyright
© Stanley and Kulathinal. 2016