Research article

Open Access
Emergence and evolution of yeast prion and prion-like proteins
BMC Evolutionary Biology
2016
16:24
Received: 28 September 2015
Accepted: 13 January 2016
Published: 25 January 2016
Abstract
Background
Prions are transmissible, propagating alternative states of proteins, and are usually made from the fibrillar, beta-sheet-rich assemblies termed amyloid. Prions in the budding yeast Saccharomyces cerevisiae propagate heritable phenotypes, uncover hidden genetic variation, function in large-scale gene regulation, and can act like diseases. Almost all these amyloid prions have asparagine/glutamine-rich (N/Q–rich) domains. Other proteins, that we term here 'prionogenic amyloid formers' (PAFs), have been shown to form amyloid in vivo, and to have N/Q-rich domains that can propagate heritable states in yeast cells. Also, there are >200 other S.cerevisiae proteins with prion-like N/Q-rich sequence composition. Furthermore, human proteins with such N/Q-rich composition have been linked to the pathomechanisms of neurodegenerative amyloid diseases.
Results
Here, we exploit the increasing abundance of complete fungal genomes to examine the ancestry of prions/PAFs and other N/Q-rich proteins across the fungal kingdom. We find distinct evolutionary behavior for Q-rich and N-rich prions/PAFs; those of ancient ancestry (outside the budding yeasts, Saccharomycetes) are Q-rich, whereas N-rich cases arose early in Saccharomycetes evolution. This emergence of N-rich prion/PAFs is linked to a large-scale emergence of N-rich proteins during Saccharomycetes evolution, with Saccharomycetes showing a distinctive trend for population sizes of prion-like proteins that sets them apart from all the other fungi. Conversely, some clades, e.g. Eurotiales, have much fewer N/Q-rich proteins, and in some cases likely lose them en masse, perhaps due to greater amyloid intolerance, although they contain relatively more non-N/Q-rich predicted prions. We find that recent mutational tendencies arising during Saccharomycetes evolution (i.e., increased numbers of N residues and a tendency to form more poly-N tracts), contributed to the expansion/development of the prion phenomenon. Variation in these mutational tendencies in Saccharomycetes is correlated with the population sizes of prion-like proteins, thus implying that selection pressures on N/Q-rich protein sequences against amyloidogenesis are not generally maintained in budding yeasts.
Conclusions
These results help to delineate further the limits and origins of N/Q-rich prions, and provide insight as a case study of the evolution of compositionally-defined protein domains.
Keywords
PrionEvolutionBiasCompositionBioinformaticsDiseaseMutationYeastFungi
Background
Yeast prions are propagating alternative states of proteins. These states can be transmitted sustainably in the yeast Saccharomyces cerevisiae during budding, mating or laboratory infection protocols. The first well-characterized yeast prions, that underlie the [PSI+] and [URE3] prion states, are propagating amyloids (i.e., fibrillar beta-sheet aggregates) of the proteins Sup35p and Ure2p. The protein Sup35p is part of the translation termination complex. Formation of [PSI+] prions reduces the efficiency of translation termination and increases levels of nonsense-codon read-through [1, 2]. Such read-through has been shown to be a potential mechanism to uncover cryptic genetic variation [3, 4]. [URE3] causes upregulation of poor nitrogen source usage, even when rich sources are available [5–7]. Prion variants may be considered as diseases of S. cerevisiae in some contexts [8, 9]. A more recently discovered example, the [MOT3+] prion, has been shown to govern acquisition of multicellularity in S. cerevisiae [10]. There are now at least 10 known prions of S. cerevisiae that are propagated by amyloids [11, 12].
A common compositional feature of almost all amyloid-based yeast prions is bias for asparagine (N) and/or glutamine (Q) residues [11, 12]. A majority of them are N-rich (6/10 at the time of this analysis), rather than Q-rich. Bioinformatic surveys have revealed the existence of hundreds of proteins with such N/Q-richness in S. cerevisiae and diverse other fungi [13–15]. Evolutionary analysis showed that the [PSI+] prion N/Q bias is conserved across fungal clades that diverged >1 billion years ago, with only eight other S. cerevisiae proteins showing similar, phylogenetically deep patterns of N/Q bias conservation [14]. The [URE3] prion domain is unique to Saccharomycetes, with different parts of the domain demonstrating purifying selection (i.e., significant conservation of amino-acid identity from examination of codon position mutation rates), and variation in N/Q bias between clades [14, 16].
The peculiar composition of known prions has been exploited to computationally detect likely prions that were then tested experimentally for prion-forming ability [17]. Tests for in vitro and in vivo amyloid formation were combined with a Sup35 prion assay, wherein predicted prion-forming domains were fused to the C-terminal part of the Sup35p protein, and these constructs were then tested for the ability to produce [PSI+]-like states in yeast cells [17]. About twenty novel 'prionogenic' proteins were identified. The results from this survey have been used to train other algorithms to predict prion domains bioinformatically [18] (PrionW, PLAAC [19, 20]). On a related note, 'scrambled' forms of the Ure2p and Sup35p prion domains, that maintain the same amino-acid composition, can form prions in S. cerevisiae, indicating that prion formation is primarily determined by composition but not by specific sequence features [21, 22]. Building on these analyses, an amino-acid propensity scale for prion formation was developed and incorporated into the PAPA method for prion prediction [23, 24].
Putative prion domains from other Saccharomycetes (but not from fungal clades outside of this one) can make prions in S. cerevisiae or in their own cells, although this ability is sporadic [25–30], and can rely on small changes in the protein sequence [29]. Conversely, the full-length non-yeast protein CPEB from the sea hare Aplysia californica can form prions in S. cerevisiae, albeit with much less efficiency than native prions [31, 32]. Mutational experiments indicate that many N/Q-rich domains in S. cerevisiae may only be a small number of sequence mutations away from prion-forming ability, implying that natural selection may only act to keep aggregation propensities sufficiently low [33]; this may be an under-appreciated effect in the analysis of mammalian prion disease mutations [34, 35].
Several human proteins have prion-like N/Q-rich domains that have been directly linked to neurodegenerative diseases. Cytoplasmic aggregates of the RNA-binding protein FUS, which contains a Q-rich domain, are implicated in amyotrophic lateral sclerosis, and its aggregation has been re-capitulated in an induced S. cerevisiae proteinopathy [36]. Mutations in two yeast-prion-like proteins hnRNPA2B1 and hnRNPA1 initiate neurodegenerative disease in humans through amyloid formation [37]. HNRPDL has a yeast-prion-like domain, and has been linked to development of limb-girdle muscular dystrophy 1G [38]. Also, pathogenic proteins in at least nine other neurodegenerative disorders have disease-linked poly-Q expansions. Thus, the degree of conservation and variation of yeast prion domains has implications not just in fungi, but for human diseases as well.
Here, we probe how prion and prion-like proteins have evolved across the fungal kingdom. We discover that the ancestors of N-rich prion formers emerged during Saccharomycetes speciation, in tandem with a general dramatic increase in the number of N-rich proteins. Conversely, more ancient prion biases are Q-rich, at least back to the last common ancestor of fungi. Some fungal clades have very few N/Q-rich proteins, and in some cases likely lose them en masse. We find evidence that recent emergence of large populations of N/Q-rich proteins in Saccharomycetes may be partly due to mutational tendencies leading to more frequent initiation and elongation of poly-N runs. Variation in these mutational tendencies in Saccharomycetes is correlated with the population sizes of prion-like proteins, thus implying that selection pressure on N/Q-rich protein sequences to prevent their formation of amyloids is not generally maintained across Saccharomycetes.
Results and discussion
Firstly, we examine the evolutionary ancestry of the prions and other prionogenic amyloid-forming (PAF) protein sequences across the fungal kingdom. Then, we describe a dramatic large-scale emergence of N-rich prion-like proteins in the budding yeasts (Saccharomycetes), and how this contrasts with the notable lacks/losses of prion-like proteins in particular fungal clades/species. We show how the N-rich protein emergence in Saccharomycetes species is a striking trend that sets them apart from other fungi. We analyze how this trend is linked to recent mutational tendencies in this clade, and discuss the implications of our observations for prion formation.
In general, we examine trends at three evolutionary depths: (i) within the class of budding yeasts
Saccharomycetes
(also known as
Hemiascomycetes
), (ii) within the phylum of the sac fungi
Ascomycota
but beyond the
Saccharomycetes
, and (iii) outside of
Ascomycota
in other fungi (Fig.
1
). We examine the conservation of N/Q-richness and predicted prion status (annotated as described in
Methods
).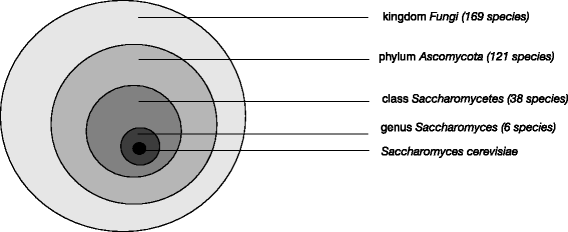 Conclusions
The evolutionary vista for the ancestors of prion and prion-like proteins changed substantially in Saccharomycetes budding yeasts. During Saccharomycetes evolution, large-scale formation of N-rich regions occurred. This thus may have provided a trigger for the expansion and development of the prion phenomenon and so consequently were born the ancestral sequences of the prions Ure2p, Mot3p and New1p, and other N-rich PAF proteins of S. cerevisiae. Thus, new prion domains could have initially arisen from the formation of sufficiently long poly-N/Q tracts (particularly poly-N tracts) [68]. Certain individual newly-formed N-rich domains subsequently have been maintained to perform a function that may or may not be related to prion formation [14]. Other factors being conducive, these evolutionarily novel N-rich domains could evolve to produce benign propagating amyloids in S. cerevisiae [59]. Also within the same epoch (before the whole genome duplication in budding yeasts), the Rnq1p protein required for [PSI+] induction has arisen as a novel protein. Variation in recent mutational tendencies for more N residues, particularly in the form of poly-N tracts, is correlated with population sizes of N/Q-rich proteins in individual Saccharomycetes yeast species. Given the correlation that we see between numbers of N/Q-rich proteins and numbers of short poly-N tracts in other proteins, these results suggest that there is no clade-wide maintenance of selection pressure on N/Q-rich protein sequences to prevent N/Q-rich protein aggregation. This may be either because in many species there is cellular machinery to prevent/handle them effectively, or because they do not often enough tend to aggregate. In the amoeba Dictyostelium, there are large numbers of N/Q-rich proteins, and experiments on Sup35p aggregation indicate that there are cellular mechanisms preventing their aggregation generally [69]. Such mechanisms may also allow larger populations of N/Q-rich proteins in the Tetrapisispora and Candida clades, and are of interest for the analysis of diseases in humans that are linked to prion-like proteins or poly-Q repeat expansions, such as Huntington's disease. Also, the tendency to form poly-N homopeptide runs per se may be under selection variably in different lineages of budding yeasts, to control the evolution of functional N/Q-rich domains. Indeed, the relative selective burden on the protein sequences per se against harmful aggregation may vary as the potency of anti-aggregation cellular mechanisms varies. Assessment of these latter hypotheses would require experimental evolution investigations in tandem with novel theoretical developments. The evolution of mutation rates and the heterogeneity of rates for different types of mutation is a current area of interest in experimental evolution analysis [70, 71].
Availability of supporting data
Proteomes analyzed can be downloaded from the links listed in Additional file 1: Table S1. All other data sets supporting the results of this article are included within the article (and its additional files).
Abbreviations
AT:

adenine + thymidine
DNA:

deoxyribonucleic acid
GC:

guanidine + cytidine
IDP:

intrinsically disordered protein
N/Q-rich:

asparagine/glutamine-rich
NQP:

N/Q-rich protein
PAF:

prionogenic amyloid former
RNA:

ribonucleic acid
WGD:

whole genome duplication
Declarations
Acknowledgements
This work was funded by the Natural Sciences and Engineering Research Council of Canada.
Open AccessThis article is distributed under the terms of the Creative Commons Attribution 4.0 International License (http://creativecommons.org/licenses/by/4.0/), which permits unrestricted use, distribution, and reproduction in any medium, provided you give appropriate credit to the original author(s) and the source, provide a link to the Creative Commons license, and indicate if changes were made. The Creative Commons Public Domain Dedication waiver (http://creativecommons.org/publicdomain/zero/1.0/) applies to the data made available in this article, unless otherwise stated.
Authors' Affiliations
(1)
Department of Biology, McGill University, Montreal, Canada
(2)
Bioinformatics and Molecular Evolution Unit, NUI Maynooth, Maynooth, Ireland