Research article

Open Access
The dual role of Andean topography in primary divergence: functional and neutral variation among populations of the hummingbird, Metallura tyrianthina
BMC Evolutionary Biology
2016
16:22
Received: 16 October 2015
Accepted: 18 January 2016
Published: 22 January 2016
Abstract
Background
The ridges and valleys of the Andes create physical barriers that limit animal dispersal and cause deterministic local variation in rainfall. This has resulted in physical isolation of animal populations and variation in habitats, each of which has likely contributed to the evolution of high species diversity in the region. However, the relative influences of geographic isolation, ecoclimatic conditions, and their potential interactions remain poorly understood. To address this, we compared patterns of genetic and morphological diversity in Peruvian populations of the hummingbird Metallura tyrianthina.
Results
Phylogenetic and variation partitioning analyses showed that geographic isolation rather than climatic dissimilarity explained the greatest proportion of genetic variance. In contrast, bill length variation was explained by climatic seasonality, but not by genetic divergence. We found that mutation-scaled migration rate (m) between persistently humid and semi-humid environments was nearly 20 times higher when the habitats were contiguous (m = 39.9) than when separated by a barrier, the Cordillera de Vilcanota (m = 2.1). Moreover, the population experiencing more gene flow exhibited a lesser degree of bill length divergence despite similar differences in climate.
Conclusions
Geographic isolation is necessary for genetic divergence. Ecological differences, represented here by climate characteristics, are necessary for functional divergence. Gene flow appears to hinder the evolution of functional traits toward local adaptive optima. This suggests that functional diversification requires geographic isolation followed or accompanied by a shift in ecological conditions. Andean topography causes both isolation and climatic variation, underscoring its dual role in biotic diversification.
Keywords
AndesEcological speciationGeographic speciationBill morphologyTrochilidae
Background
The tropical Andes harbor a significant fraction of global diversity (e.g., 15 % of land plant species), with half this diversity comprised of regional endemics [1]. In contrast to other diverse montane regions (e.g. the Himalayas [2]), a major fraction of Andean diversity is derived from lineages that have radiated extensively in situ [3–9]. Thus, identifying the historical and landscape characteristics that foster speciation in the Andes will be crucial for understanding the mechanisms that have made the region a diversification hotspot. The topographically complex Andean landscape seems to drive diversification in two ways [10]. First, topographic barriers can fragment the narrow distributions of montane taxa and promote divergence via allopatric speciation [11–15]. Second, topography creates climate variation over small spatial scales that can drive ecological divergence, leading to reproductive isolation [16–18] and/or accelerated niche divergence [19]. Although some evidence for both mechanisms operating in the Andes exists, the relative importance of each mechanism working independently or in concert during the diversification process remains poorly understood.
Topographic barriers are frequently associated with phenotypic and genetic discontinuities in Andean species, providing evidence for the importance of physical isolation in Andean diversification (e.g., [20–22]). However, if physical isolation across topographic barriers were the sole driver of Andean speciation, species-level differences would be expected to accumulate via neutral processes. Substantial empirical evidence supports non-neutral mechanisms of speciation [23], although the overall tempo of diversification in the tree of life has recently been interpreted as evidence of neutral diversification [24]. Discordant patterns of phenotypic and genetic diversity are frequently found in Andean lineages, in contrast to neutral expectations ([4, 25–27], but see [22]). Moreover, coalescent simulations of plumage evolution in Arremon brushfinches indicate that plumage differentiation proceeds at a much faster rate than expected via neutral divergence [28]. In sum, it seems that range fragmentation alone is an insufficient mechanism for explaining the generation of Andean diversity.
Ecological speciation occurs when ecological factors, regardless of gene flow, catalyze reproductive isolation by natural selection [18]. In the Andes, higher diversification rates are associated with climatic-niche shifts indicating that ecoclimatic variation may be an important driver of lineage proliferation [29]. Several studies of Andean taxa have found morphometric and functional divergence arising among populations distributed along ecological gradients in the face of ongoing gene flow [30–35]. Although these results suggest that ecological mechanisms might be the primary drivers of divergence in the region, abundant evidence from outside the Andes indicates that rates of phenotypic divergence and evolution of reproductive isolation will be slower in populations experiencing gene flow relative to those that are more isolated (e.g., [17, 36–38]). Indeed, studies examining whether sister species replace one another along ecological gradients in the Andes have been inconclusive, with some sister species found to replace one another along ecological gradients in Andean butterflies [6] and frogs [39], but not in Andean birds or mammals [40–44].
Given the lack of clear support for an exclusive role of geographic isolation or ecological speciation in driving Andean diversification, a better understanding of the speciation process in the Andes will likely come from addressing how geographic and ecological isolation operate in concert [12, 15]. The topographic complexity of the region should allow for interactions between these two processes. Topographic barriers promote the reduction of gene flow, while the increased climatic variation associated with topography potentially increases the tempo of divergence via differential selection pressures [19, 45, 46]. One approach to test whether divergence is associated with topographic relief will be to assay divergence among population pairs that (i) occupy similar climates on either side of a topographic barrier, (ii) occupy different climates on either side of a topographic barrier, and (iii) occupy different climates in the absence of a topographic barrier. In particular, comparing patterns of spatial variation in effectively neutral genetic markers and functional traits will provide a means to understand the relative influence of geographic and ecological isolation in promoting genetic structure and divergence in ecologically relevant traits.
We focus on Peruvian populations of the Andean hummingbird
Metallura tyrianthina
to understand the drivers of spatial diversity in functional morphology and genetics. The geological history of the Peruvian Andes generated a topographically complex landscape, with glaciated cordilleras >5000 m in elevation interspersed with deep river valleys [
47
]. These landscape features generated habitat discontinuities in the elevational distribution of
M. tyrianthina
(1900–4200 m [
48
]). Final uplift of the central Andes over the last ~10 Myr also dramatically altered the climate [
49
], generating a steep rainfall gradient from the wet eastern slope to the desert-like western slope [
50
].
M. tyrianthina
likely colonized Peru from northern populations ~2 Ma and presently spans several topographic barriers and steep climatic gradients in the Peruvian Andes [
51
]. Three subspecies of
Metallura tyrianthina
occur in Peru:
M. t. tyrianthina
north and west of the Marañón valley in humid montane forests and edge habitat;
M. t. septentrionalis
in semi-humid montane scrub along the Western Cordillera of Peru south to the department of Lima; and
M. t. smaragdinicollis
throughout the eastern Andes of Peru in humid forests along east-facing slopes and in semi-humid scrub on west-facing and rain-shadowed slopes (Fig.
1a
[
48
]).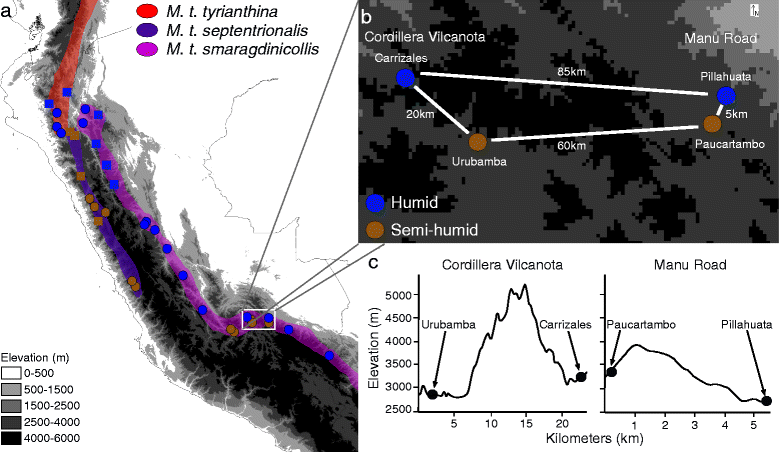 We compared spatial patterns of variation in bill length and effectively neutral DNA sequences in M. tyrianthina to test predictions derived from models of geographic speciation, ecological speciation, or a combination. (1) If geographic isolation drives divergence then we will expect to find a concordant relationship between phenotypic and genetic divergence across topographic barriers. However, (2) if divergence is primarily driven by ecological factors then we expect to find linked phenotypic and genetic divergence in association with ecological dissimilarities, independent of geographic isolation. Finally, (3) if topographic barriers and ecological differences interact to drive divergence then we expect to find phenotypic divergence between different environments, but only when a topographic barrier that reduces gene flow separates those environments.
Conclusions
Andean ridges and valleys hinder connectivity among populations and also create local climatic variation that imposes differential selection pressures [10, 46]. We investigated this dual role of topography for its effects on diversity in a widespread hummingbird species, Metallura tyrianthina. Across the Peruvian distribution of this species, we found that topographic barriers play the dominant role in structuring effectively neutral genetic diversity, whereas climatic variation shapes patterns of bill morphology. Moreover, analyses across four sites in the department of Cusco indicated that topography promotes genetic structure even across small spatial scales (<20 km) and bills are longer on rain-shadowed, west-facing slopes. This fine-scale analysis also revealed how gene flow constrains functional divergence, suggesting that topography and climatic variation interact to promote Andean diversification. If functional divergence driven by climatic variation permits coexistence upon secondary contact [19], it could potentially contribute to the evolution of reproductive isolation at later stages of divergence [18]. These processes could increase the overall tempo of diversification [122, 123]. Based on our results from Metallura, the east-to-west precipitation gradient may have played an important role in the diversification of several avian genera that contain narrowly distributed and geographically variable taxa in the central Andes (e.g. Ochthoeca, Anairetes, Atlapetes, Cranioleuca, Spinus). Indeed, analyses comparing speciation rates among Andean and adjacent lowland lineages have found overall higher speciation rates in the Andes, a pattern driven in part by genera such as Cranioleuca [124, 125] and Spinus [125, 126]. Topographic barriers and ecological variation have clearly interacted to produce high species diversification rates in Andean birds. The current results suggest that rates of functional diversification should also be accelerated when physical landscape features coincide with ecoclimatic variation.
Availability of supporting data
The bill length dataset supporting the results of this article are included within the article (and its additional file(s)). Mitochondrial and nuclear intron sequence data have been deposited on GenBank, accession numbers: KU527140-KU527416.
Declarations
Acknowledgements
We thank the following museums and individuals for providing access to tissues and specimens: Centro de Ornitologia y Biodiversidad (CORBIDI: T. Valqui, W. Nuñez); Lousiana State University Museum of Natural Science (LSUMZ: D. Dittmann, R. T. Brumfield); Field Museum of Natural History (FMNH: D. Willard); the Museum of Southwestern Biology of the University of New Mexico (MSB: A.B. Johnson). Labwork, fieldwork, and logistics were only possible with the help of R.W. Dickerman, E. J. Beckman, S. G. DuBay, N. A. Wright, L. M. Flores, A. Quiñonez Z., E. Bautista, S. Figueroa, S. M. McNew, C. J. Schmitt, A. B. Johnson, M. J. Lelevier, M. R. Jones, T. Valqui, and personnel at DGFFS (now SERFOR) in Peru. This work was funded in part by the following grants: F. M. Chapman Memorial Fund of the AMNH, UNM Biology Department Scholarships, NSF grant DEB-1146491, and a seed grant from the UNM Center of Evolutionary and Theoretical Immunology.
Open AccessThis article is distributed under the terms of the Creative Commons Attribution 4.0 International License (http://creativecommons.org/licenses/by/4.0/), which permits unrestricted use, distribution, and reproduction in any medium, provided you give appropriate credit to the original author(s) and the source, provide a link to the Creative Commons license, and indicate if changes were made. The Creative Commons Public Domain Dedication waiver (http://creativecommons.org/publicdomain/zero/1.0/) applies to the data made available in this article, unless otherwise stated.
Authors' Affiliations
(1)
Department of Biology and Museum of Southwestern Biology, University of New Mexico, Albuquerque, USA
(2)
Present address: Division of Biological Sciences, University of Montana, Missoula, USA