Research article

Open Access
The diversification of the basic leucine zipper family in eukaryotes correlates with the evolution of multicellularity
BMC Evolutionary Biology
2016
16:28
Received: 29 October 2015
Accepted: 19 January 2016
Published: 1 February 2016
Abstract
Background
Multicellularity evolved multiple times in eukaryotes. In all cases, this required an elaboration of the regulatory mechanisms controlling gene expression. Amongst the conserved eukaryotic transcription factor families, the basic leucine zipper (bZIP) superfamily is one of the most ancient and best characterised. This gene family plays a diversity of roles in the specification, differentiation and maintenance of cell types in plants and animals. bZIPs are also involved in stress responses and the regulation of cell proliferation in fungi, amoebozoans and heterokonts.
Results
Using 49 sequenced genomes from across the Eukaryota, we demonstrate that the bZIP superfamily has evolved from a single ancestral eukaryotic gene and undergone multiple independent expansions. bZIP family diversification is largely restricted to multicellular lineages, consistent with bZIPs contributing to the complex regulatory networks underlying differential and cell type-specific gene expression in these lineages. Analyses focused on the Metazoa suggest an elaborate bZIP network was in place in the most recent shared ancestor of all extant animals that was comprised of 11 of the 12 previously recognized families present in modern taxa. In addition this analysis identifies three bZIP families that appear to have been lost in mammals. Thus the ancestral metazoan and eumetazoan bZIP repertoire consists of 12 and 16 bZIPs, respectively. These diversified from 7 founder genes present in the holozoan ancestor.
Conclusions
Our results reveal the ancestral opisthokont, holozoan and metazoan bZIP repertoire and provide insights into the progressive expansion and divergence of bZIPs in the five main eukaryotic kingdoms, suggesting that the early diversification of bZIPs in multiple eukaryotic lineages was a prerequisite for the evolution of complex multicellular organisms.
Keywords
bZIP transcription factor
Gene regulatory networks
Evolution
Complexity
Background
Increasing evidence suggests that the evolution of complex multicellular organisms arose from the expansion and diversification of gene regulatory networks (reviewed in [1]). In eukaryotes, the precise control of gene expression, often in response to physiological and environmental stimuli, largely depends on the binding of specific transcription factor proteins to specific DNA sequences [2]. This ancient mode of gene regulation has been co-opted into and is instrumental in the ontogeny of multicellular eukaryotes, sitting at nodes in developmental gene regulatory networks (GRNs) that underlie spatiotemporal and cell type-specific gene transcription [3]. Analysis of GRNs, largely in bilaterian animals, reveals they are populated by transcription factors of differing evolutionary age, with most being either unique to metazoans (e.g. nuclear receptors) or of an older evolutionary origin (e.g. basic helix-loop-helix transcription factors) [4].
The basic leucine zipper (bZIP) superfamily of transcription factors appears to have originated early in eukaryotic evolution [2]. bZIPs sit at the heart of key pathways regulating cellular decisions across this domain of life [5]. They have been consistently implicated in a wide range of core eukaryotic cellular processes, including cell proliferation and differentiation, stress response and homeostasis [6]. However, the ancestral role of bZIPs in eukaryotes has been difficult to infer because a single conserved function has not been identified amongst living eukaryotes.
bZIP transcription factors take their name from a highly conserved 60–80 amino acid bZIP domain, which has a bipartite organisation consisting of an N-terminal basic region, responsible for DNA binding, and a leucine zipper, which mediates homo- and hetero-dimerization between bZIPs. As dimers, they regulate transcription by binding short DNA target sites, often in the form of 8 base pair palindromes. In recent years, the bZIP network of several eukaryotes has been described, and their evolution has been, to some extent, investigated in animals [7, 8], fungi [9] and plants [10]. The recent sequencing of disparate eukaryotic genomes now allows the search for the primordial bZIP and the reconstruction of the evolutionary trajectories this family has taken in different higher eukaryotic lineages, including phyla, kingdoms and superkingdoms.
Here, we analysed the bZIP gene repertoires from a wide range of eukaryote genomes, focusing on the lineage with the widest coverage of draft genomes, the holozoans. We traced back metazoan bZIP families to their origin in the holozoan last common ancestor, opisthokont last common ancestor and beyond. By comparing bZIPs diversification in the main eukaryotic clades, we demonstrate that bZIPs originated from a single protein and then evolved independently in each major eukaryotic lineage. bZIP family complexity appears to increase incrementally over long evolutionary periods, prior to evolutionary transitions into a complex multicellular condition. Early in eukaryotic evolution, a first expansion phase occurred independently in each of the four main eukaryotic lineages - Opistokonta, Amoebozoa, Planta and Heterokonta- yielding to 3 or 4 bZIP families. These families constitute the core of the bZIP complement in extant fungi, heterokonts and amoebozoans. A second expansion phase occurred in holozoans and early plants, prior to the emergence of complex multicellularity in either lineage. In holozoans, it occurred in two main steps: one before the divergence of unicellular holozoans, which display numerous examples of colonial forms with life cycles comprised of more than one cell type (e.g. in Salpingoeca rosetta [11] and Capsaspora owczarzaki [12]), and one during the early evolution of metazoans, prior to the emergence of the crown group.
Discussion
Using 49 sequenced genomes representing disparate eukaryotic lineages, including 18 representative metazoan genomes, we have reconstructed the evolution of one of the most ancient transcription factor families employed in animal development and disease, the bZIPs. We demonstrate that the evolution of multicellularity is correlated with the expansion and diversification of bZIPs in different families. However, an apparent increase in morphological and behavioural complexity (e.g. along the bilaterian or eumetazoan stem) is not always accompanied with an increase in gene family number. Indeed, bZIP family complexity appears to increase incrementally over long evolutionary periods, probably being one of a number of prerequisites for the evolution of networks underlying complex gene regulation.
The metazoan bZIP network is comprised of members of differing age
The phylogenetic analysis of metazoan bZIPs highlights three major periods in the evolution of bZIPs (Fig.
6
). The first diversification of the metazoan bZIP complement occurred prior to the divergence of holozoan lineages. There were at least three identifiable ancestral opisthokont bZIPs families, ATF6, ATF2-sko1 and Jun-CGN4, that expanded into 7 holozoan families. A second round of expansion and diversification occurred prior to the divergence of extant metazoan lineages, with all of the 13 metazoan bZIP families evolving prior the divergence of eumetazoan and sponge lineages. Based on the bZIPs present in early branching metazoans, we infer that the last common ancestor to all animals possessed minimally 12 bZIPs (Fig.
6
). This complement has remained remarkably stable over the course of metazoan evolution, with very little evidence of gene loss. Four bZIP families (MAF, PAR, CEBP and FOS) duplicated and underwent further diversification prior to bilaterian cladogenesis; three families underwent another round of duplication in stem chordates (NFE2) and vertebrates (ATF4 and FOS) (Fig.
6
).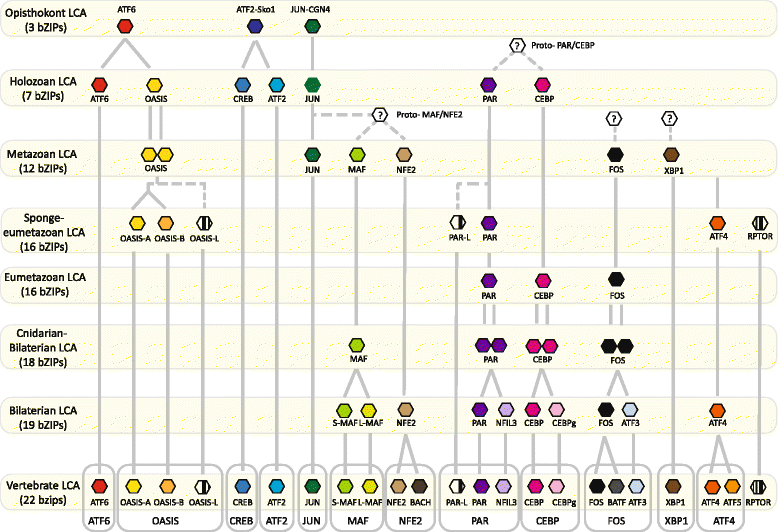 The OASIS family of bZIPs form three orthology groups (Additional file 3) that emerged either prior to metazoan cladogenesis or before the divergence of sponge and eumetazoan lineages. The OASIS-L group is distinct from the other OASIS family members and lacks the OASIS-specific extended basic domain. PAR, CEBP and FOS duplicated and diverged along the bilaterian stem to give rise to three new pairs of families, PAR-NFIL3, CEBP-CEBPg and FOS-ATF3. Cnidarians also possess pairs of CEBP and FOS genes that clade with one of the bilaterian orthologues, suggesting that these duplicated prior to the divergence of cnidarians and bilaterians; one of the duplicates subsequently diverged to form a new subfamily in bilaterians. The sponge-eumetazoan common ancestor possessed two PAR orthologues: PAR and PAR-L; PAR further duplicated and diversified in stem bilaterians to give rise to PAR and NFIL3 orthology groups. Independent expansion of this family in bilaterians, cnidarians and poriferans has yielded PAR-members that are unique to these taxa (Additional file 3). Similarly, although all eumetazoans possess at least two MAF-bZIPs, the emergence of large MAF and small MAF orthology groups did not occur until after the divergence of cnidarians and bilaterians (Additional file 3). This study also identified a new bZIP family, called REPTOR after its Drosophila member [13], which emerged from an unidentified bZIP ancestor along the poriferan-eumetazoan stem. All REPTORs display an almost identical basic region and a very short leucine zipper, which may nonetheless be functional for dimerization [13, 21].
ATF2-Sko1, ATF6-HAC1 and JUN-CGN4 families are common between metazoans and fungi, and most likely reflect the bZIP network that was in place in the common ancestor of extant opisthokonts. Members of those families preferentially recognise a palindromic sequence that is conserved in extant animals and fungi [6]. We found that the transactivation of ATF2, CREB and JUN are conserved throughout metazoans, and that of ATF6 throughout holozoans (Additional file 5). The conservation of both co-factors and binding sites potentially reflects the primordial role of these factors in the opisthokont ancestor and points towards a conserved function across animal and fungal orthologues. Consistent with this idea, metazoan ATF6 and yeast HAC1 hold a similar role in the activation of the seemingly conserved unfolded protein response [22]. Similarly, ATF2 plays a key role in the control of homeostasis in animals (reviewed in [23]) while SKO1 is central in the yeast response to different stress stimuli [24]. This reasoning may explain the general housekeeping role of CREB/ATF factors in animals, in contrast to the specific roles of metazoan-specific families (e.g. PAR and the control of circadian rhythm [25]).
The diversification of bZIPs in eukaryotes support a role in the evolution of multicellularity
Multicellularity evolved several times in eukaryotes [26] and arose from a diversification of gene regulatory networks [1]. Given the bZIPs are part of the ancestral eukaryotic transcription factor repertoire, a relationship between bZIP expansion, and diversification and evolution of complex multicellularity appears plausible. Our analysis supports the inference that the eukaryotic LCA possessed a solitary bZIP, which underwent an early expansion and diversification in the lineages leading to crown animals and fungi (stem opisthokont lineage), and Viridiplantae (land plants and green algae) (Fig. 5). This is consistent with an early increase in bZIP membership being a prerequisite for the evolution of the complex multicellularity displayed in animals, plants and fungi. The bZIP superfamily underwent a further duplication and divergence in each of these lineages, as detailed above for animals, with some of the expansions occurring prior to the emergence of the stem metazoan lineage (Figs. 5 and 6).
The differential expansion of the bZIP superfamily in opisthokont and plant lineages is consistent with the hypothesis that the independent diversification of bZIP families contributed to evolution of complex multicellularity on more than one occasion. Specifically a marked difference in ancestral metazoan and fungal, and land plant and algal bZIP repertoires, with morphologically more complex metazoans and land plants having more bZIP families (12 and 13, respectively) than simpler fungi and unicellular algae (4 and 5, respectively; Fig. 5).
The bZIP superfamily has also diversified in other eukaryotic lineages that display colonial or simple multicellularity. For instance, with a more limited dataset we identified 3 and 4 families in amoebozoans and heterokonts, respectively. In these cases again it appears that the expansion and diversification of bZIPs into different families occurs in lineages that include organisms with complex life cycles and more than one cell type (Fig. 5). The establishment of the core of the bZIP network early in evolution is consistent with bZIPs central role in basic cellular processes [5].
Reconstruction of the ancestral bZIP
The giardial bZIP has been proposed as a model for the precursor of all bZIPs [7]. However, it is consistently recovered in a clade that lacks most eukaryotic lineages; only metazoan and fungal bZIPs clade with this bZIP. Although in this study we could not confidently identify the ancestral bZIP of each kingdom, the similarity between sequences from ancient families of plant (proto-B), metazoan (ATF6-OASIS), fungal (HAC1), amoebozoan and heterokont bZIPs suggests they share features of the ancestral eukaryotic bZIP (Fig. 3), including the deeply conserved NxxSAxxSR (residues 13–21) signature motif.
This five-residue motif is involved in sequence-specific DNA binding and has not varied greatly over the entire course of the bZIP superfamily evolution. Indeed this may explain the restricted number bZIP families and the similarity of bZIP DNA-binding sequences throughout Eukaryota. Although each monomer possesses its own transactivation activity (reviewed in [27]), bZIPs can nonetheless regulate a wide range of cellular processes because they bind DNA as dimers, where each basic domain contributes individually to the recognition of one half binding site [17]. Pairing of bZIPs generates an extensive array of dimeric regulators, which in combination determines the transcriptional activity. Thus the independent diversification of bZIPs in multiple eukaryotic lineages allows for a marked and lineage-specific expansion in potential combinations. As dimerization is key to the functional diversification of bZIP transcription factors, offering the potential for flexible and complex transcriptional programs, the expansion of this gene family potentially contributed to the foundations underlying the evolution of complex multicellular organisms.
Conclusions
We compiled a dataset of 896 bZIPs from 49 sequenced genomes from across the Eukaryota. The depth of this dataset permits an assessment of the evolution of this family of transcription factors in relation to the timing of the major evolutionary transitions in eukaryotes, including the evolution of multicellularity. We demonstrated that bZIPs underwent an early expansion and diversification, independently in each of the five main eukaryotic lineages, and was likely a contributing prerequisite for the evolution of organisms with complex life cycles and multiple cell types. Focusing on metazoans, we reconstructed the duplication events that shaped bZIP sub-families and identified three previously uncharacterised bZIP sub-families that appear to have been lost in mammals. Our analysis identified the ancestral metazoan and holozan bZIP repertoire, which comprise 7 and 12 founder genes, respectively.
Declarations
Acknowledgments
This work was supported by an Australian Research Council grant to BMD.
Open AccessThis article is distributed under the terms of the Creative Commons Attribution 4.0 International License (http://creativecommons.org/licenses/by/4.0/), which permits unrestricted use, distribution, and reproduction in any medium, provided you give appropriate credit to the original author(s) and the source, provide a link to the Creative Commons license, and indicate if changes were made. The Creative Commons Public Domain Dedication waiver (http://creativecommons.org/publicdomain/zero/1.0/) applies to the data made available in this article, unless otherwise stated.
Authors' Affiliations
(1)
School of Biological Sciences, The University of Queensland, Brisbane, Australia
Copyright
© Jindrich and Degnan. 2016