Research article

Open Access
Sympatric speciation in structureless environments
BMC Evolutionary Biology
2016
16:50
Received: 2 December 2015
Accepted: 12 February 2016
Published: 29 February 2016
Abstract
Background
Darwin and the architects of the Modern Synthesis found sympatric speciation difficult to explain and suggested it is unlikely to occur. Increasingly, evidence over the past few decades suggest that sympatric speciation can occur under ecological conditions that require at most intraspecific competition for a structured resource. Here we used an individual-based population model with variable foraging strategies to study the evolution of mating behavior among foraging strategy types. Initially, individuals were placed at random on a structureless resource landscape, with subsequent spatial variation induced through foraging activity itself. The fitness of individuals was determined by their biomass at the end of each generational cycle. The model incorporates three diallelic, codominant foraging strategy genes, and one mate-choice or m-trait (i.e. incipient magic trait) gene, where the latter is inactive when random mating is assumed.
Results
Under non-random mating, the m-trait gene promotes increasing levels of either disassortative or assortative mating when the frequency of m respectively increases or decreases from 0.5. Our evolutionary simulations demonstrate that, under initial random mating conditions, an activated m-trait gene evolves to promote assortative mating because the system, in trying to fit a multipeak adaptive landscape, causes heterozygous individuals to be less fit than homozygous individuals.
Conclusion
Our results extend our theoretical understanding that sympatric speciation can evolve under nicheless or gradientless resource conditions: i.e. the underlying resource is monomorphic and initially spatially homogeneous. Further the simplicity and generality of our model suggests that sympatric speciation may be more likely than previously thought to occur in mobile, sexually-reproducing organisms.
Keywords
Magic traits
Foraging guilds
Disruptive selection
Genetic algorithms
Agent-based models
Background
Sympatric speciation is thought to be uncommon [1], although several systems—including races of Rhagoletis pomonella (apple maggots) and the parasitic Braconid wasps (Diachasma alloeum) they host [2], sibling species of Monostroma (i.e. M. latissimum and M. nitidummarine, green algae off the coast of Japan [3]), cichlid species ((Amphilophus sp.) complexes in isolated lakes [4] (but see [5]), and the iconic Darwin finches [6]—are considered to be examples of such speciation. The current prevalent view of sympatric speciation is that it is driven by disruptive selection through ecological competition on traits linked to assortative mating mechanisms that, when of genetic origin and not associated with sexual selection, are referred to as "magic traits" [7–11]. The genetic mechanisms underlying sympatric speciation can be quite varied, but they are often thought to involve either some type of recognition system (see [12] and the references therein) or ecological-mediated mate-sorting, such as heteropatry (individuals mate within preferred patch types on a mosaic landscapes [13]). Other, more subtle types of mechanisms also exist [14], suggesting that more mechanisms are likely to be discovered.
Ecological models underlying disruptive selection have invoked either multiple distinct habitat types (which have been referred to as "Levene models" [1]) or a resource gradient, such as seed size in the case of gramnivorous vertebrates. These cases, of course, encompass a considerable variety of situations. An influential, logistic-equation-based, adaptive dynamics analysis by Dieckmann and Doebeli [15] showed that sympatric speciation is a likely outcome of competition for resources. Disruptive selection in their model arose from the competitive exclusion process associated with resource competition processes [16]. In concert with disruptive selection, Kirkpatrick and Ravigne [17] identified a concatenation of mechanisms needed for speciation to occur: an isolating mechanism (e.g. associative mating), a mechanism to link disruptive selection and isolation, a genetic basis for increased isolation, and an appropriate initial situation. Dieckmann and Doebeli's [15] simulations involved pitting individuals against one another that have different density-dependent growth responses to a given implicit ecological background (the implicitness was reflected in terms of the value of the carrying capacity parameter in the logistic model for the individual in question) and, as such, fell within the growing genre of using individual-based models (IBM) to address ecological and evolutionary questions [18].
Recently, we used an IBM to demonstrated that if a uniform monomorphic resource landscape is peppered at random with consumers that are identical in terms of their ability to compete, extract and convert resources for growth—but employ individually variable movement behavior strategies (in terms of when and where to move, based on evaluations of resource levels and number of competitors in different directions of the compass)—then a polymorphic movement strategy guild emerges with structure dependent on historical quirks [19] rather than on an intrinsic system's attractor. This result considerably weakens the ecological precursors that are necessary for sympatric speciation to occur. Further, if we assume some type of mate labeling cues are linked to behavioral strategies, such as visual coloration correlated with both behavioral type and mating strategies in side-blotched lizard (Uta stansburiana) [20] and Midas cichlids (Amphilophus citrinellus) [21]—then we have a magic trait system [7–11] that can be used both to promote the reproductive separation of individuals belonging to different behavioral syndromic groups. Further, mating strategies that promote fitness often arise even though we currently may have no verified explanation for their origin, as with observations that olfactory cues are used to avoid sibmating in house mice (Mus musculus domesticus) [22]. In our model assortative mating, which is widespread through the animal kingdom [23], promotes fitness, as evidenced by the greater efficiency of clonal versus sexual foraging guilds in exploiting the model resource space [19].
The specific question we address here, in the context of individuals foraging on a structureless resource landscape [
19
], is the following: if the genetic precursors are in place for a magic-trait system to emerge within a randomly mating population, will assortative mating, as a precursor to sympatric speciation, emerge and become firmly established? The question is answered here in the affirmative, both through our simulation studies and with a well-supported explanation of why we should expect consumer-resource systems to behave in this way. In addition, the results we obtain serve to refute the following hypothesis, articulated in terms of a nicheless resource environment; by which we mean the resource is structurally homogeneous (i.e. it has no spectral qualities such as size or even color variation and exhibits no density gradients, though it can consist of randomly distributed patches or packages of resource):
Hypothesis: Two closely competing morphs (or strains), coevolving in a mixed population, cannot coexist if they both exploit a nicheless resource environment.
Given that it only takes one counterexample to disprove an hypothesis, the example we provide rejects this hypothesis and lays to rest the issue that some kind of resource niche structure is needed to ensure that sympatric speciation can occur when the supporting mechanisms of disruptive selection and genetically driven reproductive isolation, as identified by Kirkpatrick and Ravigne [17], emerge and become fixed. In short, the results we present below demonstrate that different foraging types may not only coexist (as demonstrated in [19]), but that they may be corralled by a magic-trait system [7–11] into mating assortatively, which is a precursor to reproductive isolation and, ultimately, speciation [17].
Results
Evolutionary simulations
Simulations were carried out using the model described in the Methodology Section, essentially running an evolutionary algorithm on top of our individual-based, single-generation foraging (i.e. ecological) model over evolutionary epochs that were either 250 or 500 generations long. The ranges of final population sizes at generation 250 and 500, together with the means and standard deviations of the mating-phenotype (magic) parameter
m
across runs, as well as mean values of the standard deviation across runs, are given in Table
1
. Statistical analyses of these results reveal that the mean values of
m
for the random (
m
 = 0.49 ± 0.13,
n
 = 124) and
m
-trait (
m
 = 0.21 ± 0.09,
n
 = 80) mating are significantly different at generation 250, as well as at generation 500 (
n
 = 15 for both the random
m
 = 0.53 ± 0.20 and
m
-trait
m
 = 0.10 ± 0.09 mating cases), suggesting that the
m
-trait gene evolves to promote assortative mating. The distributions of the values of
m
for the 250-generation cases are plotted in Fig.
1
, as a histogram binned into 0.1 unit intervals.
Table 1
Range of population sizes and basic statistics of the parameter values of m for random (value of m has no affect) and m-trait mating (i.e. assortative mating when m < 0.5, dissasortative mating when m > 0.5) simulations at the end of the 250 and 500 generation epochs
N (runs)

Agent ranges across runs

Mean ± stdev across "within run means"

Mean ± stdev across "within run stdev"

At generation 250a

 Random 124

239–361

0.49 ± 0.13b

0.17 ± 0.05

  m-Trait 80

256–348

0.21 ± 0.09b

0.11 ± 0.05

At generation 500c

 Random 15

265–334

0.53 ± 0.20b

0.10 ± 0.07

  m-Trait 15

263–350

0.10 ± 0.09b

0.06 ± 0.04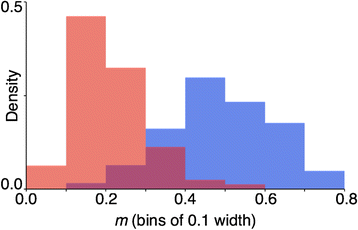 Emergent genetic structure
To provide a sense of the emergent genetic structure at the end of the 500 generation runs (where this structure is more evolved, and hence sharper than after 250 generations), in Table
2
we list the mean values of
m
across all agents in each of the 15 random and 15 
m
-trait mating runs along with the heterozygote deviance (i.e. an index of inbreeding and clustering; see
Methods
for details) associated with
α
, the most diverse of the three behavioral parameters in the model (See
Methods
for further explanation). The differences in each of these three measures when compared across random versus
m
-trait mating are all highly significant (
p
 < 0.001 in all three cases, Mann–Whitney
U
tests).
Table 2
Information on the genetic structure of the population at generation 500 for 15 evolutionary runs under random versus m-trait mating (run numbers sorted on m separately for cases A. and B.; genetic structure of runs 1 and 15 for both cases illustrated in Fig. 2). The heterozygote deviance value (see Method section) is with respect to the parameter α, while the % variance explained by our principal components analysis (PCA) is with respect to the first two components
A. Random matinga

B. m-Trait matinga

Run #

m

Heteroz. devianceb

% PCA Var

m

Heteroz. devianceb

% PCA Var

1

0.19

0.07

54

0.02

−0.99

80

2

0.31

0.08

53

0.02

−0.97

79

3

0.38

−0.06

54

0.03

−0.98

78

4

0.40

−0.32

58

0.04

−0.99

86

5

0.41

0.03

58

0.04

−0.97

78

6

0.44

0.10

55

0.05

−0.96

78

7

0.45

0.56

55

0.05

−0.96

87

8

0.48

0.04

53

0.06

−0.98

64

9

0.54

−0.14

57

0.06

−0.96

75

10

0.61

NAc

55

0.09

−0.95

70

11

0.66

0.10

53

0.11

−0.96

62

12

0.67

0.15

54

0.11

−0.94

60

13

0.76

0.13

57

0.25

−0.84

57

14

0.78

−0.17

57

0.28

−0.83

58

15

0.93

0.19

52

0.28

−0.86

62
For the four simulations corresponding to the highest and lowest average
m
values for the random and
m
-trait mating cases in Table
2
, the genetic structures that emerged at generation 500 are plotted in Fig.
2
(with results from all 30 simulations illustrated in the Additional file
1
). Specifically, the plots are: the values of all four parameters (see the
Methods
Section for an explanation of these parameters) for each individual (Fig.
2
, top panels in each of the four cases), the location of each individual in the first two principal components space (Fig.
2
, middle panels in each case), and of the dendrograms associated with the principal components analysis (PCA; Fig.
2
, bottom panels in each case). The
m
-trait simulations show defined genetic structure has evolved across all four parameters, with the lowest
m
value run of the
m
-trait mating case showing a particularly clear structure (Fig.
2
) of two alleles for
δ
(red—the two dominant bands are the homozygote phenotypes), two alleles for
ρ
(green—the two dominant bands are the two homozygote phenotypes), one allele for
m
(black) parameters, and three alleles for
α
(blue—three dominant homogyzote bands plus smaller heterozygote bands). The PCA analysis shows very clear genetic groupings for the case of the smallest
m
value for the
m
-trait mating (Fig.
2
) while PCA space grouping are much less distinct for the remaining three cases. Similarly the dendrograms indicate that the populations in the
m
-trait mating cases consist of a couple or several (depending at what vertical axis distance the groups are parsed) groups of more highly related individuals within groups and more distantly related individuals among groups, consistent with the fact that assortative mating groups are forming and increasing their reproductive isolation among groups.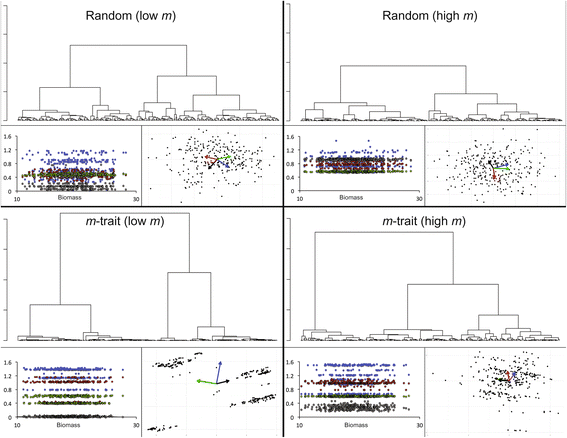 Conclusion
Our study builds on that of Dieckmann and Doebeli [15] who used an adaptive dynamics approach, in the framework of logistic growth models for a population of phenotypes characterized by a variable x, to show that the hypothesis articulated in the opening section of this paper does not hold, thereby rendering speciation a much more likely outcome of competition for resources than previously thought. Implicit in their model is a resource spectrum that implies individuals of phenotype x have an environmental carrying capacity K(x). Additionally we note that this function is an input rather than an emergent property of their model. This model was recently generalized by Haller et al. [33] and used to show that on complex landscapes—which may include environmental gradients, metapopulation structure, and patchiness at different spatial levels of resolution—that intermediate levels of heterogeneity are most likely to lead to the emergence of evolutionary branching, a pattern showed earlier to hold for species as well [32]. Haller et al. [33] also showed that the effects of different types of heterogeneity appear to some extent to be additive in causing evolutionary branching. In another recent study, Debarre [49] asked the question "Can speciation occur in a single population when different types of resources are available, in the absence of any geographical isolation, or any spatial or temporal variation in selection?" and answered the question by stating that "… sympatric ecological speciation is favored when (i) selection is disruptive (i.e. individuals with an intermediate trait are at a local fitness minimum), (ii) resources are differentiated enough and (iii) mating is assortative. In our model, unlike Debarre's, no resource structure is specified. Further, an implicit resource spectrum is not implied, as in Doebeli and Dieckmann [15] in terms of an input function K(x), or explicitly specified, as in a recent analysis by Thibert-Plante and Hendry [50]. In fact, we model resource extraction and the ensuing growth effects identically for all individuals: all individuals have precisely the same growth rates and competitive interaction parameter values when exploiting resources at a particular level within any resource cell (patch) on the landscape.
In our model, differences in the strategies of individuals to gather resources over time arises from the particular behavioral strategy employed by individuals to efficiently search out resources over an initially homogeneous resource landscape, while individuals may also move to reduce competitive interactions to differing extents. This initially homogeneous landscape, however, takes on a stochastically generated mosaic structure as a result of the foraging patterns of competitors and of resource regrowth (or replacement) within patches. This induced spatial heterogeneity, without additional gradient structures, is both as simple as can be expected in nature with regard to overall resource structure (the resource is monomorphic with no specified spatial gradients) and more realistic than assuming a constant homogeneous background. The latter follows since all organisms locally deplete resources unless they are located in a constant resource flux (e.g. a spatially homogeneous photon flux and individuals are located so they do not shade the flux from competitors, which is a severely restrictive requirement). Dieckmann and Doebeli [15] also consider the evolution of assortative mating using the type of m-gene approach that we took here, and they demonstrated in their model that assortative mating often arises and takes the population in the direction of reproductive isolation among ecologically diverging subpopulations. In our case, though, the divergence emerges from a behavioral polymorphism rather than requiring a structural ecological input through a specified carrying capacity function K(x). Thus, to the extent that Dieckmann and Doebeli [15] conclude that their "… theory conforms well with mounting empirical evidence for the sympatric origin of many species," we can conclude the same with less restrictive conditions in that we do not specify any growth rate or other ecologically-related variation with regard to individual phenotypes.
Abbreviations
PCA:

principle components analysis
SI:

supporting information (file online)
Declarations
Acknowledgements
We thank Pauline Kamath and Neil Tsutsui for comments that have helped improve this paper. This work was supported by NSF/CPATH-2 CNS0939153 to RS.
Open AccessThis article is distributed under the terms of the Creative Commons Attribution 4.0 International License (http://creativecommons.org/licenses/by/4.0/), which permits unrestricted use, distribution, and reproduction in any medium, provided you give appropriate credit to the original author(s) and the source, provide a link to the Creative Commons license, and indicate if changes were made. The Creative Commons Public Domain Dedication waiver (http://creativecommons.org/publicdomain/zero/1.0/) applies to the data made available in this article, unless otherwise stated.
Authors' Affiliations
(1)
Department ESPM, University of California, Berkeley, USA
(2)
School of Mathematical Sciences, University of KwaZulu-Natal, Durban, South Africa
(3)
Computer Science Department, Oberlin College, Oberlin, USA
(4)
Resource Ecology Group, Wageningen University, Wageningen, The Netherlands