Research article
Open Access
Permian scorpions from the Petrified Forest of Chemnitz, Germany
BMC Evolutionary Biology
BMC series – open, inclusive and trusted
2016
16:72
Received: 15 December 2015
Accepted: 10 March 2016
Published: 7 April 2016
Abstract
Background
Paleozoic scorpions (Arachnida: Scorpiones) have been widely documented from the Carboniferous Period; which hosts a remarkable assemblage of more than sixty species including both putative stem- and crown-group fossils. By contrast the succeeding Permian Period is almost completely devoid of records, which are currently restricted to a trace fossil from the early Permian of New Mexico, USA and some limb fragments from the late Permian of the Vologda Region, Russia.
Results
?Opsieobuthus tungeri sp. nov. from the Petrified Forest of Chemnitz, Germany represents the first complete body fossils of scorpions from the Permian. Explosive volcanism preserved these remarkable specimens in situ as part of the palaeosol horizon and bedrock of the Petrified Forest, immediately beneath the Zeisigwald tuff horizon. This dates to the early Permian (Sakmarian) or ca. 291 Ma. Intriguingly, the specimens were obtained from a palaeosol horizon with a compacted network of different-sized woody roots and thus have been preserved in situ in their likely life position, even within their original burrows. Differences in the structure of the comb-like pectines in the two fossils offer evidence for sexual dimorphism, and permit further inferences about the ecology and perhaps even the reproductive biology of these animals.
Conclusions
As putative members of a Coal Measures genus, these fossils suggest that at least some Carboniferous scorpion lineages extended their range further into the Permian. This contributes towards a picture of scorpion evolution in which both basal and derived (orthostern) forms coexisted for quite some time; probably from the end of the Carboniferous through to at least the mid Triassic.
Keywords
ArachnidaScorpionesBurrowsEarly PermianPetrified ForestVolcanismChemnitzGermany
Background
Scorpions are iconic arachnids with over two thousand living species distributed across eighteen different families [1]. They are also characterized by a fairly extensive fossil record, which extends back to at least the mid Silurian (ca. 430 Ma) [2] and renders them the oldest arachnids known to date. At present there are 131 valid species of fossil scorpion [3], although their distribution through time is far from homogeneous [4]. In particular, the Carboniferous Period (ca. 299–359 Ma) has yielded over sixty described species. By contrast, other geological periods have only around ten species or fewer. The Permian is particularly sparse with only two published records. From the early Permian (ca. 280 Ma) of Arizona there is an ichnospecies, Alacranichnus braddyi Lucas et al., 2013 [5], which the authors interpreted as the resting trace of a scorpion of uncertain taxonomic affinities. Late Permian (ca. 254–260 Ma) scorpion material from Isady in the Vologda Region of Russia [6] consists of limb fragments only and resembles specimens which were assigned to the Carboniferous genus Eobuthus Frič, 1904.
Here, we describe the first complete scorpion fossils from the Permian. Two well-preserved specimens, together with several fragments, were discovered within the early Permian (ca. 291 Ma) Leukersdorf Formation, the upper part of which contains the Petrified Forest of Chemnitz (Saxony, Germany). The scorpions come from a recently excavated (2008–11) locality in Chemnitz-Hilbersdorf, part of the wider Chemnitz Basin (Fig.
1
), which represents an outstanding fossil assemblage buried almost instantaneously by pyroclastic flows. This remarkable autochthonous deposit preserves the most complete Permian forest ecosystem known to date. Fifty-three trunk bases, still standing upright in their places of growth and rooting in the underlying palaeosol, characterize this Fossil-Lagerstätte as a unique window into the past, offering insights into a lowland environment sheltering dense hygrophilous vegetation, as well as a diverse fauna of vertebrates, arthropods and gastropods. Several of the taxa found represent the first Permian record of their respective groups [
7
]. The Chemnitz fossils also occasionally preserve details of their putative habitat and life position, thus shedding light on their ecology and facilitating a reconstruction of this ancient forest ecosystem. Most fossil scorpions discovered hitherto were assumed to have been washed into their final depositional settings. We provide evidence that those from the Chemnitz Petrified Forest were buried in situ; perhaps even in their original burrows among the tree roots.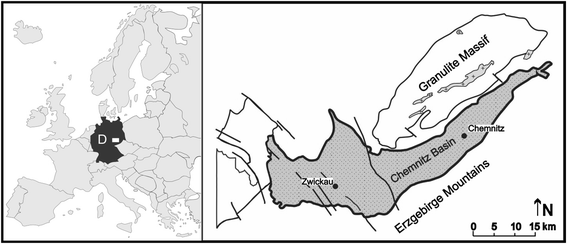 The present study is a continuation of on-going analyses of the Petrified Forest arthropods. As well as the scorpions described here, the fauna includes the youngest known trigonotarbid [8] – an extinct arachnid order – as well as whip scorpions (Thelyphonida), millipedes (Diplopoda), putative centipedes (Chilopoda) and remains of the giant myriapod Arthropleura. Study of these finds will not only enhance our understanding of a species-rich forested environment on mineral soils, but will shed light on synecological relationships within this volcanic-influenced landscape. This should contribute considerably to our view on food chains and evolutionary dynamics within the early Permian. Our scorpion fossils also have the potential to contribute to our understanding of the evolution of the group. As noted above, they are preceded by a species-rich Carboniferous fauna which includes many taxa belonging to early branching clades. However, a few Coal Measures scorpions evidently represent more derived taxa [3, 9, 10] sharing distinct apomorphies with living species. The Triassic yields the first, albeit controversial, record of a modern scorpion superfamily [11], while unequivocal representatives of modern families have been documented from the Cretaceous onwards (see Discussion). The implication is, therefore, of a shift from stem-group to crown-group scorpions going from the Paleozoic into the Mesozoic making the Permian a crucial time in scorpion evolution. A significant aim of the present study was to assess the position of these early Permian finds and to determine whether they are closer to the stem or the crown of the scorpion phylogenetic tree.
Methods
Material
Specimens were collected from an early Permian alluvial palaeosol immediately below the Zeisigwald tuff horizon, part of the Petrified Forest of Chemnitz, Saxony, Germany (50.85262 N, 12.94616 E). The two nearly complete scorpions are deposited in the Museum für Naturkunde Chemnitz under the repository numbers TA1116 and TA1126. They were informally named Jogi and Birgit, respectively, for the purposes of media attention. Part and counterpart exist for the complete specimens, revealing different diagnostic characters of the dorsal and ventral surfaces. Additionally, several scorpion fragments (e.g. TA1177, TA1187) probably represent imprints of exuvial remains and were spatially closely associated with specimen TA1116. Fossils were photographed using a Nikon D200 camera equipped with an AF-S Micro Nikkor 105 mm 1:2.8G lens and drawn using a Leica MZ12 stereomicroscope with a camera lucida attachment. Measurements are given in millimetres.
Geological setting and preservation
Results
Systematic palaeontology
Order SCORPIONES Koch, 1850
Family CENTROMACHIDAE Petrunkevitch, 1953
Genus ?Opsieobuthus Kjellesvig-Waering [22]
Remarks
The last major treatment of fossil scorpion systematics was the posthumous monograph of Kjellesvig-Waering [22] in which many new families, genera and species were proposed, often based on what seem to be trivial characters, possibly influenced by taphonomy and/or ontogeny. For example, the degree to which the ventral plates of the opisthosoma show lobation was a key feature of Kjellesvig-Waering's scheme, but studies of modern scorpions [23] imply that this could just reflect differences between developmental instars in the fossils [24]. Furthermore, many of the Paleozoic scorpions in the literature are based on incomplete fossils, which may be restricted either to dorsal or ventral features only. Progress towards a cladistic classification has been made [25–27], but not all of these results were formally translated into synonymies and/or transfers, leaving authors to largely fall back on Kjellesvig-Waering's monograph as the standard model.
A revision of Paleozoic scorpion phylogeny is in progress (Legg and Dunlop, in prep.; see also [24]) and we aim to place the new Chemnitz scorpions in the context of these provisional results. A difficulty we face is that while the fossils preserve the habitus quite well (Fig. 5), the coarseness of the preservation (see above) does not always recover fine details, such as the chelicerae or the more proximal limb articles, which would be useful for comparing the material to known fossil scorpion species. Despite these problems, we can identify some important features which rule out certain groups. For example, the large, anteriorly placed median eyes (Fig. 6a, c) exclude derived Carboniferous genera such as Palaeopisthacanthus Petrunkevitch, 1913 and Compsoscorpius Petrunkevitch, 1949 which have smaller eyes in a more posterior position [4, 22, 28]. Ventrally, the oral tube has strongly spatulate coxapophyses deriving from the first pair of leg coxae (Fig. 6b). The coxosternal region is quite well preserved – more so in the paratype (Figs. 5d and 6d) – and reveals a somewhat diamond-shaped sternum followed by paired, rounded genital opercula and a trapezoidal plate: the prepectinal plate sensu [22]. Most fossil (and living) scorpions have a triangular to pentagonal sternum. The diamond-shaped sternum in the new fossils is reminiscent of published descriptions of some Eobuthus species [22] and of a species assigned to Opsieobuthus Kjellesvig-Waering, 1986 which was itself originally described under Eobuthus.
Eobuthus may not be a valid genus [24]. Two of its three species, both from the Coal Measures of the Czech Republic, appear to be synonyms of scorpions belonging to other Bohemian genera, namely Cyclophthalmus Corda, 1835, which has a triangular sternum, and Isobuthus Frič, 1904 which has a pentagonal sternum. The third species, Eobuthus holti Pocock, 1911, from Lancashire in the UK, is an incomplete fossil in ventral view and is probably best treated as a nomen dubium. Note that the supposedly lost holotype was rediscovered [29], but adds little to the debate about its affinities. This leaves Opsieobuthus pottsvillensis (Moore, 1923) [30] from the late Carboniferous of the Clay City area of Indiana, USA as the closest match to our new material. Compared to published descriptions [22, 30] our fossil similarly reveals a diamond-shaped sternum followed by a putative bilobed genital operculum, a trapezoidal prepectinal plate partly divided along its posterior margin and additional wing-like structures at the front of the pectines (Fig. 6d); part of the pectinal plate sensu [22].
However, we should note that there are alternative ways of interpreting these ventral structures ([
26
] Fig.
7
). In the somewhat similar-looking
Centromachus euglyptus
(Peach, 1881) the bilobed structure was interpreted by Andrew Jeram as the posterior part of the sternum, the trapezoidal plate as the genital operculum and the paired structures behind this as the prepectinal plate. Resolving between these alternatives is beyond the scope of the present study, but is planned (Legg and Dunlop, in prep.) as part of a wider study of Paleozoic scorpions.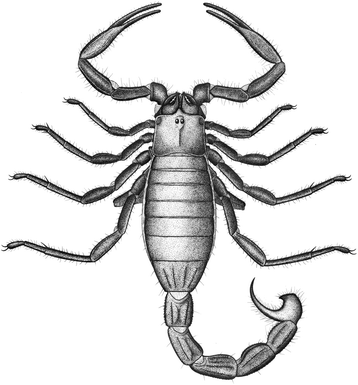 A further caveat to our assignment is that a putative diagnostic character of Opsieobuthus is the coxapophyses of the second pair of walking legs extending to the anterior tip of the first pair of spatulate walking leg coxapophyses [26]. In our new Chemnitz fossils, the second pair of coxapophyses only extends about half the length of the first apophyses (Fig. 6b). For this reason, we consider our generic assignment tentative, pending an assessment of the variability of this coxapophysis character within genera and thus its usefulness as a diagnostic taxonomic feature. Both the holotype and paratype are of a similar size and general habitus, and at least three shared characters imply that they are conspecific: (1) the long, slender pedipalps, (2) the very large pectines, and (3) the diamond-shaped sternum and the pair of sclerites immediately behind it.
?Opsieobuthus tungeri sp. nov.
LSID: urn:lsid:zoobank.org:act:48407D9C-E50B-4205-8C7E-236EF7259836
Rößler et al. [7] "Pulmonate scorpion" p. 831, fig. 12C.
2013 "Skorpion" Rößler, p. 6, fig. 5.
Luthardt et al. [15] "scorpion" p. 633, fig. 4C.
Etymology
In honour of our friend the Chemnitz geologist Dipl. geol. Bernd Tunger, who worked extensively on the excavations of the Petrified Forest site and shared his huge experience in field geology for many years.
Material
Museum für Naturkunde Chemnitz, Germany, nos. TA1126 (holotype: Birgit) and TA1116 (paratype: Jogi); leg. Volker Annacker and Ralph Kretzschmar. Additional material TA 1187 and TA 1177 (exuvial fragments).
Horizon and locality
From the palaeosol beneath the Zeisigwald Tuff Horizon, Leukersdorf Formation, Petrified Forest of Chemnitz, Saxony, Germany. Early Permian (Sakmarian).
Diagnosis
Species of ?Opsieobuthus with large, wing-like pectines extending laterally beyond the lateral margins of the body; each pectine probably with at least 50–60 individual pectinal teeth.
Description
Holotype (TA 1126) an almost complete specimen of a moderately sized scorpion; total preserved length ca. 120 (inc. telson). Part and counterpart primarily preserve dorsal and ventral surfaces, respectively, but some features partly superimposed (Figs. 5a-b and 6a-b). Fossil appears to have become slightly disarticulated around prosoma–opisthosoma junction, such that visible number of tergites and sternites does not fit comfortably into the space available unless one were to invoke an additional segment, which should not be present in the scorpion body plan. Body length measurement should be treated as an estimate only. Most complete leg used for measurements of limb articles. Descriptions of ridges and/or tubercles are of the condition in life. Prosomal dorsal shield (carapace) subquadrate ca. 13 long; margins not well preserved. Anterior border, and the presence/absence of a median projection, equivocal. A number of transverse lines could represent the posterior margin of the carapace, or of one of the following tergites; thus, exact carapace dimensions unknown. Median ocular tubercle teardrop-shaped (Fig. 6a); length 4.2, width 3.8, tapering posteriorly and bearing large pair of median eye lenses; diameter of each lens 1.8. Narrow ridge on midline runs behind median eyes. Lateral eye tubercles possibly present as suboval features near lateral margins of dorsal shield (Fig. 6a), but precise number of lenses equivocal. Median ocular tubercle on raised, inverted subtriangular area of dorsal shield. Putative lateral eye tubercles positioned on anterolateral edges of same raised area. No other dorsal shield ornament preserved.
Coxae of pedipalp and leg I visible in outline. Coxa I with inflated, spatulate coxapophysis, flanked anterolaterally by pedipalp coxa. Coxa II with slender, pointed, mesally projecting coxapophysis; these pointed second coxapophyses thus lying between more expanded projections of first coxa, and extending about half way along their length (Fig. 6b). Leg coxae appear to increase in length from anterior to posterior, but distal margins difficult to trace. Sternum small, approximately diamond-shaped, length 1.9. Immediately behind sternum, bilobed genital operculum distinct, oval, slightly wider (2.6) than long (1.8). Genital operculum and pectines separated by gap (artifact?), hence any pectinal and/or prepectinal plate is equivocal. Pectines very large (Fig. 6b), wing-like, projecting beyond lateral margins of opisthosoma and superimposed onto dorsal surface of fossil. Length of each pectine ca. 22, maximum width proximally 6.0; pectines taper towards rounded distal end but no subdivision into marginal and/or median lamellae seen. Pectines highly dentate, each pectine with >50 narrow individual teeth; tooth lengths ca. 1.4.
Quadrate structure anterior to dorsal shield on right side may be chelicera. Pedipalpal chelae distinctly gracile (Fig. 6a). Manus slightly inflated, both fixed and movable fingers long and slender with slight inward curvature. Pedipalpal femur equivocal; patella subrectangular, length 12; length of tibia (manus + fixed finger) 27; length of tarsus (free finger) 14. Patella with hints of carinae near margins; manus of tibia with slight ridges close to lateral margins. Movable finger with row of tiny depressions on inner face, (setal sockets?). No trichobothrial pattern seen on pedipalp. Legs equally gracile (proximal articles poorly preserved). Preserved lengths of leg I articles: patella 6.4; tibia 0.8. Preserved lengths of leg II articles: patella 9.6; tibia 8.9; basitarsus 5.7; telotarsus 3.2. Leg II equivocal. Preserved lengths of leg III articles: tibia 10.7; basitarsus 6.1; telsotarsus 3.9. Preserved lengths of leg IV articles: tibia 13.3, basitarsus 5.0, tarsus 4.6. Patella of at least legs I and II inflated (as in modern scorpions), thickest at midlengths. Basitarsus of leg II terminates in pair of distal pedal spurs. Tibia and basitarsus of at least legs III and IV ornamented with longitudinal ridge. Tibia of legs III and IV expand slightly distally, also bearing short but prominent distal tibial spur at terminus. No spurs evident on basitarsus of these appendages. Basitasus of all legs (where preserved) slightly longer than telotarsus; latter terminating in pair of short, slender claws. Third claw (apotele) not evident.
Opisthosoma divided into meso- and metasoma. Mesosoma fairly slender; length ca. 43; maximum width ca. 20, but lateral margins poorly defined. Tergites and sternites largely without visible ornament; terminal mesosomal segment (i.e. segment 7) tapers posteriorly, dorsally and ventrally with four distinct carinae (Fig. 6a-b) formed from rows of raised denticles. Tergite boundaries not well resolved which, combined with superposition of ventral elements, makes precise length measurements difficult; tergites appear to lengthen posteriorly. Approximate lengths: first 4, second 4, third 5, fourth 4, fifth 4, sixth 6, seventh 9. Sternites with somewhat procurved posterior margins (approaching the protolobostern condition of Kjellesvig-Waering [22]) lengths ca. 4.3 to 5.7; seventh sternite almost 10. Sternites show no evidence of lung spiracles.
Metasoma (tail) with five segments: lengths 7.1, 8.9, 10, 11.3, and ca. 9, respectively; total preserved length ≥46, excluding telson. Fifth metasomal (preanal) segment not noticeably longer than preceding (fourth) segment (unlike in extant scorpions). Metasomal segments slightly wider posteriorly; each segment ornamented dorsally with distinct pair of carinae (Fig. 6a) formed from rows of raised denticles with two more carinae on lateral margins and four ventrally (Fig. 6b). Telson not well preserved, swollen vesicle region apparently tapers towards narrow aculeus (sting).
Paratype (TA 1116) almost complete specimen, total length ca. 130 (inc. telson). Part and counterpart mainly preserve dorsal and ventral surfaces, respectively; features superimposed (Figs. 5c-d and 6c-d). Paratype appears to have been foreshortened; mesosoma does not appear long enough to accommodate the assumed number of segments (seven). Again, body length measurement should be treated as an estimate only. Prosomal dorsal shield subquadrate, slightly wider than long, length 19.5, width 21.8, widening slightly posteriorly and anteriorly with triangular projection on midline (linguiform process sensu Kjellesvig-Waering [22]). Median ocular tubercle raised, positioned anteriorly, immediately behind anterior projection (Fig. 6c). Ocular tubercle teardrop-shaped; length 4.5, width 4.3, tapering posteriorly; bears pair of large median eye lenses, diameters 2.0. Oval areas towards anterolateral corners of dorsal shield could represent lateral eye tubercles, but details equivocal. Central area of dorsal shield slightly raised. Posterior margin of dorsal shield distinctly procurved. No other dorsal shield ornament preserved.
Coxae of pedipalps and of legs I–II equivocal. Coxae III and IV bell-shaped, widening distally; that of leg IV quite long, ca. 17. Sternum small (Fig. 6d), sub-diamond shaped, length ca 2.5. Immediately behind sternum, bilobed genital operculum, oval, slightly wider (4.1) than long (2.7). Prepectinal plate behind operculum, trapezoidal, length 2.7, maximum width ca. 9; medially divided on posterior margin. Pair of small, anterolaterally directed, triangular wing-like structures (pectinal plate?) anterior to pectines; length 4.5. Pectines very large (Fig. 6d), wing-like, projecting beyond lateral margins of opisthosoma and superimposed onto dorsal surface of fossil. Length of each pectine ca. 25, thus slightly longer but also thinner than in holotype; maximum width proximally 4.5. Pectines taper distally; no subdivision into marginal and/or median lamellae seen. Pectines highly dentate, each pectine bearing >40 narrow teeth (in life probably more present because teeth cannot be traced along whole pectine); tooth lengths ca. 2.2.
Structure on right side projecting from beneath prosomal dorsal shield interpreted as chelicera (Fig. 6c); robust, chelate, length ca. 10, maximum width ca. 6. Pedipalps gracile; manus slightly inflated, both fixed and movable fingers long, slender with slight inward curvature. Femur oblong, length ca. 16, maximum width 3.6; patella largely unknown; length of tibia (inc. fixed finger) ca. 40; length of movable finger (tarsus) ca. 25. Free finger with row of tiny denticles on inner surface. Most legs missing. Fragment of left leg (?) IV preserved; probably tibia (preserved length 12) and basitarsus (length 8.6).
Opisthosoma divided into meso- and metasoma. Mesosoma length ca. 32, but may be taphonomically foreshortened; width ca. 27; lateral margins poorly defined. Tergites and sternites largely without visible ornament, terminal mesosomal segment (segment 7) tapers posteriorly, at least ventrally with four distinct carinae. Tergites and sternites superimposed (thus difficult to resolve dorsal versus ventral elements and obtain precise length measurements); clear lengthening trend posteriorly. Approximate segment lengths: second 2.0, third 3.6, fourth 4.1, fifth 5.5, sixth 5.5, seventh 10.5. At least segment (?sternite) six with procurved posterior margin (approaching protolobostern condition of Kjellesvig-Waering [22]).
Metasoma (tail) with five segments: lengths 10.5, 14.5, 15.5 and 15.5, posteriormost not well preserved, apparently overlying telson; total metasoma length (exc. telson) ca. 64. Metasoma generally robust, segments slightly wider posteriorly. Where preserved, segments ornamented dorsally with pair of carinae formed by rows of raised denticles; four similar carinae ventrally. Telson very large (Fig. 6c), length ca. 25. Vesicle probably bulbous; aculeus long, curved, with prominent triangular subaculear tooth basally.
Conclusions
The Permian Petrified Forest of Chemnitz hosted moderately large (ca. 12 cm long) scorpions which were probably notable predators on other arthropods, and perhaps even other small invertebrates and vertebrates within this ca. 291 Ma ecosystem. The fossils were preserved through explosive volcanism and there is evidence that they may even lie within their original burrows located under extensive networks of tree roots. Burrowing behaviour fits well with modern scorpion ecology. Notable are the very large pectines, which can be used to diagnose these fossils as a new species, probably belonging to the genus Opsieobuthus. Details of the pectinal teeth imply sexual dimorphism, with both a putative male and a female preserved in situ in close proximity to one another and thus conceivably even representing a mating pair. In a wider context, these significant finds represent the first complete fossil scorpions from the Permian and suggest that at least one Carboniferous genus extended its range beyond the time of the traditional Euramerican coal forests. This, in turn, contributes towards an emerging picture of a long (at least 80 million year?) overlap between the more basal scorpions, characterised by features such as anteriorly positioned median eyes, compound lateral eyes, and the absence of a long preanal segment, which lasted well into the Triassic, and the anatomically modern (i.e. orthostern) scorpion clade which first appeared towards the end of the Carboniferous.
Declarations
Acknowledgements
We thank Ralph Kretzschmar and Volker Annacker for their crucial help during fieldwork and Mathias Merbitz (all Chemnitz) for preparation work and manifold discussion. Ludwig Luthardt (Chemnitz) provided a former version of Fig. 3 and Volker Annacker Fig. 4. We also thank Rolando Teruel (Santiago de Cuba) and František Kovařík (Prague) for comments on modern scorpion ecology, Frederik Spindler (Freiberg) for providing Fig. 10 and Michael E. Soleglad (Borrego Springs) for providing Fig. 11. We also thank Russell Garwood (Manchester) and an anonymous reviewer for valuable comments on an earlier version of the typescript. This research was funded by the Volkswagen Foundation (Az: I/84638) and the German Science Foundation (RO 1273/3-1); PAS's visit to Berlin was supported by the Alexander von Humboldt Foundation.
Open AccessThis article is distributed under the terms of the Creative Commons Attribution 4.0 International License (http://creativecommons.org/licenses/by/4.0/), which permits unrestricted use, distribution, and reproduction in any medium, provided you give appropriate credit to the original author(s) and the source, provide a link to the Creative Commons license, and indicate if changes were made. The Creative Commons Public Domain Dedication waiver (http://creativecommons.org/publicdomain/zero/1.0/) applies to the data made available in this article, unless otherwise stated.
Authors' Affiliations
(1)
Museum für Naturkunde, Leibniz Institute for Research on Evolution and Biodiversity at the Humboldt University Berlin, Berlin, Germany
(2)
Oxford University Museum of Natural History, Oxford, UK
(3)
Paleontological Institute, University of Kansas, Lawrence, USA
(4)
Natural History Museum, London, UK
(5)
Department of Biological Sciences, Marshall University, Huntington, USA
(6)
TU Bergakademie Freiberg, Geological Institute, Freiberg, Germany
(7)
Kazan Federal University, Kazan, Russia
(8)
Museum für Naturkunde, Chemnitz, Germany