Research article

Open Access
Monoplacophoran mitochondrial genomes: convergent gene arrangements and little phylogenetic signal
BMC Evolutionary Biology
BMC series – open, inclusive and trusted
2016
16:274
Received: 24 May 2016
Accepted: 17 November 2016
Published: 16 December 2016
Abstract
Background
Although recent studies have greatly advanced understanding of deep molluscan phylogeny, placement of some taxa remains uncertain as different datasets support competing class-relationships. Traditionally, morphologists have placed Monoplacophora, a group of morphologically simple, limpet-like molluscs as sister group to all other conchiferans (shelled molluscs other than Polyplacophora), a grouping that is supported by the latest large-scale phylogenomic study that includes Laevipilina. However, molecular datasets dominated by nuclear ribosomal genes support Monoplacophora + Polyplacophora (Serialia). Here, we evaluate the potential of mitochondrial genome data for resolving placement of Monoplacophora.
Results
Two complete (Laevipilina antarctica and Vema ewingi) and one partial (Laevipilina hyalina) mitochondrial genomes were sequenced, assembled, and compared. All three genomes show a highly similar architecture including an unusually high number of non-coding regions. Comparison of monoplacophoran gene order shows a gene arrangement pattern not previously reported; there is an inversion of one large gene cluster. Our reanalyses of recently published polyplacophoran mitogenomes show, however, that this feature is also present in some chiton species. Maximum Likelihood and Bayesian Inference analyses of 13 mitochondrial protein-coding genes failed to robustly place Monoplacophora and hypothesis testing could not reject any of the evaluated placements of Monoplacophora.
Conclusions
Under both serialian or aculiferan-conchiferan scenarios, the observed gene cluster inversion appears to be a convergent evolution of gene arrangements in molluscs. Our phylogenetic results are inconclusive and sensitive to taxon sampling. Aculifera (Polyplacophora + Aplacophora) and Conchifera were never recovered. However, some analyses recovered Serialia (Monoplacophora + Polyplacophora), Diasoma (Bivalvia + Scaphopoda) or Pleistomollusca (Bivalvia + Gastropoda). Although we could not shed light on deep evolutionary traits of Mollusca we found unique patterns of gene arrangements that are common to monoplacophoran and chitonine polyplacophoran species but not to acanthochitonine Polyplacophora.
Keywords
MolluscaMitogenomeMonoplacophoraSerialiaAculiferaConchiferaGene arrangementPhylogenyEvolution
Background
Mollusca, comprising eight extant classes, has high diversity and an origin that dates back more than 540 million years [1, 2]. One of the most enigmatic classes, Monoplacophora, was thought to be extinct since the Palaeozoic until a living exemplar of Neopilina galatheae was found during the Galathea expedition in 1952 [3]. The significance of "living fossil" monoplacophorans for deep molluscan systematics was soon recognized [3], and Monoplacophora (with about 30 recent members called Tryblidia [4]) were central in several palaeontological, morphological and cladistic analyses (e.g., [5–8]) that tried to resolve the phylogeny of Mollusca. These analyses resulted in a number of different phylogenetic placements being hypothesized for Monoplacophora. Under the Conchifera/Aculifera hypothesis, Monoplacophora were traditionally viewed as the sister group to all other conchiferans with and as the sister group of Aplacophora (Caudofoveata + Solenogastres; [9]).
Early molecular analyses based on nuclear ribosomal DNA did not include monoplacophorans [10, 11]. Later analysis of a data set dominated by nuclear ribosomal genes and including all eight extant molluscan classes placed Monoplacophora within Polyplacophora, Serialia [12]. The single 28S sequence from Laevipilina antarctica used in that study was a chimera between monoplacophoran and chiton 28S [13], subsequent studies based on the same markers but free of contamination recovered Monoplacophora as sister to Polyplacophora but retained the term Serialia [2, 13, 14]. However, relationships among molluscan classes in these studies were unconventional, recovering Serialia as sister group to bivalves and gastropods, and clustering scaphopods together with aplacophorans and cephalopods. The Serialia hypothesis, which is based on ribosomal DNA dominated data, is provocative, since it challenges traditional taxonomic text-book hypotheses.
Both Aculifera and Conchifera are strongly supported by phylogenomic studies [
15
–
17
] and became a new paradigm in molluscan systematics [
18
–
22
]; but see [
23
–
25
]. Schrödl and Stöger [
26
] recently emphasized that there is some conflict between the consensus topology (Fig.
1
in [
26
]), and any of the several phylogenomic [
15
–
17
,
27
–
30
] and other nuclear sequence sets [
31
,
32
]. All these molecular datasets cover substantial sequence data, but represent a limited taxon sampling. Smith et al. [
16
] present the first phylogenomic study including representatives of all eight molluscan classes, and thus it directly addressed placement of Monoplacophora [
16
,
17
]. Although the authors detected many sites in their dataset with weak signal for Serialia and some sites with strong signal for Serialia, the sister group relationship of the one sampled monoplacophoran species and Cephalopoda is clearly favored [
16
,
17
]. A more recent phylogenomic analysis [
33
] placed the sole monoplacophoran representative employed as the most basal lineage of conchiferans, albeit with low nodal support, but in line with some traditional morphological hypotheses.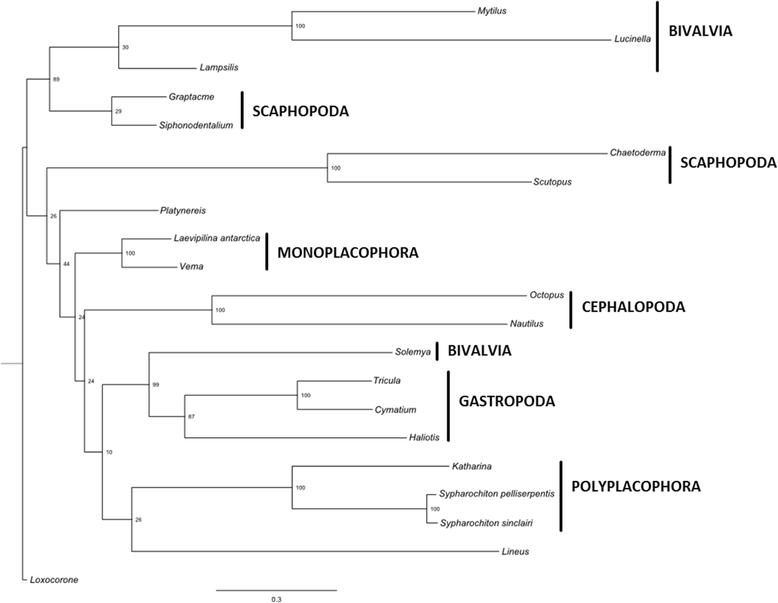 An alternative to studying multiple genes is exploring the information content of mitochondrial (mt) genomes [34]. In Metazoa, mitochondrial genomes usually consist of a highly conserved set of 13 protein-coding genes (PCGs), two ribosomal RNAs (rRNAs), and 22 transfer RNAs (tRNAs) [35, 36]. Furthermore, metazoan mtDNA includes at least one (sometimes more in molluscs) non-coding region of which the largest typically contains the control region, the site of initiation for transcription and/or replication [10]. All known mt genomes in molluscs are circular, with orthologs readily identifiable, making them easy to compare. Analyses of mitochondrial protein-coding genes have been successfully used to resolve phylogenetic relationships as for example the affiliation of Sipuncula and Annelida [37–39]. Although the analysis of mitochondrial sequence data provides good resolution in some molluscan subgroups, e.g. Bivalvia [40] or Cephalopoda [41, 42], the resolution for deep molluscan class-relationships is generally poor [35, 43]. Even the analysis of all protein-coding genes of 96 available mt genomes covering six molluscan classes (lacking Monoplacophora and Solenogastres) lacked sufficient phylogenetic signal to robustly resolve relationships among the major lineages of Mollusca [44]. The known problem of increased rates of sequence evolution [45] in some subclades such as bivalves and scaphopods [46] in addition to the Precambrian split of Mollusca from the closest outgroups [2, 30] not surprisingly leads to long-branch attraction ([44]. Taxa showing massive gene rearrangements also show faster nucleotide evolution [26, 34, 44], creating analytical challenges. Stöger and Schrödl [44] recommended analyses of a more representative molluscan taxon set, with fast-evolving taxa at both sequence and gene rearrangement level excluded from analyses. Osca et al. [47] followed this strategy, excluding bivalves and including a second caudofoveate taxon, Scutopus ventrolineatus, resulting in an aculiferan/conchiferan topology, although with low support in Maximum Likelihood (ML) analyses. Support for Aculifera is strong for their Bayesian topology, but the clade is nested within outgroup taxa. Plazzi et al. [48] published the first mitogenome of Protobranchia, which are putatively basal lineage of bivalves. This genome appears more conservative relative to the inferred ancestral molluscan and lophotrochozoan arrangements compared to other bivalves, which show greater rearrangement [34, 44]. More recently, mitogenomes of five further chiton species were published in 2014 [49, 50]. According to the authors [49], gene orders are highly congruent with the earlier published mt genome of Katharina [35], showing a plesiomorphic arrangement for lophotrochozoans, but this interpretation is not correct.
Here we contribute to the class-level taxon sampling of molluscan mitochondrial genomes by sequencing two Recent monoplacophorans (Laevipilina antarctica and Vema ewingi) and an almost complete mitogenome of Laevipilina hyalina. By generating the first mitogenomes for Monoplacophora our aims were 1) to explore the origin of the enigmatic Monoplacophora, 2) to evaluate whether or not a more balanced taxon excluding rapidly-evolving taxa improved resolution of deep molluscan phylogeny and 3) to compare monoplacophoran gene arrangements with a lophotrochozoan ground pattern [34].
Discussion
Gene order
The gene arrangement of Monoplacophora revealed herein is either highly conserved or the taxa here recently diverged from each other.
L. antarctica
and
Vema ewingi
differ only in the position of
trnC
which is adjacent to
trnS1
in
L. antarctica
but is embedded in the tRNA complex
GEWDCYKNM
in
Vema ewingi
(Fig.
3
).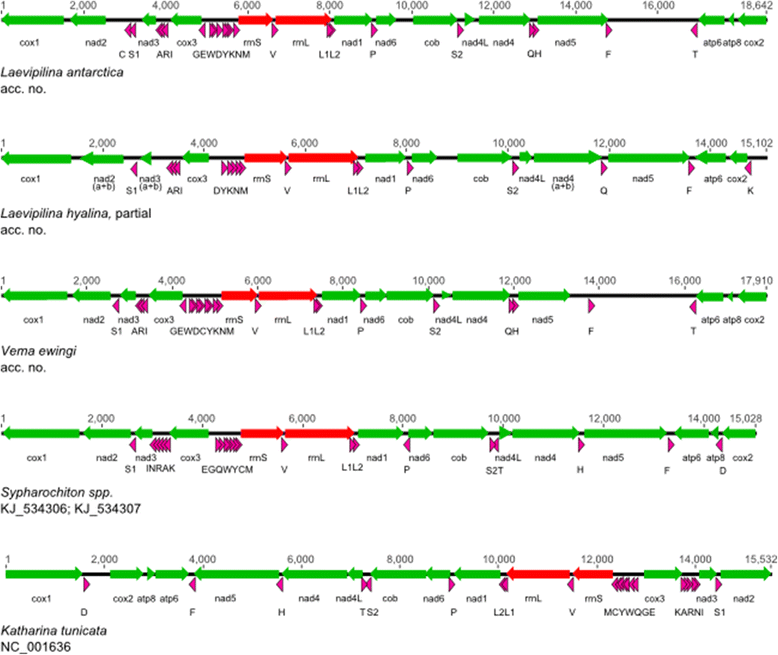 Presence of two conserved gene blocks was confirmed in these monoplacophoran species (Table
4
). One conserved block,
rrnS-rrnL-nad1-nad6-cob,
was defined previously for Lophotrochozoa [
34
], and the second block that is putatively conserved in Lophotrochozoa,
nad4L-nad4-trnH-nad5
, could be detected adjacent to
rrnS-rrnL-nad1-nad6-cob
(shown as combined cluster 2 in Table
4
), although in a somehow aberrant appearance concerning tRNAs, since in
L. antarctica
and
Vema ewingi
there is
trnQ
nested between
nad4
and
trnH
and in
L. hyalina trnH
is missing (Fig.
3
). The part of yet another lophotrochozoan conserved gene block (
cox3-nad3-nad2-cox1-cox2-atp8-atp6
) usually appears in the forward direction. In our monoplacophoran species the part
nad2-cox1-cox2-atp8-atp6
is inverted (Table
4
). In
L. hyalina atp8
is missing but
trnK
is included. Presence of these conserved lophotrochozoan gene blocks and a relatively high percentage of divergence between the PCGs of the monoplacophoran species (22.4%) leads to the assumption that gene order in Monoplacophora is conserved.
Table 4
Directions of PCGs and rRNAs in the two clusters; tRNAs are not considered. Based on the lophotrochozoan ground pattern [34] we find two evolutionary lines. One is evident in Katharina, as well as in Octopus, with an inversion of PCGs in cluster 2. From this derived arrangement we can infer the Nautilus gene order with a "simple" translocation of rRNAs. The second line is an inversion of cluster 1 of the lophotrochozoan ground pattern, which leads to the monoplacophoran (and the Sypharochiton) pattern of gene arrangement. We could not detect this arrangement of PCGs in another lophotrochozoan group so far (see e.g., [80])
Cluster 1:

cox3-nad3-nad2-cox1-cox2-atp8-atp6

Cluster 2:

rrnS-rrnL-nad1-nad6-cob-nad4L-nad4-nad5

Remarks

Lophotrochozoan ground pattern (Bernt et al. [34])

→

→

Monoplacophoran plesiomorphic state

←

→

Cluster 1 missing atp8 in L. hyalina as it was not sampled

L. antarctica

←

→

Vema ewingi

←

→

L. hyalina

←

→

Cluster 1 misses atp8

Sypharochiton spp.

←

→

K. tunicata

→

←
A potential synapomorphy for Mollusca [44], aggregation of trnG-trnE with the tRNA complex MCYWQ, is present in Monoplacophora, although the complex is reversed in its order (Fig. 3). A second tRNA complex that appears frequently in Lophotrochozoa is KARNI [44]. Within our monoplacophoran taxa we instead find ARI which is also present in the caudofoveate Chaetoderma. A clade of caudofoveates and monoplacophorans is recovered by some of our sequence analyses, but not by any other analyses including nuclear data (for review see [26]); we thus assume that congruency in the tRNA order ARI is convergent.
Focusing on the gene order of protein-coding genes (PCGs) and ribosomal RNAs, the ancestral state for both PCG clusters is forward in the lophotrochozoan ground pattern (cluster 1 and 2, see Table 4). Within Mollusca, the order of PCGs that is observed in Katharina and other Acanthochitonina [35, 50] is hypothesized to represent the ancestral arrangement for at least molluscs, since this arrangement is recurring with no or almost no modifications in other molluscan classes [44]. In reference to the lophotrochozoan pattern, we show that the orientation of cluster 1 of the Acanthochitonina gene order is ancestral, whereas cluster 2 is derived (Table 4). This order is opposite in Monoplacophora: Their gene orders reflect a derived orientation for cluster 1, but the plesiomorphic state for cluster 2, which appears to be a unique condition among lophotrochozoans. We confirm a plesiomorphic gene arrangement in Acanthochitonina but a monoplacophoran-like derived gene order in Chitonina (Table 4). Rearrangements of PCG clusters are considered to be rare events, and thus are given high phylogenetic significance [51, 52]. Accordingly, the uniquely derived arrangement of cluster 2 could be interpreted as a synapomorphy, supporting Serialia; because of the undisputed monophyly of Polyplacophora, the heterogeneous arrangement within chitons implies homoplasy. Unfortunately, no information is available on mitogenomes of the Lepidopleurida, the morphologically most plesiomorphic chiton clade [53, 54]. Under the Aculifera-Conchifera concept we find this derived condition of gene order in some but not all members of both major clades, also implying convergence within Mollusca. Such convergent rearrangements of large PCG complexes have rarely been detected in invertebrates [52] but not in vertebrates [55]. One such example is known from Caenogastropoda, which shares a congruent gene order of PCGs with the nemertean Lineus [44]. We could not find any similar examples within molluscs in the literature and we anticipate that denser sampling may reveal more cases.
Gene architecture
Mitogenome lengths of L. antarctica and Vema ewingi are consistent with other molluscan mitochondrial genomes, which range between 13.6 kb in Biomphalaria (Gastropoda) to 31.5 kb in Placopecten (Bivalvia) [44]. Nevertheless, both range at the upper bound of animal mtDNA length, which is typically less than 20 kb [56]. Both mitogenomes contain the complete gene complement of a typical bilaterian mitogenome [52]. L. hyalina lacks atp8 and six tRNAs. Atp8 is conserved in just a short fragment at the 5′ region [36, 57], which makes it rather difficult to identify. That might explain the absence of atp8 in L. hyalina since that gene is not located at the boundaries of the contig sequence that was used as input for MITOS, where we would expect missing data in an incomplete mitochondrial genome.
We detected two copies of trnK in L. hyalina, both highly similar to the trnK of L. antarctica and Vema ewingi in their structure. Duplication of tRNAs is not uncommon and has been reported before (e.g., [37]). A partial inversion of at least cox1-cox2-trnK of a conserved lophotrochozoan gene complex could explain the duplicated trnK detected in L. hyalina, since MITOS additionally detected relics of cox1 in a row with trnK and cox2 in that individual arrangement. This could also indicate a tandem duplication random loss event.
The three monoplacophoran mitogenomes analyzed herein exhibit almost the same number of non-coding regions; 21 in the incomplete mtDNA of L. hyalina and 27 and 28 in Vema ewingi and L. antarctica, respectively. Several non-coding regions are larger than 100 bp, distributed throughout the genomes and differing substantially in lengths within the same genome. This occurs frequently in molluscan mitogenomes. For example, in the class Gastropoda, some families possess many small NCRs [58, 59], as well as in Cephalopoda, which show intergenic regions that may be longer than 900 bp [51]. Katharina (Polyplacophora) also has several NCRs [35], and the bivalve taxon Placopecten contains NCRs up to 10,000 bp [57]. Almost half of the NCRs in Monoplacophora are located between the same genes in all three mtDNAs. L. antarctica shares more relative gene boundaries of NCRs with Vema ewingi than with L. hyalina; this is unexpected since it suggests a closer relationship of L. antarctica to Vema ewingi than to L. hyalina, but this might also be due to information missing in L. hyalina. The congruent relative location of two NCRs found in Nautilus and Monoplacophora with two identical or even highly similar sequence motifs might be synapomorphic and thus indicate common ancestry for monoplacophorans and cephalopods as it is proposed by Smith and colleagues [16, 17]; however, the motifs are very short and could also be either plesiomorphic or convergent.
Each of the two complete mitogenomes of L. antarctica and Vema ewingi has its largest NCR between trnF and trnT (see Fig. 3). These NCRs are 2012 bp and 2287 bp long respectively and both contain the AT-rich motif 1 that is almost identical in both mitogenomes concerning nucleotide composition, length, and position within the NCR (Table 1). A very similar motif is visible in L. hyalina in the NCR between trnK and cox1 (Table 1). The long and unassigned regions could be the potential origins of transcription of our monoplacophoran mtDNAs since AT-rich motifs are usually evidence for the control region of mitogenomes [59, 60]. Several other repetitive motifs are visible in the largest NCRs of L. antarctica and Vema ewingi, which provide even more evidence that this region is the control region. Motif 1 is repeated between trnG and trnE in L. antarctica and Vema ewingi, again with almost congruent starting points and very similar positions within the NCRs (Table 1, Fig. 3). We hypothesize that the initiation region was partially duplicated to have two starting points for the replication process which would lead to an increased transcription rate as was suggested for cephalopods before [61]. Although we found evidence for the potential control region in L. hyalina, too, we were not able to detect its duplication in this incomplete mt genome.
MITOS annotated fragmentary cox1 in L. hyalina and parts of atp6 in L. antarctica in the potential initiation regions. These protein-coding gene fragments are located near their functional copies. A possible scenario could be that part of the mitogenome, consisting minimally of the respective PCGs, was duplicated, and this is still visible in both Laevipilina individuals through residual PCG fragments. These duplicated copies might be in the process of being lost. Whether in Vema ewingi the loss is already finished, or the duplication event never took place is not clear. Nevertheless, we identified a region of accelerated rearrangement rate and this is third indication for locating the origin of replication in these NCRs in Laevipilina. Such a control region is usually described as the longest non-coding region within the mitogenome that is rich in AT, often including repetitive motifs, and seems to be a hotspot for rearrangements [59, 62]. The existence of duplicated control regions or parts thereof could be seen as a similarity for Monoplacophora and Cephalopoda (see [63]), since this feature is not known from other molluscs so far but is observed in other metazoan mitogenomes [64–66].
The second repetitive sequence motif (motif 2), is found in L. antarctica in the unassigned region between nad2 and trnC as well as in Vema ewingi in the non-coding part between nad2 and trnS1 (Table 1). This motif starts in both NCRs at almost the same position. Unassigned regions are known to be extremely variable because they do not underlie any selective pressure. Independent evolution of two identical 18 bp long nucleotide motifs in the same position is unlikely, so this motif is probably an apomorphy inherited from the common ancestor of these two taxa.
Phylogeny
Several phylogenetic approaches resulted in ambiguous topologies, which were sensitive to taxon sampling. Neither nucleotide nor amino acid taxon sets supported Aculifera (Polyplacohora + Aplacophora) or Conchifera (comprising all other shell-bearing classes), in contrast to Osca and colleagues [47] (see Table 2). A trend in amino acid analyses is the repeated recovery of a highly supported Pleistomollusca, whereas nucleotide based analyses supported Serialia (Table 2). In the data set with 3 non-molluscan outgroups, neither the amino acid nor nucleotide datasets supported the monophyly of Mollusca, which is, however, well-established [2, 15, 16, 27, 28, 32]. Molluscan non-monophyly is a common result of phylogenetic analyses based on mt protein coding genes [34, 44, 46] which was unaffected by the addition of more taxa here (Table 2).
Analyses recovered a monophyletic Monoplacophora and tended to support monophyly of other molluscan classes, except for bivalves. Non-protobranch bivalves have longer branches and rearranged gene orders compared to the protobranch Solemya. Such high levels of gene rearrangements were suggested to be linked with high rates of nucleotide substitution [26, 34, 44].
In amino acid datasets, the lamellibranch bivalves cluster as the sister group to scaphopods, but Solemya clusters with gastropods (Fig. 1, Table 2). The latter relationship was also recovered by Plazzi et al. 2013 [48] but was interpreted as an artifact due to limited phylogenetic signal in the bivalve lineage of Opponobranchia (including Nuculida and Solemyida). Solemya is the only bivalve in our dataset that has its genes arranged on both strands, a fact that leads to different substitution skew between plus and minus strands of the mt genome. Such differences in nucleotide composition might influence phylogenetic analyses and could be an explanation for our diphyletic clustering of bivalve taxa [67, 68].
Pruning non-protobranch bivalves recovers Solemya as the sister group to gastropods, i.e. a taxon Pleistomollusca ([15], Fig. 2; Additional files 1 and 2: Figures S1 and S2) in most amino acid analyses. Excluding the remaining protobranch bivalve, Solemya, from our analyses did not result in an aculiferan topology (Table 2). That is in contrast to Osca et al. [47] who excluded Bivalvia and recovered Aculifera (although Solenogastres was not sampled) either with poor support (ML) or with strong support but not as part of a monophyletic Mollusca (BI). In the taxon set in Osca et al. [47], Conchifera were lacking Bivalvia, which were pruned, and Monoplacophora.
As Osca et al. [47] recovered Aculifera and Conchifera we expected that adding further, taxa such as protobranchs and monoplacophorans might be beneficial to resolve further aspects of deep molluscan evolution. Within this study we employed different taxon sets to explore the robustness of the data. However, the diversity of topologies recovered herein is striking and suggests there is limited phylogenetic signal in this data. By modifying datasets we recovered several formerly proposed and currently disregarded hypotheses of higher taxa, but never the preferred Aculifera or Conchifera [47].
Conclusion
This mitogenomic study includes three members of two monoplacophoran genera. Our phylogenetic results of analyzing the protein coding supermatrix of 13 genes of 18 selected molluscan taxa across 7 of 8 classes stay ambiguous. Common and highly accepted molluscan hypotheses as the Aculifera or Conchifera concepts never appear in any of our phylogenetic permutations.
Our finding of unique protein gene arrangements in Monoplacophora and chitonine but not acanthochitonine Polyplacophora is remarkable because it may support the Serialia hypothesis, which is in conflict with the Aculifera/Conchifera hypothesis, but more likely it represents a plesiomorphic genome structure for molluscs. Any topology would imply convergent evolution of identical PCG clusters within Mollusca. On one hand, this clearly weakens the significance of supposedly rare gene rearrangement events and single genome level characters. On the other hand, this demonstrates the existence of further genome level characters that may become useful if mitogenomes are explored densely over molluscan (and other) taxa. Unfortunately, phylogenetic analyses of the mtDNA provided little information for resolving mollusc phylogeny. Furthermore, we need to expand our yet limited knowledge on mitochondrial evolution and data from the molluscan class Solenogastres (=Neomeniomorpha) is still lacking. High throughput sequencing as used here is a powerful and accurate way to add further mitogenomes of taxa that are small or with limited material available.
Abbreviations
aa:

Amino acid
atp6-8 :

ATP synthase subunits 6–8
bp:

Base pair
cob :

Cytochrome oxidase b
cox1-3 :

Cytochrome c oxidase subunits 1–3
Gbp:

Gigabase pair
ML:

Maximum likelihood
mt:

mitochondrial
nad1-6 :

4L, NADH dehydrogenase subunits 1–6, 4L
NCR:

Non-coding region
nuc:

Nucleotide
PCG:

Protein-coding gene
PCR:

Polymerase chain reaction
PE:

Paired-end
rRNA:

Ribosomal RNA
rrnL :

Large ribosomal RNA
rrnS :

Small ribosomal RNA
tRNA:

Transfer RNA
trnX :

Transfer RNA for amino acid X (denoted by the one-letter IUPAC code)
Declarations
Acknowledgements
Specimens were collected during the ANDEEP-SYSTCO cruise on RV Polarstern, as well as during a collection trip on RV Dimitry Mendellev and on RV Robert Gordon Sproul. Thanks go to Enrico Schwabe, Greg Rouse and Nikita Kutcheruk who helped to collect the material. We thank the Ludwig-Maximilians-University Graduate Center (stipend to IS), the German Research Foundation Priority Programs 1174 (SCHR667/9-1) and 1158 (SCHR667/15-1) for financial support, the US National Science Foundation for funding to Kevin Kocot (DEB-1210518), Scripps Institution of Oceanography for support, Liz Borda for advice in the lab, and Yuanning Li, Nina Mikkelsen, and Pam Brannock for help in the lab.
Availability of data
The main datasets and tree topologies of this article will be available at TreeBase (http://purl.org/phylo/treebase/phylows/study/TB2:S20256). New mitogenomic sequence data of the three monoplacophoran species generated herein will be deposited at Genbank (see Table 5 for accession numbers).
Authors' contributions
IS performed analyses and drafted the manuscript; AJP, KMK and NGW carried out the molecular lab work and genome assemblies; DI, KMH, NGW and MS did the field work and provided monoplacophorans; KMH, NGW and MS conceived the study and contributed to writing the paper. All authors contributed to read and approved the final manuscript version.
Competing interests
The authors declare that they have no competing interests.
Ethics approval and consent to participate
The authors confirm that all experiments conducted in this study comply with institutional, national, or international guidelines.
Open AccessThis article is distributed under the terms of the Creative Commons Attribution 4.0 International License (http://creativecommons.org/licenses/by/4.0/), which permits unrestricted use, distribution, and reproduction in any medium, provided you give appropriate credit to the original author(s) and the source, provide a link to the Creative Commons license, and indicate if changes were made. The Creative Commons Public Domain Dedication waiver (http://creativecommons.org/publicdomain/zero/1.0/) applies to the data made available in this article, unless otherwise stated.
Authors' Affiliations
(1)
SNSB-Bavarian State Collection of Zoology, Munich, Germany
(2)
Department of Biological Sciences, University of Alabama, Tuscaloosa, USA
(3)
Max-Planck Institut fuer Molekulare Genetik, Evolution and Development Group, Berlin, Germany
(4)
Dahlem Center for Genome Research and Medical Systems Biology, Environmental and Phylogenomics Group, Berlin, Germany
(5)
Alacris Theranostics GmbH, Berlin, Germany
(6)
Western Australian Museum, Aquatic Zoology/Molecular Systematics Unit, Welshpool, Australia
(7)
Zoological Museum, Moscow State University, Moscow, Russia
(8)
Biological Sciences Department, Auburn University, Auburn, USA
(9)
Faculty of Biology, Department II, Ludwig-Maximilians-Universitaet Muenchen, Planegg-Martinsried, Germany
(10)
GeoBio-Center at LMU, Munich, Germany