Research article

Open Access
Phylogenomic analysis of Copepoda (Arthropoda, Crustacea) reveals unexpected similarities with earlier proposed morphological phylogenies
BMC Evolutionary Biology
BMC series – open, inclusive and trusted
2017
17:23
Received: 14 June 2016
Accepted: 11 January 2017
Published: 19 January 2017
Abstract
Background
Copepods play a critical role in marine ecosystems but have been poorly investigated in phylogenetic studies. Morphological evidence supports the monophyly of copepods, whereas interordinal relationships continue to be debated. In particular, the phylogenetic position of the order Harpacticoida is still ambiguous and inconsistent among studies. Until now, a small number of molecular studies have been done using only a limited number or even partial genes and thus there is so far no consensus at the order-level.
Results
This study attempted to resolve phylogenetic relationships among and within four major copepod orders including Harpacticoida and the phylogenetic position of Copepoda among five other crustacean groups (Anostraca, Cladocera, Sessilia, Amphipoda, and Decapoda) using 24 nuclear protein-coding genes. Phylogenomics has confirmed the monophyly of Copepoda and Podoplea. However, this study reveals surprising differences with the majority of the copepod phylogenies and unexpected similarities with postembryonic characters and earlier proposed morphological phylogenies; More precisely, Cyclopoida is more closely related to Siphonostomatoida than to Harpacticoida which is likely the most basally-branching group of Podoplea. Divergence time estimation suggests that the origin of Harpacticoida can be traced back to the Devonian, corresponding well with recently discovered fossil evidence. Copepoda has a close affinity to the clade of Malacostraca and Thecostraca but not to Branchiopoda. This result supports the hypothesis of the newly proposed clades, Communostraca, Multicrustacea, and Allotriocarida but further challenges the validity of Hexanauplia and Vericrustacea.
Conclusions
The first phylogenomic study of Copepoda provides new insights into taxonomic relationships and represents a valuable resource that improves our understanding of copepod evolution and their wide range of ecological adaptations.
Keywords
CopepodaCrustaceaArthropodaPhylogenyPhylogenomicsDivergence time
Background
Copepods represent the largest biomass of all animals on earth [1–3]. They are aquatic animals, primarily marine, and make up the dominant zooplankton assemblages in nearshore environments [2, 3]. In spite of their critical ecological roles, the taxonomic classification has received poor attention. Copepods exhibit extreme morphological diversity and occupy an enormous range of habitats in the aquatic realm, from freshwater to hypersaline, shallow pool, and cave to deep sea environments [4–6]. Humes [1] described that there are 11,302 species (198 families, 1633 genera; as of the end of 1993) and estimated that a hypothetical total of 75,347 species may exist on the planet [1]. Copepods are also particularly notorious for cryptic speciation [7–10].
Traditionally, there are ten orders of the subclass Copepoda Milne-Edwards, 1840 containing a large different number of families, genera, and species [
5
]. The morphological phylogenetic analyses of Copepoda have been extensively investigated and there are general agreements such as the monophyletic status of Copepoda [
5
,
11
–
14
]. Furthermore, copepods can be divided into two infraclasses, Progymnoplea and Neocopepoda [
5
]. Progymnoplea contains only one order (Platycopioida) and Neocopepoda can be further classified into two superorders, Gymnoplea and Podoplea [
5
,
12
]. For several decades, however, the phylogenetic relationships among the copepod orders have been a matter of controversy [
5
,
11
–
17
]. Due to an extreme diversity of body forms, the phylogenetic relationships based on traditional morphological data have led to much controversy (see Fig.
1
). For example, Ho [
11
] and Huys and Boxshall [
5
] analyzed 21 and 54 morphological characters across ten copepod orders [
5
,
11
]. They agreed that Platycopioida and Calanoida were the most basal groups (Fig.
1
ab). However, the cladogram from Ho [
11
] depicted Harpacticoida and Gelyelloida were closely related, but this group was a distinct cluster to the group of Siphonostomatoida, while that of Huys and Boxshall [
5
] appeared that Harpacticoida had a close affinity to a sister-group of Siphonostomatoida but a discrete to Gelyelloida. Later, some modifications for the morphological phylogenetic models have been proposed [
12
,
13
]. However, as Ho et al. [
13
] pointed out, the inconsistent position of Harpacticoida that represents an important ecological group in aquatic environments has been still problematical [
13
].

Furthermore, some molecular-based studies were not congruent with morphological evidence (Fig.
2
). Braga et al. [
18
] focused on the phylogenetic relationships within the copepod family Euchaetidae and also showed the three copepod orders (Harpacticoida, Calanoida, and Poecilostomatoida with a barnacle,
Semibalanus balanoides
as an outgroup) using the large subunit ribosomal RNA (28S rRNA) gene (a total aligned sequence length of 484 bp) [
18
]. The tree appeared to be markedly inconsistent with morphological phylogenies; Harpacticoida was closer to Calanoida than to Poecilostomatoida, which was in conflict to the superorder Podoplea (Fig.
2a
). Later, other molecular studies recovered and supported the monophyletic podoplean group using the 18S small subunit ribosomal RNA gene (18S rRNA), but still unresolved the phylogenetic position of Harpacticoida (Fig.
2
) [
19
–
22
]. Recent study using concatenated twelve mitochondrial genes showed that Harpacticoida (
Tigriopus californicus
) was more closely related to Siphonostomatoida (
Lepeophtheirus salmonis
and
Caligus rogercresseyi
) than Calanoida (
Calanus sinicus
) (Fig.
2d
) [
23
]. This mitochondrial phylogenetic hypothesis was generally congruent with the majority of the morphological phylogenies [
5
,
12
,
13
] except for the phylogenetic position of Poecilostomatoida (Fig.
2d
). Moreover, in the 18S rRNA gene trees of Poecilostomatoida, the Clausidiiform complex and the remaining poecilostomatoid taxa appeared to be paraphyletic (Fig.
2e
) [
21
,
24
]. Harpacticoida also may be a paraphyletic taxon with Polyarthra (consisting of the families Canuellidae and Longipediidae) and Oligoarthra (all remaining harpacticoid families) [
17
,
22
,
25
]. From the 28S rRNA gene tree (505 bp from the v-x region), two Polyarthra taxa (
Canuella perplexa
and
Longipedia gonzalezi
) were more closely related to other copepods than to Oligoarthra (Fig.
2F
) [
22
]. All these molecular phylogenetic studies used a relatively short length of the sequences (<2,000 bp) or fast evolving genes that were not acceptable for interordinal relationships (Fig.
2
; see details in
Discussion
).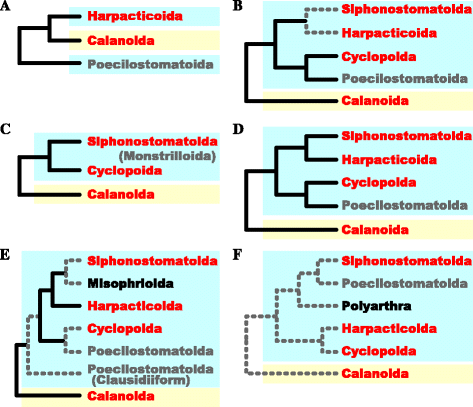 The purpose of the present study was therefore to clarify the phylogenetic relationships among four major orders of copepods using phylogenomics, the inference of phylogenetic relationships using genome-scale data which has increasingly become a powerful tool to resolve difficult phylogenetic questions [26–30]. In particular, the aim was to include the following: 1) an extensive analysis of the phylogenetic position of Harpacticoida and to evaluate all possible phylogenetic hypotheses; 2) the phylogenetic relationships of copepods among other crustacean groups; and 3) the divergence times of the major copepod orders. Accordingly, the orthologous sequences of 24 nuclear protein-coding genes were retrieved from 18 arthropod species representing four copepod orders (nine species), five other crustaceans (Anostraca, Cladocera, Thecostraca, Amphipoda, and Decapoda), two insects, and two closely related outgroups (Myriapoda and Chelicerata). This study was the first report that provides a rich taxon sampling with genomics-based evidence focusing on the evolution of copepods and their divergence time. Thus, for an ecological perspective, understanding the phylogenetic relationships of copepods would have provided a first step toward elucidating an ecological interaction, habitat colonization, and speciation in Copepoda.
Discussion
The present study provides the first phylogenomic evidence to support the monophyletic origin of four major orders of copepods and the group of podopleans. The monophyletic status of Copepoda has been broadly accepted by both morphological [5, 14] and large-scale phylogenomic analyses [28–30]. Although this study does not include all copepod orders, there can be no doubt of the monophyly of copepods. The subclass Copepoda consists of two infraclasses, Progymnoplea and Neocopepoda, suggested by Huys and Boxshall [5]. The infraclass Neocopepoda can be further divided into two superorder groups, Gymnoplea and Podoplea (Fig. 1). The concept of this classification was proposed by Giesbrecht [67] and became generally accepted [5, 12, 68]. However, the naupliar musculature and the molecular phylogeny using partial nuclear 28S rRNA gene (a total aligned sequence length of 484 bp from the D9/D10 region) (Fig. 2A) showed conflicting results and suggested a possible paraphyletic origin of podopleans [15, 18]. Later, morphological [13, 14] and molecular [19, 20, 23] phylogenetic analyses recovered the monophyly of podopleans. In this study, the phylogenomic analysis shows that three podoplean copepod orders are clearly clustered as a monophyletic clade (supported by high bootstrap values, MLB > 99% and BPP = 1.00) (Fig. 3 and Additional files 7 and 8: Figures S2 and S3).
Unexpectedly, the current phylogenomic evidence is in conflict to the majority of the copepod phylogenies (Figs. 1 and 2; see Results). The present schematic phylogeny resemble those found in the earlier phylogenies and postembryonic data [11, 14, 68] which show that Calanoida represents the most basal split among the four copepod orders and that Harpacticoida is the basally-branching group of Podoplea. On the basis on postembryonic apomorphies, naupliar characters can be represented by plesiomorphic states because postembryonic stages (both early and later) provide a valuable resource for evolutionary history [14]. His study implied that Harpacticoida is the more basally-branching group than Misophrioida within podopleans, which is hardly reported in previous studies [5, 11–13, 15, 17]. Interestingly, our preliminary survey based on weighted morphological characters after removing the convergent characters appears that Harpacticoida is the most basally-branching podoplean group (Eyun et al., unpublished data). For example, some morphological characters support the current phylogenomic phylogeny; following the characters from Huys and Boxshall [5], character 11 (male antennulary segment XXIII), character 21 (outer seta on basis of maxillule), and character 54 (seta b on exopod of male fifth leg). These morphological characters can be the candidates to investigate the order-level relationships of copepods and morphological transitions (e.g., character 21). Based on character 54 which is absent of in Harpacticoida but is present in Misophrioida and many other podopleans, Harpacticoida seems to be the most basally-branching group within Podoplea. Furthermore, as keenly pointed out by Ho [12], some characters such as character 13 (male antennulary segments XXIV and XXV), character 29 (praecoxal seta on maxilliped), and character 39 (number of setae on inner margin of second endopodal segment of first swimming leg) are confirmed as convergent characters in this study. These implies that differential weighting criteria for the morphological phylogeny [69] and the removal of convergent characters can reduce the phylogenetic noise. In fact, from the preliminary survey removing the convergent characters, the posterior probabilities in Bayesian phylogenetic inference are increased (Eyun et al., unpublished data).
Recent studies have given rise to a new taxonomic classification of Copepoda. Although many progresses have been made toward unraveling the phylogeny and taxonomy of Copepoda, there is so far no consensus of their order-level classification. This should be due to their extreme morphological diversity and a lack of genetic information. Huys and Boxshall [5] summarized ten copepod orders [5]. Ho et al. [13] proposed a new order, Thaumatopsylloida because the family Thaumatopsyllidae was a distinct group from the order Cyclopoida and differed from Monstrilloida and Siphonostomatoida [13]. Boxshall and Halsey [16] suggested that Poecilostomatoida was merged into Cyclopoida [16]. Huys et al. [19], Minxiao et al. [23], and Huys et al. [24] supported this view (but as a sister group) using 18S rRNA and the concatenated twelve mitochondrial genes [19, 23, 24]. Another molecular sequence study using 18S rRNA (a total aligned sequence length of about 1,941 bp) suggested that the order Monstrilloida (indicated by grey in Figs. 1 and 2) was nested within a fish-parasitic clade of the order Siphonostomatoida and thus was considered as the subgroup of Siphonostomatoida [20]. The 18S rRNA gene and 28S rRNA gene trees showed that Poecilostomatoida and Harpacticoida were paraphyletic, respectively (Fig. 2EF) [21, 22, 24].
Some studies have argued that adding more sequences is more important than adding taxa for improved phylogenetic accuracy [70, 71] (but see [72] for the benefits of adding taxa). Indeed, in copepods, insufficient and only partial sequences have been used and showed a limitation for certain order-level [21, 73, 74]. Blanco-Bercial et al. [75] discussed that the use of a single gene at the family or superfamily level of copepods contributed to the disparate results, and the relationships in the superfamily Centropagoidea (Order Calanoida) were still unresolved using the four concatenated genes (18S rRNA, 28S rRNA, cytochrome c oxidase subunit I, and cytochrome b) [75]. Therefore, the phylogenomic approach will make notable contributions to a better resolution of copepod evolution and then can be anchored to certain taxonomic clades. Furthermore, the resulting phylogenomic tree can provide an independent test of morphological character homology and can help to determine the assumptions of plesiomorphic or apomorphic characters and the convergent or homoplastic characters, which are considered as the most difficult issue for copepod taxonomy [5, 11, 12].
The class Maxillopoda (Phylum Arthropoda) is one of the most diverse groups of crustaceans including copepods, barnacles, and a number of related animals (such as a branchiuran fish louse and tongue worms) [6]. However, the monophyly of Maxillopoda seemed increasingly doubtful and the maxillopodan concept became obsolete due to the phylogenetic studies of the Arthropoda [27–30, 61, 76, 77]. These studies appear in the polyphyly of Maxillopoda. In addition, the phylogenetic position of copepods in relationship to other crustacean groups has been controversial, resulting a particularly ambiguous resolution of Copepoda, Thecostraca, Malacostraca, and Branchiopoda. Therefore, the phylogenetic relationships among crustaceans are still far from being resolved [78, 79]. Recent phylogenomic studies advocate a new taxonomic nomenclature for the crustacean groups. Regier et al. [28] and Oakley et al. [30] proposed several crustacean classifications; Communostraca (Malacostraca, Thecostraca), Multicrustacea (Copepoda, Malacostraca, and Thecostraca), and Vericrustacea (Copepoda, Malacostraca, Thecostraca, and Branchiopoda) [28] and Allotriocarida (Hexapoda, Remipedia, Cephalocarida, and Branchiopoda) and Hexanauplia (Copepoda and Thecostraca) [30]. From the currently inferred phylogenies including six crustacean groups (Cladocera, Anostraca, Copepoda, Sessilia, Amphipoda, and Decapoda), the tree supports well the hypothesis of the three newly proposed clades, Communostraca, Multicrustacea, and Allotriocarida. However, this study challenges the validity of Hexanauplia and Vericrustacea, corroborating those obtained from other phylogenomic analyses (Fig. 3 and Additional file 7: Figure S2) [27, 29, 30].
This study confirms that the rapidly evolving genes tend to generate the phylogenetic noise [30] and that the slower evolving genes contain more informative positions [80]. For instance, the phylogenies using a single gene tree from 6-phosphogluconate dehydrogenase, carbamoylphosphate synthetase, and alanyl-tRNA synthetase show the non-monophyly of Copepoda (Additional file 9: Figure S4). This may be due to incomplete sequences of genes which are not identified to cover the intact region in this study but also to a relatively high level of sequence variation. Regier et al. [28] also categorizes these genes as the fast evolving genes (the gene numbers: 11, 19, and 23) [26]. Therefore, the phylogenetic signals from the fast evolving genes could generate misleading effects in evolutionary studies [81]. Note that, however, the copepod topology after excluding these genes is same as the one shown above (data not shown).
Divergence between the groups of podopleans and gymnopleans is estimated to have occurred in the very late Ordovician. This implies that the origin of copepods may be earlier (probably Cambrian age) than this period [82, 83]. It is because all copepod taxa in this study belong to the Infraclass Neocopepoda, and Platycopioida (the other infraclass Progymnoplea) is known to be the most primitive group of copepods and possibly closer to the ancestral form [5, 12]. Only few fossil records of copepods are available because of their fragile nature and thus having a very low level of potential fossilization. Divergence time estimations in this study are in good agreement with these known fossil records [84–87]. Recently, a new fossil of freshwater harpacticoids (most likely Canthocamptidae) has been found in carboniferous bitumen, dating back to at least 303 MYA [86]. Interestingly, the origin of T. californicus assumed in this study is almost congruent with this fossil record (Fig. 4). The family Canthocamptidae is the largest group (>600 species) of harpacticoids and predominately inhabit fresh water [88]. Boxshall and Jaume [88] speculated that harpacticoids invaded fresh waters on Pangaea based on the pattern of colonization of continental waters. This study supports this hypothesis by molecular sequence analysis. To study the adaptation on the different types of environments (e.g., cave or groundwater) and the timing of colonization events, a strong phylogenetic hypothesis must be established. For the future, comparative genomics of copepod species will help us understanding their evolutionary history and shed light on a wide range of ecological adaptations.
Conclusion
A series of molecular phylogenetic analyses of nine copepod species with five other crustacean groups, two hexapods, and two outgroups (myriapod and spider) is presented using the 24 orthologous nuclear protein-coding genes. Given the phylogeny, this hypothesis provides an overview of the useful directions for future studies and thus will shed a light into new taxonomic investigations. As more sequences become available in the near future, further studies with more comprehensive taxa are essential to evaluate the various hypotheses as well as fully resolve the evolutionary history and taxonomy of Copepoda. Also, some copepod orders (e.g., Thaumatopsylloida, Monstrilloida, and some groups of Poecilostomatoida and Harpacticoida) need to be refined by further phylogenomic studies. The large scale of molecular data such as genomes and transcriptomes of copepods provides us a valuable resource for understanding copepod evolution and a wide range of ecological adaptations.
Abbreviations
AU:

Approximately unbiased
BI:

Bayesian inferences
BPP:

Bayesian posterior probability
KH:

Kishino-Hasegawa
LG:

Le and Gascuel
ML:

Maximum-likelihood
MLB:

Maximum likelihood bootstrap value
NJ:

Neighbor-joining
rRNA:

Ribosomal RNA
SH:

Shimodaira-Hasegawa
Declarations
Acknowledgements
The author sincerely thanks to Drs. Hae-Lip Suh and Ho Young Soh (Chonnam National University, Korea) for providing the initial inspiration. Dr. Ju-shey Ho (California State University at Long Beach, USA) provided helpful comments and suggesions on an earlier draft of this manuscript. The author also thanks Susumu Ohtsuka (Hiroshima University, Japan) for critical reading of the manuscript.
Funding
This work was supported by the Nebraska Research Initiative (to SE).
Availability of data and materials
The datasets supporting the conclusions of this article are included within the article and its additional files (Additional files 1, 6, 7, 8, and 9).
Author's Contributions
SE carried out the data analysis and wrote the manuscript.
Competing interests
The author declares that he has no competing interests.
Consent for publication
Not applicable.
Ethics and consent to participate
Not applicable.
Data deposition
All identified copepod protein and nucleotide sequences can be found in Additional files 2 and 3 respectively. These sequences are also available from the local server: http://bioinformatics.unl.edu/eyun/Copepoda_Phylogenomics.
A custom Perl script, ConCat_seq.pl, is available upon request from the author.
Open AccessThis article is distributed under the terms of the Creative Commons Attribution 4.0 International License (http://creativecommons.org/licenses/by/4.0/), which permits unrestricted use, distribution, and reproduction in any medium, provided you give appropriate credit to the original author(s) and the source, provide a link to the Creative Commons license, and indicate if changes were made. The Creative Commons Public Domain Dedication waiver (http://creativecommons.org/publicdomain/zero/1.0/) applies to the data made available in this article, unless otherwise stated.
Authors' Affiliations
(1)
Center for Biotechnology, University of Nebraska-Lincoln, Lincoln, USA