Research article

Open Access
Clock-dated phylogeny for 48% of the 700 species of Crotalaria (Fabaceae–Papilionoideae) resolves sections worldwide and implies conserved flower and leaf traits throughout its pantropical range
Alexander Rockinger

1

Email author

,

Andréia Silva Flores

2 and

Susanne S. Renner

1
BMC Evolutionary Biology
BMC series – open, inclusive and trusted
2017
17:61
Received: 3 October 2016
Accepted: 3 February 2017
Published: 28 February 2017
Abstract
Background
With some 700 species, the pantropical Crotalaria is among the angiosperm's largest genera. We sampled 48% of the species from all sections (and representatives of the 15 remaining Crotalarieae genera) for nuclear and plastid DNA markers to infer changes in climate niches, flower morphology, leaf type, and chromosome numbers.
Results
Crotalaria is monophyletic and most closely related to African Bolusia (five species) from which it diverged 23 to 30 Ma ago. Ancestral state reconstructions reveal that leaf and flower types are conserved in large clades and that leaf type is uncorrelated to climate as assessed with phylogenetically-informed analyses that related compound vs. simple leaves to the mean values of four Bioclim parameters for 183 species with good occurrence data. Most species occur in open habitats <1000 m alt., and trifoliolate leaves are the ancestral condition, from which unifoliolate and simple leaves each evolved a few times, the former predominantly in humid, the latter mainly in dry climates. Based on chromosome counts for 36% of the 338 sequenced species, most polyploids are tetraploid and belong to a neotropical clade.
Conclusions
An unexpected finding of our study is that in Crotalaria, simple leaves predominate in humid climates and compound leaves in dry climates, which points to a different adaptive value of these morphologies, regardless of whether these two leaf types evolved rarely or frequently in our focal group.
Keywords
Climate typesGBIF dataMolecular clockTrait evolutionFlower morphologyLeaf architecture
Background
With some 700 species, Crotalaria occupies place 34 in a list of the World's largest angiosperm genera [16]. Of these genera, only four have been studied with a species sampling >30%, namely Piper (Piperaceae) with 31% of c. 1055 species sampled [27], Allium (Amaryllidaceae) with 41% of c. 815 species sampled [39], Erica (Ericaceae) with 45% of c. 860 species sampled [47], and Solanum (Solanaceae) with 34% of c. 1250 species sampled [54], Studying mega-diverse clades (>500 species) is important for understanding plant evolution, especially the timing of geographic expansion and rate of trait change, which can be inferred from calibrated phylogenies. Here we focus on Crotalaria, a pantropical clade of woody or herbaceous species of low statue that mostly occur in open habitats at low to mid-altitudes and that have conspicuous flowers and fruits so that they are frequently collected and well represented in herbaria. Understanding of Crotalaria has benefitted from consistent taxonomic work by Roger Polhill [48, 49] and modern phylogenetic studies focusing on its African and Indian species [37, 57, 58]. Of the 700 species, about 500 occur in Africa and Madagascar, 80 in India, 20 in Australia, and 80 in the Americas [14, 38, 49]. About 15 species are distributed pantropically due to their use as fiber crops, cattle fodder, and erosion control plants [48]. The biosynthesis of pyrrolizidine alkaloids (PAs) in Crotalaria root nodules depends on infection by rhizobial bacteria [25]. So far, this has been studied in only four species of Crotalaria that turn out to be closely related (this study), and knowing the earliest-diverging species of Crotalaria, as well as the closest relatives of the genus, is required to infer when this trait may have evolved.
Crotalaria
species have typical papilionoid flowers, composed of standard, wing, and keel petals (Fig.
1
). These flowers are adapted to bee pollination and especially to Megachilidae, a worldwide clade of some 4000 species [
7
] whose pollen-carrying structures are restricted to the ventral surface of the abdomen. This matches the ventral pollen presentation in
Crotalaria
. The only way for a bee to reach the nectary at the base of a staminal tube is by inserting its proboscis through a central channel at the base of the standard petal. Access to the nectary from the sides is blocked by bulbous or plate-like appendages at the inner base of the standard petal. Pollen transfer occurs while the nectar-drinking bee grabs the lateral wing petals with its tarsi, depressing the flower's keel with its body weight, which causes the style to emerge from the staminal tube through the keel beak [
10
,
11
,
26
,
32
,
36
]. Fitting with the predominant bee pollination,
Crotalaria
flowers are yellow, sometimes with red or brownish markings. Few species have white, blue, or greenish flowers; an example of a green-flowered species is the Australian
C. cunninghamii
, which presumably is pollinated by honeyeaters (Meliphagidae) [
50
].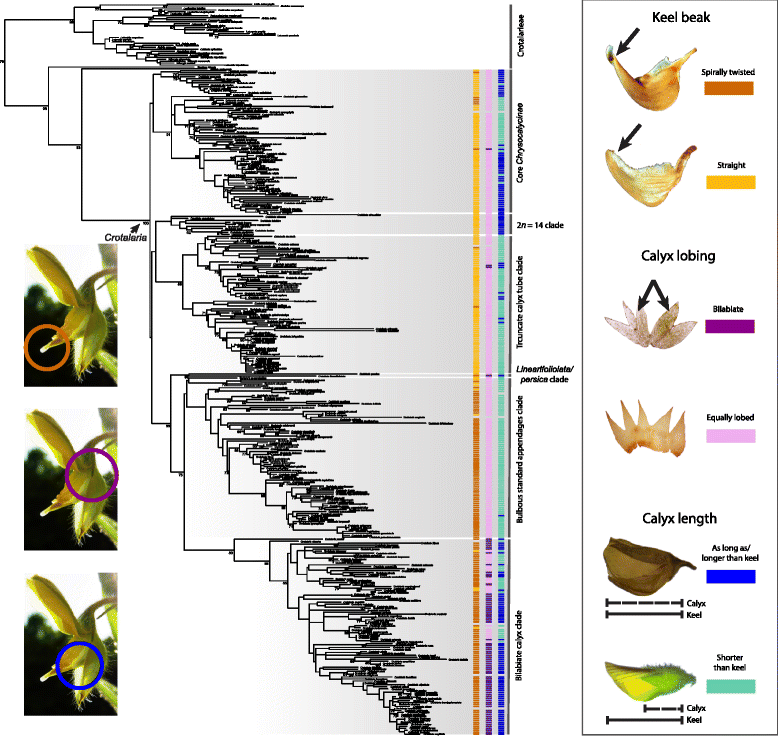 Leaves in Crotalaria are usually compound and trifoliolate, more rarely are they unifoliolate, multifoliolate, or simple. Unifoliolate leaves differ from simple leaves in having an articulation at the leaflet base; they appear to be derived from trifoliolate leaves, judging from the occurrence on the same plant of trifoliolate and unifoliolate leaves (seedlings of some trifoliolate species also have unifoliolate leaves; [49]). While the adaptive value of simple leaves remains unknown, that of compound leaves is thought to lie in heat dissipation because there is greater convection than in a simple leaf of equal size [60]. Compound leaves also allow individual leaflets to change their angle of inclination and thereby maximize diffuse light capture at microsites, with the degree of folding also varying diurnally [55, 60, 61]. Given that about 71% of the 700 Crotalaria species have trifoliolate, unifoliolate, or multifoliolate leaves, while some 29% have simple leaves, we were interested in the regions and climates where simple and compound leaves would occur. Our expectation was that compound leaves would have evolved in dry, hot areas and be absent or evolutionarily lost in humid climates.
Chromosome counts have been published for about 120 species of Crotalaria (e.g., [13, 40, 41, 44, 64]). While these data are sparse, analyzing them in a phylogenetic framework should allow an initial assessment of the role of chromosome number change in Crotalaria.
Here we use three plastid and two nuclear gene regions to reconstruct a phylogeny for representatives of all sections of Crotalaria and of all 15 other genera of Crotalarieae, a tribe with 517 species of mainly African distribution [3, 4, 38]. Our aim was to identify major species groups and then to use phylograms and chronograms to infer the relative evolutionary lability of flower traits, chromosome numbers, and leaf morphology and to relate leaf type to climate, using georeferenced occurrences of as many of the sequenced species as available in the Global Biodiversity Information Facility (GBIF; http://www.gbif.org).
Results
Closest relatives and age of Crotalaria, and flower and leaf evolution in the genus
Based on our sampling of 338 (48%) of the 700 species of
Crotalaria
and representatives of all relevant outgroup genera, the genus is monophyletic and most closely related to the African
Bolusia
(5 species), followed by the monospecific likewise African
Euchlora
(Fig.
1
). Inferred ages for key divergence events under different clock models are summarized in Table
1
; their 95% posterior probability intervals overlap, suggesting that the results are robust to choice of priors. The stem age of
Crotalaria
falls between the late Oligocene and the early Miocene, with the divergence from
Bolusia
occurring 23 (18–28, 95% credibility interval) to 30 (21–51) Ma ago (Table
1
). The deepest divergences between surviving
Crotalaria
lineages date to between 18 (14–22) and 29 (18–42) Ma ago.
Bolusia
and
Euchlora
, as well as most other Crotalarieae occur in Africa, suggesting that
Crotalaria
originated in Africa. From there, Madagascar was reached at least nine times (Fig.
2
), while Australia was reached at least five times, three times from SE Asia and apparently also from Africa, although denser species sampling would be required to confidently infer closest African/Australian relatives.
Table 1
Estimated mean node ages (Ma) for selected divergence events under different clock models. Ages are in million years, and the values in brackets are the 95% posterior probability intervals
Node of interest

Fossil calibration

Substitution rate

calibration

Strict clock

Relaxed clock

Strict clock

Root

77.5 (63.8–92.4)

87.0 (58.2–122.2)

93.2 (81.0–106.1)

Crotalaria stem node

23.1 (18.4–27.9)

29.5 (21.4–50.6)

29.5 (26.2–33.0)

Crotalaria crown node

17.7 (14.3–21.5)

29.1 (18.3–42.4)

22.9 (20.5–25.4)

Core Chrysocalycinae crown node

14.0 (12.4–19.0)

26.5 (15.8–38.5)

19.3 (16.9–21.7)

2n = 14 clade

11.7 (8.7–14.8)

29.5 (18.3–42.3)

16.5 (13.3–19.6)

Truncate calyx tube clade crown node

12.2 (9.7–15.0)

22.1 (13.0–32.0)

16.4 (14.3–18.5)

Linearifoliolata/persica clade crown node

16.7 (13.3–20.2)

26.4 (16.5–37.8)

21.6 (19.3–24.1)

Bulbous standard appendages clade crown node

13.6 (10.5–16.7)

22.4 (13.7–32.2)

17.9 (15.3–20.6)

Bilabiate calyx clade crown node

12.4 (9.6–15.1)

20.9 (12.6–30.1)

15.7 (13.4–18.0)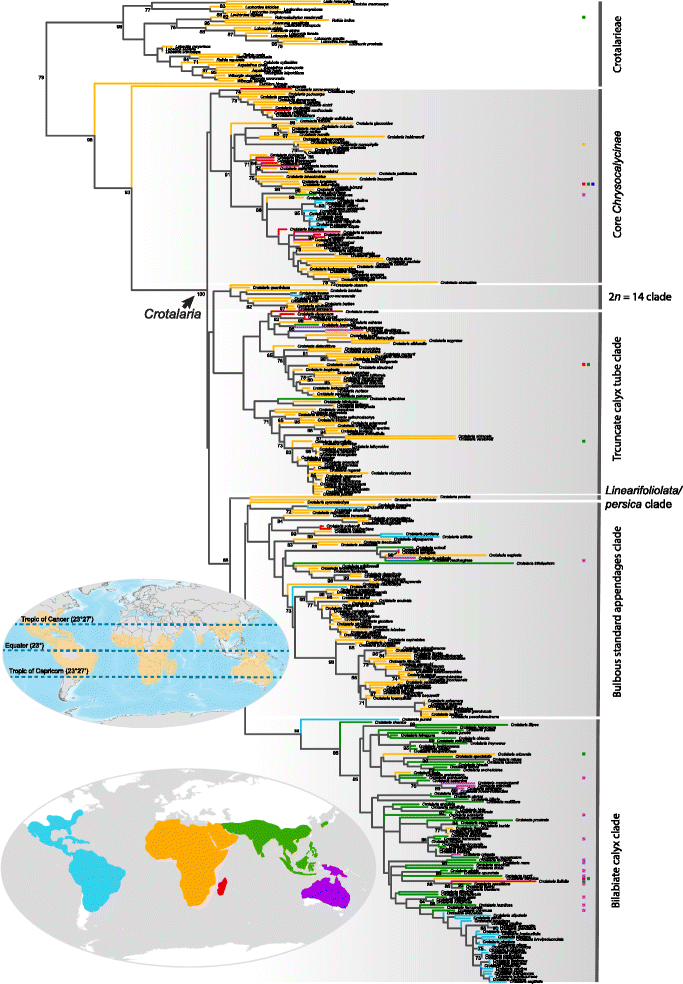 Within Crotalaria, large species groups have almost homogeneous flower morphologies (Fig. 1; Additional file 1: Figure S1, Additional file 2: Figure S2 and Additional file 3: Figure S3). Thus, bilabiate calyces (Fig. 1; Additional file 2: Figure S2) are almost restricted to Asia, Australasia, and the Neotropics and are rare in Africa (compare Figs. 1 and 2, 'bilabiate calyx clade'), with a few reversals to equally lobed calyces, such as predominate in Africa. Of the 338 sampled species, 177 (52%) have a spirally twisted keel beak and mostly belong to our 'bilabiate calyx' and 'bulbous standard appendages' clades (Fig. 1). There is also a species group with truncate calyx tubes that largely corresponds to Polhill's [49] section Hedriocarpae (Additional file 4: Figure S4 shows the sections and the characters used to differentiate them); most Crotalaria have a campanulate calyx. Our 'core Chrysocalycinae' clade comprises most sampled species of Polhill's section Chrysocalycinae and all Grandiflorae (16 species sampled) and Stipulosae (14 species sampled). The sister relationship between C. linearifoliolata from Somalia and C. persica from the Horn of Africa to the Arab Peninsula will require renewed assessment of their morphologies; Pohlhill (1982) had placed them in his sections Schizostigma and Hedriocarpae. Calyces shorter than keel petals are conserved in species groups within the 'truncate calyx tube' and the 'bulbous standard appendages' clades (Fig. 1 and Additional file 3: Figure S3).
Leaf architecture in
Crotalaria
is highly conserved, as shown by both the ancestral state reconstruction (Fig.
3
and Additional file
5
: Figure S5) and the permutation test (estimated
D
 = –1,26). All five species of the closest outgroup
Bolusia
have compound (trifoliolate) leaves, while the single species of
Euchlora
, the next closest relative, has simple leaves. Most simple-leaved
Crotalaria
species belong to the 'bilabiate calyx' and the 'core
Chrysocalycinae
' clades and thus are found outside Africa (compare Figs.
2
and
3
). Trifoliolate leaves predominate in African and Madagascan species (173 of 205 sequenced species of
Crotalaria
that occur in Africa and Madagascar have this leaf type), while 56 of 69 sequenced Asian species have simple leaves.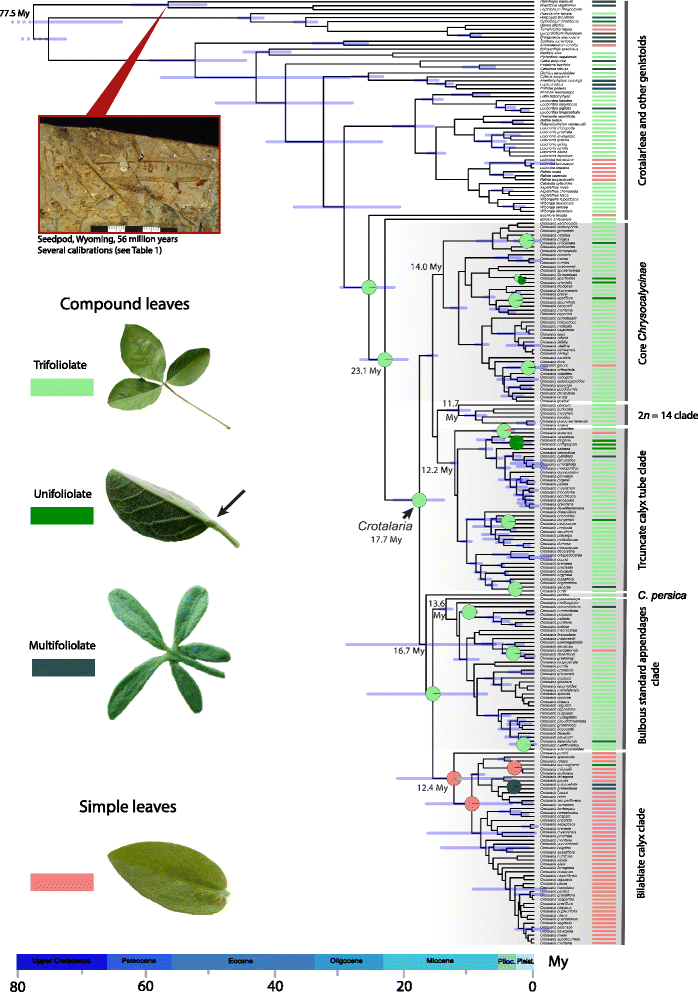 Occurrences, climate, and leaf morphology
The 22,225 georeferenced specimens in GBIF representing 183 of the 700 species of
Crotalaria
(Fig.
2
upper inset) show that the genus occurs in the tropics and subtropics and extends into mild temperate climates. Of the species assignable to one of the four climate types based on the Köppen-Geiger system, 23 occur in the humid tropics, 125 in the dry tropics, 62 in the arid tropics, and 66 in the mild temperate climate (Fig.
4a
, climate types are defined in
Methods
). Most (108) species occur at altitudes <1000 m; the highest median altitude of any
Crotalaria
is that of
C. cylindrica
, for which this value is 2170 m in the highlands of the Horn of Africa [
49
]. Our phylogeny includes an estimated 53% of all simple-leaved species and 47% of the compound-leaved species (the latter category grouping multi-, tri-, and unifoliolate leaves). The occurrence of simple- and compound-leaved species differs significantly between the humid tropics and the other three climate types (all
p
<0.0002, df 1) and slightly between arid and mild temperate regions (
p
<0.03, df 1; Fig.
4b
).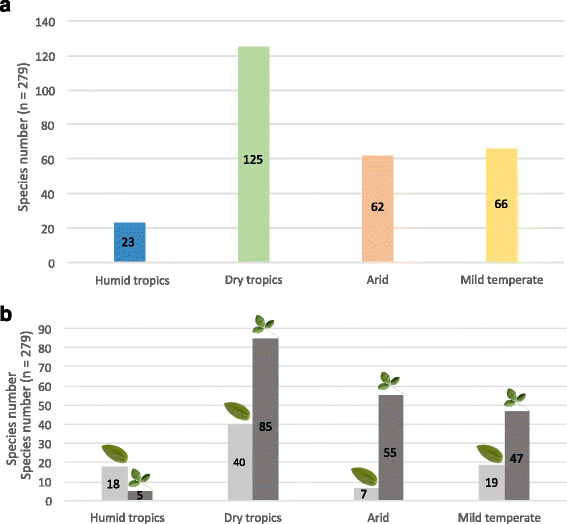 From trifoliolate leaves, there were eight transitions to unifoliolate, four to multifoliolate, and four to simple leaves (Fig. 3). The generalized linear, logistic regression, and 'random forest' models ( Methods ) confirmed that mean annual precipitation (MAP) has an effect on leaf type. According to the recursive partitioning analysis (Additional file 6: Figure S6), of the 123 species occurring in drier regions (MAP <1250 mm), 13% have simple leaves; of the 29 species occurring in more humid climates (MAP 1250-1435 mm), 41% have simple leaves; and of the 31 species occurring in very humid climates (MAP >1435 mm), 71% have simple leaves. When we incorporated the phylogenetic structure of the data in a binaryPGLMM model, the correlation between MAP and leaf types was not significant because of the few transitions between compound and simple leaves; when we experimentally increased the transition frequency by recoding compound-leaved species that occur in climates with mean annual precipitation >1250 mm as simple-leaved, we found that 12 transitions (instead of the inferred four transitions) were needed for a significant correlation between simple leaves and high precipitation.
Polyploidy in Crotalaria
We gathered chromosome numbers from the literature for 122 of the 338 sampled Crotalaria species and plotted them on the phylogeny (Additional file 7: Figure S7). The most common number in Crotalaria is 2n = 16, with 92 of the 122 species having this number. Most polyploids are tetraploid (assuming a base number of 8), with 2n = 32, and occur in the Neotropics, where they belong to our 'bilabiate calyx' clade. Exceptions are C. tweediana, a species with 2n = 54 and endemic to Brazil, and C. ferruginea with 2n = 48 from Southeast Asia and Australasia, and C. massaiensis with 2n = 32 from Kenya.
Discussion
Phylogenetic relationships and major groups in Crotalaria
Crotalaria as traditionally circumscribed [48, 49] is monophyletic. Morphologically, the five species in the tropical African genus Bolusia differ from the 700 species of Crotalaria by having a spirally coiled keel (in contrast to a spirally twisted keel beak as in c. 50% of the species of Crotalaria) and a single, rather than paired, appendages blocking the nectary access. The single species of Euchlora, endemic to the Northern and Western Cape and the next-closest relative, lacks any appendages. Bolusia has trifoliolate leaves, while Euchlora hirsuta has simple leaves. We have sampled between 25 and 79% of the species in Polhill's [49] eight sections (four of them with >50% sampled, see Methods for precise sampling densities and Additional file 4: Figure S4 for the floral traits characterizing the sections), and with this sampling all sections are polyphyletic. Le Roux et al.'s [37] merging of Polhill's sections Crotalaria and Dispermae (our 'bulbous standard appendages' clade) is supported by our results (Additional file 4: Figure S4 shows the sections of Polhill and Le Roux et al. plotted on our tree). On the other hand, eight of their eleven sections are rendered polyphyletic by our increased species sampling (only their species-poor sections Amphitrichae (four species), Grandiflorae (14 species), and Stipulosae (13 species) are monophyletic). A future sectional classification should probably not be undertaken until a higher percentage of the species is sampled (currently 48%).
Evolution of flower and leaf traits and their distribution in different climate types
Flower traits (Fig. 1 and Additional file 1: Figure S1, Additional file 2: Figure S2 and Additional file 3: Figure S3) turned out to be highly conserved, which may reflect that the main pollinators of crotalarias, species in the long-tongued bee family Megachilidae with over 4,000 species, are abundant in ecosystems from arid habitats to tropical forests [7, 10, 11, 26]). All Crotalaria flowers, even the honeyeater-pollinated Australian C. cunninghamii [50], have the same pollination mechanism in which the narrow keel beak serves as a cylinder and the style acts together with the anthers as a piston. No study has compared the effect of a spirally twisted or straight keel beak on pollen release, and Pohlhill's (1982) suggestion that a twisted keel beak might better proportion pollen release does not match the finding that flowers with and without such keels have the same short life span and are visited by some of the same bee species (C. micans and C. stipularia flowers function for c. four days, [10, 11, 26]: C. retusa flowers for one day; own observations show that flowers last for 3-4 days in C. pallida, and for 4-5 days in C. cunninghamii, C. novae-hollandiae, and C. velutina).
The range map (Fig. 2, upper inset) resulting from GBIF occurrences of 183 species illustrates the distribution of the genus but also the uneven uploading of data to GBIF, with India and maritime Southeast Asia especially underrepresented. Of the 183 species, only 24 come from this region, and this may have affected the number of species assigned to the humid tropics. Crotalaria likely originated in Africa as inferred from both the almost exclusive African occurrence of its closest relatives and the greatest species diversity of Crotalaria itself in savannas of the Afromontane region in Kenya, Tanzania, and Zambia, around Lake Tanganyika and Lake Victoria [49]. The ancestral leaf type in Crotalaria is the trifoliolate compound leaf, the adaptive advantage of which is thought to lie in heat dissipation [60]; the adaptive value of simple leaves remains unclear [61]. An unexpected finding in our study is that in Crotalaria, simple leaves predominate in humid climates and unifoliolate leaves in dry climates, which points to a different adaptive value of these morphologies, regardless of whether these two leaf types evolved rarely or frequently in our focal group. The few state transitions combined with the binary coding of the four leaf types (merging multi-, tri-, and unifoliolate into compound) required for the phylogenetically-informed statistical analyses precluded more fine-scale analysis, but with the now available phylogeny, Crotalaria would be suitable for experimental work on the adaptive benefits of leaf architecture [60, 61].
Polyploidy in Crotalaria
Tetraploidy in Crotalaria appears to have arisen in the common ancestor of a New World clade (crown node marked with a red arrow in Additional file 7: Figure S7). Of the 46 Neotropical species in our phylogeny, 27 form a clade that is embedded within a clade of 73 mostly Asian species (the 'bilabiate calyx' clade). Of these 27, 18 have had their chromosome numbers counted, and all are polyploid (17 of them have 2n = 32; one has 2n = 54). Windler [63] suggested that polyploidy might be related to self-compatibility, but selfing has been documented in all three species of Crotalaria studied in this regard, C. micans, C. retusa, and C. stipularia [10, 11, 26] and may characterize the entire genus. Crotalaria stipularia is native to South America and tetraploid, but C. micans and C. retusa are both now pantropical in their distribution due to their use as fibre crops, green manure, and cattle fodder [49] and are diploid (2n = 16). Two (counted) Asian species close to the Neotropical tetraploid clade, C. ferruginea and C. humifusa, also are polyploid as is C. massaiensis from Kenya.
Conclusion
This study resolved the main species groups of the mega-diverse pantropical genus Crotalaria, inferred the evolutionary frequency of change in its flower traits and leaf types, and provided a first view of the possible role of polyploidy in its evolution, based on a compilation of all available chromosome counts. The adaptive value of leaf types needs to be investigated experimentally, and such experiments will benefit from the phylogenetic framework provided here.
Declarations
Acknowledgements
We thank M. Silber for assistance in the lab, C. M. Zohner for advice on climate analysis, S. G. Aninta for help with gathering trait and distribution data, and two anonymous reviewers for their comments. We also thank the curators of the herbaria listed in Additional file 8: Table S1 for granting access to their collections.
Availability of supporting data
All the supporting data are included as additional files under: http://www.xxxx
Authors' contributions
AR generated the data and carried out all analyses; AR and SSR wrote the paper; ASF contributed material, and helped gathering chromosome and morphological trait data; SSR devised the project and provided financial support. All authors read and approved the final manuscript.
Competing interests
The authors declare that they have no competing interests.
Open AccessThis article is distributed under the terms of the Creative Commons Attribution 4.0 International License (http://creativecommons.org/licenses/by/4.0/), which permits unrestricted use, distribution, and reproduction in any medium, provided you give appropriate credit to the original author(s) and the source, provide a link to the Creative Commons license, and indicate if changes were made. The Creative Commons Public Domain Dedication waiver (http://creativecommons.org/publicdomain/zero/1.0/) applies to the data made available in this article, unless otherwise stated.
Authors' Affiliations
(1)
Systematic Botany and Mycology, University of Munich (LMU), Munich, Germany
(2)
Instituto de Amparo a Ciência, Tecnologia e Inovação de Roraima, Boa Vista, Brazil