Research article

Open Access
Coinfection outcome in an opportunistic pathogen depends on the inter-strain interactions
BMC Evolutionary Biology
BMC series – open, inclusive and trusted
2017
17:77
Received: 10 October 2016
Accepted: 22 February 2017
Published: 14 March 2017
Abstract
Background
In nature, organisms are commonly coinfected by two or more parasite strains, which has been shown to influence disease virulence. Yet, the effects of coinfections of environmental opportunistic pathogens on disease outcome are still poorly known, although as host-generalists they are highly likely to participate in coinfections. We asked whether coinfection with conspecific opportunistic strains leads to changes in virulence, and if these changes are associated with bacterial growth or interference competition. We infected zebra fish (Danio rerio) with three geographically and/or temporally distant environmental opportunist Flavobacterium columnare strains in single and in coinfection. Growth of the strains was studied in single and in co-cultures in liquid medium, and interference competition (growth-inhibiting ability) on agar.
Results
The individual strains differed in their virulence, growth and ability for interference competition. Number of coinfecting strains significantly influenced the virulence of infection, with three-strain coinfection differing from the two-strain and single infections. Differences in virulence seemed to associate with the identity of the coinfecting bacterial strains, and their pairwise interactions. This indicates that benefits of competitive ability (production of growth-inhibiting compounds) for virulence are highest when multiple strains co-occur, whereas the high virulence in coinfection may be independent from in vitro bacterial growth.
Conclusions
Intraspecific competition can lead to plastic increase in virulence, likely caused by faster utilization of host resources stimulated by the competitive interactions between the strains. However, disease outcome depends both on the characteristics of individual strains and their interactions. Our results highlight the importance of strain interactions in disease dynamics in environments where various pathogen genotypes co-occur.
Keywords
Flavobacterium columnare
Genotype
Competition
Cooperation
Inhibition
Virulence
Zebra fish
Background
While recent studies have demonstrated that a single host is often infected by a multitude of pathogen strains or species [1–11], empirical investigations of the effects of coinfections on disease dynamics and virulence (i.e., damage caused to the host) are still limited (but see e.g., [11–13]), and their importance for many diseases is still unknown [14]. Coinfections affect both pathogen transmission in a population and pathogen virulence, thus influencing disease dynamics [15]. Coinfections can also influence host immune responses [3, 4] and effectiveness of disease control (see e.g., [16]). For these reasons, they are likely to contribute to virulence evolution, although the understanding on these evolutionary consequences is limited [15].
The disease outcome in a coinfected host results from complex interactions between the host and the coinfecting strains. Whether the inter-strain interactions are neutral, cooperative or competitive, depends on the genetic relatedness of the strains (see [17–19]). Closely related pathogens are likely to cooperate and exploit their hosts economically in order to maximize their transmission, while distantly related pathogens are more likely to compete, leading to increased virulence and decreased transmission due to facilitated host death [19, 20]. High relatedness can lead to low virulence if the cooperation of pathogens leads to prudent host exploitation [20] or to high virulence if the cooperation leads to faster growth [21]. Similarly, low relatedness may cause high virulence via increased growth and resource use [17, 18] or reduced virulence, if the competing pathogen strains produce toxins targeted to kill the competitor [22]. In the latter case the pathogen strains experience a cost, when the energy is allocated to toxin production instead of growth or virulence.
There are three types of competition that coinfecting pathogens may encounter: resource competition, interference competition or apparent competition [4]. Resource competition takes place when the coinfecting conspecific strains have overlapping resource requirements. In other words, the strain that processes nutrients more efficiently might outgrow the competing strain in nutrient-limiting conditions [23]. In interference competition the coinfecting strain secretes molecules that harm its competitor, e.g., bacteriocins [24, 25]. Bacteriocins have a narrow activity range and thus interference competition is often more prevalent between conspecific than distantly related strains [26]. The third form of competition is so-called apparent competition that results from indirect exclusion of the coinfecting strains by host immune response stimulated by growth of one strain that acts on both of the competing strains [4, 14, 27].
Coinfections may be especially important for the ecology and evolution of opportunistic pathogens that are often able to persist in and transmit from the environment [28]. The opportunists with a wide host range have a higher likelihood to find potential hosts than host-specialists [28, 29]. They are therefore more likely to be involved in coinfections. Flavobacterium columnare (Bacteroidetes) is a globally important host generalist fish pathogen with an opportunistic lifestyle and an ability to transmit environmentally [30–33]. The bacterium causes columnaris disease in cultured freshwater fish, with typical symptoms including gill necrosis and skin erosion [34]. Genetically different F. columnare strains with variable levels of virulence and growth rates are known to co-occur at fish farms [31, 35]. Furthermore, the virulent strains were found to have an increased ability for interference competition, and it is likely that these strains have a competitive advantage in the aquaculture environment [35]. However, a direct test of whether coinfections influence the virulence of F. columnare is missing. Here, we study the effect of two- and three-strain coinfection on virulence of F. columnare using zebra fish (Danio rerio) as a model host. We ask whether the inter-strain interactions are related to changes in virulence and growth through competition.
Results
Virulence in zebra fish hosts
We found a significant interaction between bacterial dose and strain identity on their effect on the host mortality risk (
p
 < 0.001, Fig.
1
, Tables
1
and
2
). The risk of infection of the host increased along with the dose when the fish were infected with strain A or strain B. In more detail, strain A was the most virulent, while strain B expressed intermediate level of virulence. Strain C caused zero mortality in zebra fish hosts independent of the used infection dose.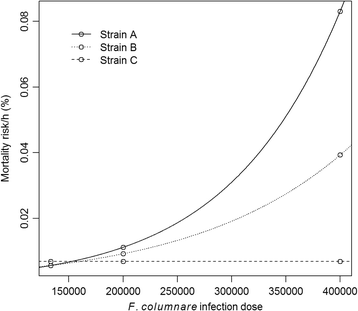 Table 1
The effect of bacterial dose and host species on the mortality risk of the hosts in the virulence experiment(N.S. = not significant)
| Source | Estimate | Std. Error | P-value |
| --- | --- | --- | --- |
| (Intercept)a | −6.569 | 3.182−1 | <0.001 |
| Dose | 1.042−5 | 1.073−6 | <0.001 |
| StrainB | 4.039−1 | 4.536−1 | N.S. |
| StrainC | 1.599 | 4.614−1 | <0.001 |
| Dose: StrainB | −2.998−6 | 1.526−6 | <0.01 |
| Dose: StrainC | −1.042−5 | 1.640−6 | <0.001 |
Table 2
The significance and test values of the bacterial dose and strain on the mortality risk of zebra fish
| Source | Df | Deviance | Residual deviance | P-value |
| --- | --- | --- | --- | --- |
| Dose | 1,151 | 52.217 | 162.940 | <0.001 |
| Strain | 2,149 | 44.326 | 118.614 | <0.001 |
| Dose: Strain | 2,147 | 42.340 | 76.274 | <0.001 |
When we compared the single- and coinfection treatments, we found that mortality of the fish differed significantly between the treatment groups (Cox regression Wald = 39.6, N = 118, df = 6,
p
 < 0.001, Fig.
2
, Table
3
). The number of strains influenced the virulence (Wald = 9.47,
N
 = 118, df = 2,
p
 < 0.01), with the average longevity in the three-strain coinfections being 19.6 h (S.E.M. 1.6), while the longevity was 59.8 h in the two-strain coinfections and 59.3 h in the single infections (S.E.M. 6.9 and 7.2, respectively). In pairwise comparisons (with log rank Mantel-Cox with corrections for multiple testing), virulence of the single and two-strain coinfections did not statistically differ, but the other combinations did (single vs. three-strain coinfection:
χ
2 = 6.97,
p
 < 0.05, two-strain vs. three-strain coinfections:
χ
2 = 11.306,
p
 < 0.05).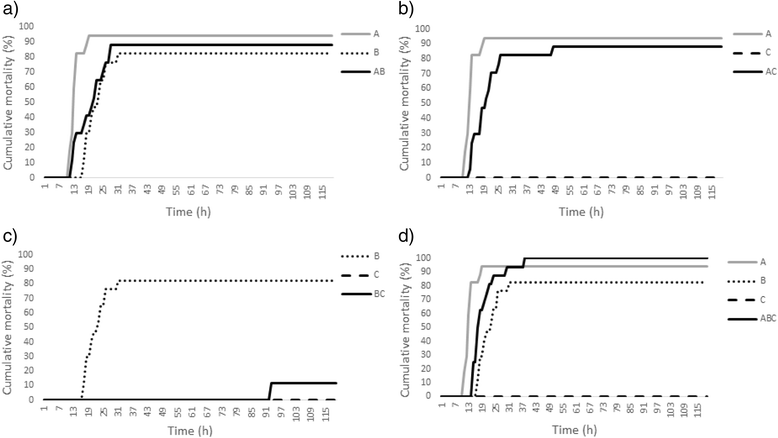 Table 3
Pairwise differences in virulence of Flavobacterium columnare in single and in coinfections. (Pairwise Kaplan-Meier survival analysis with log rank Mantel-Cox)
Treatment

A

B

C

A + B

A + C

B + C

χ2

Sig.

χ2

Sig.

χ2

Sig.

χ2

Sig.

χ2

Sig.

χ2

Sig.

B

15.286

<0.001

C

33.464

<0.001

25.016

<0.001

A + B

7.179

.007

.621

.431

28.772

<0.001

A + C

9.479

.002

1.021

.312

28.877

<0.001

.007

.936

B + C

31.823

<0.001

21.675

<0.001

2.063

.151

26.103

<0.001

26.206

<0.001

A + B + C

6.551

.010

5.183

.023

38.611

<0.001

.930

.335

1.136

.287

38.611

<0.001
The coinfection treatments where strain A was involved were the most virulent independent of the strains included in coinfection, indicating that strain A may have a dominant role in coinfections in this study (Table 3). Respectively, when strain A was not involved in the coinfection treatment, the treatment resulted in very low virulence. The bacterial samples taken from the gill tissue of the infected and moribund fish were positive for F. columnare, whereas the bacterial samples taken from the gill tissue of the control fish were negative. The pure cultures made from the infection solutions revealed that colonies formed by strains A and B expressed the virulent rhizoid morphotype, but colonies of strain C represented the rough type, which has been linked with decreased virulence [36]. As the negative control fish were not infected, they were not included in the statistical analyses.
Interference competition on agar
Strains B and C were able to inhibit the growth of strain A, and strain C was able to inhibit the growth of strain B (Table
4
). Strain A did not inhibit the other strains in this study. When the strains were exposed to the sterile-filtered supernatant, no signs of inhibition were observed, indicating that growth inhibition in
F. columnare
could be dependent on a cell-cell contact.
Table 4
The inhibition profiles of Flavobacterium columnare strains A, B and C
Donor

Donor (sterile-filtered)

Recipient

A

B

C

A

B

C

A

2

2

0

0

B

0

1

0

0

C

0

0

0

0
Growth in single-strain and co-cultures
First, in relation to the dose controls in the virulence experiment, the individual strains were cultured in vitro in three doses (33, 50 and 100%) to reveal the influence of the original bacterial dose on bacterial replication. The bacterial dose was found to have a significant effect on the maximum growth rate of the strains (measured as the maximum slope of the linearized growth curve) (F = 4.408, df = 2, 58, p < 0.05), and on the time when maximum yield (highest OD) was achieved (F = 22.528, df = 2, 58, p < 0.001 (Additional file 1: Figure S1). Bacterial strain included as a random factor in the analyses did not significantly influence any of the growth variables.
Secondly, to understand the increased virulence in the three-strain coinfection, we studied the effect of co-culture on bacterial growth. Single or co-culture did not have overall significant effects on the bacterial growth parameters (Additional file
2
: Table S1). However, the pairwise comparisons in the non-parametric ANOVA revealed some significant differences between individual strains and co-culture combinations (Table
5
, Figs.
3
,
4
and
5
).
Table 5
Statistically significant results of relevant pairwise comparisons of all single (strains A, B, C) and co-cultures (combinations AB, AC, BC and ABC) in Kruskal-Wallis One-Way ANOVA
Maximum growth rate

Yield

Time to max yield

Culture pair

Kruskal-Wallis

p

Kruskal-Wallis

p

Kruskal-Wallis

p

A-B

33.857

<0.001

42.000

<0.001

B-C

−39.143

<0.001

C-A

30.571

0.001

34.643

<0.001

B-BC

−26.429

0.011

B-AB

34.000

<0.001

B-ABC

23.714

0.04

C-BC

−36.786

<0.001

C-ABC

−26.571

0.011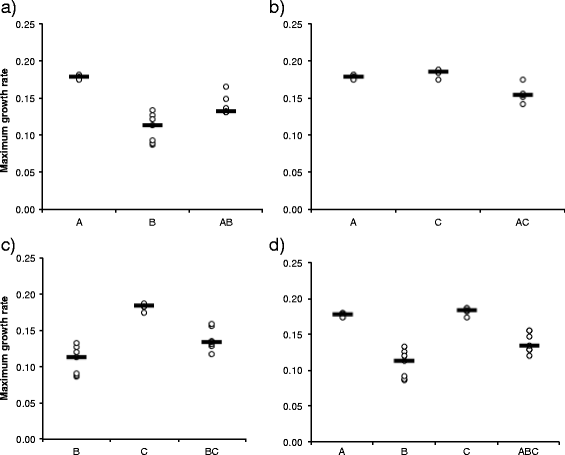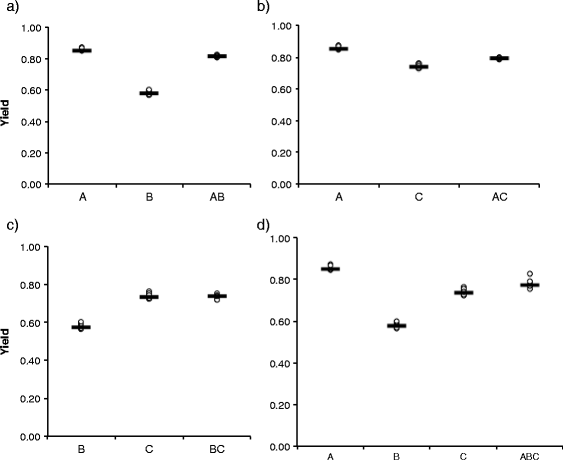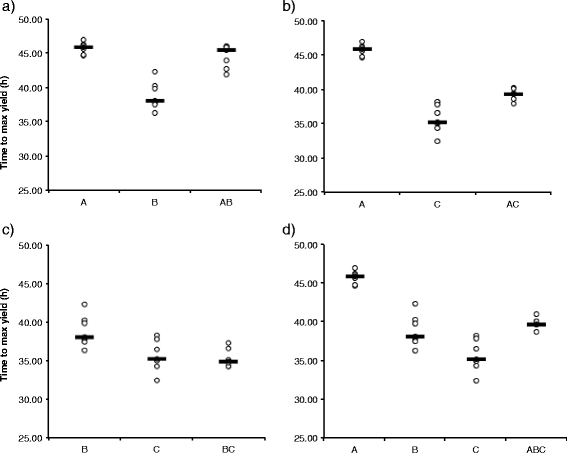 Discussion
Environmentally transmitted bacterial pathogens are likely to cause both single and coinfections in their hosts, which may lead to plastic changes in virulence, but also to evolutionary change under long time scales. Coinfections can lead to increased or decreased pathogen virulence, depending on the nature of the interactions between the coinfecting bacterial strains [22]. We examined how different strains of an opportunistic fish pathogen, F. columnare, interact with each other in culture, and how coinfection with these strains affects the disease virulence (measured as zebra fish mortality). We found that virulence was significantly influenced by the number of the coinfecting strains, infection with three strains leading to higher fish mortality than infection with one or two strains. Generally, increased virulence can be related to the growth-stimulating mutualistic [37] or competitive interactions between the coinfecting strains [20]. However, we found no unambiguous evidence of enhanced bacterial growth in co-culture in this study, indicating that the higher virulence in three-strain coinfection results from other factors. One possibility is that the host immune system has difficulties to cope with a heterogeneous pathogen inoculum compared to a single-strain infection (see e.g., [38]).
Here, strain A had the highest virulence in single infections. Similarly, the presence of strain A in coinfections resulted in highly virulent infections, indicating a dominating effect by this strain during infection, even with lower bacterial doses. Relative doses of the coinfecting strains and relative virulence impact the outcome of within-host competition [12, 13]. Based on our results, the effect of dose on bacterial virulence in single infections increases exponentially in F. columnare, the lower doses not being sufficient to cause mortality in zebra fish. Thus, the single strains could not have been responsible for the high host mortality in the three-strain coinfection treatment as their individual doses were only one third of the total infection dose. The high virulence in the three-strain coinfection treatments must therefore result from other factors, such as a plastic response to within-host competition (via gene expression), or factors related to the host immune system.
The faster growth of the competing strains resulting in increased pathogen replication (resource competition) and the inability of the host immune system to handle the heterogeneous simultaneous multiple infection are commonly associated with the increased virulence in coinfections [20]. However, we did not observe systematic differences in bacterial in vitro growth rate between single and co-cultures. Furthermore, the elevated virulence due to immune response is often related to coinfection by different parasite species or types [39, 40]. Therefore, the strain interactions most likely have a central role in the elevated virulence in the three-strain coinfection of zebra fish in this study. Indeed, rapid evolution of plastic changes in parasite virulence in response to coinfection has been documented in bacteriophages [41], indicating that the variability in the infection outcome arises from the genetic interactions between the coinfecting partners.
Relatedness of the coinfecting strains has a fundamental role in strain interactions and virulence of coinfection, and interference competition (targeted to hamper the growth of competing strains or species) is common in bacteria [24, 42–44]. Flavobacterium columnare is a genetically homogeneous species [45], and according to the MLSA analysis, the genotypes C and E used in this study are closely related [46]. However, the genomic content outside the housekeeping genes often differs substantially between bacterial strains, suggesting genetic variability in these strains isolated originally from different fish farms in different years. This is important, because the production of growth-inhibiting toxins and immunity against them are genetically linked [47]. This is clearly seen as the capacity of the bacterial strains in distinguishing between "self" and "non-self" competitors in the inhibition assay. Therefore, considering interference competition without genome sequencing, MLSA grouping does not give a complete picture on the genome-level relatedness of the strains, and the exact level of relatedness between the strains used in this study cannot be resolved without whole genome sequencing.
In general, production of growth-inhibiting toxins is expected to be costly for the producer strain, and to be traded off with growth [22, 48]. In some cases, release of toxins may even require cell death, as in E. coli [49, 50]. Our earlier studies indicated that the growth inhibiting toxin-production and tolerance may be linked with increased virulence in F. columnare [35]. However, coinfections by genetically diverse strains producing these toxins are predicted to reduce the population growth rate and consequently the virulence of the infection [22]. Yet, similarly to the previous study [35], we did not find any indications that toxin production would be traded off with growth in F. columnare. Interestingly, however, the virulence of two-strain coinfection was directly linked with virulence of the individual strains, resulting in lower virulence in the two-strain coinfections than in the three-strain coinfection. Moreover, the inhibitory compounds produced by the less virulent strains C and B against the highly virulent strain A could explain the reduced virulence observed in these coinfections. However, it seems that decreasing the relatedness of the coinfecting partners (by increasing the number of strains) makes interference competition most beneficial, resulting in higher virulence of the three-strain coinfection as observed here.
Our study demonstrates that pairwise interactions between coinfecting strains are important for disease virulence. Similar findings have been observed in several studies using different host-parasite systems, e.g., rodent malaria parasite Plasmodium chabaudi [51], snail-infecting schistosome Schistosoma mansoni [38], baculoviruses [52] and bacteria (see [48, 53, 54]). Therefore, perhaps not surprisingly, the genetic interactions between the coinfecting parasites may also extend across species [55], challenging the reliability of epidemiological predictions based on single infections. As the coinfections [56, 57] and environmental pressures maintain the diversity of the pathogen populations and induce rapid changes in pathogen traits [41], coinfections are among the main drivers for variance in disease epidemiology and evolution.
Conclusions
Intraspecific competition can lead to increased virulence but the virulence of coinfection depends on the interactions of the strains involved in the coinfection. As the likelihood of coinfections by environmentally transmitted opportunistic pathogens is high, the genetic composition of the coinfecting population can lead to variable infection outcomes. This can significantly impact the outcomes of infections. Furthermore, in opportunists not restricted by the transmission-virulence trade-off, coinfections may select for the most virulent pathogen strains.
Declarations
Acknowledgements
We would like to thank Dr. Heidi Kunttu, Dr. Elina Laanto and Dr. Päivi Rintamäki for donating the bacterial strains used in this study, and Dr. Elina Laanto, MSc Pilvi Ruotsalainen, MSc Marjut Paljakka, MSc Ville Hoikkala, Mrs. Irene Helkala and Mr. Petri Papponen for technical assistance in laboratory. Dr. Janne Valkonen and MSc Sebastiano de Bona gave invaluable advice for the statistics. Three anonymous referees gave valuable comments on the MS.
Funding
This work was supported by the Finnish Centre of Excellence Program of the Academy of Finland CoE in Biological Interactions 2012–2017 (#252411, J.M.), by Academy of Finland grant #266879 (L.-R.S.), by Jane and Aatos Erkko Foundation (L.-R.S.), and by Olvi foundation (H.K.).
Authors' contributions
All authors participated in designing the study. HK performed the experiments, and HK and L-RS analysed the data. HK drafted the first manuscript that all authors edited. All authors read and approved the final version of the manuscript.
Competing interests
The authors declare that they have no competing interests.
Consent for publication
Not applicable.
Ethics approval
The infection experiments were conducted according to the Finnish Act on the Use of Animals for Experimental Purposes, under permission ESAVI-2010-05569/Ym-23 granted to L-RS by the National Animal Experiment Board at the Regional State Administrative Agency for Southern Finland.
Open AccessThis article is distributed under the terms of the Creative Commons Attribution 4.0 International License (http://creativecommons.org/licenses/by/4.0/), which permits unrestricted use, distribution, and reproduction in any medium, provided you give appropriate credit to the original author(s) and the source, provide a link to the Creative Commons license, and indicate if changes were made. The Creative Commons Public Domain Dedication waiver (http://creativecommons.org/publicdomain/zero/1.0/) applies to the data made available in this article, unless otherwise stated.
Authors' Affiliations
(1)
Department of Biological and Environmental Science (and Nanoscience Center), Jyvaskyla, Finland