Research article

Open Access
Late Danubian mitochondrial genomes shed light into the Neolithisation of Central Europe in the 5th millennium BC
BMC Evolutionary Biology
BMC series – open, inclusive and trusted
2017
17:80
Received: 15 November 2016
Accepted: 23 February 2017
Published: 16 March 2017
Abstract
Background
Recent aDNA studies are progressively focusing on various Neolithic and Hunter - Gatherer (HG) populations, providing arguments in favor of major migrations accompanying European Neolithisation. The major focus was so far on the Linear Pottery Culture (LBK), which introduced the Neolithic way of life in Central Europe in the second half of 6th millennium BC. It is widely agreed that people of this culture were genetically different from local HGs and no genetic exchange is seen between the two groups. From the other hand some degree of resurgence of HGs genetic component is seen in late Neolithic groups belonging to the complex of the Funnel Beaker Cultures (TRB). Less attention is brought to various middle Neolithic cultures belonging to Late Danubian sequence which chronologically fall in between those two abovementioned groups. We suspected that genetic influx from HG to farming communities might have happened in Late Danubian cultures since archaeologists see extensive contacts between those two communities.
Results
Here we address this issue by presenting 5 complete mitochondrial genomes of various late Danubian individuals from modern-day Poland and combining it with available published data. Our data show that Late Danubian cultures are maternally closely related to Funnel Beaker groups instead of culturally similar LBK.
Conclusions
We assume that it is an effect of the presence of individuals belonging to U5 haplogroup both in Late Danubians and the TRB. The U5 haplogroup is thought to be a typical for HGs of Europe and therefore we argue that it is an additional evidence of genetic exchange between farming and HG groups taking place at least as far back as in middle Neolithic, in the Late Danubian communities.
Keywords
Ancient DNAMitochondrial DNAU5 haplogroupDanubian NeolithicNeolithic transition
Background
The Danubian Neolithic is a sequence of archaeological cultures that emerged around 5600/5500 BC in the Transdanubia region of western Hungary from the preceding Vinca, Starcevo and Köros cultures [1]. The Neolithisation of Central Europe by people of the Linear Pottery Culture, better known as the Linearbandkeramik culture (LBK), is a well-investigated phenomenon, both archaeologically and genetically. Nowadays it is agreed by both archaeologists [2, 3] and geneticists [4–7] that the rapid spread of the LBK in the second half of 6th millennium BC was one of the major migration events that shaped the European gene pool.
The archaeologists see the LBK as one of the stages of migration process originating in Near East, that spread north- and west-wards gradually introducing the Neolithic way of life in Europe [8]. However some archaeological data also points to involvement of local Hunter-Gatherers (HGs) in the formation of the LBK and its eastern variant the Alföld Linear Pottery (ALP) culture from Starčcevo and Körös cultures [9]. The relatively rapid pace of the spread of the LBK in Central Europe in the second half of 6th millennium BC, together with different, in comparison with local HG groups, economy and material culture, is being interpreted as an evidence of migratory character of this movement [10]. Based on archaeological data it has been suggested that LBK populations either replaced the pre-existing HG populations or, alternatively, coexisted with them utilizing different resources and areas [11, 12]. However some degree of contact between sites representing both the LBK and HG context is observed in form of exchange of goods such as lithic resources [13]. The LBK presence in Central Europe lasted for around four hundred years, and throughout this period it remained seemingly unchanged maintaining its economic, cultural and social character [14]. In the first half of 5th millennium BC this homogenous culture differentiated into several distinctive cultures belonging to late Danubian sequence (LDN in our paper). Those new cultural entities include: Grossgartach, Rössen, Stroke-ornamented ware culture (StBK), Late Band Pottery Culture (LBPC), Malice, and Lengyel cultures, and are found in more diverse set of ecological zones compared to the LBK [15]. They also display a changing socioeconomic organization of their communities [14]. In some regions, notably in the northern part of former LBK occupation, large stable settlements were replaced by small and short-lived sites with late Danubian archaeological assemblages, located on sandy-soils occupied earlier by local HG. The post-LBK period—the first 400–500 years after the end of the LBK—in all the main regions of the Polish lowlands marked a complete disintegration of the preceding LBK arrangements and the discontinuous development of new forms of spatial organization. The changes are thought by archaeologists, to originate from internal social dynamics of those communities, although they allowed for more extensive contacts with HG groups in later period [15]. The second half of 5th millennium BC marks the emergence of the final groups belonging to the Danubian Neolithic, with the Brześć Kujawski Group being the prominent example in the Polish lowlands. Archaeologists see these final stages of Linear Pottery cultures as a synthesis of various elements, including those of local HG both in terms of economy and material culture [16]. The end of Danubian sequence is marked by another widespread phenomenon known as the Funnel Beaker Culture (TRB, from Trichterbecherkultur). This new entity emerged almost simultaneously along Baltic Coast and in the Kuyavia region in the end of the 5th millennium BC. The TRB is sometimes called Northern Europe's first autochthonous farming population [17]; however the idea is being disputed as early TRB exhibits very few Mesolithic elements in their archaeological record. Moreover, since it was partially contemporaneous with the LDN sequence, the emergence of the TRB as a result of divergence of linear cultures, strengthened by different interregional contacts, cannot be excluded [13].
Geneticists have been trying to directly address questions related to the origins and spread of Neolithic populations in Central Europe. The investigation of hypervariable region (HVR) of mitochondrial (mt) DNA from LBK individuals from present-day Germany, Austria and Hungary [18, 19], led researchers to propose the N1a, later supplemented by T2, J, K, V and HV [19, 20] as a 'signature haplogroups' of the LBK, as they were found in relatively high frequencies in early farmers in comparison to HG and modern European populations. By contrast haplogroups U2, U4, U5 and U8 have been found to dominate in European HG populations [21–25] differentiating them from LBK communities. Further data from LBK populations, (including ALP) and their predecessors Starčevo and Körös cultures, show similar haplogroup patterns to that reported for the LBK alone, pointing to genetic uniformity of linear cultures and lack of HG genetic involvement in their formation [5, 26].
The genomic data supported the idea about lack of genetic continuity between the LBK and the local Hunter - Gathers [5, 27, 28]. However, the LDN populations such as the Rössen culture have received less attention and are often merged and/or analyzed together with data from individuals from LBK contexts [29]. The contacts between Danubian and HG communities that led to gradual change of their economy and material culture seen by archaeologists seem to have no impact on the genetic composition of both communities. However, sparse occurrences of typical HG haplogroups found in late Danubian populations [30, 31], indicate that some degree of genetic influx occurred between those populations. The samples coming from the TRB complex also were the focus of the researches, who found out that they genetically differed slightly from LBK individuals [20, 22], with whole genome data showing higher HG component in the TRB [6].
The main aim of our study was to analyze genetic affinities of LDN populations looking for potential genomic influx from HGs. We generated complete mt genomes from individuals belonging to LBK and late Danubian contexts excavated in modern-day Poland and combined these data with available partial and complete ancient European mt genomes to investigate haplogroup differences between LBK, its successors from the LDN sequence, Central European Hunter-Gatherers and other post-Danubian populations.
Results
Sequencing and mitochondrial haplotypes
Out of 22 samples screened by shotgun sequencing, only one yielded enough data to reconstruct the whole mitochondrial genome and assign haplogroups (Additional file
2
: Table S1). From the remaining samples, 8 more libraries that produced at least 25 mitochondrial fragments were selected for the mtDNA enrichment process. The average mitochondrial genome coverage after capture varied between 2 and 113 and therefore we could determine the haplogroups for 4 more of the samples. New mitochondrial genomes published in this study, together with partial genome from Jan1 individual are presented in Table
1
. Additional information on sequencing and enrichment efficiency can be found in Additional file
2
: Table S4.
Table 1
Five Neolithic complete mitochondrial genomes acquired in this study and one Mesolithic Hunther-Gatherer sample with determined mitochondrial haplotype
| Sample | Archaeol. culture | Region | Site | Age* | Morphological sex | mt genome coverage | % of mt genomea | Haplotype |
| --- | --- | --- | --- | --- | --- | --- | --- | --- |
| Jan1 | HG | Kuyavia | Janisławice | 5509 ± 135 cal. BC | M | 23x | 84,4116 | U5b1b1 |
| Sam1 | LBK | Little Poland | Samborzec | 5300–5000 BC | F | 34x | 99,7888 | N1a1a1a |
| KM1 | LDN | Little Poland | Kazimierza Mała | 4800–4500 BC | F | 27x | 99,9759 | U5b1b |
| KZ6 | LDN | Kuyavia | Krusza Zamkowa | 4500–4000 BC | F | 43x | 99,9215 | N1a1a1a3 |
| R18_1 | LDN | Greater Poland | Racot | 4200 ± 55 cal. BC | F | 9x | 98,6119 | K2a |
| NHP1 | LDN | Little Poland | Krakow Nowa Huta Pleszów | 3800–3600 BC | - | 113x | 99,9940 | H5 |
The nucleotide misincorporation patterns of the mitochondrial sequences were assessed using the mapDamage software and showed fragment length distribution and the deamination patterns characteristic for aDNA: C to T transitions accumulated at 5′ ends and corresponding G to A transitions at 3′ ends of DNA fragments (Additional file 3: Figure S1). The contamination estimates acquired with Schmutzi software supported this result as in all samples they were below 4% (Additional file 2: Table S4). In total, we acquired 5 new mitochondrial genomes for Danubian Cultures from contemporary Polish lands: 1 from the LBK and 4 from LDN Lengyel and Malice Cultures and partial genome from HG individual from Janisławice. All genomes are deposited in GenBank under accession numbers KY091894-KY091898. Mutations against the RSRS as reported by Haplofind and used for haplogroup assignment are listed in Additional file 2: Table S5. The LDN individuals belonged to N1a1a1a3, K2a, H5 and U5b1b haplogroups. The LBK individual belonged to N1a1a1a. Based on partial mitochondrial genome data, the Mesolithic individual from Janisławice belonged to haplogroup U5b1b1.
Figure
2
shows haplogroup frequencies where haplogroups were combined together into European gene pool components following the division made by [
20
]. When pooled with all available reference data, the acquired haplogroups indicate around 10% higher than previously reported frequency of HG component in late Danubian populations.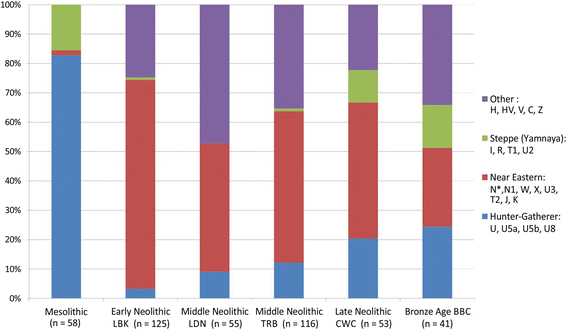 Population genetics
AMOVA results (Additional file 2: Table S6) also point to closer relation of late Danubians to the TRB (within group variation of −0.88 and among groups variations of 8.87) than the LBK (0.66 and 7.5, respectively) populations.
Discussion
Our data indicate close relation of the LDN to various middle and late Neolithic populations, especially those belonging to the TRB complex. This stands in contradiction to suggestions that late Danubian populations should be in closest genetic relation to the LBK, the notion previously suggested by both archaeologists [2] and geneticists [20]. Our results also contradicts the hypothesis, that TRB groups belonged to a different tradition than the Danubian sequence, and that they had other, possibly local Mesolithic, origins [17, 60]. Instead our data support the idea that through their long presence in Central Europe, the Danubian populations gradually differentiated from groups associated with the LBK culture into a sequence of populations belonging to various LDN populations, and that some of those populations in turn were driving the emergence of the TRB [13].
The majority of the haplotypes from LDN populations, acquired by us and in other studies, are considered to be typical for the LBK. However, several of them belong to U5b and U5a haplogroup [30, 31, 61] which is thought to be a part of HG component of the European gene pool. The relatively similar frequency of U5b haplogroup, found in populations belonging to both the LDN and the TRB complex seems to be responsible for drawing them closer together in our analyses. The haplogroups U5b and U5a are considered to belong to Hunter-Gatherer component of European gene-pool [20]. The origin of U5b in TRB populations from modern-day Germany is being interpreted as an increase in Hunter-Gatherer mt lineages in middle Neolithic [20], a view supported by whole genome data [32]. Likewise, based on whole genomic data, some genetic admixture from Scandinavian HG to northern TRB populations was observed [6].
Neither PCA nor MDS can directly answer where U5 individuals, differentiating LDN and TRB from LBK, came from, and what was the direction and nature of the gene flow. The Hunter - Gatherers of Central Europe, based on well documented history of contacts between them and LDN communities, seem to be most probable candidate for source of U5 haplotypes. On the other hand, HG populations are also frequently documented to live close to farming communities but maintaining their genetic distance [23]. One can also argue that TRB populations lived in close proximity with late Danubian communities (in particular the Brześć Kujawski Group [62] and therefore the possibility of a gene flow from the TRB to the LDN should also be taken into consideration.
However, the network analysis shows that both LDN and TRB U5b haplogroups originated from haplotypes found in HG individuals, so the direct gene flow between LDN and TRB groups, based on few available samples, is not supported. Notably, in case of U5b part of the median network all basal (i.e. close to the center of the network) haplotypes belong to Central Europe HG while the haplotypes found in LDN, TRB, LBK, BBC and CWC samples form the outer part of the network, which suggests that they constitute a derived version of haplotypes, with more accumulated substitutions compared to the U5b haplogroups from HG.
Assuming that HG groups were the source of U5 haplotypes in LDN populations it would be interesting to speculate on exact source and nature of this gene flow. The fact that out of four U5 individuals found in LDN populations 3 belong to U5b while one belongs to U5a haplogroup [61]. One possible explanation of this disproportion is the low sample size and the U5a might simply have been missed by our sample. However, what is noteworthy the majority of Mesolithic individuals with U5a haplotypes come from outside of Central Europe, most notably from Scandinavia [6, 22]. That stands in contrast with the fact that a majority of cultural exchange, between the LDN and HG, is seen between the LDN and northern HG groups (notably Ertebølle culture) and not neighboring lowlands groups (such as Janisławice culture) [15]. Meantime, HG elements seen in the TRB material culture came from various HG backgrounds, both from Baltic see coast, and European lowlands [13]. However, the cultural diversity of European Hunter - Gatherers does not seem to be reflected by their genetic diversity [33], as they seem to be rather uniform group and therefore differentiating between potential sources of genetic influx to either the LDN or the TRB might be difficult.
The two new U5b haplotypes, recovered in this and our previous study [31], come from two geographically and chronologically distant sites. U5b2a1a was found in KZ1 female from the Brześć Kujawski group of Lengyel Culture. It is dated to 4226 ± 74 cal. BC, and comes from Krusza Zamkowa site, which is known for its rich burials with numerous imports [63], some stylistically resembling HG artifacts. U5b1b found in the KM1 female excavated in Kazimierza Mała site belonged to the Malice Culture dated to around 4800–4500 BC. The Malice Culture itself exhibits influences from other linear pottery groups mostly from the Lengyel and Polgár cultures south from it [64]. Elements of Hunter-Gatherer origin are not proposed for the Malice Culture itself; however close ties and its possible involvement in formation of the Brześć Kujawski group are debated [65].
Our data, from this and the previous study [31], shows that in its long existence the LBK gradually changed into the LDN not only in terms of material culture but also in terms of its genetic composition. The change observed by us in form of introduction of U5b haplotypes is most probably the result of gene flow from HG populations. This idea, proposed also for populations from western fringe of LDN populations [30], pushes back in time the resurgence of HG maternal lineages seen by others in TRB populations [20]. The nature of this flow might be, to some extent, explained by what we know about social and migration behaviors of Danubians. Both isotopic and genetic data have given us some clues about the social organization of early farming communities. Strontium isotope data suggest greater mobility of women than men in some LBK populations [66, 67], which may indicate patrilocal model of society. The genetic data also points towards patrilocality in Early Neolithic as a most probable cause of differences in mtDNA and Y-chromosome composition of European gene pool [68]. This hypothesis is also strengthened by much higher haplogroup diversity of mtDNA than Y-chromosome DNA observed in the LBK population from Hungary [26]. Similar higher diversity of maternal compared to paternal lineages was found in Neolithic populations that emerged along Mediterranean route of neolithisation [69, 70]. Those results may explain the nature of influx of foreign mitochondrial haplogroups into early farming communities. It seems possible that to some extent it was customary to introduce females from neighboring communities into LBK and LDN groups, with different Hunter-Gatherer groups being the most probable source of this influx. However, to determine that more, both genetic and isotopic data is needed from those populations.
Conclusions
We acquired 5 new complete mitochondrial genomes from Late Danubian populations from modern day Poland. Population genetic analyses run on our data combined with published haplotypes show that Late Danubian populations are maternally closer related to TRB groups instead of culturally similar LBK. We assume that U5 haplotypes found by us and other researchers in those populations are responsible for this affinity. Since U5 is thought to be one of haplogroups characteristic for HG component of European gene pool, we argue that its presence points to gene flow from HG to both Late Danubian and TRB populations.
Abbreviations
aDNA:

Ancient DNA
MDS:

Multidimensional scaling
mtDNA:

Mitochondrial DNA
PCA:

Principal component analysis
PCR:

Polymerase chain reaction
rCRS:

Revised Cambridge reference sequence
RSRS:

Reconstructed Sapiens Reference Sequence
SNP:

Single nucleotide polymorphism
Declarations
Acknowledgement
We are grateful to Dr. W. Borkowski and Dr. Ł. M. Stanaszek from the State Archaeological Museum in Warsaw, Prof. E. Haduch from the Department of Anthropology at the Jagiellonian University in Cracow, Prof. J. Kruk from the Institute of Archaeology and Ethnology Polish Academy of Sciences in Cracow and Dr. J. Górski from Archaeological Museum in Cracow for their help with acquiring the bone samples.
Funding
M.C. was supported by grants awarded by Polish Ministry of Science and Higher Education [055/DIA/2012/41] to M.C. and [01/KNOW2/2014]. M.J. was supported by an ERC Starting Grant (#311413). EE was supported by PRVOUK P15 grant of the Charles University in Prague, Czech Republic.
Availability of data
The data supporting the results of this article are available from GenBank (DNA sequences, accession nos. KY091894-KY091898).
Authors' contributions
MC and AJ conceived, designed the project, performed the experiments and analyzed the data. EE and MC designed the bioinformatic part of the project and analyzed the data. HM, JP, MJ, AM and MD helped to draft the manuscript. All authors read and approved the final manuscript.
Competing interests
The authors declare that they have no competing interests.
Consent to publish
As no living human subjects were part of the study, no consent to participate or to publish the data was required.
Ethics approval and consent to participate
No Ethics committee approval was required to conduct this research project.
Open AccessThis article is distributed under the terms of the Creative Commons Attribution 4.0 International License (http://creativecommons.org/licenses/by/4.0/), which permits unrestricted use, distribution, and reproduction in any medium, provided you give appropriate credit to the original author(s) and the source, provide a link to the Creative Commons license, and indicate if changes were made. The Creative Commons Public Domain Dedication waiver (http://creativecommons.org/publicdomain/zero/1.0/) applies to the data made available in this article, unless otherwise stated.
Authors' Affiliations
(1)
Department of Human Evolutionary Biology, Institute of Anthropology, Faculty of Biology, Adam Mickiewicz University in Poznań, Poznań, Poland
(2)
Institute of Archaeology, Faculty of History, Adam Mickiewicz University in Poznań, Poznań, Poland
(3)
Department of Organismal Biology and SciLifeLab, Uppsala University, Uppsala, Sweden
(4)
Molecular Biology Techniques Laboratory, Faculty of Biology, Adam Mickiewicz University in Poznań, Poznań, Poland
(5)
Department of Biology and Environmental Studies, Faculty of Education, Charles University in Prague, Prague, Czech Republic