Research article

Open Access
Duplication and concerted evolution of MiSp-encoding genes underlie the material properties of minor ampullate silks of cobweb weaving spiders
BMC Evolutionary Biology
BMC series – open, inclusive and trusted
2017
17:78
Received: 24 August 2016
Accepted: 24 February 2017
Published: 14 March 2017
Abstract
Background
Orb-web weaving spiders and their relatives use multiple types of task-specific silks. The majority of spider silk studies have focused on the ultra-tough dragline silk synthesized in major ampullate glands, but other silk types have impressive material properties. For instance, minor ampullate silks of orb-web weaving spiders are as tough as draglines, due to their higher extensibility despite lower strength. Differences in material properties between silk types result from differences in their component proteins, particularly members of the spidroin (spider fibroin) gene family. However, the extent to which variation in material properties within a single silk type can be explained by variation in spidroin sequences is unknown. Here, we compare the minor ampullate spidroins (MiSp) of orb-weavers and cobweb weavers. Orb-web weavers use minor ampullate silk to form the auxiliary spiral of the orb-web while cobweb weavers use it to wrap prey, suggesting that selection pressures on minor ampullate spidroins (MiSp) may differ between the two groups.
Results
We report complete or nearly complete MiSp sequences from five cobweb weaving spider species and measure material properties of minor ampullate silks in a subset of these species. We also compare MiSp sequences and silk properties of our cobweb weavers to published data for orb-web weavers. We demonstrate that all our cobweb weavers possess multiple MiSp loci and that one locus is more highly expressed in at least two species. We also find that the proportion of β-spiral-forming amino acid motifs in MiSp positively correlates with minor ampullate silk extensibility across orb-web and cobweb weavers.
Conclusions
MiSp sequences vary dramatically within and among spider species, and have likely been subject to multiple rounds of gene duplication and concerted evolution, which have contributed to the diverse material properties of minor ampullate silks. Our sequences also provide templates for recombinant silk proteins with tailored properties.
Keywords
Theridiidae
Latrodectus
Steatoda
Silk glands
Gene expression
Silk proteins
Spidroin gene family
Background
Orb-web and cobweb weaving spiders in the superfamily Araneoidea use silk fibers and glues for a variety of functions, including prey wrapping, prey capture, egg casings, and web framing [
1
]. Each task-specific silk is made up of a unique combination of proteins produced in one of seven different gland types [
2
,
3
]. Despite making architecturally distinct prey-capture webs (Fig.
1
), orb-web and cobweb weaving araneoid spiders possess homologous gland types, most of which produce silks with homologous functions. For example, major ampullate glands synthesize dragline fibers, tubuliform glands express proteins that form outer egg-casing fibers, and pyriform gland protein products are used to attach other fiber types to substrates by all araneoid spiders [
1
,
4
]. Other gland types are homologous in morphology, but have diverged in some functions, such as minor ampullate glands which produce silk used as scaffolding fibers by most araneoids, but additionally functions to form auxiliary spirals in the orb-web versus contributing to prey-wrapping in cobweb weavers [
5
].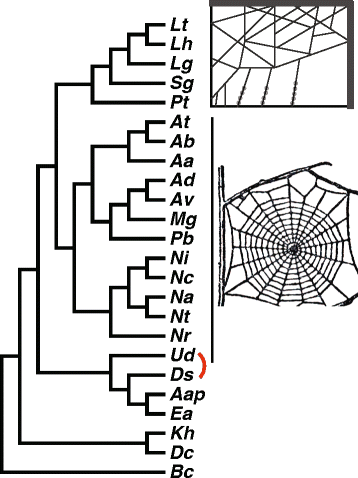 Major ampullate silk has been the primary focus of silk research because it is relatively easy to harvest and has tensile strength rivaling that of steel [6, 7]. However, all silk fibers have impressive and unique material properties [8]. For instance, minor ampullate silk of the orb-web weavers Argiope trifasciata, Argiope argentata, and Nephila clavipes have higher extensibility and lower strength than major ampullate silks from the same species, yet are equally tough [8–12]. Additionally, minor and major ampullate silks display different physical properties when wet. Supercontraction in water occurs with A. trifasciata and Nephila inaurata major ampullate silks, which allows them to become more extensible while maintaining their high strength [13]. However, when minor ampullate silks from the same species are exposed to water, supercontraction does not occur and the mechanical properties do not change [13]. Despite having consistent behaviors within species whether wet or dry, mechanical properties of minor ampullate silks varied more among species than did the properties of major ampullate silks [14, 15]. The consistency of minor ampullate silks' mechanical properties when wet or dry, as well as their increased extensibility relative to draglines and greater variability among species, could allow for different applications of minor ampullate silk that would not be feasible for major ampullate silk. The material properties of minor ampullate silks made by cobweb weavers have yet to be measured, but given the different functions of this silk in cobweb weavers compared to in orb-web weavers, we predict divergence in the mechanical performance of these fibers.
The variation in physical properties between major and minor ampullate silks and among minor ampullate silks of different species likely results from sequence differences among their component proteins, termed spidroins (spider fibroins). Spidroins are extremely large (>200 kDa) and are made almost entirely of a highly repetitive region, which is flanked by short, conserved carboxy (C)- and amino (N)-terminal regions [16–21]. The repetitive region of many spidroins contain numerous subrepeats of short amino acid sequences, called motifs [2]. Motifs found frequently in spidroin repetitive regions include GGX (where X refers to a subset of amino acids), (GA)n where n ≥ 2, An where n ≥ 4, and GPG [2, 18]. An and (GA)n form β-sheets, GGX forms 31-helices, and GPG forms β-spirals [2, 14, 18, 22–26]. Secondary structures of β-sheets likely confer strength, and β-spirals contribute to elasticity [18].
Major ampullate silks of all araneoid spiders examined thus far are made up of two proteins, MaSp1 and MaSp2, which are distinguished by a high GPG content in the latter but not the former [27, 28]. Similarly, N. clavipes minor ampullate silk is made up of two proteins, MiSp1 and MiSp2, although they are not as distinctly different from each other as MaSp1 and MaSp2 [29]. All described minor ampullate spidroins (generalized as MiSp) have consensus repeats that are primarily made up of An, (GA)n and GGX motifs disrupted by serine and threonine-rich "spacer" regions [2, 14, 18, 29, 30]. The functions of the spacer regions are not well understood, but artificially made recombinant proteins composed solely of spacer regions tend to form oligomers and only recombinant MiSp proteins that include at least one spacer, repetitive region, and the C-terminal domain can form fibers [31]. Both MaSp1 and MiSp are predicted to be composed of β-sheets connected by helical regions and amorphous chains [2, 14, 18]. The higher tensile strength of major ampullate silk may result from longer β-sheets made up of An repeats, in contrast to shorter β-sheets made up of An and (GA)n repeats in minor ampullate silk [14].
The large size and repetitiveness of spidroins make spidroin-encoding genes extremely difficult to sequence completely. The only full-length sequence of MiSp known is for Araneus ventricosus [30]. Furthermore, even partial MiSp sequences have been characterized from only a few orb-web weavers [29, 30]. The full length sequence shows that MiSp repeat units are not as similar to each other as are the repeats of MaSp1 or MaSp2 repeats; and that A. ventricosus MiSp possesses exactly two spacers that interrupt the glycine and alanine rich motifs [30]. The generality of these features for other MiSp-encoding sequences needs to be tested.
The only known sequences of MiSp in a cobweb weaver are partial sequences from Latrodectus hesperus [5, 32]. The known repetitive regions are similar between L. hesperus and orb-web weavers' MiSp, with the main difference being length of spacers [30, 32]. However, because cobweb weavers use minor ampullate silks for prey wrapping, while orb-web weavers use them in the auxiliary spiral of their web [5], we predict different selective pressures on cobweb weaving MiSp that could consequently alter secondary structure and physical properties.
Here, we characterize complete or nearly complete MiSp sequences from five cobweb weaving spider species: L. hesperus, L. tredecimguttatus, L. geometricus, Steatoda grossa, and Parasteatoda tepidariorum (Theridiidae). We also measured mechanical properties of minor ampullate silks in L. hesperus, L. geometricus, and S. grossa. Our goals were to determine the extent of variation in MiSp sequences and minor ampullate silk properties within cobweb weaving spiders, compare this variation to that found in orb-web weaving spiders, and identify any relationship between sequence and material property variation across both groups. We found evidence for at least two MiSp loci in each cobweb weaving species, and that one copy is more highly expressed than the other in minor ampullate glands in L. hesperus and L. geometricus. Phylogenetic analyses suggested extensive gene duplication and concerted evolution of MiSp-encoding loci contributed to variation in MiSp sequences. Finally, we found significant differences in mechanical properties among minor ampullate silks that were partially explained by variation in MiSp sequences.
Discussion
Our characterization of complete or almost complete encoding sequences for the minor ampullate spidroin (MiSp) in multiple cobweb weaving spider species (Theridiidae) demonstrate the presence of at least two MiSp loci in each species. The substantial variation of MiSp sequences within and among species and its relationship to variation in material properties has multiple implications for molecular evolution, spider ecology, and biomimetic applications through recombinant DNA technology.
Two MiSp-encoding loci have also been documented in the golden orb-weaver spider, Nephila clavipes (Nephilidae), and therefore the presence of multiple MiSp-encoding loci in spider genomes most likely dates minimally back to the common ancestor of theridiids and nephilids (e.g. Araneoidea). Our reconciliation of gene trees with species trees suggests even older duplication events (Fig. 7). However, the maintenance of two loci appears to involve complex molecular evolutionary processes including intergenic concerted evolution of the loci within species, and multiple gains and losses of individual MiSp copies. Although our reconciliation analyses inferred independent duplication events within each of our cobweb weaving species, the grouping of MiSp loci within species based on the terminal domains (Figs. 6 and 7), could also result from intergenic concerted evolution of the N- and C-terminal encoding regions. We favor the latter hypothesis because of the dramatic differences in the repetitive region within some species (Fig. 3). Concerted evolution of the N and C-terminal encoding regions could occur through non-homologous recombination between the loci, facilitated by their similar sequences, as proposed for the major ampullate spidroin paralogs, MaSp1 and MaSp2, of multiple species [2, 32, 41–43]. Within theridiids, the rate of concerted evolution appears to be faster than speciation, since relationships among each species' pair of MiSp loci reflect species relationships (Figs. 6 and 7). Intergenic concerted evolution of terminal-encoding regions could be favored by selection because these regions are involved in assembly of multiple MiSp monomers into polymers and the conversion of the protein complex from a liquid to a solid [31, 44]. Highly similar terminal regions may be necessary for polymers to form.
Outside of theridiids, relationships among MiSp N and C-terminal domains are not congruent with species relationships. The low posterior probabilities and bootstrap support for these incongruous relationships suggest there is limited phylogenetic signal retained in the MiSp C-termini at the distant time scale of divergence of theridiids from other araneoid families (~170 million years ago, [36, 38, 39]). However, the consistent grouping of Nephila and theridiid MiSp C-terminal domains to the exclusion of araneid MiSp C-terminal domains suggests that nephilid and theridiid MiSp sequences are derived from a different ancient copy than the araneid MiSp sequences, as supported by our reconciliation analyses (Figs. 6 and 7). The loss of functional MiSp loci through multiple single nucleotide mutations is further supported by the presence of a MiSp pseudogene in the S. grossa genome. Many additional losses were inferred by our reconciliation analyses (Additional file 1: Figure S8), but because of incomplete spidroin sampling for most species we do not feel confident in estimating the extent of spidroin gene loss.
We found extensive variation in the MiSp repetitive regions between loci within a genome and among species (Fig. 3). MiSp variants in L. hesperus and L. tredecimguttatus, L. geometricus MiSp_v2, P. tepidariorum MiSp_v1, Nephila MiSp 1 & 2, and araneid MiSp sequences are similar in terms of amino acid motif composition. S. grossa MiSp and L. geometricus MiSp_v1 are especially divergent, with the difference between variants within L. geometricus being extremely striking (Fig. 3). The divergent repeats have an increased proline content, which likely occurred independently in S. grossa MiSp and L. geometricus MiSp_v1, based on gene tree relationships (Figs. 6 & 7). The mutation of alanine or glutamine codons to a proline codon requires only a single base change and the GPG motif is frequently found as GPGA or GPGQ, indicating that it could have evolved from (GA)n or (GQ)n motifs, which are the most common motifs in all other MiSp sequences (Fig. 3). Intragenic concerted evolution could rapidly proliferate these mutations throughout a single gene as has been proposed for other spidroin paralogs [16, 17, 45, 46]. The near identity of spacer sequences within each of our cobweb weaver MiSp variants (Fig. 4) supports the hypothesis that intragenic concerted evolution is common, as also found in orb-web weaver MiSp [30, 31]. However, intragenic concerted evolution must be offset by some other molecular processes, since the remainder of the repetitive regions are not as homogenized as the spacers (Fig. 3). The simple amino acid motifs found in MiSp such as (GA)n are encoded by microsatellite-like sequences and could thus be prone to high rates of slipped strand mispairing. It is also possible that excessive homogenization of MiSp repetitive regions adversely affects its function and is eliminated by selection.
The high proportion of the GPG amino acid motif in S. grossa MiSp correlates with higher extensibility in S. grossa minor ampullate silk fibers (Fig. 5c, Table 3). GPG content is probably not the only predictor of extensibility, however, since Latrodectus minor ampullate fibers were more extensible than orb-web weavers' even though GPG content for L. hesperus is similar to the orb-web weavers. Furthermore, we did not find a significant difference in extensibility between L. hesperus and L. geometricus minor ampullate silk fibers despite L. geometricus MiSp_v1 having a relatively high percentage of GPG motifs (Fig. 3). The MiSp_v2: MiSp_v1 transcript ratio in L. geometricus suggests that the GPG-rich MiSp_v1 is in lower abundance in L. geometricus (Table 2), which could explain why there is not a significant increase in extensibility of its minor ampullate silk fibers in comparison to L. hesperus. Cobweb weaving spiders use MiSp in their prey wrapping silks [5], and evolution of extensibility-conferring motifs could potentially allow for capturing different prey types by S. grossa compared to other cobweb weavers, although little is known about the ecology or diet of this species. It is also possible that L. geometricus modulates expression of its two MiSp-encoding loci in response to prey availability. Experimentally manipulating prey type has been shown to affect proline content of major ampullate fibers in Nephila, potentially as a result of plastic changes in relative expression levels of the proline-poor MaSp1 and the proline-rich MaSp2 [47, 48]. Variation among individuals in MaSp1 and MaSp2 transcript abundance has also been demonstrated for black widows [49]. Analogous experiments have not been done for minor ampullate fibers. However, the variation in MiSp_v2: MiSp_v1 ratios that we found between L. geometricus individuals (Table 2) suggests plasticity of expression is possible.
Our six complete or nearly complete single exon MiSp-containing clones can also serve as templates for recombinant proteins. Due to the dramatic differences in length and amino acid content of some of the proteins encoded by these loci, it may be possible to spin artificial fibers with custom-made properties. For instance, the GPG-containing L. geometricus MiSp_v1 could be used to make more extensible fibers, while the longer alanine-rich L. hesperus MiSp_v1 may make stiffer fibers.
Conclusions
We found that intragenic concerted evolution within MiSp-encoding genes likely led to rapid proliferation of proline replacements for alanine or glutamine in MiSp protein sequences independently in at least two species. For one species, the proliferation of proline coincides with higher extensibility of minor ampullate silks. This could allow cobweb weavers to access new prey types or the ability to modulate mechanical properties of their silks through altering expression levels of MiSp gene copies. Our multiple nearly complete MiSp sequences also provide various templates for tailored biomimetic applications through recombinant DNA technologies.
Declarations
Acknowledgements
We thank Stephen Richards and colleagues at Baylor College of Medicine's Human Genome Sequencing Center for access to the P. tepidariorum genome. We also thank Alistair McGregor, Mario Stanke, and colleagues for annotating this genome. Students in Genetics Lab (BIOL 221) at Washington and Lee University assisted with collecting sequence data.
Funding
This work was supported by the National Science Foundation (IOS-0951086 to NAA, IOS-0951061 to CYH), National Institutes of Health (F32 GM78875-1A to NAA; 1F32GM083661-01 and 1R15GM097714-01 to JEG), Army Research Office (W911NF-06-1-0455 and W911NF-11-1-0299 to CYH), and Washington and Lee University through Lenfest Summer Fellowships to NAA and Summer Research Scholarships to JVH and AKL. ERB was supported in part by a grant to Washington and Lee University from the Howard Hughes Medical Institute through the Precollege and Undergraduate Science Education Program (52007570).
Availability of data and materials
Sequences generated for this study are available in GenBank (Accessions: KX584003 - KX584055). Accessions for previously published sequences are reported in the manuscript text and in Table 1.
Authors' contributions
CYH and NAA conceived the study. JMV, ERB, JEG, EES, and NAA generated sequence data. AKL, MAC, SMC, and CYH measured tensile properties of minor ampullate silk fibers. JMV, ERB, MAC, THC, and NAA analyzed the data. JMV and NAA wrote the manuscript. All authors edited the manuscript and read and approved the final manuscript.
Competing interests
The authors declare that they have no competing interests.
Consent for publication
Not applicable.
Ethics approval and consent to participate
Not applicable.
Open AccessThis article is distributed under the terms of the Creative Commons Attribution 4.0 International License (http://creativecommons.org/licenses/by/4.0/), which permits unrestricted use, distribution, and reproduction in any medium, provided you give appropriate credit to the original author(s) and the source, provide a link to the Creative Commons license, and indicate if changes were made. The Creative Commons Public Domain Dedication waiver (http://creativecommons.org/publicdomain/zero/1.0/) applies to the data made available in this article, unless otherwise stated.
Authors' Affiliations
(1)
Department of Biology, Washington and Lee University, Lexington, USA
(2)
Department of Biology, University of California, Riverside, USA
(3)
Department of Biological Sciences, University of Massachusetts, Lowell, USA