Research article

Open Access
Evolution of group I introns in Porifera: new evidence for intron mobility and implications for DNA barcoding
BMC Evolutionary Biology
BMC series – open, inclusive and trusted
2017
17:82
Received: 15 September 2016
Accepted: 28 February 2017
Published: 20 March 2017
Abstract
Background
Mitochondrial introns intermit coding regions of genes and feature characteristic secondary structures and splicing mechanisms. In metazoans, mitochondrial introns have only been detected in sponges, cnidarians, placozoans and one annelid species. Within demosponges, group I and group II introns are present in six families. Based on different insertion sites within the cox1 gene and secondary structures, four types of group I and two types of group II introns are known, which can harbor up to three encoding homing endonuclease genes (HEG) of the LAGLIDADG family (group I) and/or reverse transcriptase (group II). However, only little is known about sponge intron mobility, transmission, and origin due to the lack of a comprehensive dataset. We analyzed the largest dataset on sponge mitochondrial group I introns to date: 95 specimens, from 11 different sponge genera which provided novel insights into the evolution of group I introns.
Results
For the first time group I introns were detected in four genera of the sponge family Scleritodermidae (Scleritoderma, Microscleroderma, Aciculites, Setidium). We demonstrated that group I introns in sponges aggregate in the most conserved regions of cox1. We showed that co-occurrence of two introns in cox1 is unique among metazoans, but not uncommon in sponges. However, this combination always associates an active intron with a degenerating one. Earlier hypotheses of HGT were confirmed and for the first time VGT and secondary losses of introns conclusively demonstrated.
Conclusion
This study validates the subclass Spirophorina (Tetractinellida) as an intron hotspot in sponges. Our analyses confirm that most sponge group I introns probably originated from fungi. DNA barcoding is discussed and the application of alternative primers suggested.
Keywords
PoriferaTetractinellida cox1 HGTVGThoming endonuclease gene (HEG)LAGLIDADGgroup I intronDNA barcoding
Background
Mobile introns are self-splicing DNA sequences that play a major role in genome evolution. Group I and group II introns are distinguished based on their splicing mechanisms and secondary structures. Apart from unique splicing mechanisms, differences between group I and group II introns were observed within the core regions of their secondary structures. Depending on these structural characteristics, group I introns have been further categorized into IA-IE classes. Group II introns constitute up to six stem-loop domains and are classified I-VI respectively (e.g., [35]). Group I and group II introns often contain open reading frames (ORFs) in their loop regions [70], which can encode for different site-specific homing endonuclease genes (HEGs). The majority of group I introns include HEGs, which have a conservative single or a double motif of the amino-acid sequence LAGLIDADG. In contrast group II introns encode in most cases a reverse transcriptase-like (RT) ORF (e.g., [36]). Group I and group II introns are found in all domains of life: group I introns are present in bacterial, organellar, bacteriophage and viral genomes as well as in the nuclear rDNA of eukaryotes. Group II introns have a similar distribution, but are not known from the nuclear rDNA (e.g., [33]). More specifically, group I and/or group II introns are found, e.g., in eukaryotic viruses [92], slime molds [45], choanoflagellates [7], the annelid Nephtys sp. [84], red algae [8], brown algae [25] and plants: green algae [85], liverworts [58, 66, 67] and different angiosperms [58, 66, 67]. Group II introns seem to thrive especially in plants [60], whereas the largest abundance of group I introns currently occurs within fungi [23, 54, 68]. As an example, the mitochondrial (mt) genome of the fungus Ophioscordyceps sinensis harbors 44 group I introns and six group II introns, accounting for 68.5% of its mt genome nucleotides. Here, 12 out of 44 group I introns and only one out of six group II introns are located in the cytochrome c oxidase subunit 1 (cox1) gene [54], an acknowledged insertion hotspot for mt group I introns [23].
More recently, group I introns have been discovered in the
cox1
of early branching metazoan phyla: Placozoa [
9
,
17
,
76
], Cnidaria [
27
,
31
] as well as Porifera [
21
,
29
,
65
,
82
,
90
]. Group II introns are rarer, and found in the
cox1
of Placozoa [
17
,
76
], and in one demosponge species of the order Axinellida (referred to as
Cymbaxinella verrucosa
) [
43
]. In Porifera, group I introns have only been recorded from Demospongiae and Homoscleromorpha and, like in group II introns, always in the
cox1
gene, with only occasional double insertions (Fig.
1
). The current nomenclature of sponge group I and group II introns is based on the intron insertion site positions in reference to the
Amphimedon queenslandica cox1
gene (DQ915601) [
82
]. In Homoscleromorpha, three different intron positions (714, 723 and 870; Fig.
1
) are known for three species of the family Plakinidae [
29
]. Within the demosponge subclass Verongimorpha intron 723 is detected in one species (
Aplysinella rhax
) of the order Verongiida [
21
]. Most intron insertions have been found within the demosponge subclass Heteroscleromorpha, in the orders Agelasida, Axinellida [
43
] and especially Tetractinellida [
82
]. In the Tetractinellida, group I introns are currently known in five sponge species belonging to three genera (
Cinachyrella
,
Tetilla
and
Stupenda
) and inserted at four mtDNA intron positions: 387, 714, 723 and 870 [
47
,
65
,
82
] (Fig.
1
). To this date, all sponge group I introns encode a HEG with two LAGLIDADG motifs [
21
,
29
,
47
,
82
] with the exception of intron 714 in
Plakinastrella
sp. and intron 870 in
Agelas oroides
and
Axinella polypoides,
in which no ORF was detected [
29
,
43
,
52
,
90
]. Intriguingly, Tetractinellida introns are currently only detected in the families Tetillidae [
82
] and Stupendidae [
47
].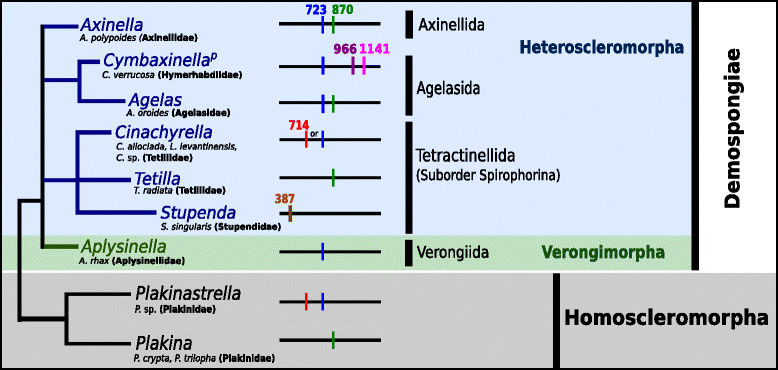 Fungi and Placozoa have been proposed as possible donors for group I introns among sponges [43, 47, 65]. However, these findings await corroboration with a broader and more comprehensive taxon set. Intron/HEG phylogenetic analyses and group I/II intron secondary structures are the basis for different scenarios on the origin of introns within sponges [43, 47, 82]. The presence of independent horizontal gene transfers (HGT) for introns is supported by their haphazard distribution over phylogenetically distant sponge groups [21, 43, 82]. Vertical gene transfer (VGT) of introns is assumed among closely related taxa, but never confirmed due to the lack of comprehensive taxon sampling [82].
To gain new insights into the evolution of sponge introns we required an intron-rich taxonomic group. Based on earlier studies on sponge introns, the order Tetractinellida represents an obvious target. Other lines of evidence support this choice, such as unsuccessful attempts to amplify cox1 in this group with standard protocols [10, 72, 81], potentially due to introns in the relevant primer regions [82]. Consequently, this study focuses on tetractinellid cox1 mitochondrial data to broaden our knowledge on mt intron evolution in this early-branching metazoan phylum.
The data from this "intron-hotspot taxon" presented here constitutes the most representative dataset to target specific questions pivotal to understand intron structure and distribution including activity and mobility. Importance of HGT or VGT or a combination of both will be addressed. Additionally, current hypotheses on the origin of sponge mitochondrial introns will be discussed by comparing intron data across other phyla.
Results
Mitochondrial intron diversity and characteristics in tetractinellid sponges
The current study comprises the largest dataset of sponge mitochondrial introns to date (95 sequences of which 72 are new), encompassing 13 different sponge genera. All 72 newly sequenced introns were group I introns of the class IB, and all encoded a HEG of the LAGLIDADG family, except for intron 723 of
Aciculites
sp.1, where no HEG was observed. A double motif of the LAGLIDADG domain was located in all introns, if the sequence was not degenerated or without a HEG. Different intron lengths were observed for different species, and an overview of the different initiation and stop codons of all HE ORFs is given in Fig.
2
. All introns possessed start and stop codons in the same frame as the 5′ exon, except intron 714 in
Plakinastrella
sp. Additionally, uninterrupted ORFs in the same 5′ exonic reading frame were observed for all sequences unless introns were degenerated or without HEG. Initiation and stop codons varied among the intron HEGs. For example the HEG of intron 387 potentially starts with a GTG initiation codon at position 19 of the intron, and not TTA (position 16) as suggested previously [
47
]. The HEG of intron 714 potentially starts with TTG as its initial codon (position 27). Instead of TTA (position 1) as suggested by Rot et al. [
65
], all intron 723 HEGs potentially start with ATT (position 10). In the intron HEG 870 we have ATT (position 24 for all) and GTG (position 9 for
Plakina
and 21 for
Tetilla
) as initiation codons. The stop codon for most HE ORFs was TAG or TAA except for
Cinachyrella
sp. 2 and
Setidium
sp.1 (intron 723), where truncated HEGs were found.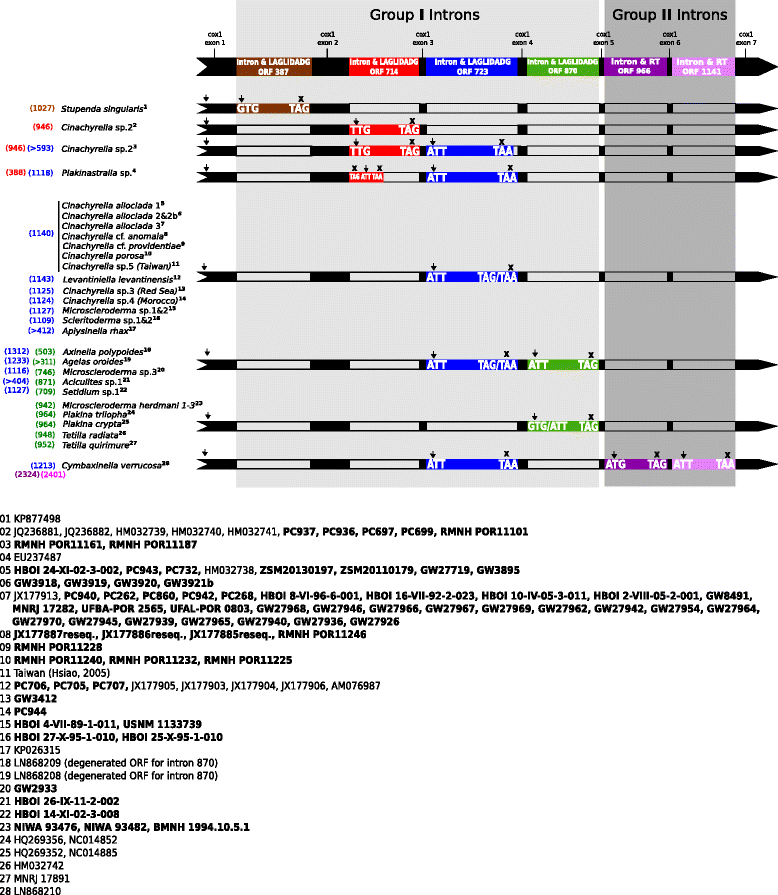 We discovered more introns in the Spirophorina at positions 714, 723 and 870 (Fig. 2); no intron at position 387 was found. As an example, intron 714 sequences were generated for five more Cinachyrella sp. 2 taxa; four from the Indian Ocean (Kenya, Myanmar) and one from the southwest-Pacific (Indonesia). Cinachyrella species are previously known to have only one intron insertion at a time (either 714 or 723). However, our study reveals that both introns 714 and 723 can occur together in cox1, e.g., in Cinachyrella sp. 2 from marine lakes (RMNH POR11161) and mangroves (RMNH POR11187). Intron 723 was sequenced from 11 different Cinachyrella species, and it is particularly present in the Cinachyrella alloclada complex. In total this study contains 42 sequences of Cinachyrella alloclada (intron 723) from the western Atlantic, the Caribbean Sea and the Gulf of Mexico. We added six additional intron 723 sequences including C. cf. anomala, C. cf. providentiae, C. porosa (all Indonesia), C. sp. 3 (Red Sea), C. sp. 4 (Morocco) and C. sp. 5 (Taiwan). The resulting Cinachyrella dataset covers subtropical-tropical areas from 1 to 90 m depth.
For the first time we discovered intron 723 in the Scleritodermidae (Microscleroderma, Aciculites, Setidium and Scleritoderma). Intron 870 was found in Tetilla quirimure from Brazil and Microscleroderma herdmani from the Indian Ocean (Mauritius), and the Pacific (Philippines and Hawaii). Huchon et al. [43] located intron 723 in combination with intron 870 in two families (Axinellidae and Agelasidae), while our study reveals this combination in three scleritodermid genera (Microscleroderma, Aciculites, Setidium).
Comparative intron and exon phylogenies of Tetractinellida
Phylogenetic reconstructions of the cox1 exon and the intron revealed a patchy distribution of intron insertions among the Scleritodermidae and Tetillidae and different levels of congruence among intron and exon phylogenies.
Conclusion
This study provides novel insights into the taxonomic distribution, diversity and mobility of mitochondrial group I introns in sponges, and validates the subclass Spirophorina (Tetractinellida), as an intron hotspot in sponges, notably by increasing the number of Tetillidae introns known by a factor of 5. We wonder whether this could be linked to a lower mt mutation rate in the Spirophorina with respect to other sponges, as suggested for some intron hotspot fungi groups [44]. We show that co-occurrence of two introns in cox1 is unique among metazoans, but not uncommon in sponges. However, this combination always associates a potentially active intron with a degenerating one. Earlier hypotheses of HGT were confirmed and for the first time VGT and secondary losses of introns conclusively demonstrated. Consequently, such a high level of HGT in combination with the relative low variation in case of VGT (e.g., intron 723, Fig. 9), rejects any alternative use of mt introns as phylogeographic markers. Since the majority of sponge introns encode a HEG in frame with the 5′ exon, activity of those introns is assumed. We further demonstrate that introns are not restricted to shallow water sponge species, but also occur in species from deeper (~500 m) habitats and extreme environments (mangroves and marine lakes). Conservation profile analysis reveals that all group I and possibly also group II intron insertions in sponges are located within the most conserved regions of their host protein, which may partly explain why they persist in their host genes. At the same time, we show that the currently used sponge barcoding primers are usually located in less conserved regions compared to the introns, but can also overlay intron insertion sites. Therefore, we recommend applying different primers (in particular reverse primers) when standard barcoding primers fail to amplify the cox1 gene. Finally, our study enhances the support for a fungal origin for the majority of introns in sponges.
Declarations
Acknowledgements
We greatly acknowledge Dennis V. Lavrov (Iowa State University, USA) for sharing the Microscleroderma sp. 2 cox1 intron sequence and Oliver Voigt (Dept. of Earth- & Environmental Sciences, LMU Munich, Germany) for providing scripts and support for secondary structure analysis. We greatly thank Eduardo Hajdu and Cristina Castello-Branco (Universidade Federal Do Rio De Janeiro, Brasil), Carsten Lüter (Museum für Naturkunde Berlin, Germany), Helmut Lehnert (Zoologische Staatssammlung München, Germany), Sigal Shefer and Yaniv Aluma (Tel Aviv University), Sadie Mills and Kareen Schnabel (National Institute of Water and Atmospheric Research, Wellington, New Zealand), Sara Griffiths (University of Manchester, UK), Cécile Debitus (IRD, Institut de Recherche pour le Développement, Marseille, France)France), Christopher J. Freeman (Smithsonian Marine Station, Fort Pierce, USA), Belkassem El Amraoui (University Ibn Zohr, Taroudant, Morocco) , Nadia Santodomingo (Natural History Museum, London), Nicole J. De Voogd (Naturalis Biodiversity Center), Yosephine Tuti (Indonesian National Institute of Sciences) and the governments of Ecuador, Commonwealth of the Bahamas, Panama, and Martinique (France) for sampling, sharing material and help in the collections. We thank Kyle Roebuck, Nidhi Vijayan and Marissa Wickes with help in sample preparation and shipping from Florida. We thank the Systematic Biology lab (Dept. of Organismal Biology, Uppsala University, Sweden) and Gabrielle Büttner and Simone Schätzle (Dept. of Earth- & Environmental Sciences, LMU Munich, Germany) for sequencing assistance. Finally, we want to thank the three anonymous reviewers for their helpful comments and suggestions.
Funding
This work was funded by the German Science Foundation (DFG) (grant number DFG ER 611/3-1, DFG Wo896/15-1); LMUMentoring Program; HELGE AX:Son JOHNSON STIFTELSE (Sweden), Inez Johanssons HT2012 (Uppsala University, Sweden) and Netherlands Organisation for Scientific Research (NWO) Veni#863.14.020.
Availability of data and material
New sequences from this study are stored at the European Nucleotide Archive (ENA) under the accession numbers LT628277-LT628366. All alignments generated during the current study are freely available at OpenDataLMU (doi:10.5282/ubm/data.98).
Authors' contributions
AS and PC conceived and designed the study. AS carried out PCR, sequencing, phylogenetic analyses and predicted the secondary structures. AS, LEB, MK, PC, and SAP identified the specimens. All authors contributed with samples and reagents. AS drafted the manuscript and figures. PC, JVL, SAP, GW and DE assisted in revising the MS. All authors approved the final version of the manuscript.
Competing interests
The authors declare that they have no competing interests.
Consent for publication
Not applicable.
Ethics approval and consent to participate
This study did not include protected or endangered species and requires no ethical approval. Collection permits in Indonesia were provided by the Indonesian Institute of Sciences (LIPI) and the Indonesian State Ministry of Research and Technology (RISTEK) to LEB: 0094/frp/sm/v/2009, 1810/FRP/SM/VIII/2008, 098/SIP/FRP/SM/V/2011). Collecting permits in Florida were provided by the Florida Fish and Wildlife Conservation Commission by a valid fishing license.
Publisher's Note
Springer Nature remains neutral with regard to jurisdictional claims in published maps and institutional affiliations.
Open AccessThis article is distributed under the terms of the Creative Commons Attribution 4.0 International License (http://creativecommons.org/licenses/by/4.0/), which permits unrestricted use, distribution, and reproduction in any medium, provided you give appropriate credit to the original author(s) and the source, provide a link to the Creative Commons license, and indicate if changes were made. The Creative Commons Public Domain Dedication waiver (http://creativecommons.org/publicdomain/zero/1.0/) applies to the data made available in this article, unless otherwise stated.
Authors' Affiliations
(1)
Department of Earth- & Environmental Sciences, Palaeontology and Geobiology, Ludwig-Maximilians-Universität München, Munich, Germany
(2)
Halmos College of Natural Sciences and Oceanography, Nova Southeastern University, Dania Beach, USA
(3)
Marine Animal Ecology, Wageningen University & Research Centre, Wageningen, The Netherlands
(4)
Naturalis Biodiversity Center, Marine Zoology Department, Leiden, The Netherlands
(5)
National Centre for Aquatic Biodiversity and Biosecurity, National Institute of Water and Atmospheric Research, Auckland, New Zealand
(6)
Harbor Branch Oceanographic Institute-Florida Atlantic University, Ft Pierce, USA
(7)
SNSB - Bavarian State Collections of Palaeontology and Geology, Munich, Germany
(8)
GeoBio-CenterLMU, Ludwig-Maximilians-Universität München, Munich, Germany
(9)
Department of Medicinal Chemistry, Division of Pharmacognosy, BioMedical Center, Uppsala University, Uppsala, Sweden