Research article

Open Access
Phenotypic disparity in Iberian short-horned grasshoppers (Acrididae): the role of ecology and phylogeny
BMC Evolutionary Biology
BMC series – open, inclusive and trusted
2017
17:109
Received: 30 January 2017
Accepted: 19 April 2017
Published: 4 May 2017
Abstract
Background
The combination of model-based comparative techniques, disparity analyses and ecomorphological correlations constitutes a powerful method to gain insight into the evolutionary mechanisms that shape morphological variation and speciation processes. In this study, we used a time-calibrated phylogeny of 70 Iberian species of short-horned grasshoppers (Acrididae) to test for patterns of morphological disparity in relation to their ecology and phylogenetic history. Specifically, we examined the role of substrate type and level of ecological specialization in driving different aspects of morphological evolution (locomotory traits, chemosensitive organs and cranial morphology) in this recent radiation.
Results
We found a bimodal distribution of locomotory attributes corresponding to the two main substrate type guilds (plant vs. ground); plant-perching species tend to exhibit larger wings and thicker femora than those that remain on the ground. This suggests that life form (i.e., substrate type) is an important driving force in the evolution of morphological traits in short-horned grasshoppers, irrespective of ancestry. Substrate type and ecological specialization had no significant influence on head shape, a trait that showed a strong phylogenetic conservatism. Finally, we also found a marginal significant association between the length of antennae and the level of ecological specialization, suggesting that the development of sensory organs may be favored in specialist species.
Conclusions
Our results provide evidence that even in taxonomic groups showing limited morphological and ecological disparity, natural selection seems to play a more important role than genetic drift in driving the speciation process. Overall, this study suggests that morphostatic radiations should not necessarily be considered as "non-adaptive" and that the speciation process can bind both adaptive divergence mechanisms and neutral speciation processes related with allopatric and/or reproductive isolation.
Keywords
Ecomorphology
Geometric morphometrics
Phenotypic evolution
Morphostatic radiation
Orthoptera
Tempo and mode
Background
Adaptive radiations, groups that have rapidly diversified from a common ancestor to exploit a wide suite of ecological niches, have intrigued evolutionary biologists for over a century [1, 2]. Considered as important biodiversity engines, these bursts of speciation are thought to arise from ecological opportunity in the form of vacant ecological niches that become available due to the colonization of new environments (spatial dispersal) or the acquisition of adaptive innovations that allow the access to novel niche dimensions (ecological dispersal) [3, 4]. Spatial and/or ecological dispersal can be driven by modifications of existing environments via climatic changes [4, 5]. When lineages first enter these new adaptive zones, morphological evolution should initially be rapid; as niche spaces become increasingly saturated, the rate of morphological evolution would be expected to slow down [6, 7]. A core prediction based on the above scenario (the so-called early-burst model) is the existence of early rapid diversification followed by a slowdown in net diversification over time [8–10]. Thereby, lineage and morphological diversification are frequently positively correlated [11, 12], but the opposite pattern (i.e., a negative relationship) has also been reported [13, 14]. Nevertheless, recent studies have shown that processes underlying phenotypic disparity and those generating species diversity can be uncoupled, suggesting that ecological opportunity is not the only diversification force [15–17]. For example, speciation by simple geographic isolation can generate a pattern of declining speciation trough time without the intervention of niche-filling processes [18]. On the other hand, speciation bursts can occur in multiple pulses linked to environmental changes (e.g., pulses of orogenic uplift or glacial retreat), thus eroding the diversity-dependent signature of diversification. This may explain why a large number of studies performed on radiating clades have failed to detect early-bursts of phenotypic evolution, despite some of them represent the most classic examples of adaptive radiation, including Darwin's finches from the Galapagos Islands and Anolis lizards of the Caribbean Islands (reviewed in [6]).
Recently, it has been recognized that there are many different types of evolutionary radiations and not all adaptive radiations conform to the early-burst model [19, 20]. For example, under a repeated radiation scenario, it is expected that subclades tend to resemble each other in morphological disparity and, contrary to that predicted under the early-burst paradigm, morphological evolution should not necessarily be initially rapid. This kind of adaptive radiation ("iterative radiation") may arise in systems dominated by constraints, such as when evolution within clades is driven by repeated adaptation to similar environments [21–23]. This model of radiation exemplifies that episodes of ecological opportunity can be recurring over the evolutionary history of a lineage [24]. Beyond the epithet "adaptive", non-adaptive radiations (or morphostatic radiations) constitute another form of radiation that remains largely unstudied [25–27]. Non-adaptive radiations arise through processes that are unrelated to niche exploitation and the resulting species usually exhibit low morphological disparity and allopatric distributions [28]. For example, non-adaptive radiations driven by sexual selection result in new species that are ecologically similar to their ancestors such are the case of Hawaiian Laupala crickets [29]. The boundaries of adaptive and non-adaptive radiations are sometimes diffuse and it has been suggested that both processes are extremes along a continuum [30]. Thus, some lineages may exhibit features consistent with these two concepts [31, 32].
Striking radiations showing extraordinary phenotypic divergence, most of them comprising clades with restricted geographic distributions such as islands or ancient lakes, are over-represented in the literature on evolutionary radiations [
33
] (Fig.
1
). Conversely, there is a paucity of studies analyzing the tempo and mode of trait evolution on species-rich clades that present little phenotypic disparity and that are more common among continental radiations. In this sense, recent radiations with limited morphological variability provide valuable case-studies for a comprehensive understanding of the evolutionary mechanisms that drive speciation (Fig.
1
). However, despite of morphostatic radiations are likely not the exception but the rule within many groups such as invertebrates, this form of radiation remains largely unstudied. Short-horned grasshoppers (Acrididae), a superfamily that comprises over 6600 species [
34
], provide an excellent opportunity to study disparification dynamics in an evolutionary radiation exhibiting little apparent adaptive phenotypic disparity. According to a recent study, this group seems to have undergone a significant increase in diversification rate with little extinction, with the major diversification events occurring during the Cenozoic after the Cretaceous-Paleogene boundary [
34
]. Song and colleagues [
34
] suggested that the emergence of a new niche space (open grasslands) during the Cenozoic and the subsequent colonization of new habitats may have prompted an explosive adaptive radiation in short-horned grasshoppers. Later, during the Pleistocene, the most speciose acridid subfamily (Gomphocerinae) may have undergone one or several independent radiations due to the evolution of complex species-specific acoustic signals in different clades [
35
]. Contrary to that predicted under the adaptive radiation model, short-horned grasshopper species do not seem to exhibit remarkable morphological adaptations to different feeding habitats and environments. The existence of a low degree of morphological variation does not necessarily imply an absence of adaptation to different microhabitats. For example, plethodontid salamanders show limited morphological diversification in spite of presenting an extensive array of ecotypes ranging from arboreal to aquatic or fossorial species [
36
,
37
]. Nevertheless, acridid grasshoppers seem to be rather conservative in microhabitat usage and, probably, the main differentiating factor among species is the substrate type wherein they perch; some species can be found on the plant canopy whereas others remain on the ground. Although most studies have focused on the relationship between microhabitat and morphology [
38
–
40
], it is likely that, at a finer scale, substrate type can also impose different selective pressures leading to the evolution of more or less subtle morphological and behavioral adaptations. The ability of species to exploit a range of habitats (niche breadth) could be also correlated to key morphological traits like forelimb length or cranial morphology as evidenced by studies on other taxa (see [
41
] and references therein).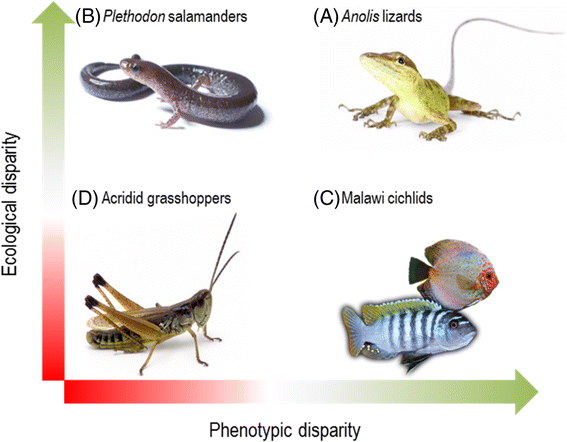 In the present study, we used a time-calibrated phylogeny of 70 species of Iberian short-horned grasshoppers to test for patterns of morphological disparity in relation to their ecology and phylogenetic history. Specifically, we aimed at testing whether the major morphological changes occurred early in the acridid's diversification history or if random-walk patterns ("morphological drift") or other processes (e.g., evolutionary constraints) have driven the diversification of phenotypic attributes in this group. We also examined the potential role of substrate use and the level of ecological specialization (i.e., niche breadth of a given species) in shaping morphological attributes (locomotory traits, chemosensitive organs and cranial morphology) in this invertebrate radiation. If substrate type and ecological specialization imposes a selective pressure across taxa, it would result in the same solution -phenotypic optima- multiple times, leading to convergence among species even between distantly-related clades.
Discussion
Like some examples of non-adaptive radiations (Plethodon: [36], Rattus: [32]), acridid grasshoppers tend to retain a rather conserved body plan with little overt ecomorphological specialization among taxa (Fig. 6). However, we observed a greater morphological disparity within Oedipodinae in comparison with that observed for the Gomphocerinae, suggesting that the level of morphological resemblance among species differ between the two subfamilies. Gomphocerinae (slant-faced grasshoppers) constitute a very recent radiation, which is suspected to be mostly the result of divergent evolution of isolated populations induced by climatic oscillations during the Pleistocene [42]. Some gomphocerine species spread out from southern refugia and expanded their ranges northwards during interglacials, whereas many others (montane species) became restricted to high altitudes ("sky-islands") due to their limited dispersal capacity [35, 86]. Hence, many Iberian species probably arose in association with these mountain ranges (Sistema Central, Betic ranges, Picos de Europa; [87]). At a smaller scale, the evolution of elaborate acoustic signals as premating reproductive isolation mechanisms (via sexual selection) may have allowed gomphocerine grasshoppers to diversify in regions in which ecologically similar and phylogenetically related species coexist [46, 86, 87]. Thus, it is likely that both divergence in allopatry [42, 86] and prezygotic isolation mechanisms [46, 88, 89] have played a crucial role in promoting speciation in this subfamily. However, our results should be interpreted cautiously because the present study assesses the dynamic of morphological evolution among a small fraction of the Acrididae' overall diversity. Thus, our findings may reflect local processes (i.e. factors that have affected which species can occur together in the same regional theatre) rather than global mechanisms that operate across the entire clade.
Patterns of morphological disparity through time
Our results do not support the existence of an early-burst of phenotypic diversification, adding to the number of study-cases showing no support for this evolutionary model [6, 7, 90, 91]. Obtained MDI values indicate that substantial amount of variance is clustered within subclades, pointing out to the existence of low phylogenetic niche conservatism. That is, there was no tendency of closely related species to be more similar to each other in ecomorphological traits than they are to more distant relatives as expected if some processes had constrained niche divergence among phylogenetically close species [92, 93]. This is in contrast to that predicted for taxa that experience early-bursts of diversification, where the partitioning of morphological disparity through time (disparification sensu [94]) is expected to be low [10, 82, 95]. Overall, DTT plots showed a general tendency for relative disparity in phenotypic attributes to decrease over time, but with two main pulses of increases in disparification during the Cenozoic and the Pleistocene. The observed pattern is not consistent with that predicted under an iterative radiation scenario wherein it should be expected the appearance of repeated diversification peaks [23]. The fact that acridids partitioned morphological disparity within rather than among clades suggests that acridid lineages did not evolve along distinct morphological trajectories through time. Thus, it is unlikely that acridid lineages explored different adaptive zones, which makes sense taking into account the limited morphological variability they exhibit.
Evolutionary models of morphological divergence
Overall, results from the multivariate model fitting analysis summarized in Table 1 favored an Ornstein-Uhlenbeck model, indicating bounded evolution around a single (OU1) or two phenotypic optima (OUVM). Specifically, in relation to head shape, we found that a single model does not uniquely explain the evolution of this trait for the entire dataset; BM and OUMV were similarly informative. However, when models of evolution were tested exclusively on the Gomphocerinae subset, BM was the most informative model. It suggests that head shape evolution displays an idiosyncratic component and that, irrespective of substrate on which they rest, Gomphocerinae species have a more conical head shape in comparison with band-winged grasshoppers due to their phylogenetic legacy. On the other hand, our results indicate that locomotory morphology in Acrididae is inconsistent with a BM process, and has not evolved under a constant rate over time. A multivariate-peak OU (OUMV) model provided the best fit in both cases (when considering all taxa and after including only Gomphocerinae), which means that the evolution of this trait revolves around adaptive peaks.
In this context, it is possible that biomechanical constraints, which underlie much of locomotory morphology variation, impose restrictions on morphological diversification [96–98]. Specifically, our results suggest that stabilizing selection pulls the locomotory morphology towards two convergent adaptive optima (θplant, θground) during the group's evolutionary history. A key difference between the two substrate type regimes in terms of locomotory attributes relies on the different degree of development of femora (which has influence on jumping performance) and wings (which determines flight capability) that each guild of species exhibit (see more below). Interestingly, we observed a negative relationship between relative forewing length and relative femur width/length ratio in Gomphocerinae (see Additional file 1: Figure S5) pointing out to the existence of a trade-off between flying- and jumping-based dispersal investments in this group. With regard to antenna length, a single-peak OU model was the model that provided the best fit to the observed data, suggesting that antennae evolution has remained constrained by directional selection.
Ecology-morphology association
We investigated the role of substrate type and level of ecological specialization in driving morphological evolution in our study group. The variation in structural characteristics within the habitat (substrate type, size and incline) has direct effects on animal locomotion and can lead to the evolution of morphological and behavioral adaptations (e.g., anti-predator strategies) [99]. For example, stick insects (order Phasmatodea) of New Caledonia and New Guinea ("land lobsters") are ground-dwelling species and show a distinct ecomorph; they are flightless and exhibit a stocky body form and thick hind legs. This is in contrast with the majority of stick insects, which are solitary canopy-dwellers and show an instantly recognizable morphology (stick-like bodies with large and thin legs) [100]. In particular, substrate type may be especially important for small animals that jump using a catapult-like system such as grasshoppers and leafhoppers [101]. Here, we found that plant-perching grasshoppers tend to exhibit a slender morphology in comparison with those species that prefer to stay on the ground, which show a more compressed body (shorter and thicker femora). This result is consistent with that reported by [58] in a study with leafhoppers. These authors suggested that insect species that jump from plants have longer legs because it reduces the amount of energy lost to bending the leaf, whereas species that jump from a stiffer substrate can have shorter-legs [58]. Hence, in species living on plants, natural selection would have favored long hind legs because these allow short preparation times when an emergency jump is necessary [102]. The existence of moderate differences in morphology between ground-dwelling and plant-perching species was confirmed when restricting our analyses to the Gomphocerinae subset. Despite of members of the subfamily Gomphocerinae exhibit low variability in morphology (and as a result of this phenotypic conservatism some species can be almost only distinguished by song attributes), gomphocerine species perching on plants tend to present a less rotund morphology -larger and thinner legs- in comparison with gomphocerine species that prefer to stay on the ground, which show squat bodies and short limbs. Our results suggest that there are two possible ways to achieve superior jumping capabilities: to evolve longer limbs or to evolve more muscular limbs (as stronger legs will produce more acceleration) [102]. This finding is in agreement with that reported by [96] in a study with anole species, which also seem to face trade-offs that prevent them from simultaneously optimizing different skills of jumping ability (larger vs. thicker legs).
Head shape differed significantly between ground- and plant-species across taxa. Plant-perching species show a sharper head than ground-species, which may be favored by natural selection as this head shape facilitates camouflage against potential predators by making it difficult to see the mimic against the surroundings (i.e., background matching) [103]. However, this difference between both categories become non-significant within the Gomphocerinae, which implies that differences in head shape between ground- and plant-species have to do with its different phylogenetic history per se rather than with the possible existence of a substrate type effect. In band-winged grasshoppers (subfamily Oedipodinae), the orientation of the face is usually nearly vertical (straight head shape) whereas species of the subfamily Gomphocerinae (also known as slant-faced grasshoppers) show a sharper profile, that is, a more conical head.
Lastly, we also found a marginally significant association between the relative length of antennae and the level of ecological specialization. Larger antennae can bear a higher number of chemoreceptors, which would be favorable for grasshoppers in the search for shelter or food [104]. Hence, in those species that can thrive only in a limited range of habitats or have a limited diet (specialist species), the development of sensory organs may be favored, whereas in species with a broader ecological niche breadth (generalist species) selection for larger antennae may be weaker. Thus, the length of antennae in short-horned grasshoppers could be employed as a proxy for the degree of ecological specialization in terms of habitat requirements of a given species.
Conclusions
Short-horned grasshoppers exploit a variety of habitats, but lack the extreme specializations ("ecomorphs") observed in other taxa (see Fig. 1). Accordingly, at a first glance, it seems that acridid grasshoppers exhibit a conservative and "all-purpose" morphology allowing them to perform equally well under different environments, which is contrary to one of the premises that are frequently used to catalogue a radiation as adaptive [19, 105]. However, in this study we provide evidence that natural selection could lead to a convergent body plan in very distant clades in this recent radiation [106]. Specifically, we found substrate type-related macroevolutionary variation in locomotory attributes and head morphology. The observed pattern was consistent with an evolutionary scenario with two adaptive peaks (selective agents) related to life-form (i.e., substrate type; plant vs. ground). Thus, these findings suggest that, although this radiation does not meet the conditions to be classified as adaptive sensu stricto (at least in comparison with textbook examples of rapid adaptive radiations such as Madagascan vangas and tetragnathid spiders on the Hawaiian Islands), it provides evidence that natural selection can act on a very small scale, and therefore it is not always detectable. So, even in a priori morphostatic radiations, adaptive processes can lead to subtle phenotypic variation. Hence, our results support the notion that ecological factors play a key role in evolutionary processes by acting as selective mechanisms and by imposing constraints that shape morphological traits [107]. In sum, this study highlights that natural selection, and not genetic drift, constitutes the main factor driving the disparification process in this recent radiation despite of the lack of apparent phenotypic and ecological variability. This calls into the question the use of term "non-adaptive" as synonymous with "morphostatic" since the total absence of an adaptive component seems to be unlikely in any radiation.
Declarations
Acknowledgements
We thank A. Hidalgo, C. Cáliz and M.J. González-Serna for their help with field work and genetic analyses. D. Chobanov and one anonymous reviewer provided useful and valuable comments on an earlier draft of this manuscript. We acknowledge support of the publication fee by the CSIC Open Access Publication Support Initiative through its Unit of Information Resources for Research (URICI).
Funding
VGN was supported by a "Juan de la Cierva" fellowship (FPDI-2013-16,828). VN was supported by a FPI PhD studentship (BES-2012-053741). JO was supported by a "Ramón y Cajal" research fellowship (RYC-2013-12,501). This work received financial support from the Spanish Ministry of Economy and Competitiveness (CGL2014-54671-P).
Availability of data and materials
The concatenated matrix and the MCC tree are available in LabArchives (DOI 10.6070/H4FF3QFM and 10.670/H49S1P35, respectively). All other data supporting the results of this article are included within the article and its Additional files.
Authors' contributions
VGN had the original idea for the study. VGN and JO designed the research. JO, PJC and VN collected the samples. JO supervised the genetic analyses. VGN carried out the analyses, interpreted the results and wrote the manuscript with inputs from JO, PJC and VN. All authors read and approved the final version.
Competing interests
The authors declare that they have no competing interests.
Consent for publication
Not applicable.
Ethics approval
This study did not require ethical approval. Specimens were collected under license from Spanish regional authorities.
Publisher's Note
Springer Nature remains neutral with regard to jurisdictional claims in published maps and institutional affiliations.
Open AccessThis article is distributed under the terms of the Creative Commons Attribution 4.0 International License (http://creativecommons.org/licenses/by/4.0/), which permits unrestricted use, distribution, and reproduction in any medium, provided you give appropriate credit to the original author(s) and the source, provide a link to the Creative Commons license, and indicate if changes were made. The Creative Commons Public Domain Dedication waiver (http://creativecommons.org/publicdomain/zero/1.0/) applies to the data made available in this article, unless otherwise stated.
Authors' Affiliations
(1)
Department of Integrative Ecology, Estación Biológica de Doñana (EBD-CSIC), Seville, Spain
(2)
Grupo de Investigación de la Biodiversidad Genética y Cultural, Instituto de Investigación en Recursos Cinegéticos IREC (CSIC-UCLM-JCCM), Ciudad Real, Spain