Research article
Open Access
Geographical structure of endosymbiotic bacteria hosted by Bathymodiolus mussels at eastern Pacific hydrothermal vents
BMC Evolutionary Biology
BMC series – open, inclusive and trusted
2017
17:121
Received: 21 March 2017
Accepted: 12 May 2017
Published: 30 May 2017
Abstract
Background
Chemolithoautotrophic primary production sustains dense invertebrate communities at deep-sea hydrothermal vents and hydrocarbon seeps. Symbiotic bacteria that oxidize dissolved sulfur, methane, and hydrogen gases nourish bathymodiolin mussels that thrive in these environments worldwide. The mussel symbionts are newly acquired in each generation via infection by free-living forms. This study examined geographical subdivision of the thiotrophic endosymbionts hosted by Bathymodiolus mussels living along the eastern Pacific hydrothermal vents. High-throughput sequencing data of 16S ribosomal RNA encoding gene and fragments of six protein-coding genes of symbionts were examined in the samples collected from nine vent localities at the East Pacific Rise, Galápagos Rift, and Pacific-Antarctic Ridge.
Results
Both of the parapatric sister-species, B. thermophilus and B. antarcticus, hosted the same numerically dominant phylotype of thiotrophic Gammaproteobacteria. However, sequences from six protein-coding genes revealed highly divergent symbiont lineages living north and south of the Easter Microplate and hosted by these two Bathymodiolus mussel species. High heterogeneity of symbiont haplotypes among host individuals sampled from the same location suggested that stochasticity associated with initial infections was amplified as symbionts proliferated within the host individuals. The mussel species presently contact one another and hybridize along the Easter Microplate, but the northern and southern symbionts appear to be completely isolated. Vicariance associated with orogeny of the Easter Microplate region, 2.5–5.3 million years ago, may have initiated isolation of the symbiont and host populations. Estimates of synonymous substitution rates for the protein-coding bacterial genes examined in this study were 0.77–1.62%/nucleotide/million years.
Conclusions
Our present study reports the most comprehensive population genetic analyses of the chemosynthetic endosymbiotic bacteria based on high-throughput genetic data and extensive geographical sampling to date, and demonstrates the role of the geographical features, the Easter Microplate and geographical distance, in the intraspecific divergence of this bacterial species along the mid-ocean ridge axes in the eastern Pacific. Altogether, our results provide insights into extrinsic and intrinsic factors affecting the dispersal and evolution of chemosynthetic symbiotic partners in the hydrothermal vents along the eastern Pacific Ocean.
Keywords
Chemosynthetic symbiosisDeep-sea hydrothermal vent Bathymodiolus musselsSulfur-oxidizing endosymbiontGammaproteobacteriaGeographical population structure
Background
Symbiosis involving chemoautolithotrophic bacteria plays a predominant role supporting the diverse invertebrate fauna that flourishes at deep-sea hydrothermal vents, hydrocarbon seeps, whale and wood falls, and organically enriched shallow water sediments [1]. The invertebrate animals use three different means to acquire the symbionts. For example, vent clams in the family Vesicomyidae, transmit their bacteria vertically through an ovarial pathway [2–4], though some species might acquire bacteria laterally from unrelated hosts or from the environment, a process known as leaky vertical transmission [5]. Most chemosymbiotic taxa, such as the iconic vent tubeworm Riftia pachyptila, acquire their symbionts horizontally via infections by a free-living stage of microbe [6]. Various transmission modes pose different trade-offs (reviewed in [7]). Vertical transmission provides 'symbiont assurance' resulting in the joint dispersal of hosts and symbionts, but it might constrain host species to a narrow ecological niche. Horizontal acquisition risks the failure of dispersing propagules acquiring the 'right kind' of bacteria when they settle in new habitats, but it creates opportunities to adopt diverse locally adapted strains of symbiotic bacteria wherever they settle [8, 9]. Because leaky vertical transmission involves vertical and horizontal components, it allows hosts to replace their symbionts with locally optimal strains, but it also engenders a risk of infections by "cheater" strains and pathogens [7]. Although numerous studies have examined the population genetics and geographical connectivity of various invertebrate hosts (reviewed in [10]), only a few studies have examined their bacterial partners [11–16]. Often the genetic markers employed to study the symbionts were limited in number and too conservative to adequately discern fine-scale geographical structure.
Herein, we attempt to assess geographical structure and dispersal of horizontally transmitted chemosynthetic bacteria hosted by parapatric sister-species of Bathymodiolus mussels. Various members of the mytilid subfamily Bathymodiolinae that commonly dominate vent and seep communities worldwide host a diverse suite of chemoautotrophic eubacteria capable of oxidizing H2S, CH4 or H2 gases [17–24]. Apparently, their exceptional capacity for adopting phylogenetically diverse and locally adapted strains of bacteria has contributed to their rapid global radiation during the Middle Eocene and Early Oligocene Epochs [9, 25].
A combination of microscopy and molecular evidence indicate that bathymodiolin larvae acquire their endosymbionts from the environments in which they settle [8, 9, 26–29]. Initial infections of larvae occur in a range of epithelial tissues and then shift to the developing gills, where the bacteria proliferate [30–32]. Researchers hypothesized that dispersing mussel larvae might carry hitchiking symbionts from natal sites to new habitats in which they settle [8], but the genetic evidence was insufficient and inconclusive. Regardless, environmental symbiont acquisition renders bathymodiolins susceptible to metabolic cheaters and pathogens [7], but successful infections appear to be highly specific to potential symbiont species [31]. Unlike the experimentally tractable legume/rhizobium system [33–35], signalling pathways and metabolic interactions that control specificity have not been investigated in the mussel/symbiont mutualism.
The goal of this study was to determine whether geographic barriers known to act on subdivision of the
Bathymodiolus
host species also govern genetic structure of the thiotrophic endosymbionts. Closely related sister-species of mussels are abundant at southeastern Pacific vents (Fig.
1
).
Bathymodiolus thermophilus
Kenk & Wilson 1985, occupies the Galápagos Rift (GAR, at 0° latitude) and East Pacific Rise (EPR, between 13°N latitude and 18°S), whereas
Bathymodiolus antarcticus
Johnson, Won, Harvey, and Vrijenhoek 2013, occupies a northeastern extension of Pacific-Antarctic Ridge (PAR, between 32and 38°S latitude). The host species contact one another and hybridize at 23°S along the northwestern margin of the Easter Microplate [
36
]. Strong cross-axis currents intersect the ridge axes in this uplifted region, creating dispersal barriers for a number of vent-restricted animals (reviewed in [
10
]). However, a gap exists in our knowledge about the symbiotic bacteria hosted by these
Bathymodiolus
sister-species, particularly with respect to their host specificity and biogeographic population structure. Although the northern species,
B. thermophilus
, is known to harbor a single thiotrophic symbiont species [
37
], symbionts associated with the southern species,
B. antarcticus
are poorly understood. To ascertain whether the southern mussel is infected by the same symbiont species, and if physical barriers to dispersal similarly impede the northern and southern symbiont populations, we used high-throughput DNA sequencing of the
16S
rRNA encoding gene and six protein-coding genes isolated from symbiotic bacteria sampled throughout the known ranges of their mussel hosts. We applied anlaysis of molecular variance (AMOVA) methods to estimate the proportions of symbiont genetic diversity: (1) contained between the northern and southern regions; (2) contained within population samples within regions; and (3) housed within individual host mussels.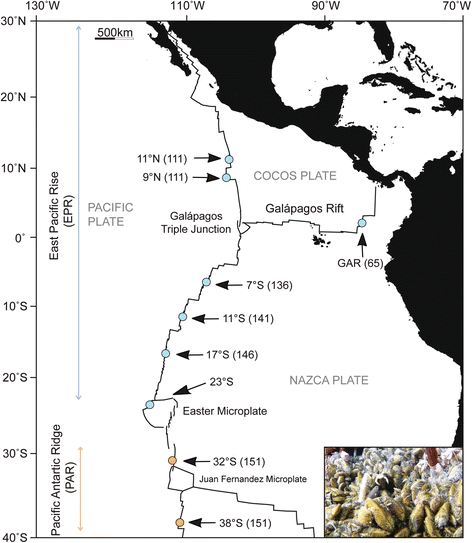 Discussion
The realization that B. thermophilus hosts a single thiotrophic symbiont species was identified by reverse transcription sequencing of small subunit rRNA with oligonucleotide primers [37]. Subsequent molecular studies confirmed this result [27], but the PCR/direct sequencing methods used in these studies have limited power to detect rare strains or species. The present high-throughput metagenomics analysis revealed that B. antarcticus and B. thermophilus both host a single overwhelmingly predominant 'ribospecies' of thiotrophic Gammaproteobacteria. We loosely use term 'ribospecies' [50, 51] to denote a grouping of 16S rRNA phylotypes that share ≥97% sequence similarity.
Nonetheless, extensive sequence variation in six protein-coding genes revealed that this symbiont 'ribospecies' comprised two highly divergent evolutionary lineages that were geographically separated by the Easter Microplate, corresponding with parapatric distributions of the B. thermophilus and B. antarcticus hosts. On average, 80% of the protein-coding sequence diversity was contained in differences between these symbiont lineages and 17.2% resided in the differences within vent fields. Only 2.9% of the total diversity occurred among vent fields within geographical regions, but this small variance component manifested an Isolation-by-Distance (IBD) signal that was significant even after hierarchical subdivision was taken into account. Remarkably, an IBD pattern was not found in the Bathymodiolus hosts [36, 52]. Therefore, the bacteria appeared to exhibit more limited "realized" dispersal than the mussel hosts, which produce relatively long-lived planktotrophic larvae [53]. Johnson et al. [36] reported that B. antarcticus and B. thermophilus mussels contact one another and hybridize at 23°S, but we found no evidence that corresponding symbiont lineages were mixed at this locality. They also reported evidence for asymmetrical introgression of southern B. antarcticus alleles into northern B. thermophilus, but the northern and southern symbionts appear to be completely isolated. Our examination of host and symbiont genotypes in a sample of eight mussels from the hybrid zone provided no evidence for a host/symbiont specificity. Instead, we only found the northern symbiont lineage, despite the existence of some mussels with a large proportion of B. antarcticus genes (Fig. 3). The apparent absence of southern symbionts at this locality suggests the possibility of complete geographical isolation of the symbiont stains across the Easter Microplate region. Although, we do not know how these bacteria disperse, the present evidence does not support a hypothesis that the symbionts might be transported with dispersing mussel larvae [8].
The Easter Microplate boundary acts as a variable dispersal filter for a number of vent-restricted taxa. It separates sister-species pairs of bythograeid crabs [54, 55], and lepetodrilid limpets [56]. The boundary also separates genetically differentiated metapopulation segments of the siboglinid tubeworm Tevnia jerichonana, and the alvinellid palmworm Alvinella pompejana, but the degrees of differentiation do not warrant species recognition [57, 58]. In contrast, it is not associated with differentiation in Branchipolynoe symmytilida, a polynoid annelid that resides in the mantle cavities of mussels [59], or Riftia pachyptila, the giant siboglinid tubeworm that is emblematic of vents [60]. The isolating potential of this boundary is taxon-specific, reflecting complex interactions between the unique life histories of species, their historical distributions throughout southeast Pacific, and metapopulation processes related to regional extinctions, recolonization events, range expansions, and dispersal modes (reviewed in [10]).
Little is known, however, about the life history of these mussel symbionts. A free-living stage has been identified in vent habitats [42], and the early stages of infection was identified in juvenile mussels [31, 32, 61]. However, it is unknown if the symbiotic stages recycle to the free-living demographic component, as occurs in a siboglinid tubeworm symbiont [62]. Although the symbionts and mussel hosts might experience independent demographic processes, they appear to have experienced similar biogeographical histories. Orogeny of Easter Microplate region probably played a common role in vicariance of their northern and southern populations. This small tectonic plate is estimated to have formed 2.5 to 5.3 million years ago [47, 48] (Fig. 1). Its east and west rifts are connected by northern and southern transform faults [63]. Topographically elevated seamount chains extending east and west of the Microplate are believed to interrupt deep-ocean circulation, creating strong cross-ridge axis currents in the Easter Microplate region [64]. Empirical evidence based on the oceanic distribution of unique vent gases (i.e. Helium-3) supports the ocean circulation models [65]. Consequently, Won et al. [66] hypothesized that the strong cross-axis currents in this region create a contemporary barrier to dispersal for many vent-restricted animals, and particularly for species like mussels that produce planktotrophic larvae. Furthermore, the southern EPR and PAR exhibit superfast tectonic spreading rate of 141–151 mm/yr [67] that are believed to control the rate of habitat turnover in these regions [10, 68]. Regional differences in tectonic and volcanic activities could alter local geochemical conditions that, in turn, might affect the reduced allelic diversity of soxA in the SEPR and PAR endosymbionts (Additional file 6: Table S7). Further research on vent geochemistry in this region might shed some light on factors affecting the physiological ecology of these symbionts and their mussel hosts.
Assuming a 2.5–5.3 million-year (MY) time to the most recent common ancestor of the northern and southern symbiont lineages, we estimated synonymous substitution rates for the six protein-coding genes. The estimated range of rates, 0.77–1.62% per site per MY (Table 5), is comparable to estimates for synonymous substitution in other bacteria: 0.45% for genomic and 0.6–0.8% for protein-coding in E. coli [69, 70]; 0.82% for genomic and 0.39–0.8% for elongation factor Tu (tuf) in Buchnera [69, 71]. The estimated nonsynonymous substitution rates for Bathymodiolus endosymbionts (0.01–0.023% per site per MY, Table 5) were almost identical to rates for the tuf gene in Buchnera (0.013–0.025%, [71]).
Divergence of the northern and southern symbiont lineages was characterized by numerous fixed and polymorphic substitutions at synonymous sites. Only one fixed nonsynonymous substitution was found among the six nuclear gene fragments (Additional file 1: Table S6). The data provided insufficient statistical power to test for adaptive differentiation between the northern and southern symbiont alleles at these loci. Nonetheless, an absence of evidence for natural selection acting on these alleles does not preclude adaptive divergence between the northern and southern symbionts. The lineages might be differentially adapted to EPR and PAR environments or genetically co-adapted with their B. thermophilus and B. antarcticus hosts. Bathymetric variation probably does not contribute to divergence, as all the sampled sites fell within a narrow depth range of 2236–2747 m (Table 1C), but detailed comparative information about geochemical conditions in the two regions is lacking (e.g., [72–74]). Differentiation in the communities of Gamma- and Epsilon-proteobacteria hosted by western Pacific vent gastropods of the genus Alviniconcha to be triggered by local patchiness and regional scale differences in vent geochemistry [14]. Yet, Alviniconcha snails differ greatly from B. thermophilus and B. antarcticus mussels, which host a single predominant 'ribospecies' of Gammaproteobacteria. Perhaps the excess of synonymous substitutions observed in the present sample of genes from this bacterium only represents neutral differentiation between historically isolated populations. Although several physiological studies have been conducted for these uncultivable symbionts [75–77], comparative studies of temporal and spatial variation in vent biogeochemistry have not been undertaken. Examining a larger sample of protein-coding loci in these mussels or a very large number of genome-wide single nucleotide polymorphisms (SNPs) might provide the statistical power needed to conduct tests for adaptive differentiation (e.g., [78, 79]).
As previously noted,
Bathymodiolus
mussels acquire thiotrophic endosymbionts via infection by free-living stages that occur in the local environment. High levels of differentiation among host individuals within vent samples (35.28% of total variation; Table
4B
) versus low differentiation among vent samples within a region (2.89% of total variation; Table
4A
) appears to be anomalous, unless infections are a stochastic consequence of small-scale temporal and spatial genetic heterogeneity of the free-living bacterial strains (Fig.
4
). Poisson sampling of the free-living bacterial population seems likely if they are relatively scarce. Fontanez and Cavanaugh [
42
] reported densities of ~1.8 × 10
6
free-living bacteria with the appropriate ribotypes living in biofilms on basaltic blocks experimentally deployed at western Pacific hydrothermal vents. Ambient seawater sampled near adult mussels contained lower densities (~1.74 × 10
5
/l) that declined with distances from the
Bathymodiolus
patch. Once settling mussel larvae are infected, rapid proliferation of the bacteria would greatly enrich the abundance of a small number founding strains (e.g., [
31
,
32
]).
Bathymodiolus
adults from the Mid-Atlantic Ridge were estimated to host ~2.5 × 10
12
symbionts per individual [
61
]; thus, the high variance among host individuals probably reflects initial sampling bias associated with infections and secondary biases that accrue during enrichment. A random sample of host individuals from a given locality averages these individual sampling biases and provides a better estimate of strain frequencies at that locality. As long as the mussels were not sampled from a single potentially aberrant patch, these averages would explain the low among-locality variation along a ridge axis.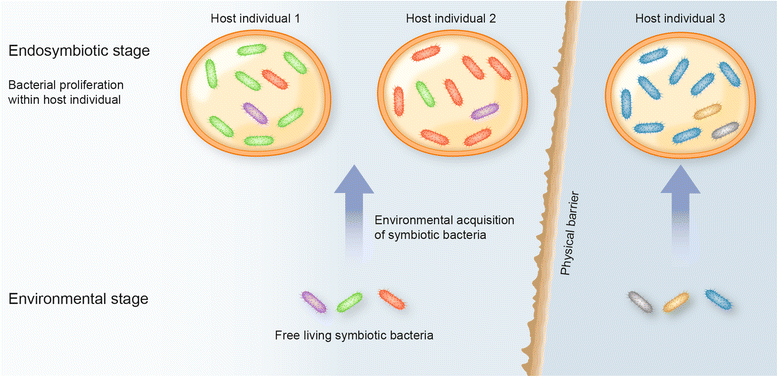 The adage, "Everything is everywhere, but the environment selects" ([80], p. 15), provides a useful and potentially falsifiable starting hypothesis for studies of microbial diversity [81]. Are the pre-infectious thiotroph strains identified in this study distributed evenly throughout a vent field, or does small-scale environmental heterogeneity in geochemical conditions favor different strains? The genetic composition of pre-infectious stages remains unknown, but small-scale heterogeneity in the chemistry of Bathymodiolus habitats, diffuse-flow low-temperature vents, does influence the distribution of free-living bacteria [82]. Habitat patchiness might contribute to the symbiont variance among host individuals in most of the samples. Conversely, the low among-host variance observed at 17and 38°S might have resulted from sampling of mussels from a single patch (Additional file 6: Table S7). Multiple sample chambers have been used with ROVs to characterize the small-scale patchiness in the symbionts hosted by siboglinid tubeworms and Alviniconcha snails [14, 15]. Unfortunately, they were not available on HOV Alvin during our 1999 through 2005 expeditions. Consequently, the present study represents a starting point for addressing these difficult questions. More directed efforts must be made to isolate biological subsamples and obtain corresponding biogeochemical data from discrete environmental patches, a goal for future studies.
Conclusions
The previous understanding of extrinsic and intrinsic factors affecting the dispersal and evolution of chemosynthetic symbiotic partners has been mostly limited to invertebrate hosts due to the difficulties in sampling and culturing of the bacteria. Here, we attempted to overcome these methodological challenges through the combination of parallel DNA pyrosequencing, highly variable genetic markers, and appropriate geographical sampling of horizontally transmitted thiotrophic endosymbiotic bacteria of deep-sea hydrothermal vent invertebrate hosts, Bathymodiolus mussels (Mollusca: Mytilidae), in the eastern Pacific Ocean. The community analysis based on sequences of slowly evolving 16S rRNA encoding gene confirmed that all the host individuals belonging to two allopatric host species, northern B. thermophilus and southern B. antarcticus, harbor the same numerically dominant thiotrophic Gammaproteobacteria. However, anlaysis of molecular variance of the variable sequences of six protein-coding genes of the endosymbionts revealed a strong genetic disconnection due to the formation of the Easter Microplate, which is also responsible for the subdivision of allopatric host species. We found no evidence for adaptive differentiation between the northern and southern symbiont groups but Isolation-by-Distance in the protein-coding genes. The age of Easter Microplate, 2.5–5.3 million years ago, enabled us to estimate synonymous substitution rates of the protein-coding genes, 0.77–1.62%/nucleotide/million years, which turned out to be remarkably similar to those of E. coli and endosymbionts of aphids. Finally, the unexpected high heterogeneity of symbiont sequences among host individuals sampled from the same location suggested that stochasticity associated with initial infections was amplified as symbionts proliferated within the host individuals.
Abbreviations
16S rRNA:

16S ribosomal RNA
AMOVA:

Analysis of molecular variance
COI :

Cytochrome C oxidase subunit I
dnaK :

Chaperone protein
EPR:

East Pacific Rise
GAR:

Galápagos Rift
HOV:

Human occupied vehicle
IBD:

Isolation-By-Distance
MID:

Multiplex Identifier sequences
MY:

million years
PAR:

Pacific-Antarctic Ridge
pgi :

Glucose-6-phosphate isomerase
pykF :

Pyruvate kinase
rpoD :

RNA polymerase, sigma D factor
SEPR:

southern East Pacific Rise
soxA :

Sulfur oxidation protein A
Declarations
Acknowledgments
We thank the HOV Alvin pilots and crewmembers of the R/V Atlantis (Woods Hole Oceanographic Institution) for their expertise and able assistance at sea.
Funding
This work received funding from the following institutions: the Korea Polar Research Institute (KOPRI) (grants number PP13040 and PE15050) and the National Research Foundation of Korea (NRF) grant funded by the Korea government (MSIP) (grant number NRF-2015R1A4A1041997) to YJW; the United States National Science Foundation (OCE8917311, OCE9217026, OCE-9529819, OCE9910799, OCE-0241613) to RCV.
Availability of data and materials
The data set supporting the results of this article is available in the Dryad repository, http://dx.doi.org/10.5061/dryad.d3r64 [83], and GenBank, KX987235-KX987241.
Authors' contributions
Conceived and designed the study: PTH, EP, RCV, YJW. Performed the field work: RCV, YJW. Data generation of DNA sequences: EP, SGH. Analyzed the data: PTH, SJJ, KK, SGH, EHK. Wrote the paper: PTH, SGH, RCV, YJW. All authors read and approved the final manuscript.
Competing interests
The authors declare that they have no competing interests.
Consent for publication
Not applicable.
Ethics approval
Permission for sampling the species in the US and Korea was not necessary. Animals were frozen and/or preserved in ethanol.
Publisher's note
Springer Nature remains neutral with regard to jurisdictional claims in published maps and institutional affiliations.
Open AccessThis article is distributed under the terms of the Creative Commons Attribution 4.0 International License (http://creativecommons.org/licenses/by/4.0/), which permits unrestricted use, distribution, and reproduction in any medium, provided you give appropriate credit to the original author(s) and the source, provide a link to the Creative Commons license, and indicate if changes were made. The Creative Commons Public Domain Dedication waiver (http://creativecommons.org/publicdomain/zero/1.0/) applies to the data made available in this article, unless otherwise stated.
Authors' Affiliations
(1)
Interdisciplinary Program of EcoCreative, The Graduate School, Ewha Womans University, Seoul, Korea
(2)
Division of EcoScience, Ewha Womans University, Seoul, Korea
(3)
Division of Polar Life Sciences, Korea Polar Research Institute, Incheon, Republic of Korea
(4)
Monterey Bay Aquarium Research Institute, Moss Landing, USA