Research article
Open Access
Distinct genetic differentiation and species diversification within two marine nematodes with different habitat preference in Antarctic sediments
BMC Evolutionary Biology
BMC series – open, inclusive and trusted
2017
17:120
Received: 9 December 2016
Accepted: 12 May 2017
Published: 30 May 2017
Abstract
Background
Dispersal ability, population genetic structure and species divergence in marine nematodes are still poorly understood, especially in remote areas such as the Southern Ocean. We investigated genetic differentiation of species and populations of the free-living endobenthic nematode genera Sabatieria and Desmodora using nuclear 18S rDNA, internal transcribed spacer (ITS) rDNA, and mitochondrial cytochrome oxidase I (COI) gene sequences. Specimens were collected at continental shelf depths (200–500 m) near the Antarctic Peninsula, Scotia Arc and eastern side of the Weddell Sea. The two nematode genera co-occurred at all sampled locations, but with different vertical distribution in the sediment. A combination of phylogenetic (GMYC, Bayesian Inference, Maximum Likelihood) and population genetic (AMOVA) analyses were used for species delimitation and assessment of gene flow between sampling locations.
Results
Sequence analyses resulted in the delimitation of four divergent species lineages in Sabatieria, two of which could not be discriminated morphologically and most likely constitute cryptic species. Two species were recognised in Desmodora, one of which showed large intraspecific morphological variation. Both genera comprised species that were restricted to one side of the Weddell Sea and species that were widely spread across it. Population genetic structuring was highly significant and more pronounced in the deeper sediment-dwelling Sabatieria species, which are generally less prone to resuspension and passive dispersal in the water column than surface Desmodora species.
Conclusions
Our results indicate that gene flow is restricted at large geographic distance in the Southern Ocean, which casts doubt on the efficiency of the Weddell gyre and Antarctic Circumpolar Current in facilitating circum-Antarctic nematode species distributions. We also show that genetic structuring and cryptic speciation can be very different in nematode species isolated from the same geographic area, but with different habitat preferences (surface versus deeper sediment layers).
Keywords
AntarcticaContinental shelfCryptic species Desmodora DispersalNematodaPhylogenyPopulation genetics Sabatieria
Background
Marine nematodes are the most abundant metazoan inhabitants of seafloor sediments and estimates of total marine species numbers (including parasites) are believed to exceed 50,000 [1]. Yet most of this diversity remains undescribed due to the difficult and time-consuming taxonomy, and logistically challenging sampling in remote (e.g., deep-sea) environments [2, 3]. To date, the number of described nematode species in the marine environment is ca. 12,000 (of which 6900 are free-living; [1]), which obviously covers only a limited fraction of total estimates [4, 5]. As a consequence, accurate characterisation of species diversity and biogeographic distributions for this highly abundant phylum is currently lacking and the study of macroecological patterns is inevitably limited to genus-level data. Additionally, the observation of extensive cryptic species diversity in species with different life history traits [6–11] further hampers correct estimation of global and local species diversity. Globally distributed nematode species may in fact constitute a series of cryptic species with more restricted geographic distribution for which morphological differences are not readily observable [7]. Coexistence of such cryptic nematode species at local scales may then partly be driven by differential ecological tolerances, preferences for abiotic factors and/or resource differentiation [12–14]. A profound understanding of species-specific preferences and life history traits (e.g., habitat preference, dispersal ability), in combination with knowledge on physical drivers of connectivity among marine populations (e.g., hydrodynamic forces, habitat characteristics) is thus imperative in the study of nematode species distribution patterns across various spatial scales and habitats.
The marine environment presents few obvious barriers to gene flow, and this has led to predictions of little genetic structure of marine species over large spatial scales [15], and speciation being mainly driven by broad-scale allopatric processes (e.g., [16, 17]). Alternatively, speciation in the sea can proceed without absolute barriers to gene flow along ecological boundaries, when divergent selection overwhelms the homogenising effect of gene flow (sympatric speciation; [18, 19]). In the Southern Ocean, genetic exchange between locations around the continent may be facilitated by the eastward Antarctic Circumpolar Current (ACC) and westward Antarctic Coastal Current (ACoC) systems, as well as the Weddell gyre [20–22]. Several Antarctic marine benthic invertebrates indeed have circum-Antarctic and eurybathic distributions (e.g., [23, 24]), reflecting a long history of isolation from other water masses and migrations up and down the slope during glacial cycles [22, 25]. However, evidence from DNA markers showed that their populations present substantial genetic differentiation and may be isolated over smaller spatial scales and depth ranges than previously thought [25, 26].
In this study, we investigate the phylogeographic and population genetic structure of species from two marine nematode genera (
Sabatieria
Rouville, 1903 and
Desmodora
de Man, 1889) in the Antarctic using mitochondrial (cytochrome
c
oxidase subunit 1, COI) and nuclear (internal transcribed spacer (ITS) rDNA and small subunit (18S) rDNA) markers. Both types of molecular markers have been successfully applied in previous phylogenetic and population genetic studies of free-living nematodes (e.g., [
2
,
3
,
7
,
8
,
27
–
29
]), and – in absence of more variable alternatives – continue to serve as molecular markers for nematodes [
30
]. Spatial scale ranged from a few kilometres to >2000 km, comprising five locations at shelf depths spread along the Scotia Arc, Antarctic Peninsula and Weddell Sea (Fig.
1
). The two genera are abundant and cosmopolitan in marine environments and have more than 100 described species each [
31
]. Four
Desmodora
and 15
Sabatieria
species have been reported in the Antarctic [
31
–
33
].
Desmodora
is a genus of epistratum-feeders (sensu [
34
]) that is often present in surface sediments, whereas
Sabatieria
species are deposit-feeders that typically reside in deeper sediment layers but are able to migrate upwards to access food and oxygen [
32
,
35
]. Also in our study area,
Desmodora
and
Sabatieria
predominantly (but not exclusively) occurred at different sediment depths. This vertical segregation may have important consequences for dispersal since endobenthic marine nematodes do not possess a pelagic larval stage and are largely dependent upon passive transportation of individuals for their long-distance dispersal [
11
,
36
]. Therefore, differential vertical distribution and abundance in the sediment is expected to influence their presence in the water column and the level to which they are prone to resuspension and passive dispersal via bottom currents [
37
,
38
].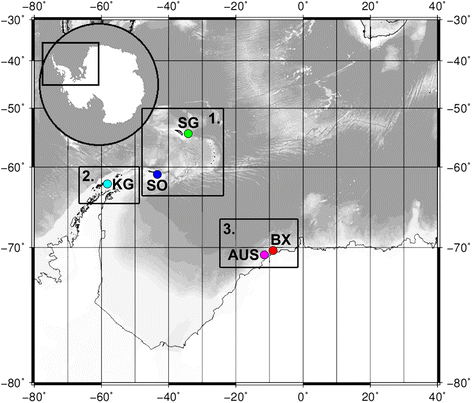 In light of current knowledge on cryptic speciation, cosmopolitan distribution and genetic structure in nematodes we expected to find 1/cryptic nematode species and strong genetic structuring in view of the large geographic distances between locations; 2/increased population genetic structure with increasing geographic distance (cf. isolation-by-distance principle IBD; [39, 40]), given the presumed limited dispersal capacity for nematodes (see also [11]); 3/ stronger population genetic structuring in Sabatieria than in Desmodora based on its preference for deeper sediment depths, assuming that surface dwellers have higher dispersal probability than species that occur deeper in the sediment.
Results
Sabatieria
Phylogeny
The alignment of 326 ITS rDNA sequences of
Sabatieria
was 679 sites long, containing 276 variable sites (196 parsimony informative) and 18 indel sites. Bayesian and maximum likelihood trees inferred from ITS haplotypes (see further) separated the sequences into four highly differentiated and relatively well-supported clades according to morphotype and/or geographic location (clades I – IV; Fig.
2
). Individuals in clades I and II had the same physical appearance (morphological group 1; Additional file
1
: Table S1.1), and were further divided into several sub-clades corresponding to different geographical locations (Ia – Ic, and IIa – IIc in clades I and II, respectively). Specimens belonging to clades III and IV were morphologically distinguishable (morphological group 2 and 3, respectively; Additional file
1
: Table S1.1). Individuals in clade III had a different amphid and spicule shape, while individuals in clade IV had a blunt tail end (as opposed to the clavate tail tip typically observed in
Sabatieria
).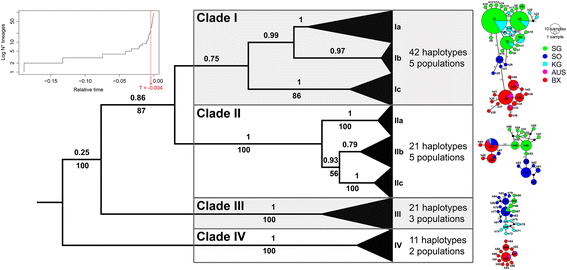 Phylogenetic results based on ITS haplotype sequence data were compared with those based on a subset of the slower-evolving 18S rDNA (
n
= 42, alignment length 864 bp, 47 variable sites, 30 parsimony informative; Fig.
3a
), and an unlinked similarly variable mitochondrial marker (COI;
n
= 16, alignment length 313 bp, 120 variable sites, 113 parsimony informative; Fig.
3b
). In both cases, the phylogenies were generally congruent with the ITS tree, although not all ITS clades had COI sequence representatives due to amplification difficulties (see Additional file
2
). The 18S tree did include individuals of all ITS clades, and showed high nodal support for clades IIa, III and IV (Bayesian posterior probabilities >.95; ML bootstrap values 100; Fig.
3a
). The rest of the sequences were lumped into two clades with low support (Ia + IIb + IIc and Ic). COI sequence data showed high support for clades I and IV with posterior probabilities and ML bootstrap values of (almost) 100, and also clade IIa specimens formed a (less well-supported) clade (Fig.
3b
). Hence, despite less successful amplification of COI and 18S data for
Sabatieria
, some of the same clades were recovered in tree topologies.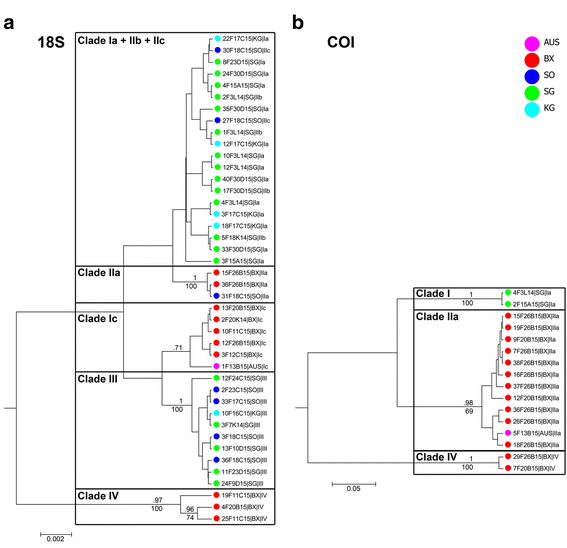 DNA-based species delimitation
Statistical parsimony analysis collapsed the 326 ITS sequences into 95 haplotypes (sequence divergence based on K2P distances = 0.2–26%) and 7 separate haplotype networks (Ia/b, Ic, IIa, IIb, IIc, III and IV; connection limit = 95% or 11 mutations), all corresponding to clades or sub-clades of the Bayesian tree (Fig. 2). The GMYC model gave a significantly better fit for the ITS data (likelihood ratio = 20.6; P < 0.001) than did the null model assuming uniform branching rates. The position of the threshold time T, marking the transition from between- to within-species rate of lineage branching, was estimated at −0.004 on a relative timescale (Fig. 2 upper left), and coincided with 21 species clusters. The confidence interval for the estimated number of species ranged from 8 to 26. As opposed to ITS, the GMYC model was insignificant when applied to 18S and COI data (P > 0.1), possibly as a consequence of the low number of sequences available.
Based on the three pre-defined criteria for species delimitation, the
Sabatieria
ITS dataset was divided into 4 putative species (clades in Figs
2
,
3
): 1/statistical parsimony and GMYC outcome pointed towards the presence of several species (note that GMYC indicated many more species clusters, but these were not supported by the other criteria); 2/nodal support in the ML tree topology for the four clades was substantial; 3/unlinked loci (ITS & COI) consistently recovered species I, II and IV, while species III (for which COI data is lacking) was considered a valid species based on its morphological differences with the other three species. The level of sequence divergence between the four species (average K2P distances between 11 and 21%) was considerably higher than within-species distances (~ 0.2 to 4%) (Table
2
), giving further indication for species-level divergence. Also for 18S and COI, sequence divergence within putative species was distinctly lower than between species (especially for COI; Table
2
).
Table 2
Mean intra- and interspecific genetic divergence for Sabatieria
species I

species II

species III

species IV

ITS Sabatieria (n = 326; 679 bp)

 species I

1.40 ± 0.28

 species II

11.09 ± 1.24

3.73 ± 0.50

 species III

15.16 ± 1.59

20.71 ± 1.93

1.26 ± 0.15

 species IV

14.92 ± 1.60

18.56 ± 1.73

19.86 ± 1.90

0.22 ± 0.08

18S Sabatieria (n = 42; 864 bp)

 species I

0.15 ± 0.05

 species II

0.24 ± 0.08

0.24 ± 0.11

 species III

1.57 ± 0.41

1.70 ± 0.41

0.22 ± 0.09

 species IV

1.48 ± 0.33

1.58 ± 0.34

2.87 ± 0.52

1.13 ± 0.28

COI Sabatieria (n = 16; 313 bp)

 species I

0.00 ± 0.00

 species II

25.20 ± 3.24

1.49 ± 0.38

 species III

–

–

–

 species IV

37.78 ± 4.37

37.09 ± 4.14

–

0.64 ± 0.45
Population genetics
Of the four
Sabatieria
species recognised, three were used in population genetic analyses (I – III). Species I and II were clearly the most abundant (
n
= 200 and 66 ITS sequences, respectively), genetically diverse (42 and 21 ITS haplotypes, respectively) and widespread, comprising populations from both sides of the Weddell Sea (Fig.
2
; Additional file
1
: Table S1.4). Single-level AMOVA (Table
3
) yielded large and significant among-population differences for both species (
Φ
st
= 0.886 and 0.765;
P
< 0.001), as could already be suspected from tree topologies (cf. sub-clades Ia – Ic; IIa – IIc) and haplotype networks (Fig.
2
). Pairwise
Φ
st
values (Table
4
) between populations of species I were significant in all cases except between AUS and BX (clade Ic), and between KG and SG (clade Ia). Most haplotypes were limited to one location, but in case they were shared (7 haplotypes), it was always between neighbouring locations at one side of the Weddell Sea (Additional file
1
: Table S1.4). Average K2P divergence ranged between 0.23 and 3.28% (Additional file
1
: Table S1.5), and was higher between populations on both sides of the Weddell Sea (e.g., BX and SG) than between populations on either side. Pairwise comparisons for species II were always significant, and again larger for populations divided by the Weddell Sea (SG vs. BX, SO vs. BX) than at the same side of it (SG vs. SO). As for species I, almost all haplotypes were restricted to a particular location, except for two that were shared among locations at both sides of the Weddell Sea (Additional file
1
: Table S1.4).
Table 3
Single-level AMOVA results for each Sabatieria species based on ITS sequence data
Source of variation

df

var (%)

Φ st

P

Species I

 Among populations

4

88.59

0.886

***

 Within populations

195

11.41

Species II

 Among populations

2

76.48

0.765

***

 Within populations

63

23.52

Species III

 Among populations

2

17.84

0.178

***

 Within populations

32

82.16
Table 4
Pairwise Φ st values between populations of the different Sabatieria species based on ITS sequence data
| | | | | |
| --- | --- | --- | --- | --- |
| Species I (n = 200) | SG (114) | SO | KG | AUS |
| SO (8) | 0.857 *** | | | |
| KG (27) | 0.028 NS | 0.778 *** | | |
| AUS (5) | 0.938 *** | 0.898 *** | 0.896 *** | |
| BX (46) | 0.927 *** | 0.878 *** | 0.898 *** | −0.098 NS |
| Species II (n = 66) | SG (25) | SO | | |
| SO (25) | 0.597 *** | | | |
| KG | – | – | | |
| AUS | – | – | – | |
| BX (16) | 0.955 *** | 0.743 *** | – | – |
| Species III (n = 35) | SG (8) | SO | | |
| SO (19) | 0.002 NS | | | |
| KG (8) | 0.380 *** | 0.235 *** | | |
| AUS | – | – | – | |
| BX | – | – | – | – |
Species III and IV were restricted to one side. Species III occurred at the western side of the Weddell Sea and consisted of three populations (SG, SO & KG) for which genetic structuring was significant, but considerably lower than for species I and II for the same populations on this side of the Weddell Sea (AMOVA Φ st species III = 0.178, P < 0.001; Table 3; Φ st species I & II = 0.589–0.599, P < 0.001; results not shown). Within-population variation for species III (~ 82%) exceeded that between populations (17.8%). Genetic differences were non-significant between locations SG and SO (Table 4), which also shared one haplotype (Additional file 1: Table S1.4). Average K2P distances between these populations were also clearly lower than for the other two species (Additional file 1: Table S1.5). Species IV was restricted to the two locations at the eastern Weddell Sea, and comprised 11 haplotypes. Within-population divergence was comparable or even larger than between-population differences, which were non-significant (Additional file 1: Table S1.5).
Despite the observation that main differences between populations of species were situated between different sides of the Weddell Sea (hence, at a large spatial scale), genetic divergence did not consistently decrease with increasing geographic distance (IBD r-values for species I, II and III were non-significant; P > 0.05; Additional file 1: Table S1.6).
Desmodora
Phylogeny
The ITS alignment for
Desmodora
comprised 25 sequences and 599 sites, including 88 variable (41 parsimony informative) and 21 indel sites. For COI, the alignment included 37 sequences and 662 sites of which 196 variable (151 parsimony informative).
Desmodora
specimens showed distinct discontinuities in variation of several morphological features, including body size, amphid shape, male copulatory organs, and cuticle ornamentation (Additional file
1
: Table S1.1). In contrast to
Sabatieria
, these morphological groups did not correspond to distinct clades in ITS tree topology (Fig.
4a
). Most specimens were clustered irrespective of morphology, and both posterior probabilities and bootstrap values were low. In case posterior probabilities were above 0.95, bootstrap values were either very low (< 50), or specimens were not put into the same clade in the ML tree. As a result, it is highly unlikely that separate species lineages can be detected based on ITS data, and morphological differences between specimens are not diagnostic. In contrast to ITS, both Bayesian and ML tree topologies based on COI data hinted towards a clear differentiation between two species-level lineages (high posterior probabilities and bootstrap values), of which one corresponded to a different morphological group for which no ITS sequences were available (Fig.
4b
; Additional file
1
: Table S1.1). Further differentiation into sub-clades according to location as seen in the tree topology was never supported by high posterior probabilities and bootstrap values.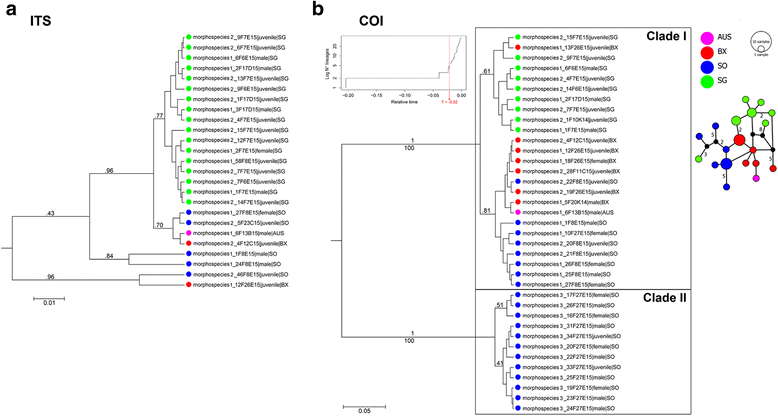 DNA-based species delimitation
The COI tree indicated two species lineages for
Desmodora
(clades I, II in Fig.
4
), which was verified by the GMYC model (significant divergence: LR = 12.81,
P
< 0.01). The confidence interval for the number of species in the GMYC analysis was 2–7, but Bayesian posterior probabilities and ML bootstrap values clearly pointed towards the lower end of this range. Also statistical parsimony divided the COI data into two separate networks at the 95% probability level. Unfortunately, unsuccessful amplification of the ITS region of specimens belonging to clade II (= morphological group 3; Additional file
1
: Table S1.1) prevented additional verification of this conclusion based on another unlinked genetic marker. However, co-occurrence of both species at the same location (SO), their high interspecific genetic divergence (Table
5
) and morphological differences (Additional file
1
: Table S1.1) strongly hint towards a separation into true species. They will therefore be considered as such in further analyses.
Table 5
Mean intra- and interspecific genetic divergence for COI of Desmodora
| COI Desmodora (n = 37; 662 bp) | Species I | Species II |
| --- | --- | --- |
| Species I | 1.76 ± 0.25 | |
| Species II | 23.44 ± 2.08 | 1.59 ± 0.25 |
Population genetics
Population genetic structure within
Desmodora
was based on COI data (most complete dataset). Whereas species I occurred at both sides of the Weddell Sea, species II solely appeared in the South Orkneys samples (no population genetic structure to be tested). Genetic structuring between populations of
Desmodora
species I was significant, but lower than for
Sabatieria
species I and II (Table
6
). Genetic variation within populations of
Desmodora
species I was comparable or sometimes even higher than between populations (Additional file
1
: Table S1.5). A Mantel test for IBD within species I with three populations (SG, SO & BX) resulted also here in a non-significant r-value (
P
= 0.67; Additional file
1
: Table S1.6), which is expected since dissimilarity is higher between populations SG and SO than between both of them and BX across the Weddell Sea (see Table
6
).
Table 6
Single-level AMOVA main and pairwise results for Desmodora species I based on COI sequence data
Source of variation

df

var (%)

Φ st

P

Species I

 Among populations

2

26.55

0.266

***

 Within populations

21

73.45

Pairwise Φ st (n = 24)

SG (9)

SO

KG

AUS

SO (8)

0.307 ***

KG

–

–

AUS

–

–

–

BX (7)

0.286 ***

0.153 **

–

–
Conclusion
Our results demonstrate the occurrence of cryptic speciation in Antarctic continental shelf nematodes, and provide evidence for different mechanisms underlying spatial genetic structure within surface- and deeper-sediment dwelling nematode taxa. Historically, ocean current systems such as the ACC and Weddell gyre in the area may have served as a transportation route for species across the Weddell Sea, mainly for taxa occurring in surface sediments such as Desmodora, which showed less geographic structure in its distribution than the Sabatieria species. Currently, dispersal limitation in marine nematodes effectively hampers large-scale connectivity between populations across the Weddell Sea. At a smaller spatial scale, population genetic structuring on the western side of the Weddell Sea is rather random.
Declarations
Acknowledgements
The authors wish to thank the scientific community, captain and crew of RV Polarstern expedition PS77/ANT-XXVII/3. Andy Vierstraete is thanked for help with primer development. This manuscript has been improved after revision by two anonymous reviewers.
Availability of data and materials
Sequences of the different genetic markers have been deposited to the European Nucleotide Archive (ENA: http://www.ebi.ac.uk/ena) and GenBank and can be found under accession numbers LT577954 – LT578168. All other data are included in this published article and its supplementary information files.
Funding
FH acknowledges a doctoral fellowship from the Research Foundation of Flanders (FWO11/ASP/256). This work contributes to project BR/132/A1/vERSO of the Belgian Science Policy (BELSPO/BRAIN).
Authors' contributions
FH, FL, SD and AV conceived the ideas and concept for this study; FH collected the samples; FH and AR performed the laboratory analyses; FH, FL, AR, SD and AV analysed the data; FH, FL, SD and AV contributed to the writing. All authors read and approved the final version of the manuscript.
Competing interests
The authors declare that they have no competing interests.
Consent for publication
Not applicable.
Ethics approval and consent to participate
The manuscript does not report on or involve the use of any vertebrate or human data or tissue, therefore this section is not applicable.
Publisher's Note
Springer Nature remains neutral with regard to jurisdictional claims in published maps and institutional affiliations.
Open AccessThis article is distributed under the terms of the Creative Commons Attribution 4.0 International License (http://creativecommons.org/licenses/by/4.0/), which permits unrestricted use, distribution, and reproduction in any medium, provided you give appropriate credit to the original author(s) and the source, provide a link to the Creative Commons license, and indicate if changes were made. The Creative Commons Public Domain Dedication waiver (http://creativecommons.org/publicdomain/zero/1.0/) applies to the data made available in this article, unless otherwise stated.
Authors' Affiliations
(1)
Marine Biology Research Group, Biology Department, Ghent University, Ghent, Belgium
(2)
Botanic Garden Meise, Meise, Belgium
(3)
Operational Directorate Taxonomy and Phylogeny, Royal Belgian Institute of Natural Sciences (RBINS), Brussels, Belgium