Research article

Open Access
Further study of Late Devonian seed plant Cosmosperma polyloba: its reconstruction and evolutionary significance
BMC Evolutionary Biology
BMC series – open, inclusive and trusted
2017
17:149
Received: 25 January 2017
Accepted: 6 June 2017
Published: 26 June 2017
Abstract
Background
The earliest seed plants in the Late Devonian (Famennian) are abundant and well known. However, most of them lack information regarding the frond system and reconstruction. Cosmosperma polyloba represents the first Devonian ovule in China and East Asia, and its cupules, isolated synangiate pollen organs and pinnules have been studied in the preceding years.
Results
New fossils of Cosmosperma were obtained from the type locality, i.e. the Leigutai Member of the Wutong Formation in Fanwan Village, Changxing County, Zhejiang Province, South China. The collection illustrates stems and fronds extensively covered in prickles, as well as fertile portions including uniovulate cupules and anisotomous branches bearing synangiate pollen organs. The stems are unbranched and bear fronds helically. Fronds are dimorphic, displaying bifurcate and trifurcate types, with the latter possibly connected to fertile rachises terminated by pollen organs. Tertiary and quaternary rachises possessing pinnules are arranged alternately (pinnately). The cupule is uniovulate and the ovule has four linear integumentary lobes fused in basal 1/3. The striations on the stems and rachises may indicate a Sparganum-type cortex.
Conclusions
Cosmosperma further demonstrates diversification of frond branching patterns in the earliest seed plants. The less-fused cupule and integument of this plant are considered primitive among Devonian spermatophytes with uniovulate cupules. We tentatively reconstructed Cosmosperma with an upright, semi-self-supporting habit, and the prickles along stems and frond rachises were interpreted as characteristics facilitating supporting rather than defensive structures.
Keywords
Cosmosperma polyloba FrondOvulePollen organSeed plantLate DevonianWutong FormationSouth China
Backgrounds
Many ovules have been reported from the Upper Devonian (Famennian) of Europe, North America and China, and they indicate the first major radiation of seed plants or spermatophytes [1–4]. Pollen organs also add to our knowledge about these earliest spermatophytes, although they are usually detached from the ovules or fronds [3, 5–10]. Despite the abundance of fertile structures (>20 genera of ovules and pollen organs) in the Late Devonian, the frond morphology and overall architecture is only known for a few seed plant taxa.
South China was an isolated crustal plate with great plant diversity in the Devonian [11–13]. However, seed plant were only recently found in the Late Devonian of this plate, displaying cupulate ovules, pollen organs and stem anatomy [3, 4, 8–10, 13]. These findings suggest that China is an important area for understanding the early evolution of seed plants. Among them, Cosmosperma polyloba represents the first Devonian ovules known from China and East Asia that are associated with pollen organs and pinnules [3], while the details of the ovules are unclear due to poor preservation. Based on new specimens from the type locality, we now emend the diagnoses of Cosmosperma, compare its frond morphology to related taxa and provide further information regarding its overall architecture. The entire plant is reconstructed and its evolutionary significance is discussed.
Material and Methods
Over 100 new specimens of Cosmosperma polyloba were obtained from the Wutong (Wutung) Formation in a quarry near Fanwan Village, Hongqiao Town, Changxing County, Zhejiang Province, China. The information regarding the locality and stratigraphy has been provided in recent studies [3, 14, 15]. At the Fanwan section, the Wutong Formation is divided into the Guanshan Member, with quartz sandstone and conglomerate, and the overlying Leigutai Member, with interbedded quartz sandstone and mudstone. The fossil plant occurs at the 13th bed of the Wutong Formation (in the Leigutai Member), i.e. the same bed from which former specimens of Cosmosperma and strobili of lycopsid Changxingia sp. were collected [3, 15]. The LC (Knoxisporites literatus-Reticulatisporites cancellatus) spore assemblage suggests that the upper part of the Leigutai Member is of the latest Famennian age [16].
In siltstone with tiny crystals of quartz and white micas, the plant is preserved as dark-brown compressions and impressions, displaying great contrast to the yellowish matrix. Steel needles were applied to expose the plant morphology and a digital camera and a stereoscope were used for photographs. All the specimens are housed at the Department of Geology, Peking University, Beijing, China.
Systematics
Division Spermatophyta sensu Rothwell and Serbet 1994
Class Lagenospermopsida sensu Cleal 1994
Order and Family Incertae sedis
Genus Cosmosperma Wang et al. 2014 emend.
Emended diagnosis: (emended and additional generic characters are in brackets).
[Seed plant with unbranched stems bearing dimorphic fronds, dichotomized fertile rachises terminated by synangiate pollen organs, and cupulate ovules. Fronds with a swollen pulvinus-shaped base. Majority of fronds bifurcate, with primary rachis dichotomizing into two secondary rachises. The other fronds trifurcate, with primary rachis ended by two subopposite secondary rachises and one median rachis. Tertiary rachises and ultimate pinnae (with quaternary rachis) borne alternately and pinnately.] Nonlaminate pinnules planate, highly dissected and alternately arranged on [quaternary rachis]. Pollen organs synangiate, with each terminating a stalk and consisting of [four] to eight elongate microsporangia that are basally fused and distally free. Uniovulate cupules with [up to approximately 16 tips]; cupule [tips] free for a length of half to two thirds that of cupules. [Ovule connected to cupule by a short stalk. Four linear integumentary lobes fused in the basal 1/3. Tiny conical prickles occurring on stems, four orders of frond rachises, cupules and fertile rachises.]
Type species Cosmosperma polyloba Wang et al. 2014 emend.
Holotype: PKUB13401a, b ([3], original Fig. 2b).
Specimens examined herein:
PKUB13501-PKUB13517 (Figs.
1
,
2
,
4
,
5
,
6
and
7
).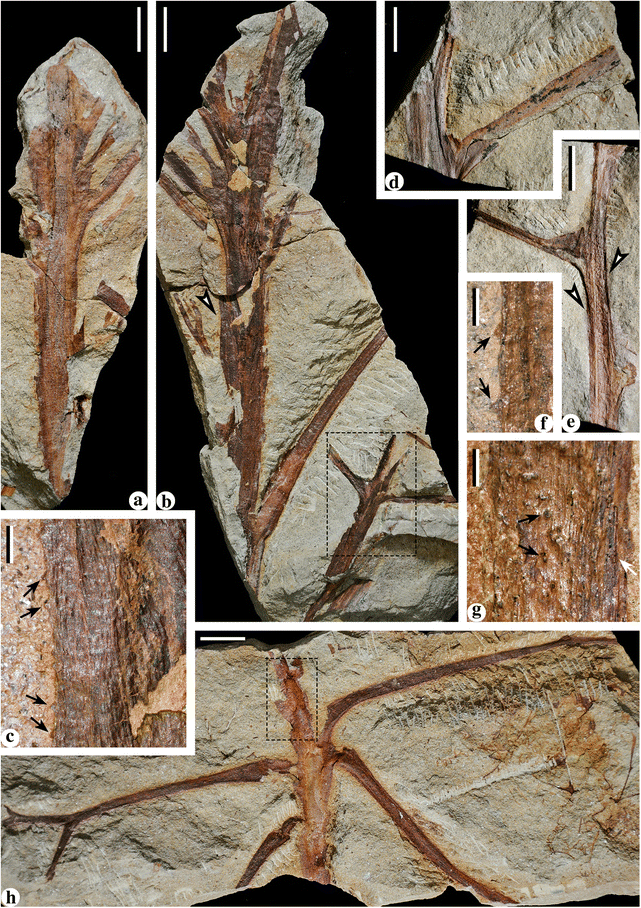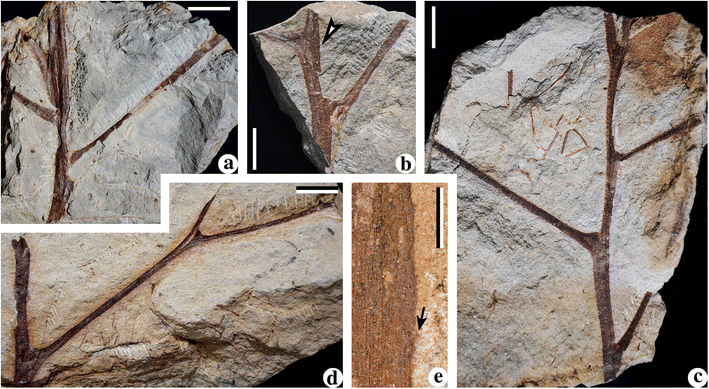 Repository: Department of Geology, Peking University, Beijing, China.
Locality & horizon: Fanwan Village, Hongqiao Town, Changxing County, Zhejiang Province, China; Leigutai Member of Wutong Formation, Upper Devonian (Famennian).
Emended diagnosis: (Emended and additional specific characters are in brackets).
As for generic diagnosis. [Stems up to 25.9 cm long and 2.2 cm wide, with internodes 0.6–6.2 cm long. Fronds departing at 40–70°. Primary rachises 10.3–21.2 cm long and 3.0–12 mm wide. The secondary rachises are up to 14.3 cm long and 1.8–3.6 mm wide. Median rachises of trifurcate fronds up to 10.9 cm long and ca. 4.0 mm wide. Tertiary rachises up to 10.9 cm long and 1.7–2.9 mm wide. First tertiary rachises occurring on outside of frond. Ultimate pinna] up to 54 mm long and 28 mm wide, with [quaternary rachis] about 0.7 mm wide; pinnules [6.0]–13.3 mm long and [3.0]–13.0 mm wide, borne at angles of 70–90°, and consisting of one terminal unit and four alternately arranged lateral units. Pinnule units 4.2–7.2 mm long and 2.8–8.3 mm wide, equally dichotomous for one to three times. [Fertile rachises dichotomizing 3–6 times at 50–120°, with intervals between adjacent bifurcating points 1.4–19.3 mm long and 0.3–1.2 mm wide.] Pollen organs borne in pairs, 2.2–[2.5] mm long and [2.0]–2.9 mm wide, with stalks 1.0 mm long and 0.2–0.3 mm wide; microsporangia 2.3 mm long and [0.3]–0.7 mm wide, and distally tapered. Cupules [5.3]–8.8 mm long and [3.0]–9.0 mm wide; pedicels 1.0 mm long and 0.4 mm wide; ovules 3.7–[4.7] mm long and 1.6–[2.2] mm wide; [ovule stalk ca. 0.2 mm long and ca. 0.5 mm wide; integumentary lobes ca. 3.8 mm long and ca. 0.5 mm wide. Prickles on stems and proximal parts of fronds, ca. 0.3 mm long and ca. 0.5 mm wide at the base; those on cupules and distal fertile rachises, ca. 0.2 mm long and ca. 0.3 mm wide at the base].
Conclusions
We further studied the seed plant Cosmosperma polyloba from the Upper Devonian of South China, and its stems, fronds, cupulate ovules and fertile rachises bearing pollen organs are now known in detail. Based on the morphological evidence mentioned above, we tentatively reconstructed the whole plant with an upright, semi-self-supporting habit. The prickles on stems and rachises may facilitate supporting. The fronds of Cosmosperma show bifurcated or trifurcated primary rachises, which further add to the diversity and demonstrate dimorphism of the early spermatophyte fronds. The less-fused cupules and integuments suggest that Cosmosperma is primitive among Late Devonian seed plants with uniovulate cupules.
Declarations
Acknowledgements
We thank D. L. Qi (Anhui Geological Survey, Hefei) and T. Liu (Peking University, Beijing) for assistance in the fieldwork, C. C. Labandeira (Smithsonian Institution, Washington, D. C.) and H. Fang (Capital Normal University, Beijing) for suggestions. This study is supported by China Postdoctoral Science Foundation (No. 2016 M600146) and the National Natural Science Foundation of China (No. 41672007).
Availability of data and materials
All data generated or analysed during this study are included in this published article and its supplementary information files.
Authors' contributions
LL and DMW collected the fossils. LL conducted the experiments, prepared the Figures, and wrote the manuscript. All authors discussed the results, read and approved the final manuscript.
Competing interests
The authors declare that they have no competing interests.
Ethics approval and consent to participate
The authors declare that the study makes no uses of human, clinical tools and procedures, vertebrate and regulated invertebrate animal subjects and/or tissue, and plants.
Publisher's Note
Springer Nature remains neutral with regard to jurisdictional claims in published maps and institutional affiliations.
Open AccessThis article is distributed under the terms of the Creative Commons Attribution 4.0 International License (http://creativecommons.org/licenses/by/4.0/), which permits unrestricted use, distribution, and reproduction in any medium, provided you give appropriate credit to the original author(s) and the source, provide a link to the Creative Commons license, and indicate if changes were made. The Creative Commons Public Domain Dedication waiver (http://creativecommons.org/publicdomain/zero/1.0/) applies to the data made available in this article, unless otherwise stated.
Authors' Affiliations
(1)
College of Geoscience and Surveying Engineering, China University of Mining and Technology (Beijing), Beijing, China
(2)
Key Laboratory of Orogenic Belts and Crustal Evolution, Department of Geology, Peking University, Beijing, China
(3)
Science Press, China Science Publishing & Media Ltd., Beijing, China