Research article

Open Access
Plant manipulation through gall formation constrains amino acid transporter evolution in sap-feeding insects
BMC Evolutionary Biology
BMC series – open, inclusive and trusted
2017
17:153
Received: 27 March 2017
Accepted: 15 June 2017
Published: 27 June 2017
Abstract
Background
The herbivore lifestyle leads to encounters with plant toxins and requires mechanisms to overcome suboptimal nutrient availability in plant tissues. Although the evolution of bacterial endosymbiosis alleviated many of these challenges, the ability to manipulate plant nutrient status has evolved in lineages with and without nutritional symbionts. Whether and how these alternative nutrient acquisition strategies interact or constrain insect evolution is unknown. We studied the transcriptomes of galling and free-living aphidomorphs to characterize how amino acid transporter evolution is influenced by the ability to manipulate plant resource availability.
Results
Using a comparative approach we found phylloxerids retain nearly all amino acid transporters as other aphidomorphs, despite loss of nutritional endosymbiosis. Free living species show more transporters than galling species within the same genus, family, or infraorder, indicating plant hosts influence the maintenance and evolution of nutrient transport within herbivores. Transcript profiles also show lineage specificity and suggest some genes may facilitate life without endosymbionts or the galling lifestyle.
Conclusions
The transcript abundance profiles we document across fluid feeding herbivores support plant host constraint on insect amino acid transporter evolution. Given amino acid uptake, transport, and catabolism underlie the success of herbivory as a life history strategy, this suggests that plant host nutrient quality, whether constitutive or induced, alters the selective environment surrounding the evolution and maintenance of endosymbiosis.
Keywords
HerbivoreEndosymbiosisPhylloxeridaeEffectorAphidSternorrhyncha
Background
To subsist as an herbivore, an organism must overcome substantial barriers in the form of physical or chemical plant defenses and less than optimal nutrient availability. In some instances, the plant defenses interact directly with nutrient availability by decreasing uptake (e.g., plugged sieve tubes) or impeding digestion (e.g., protease inhibitors), although myriad mechanisms have been described for how herbivores adapt to or avoid defenses [1]. In addition to these deterrents, plant tissues typically maintain high carbon to nitrogen ratios, and plant fluids are depleted in many essential amino acids, making it more difficult for herbivores to acquire nitrogen-based nutrients. To overcome these dietary limitations, herbivores evolved partnerships with bacteria that facilitated transitions to new feeding niches, e.g., on phloem or xylem, or otherwise augmented plant palatability by attenuating defenses [2].
Symbioses can fail, however, when symbiont genomes degrade [3] or limit host range (e.g., plant choice, thermal tolerance; [4]). Thus, there is likely selection pressure to either replace symbionts with more efficient ones [5], or to evolve novel feeding strategies to avoid symbiont dependence. Indeed, several hemipteran lineages, including leafhoppers (Membracoidea: Typhlocybinae) and the Phylloxeridae (Sternorrhyncha: Phylloxeroidea), have transitioned to novel plant-feeding strategies and lost their obligate symbiont associations [4]. The transitions in and out of symbioses have left genomic signatures such as reduced genome structure and function for many obligate symbionts [3, 4], although the effects of symbiosis on herbivore genomes with or without symbionts is unknown.
The metabolic coordination in amino acid synthesis and usage between bacteria and host requires amino acid transporters (AATs) that function in transporting amino acids across the insect/symbiont interface, membranes that separate the cytoplasm of symbionts from insect hemolymph [6]. Two types of AATs mediate this transport: the amino acid polyamine organocation transporter superfamily (APC, transporter classification #2.A.3) and the amino acid/auxin permease transporters family (AAAP, TC #2.A.18). Although both groups belong to the APC superfamily, members of the AAAP family have relatively divergent amino acid sequences, varying substrate specificities, and 11 transmembrane domains, compared to other transporters of the APC family [7, 8]. Expression profiles of these two families of AAT genes for several herbivorous species and their bacterial endosymbionts support a role for these transporters in the evolution of nutritional endosymbiosis [9, 10].
A growing body of evidence has demonstrated that insects induce nutrient sinks in plants in the form of galls that abundantly supply minerals, carbohydrates, and free amino acids [11–16]. Given that numerous insect taxa form galls [17], an intriguing question arises: how does the accessibility of gall-enriched nutritive compounds influence the evolution of insect hosts and/or their symbionts? Among the Sternorrhyncha, few lineages secondarily lost endosymbionts concurrent with a shift to parenchyma feeding [4], and some taxa, such as the Phylloxeridae also induce galls. Insects within the Phylloxeridae are considered sister to the aphids (Aphidoidea: Aphididae) and adelgids (Phylloxeroidea: Adelgidae), groups that also retain galling and free-living species [18]. In contrast with aphids and adelgids that harbor symbionts in bacteriocytes, Phylloxeridae species lack stable intracellular symbionts [19, 20]. Further, Phylloxeridae comprises numerous life history strategies, including galling and free-living species that allow a phylogenetically controlled comparison to understand how these strategies arose with respect to their nutrient acquisition and metabolism. As an important grape pest worldwide, the grape phylloxera (Daktulosphaira vitifoliae) is capable of making leaf and root galls and its interaction with plant hosts has been the most investigated among the Phylloxeridae. Studies showed that infestation of D. vitifoliae reprograms plant metabolism, leading to the accumulation of nutrients such as carbohydrates and free amino acids [21–23]. Recently, D. vitifoliae AATs were compared to paralogs in aphids to help pinpoint which transporters underlie the maintenance of nutrient symbiosis between aphids and Buchnera with an emerging conclusion that ecological context may contribute to AAT gene copy number and evolution [10].
To expand the understanding of amino acid metabolism associated with herbivorous insects, we compared species that manipulate plant host amino acid content by gall forming to free-living species, and among species with and without stable nutritional endosymbionts. We sequenced the transcriptomes of nine Phylloxeridae species including D. vitifoliae and eight from the genus Phylloxera. Oak phylloxera (P. quercus) has a free-living life history and thus was compared to other galling phylloxerid species regarding AAT evolution whereas two aphid species whose genomes are sequenced were compared to four other galling aphids. Our results indicated that galling insects, in Phylloxeridae and among aphidomorphs, experienced increased constraints on the evolution of AATs likely because of their ability to manipulate plant host metabolism.
Results
Our de novo transcriptome assemblies revealed similar contig numbers and quality metrics as other previously assembled aphidomorph transcriptomes, and among species sequenced for this study (Additional file 1: Table S1). Based upon these assemblies, we present the first multi-locus (CO1, CO11, CYTB) phylogeny across multiple species within the Phylloxeridae (Fig. 1). Our phylogeny indicated phylloxerids first colonized leaves and diversified across host species. Then one lineage evolved to feed on petioles and diversified as it recolonized this tissue across Carya species. Thus, species feeding on different tissues of the same plant are likely more distantly related than species feeding on the same tissue of different host species. We also noted that P. quercus may represent a unique host switching event given it feeds on oak yet is nested among other hickory feeding Phylloxera.
In comparison with other Sternorrhyncha insects, nearly all phylloxerids retained fewer AATs (Table
1
). The one exception is the free-living
P. quercus
where more AATs are abundant than other aphidomorphs and nearly twice the number than in other phylloxerids. Free-living aphids (
A. pisum
and
M. persicae
) also retained more AATs than related gall-feeding aphids in
Pemphigus
or
Tamalia
genera. For APC transporters, gall-feeding insects showed 7–13 (mean = 10) APC transporters whereas free-living aphidomorphs showed more transporters (15–19, mean = 17). Two clades (yellow boxes; Fig.
2
) likely contain phylloxerid-specific duplications, where either two genes were present in the phylloxerid ancestor compared to one for the aphid ancestor (upper yellow box), or two phylloxerids (
P. quercus
and
P. foveata
) show duplications compared to a lack of this in aphids (lower yellow box). All other phylloxerid transcripts either strongly clustered with annotated aphid genes, or likely cluster, as indicated by lower bootstrap values. In a comparison of whether life history depended on the number of AATs, both APC and AAAP families showed galling herbivores retained fewer APC and AAAP than free-living species (F = 32.3,
P
< 0.0001); F = 21.4,
P
< 0.0001, respectively). In comparison with genome data, both
M. persicae
and
D. vitifoliae
transcript counts matched the AAT annotated genes with two exceptions for
M. persicae
: 1) two related transcripts mapped to the same gene in the genome, likely caused by an assembly error, rather than indicating a duplication, 2) and two clades where all aphids except
M. persicae
showed gene copies actually had
M. persicae
genes. Thus, the transcript counts were identical to the genome
D. vitifoliae
, and nearly so for
M. persicae
.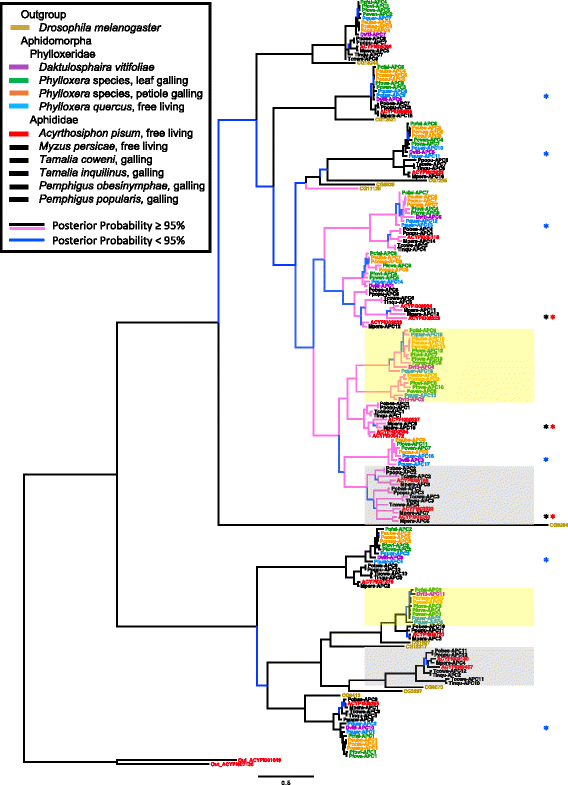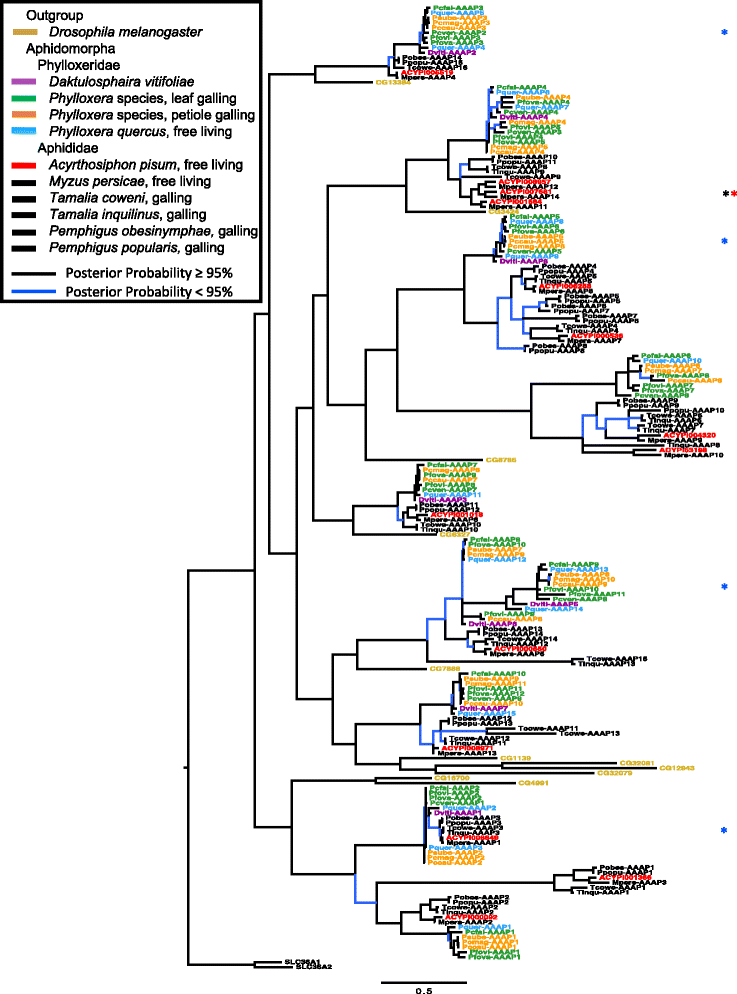 For AAAP transporters, aphidomorphs showed similar abundance profiles, yet have fewer genes than other Sternorrhyncha (see Table 1). However, among aphidomorphs, free-living species showed more AAAP transcripts than galling species, with nearly twice the number in P. quercus than other phylloxerids. Among Arthropoda-specific AAAPs, P. quercus showed more representative transcripts for seven gene clades whereas free-living aphids differed from galling aphids more variably, with more transcripts in clade two (Additional file 1: Table S2, Fig. 3). Some lineage specificity occurred with Pemphigus showing more AAAPs in clade three and Tamalia more in clade four. Among non-arthropod genes free-living aphidomorphs show more transcripts than galling aphidomorphs across clades (Additional file 1: Table S2).
Discussion
Amino acid uptake, transport, and catabolism underlie the success of herbivory as a life history strategy [29, 40]. Here we present the first multigene tree for members within the Phylloxeridae; a family with both galling and free-living herbivores. We also present transcript profiles across fluid feeding herbivores that support plant host constraint on insect amino acid transporter evolution. Galling sap-feeding insects show fewer AAT transcripts than free-living species within the same insect families and within the same genus of Phylloxera. The ability of galling insects to manipulate plant nutrient content likely altered selection to retain or duplicate the number of functioning AATs within the insect. Previous research suggests some AATs facilitate the evolution of endosymbioses but also that ecological context may interact with nutrient transporter evolution to shape adaptive duplication or loss [10]. Our data advance this idea by highlighting how complex the selective environment is and suggest specialized interactions with plants play a large role in determining the evolution of herbivore genomes, especially when nutrient manipulating strategies are involved.
Previous research on some AATs correlates gene expression and presence with the maintenance of endosymbioses; however, phylloxerids lack stable endosymbionts and still retain many of these same AATs. We found members of the Phylloxeridae family retain at least one copy of each APC found among other aphidomorphs (as in [10]) with the exception of two clades (yellow boxes; Fig. 2) that show duplications. Otherwise, phylloxerids retained at least one APC similar to many other Sternorrhyncha insects and D. melanogaster [28]. Interestingly, free-living P. quercus often showed multiple AAT copies within clades where galling phylloxerids possessed only one copy (blue asterisks; Fig. 2). Free-living aphids also show a similar pattern compared to galling aphids for many clades (black and red asterisks; Fig. 2). This increase within clades suggests that these paralogs may function generally to support nutrient transport when feeding on host parenchyma, a tissue where nutrients are lower than when feeding on gall tissue where nutrients can be enriched by and for the galling insect. We hypothesize then that host nutrient manipulation altered the selection environment to maintain certain AATs. In support of this we identified fewer AATs in galling insects than free-living relatives. In some instances, galling phylloxerids did not accumulate specific AAT transcripts; however, lack of accumulation may result from a missing gene or lack of conditions under which expression occurs. While we recognize the limitations of transcriptome information to resolve this, the use of the D. vitifoliae and M. persicae genomes suggests all phylloxerid and nearly all aphid genes were accounted for, and that variation in AATs among genera occurs within aphidomorphs. Some Phylloxera species show accumulation of AATs absent from the D. vitifoliae genome whereas galling Phylloxera species show different numbers of AAT transcripts across clades. Similarly, some galling aphids (e.g., T. coweni) also lack transcripts for some clades where free-living aphids retain one if not more transcripts. This provides support that differences in the nutrient environments across plant hosts differentially alter selection to retain certain AATs. Little information exists for comparing extensive metabolite profiles of hosts across galled taxa, but the diversity in morphology, color, and specialized tissues that are induced in plant hosts by galling insects [41] suggests nutrient pools that insects feed upon differ widely. Future studies examining metabolite pools among closely related taxa will help resolve what limitations, if any, are present in induced plant phenotypes, and provide additional tests of the role of host nutrient manipulation in the evolution of insect AATs.
The microbial community plays a fundamental role in animal nutrient acquisition from food, especially for sap-feeding insects where coevolution with endosymbiotic bacteria alleviates low amino acid content provided by phloem diets [42]. Galling or less apparent manipulation of host nutrients (e.g., delayed host senescence by leaf miners; [43]) increases nutrient flux to feeding sites, potentially altering selection on the stability of endosymbiotic relationships. Our data and previous transcriptome profiles support increases in paralogs for two free-living aphids, but no galling aphids share these increases. This pattern suggests lineage specificity [10]; however, until more insects are profiled in a way that controls for phylogeny while spanning the range of plant nutrient manipulation, either host manipulation, lineage specific evolution, or both may alter selection on AAT gene evolution.
Prior transcriptome assessments [9, 10] correlated transcript abundance and presence with maintaining endosymbiosis. By examining more phylloxerids, we increased resolution of slimfast gene evolution, providing support for previous data that all aphidomorphs experienced slimfast duplication (Fig. 2). Thus, slimfast expansions likely occurred in the ancestral aphidomorph. Because the ancestral state of phylloxerids is unresolved without a phylogeny, it is possible that the ancestor lost AATs with the evolution of galling or gained AATs with the transition away from galling. Either scenario would link this clade to nutrient acquisition strategies. Although phylloxerids lack stable nutritional endosymbionts, numerous microbial partners exist within the gut microbiome (PDN unpublished data, [20]). How gut microbial community dynamics modify sap-feeder fitness is less well understood. Profiling partner presence and abundance alongside plant host nutrients may highlight specific roles, if any, for microbes in an insect that lost endosymbionts.
The patterns in AAT transcripts within the Phylloxeridae, and among galling and free-living Aphidomorpha, provide insight into the selection imparted through host manipulation and the evolution (or loss) of endosymbiosis. Slimfast paralogs appear across many phylloxerids, and thus appear not to drive endosymbiosis [10]. Rather the presence of slimfast duplications in free-living Phylloxera suggest an additional role in nutrient transport when the host cannot be manipulated. Although our data support the slimfast expansion among aphidomorphs, we hypothesize that plant host nutrient availability may have facilitated some duplications found in free-living pea and green peach aphids because several paralogs appear absent from galling aphids. Recent cellular localization screens indicated one of these genes (ACYPI008904) increases in expression prior to and after Buchnera transmission as the bacteriocyte develops [44]. Because galling aphids lack ACYPI008904 paralogs, selection to duplicate specific nutrient transporters may be relaxed when plant host nutrient status can be manipulated. Notably, the emergence of phylloxerid-specific duplications (yellow shading; Fig. 2) related to these aphid genes, highlights a bacteriocyte-independent role for some slimfast orthologs.
Conclusion
Transcriptional profiling of AATs across Sternorrhyncha insects has revealed patterns of co-expression between symbiont and host, and identified gene candidates that may underlie the maintenance and evolution of endosymbiosis. While lineages that contain stable nutritional symbionts provide a model for dissecting how gene expression correlates with symbiosis, insect relatives that lack nutritional endosymbionts provide additional context on how symbioses can evolve or what may lead to losses in symbionts. Here we show that phylloxerids retain many of the AATs of other symbiont-harboring aphidomorphs, and that a pattern is emerging for plant manipulation to constrain AAT evolution. How insects alter host-plant phenotypes, whether chemical or morphological, is largely unknown. Growing evidence suggests that secreted peptides called effectors underlie these induced changes [45], and may target immune function to enable colonization, but also regulate fundamental development pathways that coordinate nutrient transport [46, 47]. Going forward, it is likely that the evolution of plant manipulation interacts with the maintenance of symbiosis to perturb host-symbiont relationships. Understanding genomic patterns in effector families, nutritional symbionts, and host-plant nutrient allocation within a phylogenetic context may provide key insight into the evolution of insect nutrient acquisition, whether through a symbiont, microbe derived effector, or de novo effector evolution to target conserved plant signaling or nutrient mobilization networks. Undoubtedly, the evolution of herbivory is complex, but comparative studies across taxa will continue to provide context on processes, ecological or otherwise, that facilitated and maintain herbivory.
Abbreviations
AAAP:

Amino acid/auxin permease transporter
AAT:

Amino acid transporter
APC:

Amino acid polyamine organocation transporter
COI:

Cytochrome oxidase I
COII:

Cytochrome oxidase II
CYTB:

Cytochrome b
Declarations
Acknowledgments
We thank L. Fléchon for preliminary data analyses. We also thank the Arnold Arboretum for granting access to their Carya collections. We are grateful to the International Aphid Genomic Consortium (IAGC) for allowing us to use the Myzus persicae and Daktulosphaira vitifoliae genome assembly data housed at AphidBase.
Funding
PDN and CZ were supported on internal funds from Washington State University and the University of California, Riverside.
Availability of data and materials
The datasets supporting the conclusions of this article are included within the article (and its additional file).
Authors' contributions
PDN designed the study, CZ and PDN conducted the analyses, CZ and PDN wrote the manuscript. Both authors read and approved the final manuscript.
Competing interests
The authors declare that they have no competing interests.
Consent for publication
Not applicable.
Ethics approval and consent to participate
Not applicable.
Publisher's Note
Springer Nature remains neutral with regard to jurisdictional claims in published maps and institutional affiliations.
Open AccessThis article is distributed under the terms of the Creative Commons Attribution 4.0 International License (http://creativecommons.org/licenses/by/4.0/), which permits unrestricted use, distribution, and reproduction in any medium, provided you give appropriate credit to the original author(s) and the source, provide a link to the Creative Commons license, and indicate if changes were made. The Creative Commons Public Domain Dedication waiver (http://creativecommons.org/publicdomain/zero/1.0/) applies to the data made available in this article, unless otherwise stated.
Authors' Affiliations
(1)
Department of Botany and Plant Sciences, University of California, Riverside, Riverside, USA
(2)
Department of Botany and Plant Sciences, University of California, Riverside, Riverside, USA