Research article

Open Access
The functional head of the Cambrian radiodontan (stem-group Euarthropoda) Amplectobelua symbrachiata
BMC Evolutionary Biology
BMC series – open, inclusive and trusted
2017
17:208
Received: 25 May 2017
Accepted: 11 August 2017
Published: 30 August 2017
Abstract
Background
Segmental composition and homologies of the head of stem-group Euarthropoda have been the foci of recent studies on arthropod origins. An emerging hypothesis suggests that upper-stem group euarthropods possessed a three-segmented head/brain, including an ocular segment (protocerebrum) followed by the deutocerebrum with associated antennae/raptorial limbs and the tritocerebrum, while in the lower stem, head structures of Radiodonta are wholly associated with the protocerebrum and its preceding part. However, this hypothesis is incompletely tested because detailed knowledge on the head components of radiodontans is patchy, and informative articulated specimens are lacking for many taxa. Amplectobelua symbrachiata is the most common radiodontan species in the Chengjiang biota (ca. 520 Ma), normally known as isolated frontal appendages. Here we present detailed descriptions of new articulated specimens that elucidate the morphology and function of its head structures, and discuss their implications for hypotheses about euarthropod cephalic organisation.
Results
In addition to a central oval head shield, A. symbrachiata also bears a pair of P-elements connected by an elongated rod. The mouth consists of sets of smooth and tuberculate plates, in contrast to the typical radial oral cones of other radiodontans. Previously identified 'palm-like teeth' are located external to the mouth in the posterior head region, and are interpreted as segmental gnathobase-like structures (GLSs) associated with at least three reduced transitional flaps in a one (pair)-to-one (pair) pattern, consistent with an appendicular nature. Comparisons with other panarthropods show that GLSs are morphologically similar to the mandibles and other gnathobasic mouthparts of euarthropods, as well as to the jaws of onychophorans, indicating their functional integration into the feeding activities of A. symbrachiata.
Conclusions
The functional head of A. symbrachiata must include the reduced transitional segments (and their associated structures), which have been identified in several other radiodontans. This functional view supports the idea that the integration of segments (and associated appendages) into the head region, probably driven by feeding, occurred along the euarthropod stem-lineage. However, the number of reduced transitional segments varies between different groups and it remains uncertain whether GLSs represent proximal or distal parts of appendages. Our study is the first description of appendicular structures other than the frontal appendages in the functional head region of radiodontans, revealing novel feeding structures in the morphological transition from the lower- to the upper- stem-group of Euarthropoda.
Keywords
Radiodonta
Amplectobelua
Feeding structures
Functional head
Chengjiang
Background
Euarthropods are the most diverse and successful animal phylum ever to have lived on Earth. One of the key innovations that contributes to their evolutionary success is the integration of different appendages, together with the associated segments, into the head region, often to facilitate sensory (e.g. the antenna(e) of Mandibulata) and feeding activities (e.g. the chelicerae and pedipalps of most chelicerates, the maxillae and mandibles of Mandibulata, the forcipules of centipedes and maxillipeds of various crustaceans). However, the exact evolutionary history of these anatomical innovations remains obscure, causing an 'endless dispute' on the homology of head segments within and between euarthropods and their relatives, the onychophorans and tardigrades [1]. This dispute is difficult to settle because the morphologies of head segments and appendages are often highly modified or specialized, and as a result, there are no concordant criteria for recognising the head of Panarthropoda sensu Nielsen, 1995 [2], i.e., euarthropods, onychophorans and tardigrades [3, 4]. Functionally, the tagma of the panarthropod head region contains a mouth with associated structures for manipulation, tearing or mincing food, and usually some sensory organs (eyes, antennae and the associated ganglia, etc.) [3]. This functional view does not define the number of segments composing a head, which might cause confusion when comparing across panarthropods, but allows us to treat the panarthropod head tagma as a dynamic evolutionary unit that can be used to track how the different lineages of crown group euarthropods gained their head segments and associated structures step by step along their stem groups. For example, the integration of deutocerebral appendages (modified limbs) into the head is argued to be one of the key characters gained by the upper-stem euarthropods (Megacheira, Fuxianhuiida and Cambrian bivalved arthropods), and is regarded as a major evolutionary step towards crown-group euarthropods [5–7].
Comparison of head segments between crown-group euarthropods, onychophorans and tardigrades is now well anchored by the agreement that all these groups bear a protocerebral segment with associated eyes, although the presence/morphology of its attached limbs varies between different groups (see [8–10] for reviews). This homologous landmark provides a basis on which to homologize the head segments and associated structures of euarthropod stem group taxa with their various living relatives [7, 11–13]. In the nomenclature applied to the euarthropod stem following Ortega-Hernández 2016 [6]. Radiodonta is putatively a part of lower-stem group Euarthropoda (but see [14, 15] for an alternative view in which radiodontans are crown-group Euarthropoda) that bears one pair of arthropodized appendages in the head region, immediately in front of paired stalked eyes that correspond to the protocerebral segment. This pair of frontal appendages has been interpreted as being innervated by ganglia anterior to the protocerebrum, which is more comparable with the "antenna" of onychophorans [13, 16]. In addition, head carapaces of radiodontans, such as the head shield of Anomalocaris canadensis [17] and Lyrarapax [13, 18], as well as P- and H-elements of Hurdia [19, 20], were also inferred to be associated with the protocerebral segment [11]. Based on these observations, it has been suggested that the head of these radiodontans terminates functionally and anatomically behind the protocerebral segment [5].
The mouth, another key component of the functional head of radiodontans, is located on the ventral side of the head region and consists of a radial oral cone that has been identified in almost all taxa known from articulated specimens, including Anomalocaris canadensis [17, 21], Hurdia victoria [19, 20] and Peytoia nathorsti [22]. The radial oral cone has thus been considered as a key diagnostic character of Radiodonta [23], distinguishing it from the upper stem group and crown group of Euarthropoda (Deuteropoda sensu Ortega-Hernández 2016 [6]). However, a recently described radiodontan, Lyrarapax (with two known species, L. unguispinus and L. trilobus, both from the Chengjiang Konservat-Lagerstätte), shows a mouth without a radial oral cone, but rather composed of a series of concentric folds and furrows that form a sub-rectangular shape, contradicting the inference that a radial oral cone is a synapomorphy of radiodontans [13, 18]. Intriguingly, radially arranged oral lamellae or plates have also been identified in several lobopodians, such as Hallucigenia [24], Jianshanopodia [25] and Pambdelurion [26], indicating it might be a character with a deeper origin in Panarthropoda instead of being unique to Radiodonta. Nonetheless the morphology of the mouth of Lyrarapax indicates that some radiodontans resemble euarthropods and their upper stem group in lacking a radial oral cone, although the homology of such an absence cannot yet be determined. This raises several important questions concerning the early evolution of Euarthropoda, specifically questioning how the morphology of the mouth transformed from the lower stem group to the upper stem group, and whether there are other mouth types in Radiodonta.
Amplectobelua symbrachiata is a radiodontan described from nearly complete bodies from the Chengjiang biota [27, 28]. Like other radiodontans, the head of A. symbrachiata consists of a pair of frontal appendages [27], a pair of stalked eyes [28], and a head shield that was recognized only very recently [29]. However, its mouth has been described as composed of "large, elaborate teeth" ([28], p. 1306), or "palm-like jaws" ([30], p. 78; [31], p. 200) and smooth/tuberculated plates [28, 30, 31], which is different from the typical radial oral cones. In addition, the biological association of these structures with the body of A. symbrachiata has been questioned [27]. Even if such an association were verified, the homology of this mouth apparatus with the typical radiodontan oral cone needs to be appraised. Here we present a detailed description of the morphology of A. symbrachiata, with a focus on its head region, based on articulated specimens collected over the last two decades. We confirm the biological association of the 'palm-like jaws' and smooth/tuberculated plates with A. symbrachiata, re-interpret the 'palm-like jaws' as gnathobase-like structures (GLSs) of appendicular nature, and propose that smooth/tuberculated plates comprise the real mouth apparatus. Some additional head components, such as P-elements connected by a rod-shaped plate, are also described for the first time. Our study demonstrates that the functional head of A. symbrachiata not only has components shared with other radiodontans, such as frontal appendages, stalked eyes and head carapace(s), but also has three pairs of appendicular GLSs attached to the reduced transitional segments to facilitate tearing/mincing of prey.
Results
Systematic palaeontology
Total-group EUARTHROPODA Lankester, 1904 [32]
RADIODONTA Collins, 1996 [23]
AMPLECTOBELUIDAE Vinther, Stein, Longrich, Harper, 2014 [33]
AMPLECTOBELUA Hou, Bergström, Ahlberg, 1995 [27]
Type species
Amplectobelua symbrachiata Hou, Bergström, Ahlberg, 1995 [27]
Revised diagnosis of genus
Amplectobeluid with frontal appendage bearing pairs of spine-like endites generally devoid of auxiliary spines; one endite near proximal end stout and exceptionally long, one-third to nearly half as long as the length of the appendage; frontal carapaces include a central head shield and a pair of lateral P-elements connected by a rod-shaped plate; P-elements of similar size to head shield; mouth apparatus including smooth and tuberculate plates; three pairs of GLSs associated with reduced transitional flaps.
Remarks
Daley and Budd [34] slightly revised the diagnosis of this genus to include an additional species from the Burgess Shale, Amplectobelua stephenensis, and confined it to the morphology of the frontal appendages due to the lack of detailed description of other body parts. They remarked on the morphology of the body in detail, with a special note on the 'large, elaborate teeth' or 'palm-like jaws' described in early literature [28, 30]. New material and re-examination of the holotype reveal that the mouth of A. symbrachiata is not of the Peytoia-type, but is mainly composed of smooth and tuberculate sclerotized plates, while the 'palm-like jaws' are actually GLSs of an appendicular nature (see Description and Discussion below). Other characters, such as those of the trunk, need detailed description before being used in the diagnosis [34].
Amplectobelua symbrachiata Hou, Bergström, Ahlberg, 1995 [27]
(Figs.
1
,
2
,
3
,
4
,
5
,
6
,
7
,
8
,
9a
and
10
)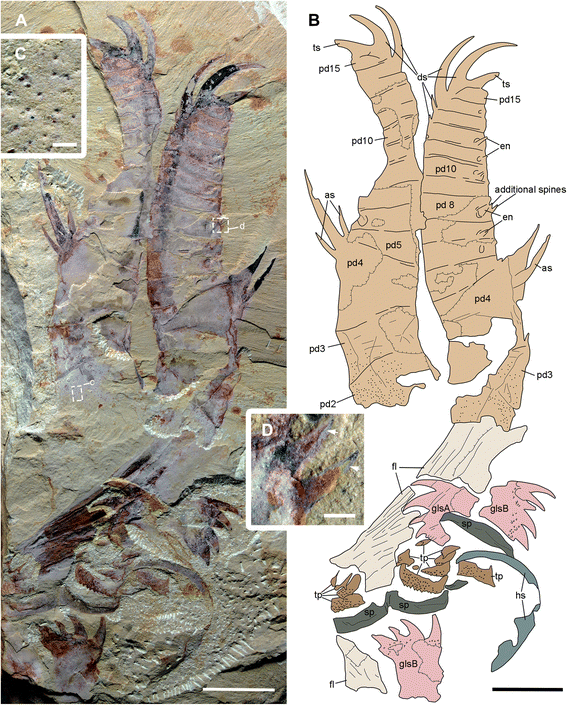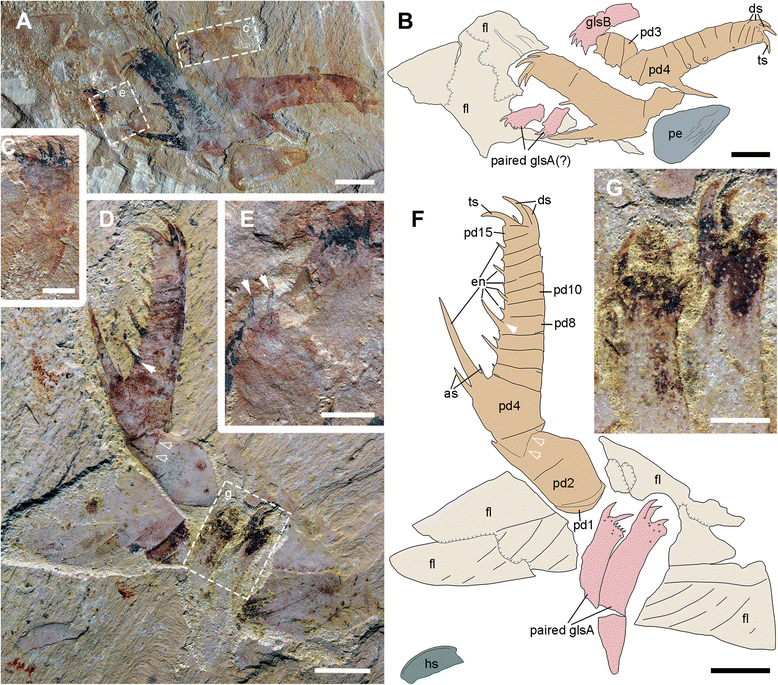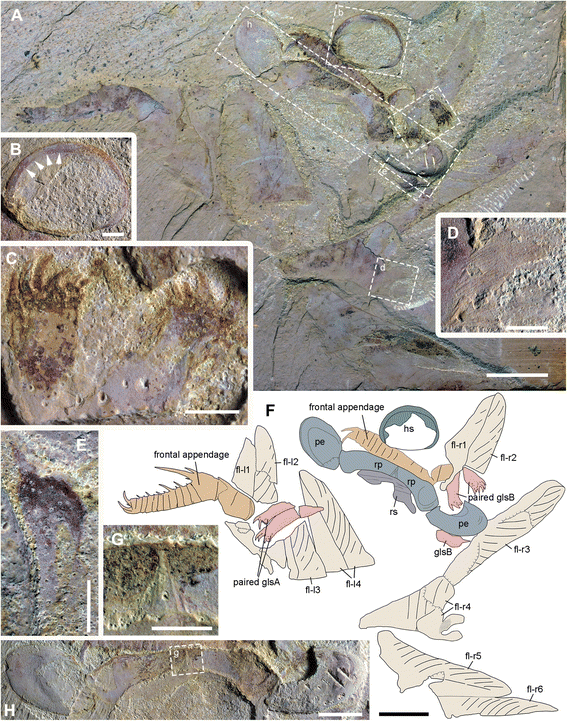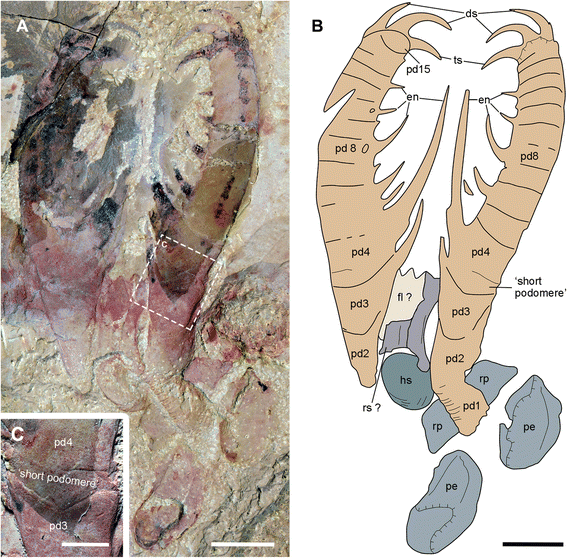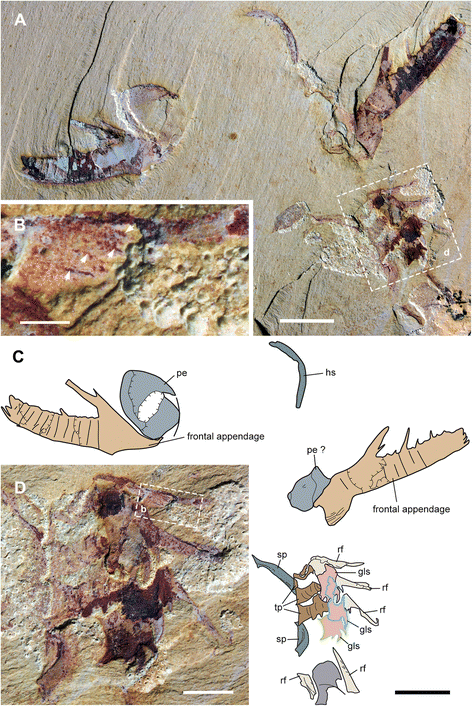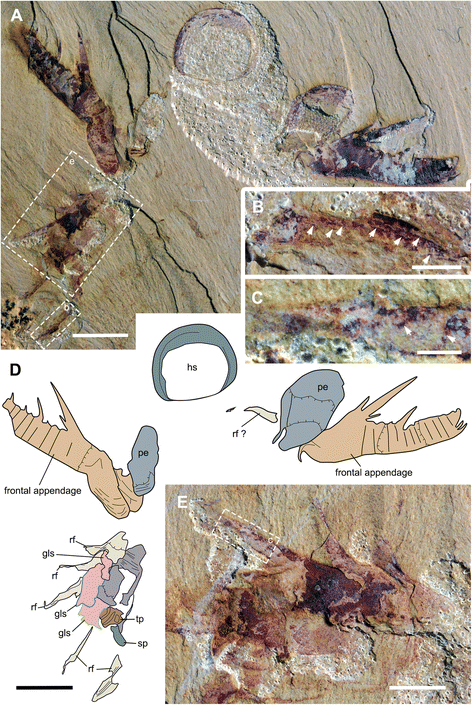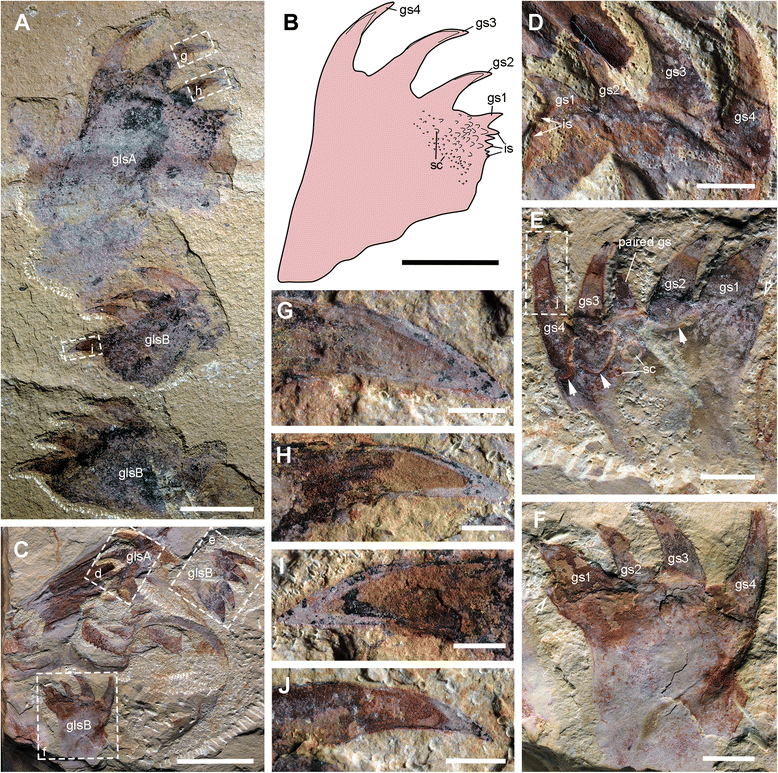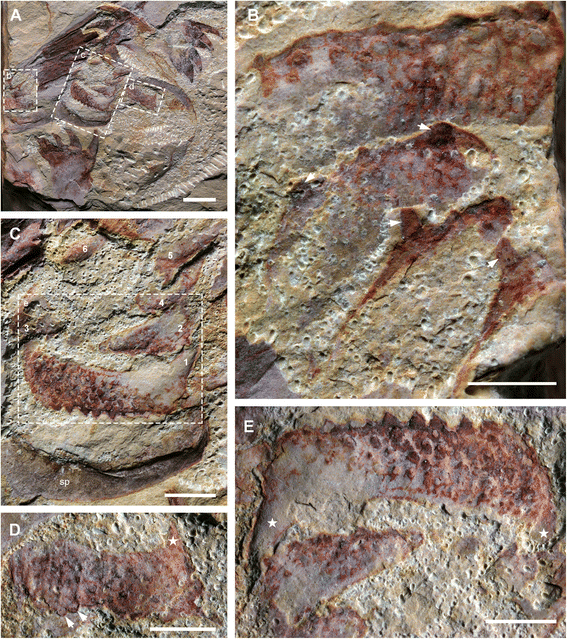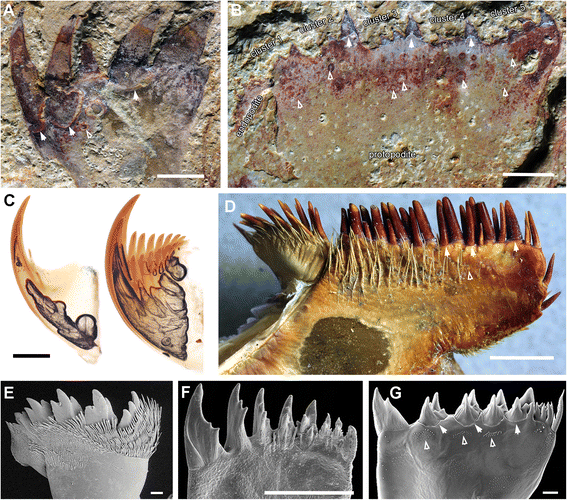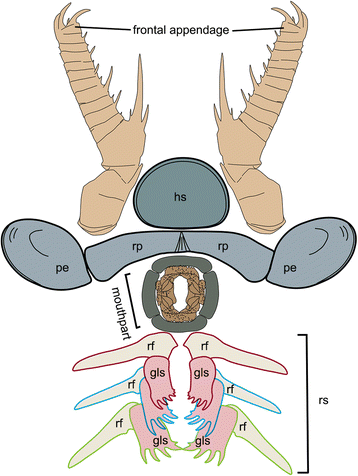 1994 New anomalocaridid animal 2 from Chengjiang; Chen et al., p. 1306, fig. 3. [28]
v* 1995 Amplectobelua symbrachiata; Hou et al., pp. 176–177, figs 14–15. [27]
1996 Amplectobulua symbrachiaciata; Chen et al., pp. 199–200, figs 267–272. [31]
1997 Amplectobelus sumbrachiata; Chen, Zhou, pp. 79–80, figs 125–128. [30]
v. 1999 Amplectobelua symbrachiata; Hou et al., p. 68, figs 83–84. [35]
1999 Amplectobelua symbrachiata; Luo et al., pl. 16, figs 2–6. [36]
1999 Hipopotrum spinatus Luo, Hu in Luo et al.; Luo et al., pl. 27, fig. 7. [36]
2002 Amplectobelua symbrachiata; Chen et al., pl. 14, figs 3–4. [37]
v. 2004 Amplectobelua symbrachiata; Hou et al., p. 97, fig. 15.3. [38]
2004 Amplectobelua symbrachiata; Chen, pp. 302–304, figs 483, 485–487. [39]
v. 2014 Amplectobelua symbrachiata; Cong et al., extended data fig. 1b-d. [13]
v. 2017 Amplectobelua symbrachiata; Hou et al., p. 157, fig. 19.3. [40]
2017 Amplectobelua symbrachiata; Zeng et al., p. 23, fig. 18e, f. [29]
? 2017 undetermined taxon (NIGPAS 162524); Zeng et al., p. 16, fig. 12. [29]
Holotype
NIGPAS 115346, the holotype in the original description, is a juvenile specimen (based on the relatively small size of the frontal appendage) with nearly complete frontal appendages, a head shield and P-elements. The morphology of frontal appendages is the same as all known adult specimens, being 2.5 cm from the distal vertex to the base of podomere 4 (see Description below).
Other new referred material
YKLP 13313, YKLP 13314, YKLP 13317, YKLP 13323 and YKLP 13889, five newly collected specimens that preserve frontal appendages and GLSs except YKLP 13317, in which only three isolated GLSs are preserved. Its assignment to this taxon is based on morphological similarities between the GLSs and those of other material (see Description below). All specimens are partially articulated and the outline of the animal is distorted. Their size is determined based on the size of the frontal appendage. In YKLP 13313, 13314, 13323 and 13889, the frontal appendage (from the distal vertex to the base of podomere 4) is about 2 cm, 1.8 cm, 1.2 cm and 4.3 cm, respectively. The width of GLSs in YKLP 13317 can reach ca. 1.8 cm, which is double the size of those in YKLP 13889. This indicates that the length of the frontal appendage of YKLP 13317 can reach at least 8.6 cm.
Locality and horizon
All specimens described herein were collected from the lower-middle part of the Yu'anshan Member, Chiungchussu Formation, Cambrian Series 2, Stage 3, in eastern Yunnan Province, China. The holotype NIGPAS 115346 is from the Maotianshan section, Chengjiang; YKLP 13313 is from the Ercaicun section, while YKLP 13314, YKLP 13317 and YKLP 13889 are from the Mafang section, both of which are located in Haikou, Kunming, and are adjacent to each other (see [40] for detailed stratigraphy and localities).
Revised diagnosis of species
Amplectobelua with frontal appendages bearing 15 podomeres; podomeres 3–15 having simple spine-like endites except on podomere 4, which has an extremely elongated endite that bears a pair of auxiliary spines branching from its most basal part; size of endites alternating, decreasing distally along both odd and even podomeres except on podomere 8; an additional large spine is present on the tip of podomere 15; dorsal spines present on last four distal podomeres, with the last two significantly larger; podomere 1 annulated and flexible; head shield oval, with posterior edge nearly straight; P-elements ovoid, with rod-shaped sclerite between them divided by a triangular region in the middle; mouth composed of radial rows of outer rectangular smooth plates and inner tuberculate plates; three pairs of GLSs, with small scale-like nodes on the blade, and four (pairs) of strong spines along the distal edge; trunk flaps with transverse lines confined to their anterior part.
Remarks
Amplectobelua symbrachiata differs from the only other congener, A. stephenensis from the Burgess Shale, in the number of podomeres on the frontal appendage (15 in A. symbrachiata versus 12 in A. stephenensis) and the endite morphology, especially the extremely large endite [34]. It is worth noting that the podomere that bears the largest endite in the two known species is different, i.e., podomere 4 in A. symbrachiata versus the most proximal podomere in A. stephenensis. This difference can either be caused by preservation or is of taxonomic value [34]. All characters observed in other body parts are here taken into the diagnosis of A. symbrachiata, although some of them might be shared characters with the other species. These characters can only be re-appraised when the body of A. stephenensis is found and described.
An enigmatic Chengjiang fossil, Hipopotrum spinatus Luo, Hu, 1999, was described very briefly based on one specimen collected from the Ercaicun section in the Haikou area [36]. It is only 1.5 cm wide, 3 mm long, with a horseshoe shape and decorated with small scales or tubercles on the surface. The supposed anterior edge bears 12 triangular spines while the posterior is smooth, with a distinct lateral spine at both corners. This morphology of H. spinatus is strikingly similar to one kind of tuberculate plate described here as part of the mouth region of A. symbrachiata in shape, size and ornamentation (see Description below). It is thus inferred that H. spinatus is an isolated mouth plate of A. symbrachiata, and accordingly the genus and species are considered junior synonyms of the latter.
Conclusions
Documentation of new specimens of the most common Chengjiang radiodontan, Amplectobelua symbrachiata, reveals many new details of the morphology of this species, until now largely known from its frontal appendages. These elucidate not only the morphology of this emblematic species but provide novel character states and combinations of characters for Radiodonta as a whole. Some of these contribute to considerations of phylogenetic relationships within the group, whereas others need be considered in broader questions of homologies and the debate over the stem- or crown- group position of Radiodonta within Euarthropoda. A dorsal cephalic shield that had only recently been attributed to this species is shown to be supplemented by paired cephalic sclerites that are homologised with P-elements of hurdiids (Fig. 10). As such, the cephalic sclerites share characters with Anomalocarididae (ovoid dorsal head shield) and Hurdiidae (paired P-elements). The mouth apparatus, composed of smooth and tuberculate plates, deviates from the "Peytoia" oral cone of most other radiodontans, although comparison with Hurdia in particular allows some correspondences to be proposed. A. symbrachiata possessed a transitional region at the posterior of the head, composed of three segments with reduced flaps. Gnathobase-like structures that were previously interpreted as parts of the oral cone are instead associated with the reduced transitional segments. The gnathobase-like structures can be identified as two different morphotypes, comprising three segmental pairs that are inferred to play a role in cutting and shredding food in its passage to the mouth opening (Fig. 10). The correspondences in the morphology of the gnathobase-like structures of this radiodontan and gnathobasic appendages of euarthropods corroborates the appendicular nature of these structures. Their association with the reduced transitional flaps opens up the question as to precisely what part of an appendage they represent. The discovery of more completely articulated material may shed light on this question, and solve the puzzle as to whether the gnathobase-like structures bite with the proximal or distal part of the appendage. Our study reveals that Amplectobelua had a more elaborate set of cephalic sclerites than was previously known and had gnathal appendages associated with a reduced transitional region that was effectively cephalised, as part of the functional head (Fig. 10).
Methods
New fossil material was prepared with fine needles under a Nikon SMZ 800N stereomicroscope with incident light to reveal the morphology covered by the mudrock matrix. All fossil material and the gnathobase of Limulus polyphemus were investigated with the same stereomicroscope under both incident light and/or polarized light, then photographed under cross polarized light with a Canon 650D camera mounted with a Canon EF-S 60 mm macro lens or a Canon MP-E 65 mm (1-5X) macro lens. Camera lucida drawings were made with a Meiji Techno RZ stereo microscope and traced in Adobe Illustrator CC 2014, with evidence from different images sometimes integrated. SEM images of Ethmostigmus rubripes were taken with a Leo 435VP SEM with a Robinson backscatter collector. Brightness/contrast and the tone of all images were refined by optimizing the levels in Adobe Photoshop CC 2014. The figures were prepared with Adobe Photoshop CC 2014.
Terminology
Throughout the manuscript, taxonomic terminology strictly follows that of Ortega-Hernández, 2016 [6]. Panarthropoda refers to a clade including Euarthropoda, Onychophora and Tardigrada [2]. Euarthropoda sensu Lankester, 1904 [32] consists of the clade including the most recent common ancestor of extant chelicerates, myriapods, and pancrustaceans and all of its descendents, to the exclusion of Onychophora and Tardigrada [6, 64]. Lower stem-Euarthropoda consists of organisms with lobopodian-type body construction (lobopodians, gilled lobopodians), the enigmatic taxa Opabinia and Schinderhannes, and Radiodonta, while upper stem-Euarthropoda includes fuxianhuiids, bivalved stem-group euarthropods, and megacheirans. Deuteropoda is a scion comprising Euarthropoda (the crown group) and upper stem-Euarthropoda, and is defined anatomically by the presence of a "structurally differentiated deutocerebral first appendage pair, reduced protocerebral appendages integrated into the labrum/hypostome complex, and a multisegmented head" ([6], p. 269). Radiodonta refers to a clade of fossils with a large pair of jointed frontal appendages, concentric circumoral structures (plates or folds/furrows), eyes on stalks, and a trunk consisting of a series of paired swim flaps. Radiodonta includes the Family Anomalocarididae (Anomalocaris and closely related taxa), Family Hurdidae (Hurdia, Peytoia, and closely related taxa) and Family Amplectobeluadae (Amplectobelua and closely related taxa). As such, the frequently used term "anomalocaridids" refers to only a subset of radiodontans.
Anatomical terminology follows recent radiodontan publications, namely [17, 18, 42]. The term "head carapace" or "cephalic carapace" refers to all sclerites located in the head region, including both the P-elements [19] ("lateral elements" of [42]) and the central head shield ("H-element" of [19]; "central element" of [42]). As is used by [65], the term "podomere" is used to refer to the individual articles of the jointed/arthropodized appendages of arthropod fossils, including the frontal appendage of radiodontans. Radiodonta swim flaps bear "transverse lines" [20], also referred to as "strengthening rays" ([21], p. 596) or "veins" ([28], p. 1306) in previous publications.
Abbreviations in figures
as, auxiliary spine; ds, dorsal (outer) spine; en, endite; fl, flap; glsA/B, gnathobase-like structures (GLS), with two morphotypes (morph-A and morph-B); gs, spines at distal end of GLS; hs, head shield; is, small spines at inner side of GLS; pd, podomere; pe, P-element; rf, reduced flaps on the transitional segments; rp, rod-shaped scleritization between P-elements; rs, reduced transitional segments; sc, scale-like ornamentation on stem of GLS; sp, smooth plates; tp, tuberculate plates; ts, top apical spine.
Declarations
Acknowledgements
P.C. and X.H. thank their students from YKLP for their help in the fieldwork. We thank Dr. Jakob Vinther, the editor, and three anonymous reviewers for their helpful comments.
Funding
This work is funded by the National Natural Science Foundation of China (41572015, U1302232) and a Leverhulme Trust Research Project Grant (RPG-2015-441).
Availability of data and materials
The datasets supporting the conclusions of this article are included within the article. All new fossil materials are housed in Yunnan Key Laboratory for Palaeobiology (YKLP), Yunnan University, China. Figured specimens of Ethmostigmus rubripes and Limulus polyphemus are housed in the Australian Museum and The Natural History Museum, respectively.
Authors' contributions
PC and XH collected and prepared fossil specimens. GDE collected living specimens and took SEM images. ACD and PC made the camera lucida drawings. PC photographed the specimens. All authors contributed to data interpretation and manuscript writing. All authors read and approved the final manuscript.
Competing interests
The authors declare that they have no competing interests.
Publisher's Note
Springer Nature remains neutral with regard to jurisdictional claims in published maps and institutional affiliations.
Open AccessThis article is distributed under the terms of the Creative Commons Attribution 4.0 International License (http://creativecommons.org/licenses/by/4.0/), which permits unrestricted use, distribution, and reproduction in any medium, provided you give appropriate credit to the original author(s) and the source, provide a link to the Creative Commons license, and indicate if changes were made. The Creative Commons Public Domain Dedication waiver (http://creativecommons.org/publicdomain/zero/1.0/) applies to the data made available in this article, unless otherwise stated.
Authors' Affiliations
(1)
Yunnan Key Laboratory for Palaeobiology, Yunnan University, Kunming, China
(2)
Department of Earth Sciences, The Natural History Museum, London, UK
(3)
Institute of Earth Sciences, University of Lausanne, Lausanne, Switzerland