Research article
Open Access
Phylogenetic relationships of cone snails endemic to Cabo Verde based on mitochondrial genomes
BMC Evolutionary Biology
BMC series – open, inclusive and trusted
2017
17:231
Received: 15 June 2017
Accepted: 6 November 2017
Published: 25 November 2017
Abstract
Background
Due to their great species and ecological diversity as well as their capacity to produce hundreds of different toxins, cone snails are of interest to evolutionary biologists, pharmacologists and amateur naturalists alike. Taxonomic identification of cone snails still relies mostly on the shape, color, and banding patterns of the shell. However, these phenotypic traits are prone to homoplasy. Therefore, the consistent use of genetic data for species delimitation and phylogenetic inference in this apparently hyperdiverse group is largely wanting. Here, we reconstruct the phylogeny of the cones endemic to Cabo Verde archipelago, a well-known radiation of the group, using mitochondrial (mt) genomes.
Results
The reconstructed phylogeny grouped the analyzed species into two main clades, one including Kalloconus from West Africa sister to Trovaoconus from Cabo Verde and the other with a paraphyletic Lautoconus due to the sister group relationship of Africonus from Cabo Verde and Lautoconus ventricosus from Mediterranean Sea and neighboring Atlantic Ocean to the exclusion of Lautoconus endemic to Senegal (plus Lautoconus guanche from Mauritania, Morocco, and Canary Islands). Within Trovaoconus, up to three main lineages could be distinguished. The clade of Africonus included four main lineages (named I to IV), each further subdivided into two monophyletic groups. The reconstructed phylogeny allowed inferring the evolution of the radula in the studied lineages as well as biogeographic patterns. The number of cone species endemic to Cabo Verde was revised under the light of sequence divergence data and the inferred phylogenetic relationships.
Conclusions
The sequence divergence between continental members of the genus Kalloconus and island endemics ascribed to the genus Trovaoconus is low, prompting for synonymization of the latter. The genus Lautoconus is paraphyletic. Lautoconus ventricosus is the closest living sister group of genus Africonus. Diversification of Africonus was in allopatry due to the direct development nature of their larvae and mainly triggered by eustatic sea level changes during the Miocene-Pliocene. Our study confirms the diversity of cone endemic to Cabo Verde but significantly reduces the number of valid species. Applying a sequence divergence threshold, the number of valid species within the sampled Africonus is reduced to half.
Keywords
Mitochondrial genomes Africonus Trovaoconus Kalloconus
Background
The cone snails (Conidae, Gastropoda) endemic to the archipelago of Cabo Verde in West Africa represent one of the few textbook examples of a well-documented insular species radiation involving marine organisms [1–3]. Cone snails, which are found in tropical and subtropical marine waters throughout the world, show a hotspot of species diversity in the Cabo Verde archipelago with up to 95 endemic species (roughly 10% of cone species diversity worldwide) narrowly confined to about 4000 km2 [4]. As in other parts of the world, cone snails endemic to Cabo Verde constitute a key component of the intertidal and subtidal ecosystems associated to rocky shores, coral reefs, and sandy bottoms. All cones endemic to Cabo Verde feed on marine annelid worms [1] and use a sophisticated venom apparatus (including a venom gland that produces conotoxins and a specialized harpoon-like radular tooth) to capture their preys [5]. Another interesting biological feature common to all these endemic species is that they have direct development. Their larvae lack a pelagic stage, and thus show a considerably reduced dispersal capacity [1]. Survival rate is higher for this type of larvae since they are less likely to be eaten by predators and are not dependent on plankton for feeding (i.e, non-planktotrophic).
The origin and evolutionary history of cones endemic to Cabo Verde has been the subject of several recent phylogenetic studies [1, 2, 6, 7]. Molecular phylogenies demonstrated that two different ancestors reached the archipelago independently and subsequently diversified following recurrent biogeographic patterns [1, 2, 7]. The existence of two clades led to the classification of cone species endemic to Cabo Verde into two genera, Africonus and Trovaoconus [8]. The question of which species are the closest living sister groups to Africonus and Trovaoconus remains open [1, 2]. According to a previous study, the ancestor of Africonus colonized the archipelago in the Miocene, about 16.5 million years ago (mya; [1]), and spread to all islands (except Fogo, the youngest, with steep slopes in the coast and ongoing volcanic activity). Most (95%) of the currently described species endemic to Cabo Verde belong to Africonus, and are normally referred to as restricted to a single island and in some cases even to single bays within an island [3]. The ancestor of Trovaoconus arrived at Cabo Verde archipelago in the Pliocene, about 4.6 mya, and diversified only in four islands (Sal, Boa Vista, Maio, and possibly Santiago), which are the closest to the continent [1]. These cones are significantly larger in size than those belonging to Africonus and show wider distributions extending in some cases to more than one island. It has been hypothesized that diversification within each genus was in allopatry and followed recurrent eustatic sea level changes during the Neogene that intermittently connected and disconnected the islands [1, 7]. However, sea level fluctuations alone do not fully explain the extraordinary diversity of cones in Cape Verde since nearby archipelagos in the Macaronesia biogeographic region such as the Canary Islands subjected to similar trends since the Miocene do not have endemic cone species [6]. A larger distance to the mainland, which enhances isolation and restricts gene flow combined with a higher mean sea surface temperature and the presence of more suitable habitats may have promoted a significant increase in diversification rates in the Cabo Verde archipelago [6].
The rate of description of new cone species endemic to Cabo Verde has accelerated more than expected during the last years (Fig.
1
). After the early descriptions in the eighteenth and nineteenth centuries based on samples brought to Europe by naturalists [
9
], the main contribution to the cataloguing of cone species endemic to Cabo Verde was due to the work of Emilio Rolán [
10
], who drew attention to this singular radiation. Hence, around year 2000, there were about 50 species recognized [
11
] and remarkably this number has almost doubled in the last 2-3 years [
12
–
19
]. However, it is important to note that many of the recent species diagnoses in cones are mainly based on the shape, color, and banding patterns of the shell. These phenotypic characters are highly variable at the population level and prone to local adaptation and convergence, making species assignment problematic and sometimes, misleading [
7
]. In many cases, distinguishing whether different shell morphotypes of cone snails represent valid species or ecotypes of the same species is challenging [
20
]. Therefore, determination of genetic variation and inference of phylogenetic relationships based on DNA sequence data are timely as part of a multidisciplinary approach [
21
] to identify and delimit species and to understand evolutionary processes underlying diversification within cones, in general, and within those endemic to Cabo Verde, in particular.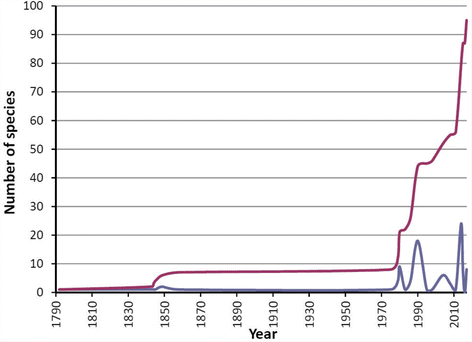 Here, we used nearly complete mitochondrial (mt) genomes, which have proven to successfully reconstruct robust phylogenies of Conidae [22] and of particular groups such as the cones endemic to Senegal [23]. In this study, we sequenced the nearly complete mt genomes of 88 individuals representing different populations and species of Africonus and Trovaoconus endemic to Cabo Verde. We aimed to: (1) reconstruct a highly resolved phylogeny of cones endemic to Cabo Verde; (2) determine the closest living sister groups of Africonus and Trovaoconus; (3) date major cladogenetic events and analyze biogeographical patterns; (4) study radular tooth evolution within the two genera; and (5) provide a first genetic hypothesis of species delimitation in the radiation of Cabo Verde endemic cones.
Discussion
Cone snails are marine gastropods well known to evolutionary biologists due to their extraordinary species and ecological diversity [25], but also to molecular biologists and pharmacologists due to their sophisticated venom cocktails [26], as well as to amateur naturalists due to their brightly colored and highly appreciated shells [27]. Therefore, they are the subject of intensive research across disciplines and additionally have received wide attention from the general public. There are more than 800 described species and this number increases steadily every year [28]. Thus far, species description and identification of cones heavily relies on shell form, color and banding patterns, which may show great variety at local scale leading to important levels of synonymy within the family Conidae [7, 20]. In this regard, species delimitation could greatly improve with the aid of robust molecular phylogenies, which could be used in addition as framework to uncover the evolutionary patterns and processes underlying the diversification of the group. While reconstructing a robust phylogeny for all described cone species worldwide is cumbersome and at present unrealistic within the framework of a single study, it is possible, however, to accomplish a proof-of-concept study in a particular region [23].
We have here reconstructed a molecular phylogeny of cones endemic to Cabo Verde and allied species in the Macaronesian region, continental West Africa, and the Mediterranean region. These cones are particularly interesting from an evolutionary perspective as they have radiated in an oceanic archipelago and constitute a natural experiment to gain insights onto the processes governing diversification and adaptation [29]. Phylogenetic analyses were based on nearly complete mt genomes (only missing the control region and neighboring sequences) and included 105 specimens comprising most of the cone species diversity of the analyzed regions. Probabilistic methods of phylogenetic inference arrived at a robust and highly resolved phylogeny (virtually all nodes received high statistical support, which in most cases was maximal). To our knowledge, this is the first wide application of mt genomes to the resolution of a phylogeny within mollusks (but see [30, 31] for comparable examples in fish and insects, respectively). Previous studies in gastropods were restricted in the number of taxa analyzed (e.g., [22] for the family Conidae) but here we were able to achieve a lineage representation of the reference group (in this case, Cabo Verde cones) only previously attained by studies using few concatenated partial gene sequences (see e.g., [25] for the family Conidae or [1] for the cones of Cabo Verde). Previous phylogenetic studies using complete mt genomes have demonstrated that the level of resolution of these molecular markers is compromised above the superfamily level due to saturation, base composition biases, and among-lineage rate heterogeneity [32, 33]. Here, we show that phylogenetic performance of mt genomes achieves best results when analyzing closely related genera (and their corresponding species). Moreover, results were particularly promising taking into account that Africonus diversity in Cabo Verde was originated through radiation processes, which normally lead to relatively short tree nodes (often difficult to disentangle).
A thorough sampling of closely-related outgroup taxa allowed us to tackle key questions on the origin of the cones endemic to Cabo Verde and on their closest living sister groups. As previously reported, there are two independent origins of Cabo Verde cones, leading to the genera Africonus and Trovaoconus, respectively [1]. The closest living sister group of Africonus is L. ventricosus from the Mediterranean Sea and neighboring Atlantic Ocean. Therefore, the origin of this clade is clearly Macaronesian/Mediterranean and these cones are only distantly related to the geographically closer cones endemic to Senegal. These latter cones were ascribed to the genus Lautoconus (as was the case of L. guanche from Canary islands, deeply nested within the clade of Senegal cones; [23]). However, the closest sister group relationship of Africonus and L. ventricosus requires formal description of a different genus for Senegal cones (plus L. guanche), which will be done elsewhere. We could not include any representative of cones endemic to Angola (genus Varioconus) but a recent phylogeny based on partial cox1 gene sequences recovered all these cones (including Varioconus jourdani from Saint Helena Island) as a monophyletic group sister to Senegal cones [34]. Alternatively, all previously mentioned genera could be merged into genus Lautoconus [35]. However, the relatively high levels of sequence divergence (using the sequence divergence of genus Chelyconus as reference) and the restricted (endemic) distribution of the clades fit better with the former taxonomic proposal. The closest living sister group of Trovaoconus is genus Kalloconus from West Africa. Therefore, the origin of this clade is clearly related to neighboring regions of the continent. Actually, the sequence divergence between Trovaoconus and Kalloconus is much lower than that estimated between Lautoconus and Africonus. This observation argues against maintaining the generic status of Trovaoconus, and supports the inclusion of their species within genus Kalloconus, as some authors have proposed [35]. Hence, Kalloconus would be a genus that is present throughout the coast of West Africa from Morocco to Angola as well as in Canary Islands and Cabo Verde.
Altogether, the two main clades in the reconstructed phylogeny show very distinct patterns of distribution. One clade includes a single genus with widespread distribution in Macaronesia and West Africa whereas the other clade, which occupies the same geographical regions, is divided into several valid genera (Africonus, Lautoconus, Varioconus, Gen. nov. for Senegal endemics). These distinct patterns could be explained partly taking into account differences in larval dispersal capabilities between the two clades [1]. According to the phylogeny, the ancestor of the Kalloconus clade was inferred to have planktotrophic larvae, capable of long dispersals whereas the ancestor of the other clade would have non-planktotrophic larvae, and thus a limited dispersal capability leading to restricted gene flow and higher rates of diversification [36, 37]. Interestingly, the ancestor of Kalloconus species endemic to Cabo Verde (former Trovaoconus species) lost planktotrophy, which is a common evolutionary pattern in insular species [38].
According to the reconstructed phylogeny, cones belonging to genus Africonus are divided into four main lineages (I-IV; with each further subdivided into two distinct clades). Species endemic to Maio and Boa Vista are found in all four lineages whereas species endemic to Sal form a clade within lineage IV, species from the westernmost islands (Santo Antão, São Vicente and Santa Luzia) form a clade within lineage II, and the single species from Santiago is recovered within lineage II. Unfortunately, we could not sample specimens of Africonus furnae from Brava and Africonus kersteni from São Nicolau, and cannot determine whether they could be ascribed to any of the above-mentioned four lineages or form their own independent lineages. The single origin of cones endemic to Sal, Santiago, and westernmost islands could be explained by the deep slopes separating these islands whereas the multiple origins of the cones found in Maio and Boa Vista could be associated to the relatively shallow seamount (Baixo João Valente) connecting both islands [1]. These differences in bathymetry in connection with past eustatic sea level changes could be determinant in preventing or promoting dispersal in Africonus species, whose larvae are all non-planktotrophic.
Diversification events among main lineages were concentrated in three major periods. The first one, around the Oligocene-Miocene boundary (23 mya), includes the divergence of cones endemic to Senegal (and Angola) from their sister clade, and the posterior separation within this sister clade of cones endemic to Cabo Verde and those endemic to the Mediterranean Sea and neighboring Atlantic Ocean. During Oligocene-Miocene transition, there was a global cooling event [39, 40], the ice sheet of Antarctica greatly expanded, and a sea level drop of ~50 m occurred [41]. The second period corresponds to a sustained global cooling in the Late Miocene starting 12 mya [42] that produced an eustatic sea level drop between −10 and −30 m from 6.26 to 5.50 Mya [43] and culminated with the Messinian Salinity crisis and the desiccation of the Mediterranean Sea at the end of the Miocene from 5.96 to 5.33 Mya [44]. During this period, the divergence of the main lineages within Africonus (I-IV), the cones endemic to Senegal, and Kalloconus occurred. Finally, a burst of speciation events is inferred during the Pleistocene when another cooling period characterized by extreme climate oscillations and drastic eustatic sea level changes concurring with glacial-interglacial periods [45]. Global cooling has been recently proposed to be a driver of diversification of marine species [46] in agreement with our results. The reconstructed phylogeny, the chronogram, and the current geographical distribution of the species altogether support that allopatry is the main mode of speciation for cone snails with non-planktotrophic larvae, as previously suggested [1]. The complex geology of the island of Boa Vista with several eruptions at >16, 15-12.5, and 9.5-4.5 mya [47], involving different parts of the island may have also contributed to creating additional niches along the coast and could explain that this island harbors the highest number of endemic cones.
The reconstructed phylogeny also allows inferring the evolution of the radula in the studied lineages [8, 48]. All analyzed ingroup taxa are vermivorous [8]. Studies documenting potential specialization of the vermivore radular type to prey on specific worm species are scarce and restricted thus far to cone species preying on amphinomids [49]. Here, we show that most Africonus species show a "robust" radular type, which is shared also with L. ventricosus and a lineage of Senegal cones represented by Lautoconus cloveri and Lautoconus bruguieresi in the phylogeny [23]. Therefore, the common ancestor of cones endemic to Senegal (plus L. guanche), Africonus, and L. ventricosus was inferred to have a "robust" type radula. The "elongated" type of radular tooth, which was found in several species within lineage IV of Africonus, also appears in a lineage of Senegal cones that is represented by Lautoconus hybridus and L. guanche in the phylogeny [23]. The radular tooth of A. felitae resembles the "small" type observed in a lineage of Senegal cones represented by Lautoconus reticulatus and Lautoconus belairensis in the phylogeny [23]. The "broad" type of radular tooth that appeared independently in several lineages of Africonus has not been observed in any cone from Senegal. While shifts in radular type could be correlated with early cladogenesis in cones endemic to Senegal [23], the evolution of different types of radular tooth within Africonus was restricted to few specific cases. Thus, future studies are needed to determine whether in such cases there has been a dietary shift to prey on specific worms. The radula teeth identified in Kalloconus resemble the types "elongated" and "robust" observed within Lautoconus and Africonus, although are clearly distinct. This might indicate instances of convergence, and that only a discrete number of different main types of radula could be found in a given clade.
During the last few years, the number of new cone species described from Cabo Verde has increased at an astonishing rate (e.g., [12]). These new species are identified based on differences (often subtle) in shell shape and color, and their status needs to be contrasted with genetic data to uncover cases of local phenotypic variation within species due to either genetic polymorphism or phenotypic plasticity that may be producing overestimations of the number of species in the group [21]. In addition, genetic data could help identify cases of phenotypic convergence due to adaptation of genetically distinct populations (ecotypes) or species (sibling or cryptic) to similar environments [50–52], also affecting the total number of valid species. Comparative analyses of pairwise uncorrected sequence divergences taking into account the reconstructed phylogeny showed that some described species shared almost identical mt genomes with levels of sequence divergence normally considered to be associated to genetic variation at the population level. Clades comprising these sets of closely related sequences indicate that an uncorrected sequence divergence threshold around 1% could be associated to the species status. This threshold lies well within the so-called grey zone of speciation between 0.5-2% [53]. Of course, these results need to be further confirmed with genomic nuclear data that discard potential events of incomplete lineage sorting and hybridization [54]. In addition, the present study could be further improved in the future by increasing the number of individuals analyzed per original species. Importantly, the comparative analyses on variation of diversification rates through time support the here proposed hypothesis of species delimitation as it concurs with a Yule process of speciation whereas the number of currently named species clearly exceed expectations and would imply an extraordinary recent acceleration of speciation rates.
Our study confirms the diversity of cone endemic to Cabo Verde but significantly reduces the number of valid species. Applying the threshold in a conservative manner (i.e., maintaining described species as valid in case of doubt due to closeness to the threshold) to cones endemic to Cabo Verde would reduce the number of valid species within the sampled Africonus from 65 to 32 (see Table 1 and Fig. 4). The proposed nomenclatural changes follow standard ICZN recommendations maintaining the most senior (oldest) name. Among the species not sampled, two correspond to São Nicolau and Brava islands, four of them are from the islands of São Vicente and Santa Luzía, and most likely represent valid species (Africonus bellulus, Africonus lugubris, Africonus saragasae, Africonus santaluziensis, A. kersteni and A. furnae) given the relative high sequence divergences found among species endemic to these islands. The 19 remaining ones were recently described, mostly from Boa Vista, and are expected to fall in most cases into some of the clades already discussed in the present work, and therefore may correspond to morphs of other described species. A direct consequence of synonymization is that some previously described species of rather restricted distribution are merged as populations into the new species, which considerably increase their range of distribution (Additional file 1). For instance, A. crotchii, which was reported as endemic from Southwest Boa Vista, would be now distributed also in the whole north half of the island. This increase in range of distribution of several species has important effects on their IUCN conservation status [3]. In the case of Kalloconus, some morphotypes attributed to Kalloconus pseudonivifer are now assigned to Kalloconus trochulus, and Kalloconus atlanticoselvagem is synonymized with K. trochulus. Our specimen of Kalloconus cf. byssinus is from North Senegal and has little sequence divergence compared to Kalloconus pulcher. In this case, it would be important to study K. byssinus from Mauritania or Morocco before considering synonymization. In the opposite direction, there are three clear instances of morphological convergence and thus, of the existence of cryptic species. Those are the cases of Africonus josephinae from Maio, Africonus cf. miruchae from São Vicente, and Kalloconus cf. ateralbus from Sal, which will be described as new species in due course.
Conclusions
We reconstructed a robust phylogeny based on mitochondrial genomes of cone snails endemic to Cabo Verde, which provides the necessary framework for future evolutionary studies focused on this radiation. The double origin of Cabo Verde endemic cones was supported. The ancestor of Africonus separated from L. ventricosus during the Oligocene-Miocene boundary (about 23 mya) and diversified into four main lineages (I to IV) in the Late Miocene (about 9.4-6.9 mya). The divergence of the ancestor of Kalloconus endemic to Cabo Verde from those inhabiting mainland occurred also in the Late Miocene whereas its diversification into three main lineages was dated in the Pliocene (4 mya). Main cladogenetic events within cones endemic to Cabo Verde coincide with global cooling periods, which were characterized by radical climate oscillations and eustatic sea level changes. Recurrent cycles of island connection/ disconnection likely favored speciation in allopatry in these cones, which lack a pelagic larval stage, and thus have limited dispersal capacity. Direct development evolved in the ancestor of Kalloconus endemic to Cabo Verde, likely associated to the colonization of the archipelago by a cone with a planktotrophic larval stage. However, in the case of Africonus, the ancestor that arrived to Cabo Verde was already non-planktotrophic as the corresponding independent evolutionary shift to direct development predated the separation of cones endemic to Senegal (and Canary Islands) from L. ventricosus plus Africonus. Radular types were modified during the diversification of Africonus from an ancestral "robust" type, although correlation with diet specializations await better knowledge of the specific worm species preyed by the different species of cones. Sequence divergence comparisons and reconstructed phylogenies supported the diversity of cone species endemic to Cabo Verde but significantly reduced its number, which was likely overestimated in the past due to important homoplasy in shell morphology, the, thus far, main discriminant character used for species description and identification.
Declarations
Acknowledgements
We are indebted to Cabo Verde biology students Paulo Vasconcelos and Stiven Pires, as well as to our colleagues Sara Rocha, David Posada and Julio Rozas for their valuable help during sampling in Cabo Verde. We thank Dr. Rui Freitas from the Universidade de Cabo Verde (UniCV) for his continuous support and for granting us access to the facilities of the UniCV in Mindelo, São Vicente. We also thank Dr. Iderlindo Silva dos Santos and Dra. Sonia Monteiro de Pina Araujo from the Direcçao Nacional do Medio Ambiente of the Ministério do Ambiente, Habitação e Ordenamento do Território (MAHOT) of the Republic of Cabo Verde for their help with collecting permits (Autorizações 07/2013, 26/2013, 01/2104, 04/2015, and 03/2016). The sample of L. ventricosus from Formentera Island was obtained by Paula C. Rodríguez Flores. We are grateful to Jesús Marco and Aida Palacios, who provided access to the supercomputer Altamira at the Institute of Physics of Cantabria (IFCA-CSIC), member of the Spanish Supercomputing Network, for performing assembling and phylogenetic analyses.
Funding
This work was supported by the Spanish Ministry of Science and Innovation (CGL2013-45211-C2-2-P and CGL2016-75255-C2-1-P (AEI/FEDER, UE)) to RZ; BES-2011-051469 to JEU; BES-2014-069575 to SA; Doctorado Nacional-567, Colciencias-Universidad Nacional de Colombia to AME.
Availability of data and materials
Sequence data is available in GenBank.
Authors' contributions
MJT, CMLA, and RZ collected the material. MJT prepared the radula. SA, JEU, and AME generated the molecular data. SA analyzed the data. RZ wrote the first draft of the manuscript and all authors contributed to writing the final version. All authors read and approved the final manuscript.
Ethics approval and consent to participate
Not applicable.
Consent for publication
Not applicable.
Competing interests
The authors declare that they have no competing interests.
Publisher's Note
Springer Nature remains neutral with regard to jurisdictional claims in published maps and institutional affiliations.
Open AccessThis article is distributed under the terms of the Creative Commons Attribution 4.0 International License (http://creativecommons.org/licenses/by/4.0/), which permits unrestricted use, distribution, and reproduction in any medium, provided you give appropriate credit to the original author(s) and the source, provide a link to the Creative Commons license, and indicate if changes were made. The Creative Commons Public Domain Dedication waiver (http://creativecommons.org/publicdomain/zero/1.0/) applies to the data made available in this article, unless otherwise stated.
Authors' Affiliations
(1)
Museo Nacional de Ciencias Naturales (MNCN-CSIC), Madrid, Spain
(2)
Departamento CMIM y Q. Inorgánica-INBIO, Facultad de Ciencias, Universidad de Cádiz, Cádiz, Spain
(3)
Centre of Marine Sciences (CCMAR), Universidade do Algarve, Faro, Portugal